Every once in a while you stumble across a business that just exudes altruism and positive vibes.  While these businesses are far from being ever-present, they are the ones that you'll never forget and that you can't wait to recommend to others.  This is Herbs & Honey Teashop, a wonderful cafe in Gyumri.
Spending Time at Herbs & Honey Teashop in Gyumri
After venturing to Gyumri during the middle of winter, we were desperate to find a cafe that we could work from for a little bit and enjoy some delicious coffee and food.  We had scoured Google for a bit and saw the name 'Herbs & Honey Teashop' pop-up but were not sure if that would be the place where we could settle in a bit and get some work done from.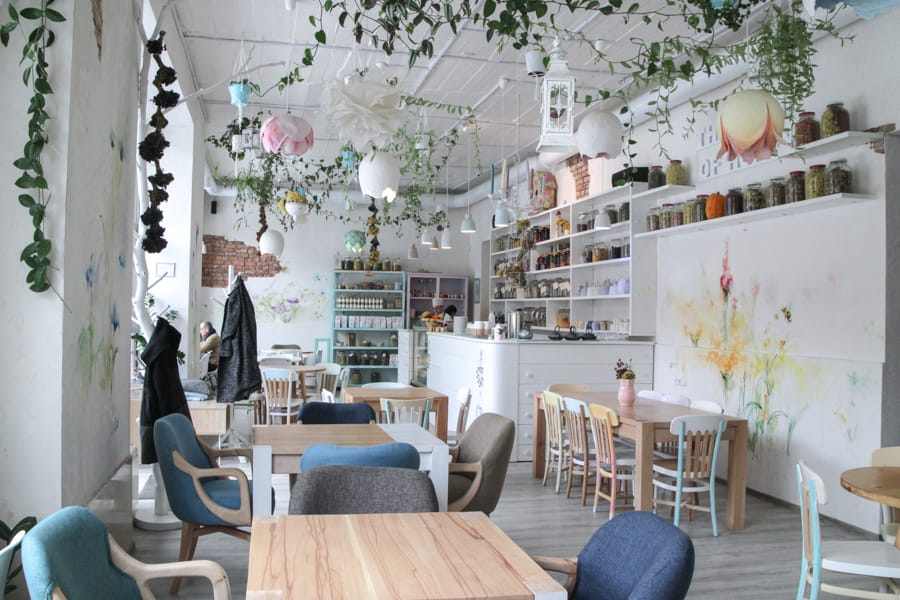 We popped inside and within minutes felt like we had arrived home.  The strikingly white cafe was light, inviting, and had flowers and plants hanging from every place they could hang.  Almost instantly, we met the owner Artush Yeghiazaryan, a local by birth but had called Geneva, Switzerland home for recent decades.
He sat down with us, gave his background story, and engaged us in the conception and realization of Herbs & Honey Teashop.  Artush extensively detailed his vision for the Gyumri establishment and we enthusiastically listened and couldn't wait to share a short recap of the story and a few photos of the cafe with those planning a trip to Armenia.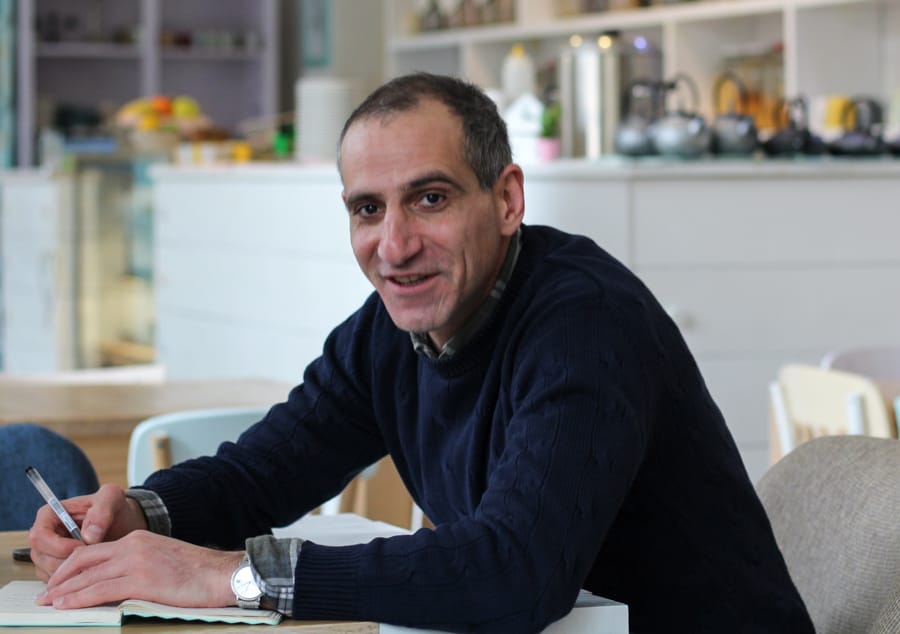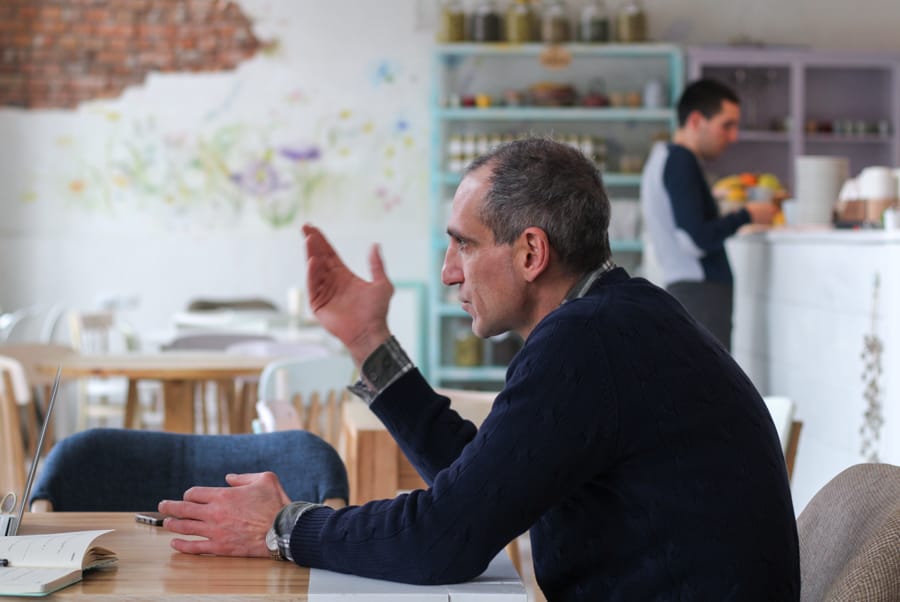 About Herbs & Honey Teashop
The beautiful cafe is situated on Gyumri's popular thoroughfare, Rijkov Street.  Once you enter the cafe, you will be immediately welcomed with natural light, flora for days, and very amicable staff.  There are spacious tables that are perfect for coworking and creative projects and a large area that sells locally made eco-goods.
The history of the cafe began in 2012 when a mining company set out to destroy 500 hectares of nature in the north of Armenia.  Locals desperately needed jobs and a reason to retain this pristine nature wasn't at the forefront of most minds until Artush stepped in.  He found a way to create jobs without destroying Armenian nature by creating a company that collects and sells honey.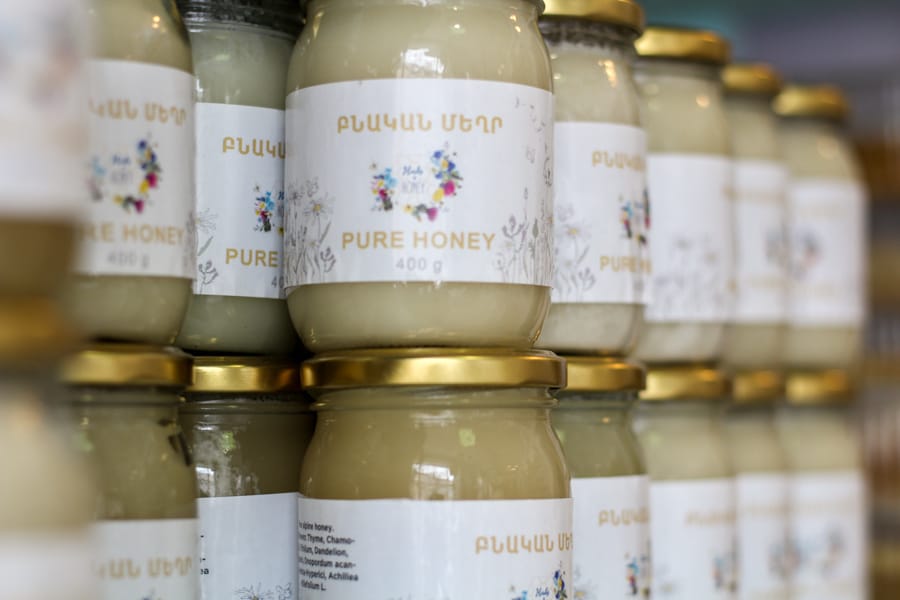 This early initiative eventually gave way to Herbs & Honey Teashop as we know it today.  The mission was always to keep the brand local and the goods produced regionally.  Artush and his team at Herbs & Honey have done a remarkable job at succeeding at both.
Interior at Herbs & Honey
One of the most notable things about Herbs & Honey is the colorful, yet minimalistic interior and furniture that the place has.  The utilization of natural light makes the place have an immediate warmth about it that is noticeable directly after entering the Gyumri cafe's doors.
The wooden furniture is made local to Gyumri and it is extremely durable and high-quality.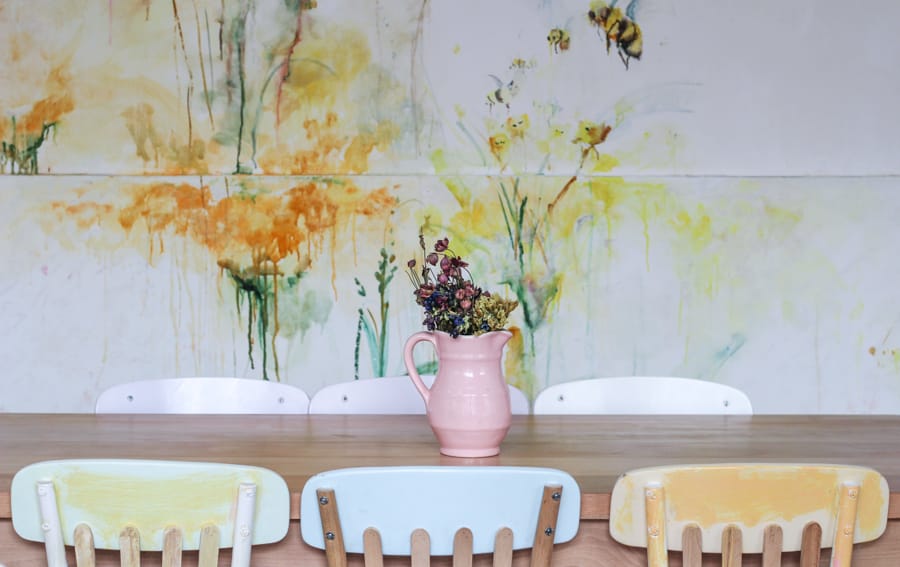 Herbs & Honey also is the perfect place to get some work done for digital nomads, creatives, and those running businesses online.  We found the tables, chairs, and couches to be especially comfortable, the wifi to be speedy, and there to be plenty of power outlets to charge your computer and equipment.
Food and Drinks
This was definitely one of our favorite things about Herbs & Honey.  The food and drinks available were exceptional and we enjoyed more than one meal there while in Gyumri.  The food is mindfully made with local produce and ingredients.
We ordered a tasty rice pilaf with dried, Armenian fruits and a dish with spiced chicken and great sides.  Both were absolutely delicious and left us 100% satisfied.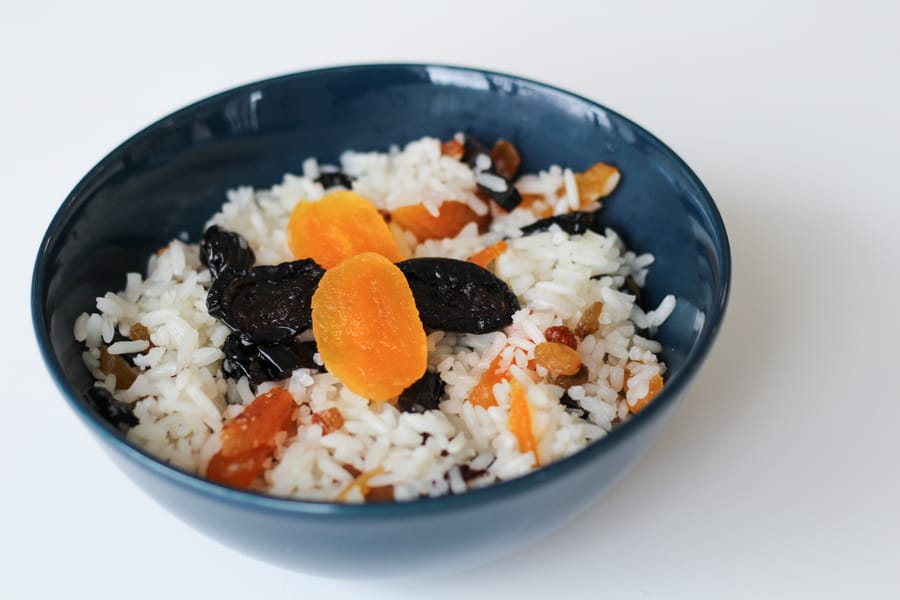 One of the best things about Herbs & Honey is that they always offer vegan and vegetarian options on their menu (or you can ask for such!)  They will have something ready to prepare to plant-based diners.
In addition, Herbs & Honey has a plethora of teas, coffees, and drinks to offer patrons.  We tasted a variety of coffees and drinks and everything was superb.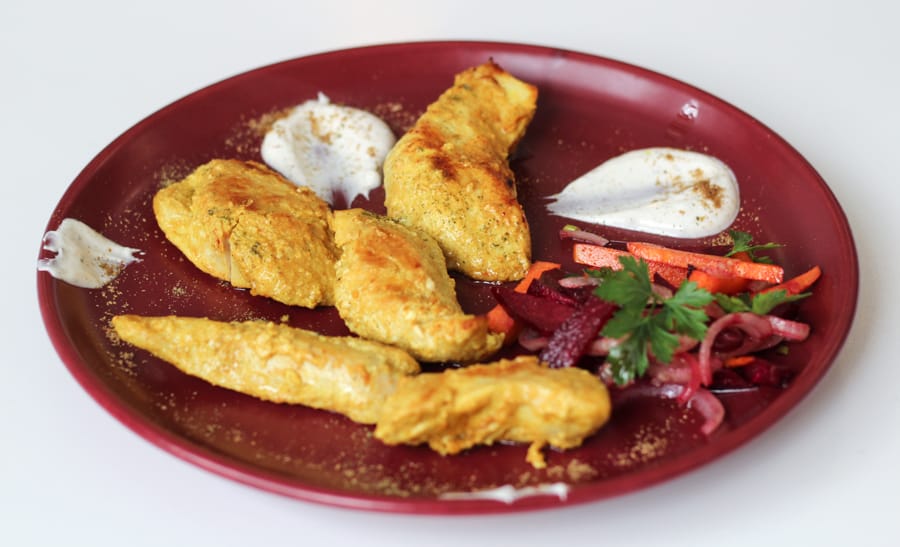 Herbs & Honey Teashop and the Community
Artush and his energetic team at Herbs & Honey have become a respected business in Gyumri and do their part to give back to the community.  They collaborate with other small, independent businesses to highlight the region and the cafe offers a creative space for those looking to launch their next product, showcase artwork, or just gather inspiration and a positive aura.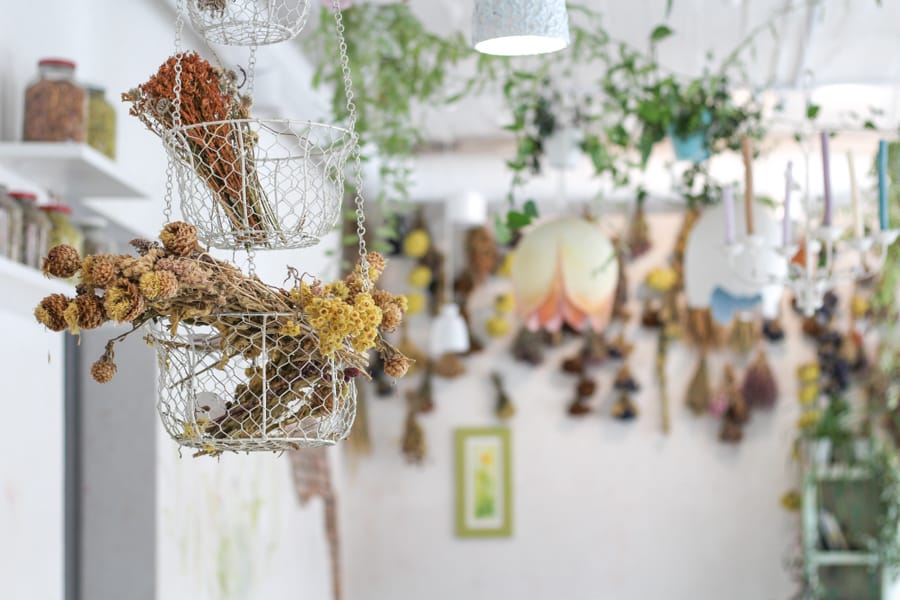 When we were in Gyumri, Herbs & Honey had a Swiss Fondue night and the place was packed with locals looking to enjoy a piece of Artush's adopted second home.  We were in heaven and the food was outstanding!  We met locals and expats both at the event and it was such an optimistic atmosphere that we knew we would be at Herbs & Honey on a daily basis if we lived in Gyumri.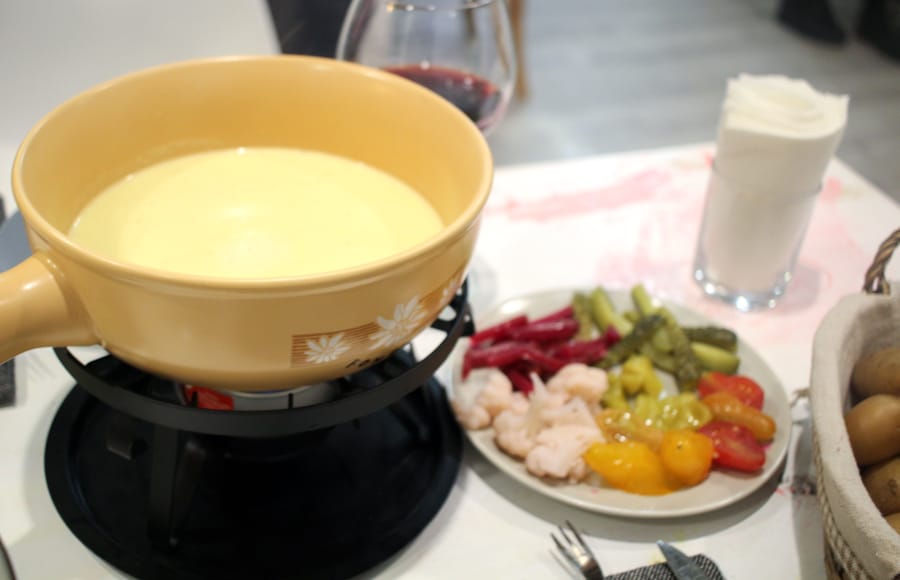 Artush Yeghiazaryan has also been very active in the community helping tourism development and job creation.  He is advocating for better transportation connections with Yerevan and the rest of Europe.  He is persistent with helping the outside world see Gyumri as the artistic and creative mecca that it is and always has been.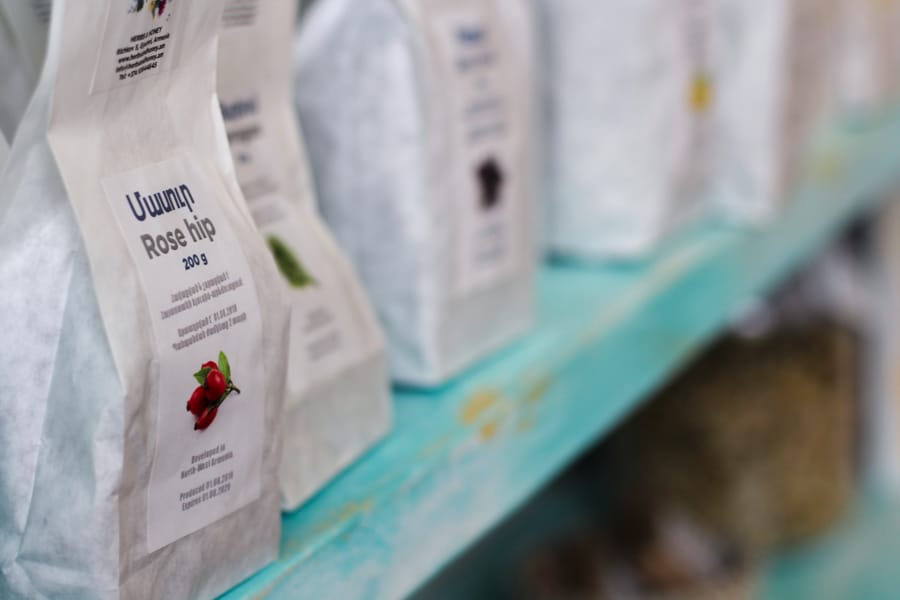 If you're heading to Gyumri, we highly suggest stopping in Herbs & Honey Teashop and grabbing a local tea and some food.  The locally-made ceramics and homemade chocolate are out of this world and are a perfect Armenian souvenir to remember your time in Armenia's second-largest city.
You can find Herbs & Honey Teashop on Rijkov Street in Gyumri.  To reach them by phone, you can call +374 93 644 645.  You can also check out their Website, Facebook, or Instagram pages.