The city of Yerevan may not be synonymous with drinking beer, but there are definitely many places to enjoy a tasty beer in Yerevan.
This is a Yerevan beer guide detailing the best places to kick back, relax, and down a beer in Armenia's capital city.  You will find everything from local craft beer to international favorites.
Yerevan Beer Guide: Where to Drink Delicious Beer in Yerevan
The city of Yerevan is constantly evolving and nothing is bigger proof of that than the ever-growing beer scene in Yerevan.  In the last couple of years, new establishments have opened their doors and invited guests in to drink delicious, refreshing beers.
This guide showcases the best of the Armenian capital's beer scene – you will find Yerevan cafes, restaurants, and bars dedicated to craft and small-batch beer.
Dors Craft Beer & Kitchen
On August 1, 2019, this new Armenian craft brewery opened its doors right in the heart of Yerevan by the famous Mayrig Restaurant and the 14th Floor Hotel.  With a killer terrace and beer to satisfy all palates, Dors is such a welcoming place in Yerevan.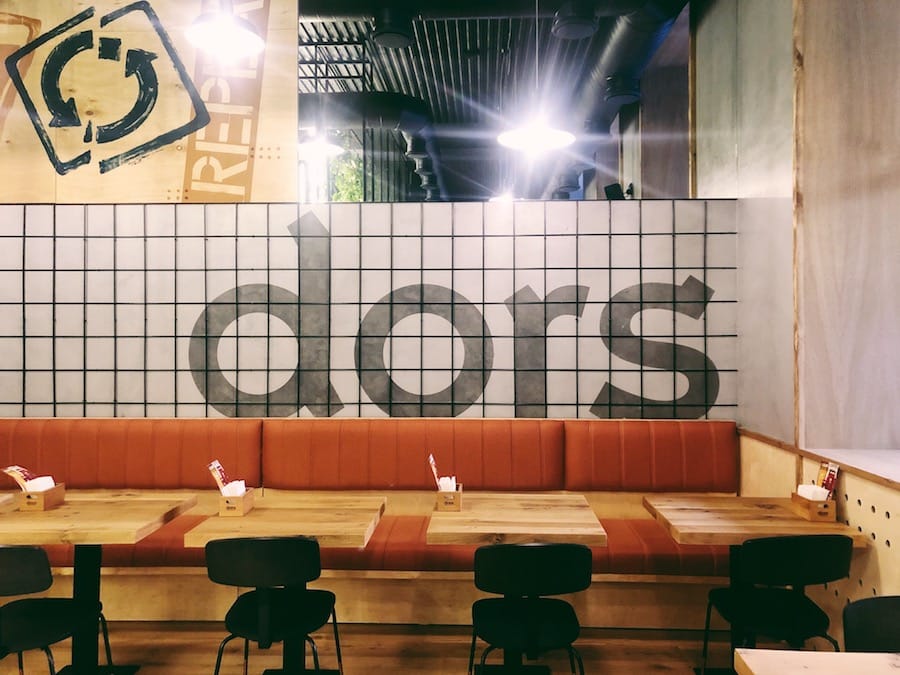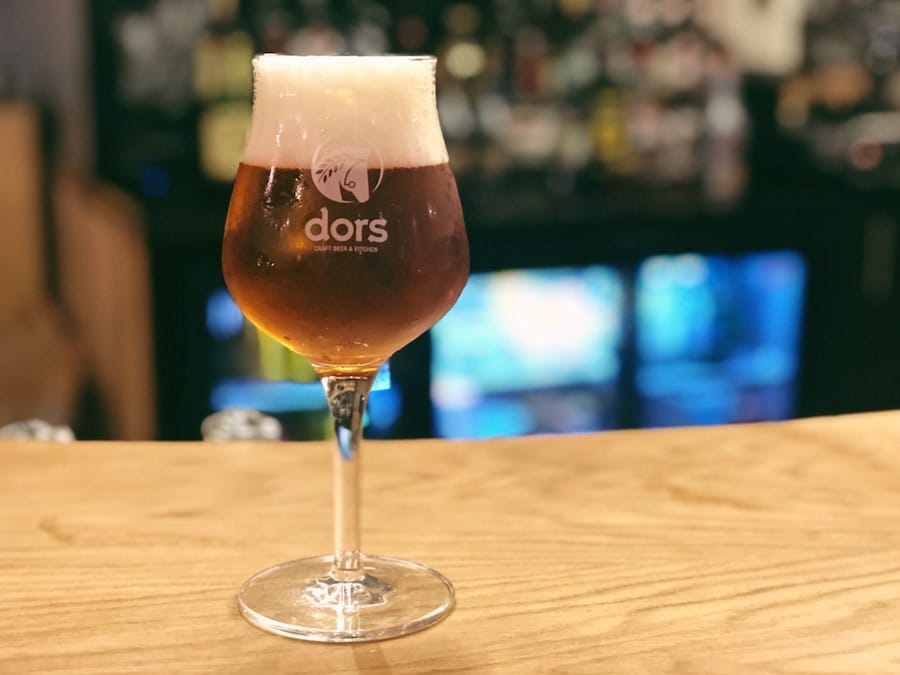 Dors Craft Beer & Kitchen has an array of different styles of beer ranging from a cherry ale (with local, Armenian cherries) to IPA to Farmhouse Ales.
They have a particularly delicious IPA that really lets the Citra hops shine through.  One of their specialties is their food.  Everything is made completely in-house from their sausages to their condiments.
You can find Dors Craft Beer & Kitchen at Buzand 13 or 4/6 Amiryan (just go to Mayrig and it's right beside it).  To find out more, check out their Facebook page.
Dargett Brewpub
Armenia's first and only craft brewery is Dargett and the Dargett Brewpub is where you can enjoy some of their tasty beers.  They have twenty beers available for tasting and they even offer flights to customers wanting to try a variety.
They also have a full-service restaurant with an array of food for hungry patrons.  The space is large- Dargett has an upstairs, downstairs, and a massive terrace. Be sure to try their Vertigo IPA!  This is a must-visit pub for beer lovers.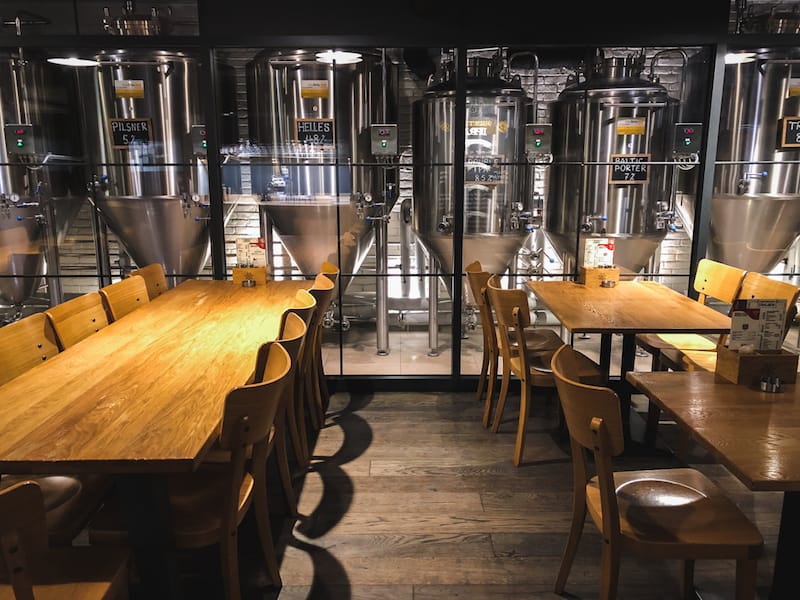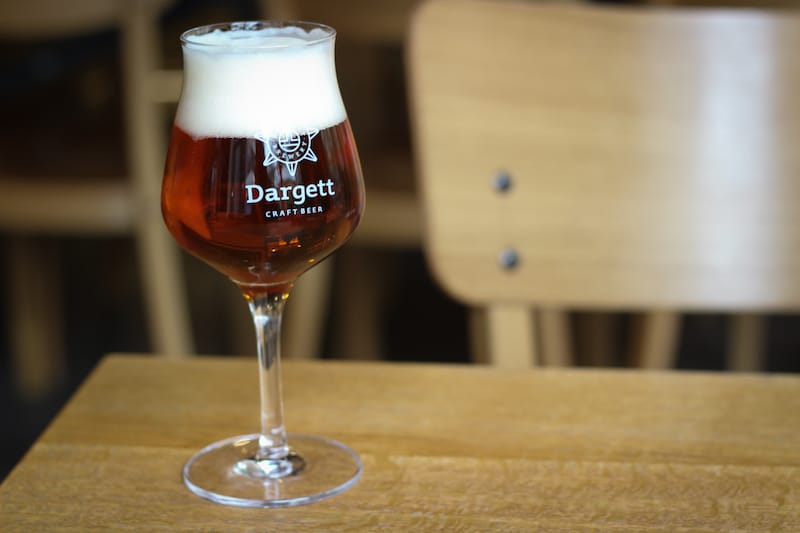 You can find Dargett Brewpub at 72 Aram Street.  To find out more, check out their Facebook page.
Tap Station
Tap Station is a terrace bar that sits directly in front of Republica Hotel on Amiryan Street.  The bar serves Dargett craft beer and has ten taps. There is also an apple cider on draft.
The terrace is fully covered and has heat lamps for cooler weather.  They also are a restaurant and eatery offering everything from pizza to burgers. If you're looking for a place to enjoy Armenian craft beer in Yerevan, definitely make a stop at Tap Station.
On a second note- Tap Station has extremely fast wifi with good download and upload speeds if you're looking to work while you drink.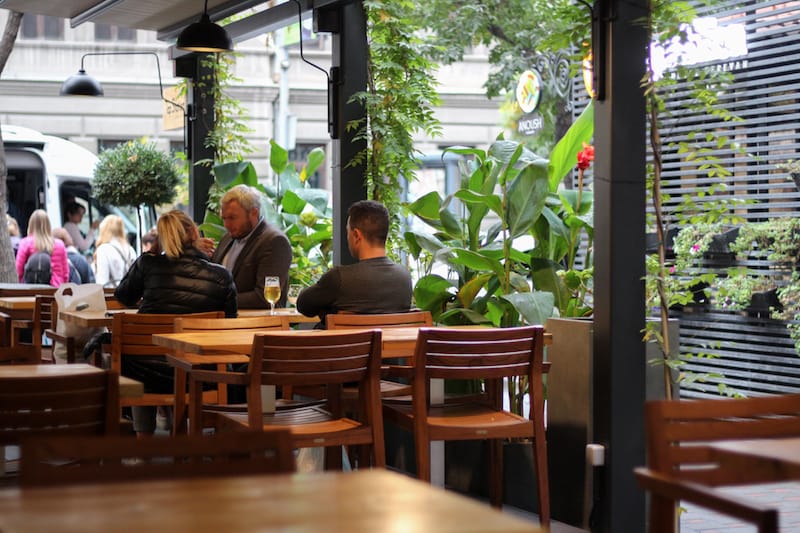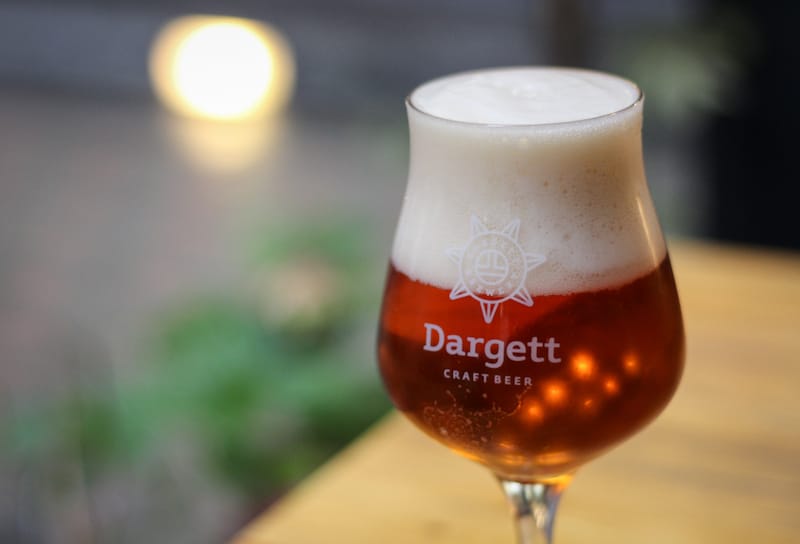 You can find Tap Station at 7/1 Amiryan Street or 38 Isahakyan.  To find out more, check out their Facebook page.  
Labeerint
The chain beer restaurant Labeerint is a well-known Yerevan beer oasis.  They have two locations in Yerevan's city center and are a go-to place for beer lovers.
Not only does Labeerint specialize in tasty brews, but they also have an array of food to satisfy all hungry patrons.  They also have taps available for self-service, which is very unique in Yerevan.
You can find Labeerint at 33a Moskovyan Street near the Cascades.  To find out more, check out their Facebook page.
Beer Academy
A renowned pub in Yerevan, Beer Academy serves up its own beer and has six different styles to choose from.  The place is German-inspired from the lederhosen worn by the staff to the styles of beer they offer.
There is a full menu and several television screens.  On the outside of Beer Academy, you will find a large terrace that sits adjacent to a park. This is definitely a place for beer-lovers to check out in Yerevan.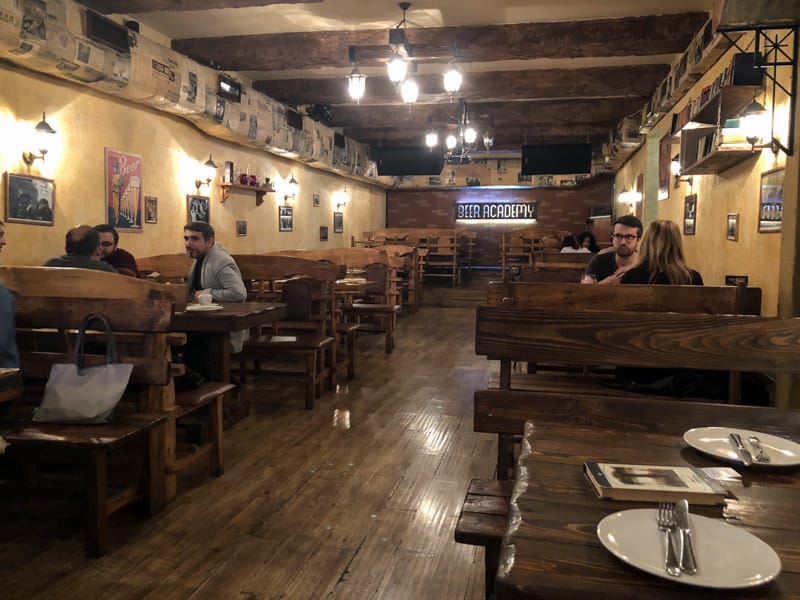 You can find Beer Academy at 8 Moskovyan Street.  To find out more, check out their Facebook page.
Vienna Ribs
Vienna Ribs sits on Yerevan's famous Saryan Street… a place known for its quiet corners and a lot of wine.  Interestingly enough, Vienna Ribs serves up some of the city's best beer.
The menu is extensive but all well-prepared and you can, as the name suggests, indulge in their slow-cooked, falling off the bone ribs while you down a large pilsner-style beer.  If you're a beer enthusiast, you definitely shouldn't overlook Vienna Ribs.  You will be pleasantly surprised by the atmosphere, food, and of course… the beer.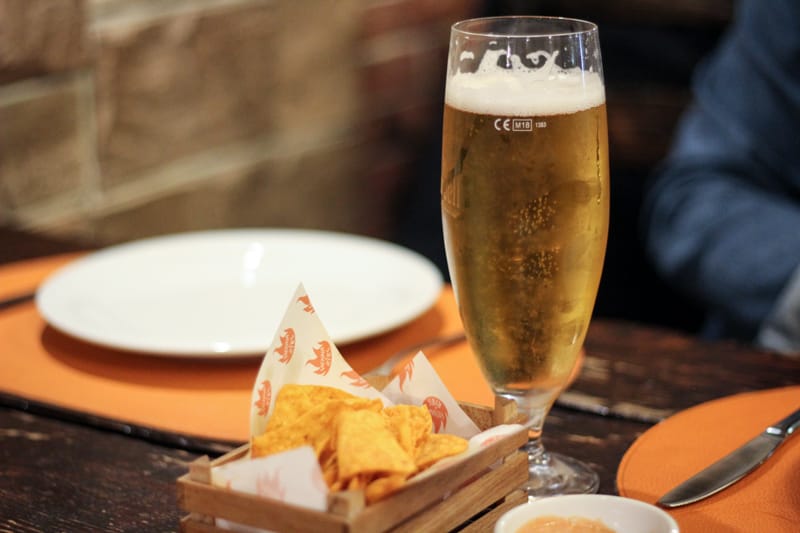 You can find Vienna Ribs at 24 Martiros Saryan Street in Yerevan.  To find out more, check out their Facebook page.
Kilikia Beer House
Kilikia is a locally brewed beer and is made at the Yerevan Beer Factory and has been since 1952.  The Kilikia Beer House is one of the best places to grab a pint (or a lot more than one pint) of Yerevan's most famous beer.  The restaurant and beer house is located off of Abovyan and is downstairs. They serve food, beer snacks, and of course, Kilikia beer.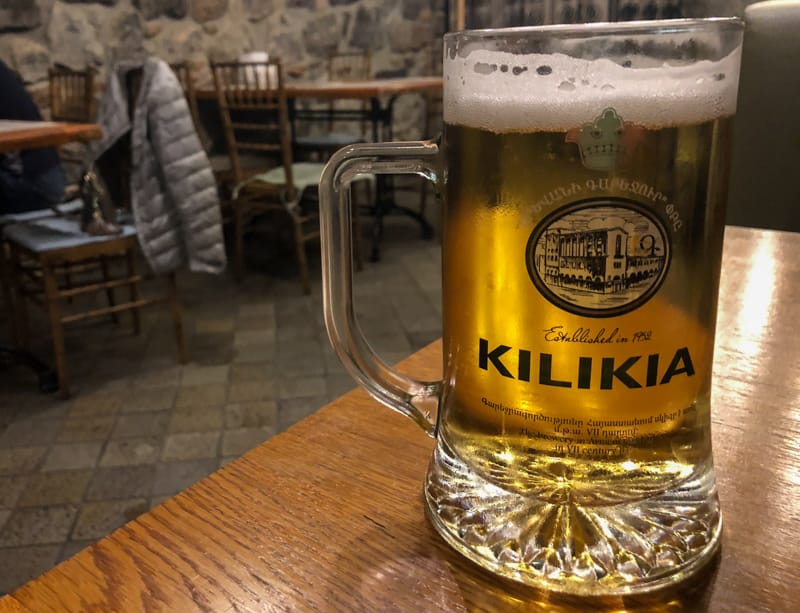 You can find Kilikia Beer House at 8 Abovyan Street in Yerevan's city center.  To find out more, check out their Facebook page.
Paulaner Beerhouse
The Paulaner Beerhouse is located at the famous Cascades area of Yerevan.  As the name suggests, they specialize in Paulaner beer and food that complements the beer, such as German sausages and ribs.
They also show football and other sports in-house. The best thing about the Paulaner Beerhouse is its centralized location being at the Cascades.
You can find Paulaner Beerhouse at 6 Tamanyan Street in Yerevan.  To find out more, check out their Facebook page.
2nd Floor
Update: 2nd Floor is permanently closed.
One of the coolest and most unique bars and concepts in Yerevan is the 2nd floor.  The bar is part-bar, part-restaurant, and part-vinyl store.  The concept is so different from anything else that exists in Yerevan and it is worth a go if you're visiting the city.
One of the best things about the 2nd Floor is that they sell Dargett craft beer there.  You can sit and enjoy a quiet lunch with a beer or you can arrive later in the evening when the place is brimming with locals and awesome music.
Either way, it is definitely a go-to spot for beer lovers and those who like innovative, hip places.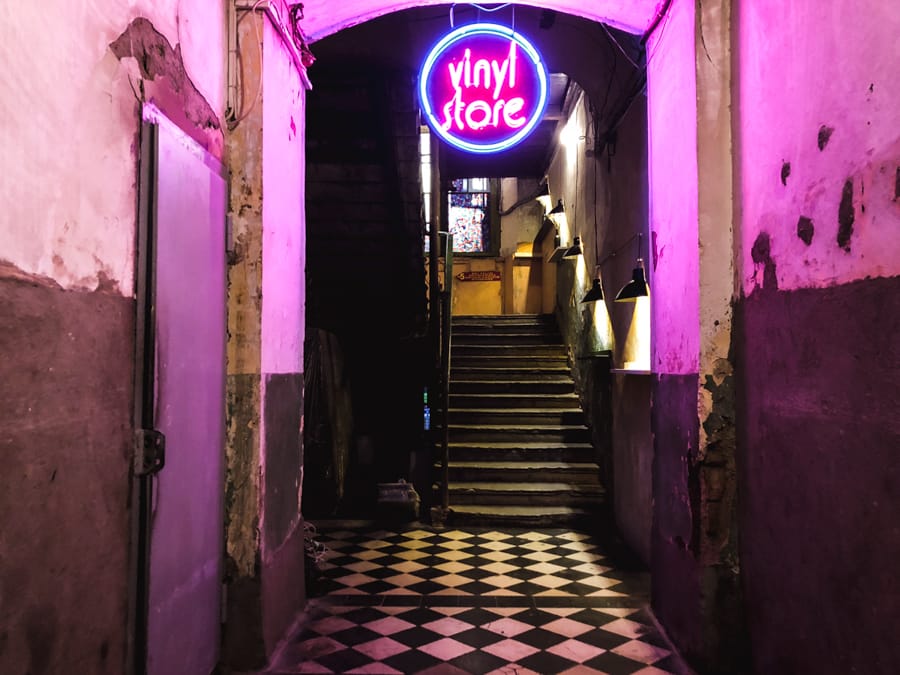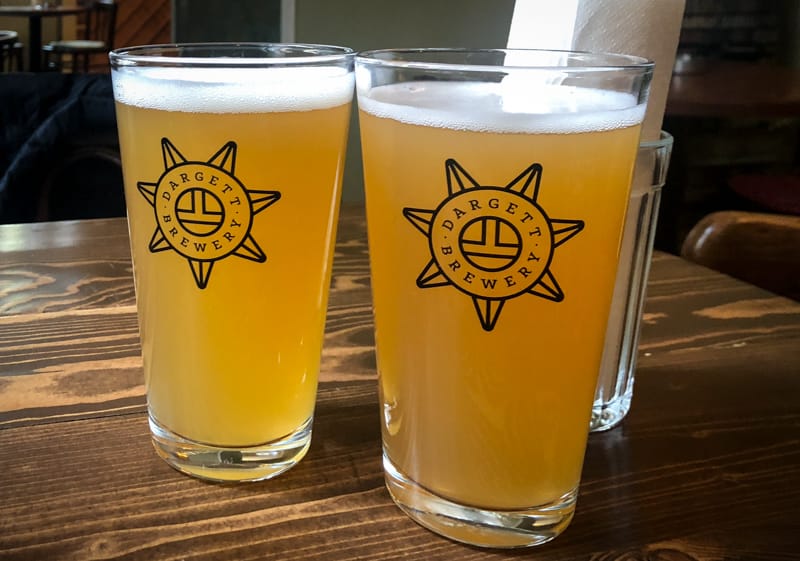 You can find the 2nd Floor at 1 Abovyan Street in Yerevan.  To find out more information, check out their Facebook page.
Best Yerevan tours
There are plenty of places to enjoy beer in Yerevan but these are some of the most recommended by locals and travelers who love beer.
Do you have a favorite place? If so, please drop it in the comments for future travelers!