There is an abundance of great Yerevan cafes and we are never hard-pressed to locate one to work from or relax at.
Keerk & Co. is undoubtedly one of the best new cafes in the capital city and one we have found ourselves enjoying several times since its opening.
The cafe-library stands out among the rest here in Yerevan due to its nature of coming for a chilled-out experience involving tasty coffee, cocktails, and food… but staying for the relaxing ambiance and ease to get some work done.
Keerk & Co Coffee
Easily our favorite thing about Keerk & Co. is the coffee.  We are always on the hunt for good coffee in Yerevan and this place really stands out.  We have ordered everything from cappuccinos (1400 AMD) to iced coffee to Americanos and everything has been absolutely delicious.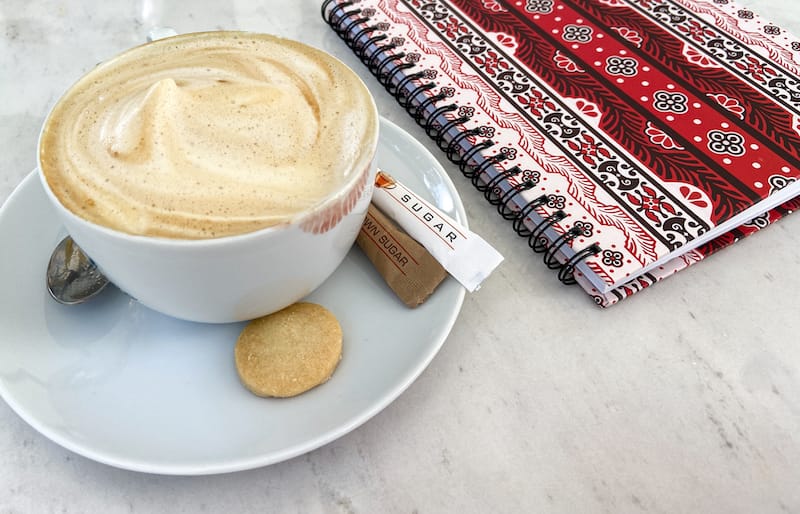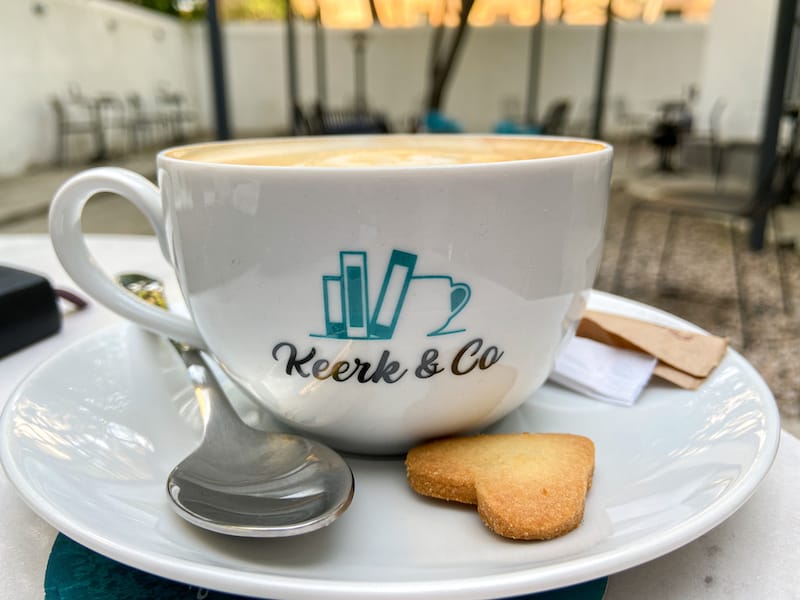 Keerk is purchasing their beans from DOC Therapy Bar off of Northern Avenue, another great spot in the city for coffee enthusiasts. They are currently preparing their espresso with an Oriental blend that is smooth and goes well in a variety of different drinks.  It definitely leaves us coming back for more!
Other coffee menu items are Lungos, Mochas, Lebanese coffee, as well as a full menu of iced coffee drinks.  They also have their own 'Keerk & Co. special' which we have yet to try but have our sights set on it for our next visit!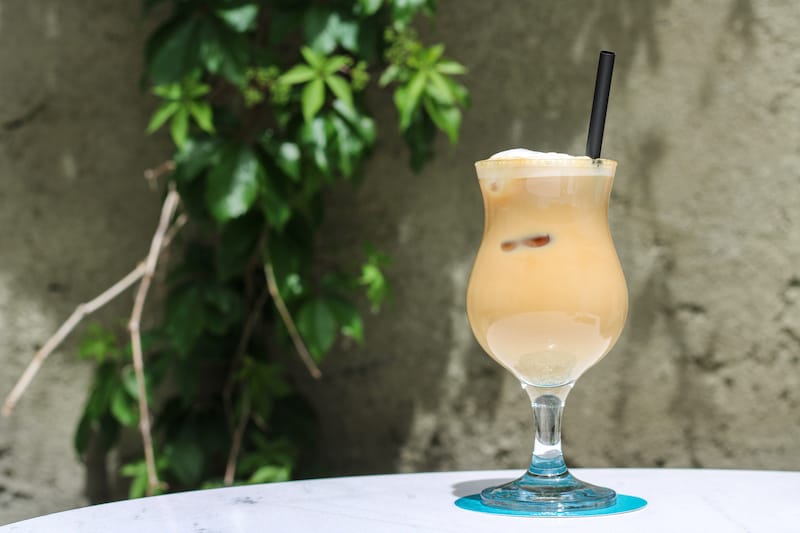 Most of the coffee ranges from 1000 AMD to 2000 AMD depending on what you order and the number of shots of espresso.
Food
Keerk & Co. offers something for every hungry patron at any hour of the day.  They have two breakfast options currently: a French breakfast consisting of a croissant, toast with butter, and jam and honey.  They also have yogurt and fruit parfait.
We are really excited about their salad options, however.  They have halloumi and pomegranate salad and other varieties such as tabbouleh, a smoked trout and avocado salad, and their own house salad with a pomegranate molasses dressing.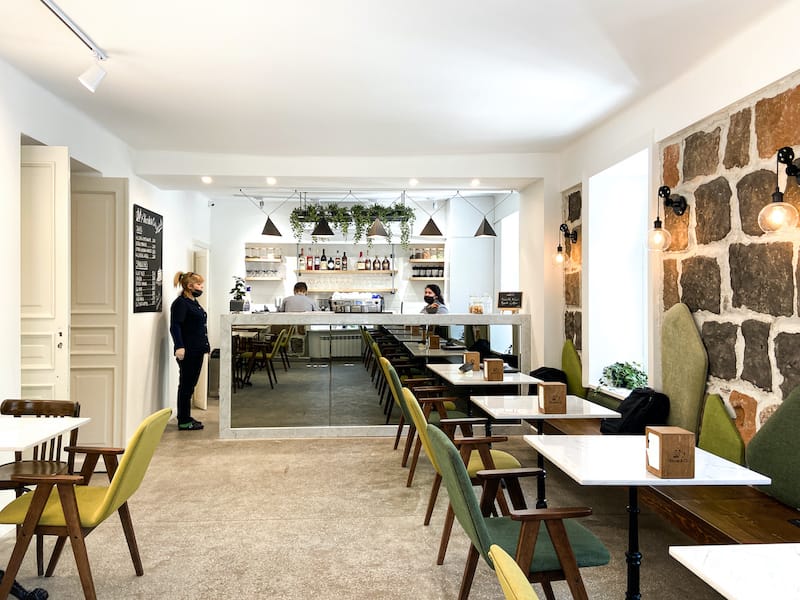 In addition to salads, Keerk also offers sandwiches (we are suckers for anything with halloumi on it!) and pastries and desserts.
With the exception of two sandwiches and one salad, the entire menu is under 3000 AMD currently.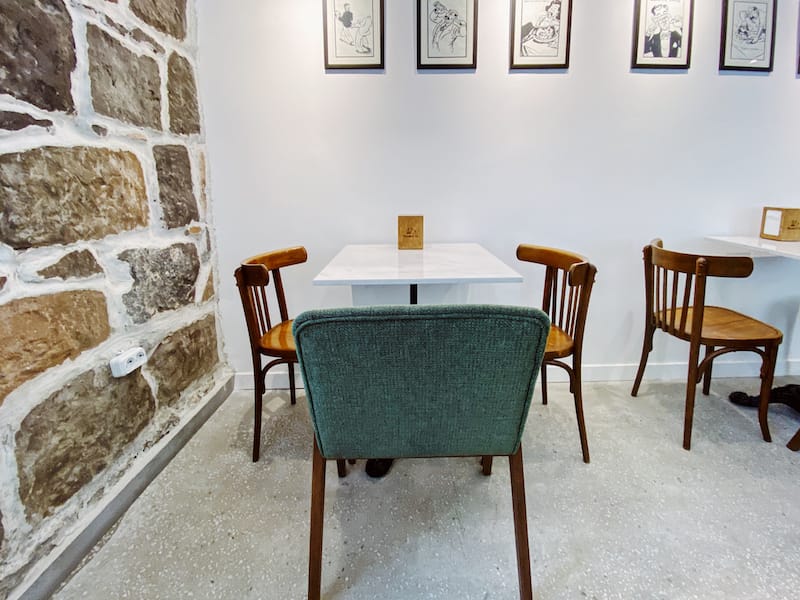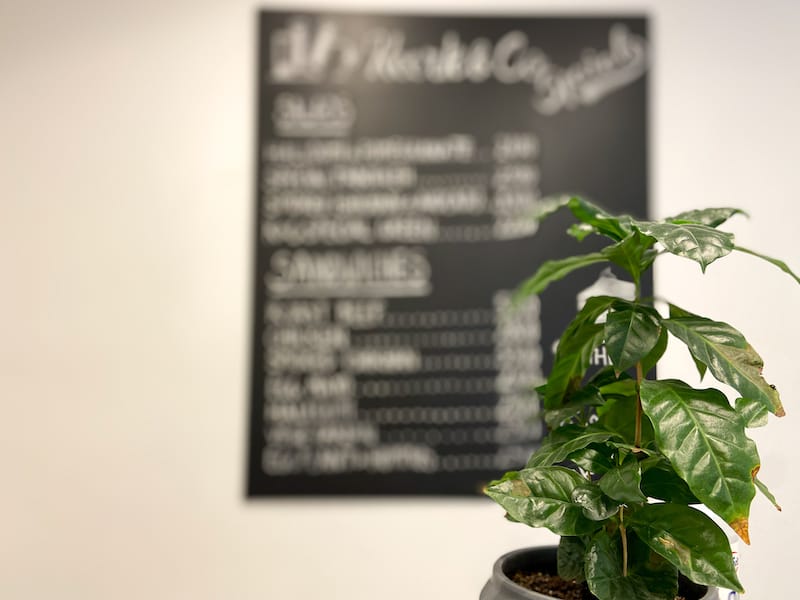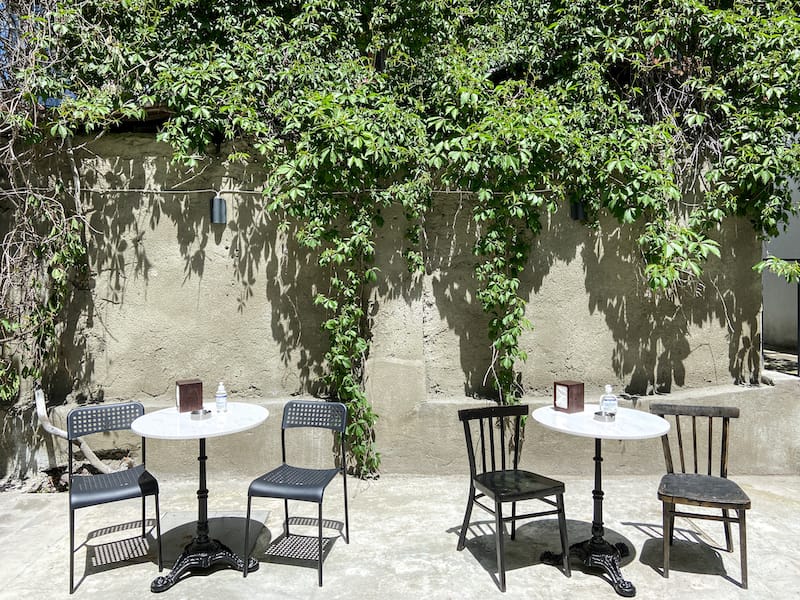 Alcoholic and Non-Alcoholic Drinks
Keerk & Co. has a full menu of alcoholic beverages and offers the perfect environment to switch from working coffee to after-work drinks.  You will find beer, simple cocktails and mixed drinks to a small wine menu offering Karas, Kataro, Tus, and Van Ardi wines (reds, whites, and roses).
And, naturally, you will see Ararat Brandy gracing their menu… as it should.
If you're not a drinker, there is plenty on the menu to keep you satisfied from a couple of milkshake options to smoothies to juices to tea.  We say go local and opt for the Armenian herbal tea, especially during the colder months!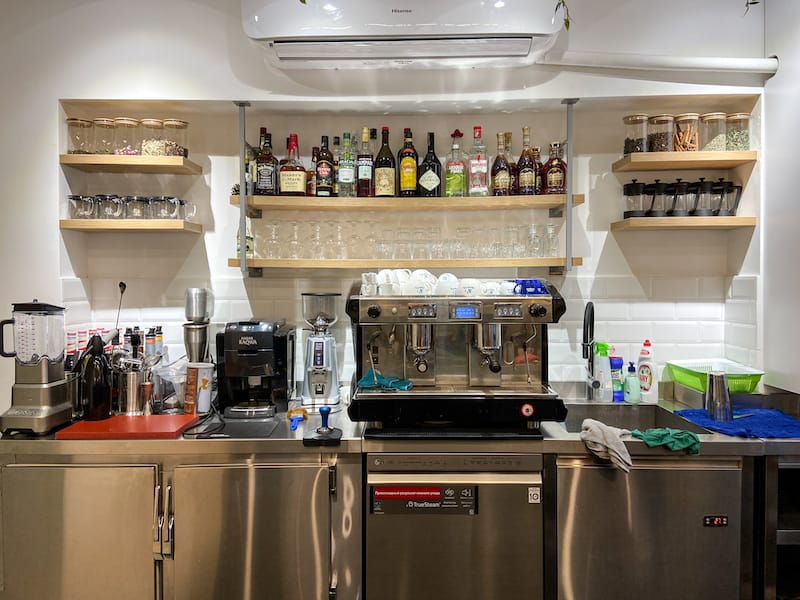 Other Perks at Keerk & Co.
Keerk & Co. offers a really spacious outdoor terrace that is ideal for the social distancing taking place right now.  You will find several tables, chairs, and bean bags for guests to sit in.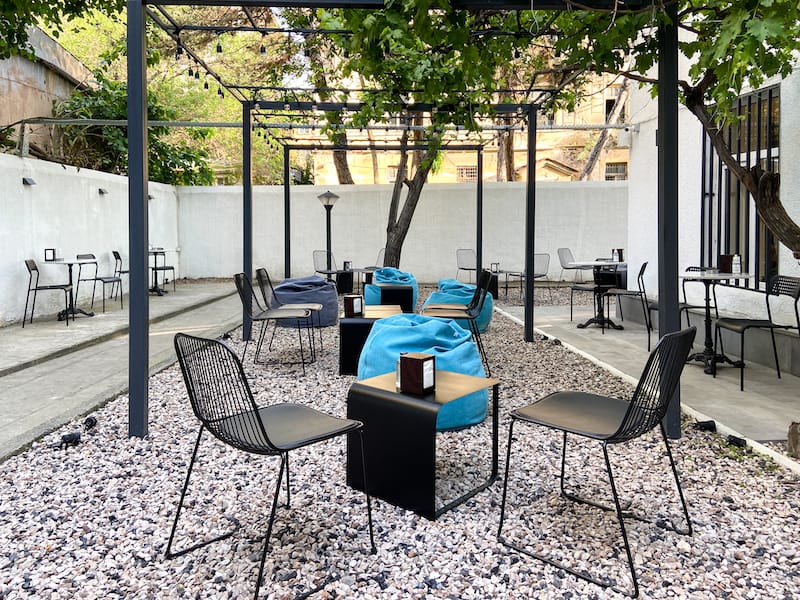 Inside, the space spans across two floors.  The first floor is where the bar and coffee machine is and it is well-lit and cozy.  Upstairs, you'll find an additional workspace that is spacious and has a more 'office' like setting.  There is even a whiteboard to draw up your company meetings if you need it!
And, as noted, Keerk & Co. doubles as a library so you'll find an array of book as soon as you walk inside.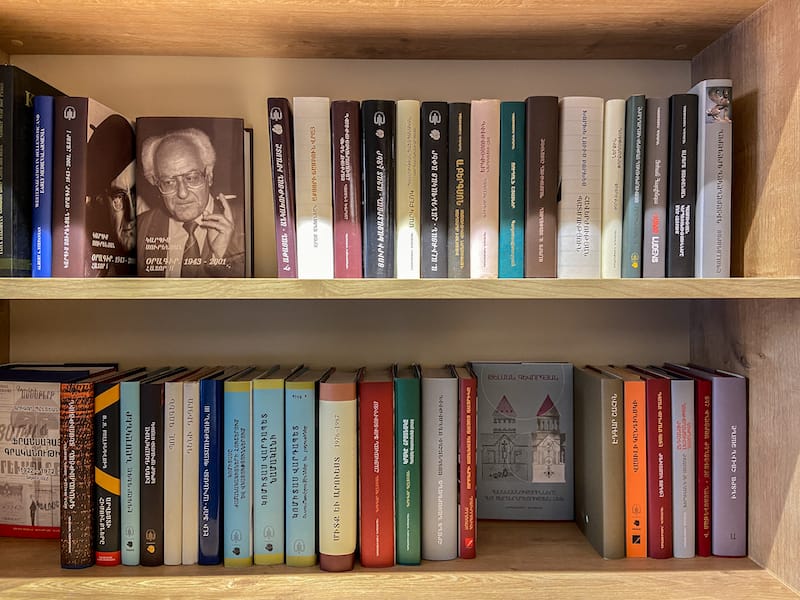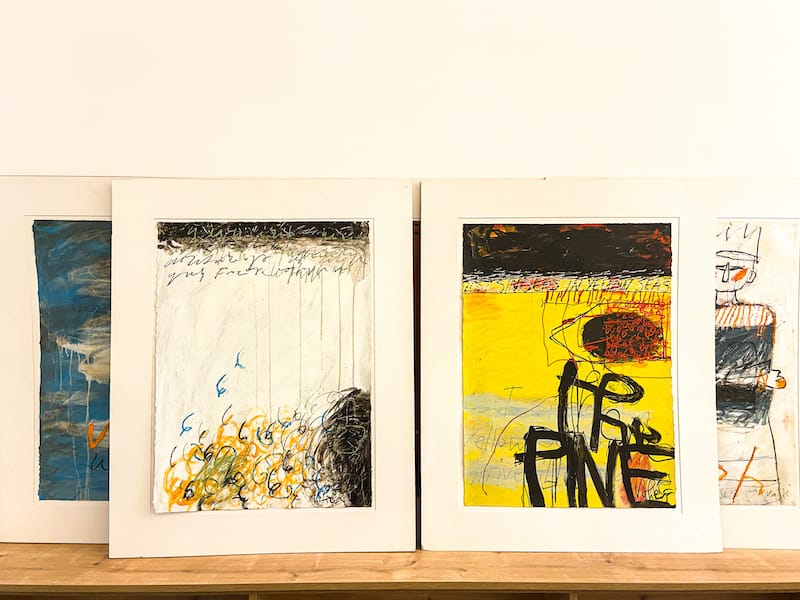 There is free wifi at Keerk & Co. and it is pretty good quality.  It is an ideal place to work alone or co-work with others.  This is definitely one of our new favorite hangouts in Yerevan and one of the best places to work from and enjoy tasty food and coffee.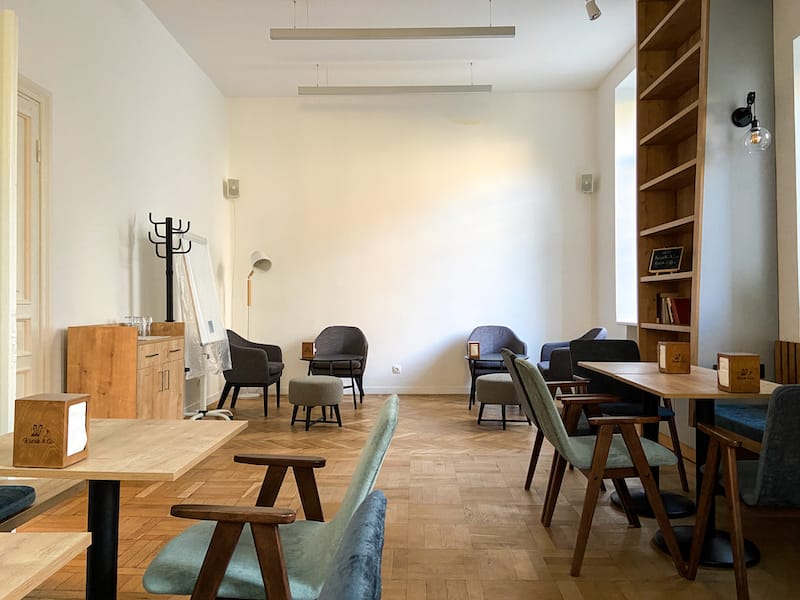 For their hours or additional information, check out their Facebook page listed below.
Address: 3A Marshal Baghramyan Ave, Yerevan 0019
Phone Number: 093 303194
Learn more: Keerk & Co. Facebook Page
→ This is not a sponsored post but we do offer sponsored features and reviews on the site (with full-disclosure). If you run a business in Yerevan or another city in Armenia and would like to collaborate, please contact us (in Armenian, English, or Russian). Thanks!
Spread the word! When you stop by local businesses, sights, or attractions, let them know you found them on Absolute Armenia!