Are you traveling to Armenia soon and looking for the best coffee in Yerevan? This Yerevan coffee guide has been curated to deliver just that!
You will find our top picks for coffee shops in Yerevan and please take note that this guide focuses primarily on third-wave coffee in Yerevan and not Armenian coffee.
Best Coffee in Yerevan
Yerevan is a wonderful city with a great sidewalk and coffee culture where it is possible to find a cozy cafe almost anywhere in the city and enjoy the vibe of the chilled-out pink city. Hanging at a cafe is definitely one of the essential things to do in Yerevan for visitors!
For decades, those cafes specialized in strong and traditional Armenia coffee made on fire or in hot sand but as the times change and the world becomes a bit flatter, so do coffee preferences.
Now, slowly but surely, there are Yerevan cafes opening with a primary focus on specialty coffee and a bigger emphasis on the source of the beans.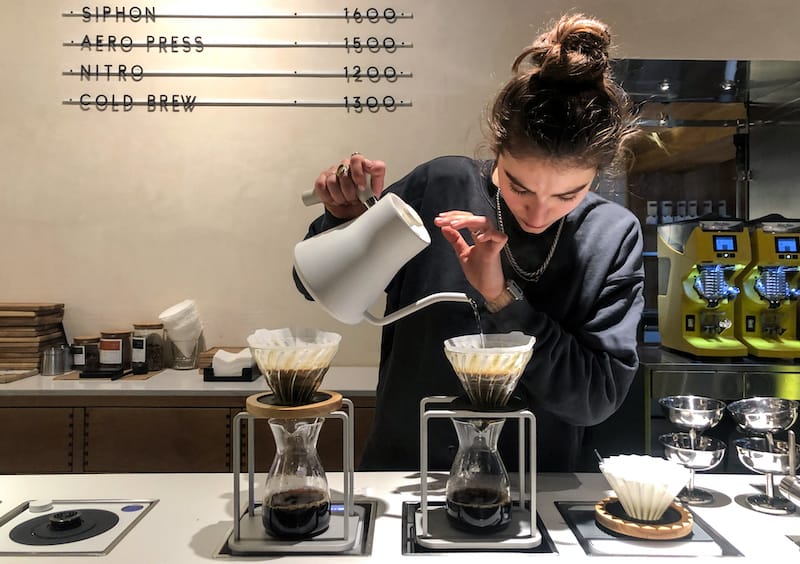 Yerevan is also home to some great coffee roasteries where you can find single-origin coffee as well as delicious blends to take home to your own espresso machine.
Even non-smoking coffee roasteries in Yerevan are opening their doors in recent years and blending the atmosphere of a modern coffee shop with a coworking space and comfortable atmosphere.  And, of course, most importantly, delicious coffee!
Here are our top picks for the best cafes for coffee in Yerevan.  Please leave your favorite in the comments (and if you're a new cafe – reach out to us and let us know so we can stop in)!
Yerevan Coffee Shops – Map
To add this map to your Google Maps account, click the 'Star' icon next to the map name. You can then view it on your cell phone or computer by heading to your Google Maps account, click the menu and add it to 'Your Places'.
1. AfroLab Roastery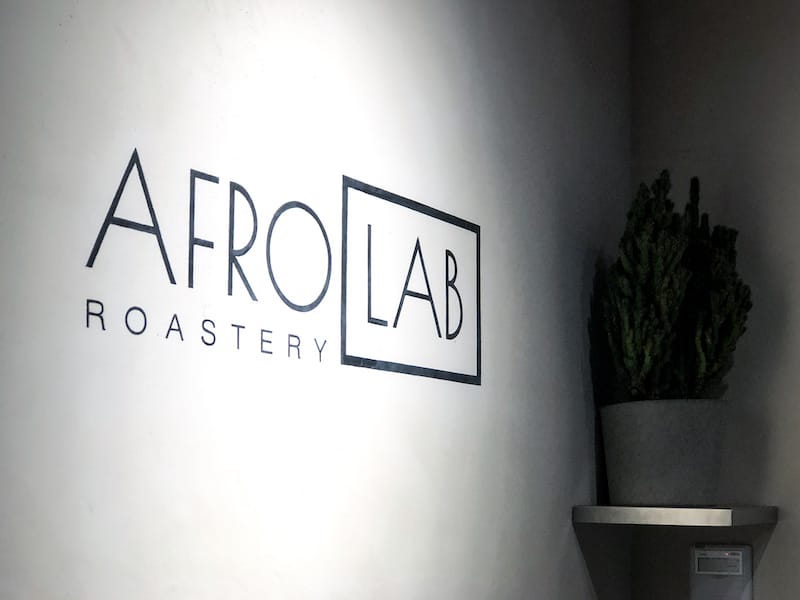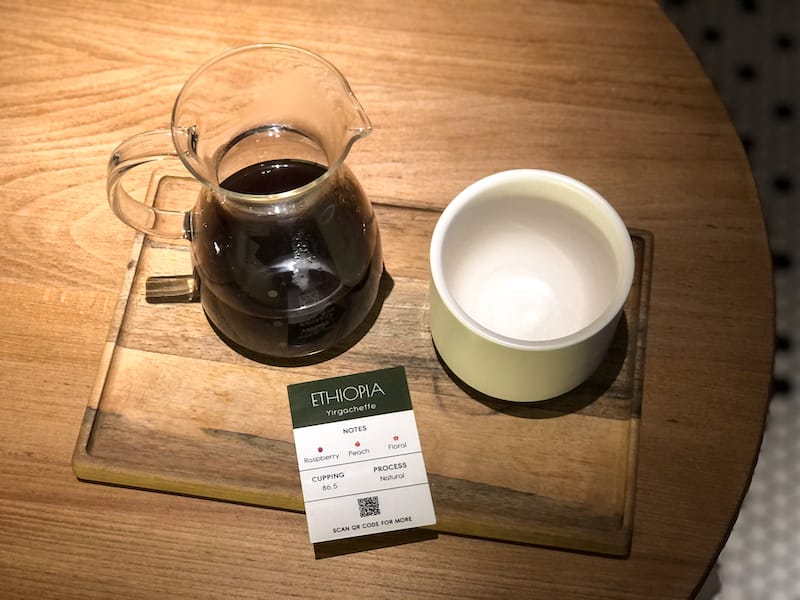 Part of The Collective, AfroLab Roastery is one of the most professional and popular coffee shops in Yerevan that has great stuff and top-quality equipment to make one of the best-specialized cups of coffee in Yerevan. The coffee shop is located in the city center.
AfroLab has a wide selection of coffee for enthusiasts where you can enjoy a flat white, pour overs, cold brew, and various other styles.
The cafe on Pushkin has a modern aesthetic mixed with a bit of a 'tropical' vibe and a great outside terrace for the warmer seasons. AfroLab also has a takeaway window if you are in a rush. 
You can find AfroLab Roastery at 40 Pushkin Street in Yerevan.  It is a non-smoking establishment. Facebook & Instagram
2. DOC Therapy Bar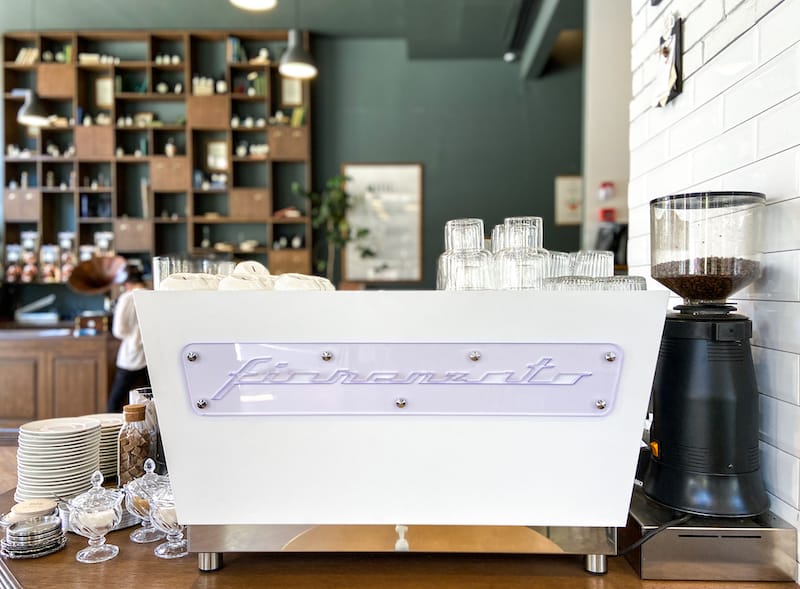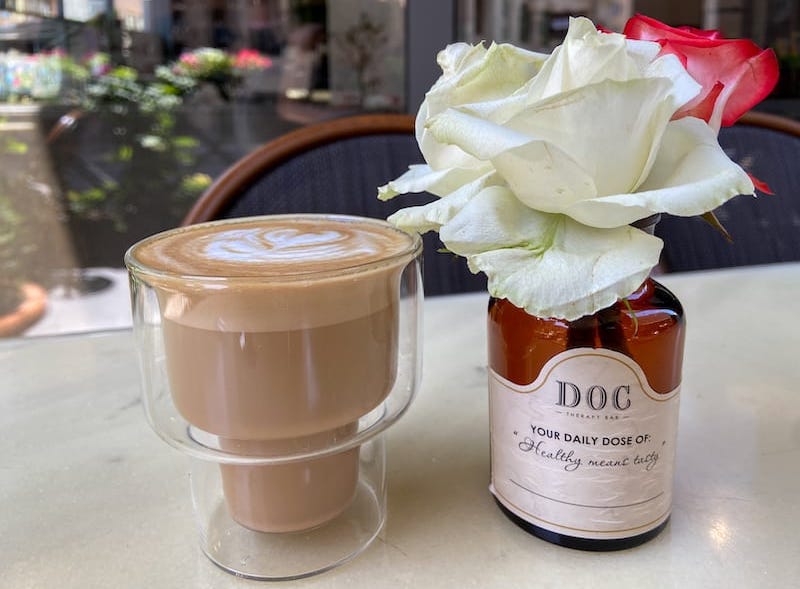 Located at the center of Northern Avenue, DOC Therapy Bar is not only specializing in coffee but also in delivering an overall great service with a diverse food menu.
Because of the location and rich interior, the prices are above average for coffee and the rest of their offerings, but one thing that's for sure –  the quality is great!  This is definitely one of the best cups of coffee in Yerevan (we recommend their flat white).
Another perk is that they roast their own coffee and bag it up to take home.  While a flat white inside of the cafe is rather pricey, their coffee is really affordable to take home and Megan and I would also buy bags of it for our work coffee machine.
The terrace of the DOC Therapy Bar is wonderful and a great place to enjoy Yerevan's summer days with a tasty coffee and dessert.
You can find DOC Therapy Bar at the crossroads of Pushkin and Northern Avenue.  The establishment is non-smoking. Facebook & Instagram
3. Coffeestory
Coffeestory is another cafe that offers a calm and chill atmosphere especially during the weekend mornings (and anytime) when you just want to sit in a quiet spot and enjoy your morning coffee. 
The cafe offers high-quality coffee and food for affordable prices and a cozy environment right in the city center. In addition, there is a big bar in the back of the cafe where you can enjoy cocktails and more.
Please note that Coffeestory is one of the coffee shops in Yerevan where there is a smoking section.  The terrace also permits smoking despite being closed in.
You can find Coffeestory at 98/9 Nalbandyan Street in Yerevan. Smoking is permitted. Facebook 
4. BREW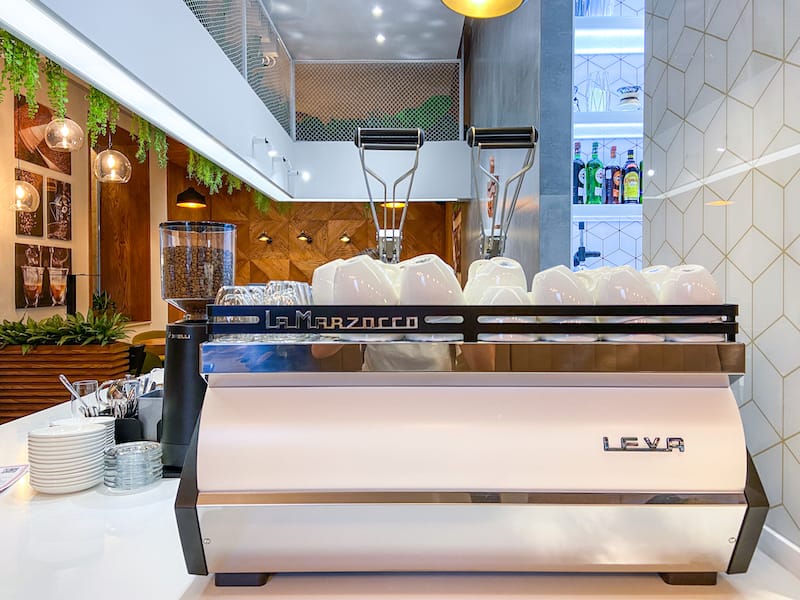 A lovely, spacious, and modern-designed BREW cafe and coffee house is located near one of the most beautiful sights in Yerevan, the Cascade Complex.
The Yerevan cafe has a large outdoor terrace that is a great place to drink impeccably-made coffee from their wide selection. It is also the place to try fresh cakes while you marvel at the charm of the Cascades.
BREW also has one of the best coffee machines in the city and the staff is fairly experienced and professional.  It is a great place to visit if you're taking refuge from the cold Armenian winters!
You can find BREW at the Cascades at 1A Tamanyan Street in Yerevan.  This establishment is non-smoking. Facebook 
5. The Green Bean (Cascades)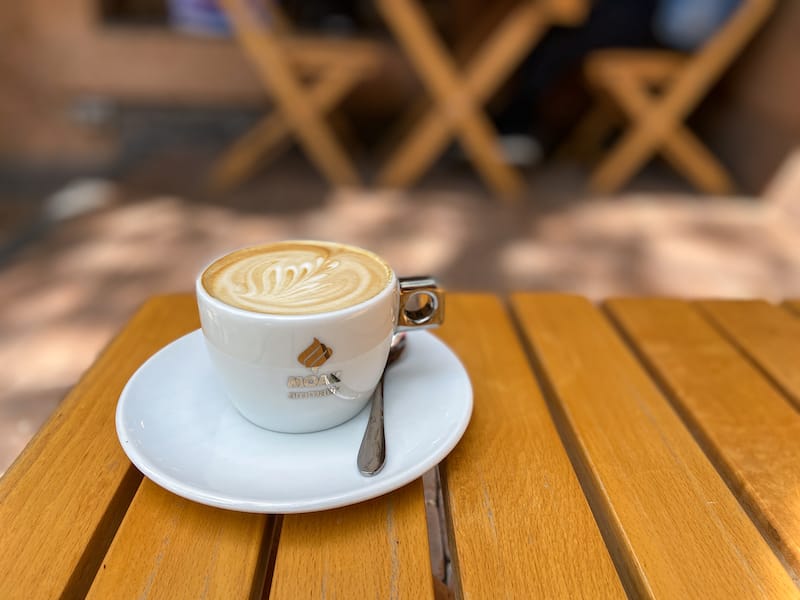 The Green Bean is a place where expats and locals come together for great coffee, chat, and an inspiring working atmosphere. The Yerevan coffee shop is an ideal breakfast place where you can have a freshly baked bagel paired with some of Yerevan's best coffee. 
The coffee shop is again located near Cascade Complex and has a small and cozy outdoor terrace. The Green Bean is a pet-friendly place where your furry little buddy can, too, enjoy snacks and water while you sip on your coffee.
Coffee options are many and the prices can be a bit higher (although fairly on-par with most Yerevan establishments that serve top-quality coffee) but it's absolutely a worthwhile place to spend your mornings at.
You can find The Green Bean at the Cascades Complex at 38 Isahakyan Street.  It is a non-smoking establishment. Facebook & Instagram
6. The Coffee 23.5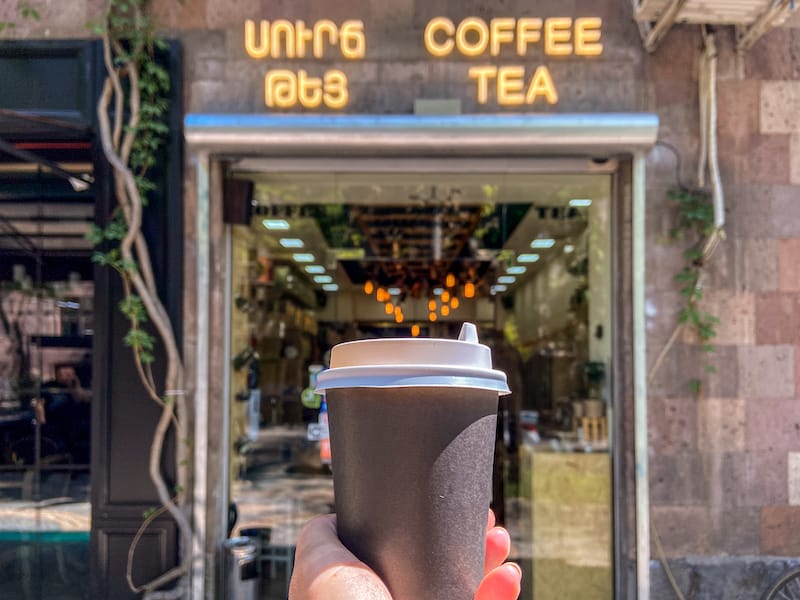 One of the smallest but most charmest coffee houses in Yerevan is the cozy The Coffee 23.5 that is located on Saryan Street, famous in Yerevan for its wine bars.
The Yerevan coffee shop has a vast selection of coffee and tea from around the world that is roasted on the spot and is possible for purchase.  They have single-origin and blends both.
The terrace of the cafe allows you to enjoy the hot summer temperatures in the shade surrounded by wine houses and restaurants.
Another great thing about The Coffee 23.5 is that they sell accessories for purchase so you can create your own coffee station at home.  They sell V60s, Chemexes, and more.
The prices for great quality coffee are very affordable and they have free cookies in jars that you can enjoy while you drink your coffee!
You can find The Coffee 23.5 at 1 Saryan Street in Yerevan.  This is a non-smoking establishment. Facebook & Instagram
7. Sweet Coast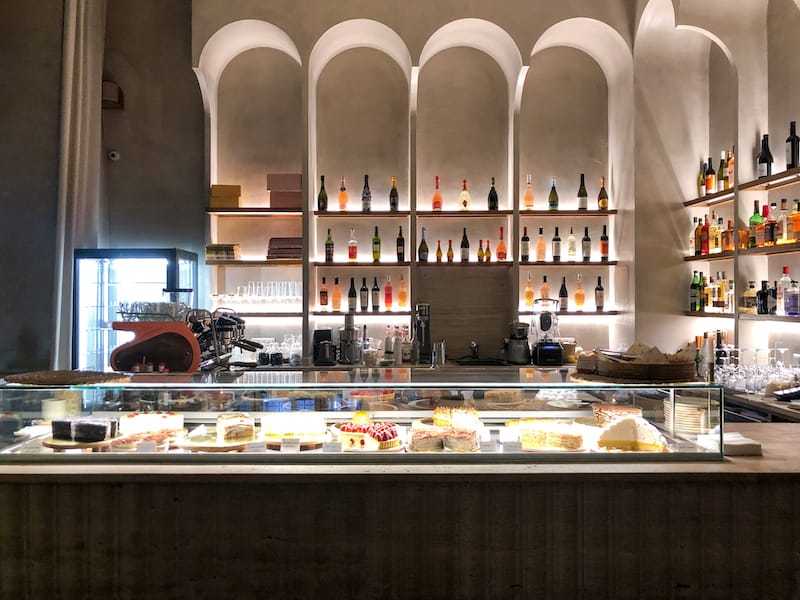 Yerevan has been graced with the presence of a brand new cafe that has a unique and authentic design inspired by the Cascades architectural style.
The coffee house in Yerevan is located inside of an old Soviet building where they used the industrial interior to combine it with modern touches.  It truly is a beautiful cafe!
The jewel of the coffee shop is the bar that is made from limestone just like the Cascades and has similar design details.
The coffee is another thing that Sweet Coast is exceptional at. Coffee lovers can have a diverse choice of high-class coffee from pour-overs to nitro coffee and everything in between.
You can find Sweet Coast near the Cascades at 39 Mashtots in Yerevan. This is a non-smoking establishment. Facebook & Instagram
8. Keerk & Co.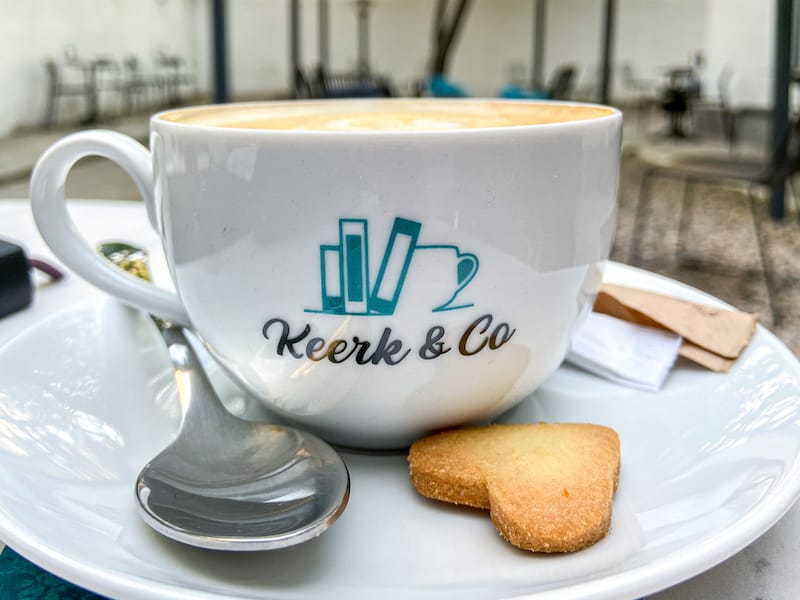 Keerk & Co, which means book and coffee, is a unique concept that combines a cafe with a bookstore and coworking space. It is one of our favorite places for working on this site and drinking delicious coffee in Yerevan.
The location of the cafe is a bit hidden even though it is located in the center of the city – but that is also what makes Keerk & Co. so special! It's like an oasis in a big city.
Keerk & Co. offers great coffee and food, a place to read, and a big terrace to relax or work if you are visiting during the day. They also have air-conditioning for the summer months.
You can find Keerk & Co. at 3A Marshal Baghramyan Avenue in Yerevan.  It is a non-smoking establishment. Facebook & Instagram
9. KONG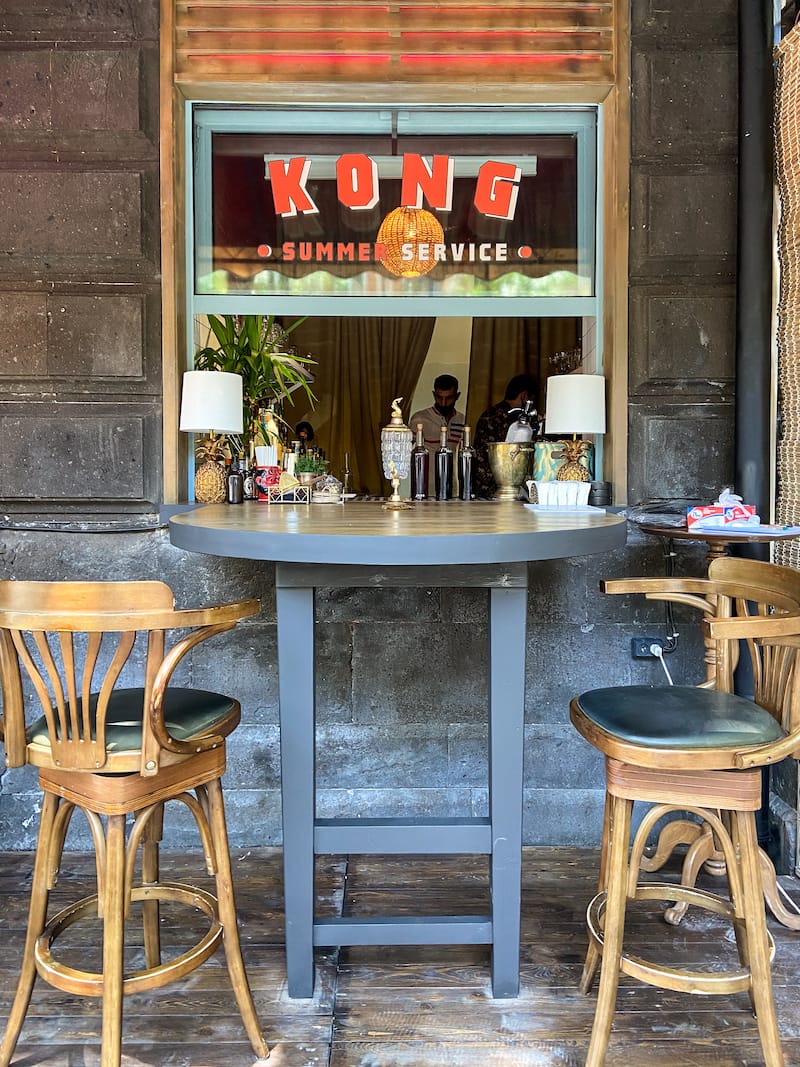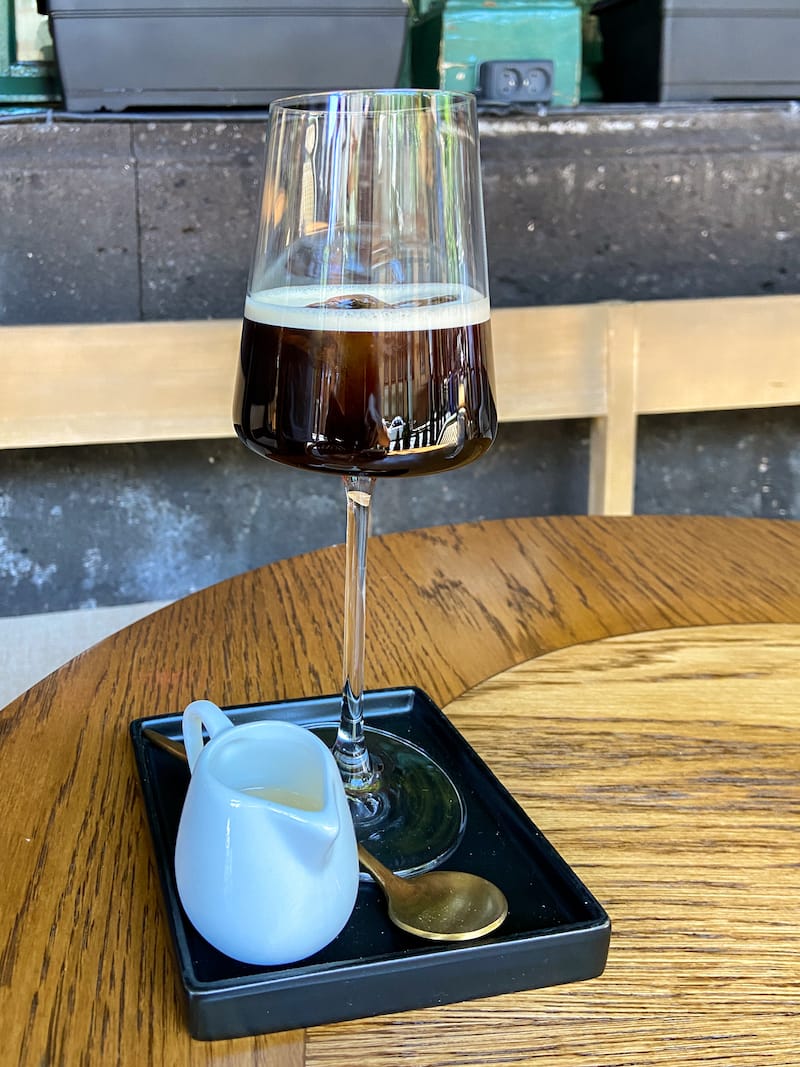 Located in one of the most beautiful buildings of old Yerevan, KONG is an epic, high-class bar and restaurant with a fabulous design that gives guests a tropical twist. It truly stands apart from any other place in Yerevan and they just opened their sister bar, Mamba (focuses on gin).
The main second floor is more for bar lounge events and cocktails while the open-air, summer cafe is one of the most beloved places for those that love good coffee. It is also one of the coolest bars in Yerevan – so it is a win/win no matter when you visit!
Enjoy your iced coffee or nitro coffee from the summer terrace in the summertime or relax on the second floor. They also offer plenty of non-dairy alternatives like coconut milk flat whites, and more.  
Try one of the best coffees in Yerevan and stick around for their tasty menu with an Asian inspiration.  They also serve some of the best vegan and vegetarian food in Yerevan.
You can find KONG at 1 Abovyan Street in Yerevan.  This is a non-smoking establishment. Facebook & Instagram
10. Nero Bean Coffee Roastery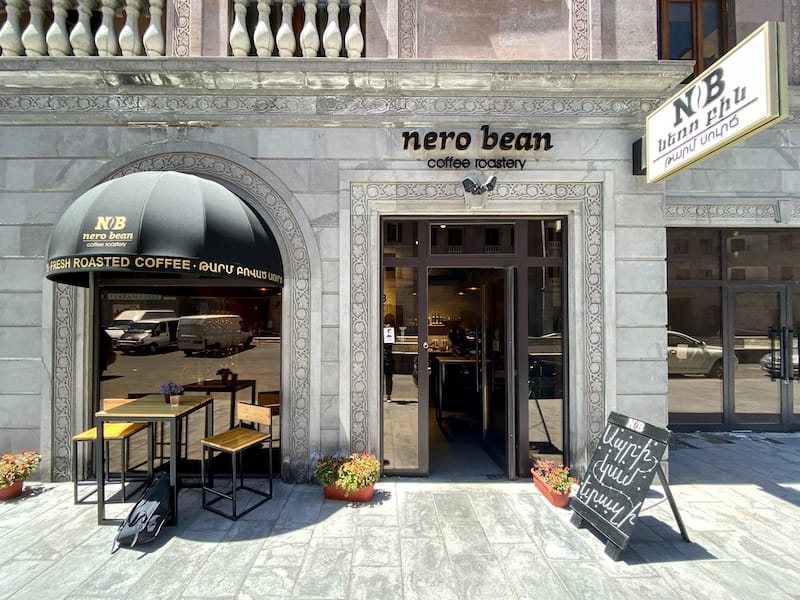 Located in Komitas, Nero Bean Coffee Roastery offers delicious coffee at an affordable price in Yerevan.  The cafe is small and specializes in coffee to take home, but it is worth grabbing a bag of coffee from there for your home coffee station.
If you can't make it all the way to Komitas, you can also pick up their coffee at Parma on Northern Avenue and other various places around the city.
You can find Nero Bean Coffee Roastery at 6/1 Nikoghayos Adonts Street in Yerevan.  This is a non-smoking establishment.  Facebook
11. Patrick's Pastry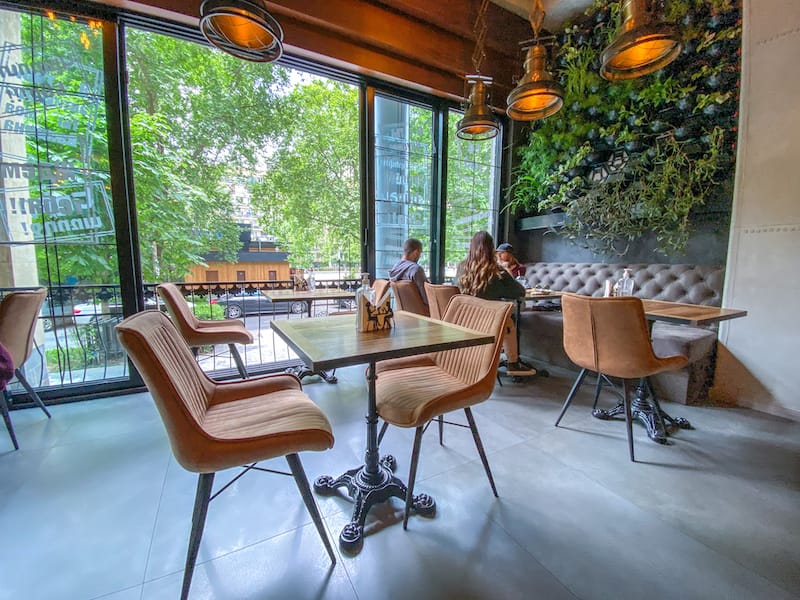 Great quality coffee and awesome pastries. What can be better? Patrick's Pastry is located in one of the elite neighborhoods of Yerevan center on the first floor of a business center.
This cafe is the perfect place for family gatherings, summer weekends relaxing on the terrace next to the illuminated fountains, and of course, to try one of the best pastries in the city (Megan is obsessed with their chocolate croissants).
The coffee at Patrick's Pastry is top-quality and they make a really delicious flat white.  It is one of the best cups of coffee in Yerevan and is a great to-go option if you're heading down to Hrazdan Gorge!
You can find Patrick's Pastry at 64 Aram Street in Yerevan.  It is a non-smoking establishment.  Facebook & Instagram
12. Haldi.Co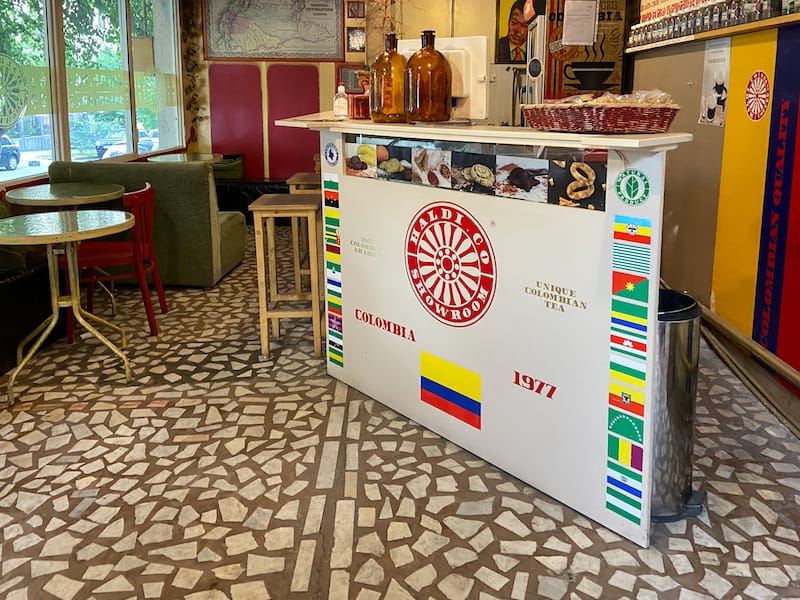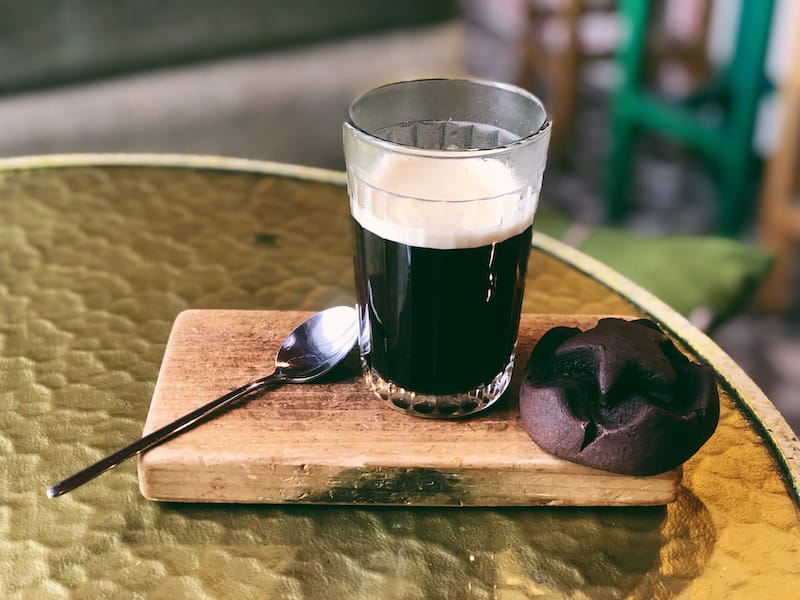 Another favorite place to get a delicious cup of coffee in Yerevan is at Haldi.Co.  This coffee shop is Colombian inspired and specializes in coffee from the respective country.  
The vibe is colorful, just like Colombia itself and we love going there and sitting on their private terrace outback.  The quirky nature of the place paired with its fantastic coffee makes this a great stop for those on the hunt for the best coffee in the city.
You can find Haldi.Co at 22 Derenik Demirtchan in Yerevan.  This is a non-smoking establishment. Facebook
13. Caffeine Coffee Roasters (Special Mention)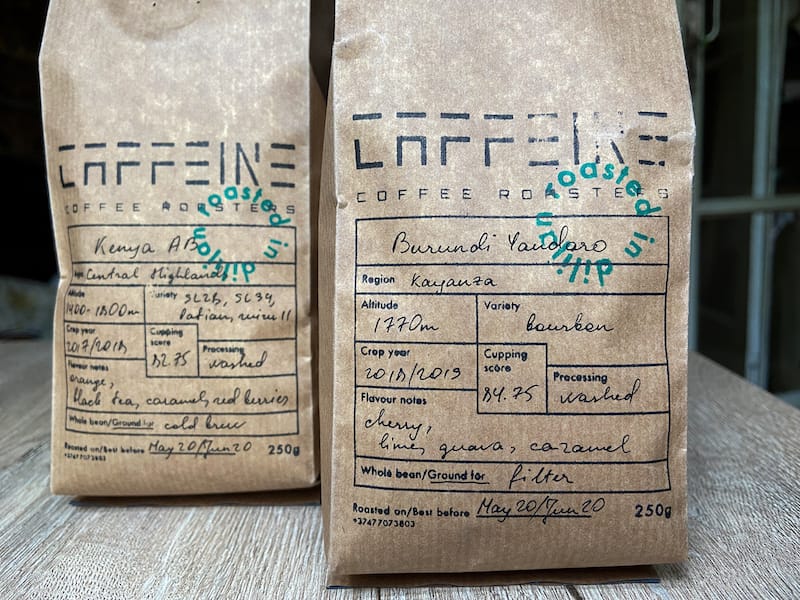 If you're truly looking for great coffee and are keen to support an independent business, consider ordering the latest roast from Caffeine Coffee Roasters.  They are a small, independent roastery in Dilijan and they deliver to Yerevan every Thursday!
Megan and I ordered from them this past summer and made our own cold brew and filtered coffee for our workdays and the results were fantastic! You don't need to go on a day trip to Dilijan to pick it up as it comes right to your doorstep in Yerevan.
If you're traveling to Yerevan for an extended stay and have an Aeropress or a way to make coffee at the place you're staying, this is such a great option!  And their beans change frequently.  It's even perfect to throw in your Keep Cup and sit at the top of the Cascades!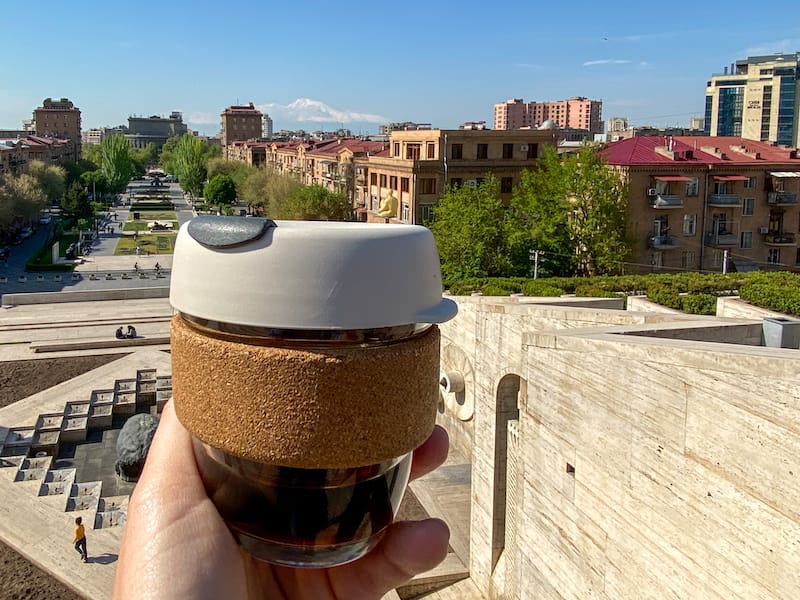 You can place an order with them weekly but the order must be placed no later than Tuesday as they roast on Wednesdays and deliver to Yerevan on Thursdays.  You can place an order on their Facebook page (they speak English).  Alternatively, you can reach them by phone: +374 77 073803.
We are constantly updating this guide and welcome your suggestions for places that offer delicious coffee in Yerevan.  
If you're a cafe that has just opened or want to share your coffee with us – please reach out and let us know!
Pin This Yerevan Coffee Guide!