Are you looking for some tasty Armenian food options for your trip to the country? This guide details some popular Armenian dishes and tells you a bit about each of them!
What are your favorite dishes in Armenia? Please let us know in the comments!
Best Armenian Food and Dishes
Khorovats
Armenian: Խորոված
Is it vegan/vegetarian? No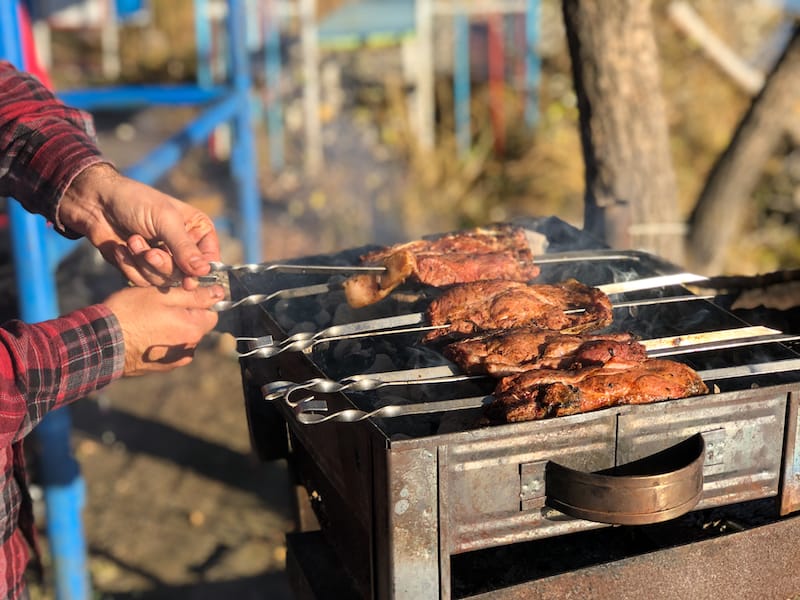 Khorovats are the king of any party and gathering in Armenia. Traditional Armenia khorovats (shashlik in Russian) are an essential part of any event or party in Armenia and they pair well with vodka and wine, naturally.
The history of this basic dish stems from prehistoric times when local tribes roasted a large animal atop a big fire. Throughout the centuries, the cooking method was perfected in the Caucasus, Middle East, and Central Asia as the cooking methods were all quite similar.
However, Armenia took Khorovats to a new level and it has become like a national sport in the country.  It is a huge sense of pride and there is even an annual festival dedicated to it.
Khorovats are cooked on extensions called manghal (Մանղալ) which is a custom metal grill looking accessory where you burn the wood (preferably dried grapevines) in order to cook the meat.
It's also cooked in the traditional ancient bread baking and lavash baking hole called toner (թոնիր). You can hang the meat and cover it in order to prepare.
The ingredients can contain any type of meat and they are assembled on metal sticks called shampurs (Շամփուր).
In Armenia, the traditional khorovats are made with beef, lamb, goat, pork, or chicken. Correctly cut meat is marinated preferably one-day prior with salt, black paper, paprika, onion, basil, and sometimes beer in order to infuse flavor into the meat.
For vegetarians and vegans, is possible to make traditional vegetarian khorovats with vegetables like eggplants, tomatoes, potatoes, and mushrooms.
Tolma
Armenian: Տոլմա
Is it vegan/vegetarian? No (variations can be – see pasuc tolma below)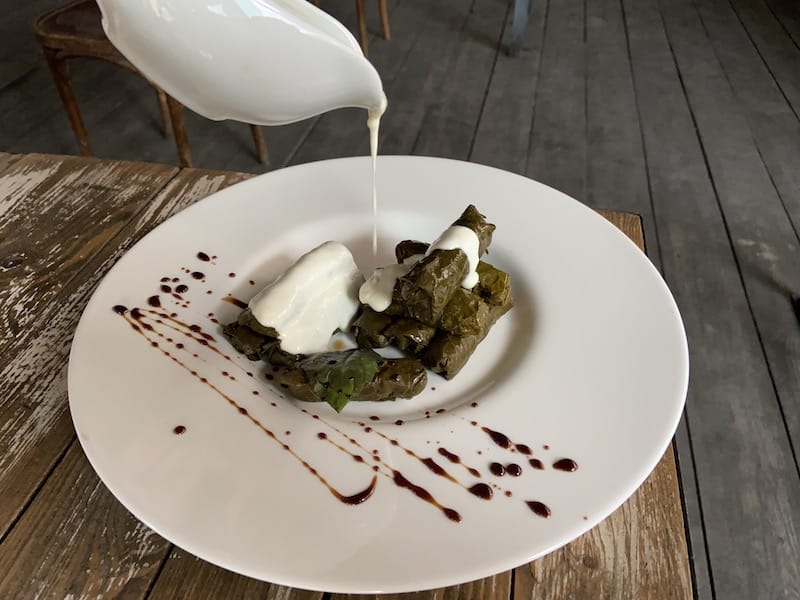 One of the easiest dishes in Armenia cuisine (if cooked correctly) is definitely Tolma or Dolma (Տոլմա). It is a dish made with meat and spices and other ingredients rolled into grape leaves (most popular) or cabbage. Alternatively, it can be stuffed in vegetables like eggplant, tomato, pepper, or even stuffed in apples.
Tolma is an old dish popular in the Caucasus, Central Asia, the Middle East, and even in many Mediterranean countries.
In Armenia, tolma has been around for centuries and is a very important part of the cuisine. There is even a Tolma festival that takes place in the country where you can try over 50 different types of the Armenian food!
The typical ingredients for tolma are beef mince, rice, chopped onion, coriander and parsley, chopped garlic, tomato sauce, black pepper, salt, and grape leaves.
After mixing all the ingredients together with the minced meat, the tolma is assembled layer by layer in a pot and prepared on a 150C fire for 50-60 minutes without mixing because you cant mix tolma (it's an unwritten rule in Armenia)!
Harissa
Armenian: Հարիսա
Is it vegan/vegetarian? No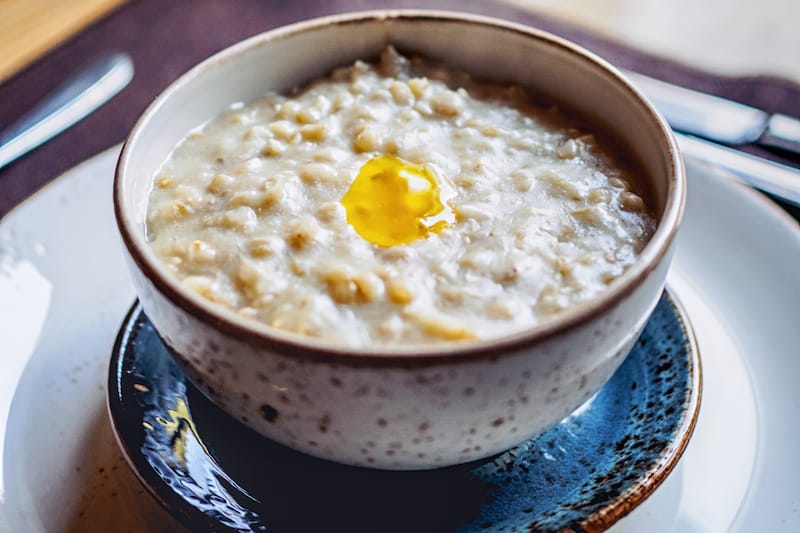 With ancient origins, Harissa is one of the most celebrated dishes in Armenian theological history because it is an everyday dish that is a beloved favorite of many.
Harissa is considered a cold-season food and it even has its own festival, but you can prepare it any time you want and eat it anywhere in Armenia that you want!
It looks like porridge but in reality, the ingredients are ground wheat and pulled meat (can be chicken, turkey, lamb). It is stewed over a fire for a long time. Harissa is served with butter and can be a great breakfast or lunch dish because it is very filling.
Qyufta / Kufta
Armenian: Քյուֆթա
Is it vegan/vegetarian? No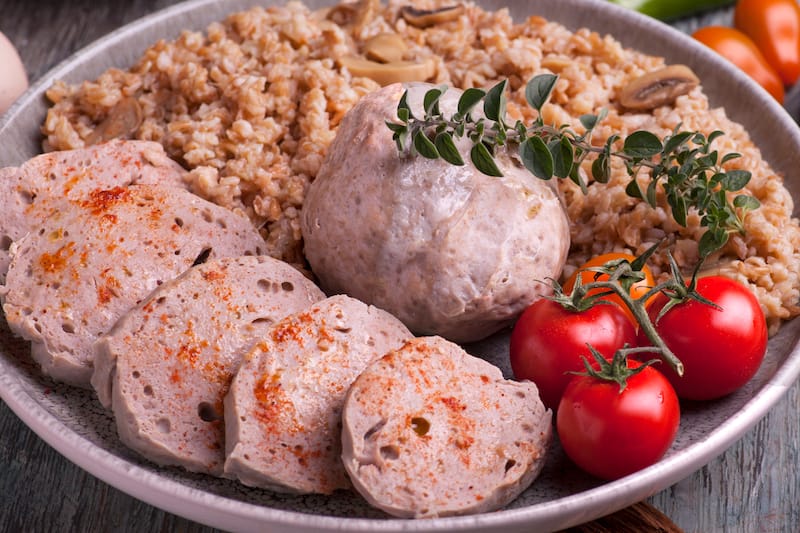 Kufta (or qyufta in Armenian) is an interesting Armenian dish that is savory and absolutely delicious.
The dish is reminiscent to meatballs and it is a part of every wedding or large gathering in Armenia and the kufta is served in different manners depending on where in Armenia you are. One of the most popular types is Echmiadzin kufta. But, there is a different type called Ishli Kufta.
The main ingredients in kufta are beef, onion, butter, egg, black pepper, and salt. It's boiled in water and then served with butter, or it is boiled and then fried, depending on how you like it.
Tjvjik
Armenian: Տժվժիկ
Is it vegan/vegetarian? No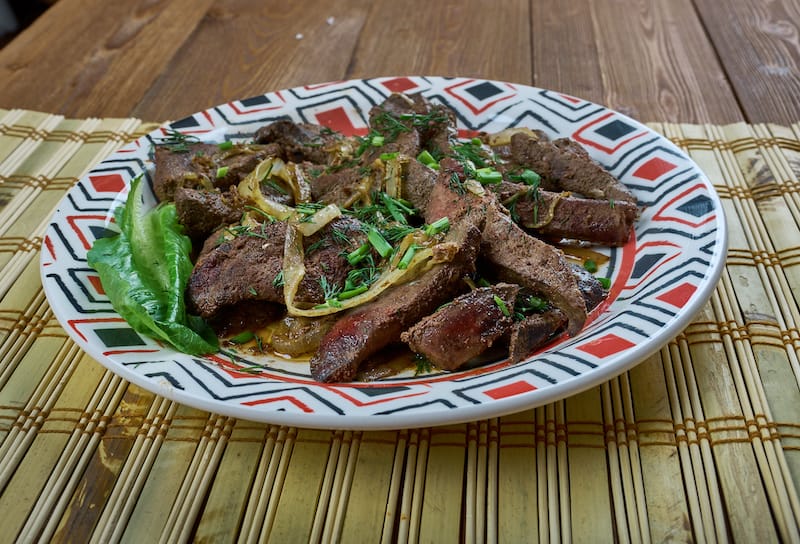 The next dish is rather specific and is made from beef or lamb liver. Not everyone loves eating liver, but tjvjik might change your opinion about it!
The dish is so popular that there film dedicated to it for the 60s. Tjvjik for translations means loud frying also in dialect it means to do something good and keep talking about it all the time.
To make Armenian tjvjik is necessary to cut the liver in small cubs spice it up with salt and paper and a lot of onion, tomato paste, and frying on fire.
Also, many people are adding lamb and beef hear which is need to fried separately then added in tjvjik because it is late cooking meat.
Arishta
Armenian: Արիշտա
Is it vegan/vegetarian? Vegetarian (noodle contains egg)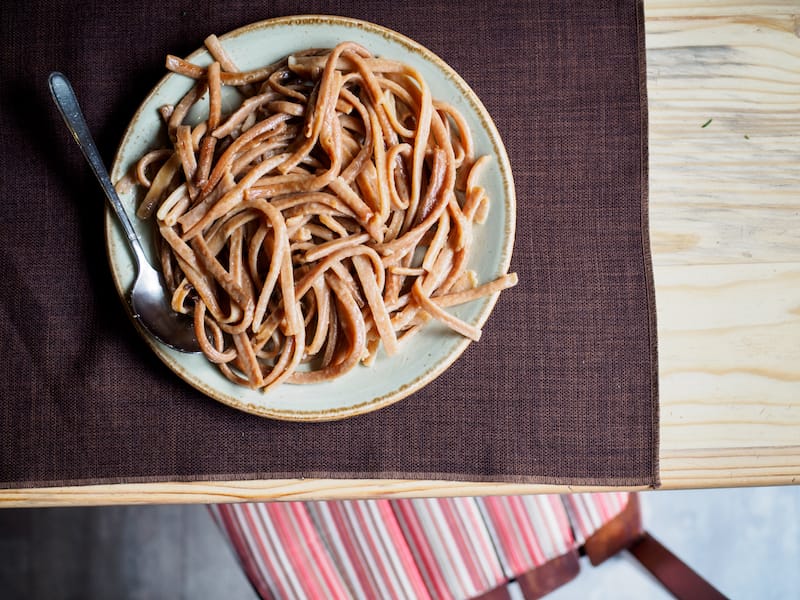 Arishta is a traditional Armenian homemade noodle that is a lot thicker than traditional European noodles and it tends to be a lot darker in color.
The Armenian food is made from a very stiff dough and the ingredients are water, flavorings, and salt. It's the perfect dish to mix with salad and other dishes as it is simple and can complement several other types of ingredients and flavors.
It's possible to order arishta everywhere in Yerevan and many villagers create their own arishta at home.
Spas
Armenian: Սպաս
Is it vegan/vegetarian? Vegetarian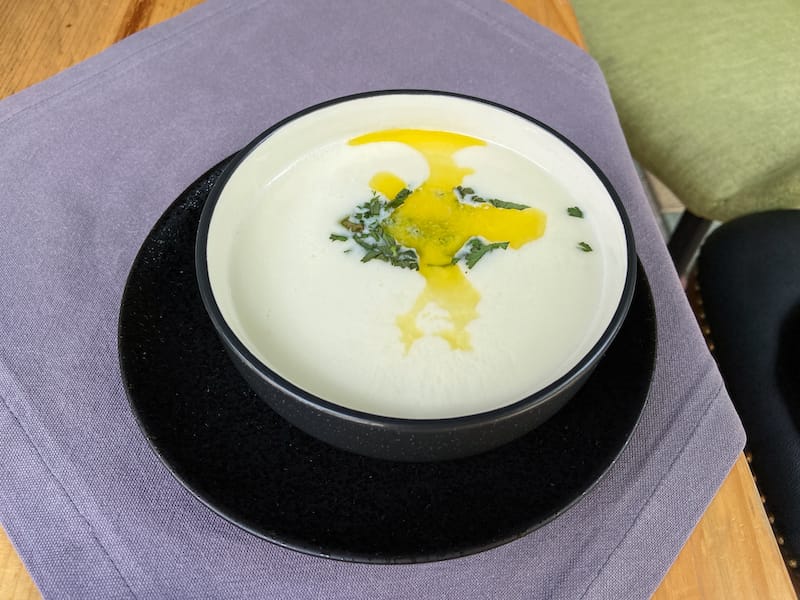 One of the most popular soups in Armenia is Spas. It is also known as Tanov Apur and it is a yogurt soup that will conquer your heart immediately after trying it.
Spas is popular during any season but it is usually served hot during the winter and is served cold during the summer months.
The ingredients in spas are wheat berries that need to be cooked to be soft, yogurt (known as matsun in Armenian), flour, egg, and sour cream. All are mixed in a pot and cooked with herbs for about fifty minutes. It, of course, needs to be stirred often in order to ensure it does not burn.
It can also be made with rice and dried herbs and is one of the best dishes to eat in Armenia during winter.
Khash
Armenian: Խաշ
Is it vegan/vegetarian? No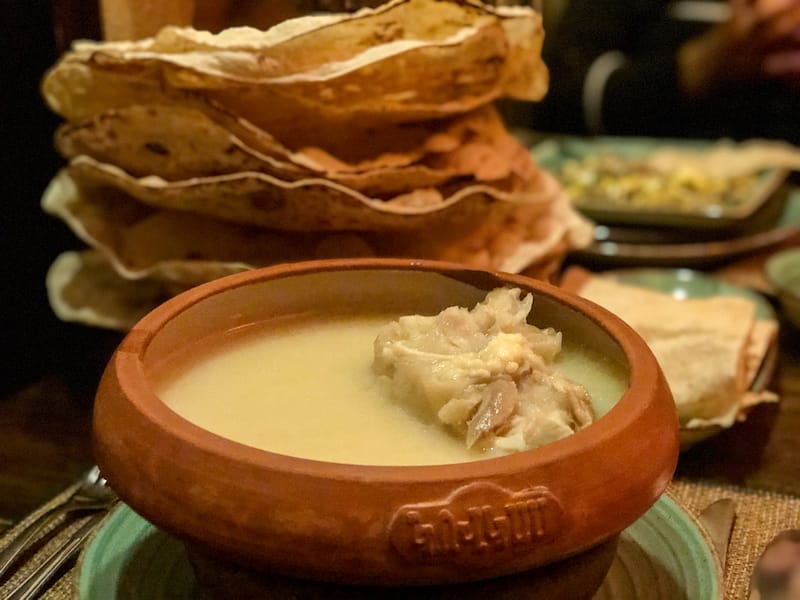 In Armenia, khash is not just a broth made from beef bones and belly. It is a ritual for the organizers and participants. Khash is an ancient Armenian dish, which later spread throughout the Caucasus and Transcaucasia.
The name of the dish comes from the word "boil". In ancient times, khash was considered the food of the poor, as it was used to make what was leftover from ritual sacrifices or meat sales.
Khash season in Armenia begins in late autumn, during the first cold days of the season, and continues until the weather turns warm again.
It is true that the process of preparing the necessary ingredients for making khash is quite long and tiring, but the result is worth it.
The respected "khashaker" gathers around the table early in the morning. And this is not accidental! Khash is a very filling dish that can provide energy for the whole day.
To make khash, you need beef legs, and, if desired, animal guts. Eating khash has several unwritten laws that are all sacredly observed.
Cold vodka, spring or mineral water, radish, pickles, pepper, and dry lavash, are all served alongside the khash. Crushed garlic, greens, cheese, and, of course, salt, must also be on the table.
It should be noted that salt is not added to the khash during cooking; it is added during eating. Since khash is eaten in a no-frills and casual manner, a wet napkin is placed around each table. Khash is a fantastic dish to eat in Armenia in autumn and winter, both.
Khashlama
Armenian: Խաշլամա
Is it vegan/vegetarian? No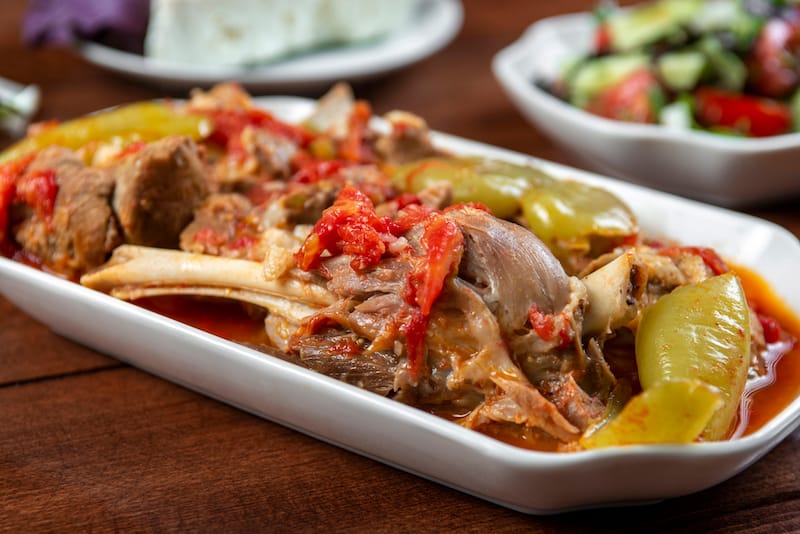 In ancient times, it was customary to slaughter a lamb on Vardavar and make a barbecue, or khashlama. Today the tradition is preserved in the Gegharkunik region of Armenia. Khashlama is usually made of lamb with vegetables.
Different regions of Armenia have different ways of preparation. Usually, they take a big pot, put the meat under it, then add tomatoes and potatoes, put meat in the third layer again, then the eggplant and onion while keeping the pot completely covered.
After that, the preparer will add 100 mg of water and put it on low heat. In the past, this dish was prepared in a tonir,  but today it is prepared on a fire, in a gas stove, or an oven. As a rule, khashlama has a strong smell, so many opt to make it outside the house.
Khashlama made in Artsakh is different from khashlama made in Armenia. It is made mainly from fatty beef or mutton (lamb). They arrange the meat, tomatoes, red-green pepper, onion, carrot in layers in the pan.
Khashlama is seasoned with salt, pepper, fresh coriander, and dill. Some preparers add prunes or blackberries for a sour taste, others may choose to add beer or wine.
Ghapama
Armenian: Ղափամա
Is it vegan/vegetarian? Vegetarian (contains honey)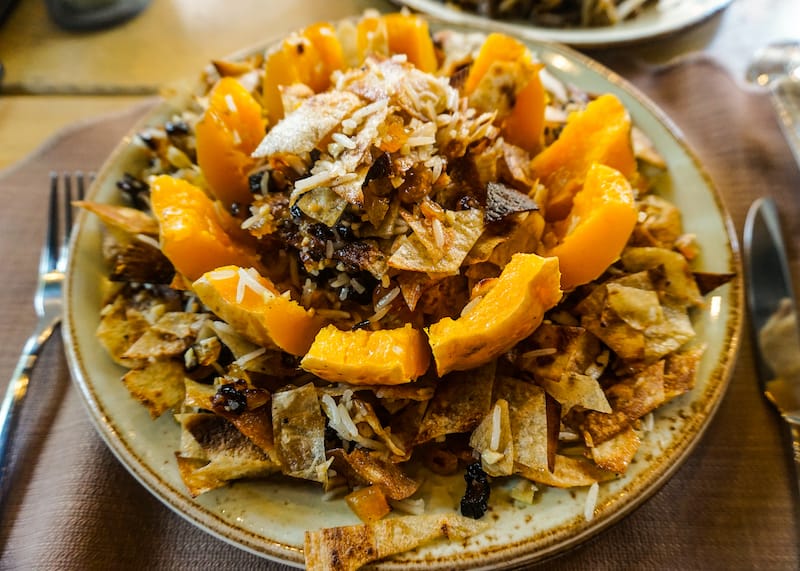 Ghapama is a bright and mouth-watering dish that symbolizes unity and friendship. In the old days in Armenia, not a single festive table was complete without ghapama.
Whether it is a wedding, New Year, or Christmas, a golden pot with sweet pilaf has always stood in its place of honor.
It was placed in front of the newlyweds as a sign of wishes for a sweet and long life together.
This tradition is still observed in many Armenian families. Ghapama is a festive dish that gathers friends, relatives, and family members.
After all, there is a song praising this Armenian winter dish called "Hey jan, ghapama". It is performed by Harut Pambukhchyan in a sincere tone, inviting everyone to the feast.
Ghapama is prepared by removing the insides of the pumpkin. The top of the pumpkin is cut off.
The ingredients are boiled rice, nuts, and dried fruits such as chopped almonds, apple, dogwood, apricot, plums, dates, prunes, and raisins are added inside of the pumpkin.
Since ghapama has become widespread in both Eastern and European cuisine, people began to put any dried fruits and nuts of the chef's choice in it.
The pumpkin is closed on top with a cut lid, wrapped in foil, and placed in the oven. Cooking times may vary. Usually, it takes from 40 minutes to 1.5 hours. The pumpkin is baked until soft and then served. Before use, the pumpkin is cut from top to bottom into slices.
Pasuc Tolma
Armenian: Պասուց Տոլմա
Is it vegan/vegetarian? Vegan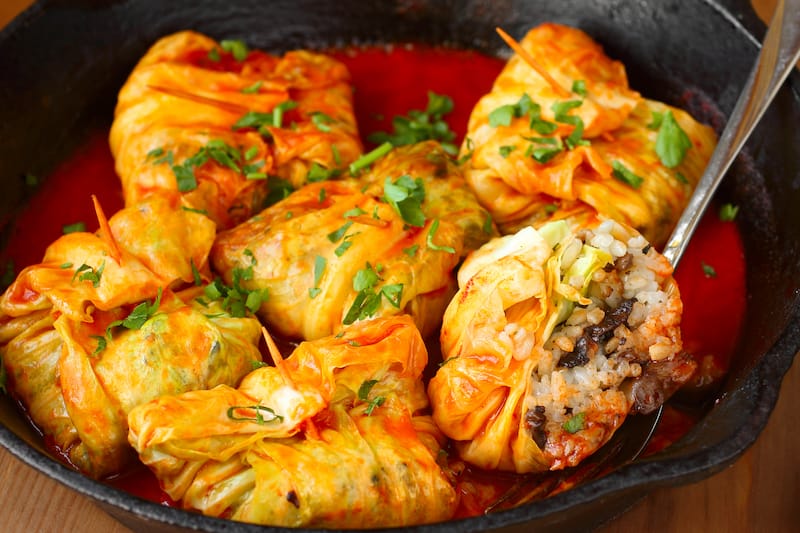 Pasuc Tolma is an inseparable part of traditional Armenian cuisine. Pasuc (fasting) basically means made for the Great Lent period, during which Christians undergo a spiritual cleansing.
Pasuc tolma is the vegetable-filled version of the traditional meat-filled rolls. Since its recipe is entirely plant-based, it is a very convenient dish to serve during the fasting period. It is made of 7 different boiled grains, such as beans, lentils, chickpea, cracked wheat, rice, and maize pea.
All of the grains mentioned above are then wrapped in canned cabbage or grape leaves. Pasuc tolma can be served hot or cold, and both styles give it a unique taste.
Seven grains are believed to symbolize God's divine number of seven. It is relatively easy to make and will last in the refrigerator for a week without going bad. It is an essential component of Christian New Year's tables.
Jingyalov Hats
Armenian: ժինգյալով հաց
Is it vegan/vegetarian? Vegan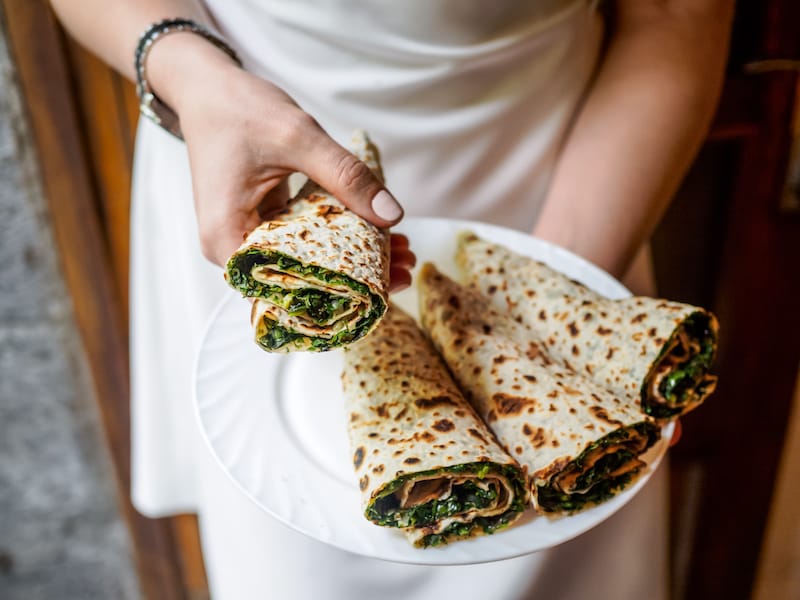 Ask any Armenian about the dish that symbolizes Artsakh, and the answer will undoubtedly be Jingyalov Hats.
For decades, the preparation of this dish signaled the arrival of spring in Artsakh, with the entire family participating in the process.
It is a complete vegan and Lent-friendly dish full of chopped greens, where the balance of sour, herb, and bitter notes should always be achieved.
Greens are mixed and matched, then stuffed into a paper-thin flatbread, which then cooks on the stovetop. Don't be confused in case you can't identify a single herb in jingyalov hats, because it might include more than 40 herbs in different recipes!
Nine of the herbs are considered essentials (coriander, green garlic, nettle, capsella, chickweed, kdzmdzuk, spring onion, mint, sorrel). Take a trip to Artsakh and try one made by locals – you certainly won't regret it!
Aveluk Salad
Armenian: Ավելուկով ապուր
Is it vegan/vegetarian? Vegan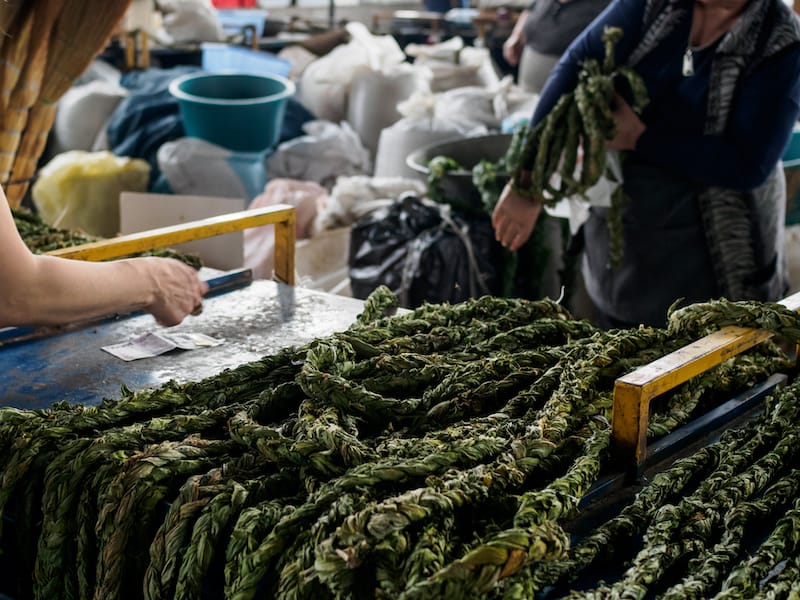 Want to get the real taste of authentic Armenian cuisine? If so, then you should definitely try Aveluk (mountain sorrel) salad when visiting Armenia. Its main ingredient is native Armenian wild sorrel, which is then combined with pomegranate seeds, garlic, oil, and walnuts to complete the salad.
It was considered as one of the main dishes used during the Lent period. A quick and healthy dish, it has a simple yet rich taste to it. It is a vegan-friendly dish and does not require a particular season to be prepared.
If you don't mind a little bit of acidic sourness, then you will love its distinct flavor! Certain regions of Armenia are home to wild sorrel, which is harvested during its peak season – spring, and stored either in fresh or dried braids form.
Nowadays, you can find aveluk salad, along with aveluk soup, in basically every restaurant with Armenian cuisine. This is one of the best vegan dishes to eat in Yerevan and the rest of Armenia!
Tatar Boraki
Armenian: Թաթար Բորակի
Is it vegan/vegetarian? Vegetarian (contains egg)
Believe it or not, unique Armenian cuisine has its own fresh pasta called Tatar Boraki. The process of making it basically involves rolling out dough by making it paper-thin and cutting it into small rhombus-shaped pieces.
Cook them in boiled, salted water and then serve with melted butter, sautéed onions, and a sauce made with Armenian yogurt (matsun) and garlic.
It's ideal for breakfast or lunch because it's a simple but at the same time heavy meal that will keep you feeling full for a long time. It is not a seasonal dish, but the preferred time to eat it is from late fall to mid-spring.
Tatar Boraki is a popular meal throughout Armenia, but particularly in the northern regions of Shirak and Lori.
Basturma
Armenian: Բաստուրմա
Is it vegan/vegetarian? No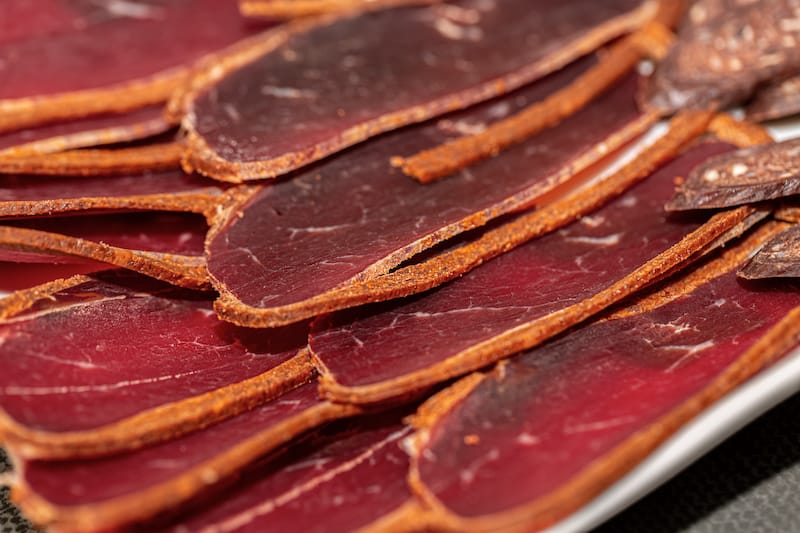 Making Basturma is an ancient Armenian practice, which was once viewed as something of pure significance. Basturma is a special, processed dried raw meat made from beef tenderloin.
The meat is then cut and salted and put aside for a few days so it can absorb the salt. Then, the cured meat is dipped into a special mixture of fenugreek, salt, ground red pepper, and garlic and hung to air dry.
It needs to be kept in a cool corner, allowing you to enjoy it for up to 3 months. The process of making basturma dates back to medieval Armenia, and it was so common among Armenians at the time that Basturmajian became a surname that is still used nowadays.
It is served in paper-thin slices as an appetizer or can be added in omelets and salads to give them a unique taste.
Sujukh with Meat
Armenian: Սուջուխ – մսից
Is it vegan/vegetarian? No
Another popular appetizer in Armenian food culture that dates back to ancient times is Sujukh. Middle-easterners made it with their typical culinary spices, which later on was adopted (and perfected!) by Armenians.
It is still a common practice to make sujukh with varying recipes in different nations. The process is pretty much similar to that of basturma, except it is being made from ground beef or lamb instead of raw meat, and it does not undergo any heat treatment.
The salted ground meat is then flavored with spicy seasonings like ground red and black pepper, cinnamon, cumin, and garlic before being filled in a thin membrane.
Then it is hung to dry and harden in a cool space for up to 20 days and is served in thin slices of 2.5 mm. Being an inseparable part of New Year's tables, it is also present on tables at various special events.
Panrkhash
Armenian: Պանրխաշ
Is it vegan/vegetarian? Vegetarian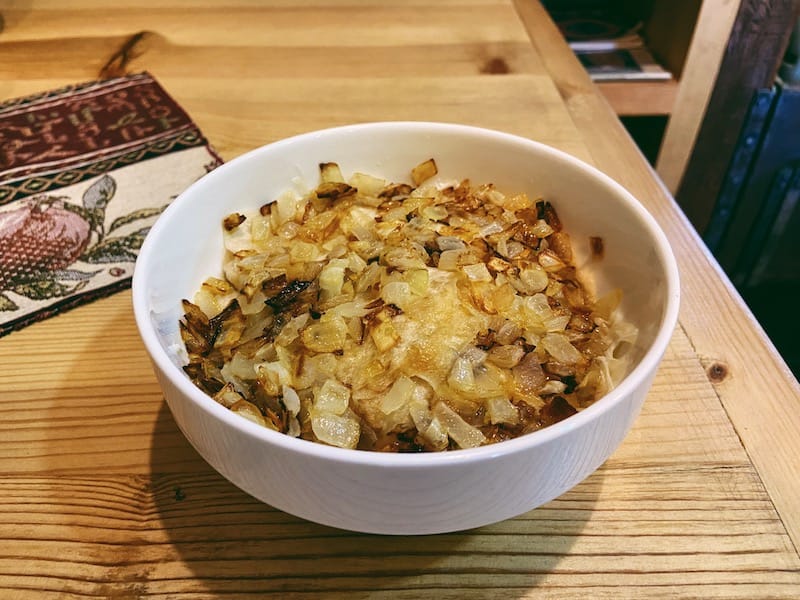 Panrkhash is the Armenian version of delicious mac and cheese! It is an ancient Armenian dish, more common in the Shirak region, and its preparation process is like a unique ritual.
It takes just a few minutes to prepare and is usually made during the winter months. The only ingredients it needs are chechil cheese, Armenian lavash, melted butter, onions, and boiled water.
The name simply translates as "boil the cheese," referring to its two primary ingredients, cheese, and boiled water. The process starts with layering lavash, then chechil cheese over each other until the bowl is full, then sautéed onions and boiled water are added on top.
This filling dish is usually served in deep clay bowls with few tablespoons of melted butter. Since ancient times, it was made in almost every region of Armenia, so the recipe can vary slightly from region to region. If you are in Gyumri, grab this at Gwoog Gastrohouse!
Potchapur
Armenian: Պոչապուր
Is it vegan/vegetarian? Vegan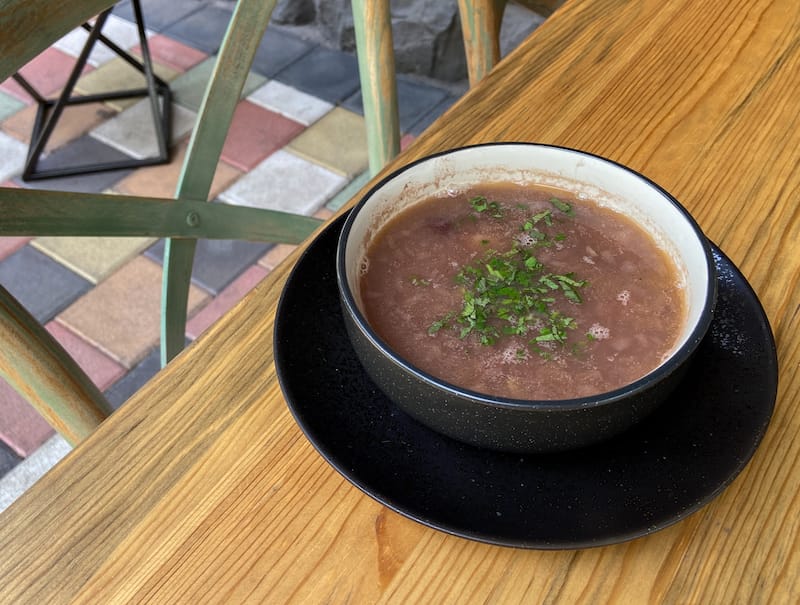 Get the unique taste of Armenian cuisine by trying this red bean soup. Potchapur, which basically translates as "tail soup," dates back to ancient times; thus, its recipe has undergone many variations, but the basic ingredients remain the same everywhere.
It originated in Gyumri, and now it is a popular dish in almost every region. It's common to make the soup during the winter months and enjoy it with minced garlic on top.
The soup's main ingredients, giving it its distinct flavor, are red beans and sautéed onions along with diamond-shaped dough pieces. This dish got its name from those small dough pieces that rise to the top of the pot after being cooked, indeed resembling white bean tails.
Pour the soup into a bowl and make it stand out by topping it with sliced coriander and garlic and serve with khmeli-suneli if desired.
Anali made from Peach fruit
Armenian: Անալի
Is it vegan/vegetarian? Vegan
Anali is considered a popular Eastern sweet, which has its own unique place in Armenian cuisine. It is a dried peach without the stone, with a core filled with a mixture of crushed walnuts, sugar, cinnamon, and hil.
First of all, the ripped and firm peaches are peeled and lined up under the sun. When the peaches are entirely dried, the stone is extracted, the center is filled with the walnut mixture and hung on a string to air dry.
It is usually well-preserved if kept in a cool and dark place and is generally eaten during the winter months in Armenia. Anali is a yummy delicacy that will complement every holiday table.
Gata (Գաթա)
Armenian: Գաթա
Is it vegan/vegetarian? Vegetarian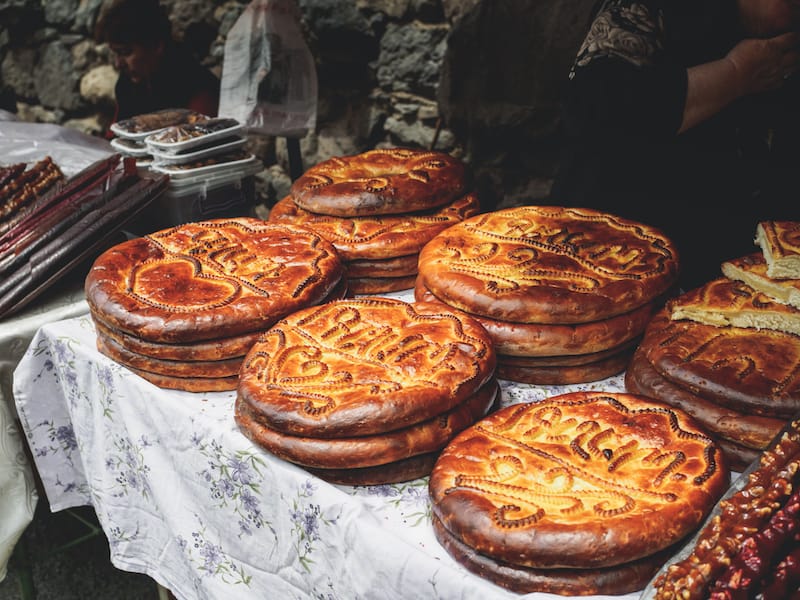 Armenian cuisine offers its own sweet bread, Gata. It was once baked in a tonir, but an oven has since replaced it. However, in villages, the traditional method of baking has not changed.
It can be made with different nut fillings, but the most popular one is gata with khoriz. All you need is dough, khoriz, and vanilla. For a long time, gata was served during Candlemas, but now it has become a common dessert present at almost all holiday tables.
It's a sweet tradition during Christmas to place a coin inside gata and then, after cutting it, see who is the lucky one to get the pieces with the coin.
It's a common dessert in almost every region of Armenia, and its recipe, size, and shape can differ from region to region. But, there is truly nothing better than drinking coffee in Yerevan with a slice of gata!
Pakhlava
Armenian: Փախլավա
Is it vegan/vegetarian? Vegetarian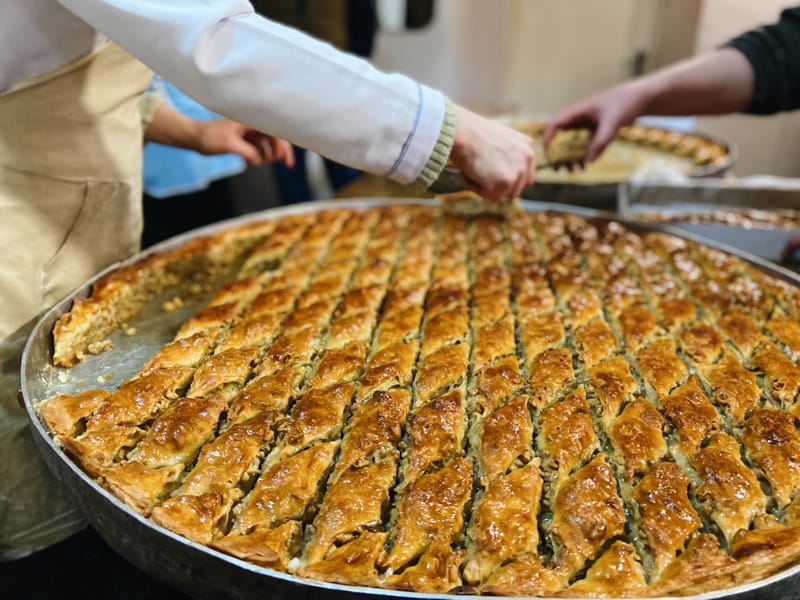 The list of Armenian sweet dishes wouldn't be complete without this little gem, Pakhlava, which originated from the eastern cuisine. In Western Armenia, it was called Baklava, while in the Eastern part, they call it Pakhlava.
This mouthwatering pastry with multi-layered paper-thin dough, chopped walnuts, and honey will certainly not leave you disappointed. The mixture of sugar and walnuts is added to each dough layer, put in a large pan to bake, and when ready, the final dessert is topped with honey or syrup.
It is a popular dish in not only Armenia but also in Iran, Turkey, Uzbekistan, and Greece, albeit with some variations. Nowadays, Gavar is a renowned place where you can try the best Paklava with its traditional unique flavors.
Traditionally it was a must serve dessert during weddings, baptisms, and birthdays. Pakhlava has now become a common dessert found in almost every restaurant and cafe in Yerevan.
Sujukh -Sharots
Armenian: Սուջուխ, Շարոց
Is it vegan/vegetarian? Vegan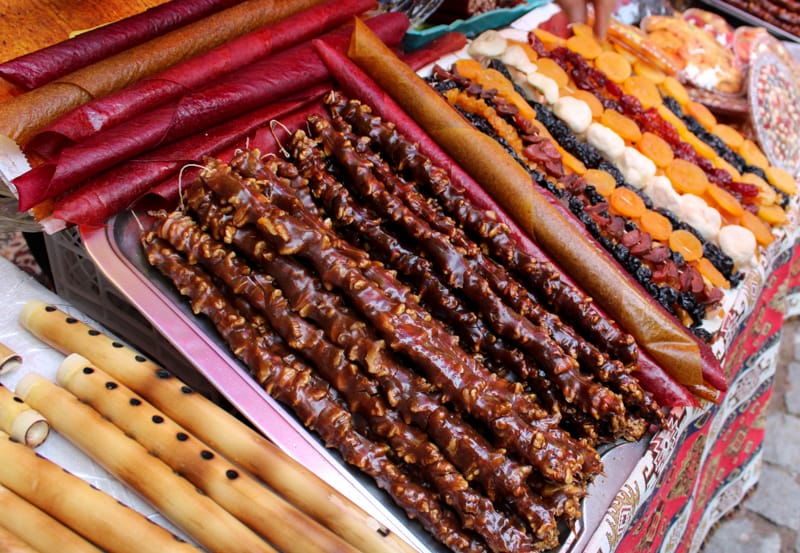 In case you have a sweet tooth and are really keen to discover the full range of Armenian sweet assortment, you certainly should not miss trying Armenian sweet sujukh.
Since ancient times, its preparation process was like a ritual and a reason for family gatherings. It is a tasty sausage-shaped threaded sweet made from walnuts and fruit juice of your choice.
It is a nutritious snack that can be eaten for breakfast or as an after-meal dessert. At first, the walnuts are threaded on a durable string and put aside. Next comes making the syrup on the gas stove from fruit juice (grape juice is mainly used), sugar, and flour.
Stir it until it becomes thick and brown and dip the thread in it and hang to dry. Sujukh season starts in mid-fall when the walnuts are fresh and soft, and sujukh is primarily made in the town of Ashtarak, Aragatsotn region (known as the land of walnuts).
What is your favorite Armenian food? Let us know your top picks for Armenian dishes in the comments (and let us know which ones we failed to include!)
More Armenian Food Guides
Pin this Armenian Dishes Guide