Gwoog Gastrohouse is easily one of my favorite places to eat in Armenia. I am a rather picky eater (not picky with ingredients- more so with quality) and I feel as though I have found a home at this Gyumri restaurant.
Opened in July 2019, Gwoog has been serving the hungry residents of Gyumri and foreigners passing through ever since.
Run by Hamlet Gevorkian and his wife, Eliza, Gwoog aims to deliver on all notes- local, organic ingredients served with the highest level of hospitality and customer service I have ever seen.
Aram constantly gives me grief about how hard I am to please when it comes to restaurants and food.  However, I somehow found myself in Gwoog three of my three days in Gyumri recently!
I guess I found my 'place' in Gyumri and figured why go anywhere else if it delivers on all notes!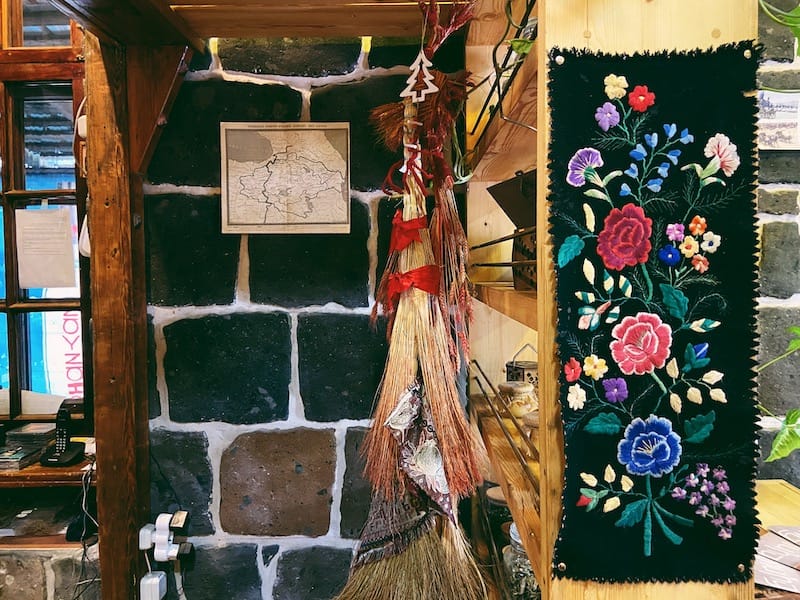 Gwoog Gastrohouse in Gyumri
One of our favorite things to do in Gyumri is to eat.  We have found several amazing places to check out there and we love them all for different reasons.
Gwoog Gastrohouse hits all points for me- food quality, cozy atmosphere, high hospitality and service, and delicious spas (a good bowl of spas is the way to my heart).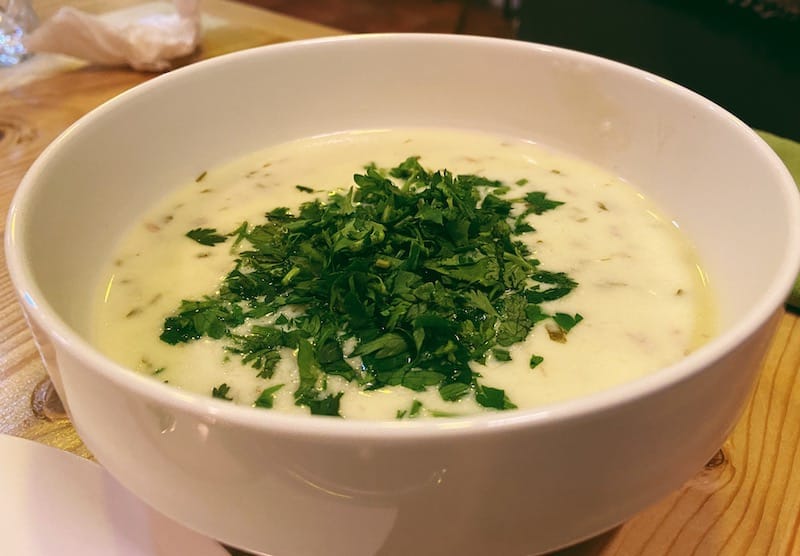 Looking for more things to do in Gyumri? Check out our Gyumri travel guide
Hamlet is the face of the business and is a very beloved person in Gyumri. The local support Gwoog receives is a true test to how much the locals love him! He previously lived in Canada for 11 years (even in gorgeous Alberta) and his English is fantastic as a result.
His wife Eliza is also one of the faces of the business and she is extremely friendly and welcoming. We felt like part of the family!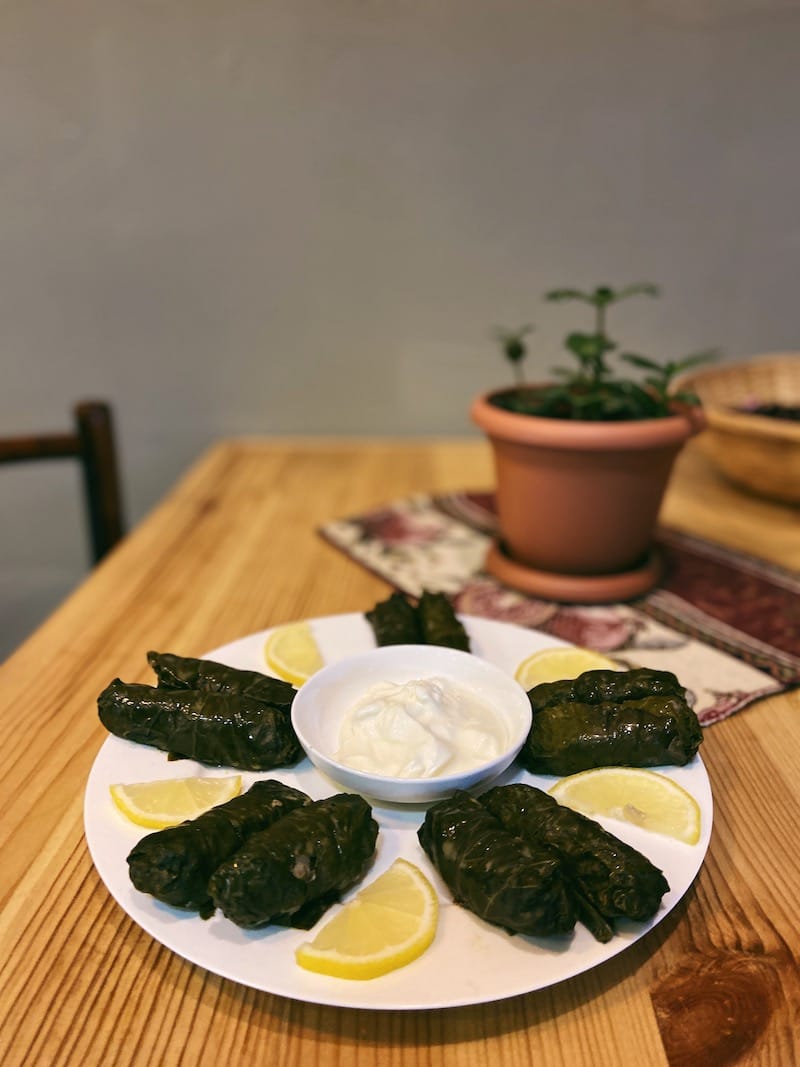 I found out about Gwoog from Aram who had previously visited earlier this year when touring around some of Gyumri's best businesses.  Needless to say, it had been on my list of places to visit ever since.
Gwoog Gastrohouse was co-founded by UNDP as part of an Integrated Rural Tourism Development project in Shirak.
Food at Gwoog
At Gwoog Gastrohouse, you will find everything from spas to fresh, homemade salads to tasty dolma and more.  But, our favorite Gyumri dish is panrkhash, a cheesy and addictive bowl of goodness.
Consisting of lavash and local cheese, the dish is a must-try when in Gyumri… and Gwoog is an epic place to enjoy it!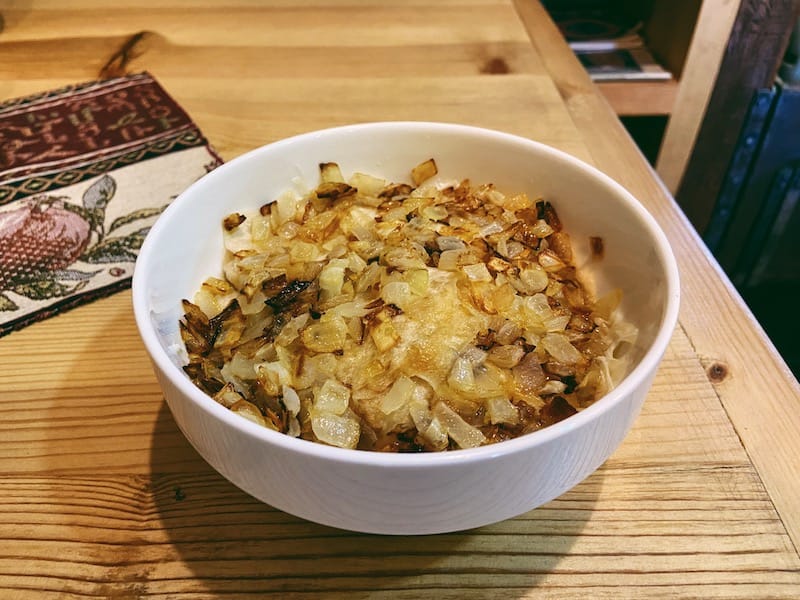 Other Gyumri favorites that you can find at Gwoog are qyalla and chechil (local cheese with molds on it- tastes WAY better than it looks!).
I recommend the homemade compote… the berries in the Shirak region are phenomenal and we downed it so quickly it was borderline embarrassing!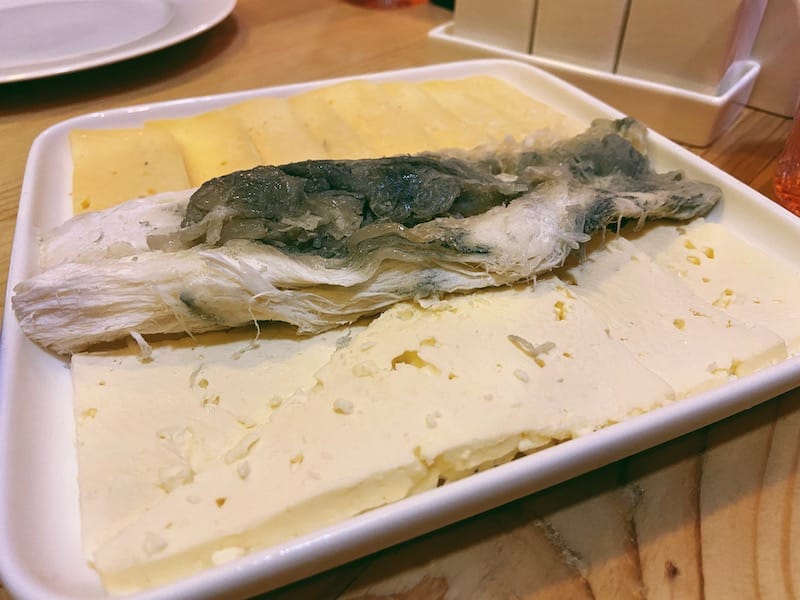 Don't know where to head after Gwoog? Stop by one of our favorite cafes- Herbs & Honey Teashop
Another dish at Gwoog that deserves attention is their homemade tatar boraki.  It is affordable and one of my favorite Armenian dishes.
You can also opt to take home some of their ingredients and dishes as they have a to-go counter with local farm ingredients and some other items they make in-house.  I ate some gata while there and took the rest to go for later.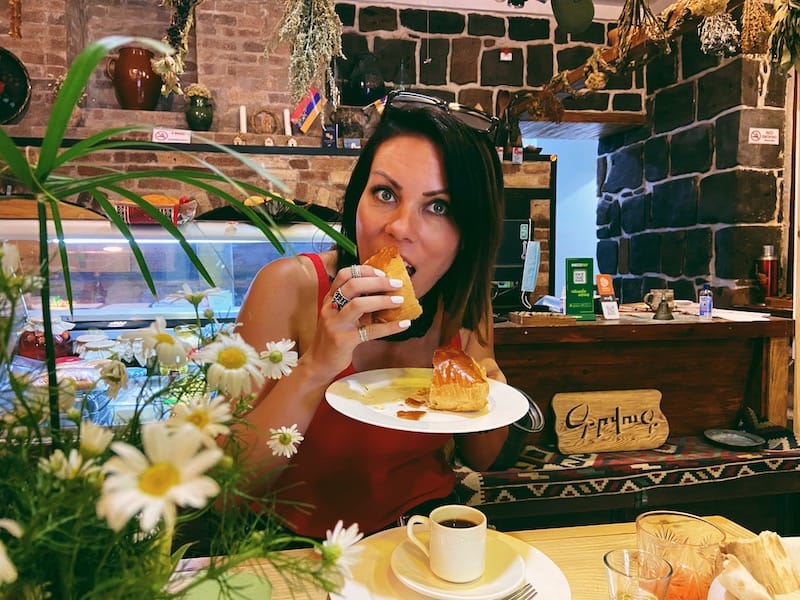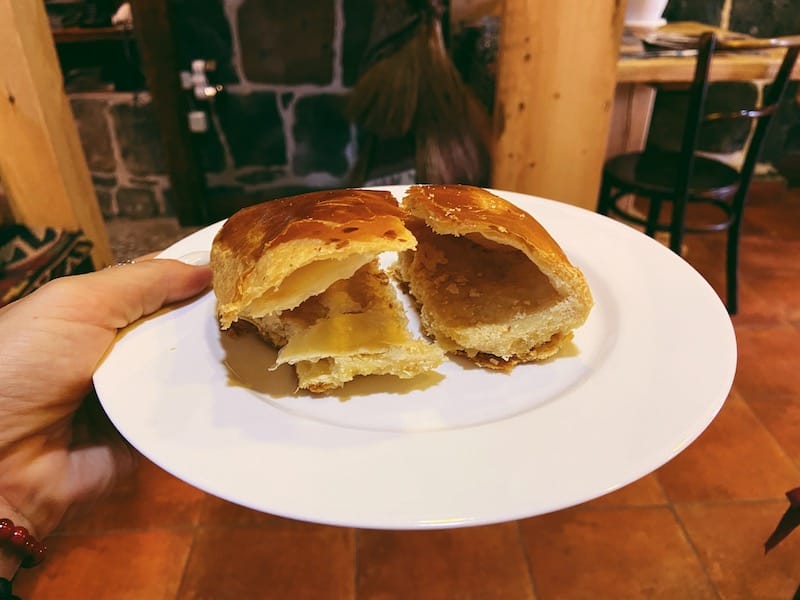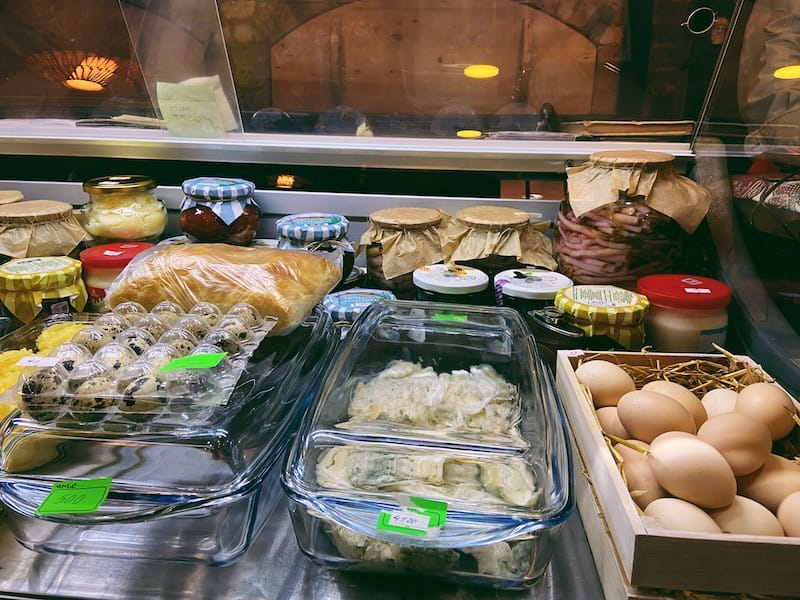 Homemade Vodka
If you're looking for the perfect Armenian souvenir, you can also grab a bottle of homemade, Armenian vodka and give it as a gift to someone (or, let's be honest, keep it for yourself!)
Gwoog sells homemade vodka in-house and you can enjoy a taste of it there or take away a bottle for later.  We did both.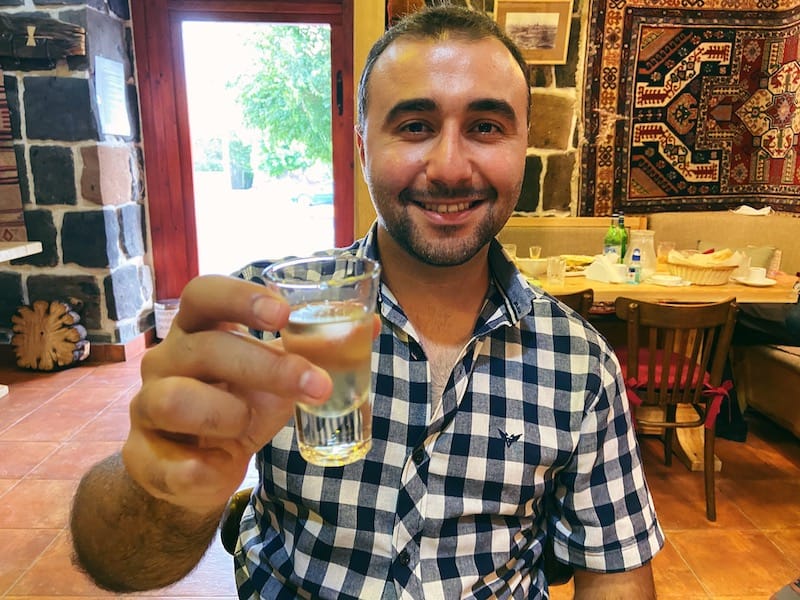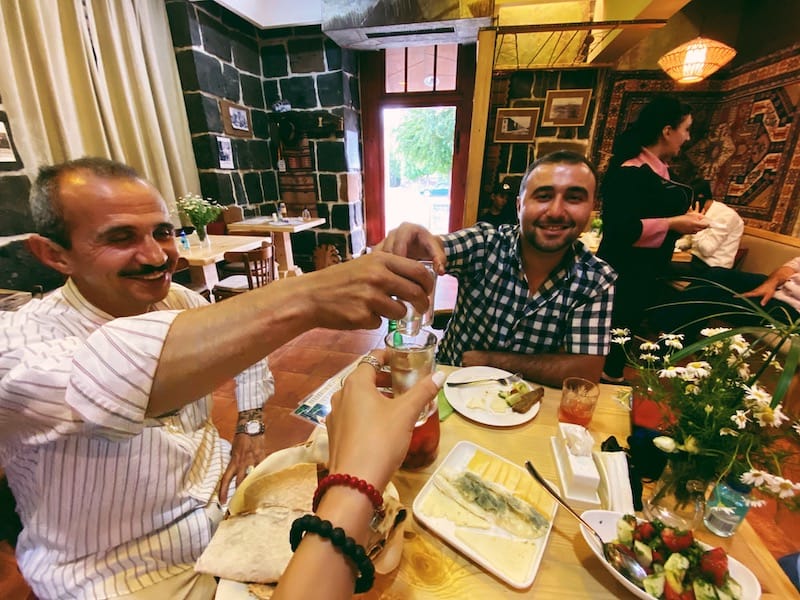 FAQ
Here are some quick tips to know before visiting Gwoog Gastrohouse:
Location: You will find Gwoog Gastrohouse located close to the main train station.  So, if you're coming on the Gyumri train from Yerevan, it is the perfect first stop before heading to Gyumri's city center!
It is located at Tigran Mets Avenue 11/3 in Gyumri.
Wifi:  They do have free wifi at Gwoog.
Vegan and vegetarian options:  Armenian cuisine is kind of 'accidentally' vegan and vegetarian.  Somewhat… that is.  They have options for all diets at Gwoog, however.
For vegetarians, the panrkhash is a great traditional dish to try.  For vegans, they have a variety of salads and legumes that would be well-suited for your diet.
Language:  They speak English!  There is also an English menu that they will guide you through.
Cash or credit card?  They take both!
Searching for where to stay in Gyumri? Check out our Gyumri hotel and hostel guide for more.
To find out more information about Gwoog Gastrohouse, you can check out their Facebook page.
If you have additional questions, feel free to call them at +374 077 023025 or send them a message via Facebook.  They are very quick to respond and welcome you to Gwoog!
If you stop into Gwoog on your Gyumri trip, tell Hamlet and Eliza that Absolute Armenia sent you and give them a 'hello' from us!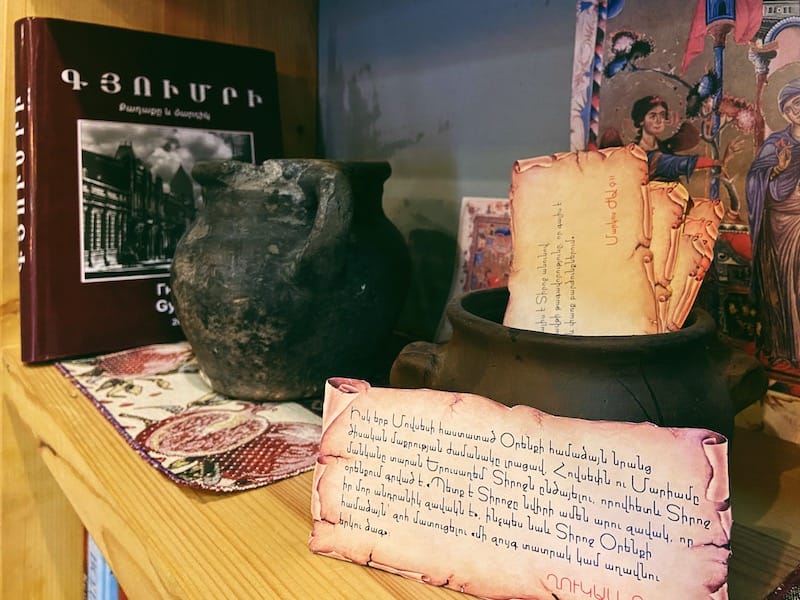 Additional Gyumri Reading