Gyumri is one of the best places to visit in Armenia. The city now has flight options to it and people will get to experience Armenia's cultural capital with ease finally.
This is a guide to the best Gyumri hotels and accommodation.
It will also showcase budget-friendly Gyumri hostels and guesthouses for travelers to stay at.
9 Best Gyumri Hotels, Hostels, & Guesthouses
Gyumri is a great and hospitable host for everybody. The authentic city is well-connected and has a great selection of hotels, guest houses, and hostels.
Armenia's most artistic and bohemian city is teeming with old architecture and museums and is gaining more and more popularity annually. The second-largest city in Armenia, Gyumri, is improving its accommodation availability and options.
About Gyumri
Gyumri is trying to get rid of the status of 'post-earthquake city' and the city has become the hippest city Armenia, or even in the region, and things are finally starting to look up for the place.
Cheap flights from Ryanair are going to fly from European cities (Athens and Memmingen, Germany) to beautiful Gyumri and lots of travelers will be interested in seeing the old quarters of the city.
They will also have the chance to eat local, delicious food and discover and try many activities around the city.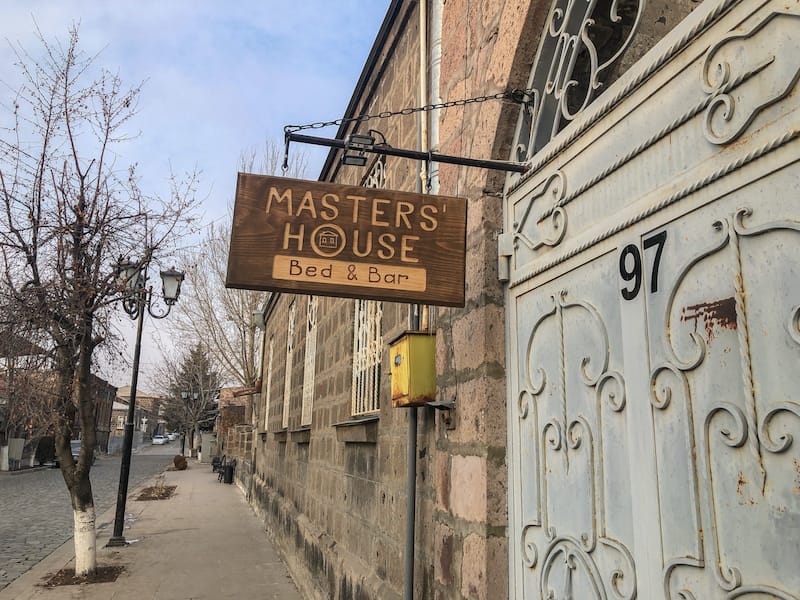 These days, there are many things to do in Gyumri and it is helpful for you to have an itinerary and Gyumri accommodation booked before your arrival.
Gyumri has hotels and hostels suitable for both luxury and budget travelers and all of them have great service and friendly staff, even if the prices are low for luxury accommodation.
How to Get to Gyumri
Gyumri is a well-connected city where it's possible to get to Gyumri from Yerevan by fast train, minibus, and taxi.
If you want to fly to Gyumri from Europe, it's also possible with the Ryanair flights that have been launched from Memmingen, Germany and Athens, Greece.
Best Neighborhoods in Gyumri to Stay In
Gyumri may be small compared to other European 'second' cities, but it is a decent size for Armenia and it has several hotels and guesthouses for travelers.
We recommend staying close to the Old Town to make the city completely walkable.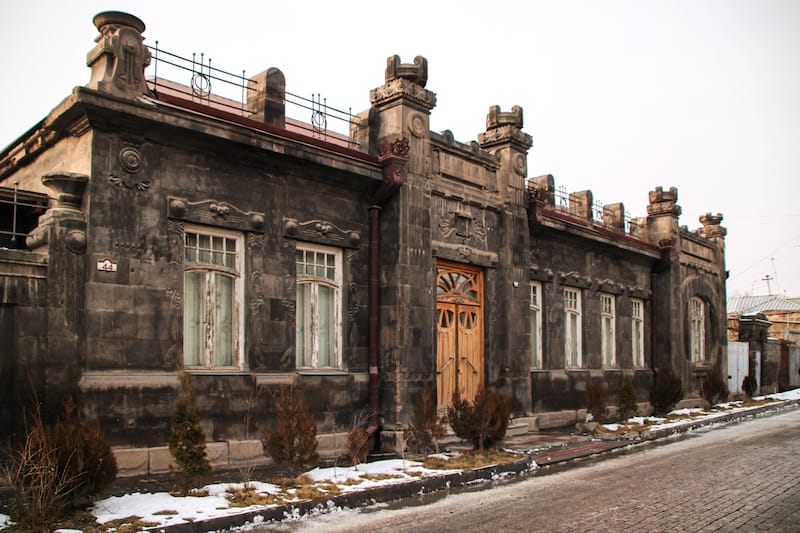 Fortunately, prices in Gyumri are very affordable for hotels and you can get a nice luxury hotel for anywhere from $50-$80 a night, including meals and excellent service.
Gyumri Hostels & Hotels (Quick List)
We will get into a bit more detail below, but here is our quick list of the recommended Gyumri hostels and hotels we mention in this guide:
Luxury Hotels in Gyumri
Mid-Range Hotels in Gyumri
Budget Hostels and Guesthouses in Gyumri

Luxury Gyumri Hotels
Hotel Plaza Viktoria
Located in the heart of Gyumri, close to the old town, Hotel Plaza Viktoria is a wonderful, high-class hotel with comfortable and modern rooms.
Hotel Plaza Viktoria has two restaurants where it is possible to try the best Armenian and local dishes, as well as international and European cuisine.
Rooms are very comfortable and have all the necessary facilities to make your visit enjoyable while you are visiting Gyumri.
The hotel has single, double, triple, and luxury rooms with modern and comfortable design for travelers who want to stay in affordable, yet luxurious rooms.
Hye Aspet
Hye Aspet has an authentic design and atmosphere decorated with historical and traditional objects.
The lovely hotel has very clean and spacious rooms and each room is decorated differently but all maintain the same great and comfortable look.
In the morning you will be served a famous Armenian breakfast and enjoy the design of a traditional 19-century mansion.
The Berlin Art Hotel is a unique hotel that is located near the center of Gyumri and it is surrounded by ancient churches, delicious restaurants, and cozy cafes, like Herbs & Honey.
Each room contains the artwork of local artists as a way to support the community and it gives each room a colorful and creative aesthetic.
In addition, the Berlin Art Hotel has a massive green garden that is the pride of the accommodation and the ideal place where you can enjoy your coffee and breakfast while surrounded by lush greenery in the heart of Gyumri.
Mid-Range Gyumri Accommodation
Araks Hotel Complex
Located in the historical part of the city, the Araks Hotel Complex is the perfect place for travelers and tourists with a mid-range budget.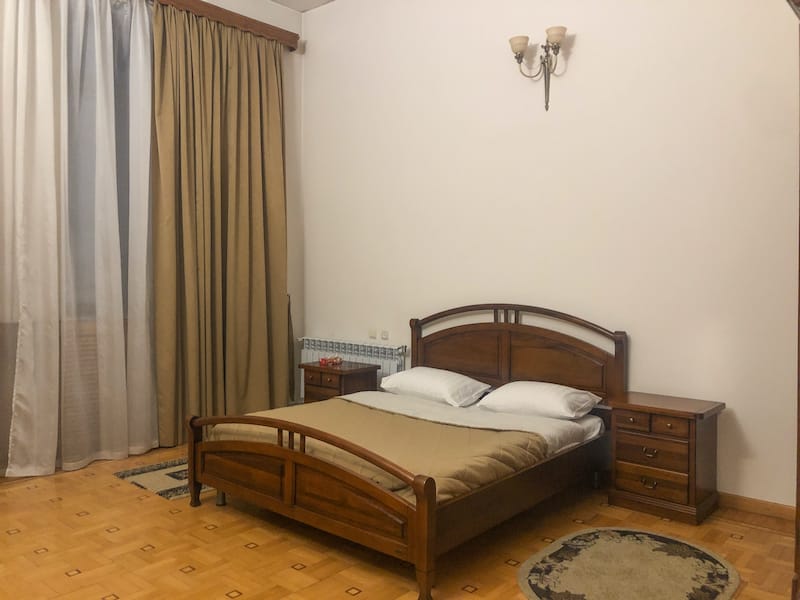 Located inside an impressive old building, the Gyumri hotel has many rooms, all of which have the necessary facilities to be a great stay for your trip.  It is definitely one of the top places to stay in Gyumri.
Armine's B&B
Armine's B&B is a cozy and hospitable bed and breakfast in Gyumri that is considered to be one of the top choices in Gyumri for accommodation.
This self-catering place to stay in Gyumri comes with rooms with stunning balconies, terraces, and lush greenery in the gardens.  It offers a nice respite for travelers looking for a more peaceful side of the city.
In Gyumri
One of the best places to stay in Gyumri is a guesthouse called In Gyumri.  This spacious property has a fitness center, lounge, and a lovely garden.
The well-equipped and modern rooms provide great quality facilities, such as flat-screen TVs with cable, refrigerators, electric kettles, hairdryers, bidets, and closets.
At In Gyumri, the front desk and reception are 24-hours and there is a shared kitchen available for all guests.  In the mornings, you can take advantage of their continental breakfast where you can eat unlimited portions.
In addition, this 3-star guesthouse offers travelers the opportunity to enjoy its hot tub and terrace with games such as ping pong and darts.
Budget Hostel and Guesthouses in Gyumri
Artush & Raisa B&B
Artush & Raisa B&B is located in the center of Gyumri, about 400 meters away from Charles Aznavour Square. It offers Gyumri's guests a lovely terrace with a garden and a music room with instruments for visitors to entertain themselves.
The rooms are equipped with all necessary toiletries, shower accessories, a flatscreen TV, and also have a great view of the garden.
Each morning, the continental breakfast is provided at Artush & Raisa B&B, but dinner is also available upon request. In addition, there are also BBQ facilities that guests can use.
Artush & Raisa B&B also provides tours of the city in English and a shuttle service to Zvartnots International Airport, if it's necessary.
Masters' House Bed & Bar
Located in the heart of the old town on Masters Street, this charming, family Gyumri guest house is the perfect affordable place to stay for budget travelers.
Masters' House Bed & Bar is an old family home turned into a guest house provided with all necessary minimum facilities.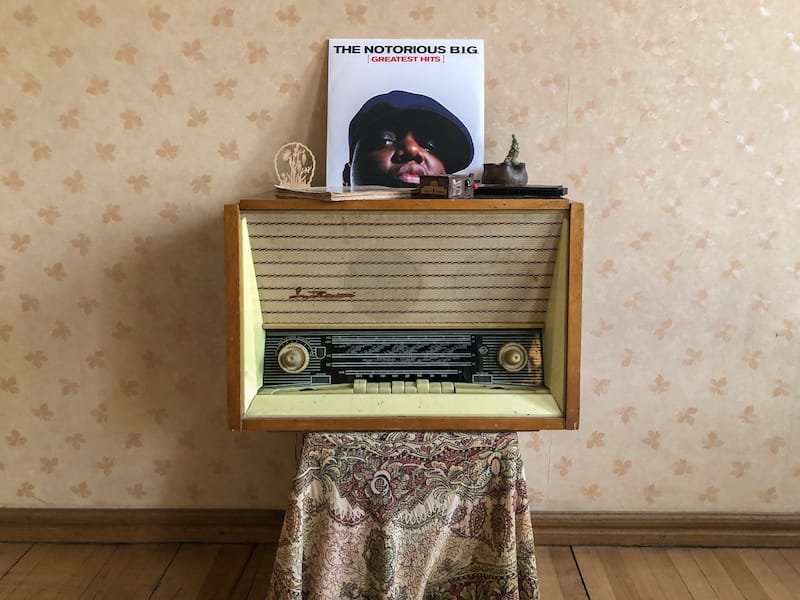 There is also storage for skiing equipment if you are going cross-country skiing in Ashotsk.
The rooms options are not aplenty but they are individually cool and like nothing I've seen anywhere else!
In the mornings at Masters' House Bed & Bar, you can request a homemade breakfast prepared by the host mom… and it is completely delicious.
Loft Gyumri Hostel
Loft Gyumri Hostel is a hip, 'anti-cafe' where you pay only for the time you use and the rest is provided like co-working space with games, musical instruments, a kitchen to cook, and many other cool options of things to do there.
Loft Gyumri is where travelers and locals gather to exchange experiences, meet new people, cook food together, and have fun.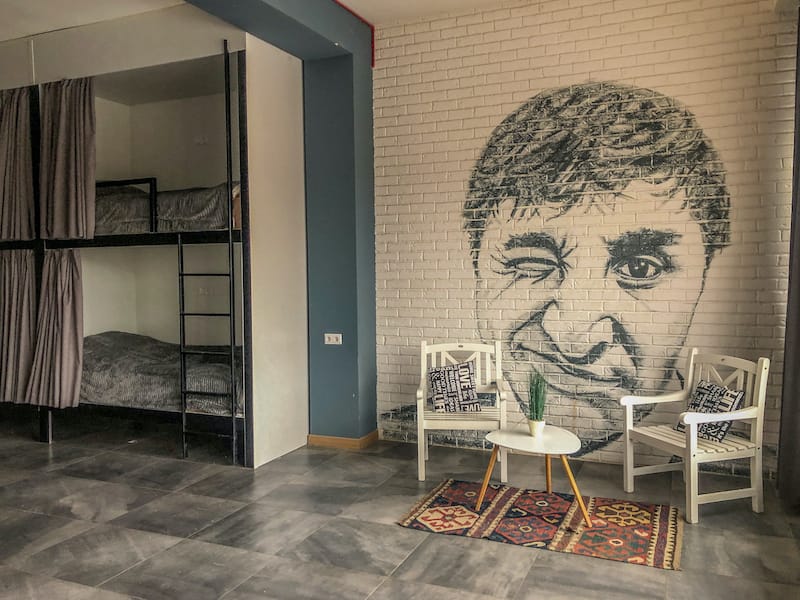 This affordable, new hostel in Gyumri is a great option for budget travelers that want a social and affordable experience.  This was definitely one of the coolest places to stay in Gyumri and I highly recommend it.
We hope you can find your preferred hostel or hotel in Gyumri on this list and this guide will be useful for you during your trip.
If you have any suggestions or things to add to this guide, please drop them in the comments section.
YOU MIGHT ALSO LIKE:
PIN IT FOR LATER!