This guide is all about planning the perfect Armenia itinerary for your trip! We offer two options for how to best spend 3, 6, or 7 days in Armenia regardless of what your travel style is!
Let us know if you have any questions at the end or have any tips for how to create an optimal itinerary for Armenia!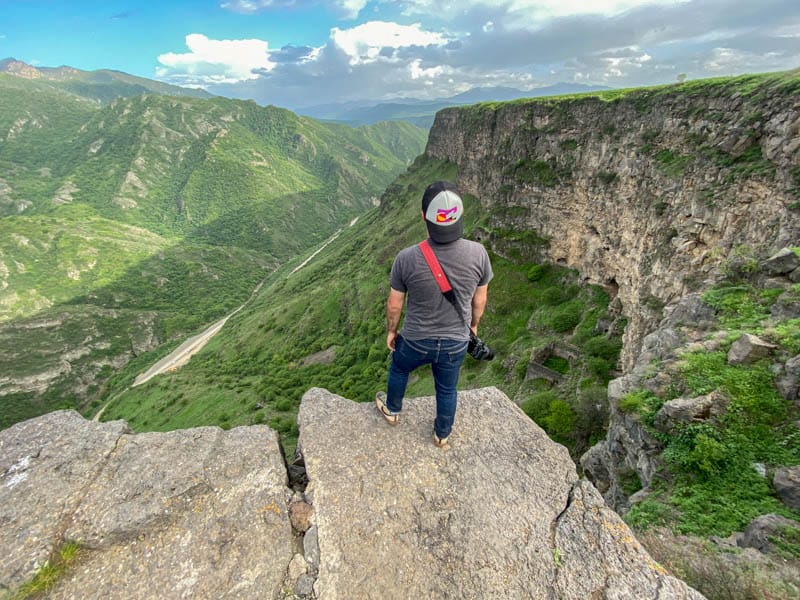 Armenia is a small, beautiful country, but it's not necessarily easy to navigate because of its mountainous landscape and poorly developed infrastructure.
Though it's getting better each year, it's still not quite perfect.
We have traveled the country extensively and on every trip, we discover new and amazing places to visit in Armenia, but we also understand that for first-time visitors it can be quite difficult to figure out where to go and what to see in Armenia.
For now, we have created two types of itineraries, where we have tried to include sights for history and culture lovers as well as nature lovers as there is so much to see in Armenia.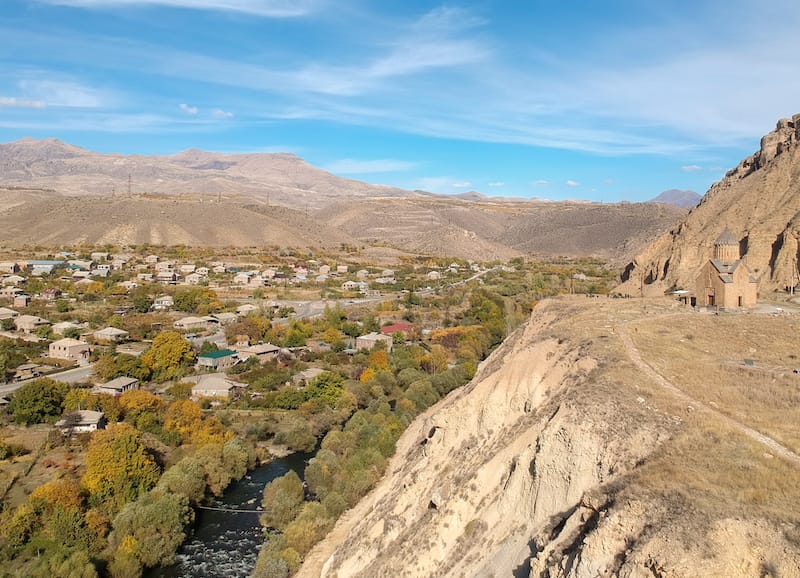 The best thing about these itineraries is that you can easily change sights, dates, and locations to make them suitable to your needs and interests, especially if you have a rental car or are booking a tour.
Each version of the itinerary will have accommodation options in the particular region where you can stay as well as tours that you can take to see multiple sights in a short period of time.
Armenia Itinerary Suggestions Overview
Here is a quick glimpse at our two itinerary suggestions for Armenia:
Cultural Heritage Itinerary
Day 1: Khor Virap, Areni-1 Cave, Noravank Monastery, Tatev Monastery
Day 2: Temple of Garni, Geghard Monastery
Day 3: Yerevan
Day 4: Etchmiadzin, Zvartnots Cathedral, Voskevaz Winery
Day 5: Lake Sevan, Dilijan National Park, Haghartsin Monastery
Day 6: Odzun, Horomayri Monastery, Ardvi, Lori Berd
Day 7: Sanahin Monastery, Haghpat Monastery
Nature and Adventure Itinerary
Day 1: Dilijan National Park, Parz Lake, Gosh Lake
Day 2: Rafting in Armenia, Lori Berd, Stepanavan Dendropark
Day 3: Yerevan, Hrazdan Gorge, Yerevan Zipline
Day 4: Temple of Garni, Azat Gorge, Symphony of Stones
Day 5: Areni-1 Cave, Noravank Monastery, Tatev Monastery
Day 6: Hell's Canyon
Day 7: Yerevan
Armenia Itinerary #1: Cultural Heritage
To add this map to your Google Maps account, click the 'Star' icon next to the map name. You can then view it on your cell phone or computer by heading to your Google Maps account, click the menu and add it to 'Your Places'.
Day 1: Khor Virap, Areni-1 Cave, Noravank, Tatev
Four amazing and must-visit places in Armenia are Khor Virap Monastery, Noravank Monastery, Tatev Monastery, and Areni-1 cave.
They are all relatively close together, so it's a great opportunity to see all four of them in one day.
Each of these sites has a unique history and value to the Armenian story and we definitely recommend visiting all of them, as many people have never seen such places in their life.
Approximate driving time: 4-5 hours
Khor Virap Monastery
One of the biggest symbols of Christianity in Armenia is Khor Virap Monastery, but it's known for more than just being the biggest heritage of the first Christian nation in the world.
Khor Virap is located in a gorgeous location in the Ararat valley with a view of the iconic mountain Ararat. Getting to Khor Virap from Yerevan is quite easy, too.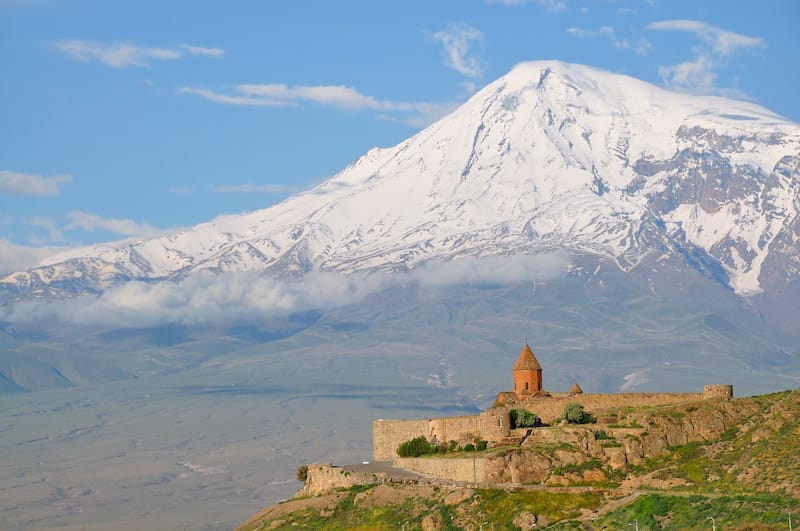 Though man-made, this facility is in harmony with nature. When the sky is not cloudy, you can see an unbelievably beautiful view of Mt. Ararat and the valley and discover Khor Virap and its history.
Khor Virap means "deep dungeon" because, under the church, there is a hole where Gregory the Illuminator was dropped to die.
He survived and later brought Christianity to Armenia in 301, which made Armenia the first Christian nation.
Khor Virap is located in Ararat province.
Areni-1 Cave Complex
Your next stop will be the wine village of Areni, where the world's oldest winery in Areni-1 Cave was discovered nearby.
The impressive and ancient winery was discovered in 2008 and is estimated to be 6100 years old, dating to the Early Bronze Age.
You will witness the world's oldest winery inside of the cave where many clay pots are buried in the soil that still have remains of grapes and wine.
Areni is in general known to be the wine center of Armenia. Each year in Areni village, there is a wine festival where thousands of people taste and enjoy hundreds of wines.
Also in the caves, the world's oldest leather shoe was discovered, dated to be 5,500 years old. Right now, it is on display at the History Museum of Armenia.
Noravank Monastery
Approximately 20 minutes past Areni village is Noravank Monastery which is situated among the red-colored mountains.
Noravank Monastery is the perfect combination for travelers who want to see stunning nature and historical sites.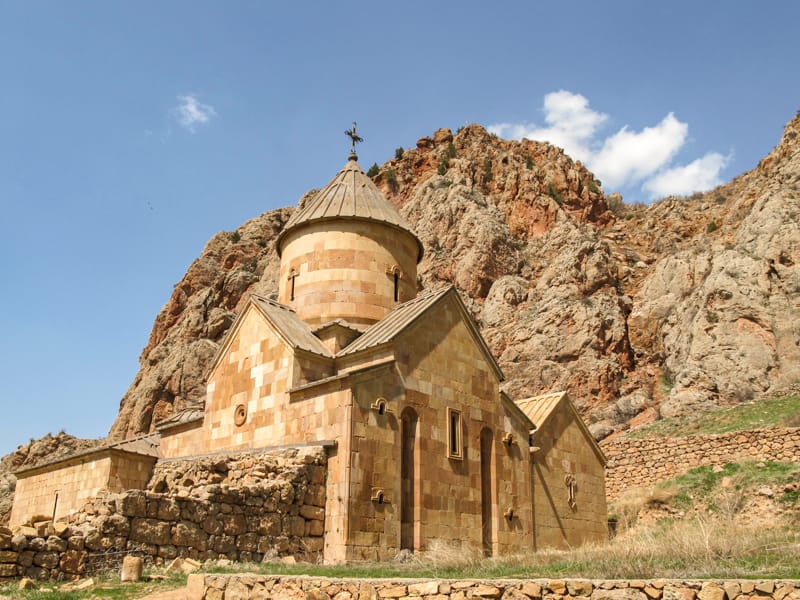 The monastery was founded in the 12th-century in a very significant location because to reach the monastery, you need to drive through a narrow canyon surrounded by high rocks.
Tatev Monastery
If you head even further south down into Syunik, you will end up at Tatev Monastery, another significant sight in Armenia.
Tatev Monastery is not far from the town of Goris (we give accommodation options for there below) and is renowned for its remote location that is best reached by taking the Wings of Tatev cable car.
Day 1 Tour Option
Day 1 Hotel Options
Day 2: Temple of Garni and Geghard Monastery
Temple of Garni
The Temple of Garni and Geghard Monastery are very close to Yerevan, making it a very popular day trip for travelers. Both sites are stunning and have centuries of history from Pagan Armenia to Christian Armenia.
Garni Temple is a rare Pagan temple that still exists in the region. It is a must-visit place for ancient history lovers.
Located only 40 minutes away from Yerevan in the Kotayk region among mountains and gorges, Garni village has a rich history with many things to do and to see.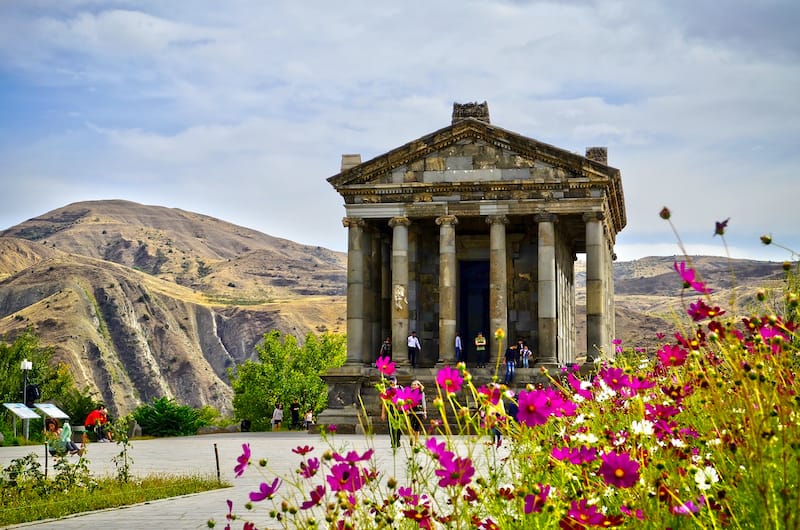 Garni Hellenistic Temple was built in the 1st century AD. It used to be a kind summer residence dedicated to Mihr, the Armenian Pagan God of light and sun.
The temple facility has other historical artifacts to explore, like antique baths and stone arts. The view of the gorge is also something that no one should miss out on seeing.
Geghard Monastery
Geghard Monastery is another must-see important historical and religious monument located deep in the mountains.
On the UNESCO World Heritage Sites list, this monastery has a very unique architecture and location because a large part of the monastery is actually built into the huge rock face. The monastery was founded in the 4th-century.
This is a place where the human minds and creativity meet nature, as you can see from the harmonious collaboration between nature and architecture.
Geghard in Armenian means "spear" because for centuries the spear that Jesus Christ was wounded with was brought to Armenia and kept at Geghard Monastery until it was later moved to the Holy Etchmiadzin.
Day 2 Tour Option
Day 2 Hotel Options
Day 3: Discover Yerevan
Take a day and explore Yerevan– the beautiful and charming capital built from pink volcanic tuff, which gives the city a unique and beautiful look.
Yerevan is more than 2,800 years old and considered one of the oldest capitals in the world, being even 29 years older than Rome!
There are many sites in the city to see like the Cascades Complex, the Opera House, Republic Square, and many others.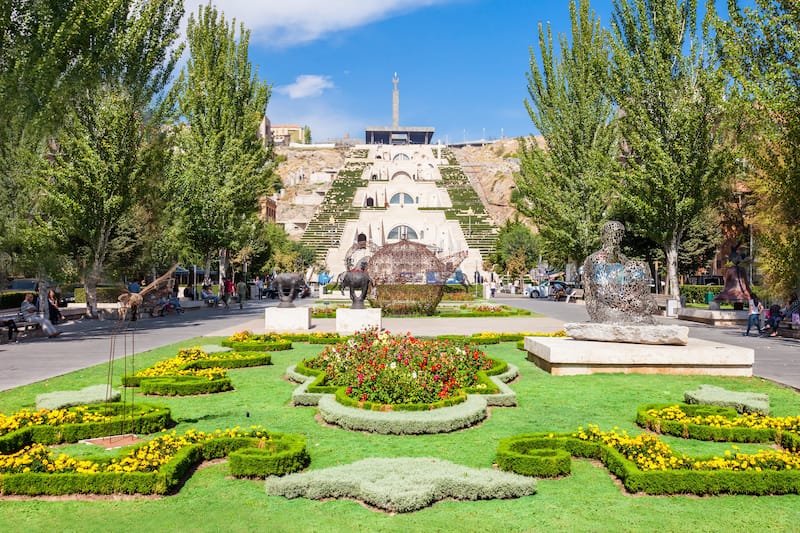 Yerevan has a great cafe culture throughout the city, but especially around the Cascades and Saryan wine street.
You can discover small charming vineyards and cafes where you can enjoy fantastic local wine and food.
Day 3 Tour Option
Day 3 Hotel Options
Day 4: Etchmiadzin, Zvartnots Cathedral, Voskevaz Winery
Other very close day trip locations from Yerevan are the Holy City of Etchmiadzin, Zvartnots Cathedral ruins, and Voskevaz winery.
All of the locations are close to each other and located in one region, Armavir. Armavir is known for its green valleys and being home to some of the oldest churches in the world.
Etchmiadzin
Known also as the Holy City of Etchmiadzin, it is the center of Christianity of Armenia because it has one of the oldest churches in both Armenia and the world.
The small city of Etchmiadzin is located only 20 km away from Yerevan and has more than 2,000 years of history.
It has more than one UNESCO World Heritage Site, like Etchmiadzin Cathedral, Saint Gayane Church, and Zvartnots Cathedral ruins.
Etchmiadzin is a charming city where you can visit nice museums and enjoy food in local restaurants.
Zvartnots Cathedral
Right before entering Etchmiadzin city, on the right side of the highway, you will find beautiful gates decorated with stone statues and ornaments.
This is the main entrance to the ancient Zvartnots Cathedral ruins.
You can take a walk down a long path lined with apricot and cherry trees, or enter the parking lot by car.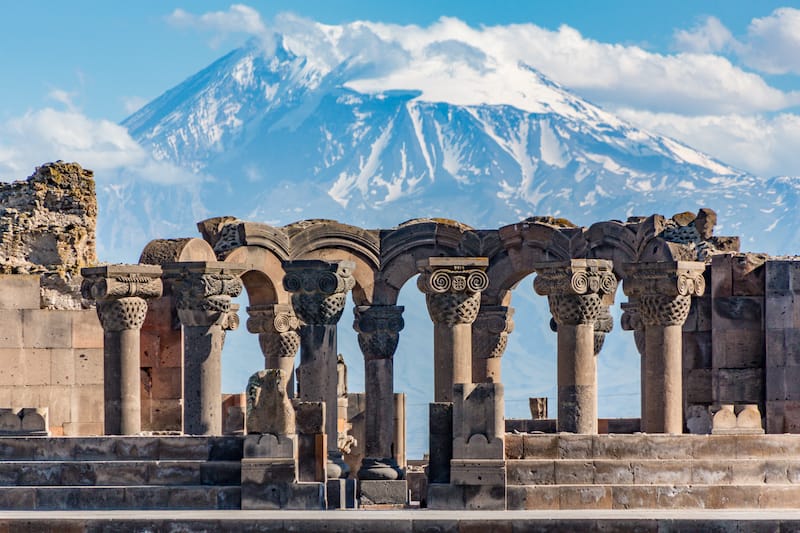 This UNESCO World Heritage Site was erected in the 7th-century AD, a rare architectural style for that time.
It was destroyed by a strong earthquake in the 10th-century AD. There are still some preserved ruins showcasing the beauty and complicated architecture of the facility.
The backdrop of Zvartnots Cathedral is the beautiful Ararat mountain. Close to the ruins, there is a museum where you can learn more about the construction and the sight's history.
Working hours: 10:00-17:00 Monday closed
Fee: 700 AMD + 100 AMD for parking
Etchmiadzin Cathedral
One of the oldest Christian churches in the world, the Etchmiadzin Cathedral complex is located in the center of the city. It is also known as the Armenian Vatican.
As the first Christian nation, Armenia has many old churches, but Etchmiadzin Cathedral is the oldest. It was built in 301 AD, the year Armenia adopted Christianity as its state religion.
The area around the Cathedral has a beautiful garden with flowers and trees, an ancient graveyard, and one of the oldest restaurants in the Caucasus.
Voskevaz Winery
Take your time and drive to Voskevaz Winery, which resembles a fairytale castle and is located only 30 minutes away from Echmiadzin in the Aragatsotn region.
It is a great place to finish up a day of exploration with a glass of wine and a tour to see where and how it is made.
The factory was founded in 1932 and located a couple of kilometers from Kasakh Gorge.
It is near where the ruins of Badals Church are and where clay amphoras for winemaking were discovered buried in the soil. Click here for more.
Day 4 Tour Option
Day 5: Lake Sevan, Dilijan, Haghartsin Monastery
After returning to Yerevan on the 5th day, you should head to the Blue Pearl of Armenia- Lake Sevan.
It is known for its island monastery, beaches, and lakeside restaurant, as well as the green heart of Armenia- Dilijan and Haghartsin Monastery, located nearby.
All these locations are located approximately 1-2 hours away from Yerevan and are easily accessible and the perfect day trips from Yerevan.
Lake Sevan
One of the most beautiful places in Armenia is definitely Lake Sevan, known as the Blue Pearl of Armenia. Sevan is the biggest lake in the Caucasus. Located in the Gegharkunik region, it is only an hour away from Yerevan.
From the highway, you can turn right and drive to Sevan Island, which is now a peninsula after the water level went down over the last 100 years.
There are two beautiful churches on the peninsula, located at the top of the island and accessible by a staircase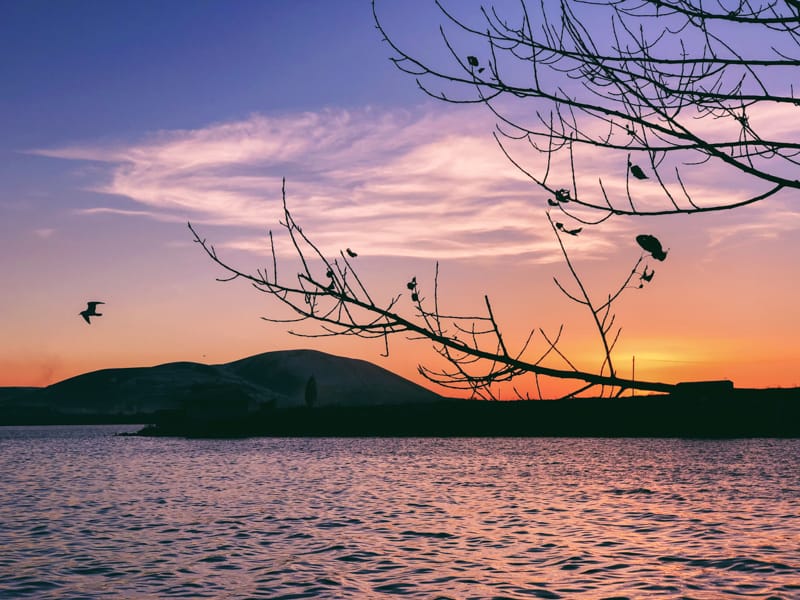 At the top, you will get a mesmerizing view of the lake and mountains. You can also visit the Sevanavank Monastery complex, founded in 874 AD.
Click here to read more about getting to Lake Sevan from Yerevan.
Day 5 Tour Option
Day 5 Hotel Options
Day 6: Odzun, Horomayri Monastery, Ardvi, Lori Berd
Lori region is rich with history and heritage and many sights are located in the most obscure and mind-blowing locations.
We recommend you visit one of the country's northernmost regions, Lori, and discover Odzun village surrounded by mountains.
You will also have a chance to see the mysterious Horomayri Monastery located in the dramatic Debed Gorge, Ardvi village, and the ancient Lori Fortress (Lori Berd).
Odzun
Odzun is the largest village in Lori. It has a rich heritage and is located almost on the edge of Debed Gorge.
The jewel of the village is the Odzun Church, one of the earliest Christian churches in Armenia after Etchmiadzin Cathedral.
Horomayri Church
The fascinating 12th-century Horomayri Monastery ruins are located in Debed Gorge.
You will need to hike to visit this spot, but you also can observe it at a distance from the edge of the gorge.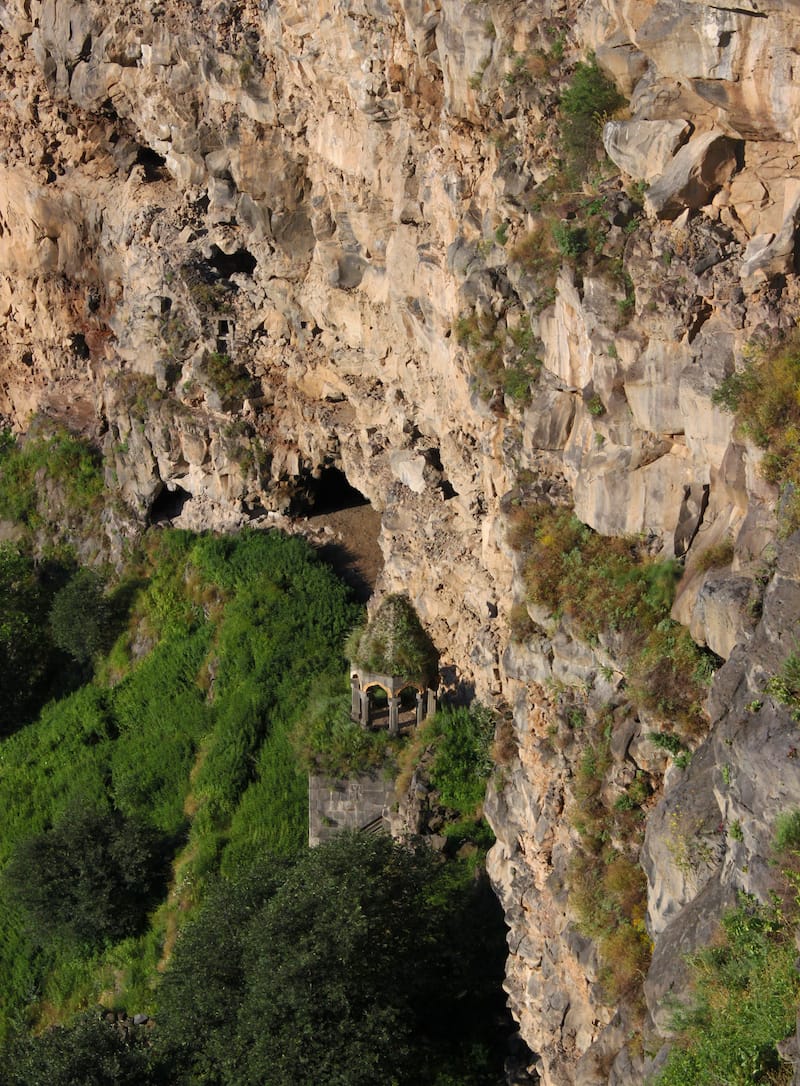 Horomayri Monastery is located approximately 1 km away from Odzun village and the viewpoint of the gorge and the church is located behind the three small churches right on the edge of Debed gorge.
Ardvi
Ardvi, a little village with a charming church and beautiful views, is located 15 minutes away from Odzun village.
Ardvi has a beautiful little church located at the end of the village surrounded by huge rocks, next to an ancient graveyard with khachkars.
The village has a unique legend: a giant snake attacked the village, but later St. Hovhannes Odznetsi turned it into a stone.
From his body, which is visible in the big rock, healing water comes out. It's called "Odzi port,'' in reference to the water appearing to come from the snake's belly button.
Lori Fortress (Lori Berd)
Another must-see of the Lori region is Lori Berd, also known as Lori Fortress.
It is an 11th-century fortress built on the edge of the crossroads of the Urut and Dzoraget Gorges, at an elevation of 1379m. It once was the capital of the Tashir-Dzoraget kingdom.
The ticket price is 1400 AMD.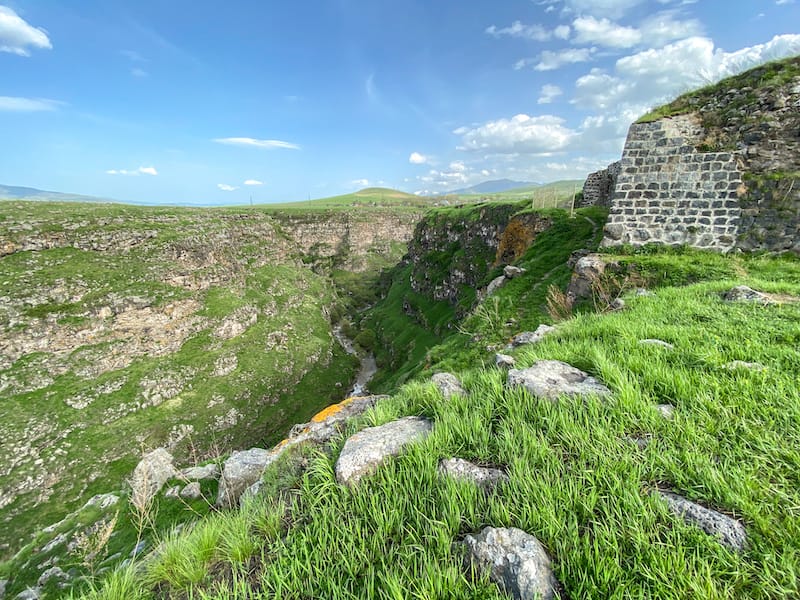 Day 6 Tour Option
Day 6 Hotel Options
Day 7: Sanahin and Haghpat Monasteries
On your final day before returning to Yerevan, we suggest visiting two unbelievably unique monasteries which are both UNESCO World Heritage Sites.
Sanahin Monastery and Haghpat Monastery are not only points of interest in the Lori region but also in all of Armenia because of its architectural and spiritual values and heritage.
Both sites are located on plateaus and are about 15km from each other.
Sanahin and Haghpat Monasteries
Both monasteries are a mix of Byzantine ecclesiastical architecture and Caucasian traditional architecture from around the 10th-13th centuries.
Sanahin means ''this one is older than that one'' because Sanahin Monastery (10th century) is a little bit older than the Haghpat Monastery (also from the 10th century).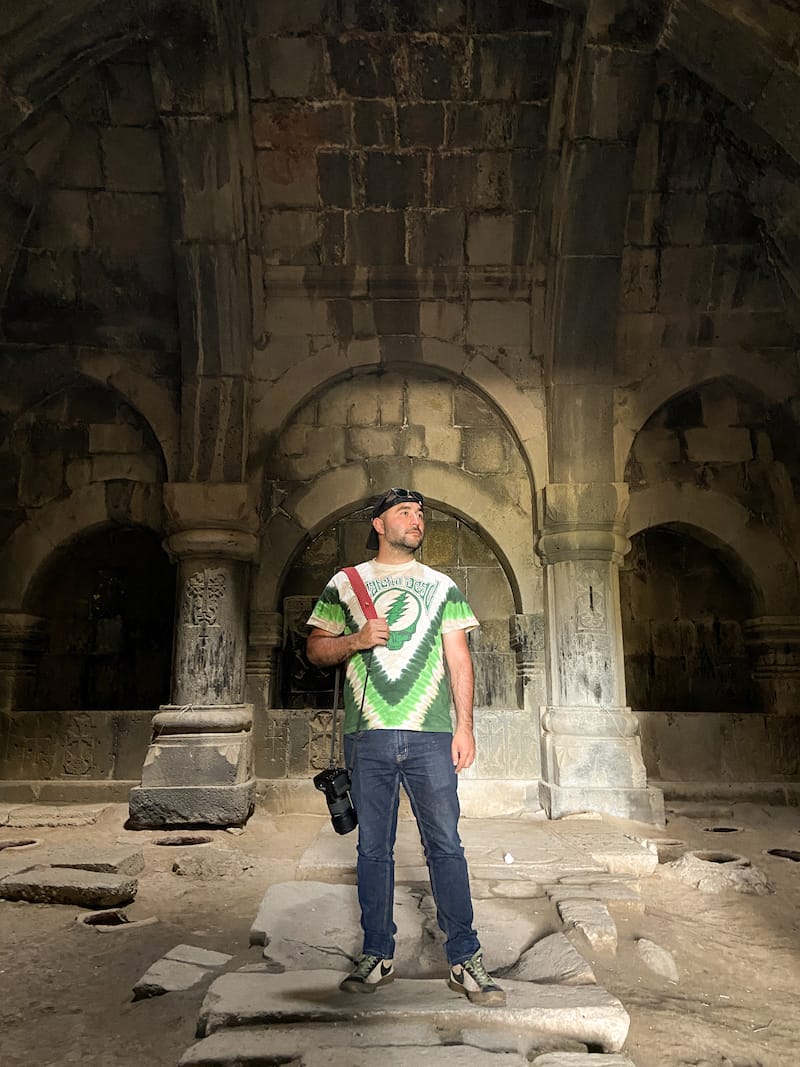 Both monasteries are fascinating places that are designated UNESCO World Heritage Sites.
After visiting Sanahin Monastery Complex and Haghpat Monastery you can return to Yerevan as your final day.
If you are planning to spend more days in Armenia, there are many other places you can visit.
Day 7 Tour Option
Armenia Itinerary #2: Nature and Activities
To add this map to your Google Maps account, click the 'Star' icon next to the map name.
You can then view it on your cell phone or computer by heading to your Google Maps account, click the menu and add it to 'Your Places'.
Day 1: Dilijan, Parz Lake, Gosh Lake
Your first day can start from Dilijan, located in the Tavush region with lush green forests, mountain lakes, and many hiking trails.
If you have time, Dilijan can definitely occupy you for more than one day. It's a great location to start discovering Armenia.
You can camp next to Gosh Lake located in the mountains, discover Dilijan with its old districts, and hike in the Dilijan National Park and the surrounding areas.
Dilijan National Park
Dilijan will surprise you with its lush, forested mountains, hiking trails, and delicious local Armenian cuisine.
If you decide to make Dilijan your base in Armenia, you will have easy access to beautiful nature.
You will be able to visit places like Parz and Gosh Lakes, which are located only 15 minutes away from the city center by car.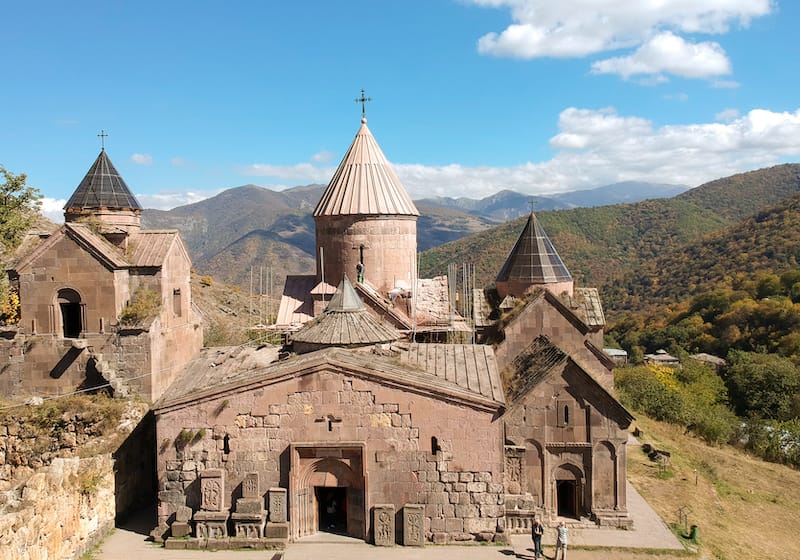 Gosh Lake's road is more for 4WD/SUVs or hikers, while Parz Lake is much more accessible and can be driven to.
For thrill-seekers, there is an opportunity to participate in adventure activities at VereV Rope Park in Dilijan.
Dilijan National Park is a large forest with many rare trees, plants, and wild animals such as foxes, brown bears, red deer, and more.
There are plenty of things to discover in Dilijan if you wish to stay more than one day.
Day 1 Tour Option
Day 1 Hotel Options
Day 2: Rafting, Lori Berd, Stepanavan Dendropark
On your second day, you'll find a mixture of activities, starting with rafting on the powerful Debed River in Lori.
Then visit one of the beautiful fortresses in Lori, located on the edge of the gorge. Next, get lost in the lush green Stepanavan Dendropark, and finally, you will head back to Yerevan to get ready for other upcoming adventures.
Rafting in Armenia
If you love extreme sports and are not afraid to get wet, then rafting in the Debed River is one heck of a fun way to start your day.
The experienced guides will explain how to raft, so this is an activity for all skill levels.
The river goes for many kilometers and is surrounded by mountains and large rocks nestled in dense greenery.
It is a wild time and you're sure to meet some new people! Click here to learn more!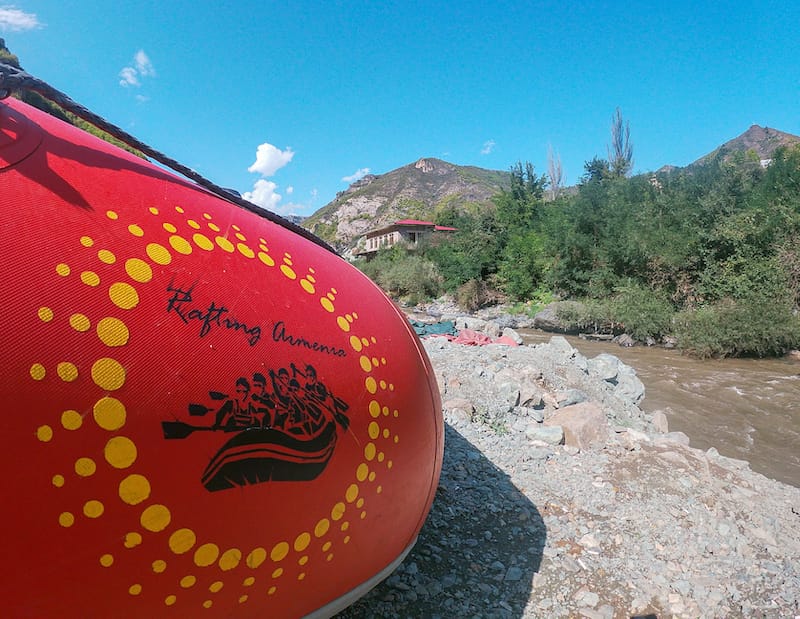 Lori Berd (Lori Fortress)
The road to Lori Fortress is no less impressive; the fortress itself passes through Stepanavan town crossing the impressive huge bridge where the view to the gorge is amazing and the scenery gorgeous.
As you get closer, you will be able to see the ancient fortress on the edge of the massive gorge.
Stepanavan Dendropark
The last place to visit before going back to Yerevan is the large green space that is the Stepanavan Dendropark.
Stepanavan Dendropark was established in 1931 by Edmund Leonowicz who was a Polish engineer.
The space is 35 hectares with 500 species of plants and trees from all around the world.
Stroll up and down the forested paths to the flower gardens, greenhouses, and river. Relax and feel the atmosphere of nature preserved for almost a hundred years.
Don't forget to say hi to and pet the adorable blind guide dog, Mike!
Day 2 Tour Option
Day 2 Hotel Options
Day 3:  Yerevan, Hrazdan Gorge, Zipline
On the third day, you can fully enjoy Yerevan.
Walk around and discover both its hidden and famous sights, learn the history of the ancient city, and of course, enjoy the Yerevan evening in hip cafes and bars.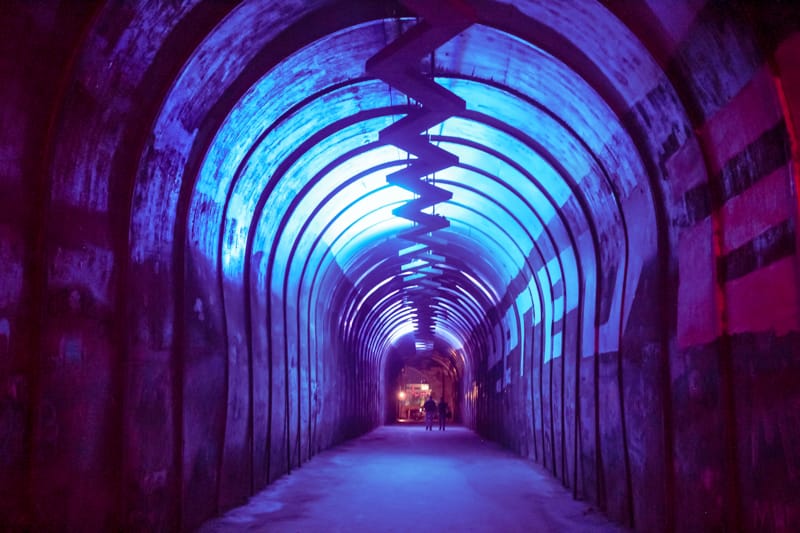 Also, during the day, don't miss out on the opportunity to fly over the Hrazdan Gorge with Yerevan Zipline, the longest zipline in Armenia that goes under a massive bridge.
Yerevan Cafes and Bars
Yerevan has a burgeoning scene of new, hip cafes and bars, which mixes well with the existing sidewalk cafe lifestyle.
You can also find some amazing coffee in Yerevan these days.
Visit places like Kong, Epicure, Mamba, In Vino, and Mirzoyan Library and enjoy Yerevan's colorful cafes and bar life where you can meet new and interesting people.
Yerevan Zipline
The Yerevan Zipline is fun and full of adrenaline all in one place that will allow you to fly over the beautiful Hrazdan Gorge and cross under the Davtashen bridge.
The zipline has two lines, which means you will be able to fly twice. The longest line is 870 meters long.
The professional staff will guide you until the end of your flight and will teach you the basic knowledge of how to zip 150km/h down to the gorge.
Working hours: All week  10:30 – 19:30
Ticket fee: 14,000 AMD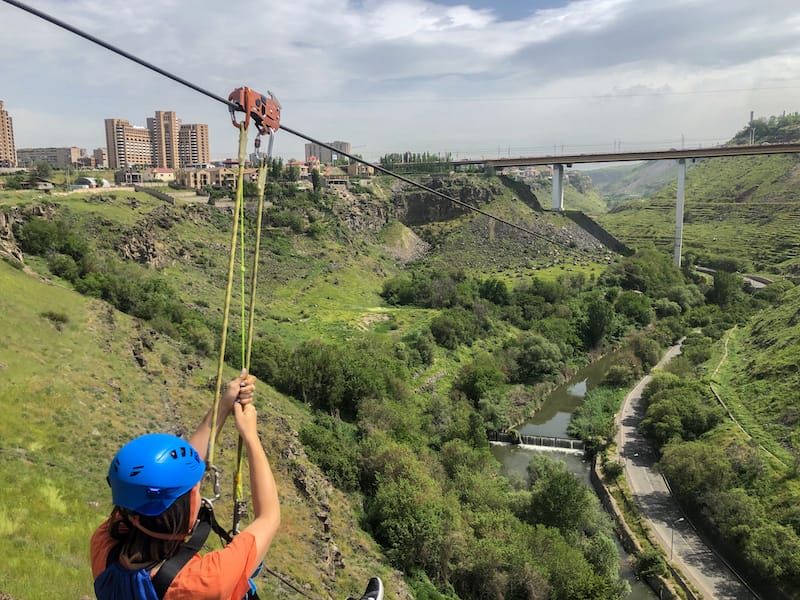 Day 3 Tour Option
Day 3 Hotel Options
Day 4: Temple of Garni, Azat Gorge, Symphony of Stones
On day four, you will go to the Kotayk region, which is next to Yerevan, and visit Garni village, the Azat Gorge, and the Symphony of Stones, all amazing natural wonders.
Symphony of Stones
The Symphony of Stones is a hexagonal and pentagonal stone column natural monument, which is over 70m tall.
The basalt columns are visible from all parts of the gorge and resemble organ pipes.
After visiting Garni Temple, you can hike down to Azar Gorge directly from the left side of the entrance of the temple and observe the Symphony of Stones yourself.
If you have extra time, check out Azat Reservoir nearby!
Day 4 Tour Option
Day 4 Hotel Options
Day 5: Areni-1 Cave, Noravank and Tatev Monasteries
The next day, you will have a bit of a road trip to the southern wonders of Armenia in the Vayots Dzor and Syunik regions.
The first stop is the Areni-1 Cave where, according to archeological discoveries, wine was first made.
After visiting the cave, visit the nearby Noravank Monastery which will occupy you for another couple of hours.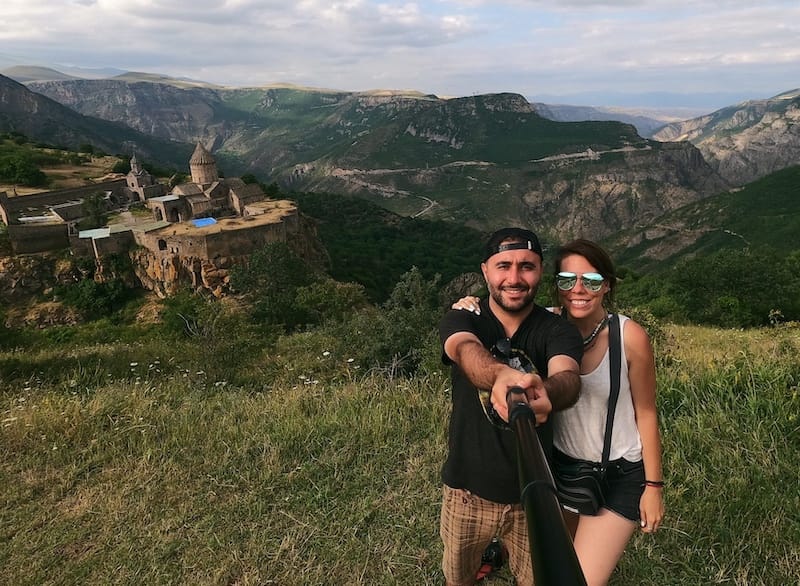 Your final adventure for Day 5 should definitely be the cable tramway called the "Wings of Tatev," which takes you to the iconic Tatev Monastery.
This is the longest reversible aerial tramway in the world at almost 6 km in length. Getting to Tatev from Yerevan is easy if you'd like to start that leg first.
Day 5 Tour Option
Day 5 Hotel Options
Day 6: Hell's Canyon
We recommend that Day 6 be a day where you do something very adventurous, like canyoning in a place called Hell's Canyon.
It will take all day to do this activity so be ready to give it one full day.
The tour company you can go with will take you to the canyon and then bring you back to Yerevan at the end of the day.
Day 7: Back to Yerevan
On the last day, start making your way back to Yerevan.
You can make some worthwhile stops at places like beautiful Shaki Waterfall, Areni-1 Cave (again), Khor Virap, and Karahunj along the way.
We hope that you enjoyed these Armenia itinerary options and please let us know if you have any questions or additional recommendations! Thanks!
Pin this Itinerary for Armenia