You've probably stumbled upon this guide because you're planning to visit Armenia. This post will detail everything we think you need to know before you travel to Armenia – from information about the language to secrets from locals.
If you have additional questions, please send us a message or leave us a comment! We hope you find this useful!
Visit Armenia: Tips & Information
Armenia. You may have heard of it, or you might have not, but somewhere high in the Caucasus mountains is where this wonderful country is located. With magical nature, ancient history, and heritage that is not yet fully discovered, it is a country with so much to offer.
So what is Armenia? A little country that you might associate with the Kardashians or System of Down, but trust us, Armenia is the new, hot destination to travel to and it's known for a lot more than just that.
As an Armenian, it's easy to write about my own country, and that's why my friend Megan has joined me to create this website about Armenia where we can deliver honest and informative articles about my homeland.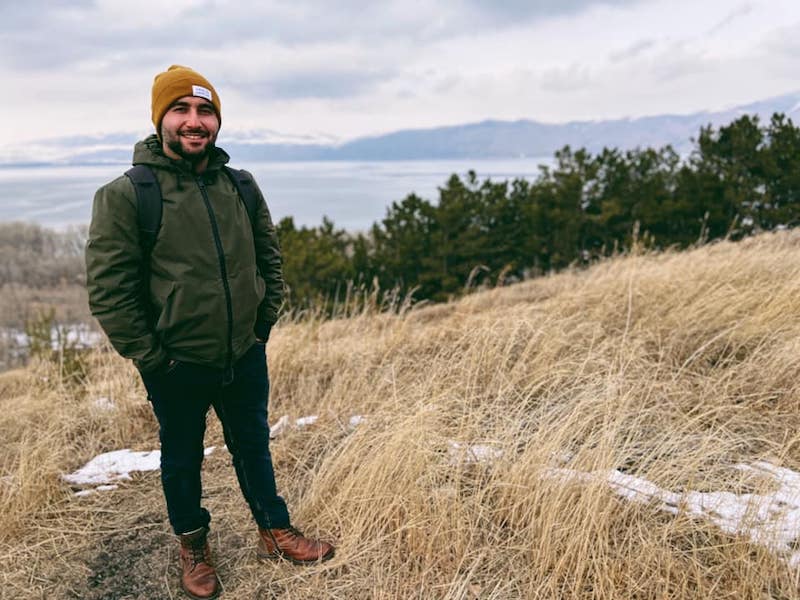 For me, I was able to see Armenia from a different angle because I was analyzing it from my friend's point of view and learning what makes it such a great and unique place for travelers.
Based on our travels in Armenia and the fact that I'm a local, we often ask ourselves why it's not crowded with tourists from around the world?
Armenia has all the necessary features for the perfect travel destination; fantastic nature and landscapes, delicious and fresh food, super hospitable people, and it's really affordable and cheap to travel in for non-locals.
In addition to all this, starting in 2020, airlines are offering cheap and budget flights from Europe to Yerevan and Gyumri, which makes this hidden gem much more accessible to travelers and history lovers.
We have seen, and are still discovering, amazing and breathtaking sights in this little country of colors and contrasts. This guide will prepare you to visit a truly amazing destination and tell you everything you need to do and know before you visit Armenia.
What to Know Before You Travel to Armenia
We try to hit all points of what we deem useful information for this post.  If there is something missing that you'd like to know, specific destination information, please shoot us a message or leave a comment so we can answer!
1. Where is Armenia?
It might be a bit challenging to find Armenia on the map, and you might have never heard of it, but it is located in the southern Caucasus region; Georgia borders it to the north, Iran to the south, Turkey to the west and Azerbaijan to the east.
Armenia is a landlocked country and it's important to know that it's not possible to get to Armenia overland from Turkey or Azerbaijan because of political issues.
2. Armenian Nature
Armenia has a surprisingly diverse nature for being such a small country… from mesmerizing green canyons and gorges to dry and colorful mountains to semi-desert landscapes.
The biggest lake in the Caucasus is also found in Armenia. Lake Sevan, which is considered to be the blue pearl of the country. It is surrounded by breathtaking mountains, little islands, and gorgeous villages.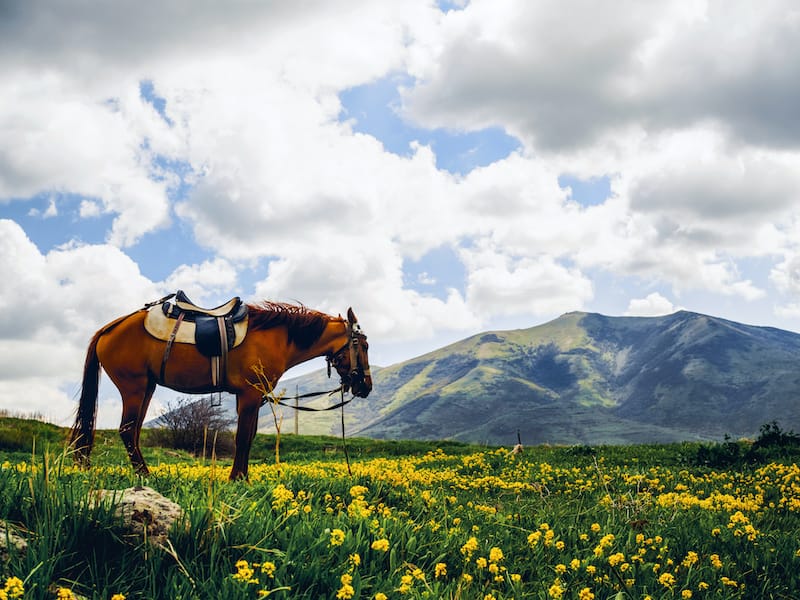 There are several national parks and reserves all over the country such as Dilijan National Park or the Khosrov Reserve, a place considered to be one of the oldest protected areas in history. Approximately seventeen centuries ago, the reserve was founded and its ecosystem is absolutely amazing.
Despite its small size, Armenia is one of the most mountainous countries in the world as mountains make up almost 90% of the country.
3. Seasons in Armenia
Each season has a different beauty in the Caucasian country. You can hike in the colorful autumn mountains, ski and snowboard in Tsaghkadzor spa town in the winter, or chill out in green Dilijan guesthouses in the summer.
Spring is also special in Armenia because of the vibrant colors and blooming flowers saturating the country.
4. Armenian Culture and History
Armenia is one of those rare countries that still exists despite having more than 6000 years of history. Many civilizations have disappeared over the decades, but as a surprise to many, Armenia has managed to conserve its cultural heritage with traditions that still exist today.
There is a lot of archeological evidence that shows existing civilizations in the Bronze Age in the modern theory of Armenia dating back to 4000 BC.
It's possible to see heritage from the different stages of Armenian history, like the Pagan Temple of Garni or the Christian churches in Etchmiadzin that were one of the first in history as Armenia was the first country that adopted Christianity as a state religion in 301 AD.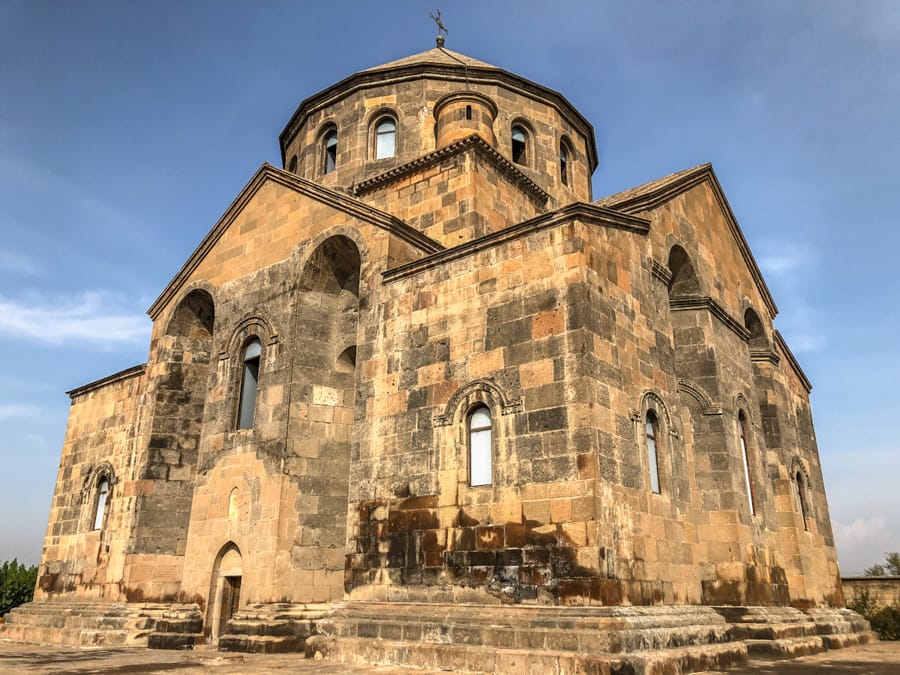 Armenians were always famous for creating art from stone because of its abundance in the country. This is evident from the Pagan frescas and Christian cross-stones (khachkars) alongside the mesmerizing churches and temples around the country, and the ruins of the castles and caves that have their hidden secrets.
The strongest and most famous king in Armenian history was King of the Kings Tigranes the Great (95–55 BC), under which the Armenian kingdom became one of the strongest kingdoms of that time. During that period, the Armenian empire spread from the Caspian Sea to the Mediterranean Sea.
When is the Best Time to Visit Armenia?
Armenian has pretty much all types of weather- from hot summers to dry, cold winters with significant amounts of snow in almost all regions of the country.
The hottest time in Armenia is from June to September when the temperature can fluctuate between 37- 40 Celsius, but the evenings promise a cool breeze coming from the mountains. Temperatures also depend on where you are in the country; it's not as hot in the north compared to the south during the summer.
Winter
Winters in Armenia are dry and cold, and during this time temperatures can drop as low as -15 Celsius. However, winter activities and sports are easily accessible, such as skiing in Ashotsk or Tsaghkadzor where you can enjoy cross country skiing, downhill skiing, snowboarding, and winter hikes in the places.
Another plus of visiting Armenia during the winter is spending New Year's there as the country is basically partying the entire time. Also, accommodation and Yerevan Airbnbs are comparably cheap during that period.
Spring
Once it's spring in Armenia, like in many places, the weather in Armenia becomes pleasant and many festivals like Yerevan wine days, BBQ fest and the Urvakan electronic music festival take place in the country.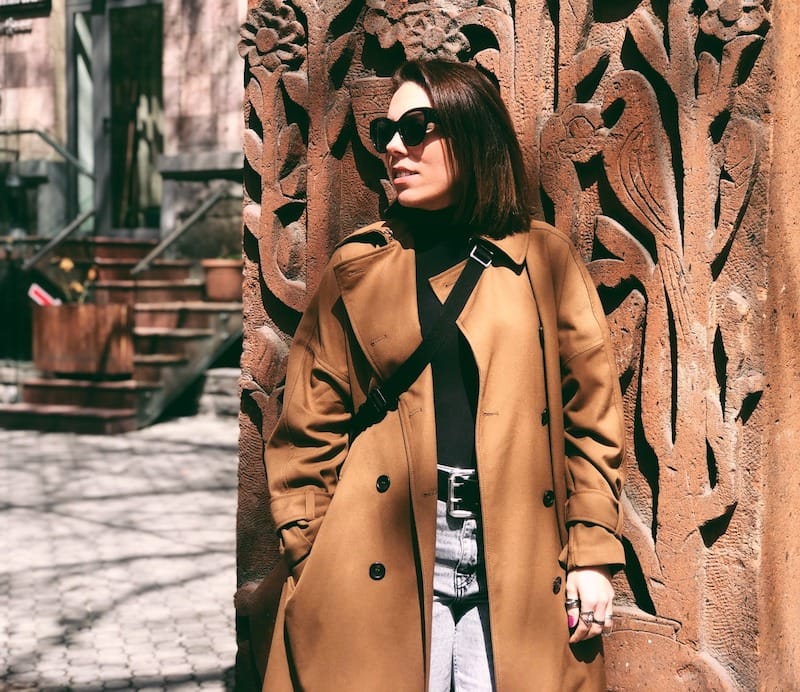 Summer
Summers in Armenia are the perfect time to take multiple day trips from Yerevan to all throughout the country when the weather's hot and you will have a unique opportunity to discover an ancient country. Within approximately 10 days, you can see amazing cultural and historical heritage.
Autumn
Our favorite season is autumn in Armenia.  This is when the weather is just perfect for outdoor activities, camping, and day trips. In our opinion, the beginning of autumn is the best time to visit Armenia.  It is just so picturesque!
From Dilijan's lush forest to Noravank Monastery's surrounding area, you will see the true colors of Armenian nature during fall.
What is Armenia Known For?
As we mentioned before, Armenia is an ancient country and its heritage from different times in history is unique and somewhat well-known worldwide.
The small country has many sights that are included in the UNESCO World Heritage List and there are still many undiscovered places that are gaining more and more interest from archaeologists.
Below are a few things that have put Armenia on the map.
5. First Christian Nation in the World
Armenia is the first country that adopted Christianity as an official state religion in 301 AD, over 1700 years ago.
The major figure of the spread of Christianity in Armenia was Gregory The Illuminator who was first dungeoned because of his religious view in Khor Virap. He was imprisoned for 13 years but was later released by Tiridates III.
Gregory the Illuminator is the founder of the Armenian Church and responsible for Armenia becoming a Christian nation.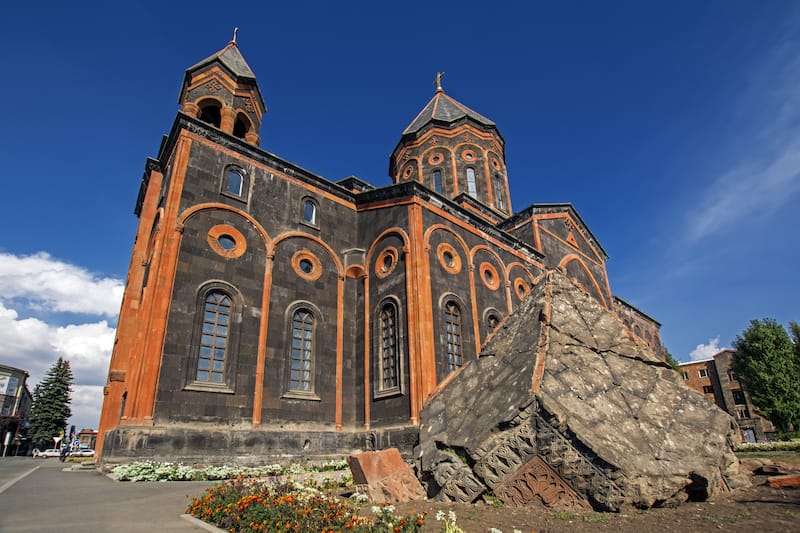 The Armenian Church is known as apostolical because of two students, Bartholomew and Thaddeus of Jesus. Thaddeus came to Armenia to try to spread Christianity after his crucifixion.
The first Christian churches in Armenia, and probably some of the first ones in the world, were built and still exist in the city of Etchmiadzin today.  The city name translates to "the only born came down".
Etchmiadzin Cathedral, St. Hripsime, Zvartnots church ruins, and others are protected by UNESCO World Heritage today and are some of the top things to see in Armenia.
6. UNESCO World Heritage Sites in Armenia
As just mentioned, the churches and cathedrals in and around Etchmiadzin are protected by UNESCO.
Other important places that are UNESCO sites in Armenia are Geghard Monastery and the Upper Azat Valley and the Monasteries of Haghpat and Sanahin.
7. Armenian Duduk
For more than 3000 years, this amazing instrument, with soul touching sounds, has existed in Armenia and when it's being played, it feels like time stops.
Duduk, or the original historical name Tsiranapogh, is an Armenian wooden instrument that looks very simple at first glance and in translation means "apricot made clarinet".
The sound of the Armenian duduk is so magical that it was placed on the list of Masterpieces of the Intangible Heritage of Humanity by UNESCO.
8. Ararat Mountain
A legendary and iconic mountain for all Armenians that is technically located in the modern territory of Turkey is the mountain 'Ararat', also known as Holy Mountain.
Ararat is a two-peak mountain made up of small Sis and big Masis mountains and has been represented in Armenian history since ancient times, known as a holy mountain and symbol with an elevation of 5,137 meters.
It is a Biblical mountain since it is mentioned in the Bible that Noah's ark landed on Mount Ararat and it is where life supposedly started after the flood.
On a beautiful, clear day, it is possible to see Ararat from the capital Yerevan and you can admire its beauty, might, and harmony.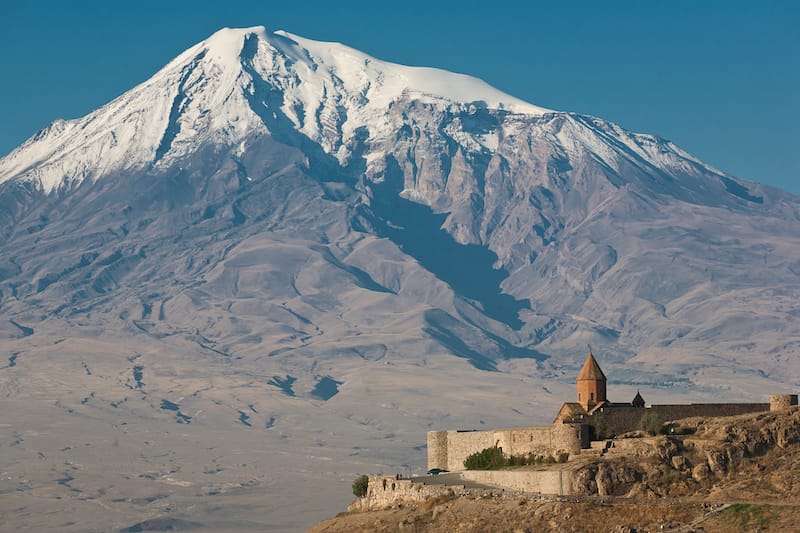 9. Lavash (Bread)
A unique flatbread that is in the UNESCO Representative List of the Intangible Cultural Heritage of Humanity is Lavash.
Not a single ingredient has changed over the centuries in the preparation of ancient Lavash bread in Armenia… even the cooking method has remained the same!
Armenian traditional lavash has very simplistic ingredients but it is one of the tastiest bread in the world. It consists of flour, water, and salt. That's it!
Lavash is baked in the traditional tonir (tandoor), a clay hole in the ground. That is how the bread has been baked for centuries and you can even see it baked in several places in Armenia today this way (including some restaurants that have open kitchens like Sherep and Lavash).
In Armenia, there is a special name for cheese and herbs wrapped in a lavash – 'bruch'. It's one of the simplest, yet most delicious things in the world.
Another interesting fact about lavash bread is that it's possible to dry it and keep it for over 6 months, then wet it when ready to eat. Armenians have been doing this for centuries and it lasts without any problems.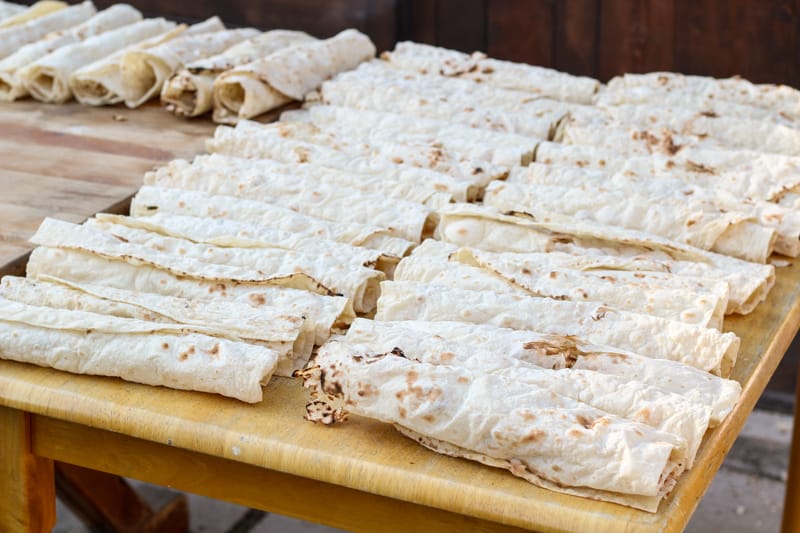 10. Khor Virap Monastery
Translated from Armenian, Khor Virap means deep dungeon and this is where Gregory The Illuminator was jailed for 14 years.
Khor Virap is one of the most special places to visit in Armenia because of its location and a mind-blowing view of Mount Ararat.
The 5th-century Church of the Holy Mother of God that is located on a hilltop gives it another charm and is an amazing addition to the view of Mount Ararat, which seems surprisingly really close despite being rather far away by distance.
Khor Virap is surrounded by green fields and vineyards and the monastery is one of the gems of Armenia that no one should miss when visiting the country (or Ararat marz!).
It is also extremely easy to get from Yerevan to Khor Virap with options on public transportation, as well as affordable tour options.
11. Ararat Brandy
Like we mentioned before Mount Ararat and its name is iconic and very popular among Armenians. You will see many brands that have Ararat in their name but one of the most popular brands which exist in Armenia and is known worldwide is Ararat Brandy (or cognac as the locals say).
The legendary and famous Ararat brandy factory is located in Yerevan on top of a hill next to the Hrazdan gorge and has a big history and legacy to tell.
Armenian Brandy actually gained popularity at the beginning of the 20-century because of Joseph Stalin and Winston Churchill.
At the Yalta Conference in 1945, Joseph Stalin presented Winston Churchill with a bottle of Ararat Brandy (Dvin).  Winston Churchill, a fervent brandy lover, fell in love with Ararat Brandy and as a result, Stalin sent Churchill 400 bottles of Dvin batch Ararat Brandy annually.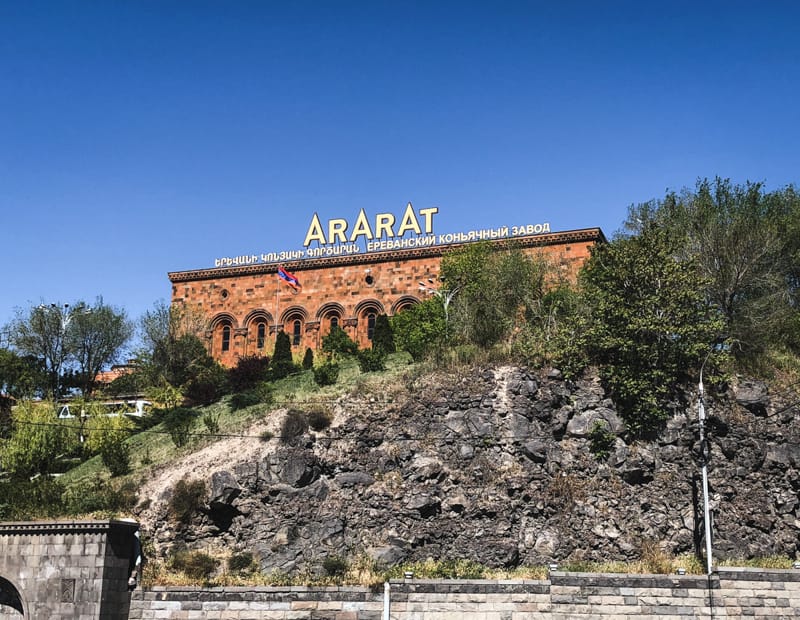 For Armenians, besides wine, cognac has to be of top quality and that quality has been delivered for more than 100 years by Ararat brandy and this is just one more thing that puts Armenia on the map.
It's also possible to take a tour of the factory to see how Ararat brandy is made, learn the history of the factory, and enjoy the brandy itself with some great dried fruits and chocolate.
12. Armenian Carpets (Rugs)
For centuries, Armenians have been known for creating one of the best and most beautiful carpets in the world. It is a tradition to have a carpet inside an Armenian house as a part of the interior decoration.
It is possible to see how carpets and rugs are made in Armenia at the Megerian Carpet Center or Tufenkian Hotel next to the Vernissage.
The traditional ornaments are made by hand just like it was done centuries ago and these masterpieces are truly pleasing to the eye.
13. Khachkars
A unique and typical Armenian stone art known as 'khachkars' (cross-stones) is one of the most popular art forms from Armenia.
A khachkar is a big piece of stone with Christian art carved into it coming from the 4th-century that shows the skills of the Armenian masters. There are still thousands of khachkars from ancient times that have been preserved until this day.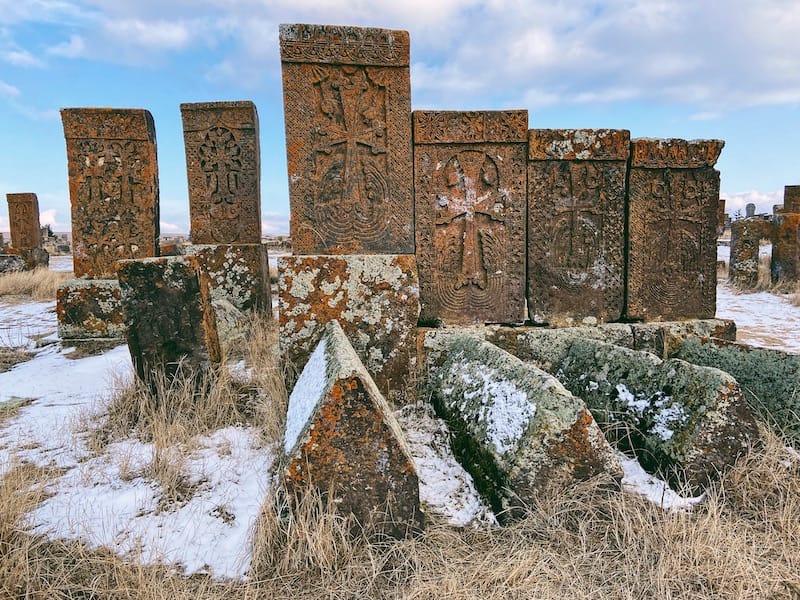 Because it is so special to Armenia, it is no surprise that its ornaments and symbols are included in the UNESCO list of Intangible Cultural Heritage.
One of the most famous places to see Armenian khachkars from various decades of Armenian history is at Noratus Cemetery. At Noratus, it is possible to see cross-stones from the 10th-century! It is truly a fascinating, open-air museum.
14. History of the Silk Road in Armenia
When people think of the Silk Road, they more often than not think of China and Central Asia.  However, Armenia, like other places in the Caucasus, played an important role in the trading on the Silk Road, especially Artashat.
While many remnants and traces of the Silk Road are gone in this part of the world, you can still see traces down in Vayots Dzor region at Orbelyan's Caravanserai, an important inn for traders that existed and was saved.
15. Pomegranates and Apricots
Pomegranate is not only a fruit that grows in Armenia and Artsakh (Nagorno-Karabakh), but it is also phenomenal and widely used in the food and is also one of the most popular symbols for Armenia used in art and architecture.
Walking down the streets of Yerevan, it is possible to see pomegranates engraved and carved into the buildings' facades.
Nowhere else in the world do apricots (tsiran) grow and taste as delicious as they do in Armenia. The ancient fruit, mentioned in many old manuscripts, is truly the pride of Armenia.
Even the famous Duduk (Tsiranapogh) is made from the apricot tree. The fruit is widely used in Armenia and gets exported to many countries every year.
You will also find pomegranate and apricots used in foods and wines.
16. First Winery in the World
If you didn't already know, the first winery known to the modern world was founded in Armenia in Areni village. It dates all the way back to 6100 BC.
Areni is known to be one of the most popular wine regions of Armenia where the highest quality libation is made, so it was no surprise that they discovered the oldest winery in the world inside the Areni-1 Cave.
In Areni-1, it is possible to see where the wine was made and how the ancient, clay wine barrels were dug into the soil.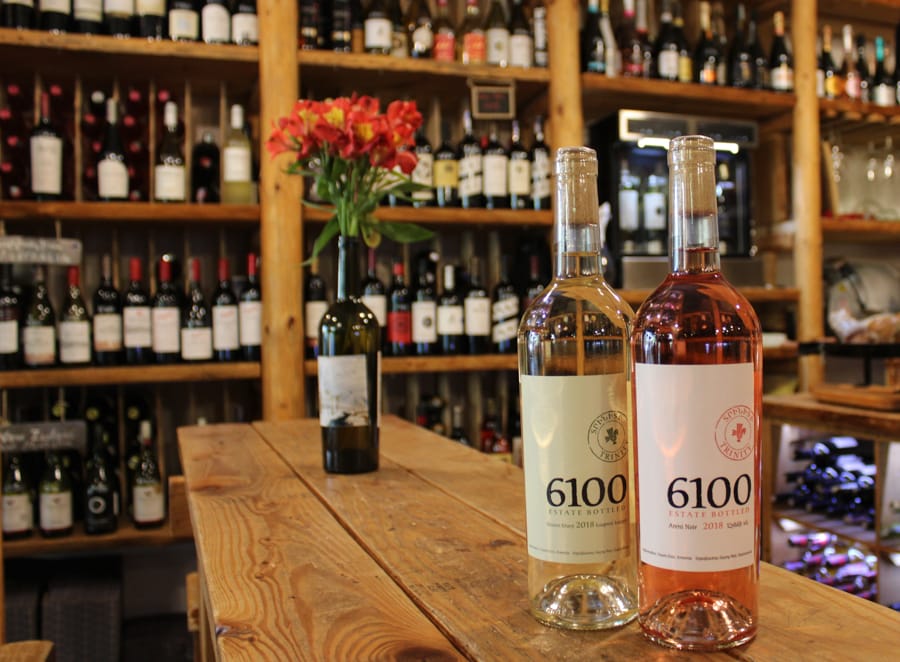 In some of those barrels, young female bones were discovered as signs of sacrifice. It's a truly unique place to visit in Armenia and to be able to see the traces from the world's oldest winery.
Besides the winery, in the same Areni-1 cave, the world's oldest leather shoe was discovered. It is approximately 5,500 years old.
17. Temple of Garni (Pagan Temple)
Even though Armenia has a big Christian history, its Pagan history is just as important. The perfect example is the one and only preserved Pagan Temple in the country. The Temple of Garni dates back to 1 AD and was dedicated to the God of Sun Mihr.
It is truly an amazing gem located on the edge of the Azat gorge, yet another mind-blowing location that the ancient Armenian kings and queens used as a royal summer house.
The Temple of Garni is one of the most beloved places for travelers to visit because of its interesting structure and impressive location in the Caucasus region.
18. Tatev Monastery
If you want to learn about the spiritual life of Armenia, then it is a must to take a trip to Tatev Monastery. It has breathtaking architecture and is a spiritual Christian construction isolated from the world on the edge of the Vorotan River.
The 9th-century Tatev Monastery complex and the fortifications is an iconic Christian symbol of Armenia. It is located up in the mountains.  That is why, based on ancient myths, it is called Tatev, which translates to "give wings" in Armenian.
In the Middle Ages, Tatev Monastery was known as one of the best universities in Armenia where it was possible to study religion, science, and philosophy.
To get to Tatev Monastery, you need to ride on the world's longest reversible aerial tramway that is 5.7 km long. The ride is gorgeous and the views are mesmerizing- you get the feeling that you are flying in the sky as you cross the gorge. This is why the tramway was given the name Wings of Tatev.
19. Armenia's Velvet Revolution in 2018
Armenia has a remarkable ancient history and heritage, but modern Armenia also shows the world its effort to create a great democratical environment for its citizens and all the visitors of this beautiful country.
In an effort to move forward in 2018, the Armenian nation initiated a peaceful velvet revolution to remove its then-corrupt party from power as it was not leading the country with a democratic lifestyle or standards.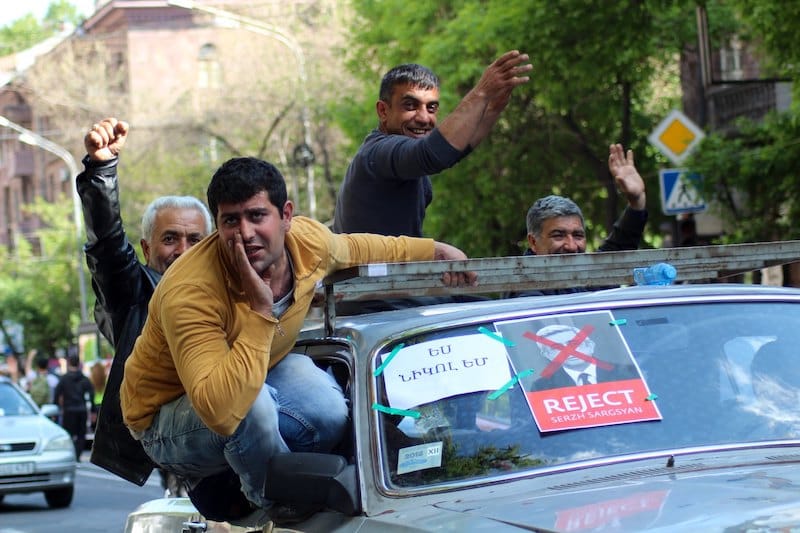 Armenia's example of a peaceful velvet revolution was exceptional for many post-Soviet countries showcasing that one small country facing many problems with corruption was able to unite and, without any victims, make changes to their country and its political system.
20. Yerevan Metro
Built during the Soviet-era and becoming fully operational in 1981, the Yerevan Metro is probably one of the smallest metro systems in all post-Soviet countries. However, it is one of the best secrets of Yerevan as it is affordable, efficient, and will get you from point A to point B.
The Armenian government is working on opening more metro stops and the construction has already started. The current number of stops is limited (only ten!) but are very clean and have artistic designs.
The most noticeable Yerevan metro station is the post-modern Yeritasardakan (Youth) Station and the beautiful fountains at the Republic Square Station.
The full length of the metro is 13.4 km and the working hours are from 6.30am to 11pm. The price of a ticket is 100 AMD and you will notice that plastic coins are still being used in Armenia but there is talk that that will change in the near future.
21. Armenian Language
The Armenian language is an Indo-European language and is considered to be one of the oldest in the world. The Armenian alphabet was invented by Mesrop Mashtots in 406 AD and faced several evolutions during the coming centuries.
In the language in Armenia, there is a "dead language" called Graphar. It is used during church ceremonies, but not in daily life.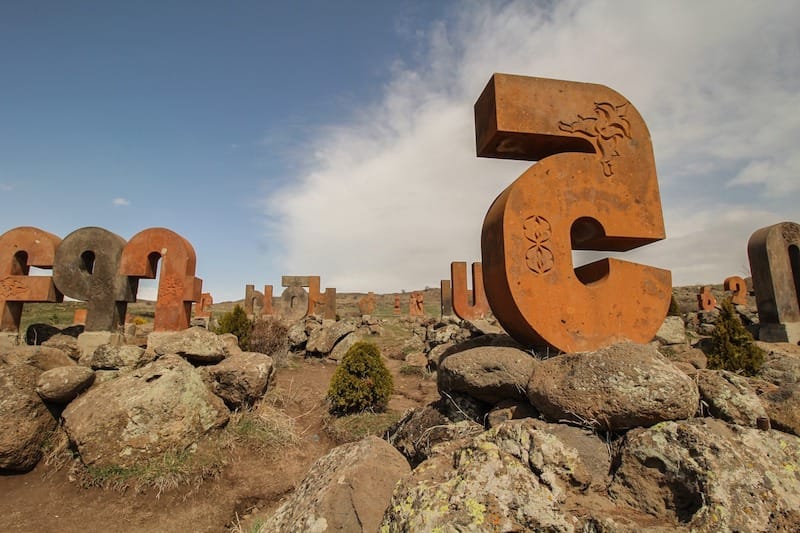 Nowadays, the Armenian language is divided into two parts: Western Armenian, which is used by the diaspora, and Eastern Armenian, which is used in Armenia today.
There are 39 letters in the Armenian alphabet and it is considered a national point of pride of the nation… so much that there is a monument dedicated to the Armenian Alphabet's 1600th anniversary.
With an ancient alphabet, Armenia has many unique Armenian expressions that only other Armenians understand!
22. Western Armenia
The modern territory of Armenia is only 30% of what its historical territory was. The lands and territories have changed so many times throughout history.
Armenia used to be a lot bigger (territory-wise) in the past, but after the Armenian Genocide in 1915 and after becoming part of the Soviet Union, it lost its historical territories. Still today, Armenians refer to these lands as Western Armenia even though they fall under present-day Turkey.
Western Armenia used to be one of the biggest cultural and industrial centers of the region, and cities like Kars and Ani were the result of Armenians' brilliant architectural and business minds.
Still today, there are many historical remains, churches, and cities that showcase why Armenians still consider Western Armenia a historical homeland.
23. Chess in Armenia
Despite its small population of only 3 million, Armenia has gained popularity around the world for its love and success at the game of chess.
Armenians love playing chess and it's even part of their school program because they believe that the love for this intellectual game should start at a young age.
This small country has had several World Chess Champions: grandmaster Tigran Petrosian, Levon Aronian (one of the leaders of FIDE's ranking list), and the Armenian National Chess team- which won the World Team Championship, European Team Championship, and the Chess Olympiad.
If you are a chess fan, then it's just another reason to visit Armenia as it's one of the most beloved games in the country, played from people's backyards to international professional stages.
24. Armenian Genocide
One of the most tragic historical events that happened to Armenians and the Armenian nation is the Armenian Genocide. It was the first genocide of the 20th-century.
The horrific massacre happened in 1915 by the Turkish 'Young Turks' ruling party and as a result, 1,500,000 people lost their lives.
The Armenian nation not only lost many of its residents' lives during this time but also a significant part of its historical homeland (Western Armenia).
This is why there are over 10,000,000 Armenians living outside of Armenia today.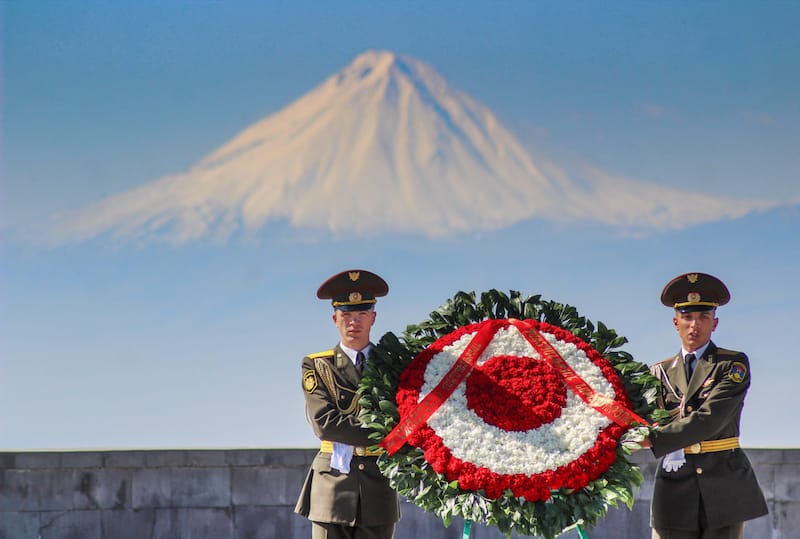 Each year on April 24th, a march takes place to the Tsitsernakaberd Genocide Memorial in Yerevan where the whole nation pays respect to the victims of the tragedy.
25. The Armenian Diaspora (and Famous Armenians)
One interesting fact about the Armenian people and its population is that there are more Armenians living outside of Armenia these days than inside of it.  Armenia has one of the biggest diaspora in the world and it is really large in countries like the USA, Russia, and France.
Today, there is over 10,000,000 diaspora and the reason dates back to the Armenian Genocide, as mentioned above.
Americans may know of some of the famous diaspora Armenians.  Some of them are the Kardashians, Cher, Andre Agassi, Michael Vartan, Dita von Teese, Alex Ohanian (Reddit founder), Joe Manganiello, System of a Down, and more.
26. Gyumri Earthquake (Spitak Earthquake)
On December 7th, 1988, another tragedy took place in the cities of Gyumri and Spitak; they were hit by a 7-magnitude earthquake.
Gyumri is the artistic city of Armenia and has always been known as the creative center of Armenia. The devastating earthquake damaged the city very badly, mostly destroying Soviet-era buildings and a part of the Old City.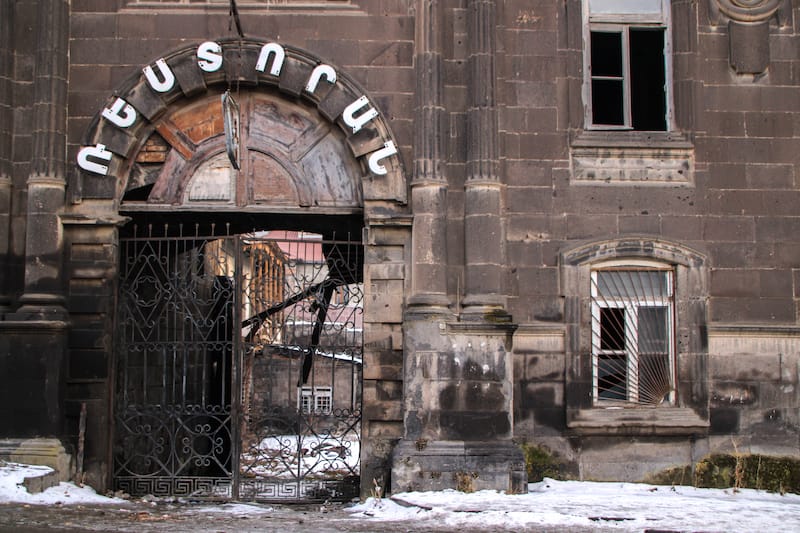 More than 40,000 people died due to the devastating consequences of the earthquake.  Even in Gyumri today, there are remnants of this earthquake as the city is still in the rebuilding process.
There are many things to do in Gyumri, and we suggest finding some small businesses to support while there as many of the owners were actually impacted by this disaster decades ago.
27. Miscellaneous Armenia Facts and Info
Getting Around Armenia
Public transportation in Armenian is still in the development stages and new transport options are being implemented in the transport system.
Usually, there are minibusses (marshrutkas) connecting Armenian cities. These might not be the most comfortable option to get around so that's why many travelers prefer to take taxis or to rent a car while traveling in Armenia.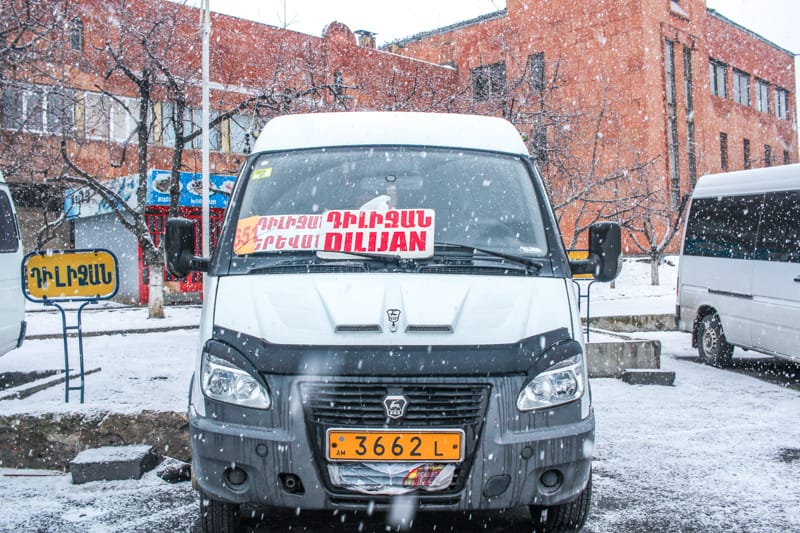 Trains are also an option, but for now, the new trains will only take you from Yerevan to Gyumri. I believe there is one going to Masis, also.  It is one of the most comfortable and fast train rides in the country. The other option is to take the old, Soviet trains.
Yerevan-Gyumri price for new train ride – 2500 AMD ($6)
Yerevan- Gyumri price for old train ride – 1500 ($3)
28. Currency of Armenia
The Armenian national currency is called the dram (AMD) and is represented by the following symbol: ֏
The currency fluctuates a bit but is currently around $1 = 500 AMD.  It is possible to change out your money nearly anywhere in Yerevan.
You will see more currency exchanges here than perhaps anywhere else you travel.  Even shoe stores sometimes have currency exchanges!  Grocery stores almost always will have them too.
29. North Armenia Does Not Look Like South Armenia
As we mentioned before, Armenia is a diverse country in a small territory where one tunnel ride can change a bold, rocky landscape into lush, green gorges and a mountain range.
Armenia is a country of contrast and is easy to travel in… if you have a car. The more north you drive, the more you will see green mountains, lakes located in hidden spots surrounded by nature, deep caves, and many more spectacular places.
Driving towards the south of the country from Yerevan, the nature and landscape change into an arid and beige wonderland, complete with a unique ecosystem that is completely different from that of the north of the country.
You can find green landscapes present throughout the entire country but its percentage varies depending on whether you're in the north or the south.
30. Usage of Tuff in Architecture
A unique architectural material that defines Armenian architecture is the volcanic stone 'tuff'. Tuff has been widely used in Armenia for centuries as constructing material and it's also used in art and in some other spheres.
The capital of Armenia, Yerevan, is known as a pink city because the main material that was used to build it was pink volcanic tuff stone and it illuminates the city in a hue of the same color during certain times of the day.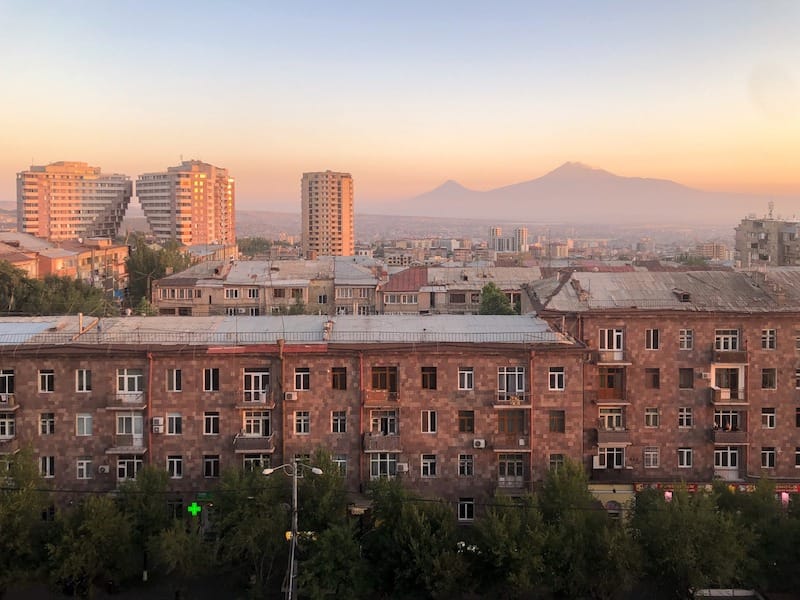 But tuff is not only pink, but it also has other colors as well. Black tuff was used to build the old city of Gyumri and the architecture in Gyumri stands out like no other in the country of Armenia!
31. Sidewalk Cafes in Yerevan Saturate the Streets
Yerevan has a great cafe culture, and it is one of the main attractions of the city. You can cafes everywhere, especially in the city center and it really gives the city a charming and cozy feeling.
Saryan Street, or 'wine street', is one of those places where little wine shops line up the sidewalk and both locals and travelers can enjoy the charming atmosphere of an evening in Yerevan.
Yerevan Cascade is a huge platform of stairs and one of the gems of the city. At the Cascades, you can also experience great cafe culture through different indoor and outdoor cafes and restaurants.
In general, Yerevan is a city of sidewalk cafes and the choice is huge!
32. Visa to Armenia
Do you need a visa for Armenia?  You might be surprised.
While the country is open to so many foreigners and for long durations of time (as an American, I have very lenient laws about being in Armenia), other nationalities are not quite as lucky.
For example, passport holders from Canada and India both need to apply for an Armenian visa (e-visas) in advance.  Rules are constantly changing, so be sure to check before your trip to see if you need a visa or not.
Click here to see the updated list at the Armenian Ministry of Foreign Affairs.
33. Architecture in Armenia
In our opinion, one of the coolest things about visiting Armenia is seeing a dynamic range of architecture in the country.
As mentioned earlier in the post, pink tuff or black tuff was a commonly used building material in Armenia and the traces of that are evident, especially in Yerevan and Gyumri.
Another interesting thing about the architecture in Armenia is that you can see so many influences throughout history based on the buildings and ruins.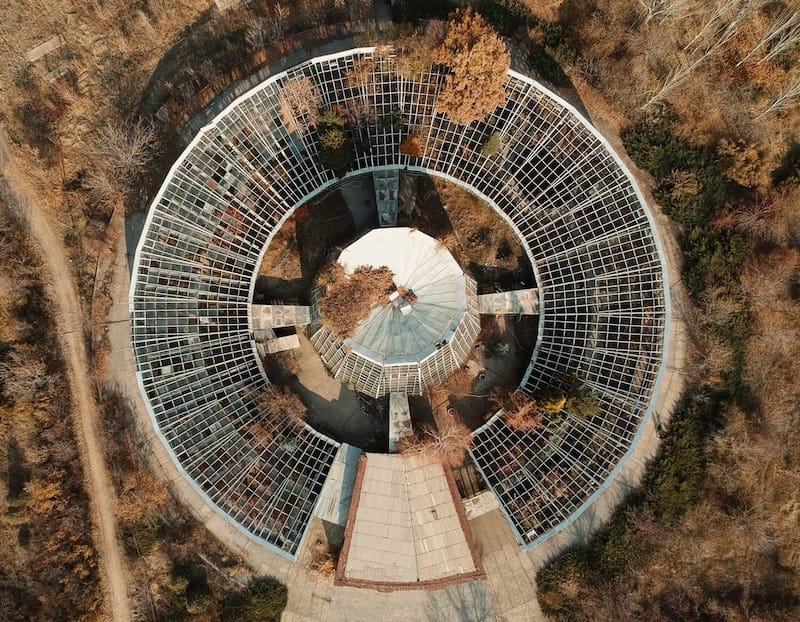 When people think about architecture in Armenia, monasteries typically come to mind.  Or, Soviet architecture.  We could go into excessive detail about Armenian architecture and will need to do so in another post in the near future.  But, do know that the architecture here is extremely fascinating and many prolific buildings represent different eras of history and styles.
Soviet Architecture in Armenia
Many foreigners flock to Armenia to see the country's Soviet architecture.  A lot of Soviet pieces have held up well in Armenia due to the construction with durable and tough materials and the Armenian influence on many pieces of Soviet architecture is unique compared to anywhere else in the former-USSR.
Again, we will have an entire post on this in the near future but some of the most popular Soviet architecture in Armenia masterpieces are: the Cascades, Yerevan Central Railway Station, Zvartnots Airport Tower (original), Sevan Writers' House, Moscow Cinema, Byurakan Astrophysical Observatory, Gyumri Shirak Airport, Jermuk cultural center, and much, much more.
34. Armenian Food and Drink
One of the greatest things about Armenia is its food and cuisine.  Food in Armenia is light and makes use of seasonal and local ingredients better than most cuisines these days.
You will find that Armenian food will feel a bit familiar and a bit foreign, all at the same time.  There are influences from Iran, Russia, Turkey, the Middle East, and Georgia in the cuisine, but many of these 'familiarities' are traced back so that the food either comes from these areas or Armenia actually influenced certain dishes in the aforementioned places.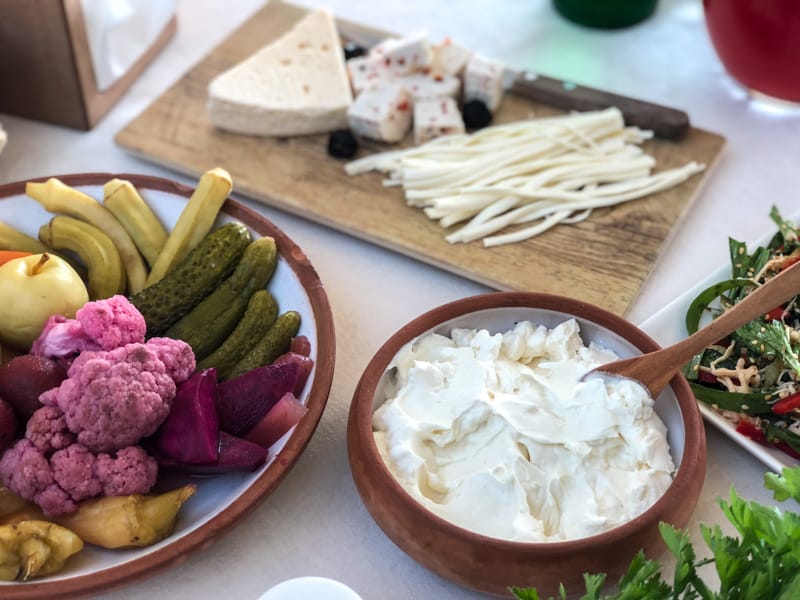 Nevertheless, the Armenian food is insanely good in winter or in summer!
Vegetables and fruits in Armenia are juicy and flavorful.  You will find a heavy usage of meat but also a heavy usage of vegetables, making the country fairly ideal for vegetarians without any intent to do so.
Some very popular dishes to try in Armenia are as follows:
spas (a yogurt-like soup with mint and other herbs)
kufta (pounded meat dish with tons of flavor – two types in Armenia: ishli or Echmiadzin)
ghapama (rice with dried fruits and lavash cooked inside of a pumpkin or gourd – eaten in winter)
khash (a soup made from boiled cow or sheep parts – eaten in late autumn or winter in the mornings)
plov with dried fruits (rice with dried fruits)
dolma (grape leave stuffed with deliciousness such as rice, meat, and veggies)
basooc dolma (vegetarian dolma)
lyulya kebab (minced meat grilled with other flavors and spices)
khorovats (Armenian BBQ)
gata (a sweet pastry that is highly addictive due to its deliciousness)
harissa (a porridge with pulled meat served with butter… this is not like North African harissa!)
lahmajo (an eastern style pizza – often referred to as 'Turkish pizza' in western Europe)
summer salad (a garden salad made with tomatoes, cucumbers, onions, and herbs)
zhingyalov hats (a bread stuffed with many green herbs originating from Artsakh and Syunik region)
basturma (dried and spiced meat)
bakhlava (common across many places in this region)
Obviously, with all of these prepared items above come some other specific items like Armenian cheese, condiments, pickled veggies, and more.  Armenian food truly is the best and there is something to satisfy everyone.
Ingredients in Armenian Cuisine
While the above detailed specific dishes, we thought it would be necessary to list some common ingredients you'll find in Armenia.
Yes, many are vegetables and you can easily find vegetarian food in Yerevan, but you do need to ask to double-check no meat or animal products were used when ordering if you're vegan or vegetarian (a lot of food here is 'accidentally' vegan or vegetarian).
The ingredients listed are ones that you will see often across several dishes.
Here are some popular ingredients in Armenian cuisine:
Tomatoes
Walnuts
Sorrel
Cilantro (coriander)
Dill
Pomegranate
Salt (Armenians use a lot of salt!)
Honey
Lavash (Armenian bread)
Eggplant
Mint
Tarragon
35. Armenian Coffee
Armenians love their coffee and you will likely be served it a couple of times a day if you're hanging around a local.  Armenian coffee is similar to coffee you'll find in other countries in the region and even into the Balkans (often referred to as Turkish coffee… but you will never refer to it that way here).
You can buy bags of freshly grounded coffee at all grocery stores and several shops in the city.  You will need a jazzve (way to cook the coffee on a stovetop) and a small cup to serve it into.
Are you into specialty coffee?  Don't worry – Yerevan has third-wave coffee shops too!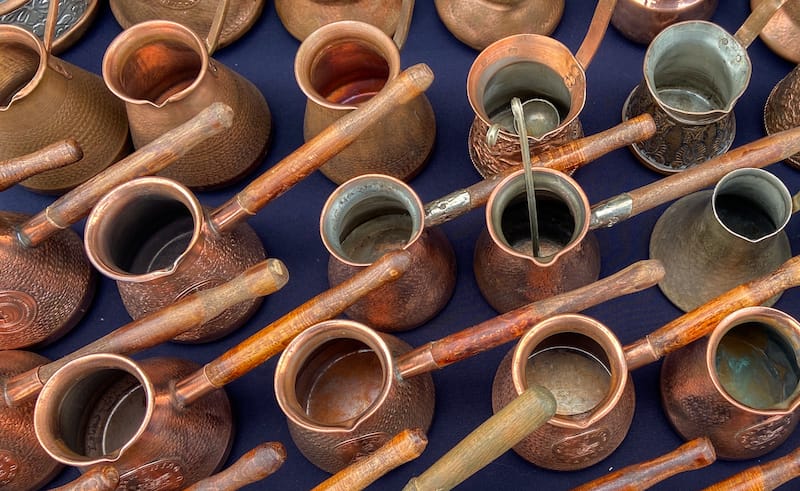 The rest is history!
We hope that this guide will help you prepare a bit for your trip to Armenia, or at least give you an overview of things we think will be helpful before you visit Armenia.  If you have any additional questions, please leave a comment below or send us an email.  We are happy to help!
This guide was aimed at foreigners unfamiliar with Armenia, its food, culture, and history.  This is not a guide written for Armenians… so if we explain customs or food in a way that an Armenian may not like, we did it with intent to help those traveling here.  Thanks in advance!
PIN IT FOR LATER!