Are you considering a trip to Armenia in March, April, or May? Good choice! We'll tell you why spring in Armenia is an awesome time to visit the country!
This guide will contain tips for visiting Armenia in spring, including what to expect weather-wise, what to wear, the best destinations, what to eat, and which festivals you should consider attending.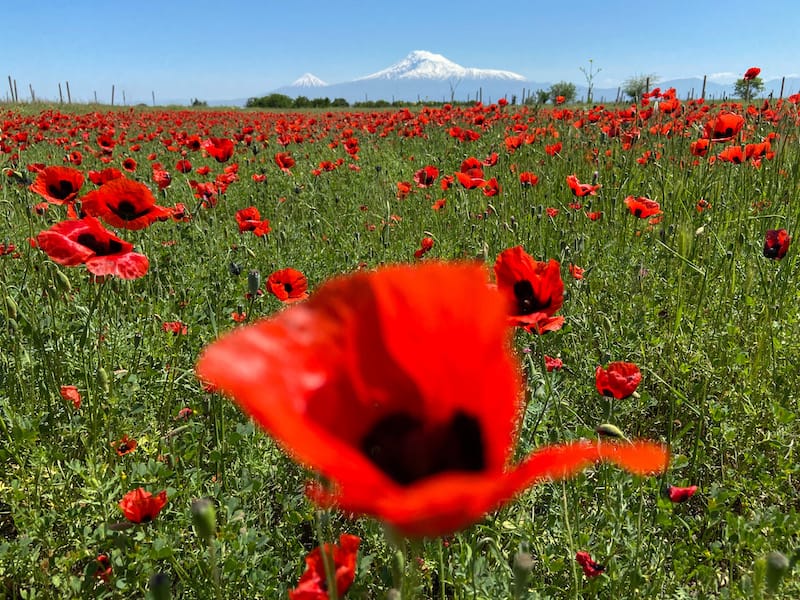 If I'm going to be completely honest, spring is my favorite season in Armenia.
While March and April can be slightly temperamental in regards to weather, it offers a dynamic twist to the consistent sun that beams down over the country in the months to follow.
And, it gives new life to flowers, a sight that saturates Armenia during spring.
We hope that you find this guide useful and it helps encourage you to visit Armenia in the spring… or any time of the year.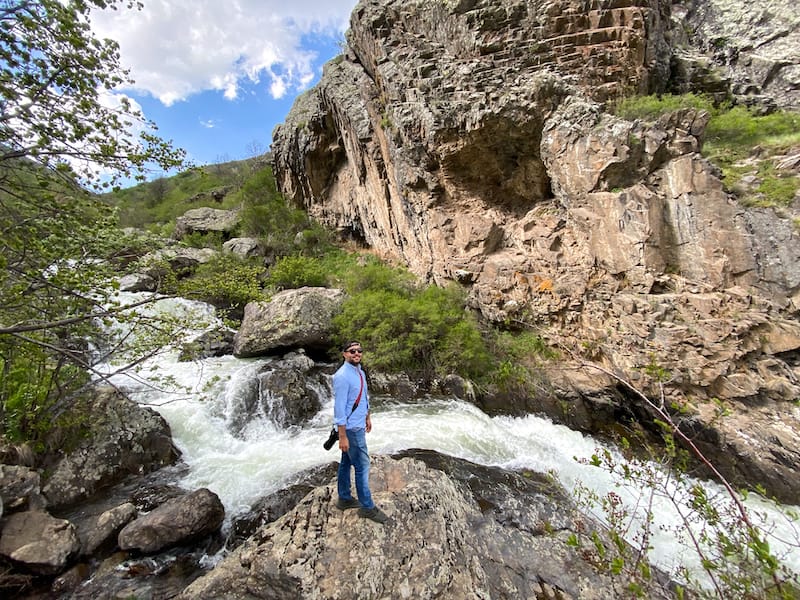 Should You Visit Armenia in Spring?
Yes. Yes. Yes. And yes.  There are heaps of reasons to visit Armenia in spring but my very favorite is that there are flowers everywhere.
Yerevan, in particular, already has a pinkish hue due to its architecture, but it really takes on a new life during the spring months.
The food becomes lighter and herbs are everywhere. Sidewalk cafes start to put their tables and chairs out for the season, and unique festivals take place.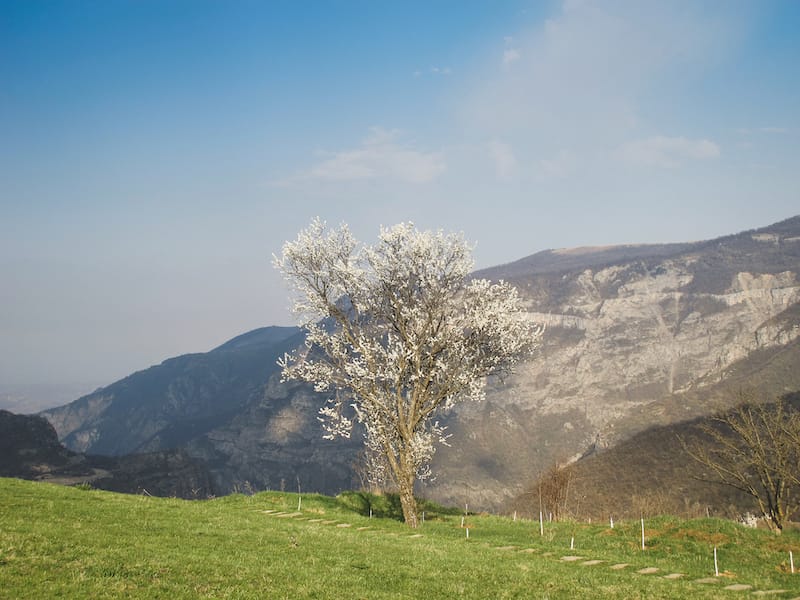 The energy on the streets is palpable as everyone comes out of Armenia winter hibernation and starts to enjoy the many terraces that make the cities in Armenia so different than other places I have visited around the world.
The cafes in Yerevan transition from their cozy, winter setting into one that feels social, open, and energized for the six months ahead.
I could rave on and on about springtime in Armenia, but I will let the guide discuss why it is so great and what to do if you opt to visit Armenia in the spring.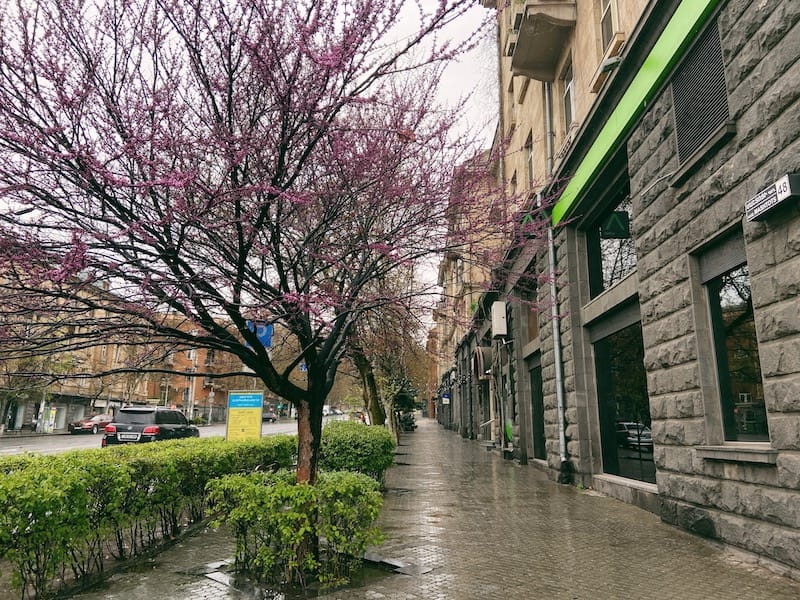 Spring Weather in Armenia
The weather during spring in Armenia differs from the start of spring until the end of spring.
Do note that March and April in Armenia can be rather unpredictable and rain is somewhat common (but then again, so is sunshine).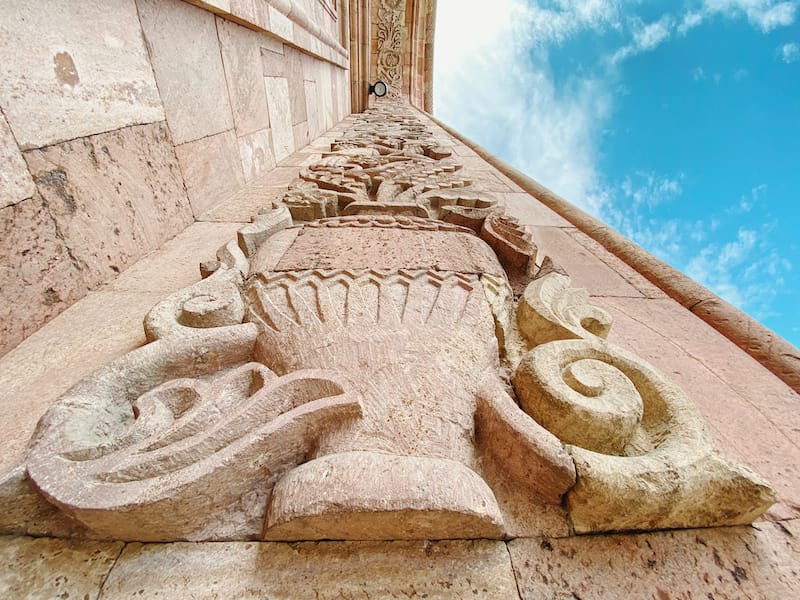 We have found it better to detail the average temperatures in spring in Yerevan rather than the country as a whole (because elevations and climates vary).
Here are the average temperatures in Yerevan in spring:
March: Average highs of 13C / 55F and lows of 2C / 36F
April: Average highs of 20C / 68F and lows of 8C / 47F
May: Average highs of 25C / 77F and lows of 12C / 54F
There is very little rain throughout the year in Yerevan, but a lot of it does occur during spring.
Here are the average number of rainy days per month during spring in Yerevan:
March: 5 days
April: 6 days
May: 8 days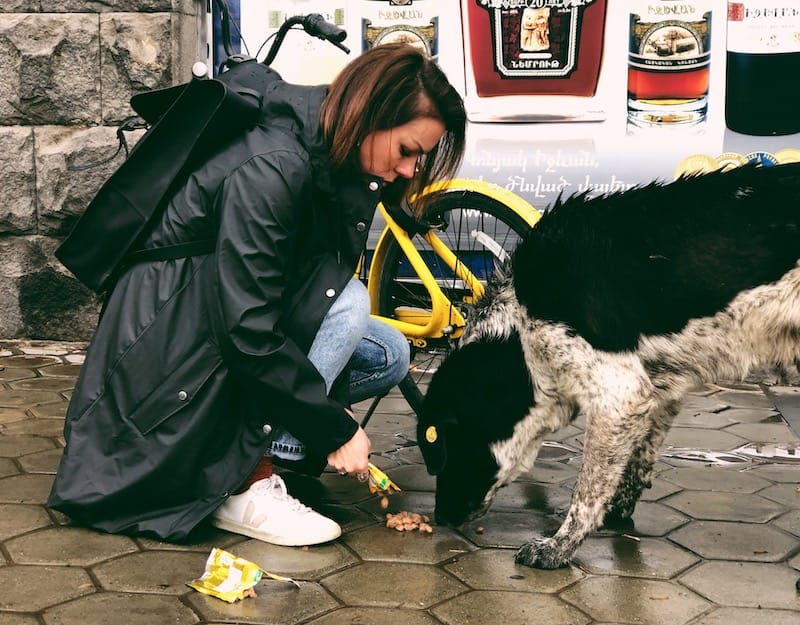 If you're not going to be in Yerevan in March, April, or May, do note that these temperatures will absolutely NOT reflect other places around the country.
Armenia is a very elevated and mountainous country and while something may look like it is in a valley on a map, it still may sit up high and be cold or snowy during the earlier part of spring.
A jacket will be your best friend during the unpredictable Armenia spring.
Important Days and Holidays During Spring in Armenia
Spring has quite a few important days and holidays to note if you will be planning a trip to Armenia during that time of year.
Here are some important days to keep track of if visiting Armenia in spring:
International Women's Day (March 8 – Armenians really celebrate this not just on the day itself, but also before it).
Armenian Genocide Remembrance Day (April 24)
Easter (usually at the beginning of April but dates change each year)
Victory Day (May 9)
Day of the Armenia First Republic (May 28)
Notable Spring Festivals in Armenia
One of my favorite things about Armenia during spring is that the festivals slowly start up!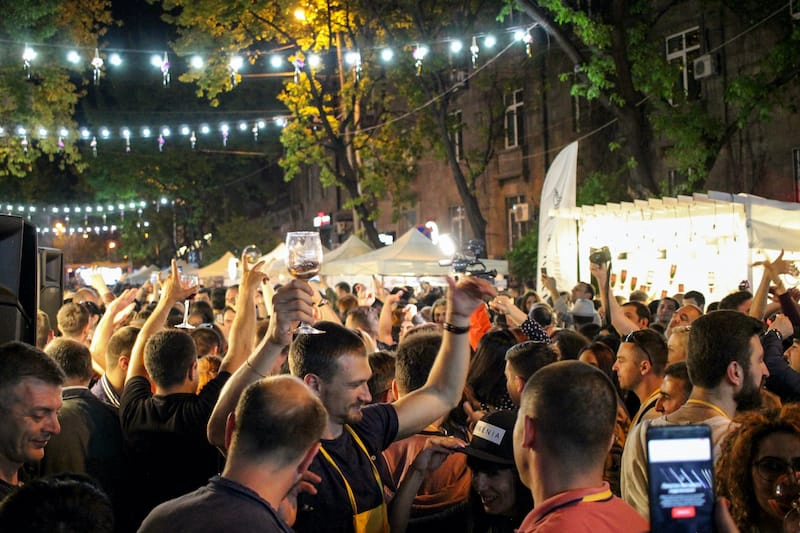 Here are a few notable spring festivals in Armenia that you definitely should be on the lookout for when traveling there:
Do note that these festivals may change location or dates depending on the year and circumstances.
The Dolma Festival is not a Yerevan festival and it can rotate locations but it is usually hosted outside of Yerevan in Musaler.
What to Eat in Armenia in Spring
The Armenian spring brings about a whole new array of deliciousness as fresh veggies and herbs take center stage after a long winter.
Spring is known for greens in Armenia and you will find them on every table, both fresh and cooked.
Armenian food is about the ingredients more so than preparation, in my opinion, and that is what makes the food some of the best on the planet.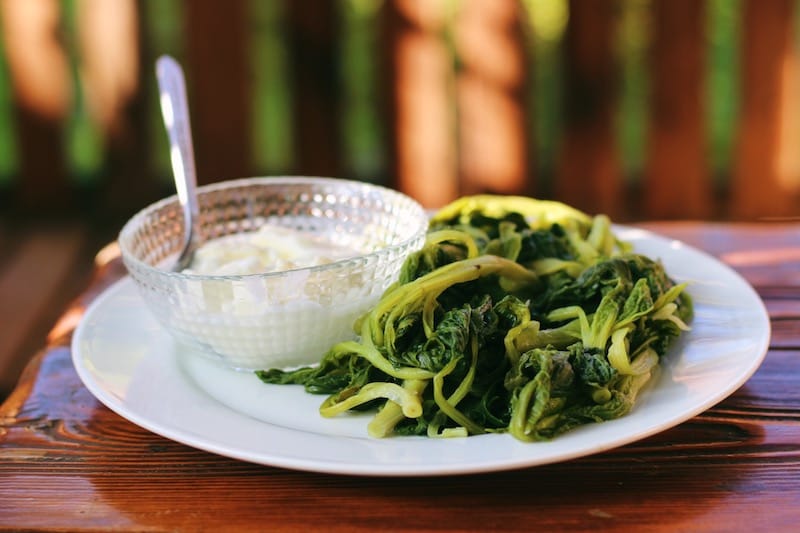 Some of the greens you will find are not typical or found in other places (like these ones at the Old Martiros Guesthouse). Some are.
If you see any of the following greens on a menu, order them in spring when they are at their most delicious!
Sindz
Sebekh
Aveluk
Khdgi
Gazaruk
There are several more tasty greens you'll find in Armenia, so just ask when you order at a restaurant.  If you can't manage to ask, you're more than likely to be served them anyway!
Destinations to Visit in Spring in Armenia
I am a very odd person in that I can find a positive reason to visit a place during any season, but here are some fantastic places to visit in Armenia during spring if you're a first-time traveler to the country:
Yerevan
Okay, this is quite the obvious answer and I would much rather see travelers head out of the capital city, but I really love Yerevan in spring.
The weather becomes warmer, the evenings may have a rainstorm or two (perfect reason to pop into a cafe!), and the food around the Easter holiday is delightfully delicious.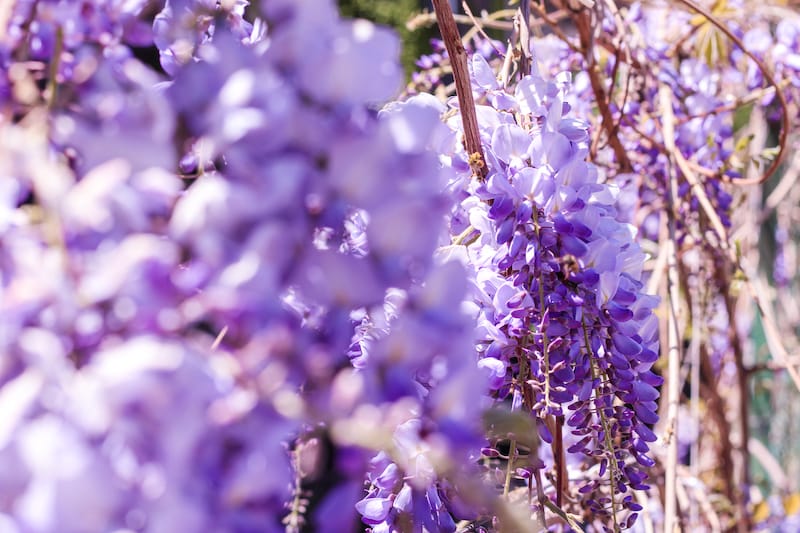 I also love that flowers bloom all over the city and notably along the Cascades.
Festivals begin to occur in Yerevan in May and it is so hot in the summer in the city that I almost always tell people to leave Yerevan for the mountains during summer.
But… if you make your way to Yerevan during spring – stick around for a day! And… be sure to take a road trip to Etchmiadzin during late May if the poppies are in bloom. It'll blow your mind!
Haghpat Monastery
One of my favorite travel bloggers, Kami and the Rest of the World contributed her favorite place in Armenia in spring – Haghpat Monastery! She wrote a little text below showcasing why it should be on your list.
Haghpat Monastery, located in the northern part of Armenia near the town of Alaverdi and the border with Georgia, is a wonderful place to visit all year long but especially beautiful in the springtime.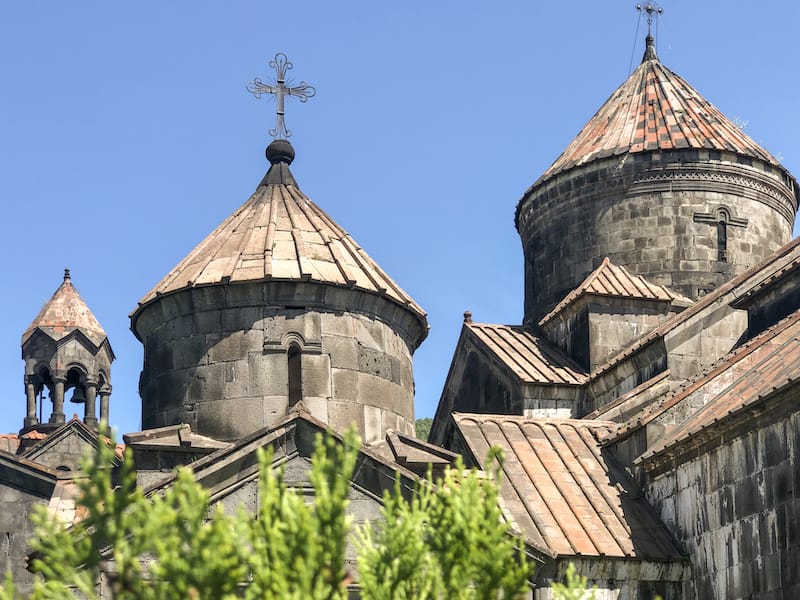 This amazing UNESCO-listed monastery from the 10th-century is surrounded by mountains that are all shades of fresh green that you can't find anywhere else in Armenia.
In the spring months, you will be overwhelmed with all the colors that surround you – it only adds charm to this amazing place.
Shaki Waterfall
Armenia has many waterfalls but several are hard to reach as a traveler.
But, Shaki Waterfall is not as it can be reached by car, tour, or even public transportation.
Like almost all mountainous countries (or cold ones), the waterfalls are best visited during spring because of the melting snow. Armenia is no exception.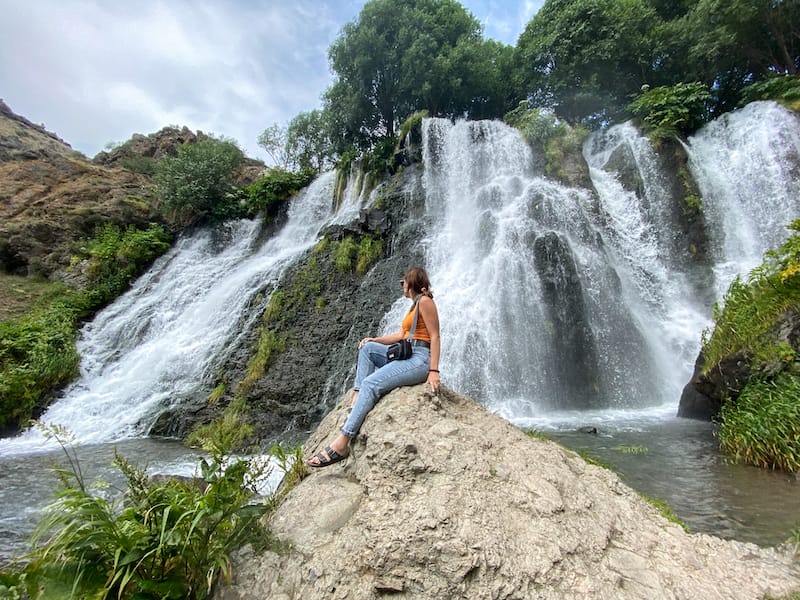 And Shaki gets huge crowds during summer – so try to make your way there during spring!
Meghradzor
This is easily my favorite place to visit in Armenia during May (and toward the end of April).
The Kotayk village is teeming with colorful flowers, idyllic picnic spots, and the powerful Meghradzor waterfall.
The street art around the village actually makes the village one of Armenia's most colorful places any time of the year, but there was just something so perfect about Meghradzor in spring that I can't wait to revisit!
Meghradzor is a great day trip from Yerevan. You can drive by car, rent a taxi, or take public transportation to Hrazdan and catch a taxi from there. It is also not too far from Tsaghkadzor.
Meghri
To be honest, I contemplated putting Meghri on the list because in early spring, the pass near Kajaran to get there may be no easy feat, but visiting in May is brilliant.
However, we visited in May and while the heat was just showing up (the summers are extremely hot down there), it was fairly comfortable.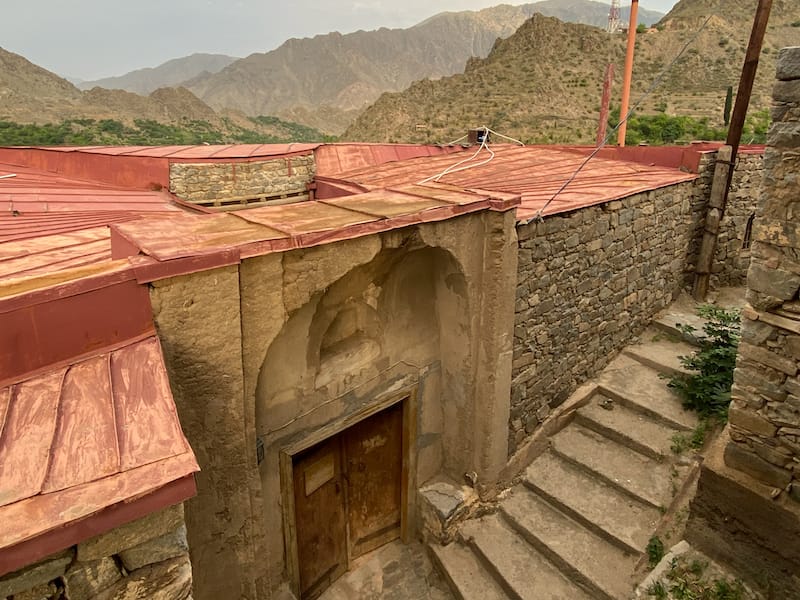 On the other hand, Meghri gets some insane storms during spring! But, I actually really enjoyed them as long as I was not caught outside in them.
Please note that Khachats Toun may not be open for the season yet, but other restaurants and places in the city should be.
Kurtan Gorge
This is a wildcard but truly is one of my favorite places I have visited during spring.
Situated in the Lori region, the area is home to several hiking trails, a charming village, and the beautiful Hnevank Monastery.
You can easily reach the area by public transportation and can walk from wherever you're dropped off (and there are seriously trails and roads everywhere but nothing is overly-trodden).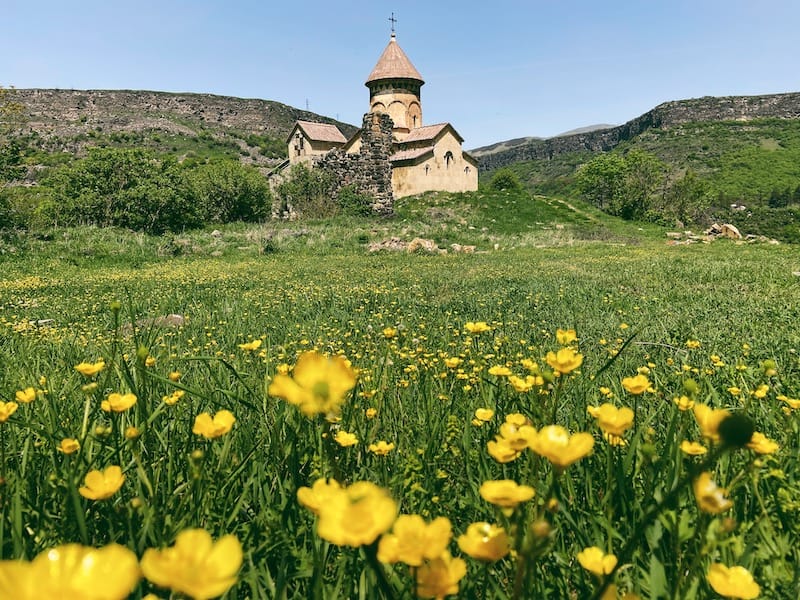 There will be a lot of flowers in the gorge and it is a fantastic place for a picnic and downtime to connect with nature.
Are you planning to visit Armenia in spring? Let us know your spring tips for Armenia in the comments if you have already visited (or live here)!
More Armenia Seasonal Guides