Meghradzor is colorful, close to Yerevan, and feels like no other place in Armenia. This is a guide to things to do in Meghradzor, how to get there, and why the Kotayk village is a must-visit on your Armenia trip!
To be honest, we didn't know too much about Meghradzor prior to our trip there.  We were vaguely familiar with its murals but didn't have a clue about anything else.  We also just assumed the village had one or two murals.
What we found in Meghradzor was one of Armenia's most underrated villages just waiting to be explored.  The Kotayk destination is often visited by tour companies, but there is still so much room for individuals to visit Meghradzor independently.
This guide showcases reasons to visit, things to do, and how to get to beautiful Meghradzor from Yerevan.  Please share any tips you may have in the comments!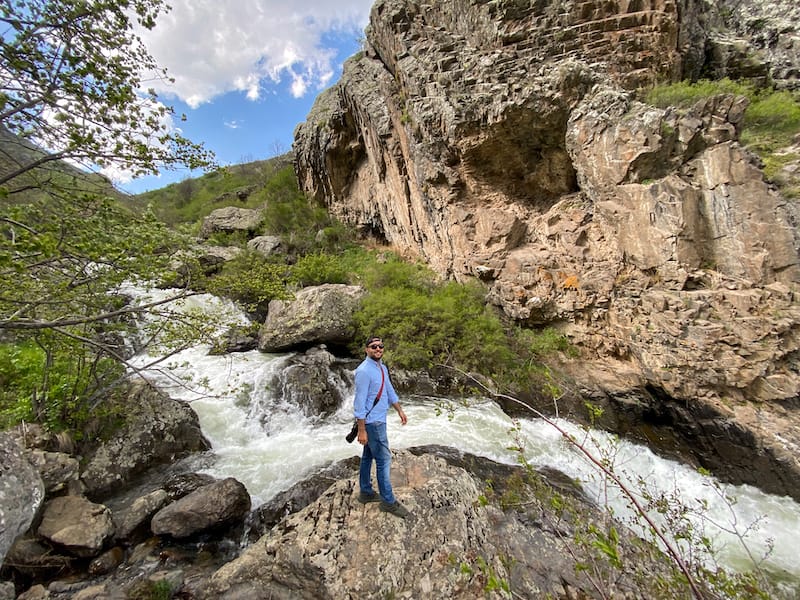 About Meghradzor (Մեղրաձոր)
Meghradzor translates to 'honey gorge' and yes, it really is known for its honey! Formerly known as Taycharukh, this Kotayk village is about 9 miles (15 kilometers) northwest of Hrazdan, just south of the Tsaghkunyats Mountains.
Founded in 1830, the village is situated beside Gorgoch, another small village that is also 'included' in the community. Around 2,884 people reside in Meghradzor and the elevation is 1,820m (5,970ft).
Today, Meghradzor has a lot to offer visitors. It has several murals painting on its buildings, a gorgeous waterfall, fields of beautiful flowers and landscapes for days, and a few things to do within the village itself.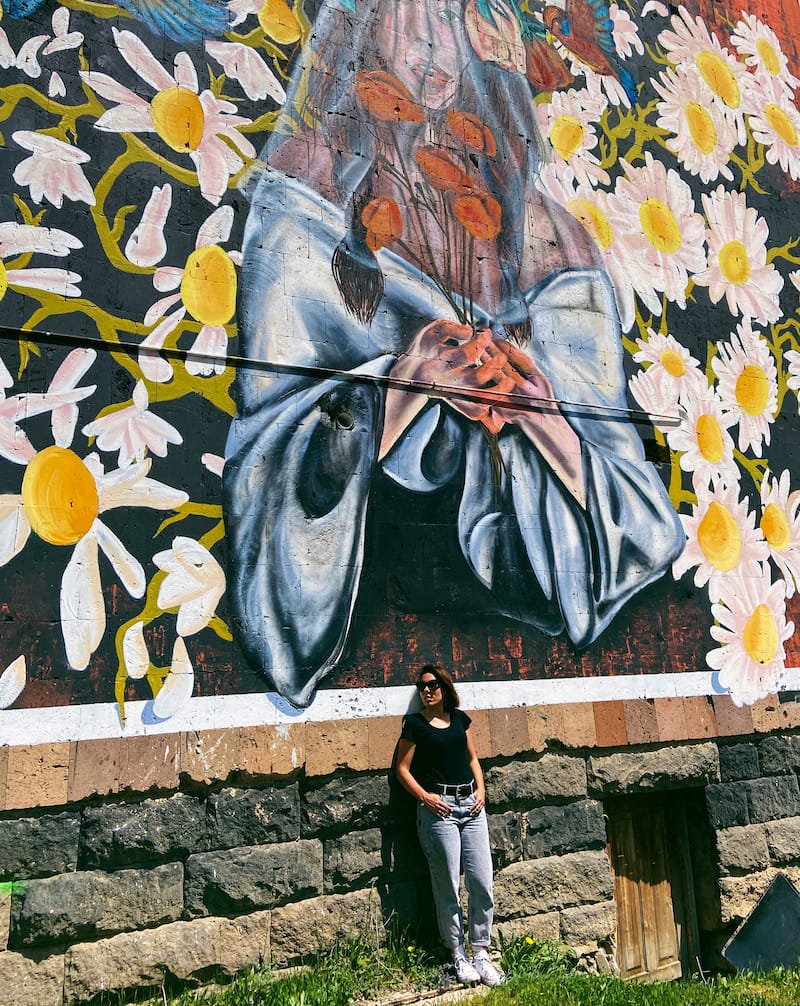 There is also the Meghradzor region/commune which includes the following places: Meghradzor village, Aghavnadzor, Artavaz, Hankavan, and Marmarik.
This guide will walk you through a few reasons to visit and things to do in Meghradzor. Please note that this village is up-and-coming and a lot of cool projects are in the works! Please read further to find out more!
How to Get to Meghradzor
If you have a personal car, getting to Meghradzor is extremely easy from Yerevan as there are nice and direct roads there (you will pass through Hrazdan).
However, getting from Yerevan to Meghradzor takes a bit of effort without a car.  The best way to do it is to either get public transportation to Hrazdan (and take a taxi or public transport the remainder of the way).  Or, you can take a taxi from Yerevan.
The taxi price with GG, our recommended taxi app in Armenia, is about 6800 AMD one-way from downtown Yerevan to Meghradzor.
If you're taking public transportation to Hrazdan from Yerevan, you will need to go to the Zeytun district and find the minibuses (which can be difficult for a non-Armenian speaker).  The price is 400 AMD.
Hrazdan = English
Раздан = Russian
Հրազդան = Armenian
If you get to Hrazdan and need to take a taxi to Meghradzor.  The price is about 1600 AMD one-way.
Best Time to Visit Meghradzor
To be honest, we went there in late May and it was absolutely perfect.  There were wildflowers everywhere and it felt like a garden of sorts. The waterfall was gushing then and it wasn't too hot.  I can't think of a better time to visit Meghradzor.
However, the village is great to visit year-round!  Since a lot of what there is to see are murals, you can view them any time of the year.  Meghradzor is also located very close to Armenia's premier winter destination, Tsaghkadzor.
You can drive in between Tsaghkadzor and Meghradzor and take a day trip to both.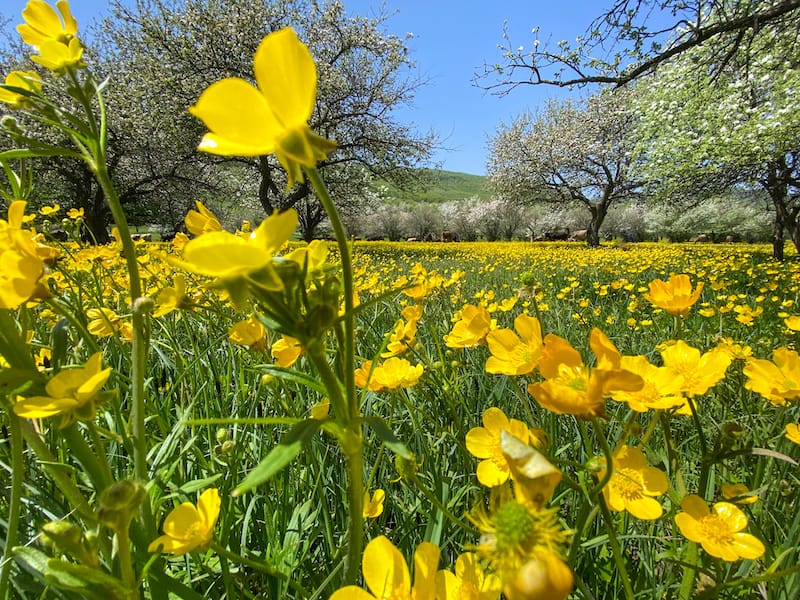 Things to Do in Meghradzor
There are a few top rating things to do in Meghradzor but we are not going to list them all as some are seasonal (we went in spring, FYI) and others are just still in the development stages.
We will discuss those later in the post but here are a few great reasons to visit Meghradzor.
Visit the PATMI Murals
PATMI is a cultural NGO that is based in Meghradzor and is responsible for making the village one of the most colorful for its size of anywhere I've ever traveled!
There are currently 12 murals in Meghradzor and another is in the works for 2021, highlighting the 'Mother Heroes' of Meghradzor.
Mother Heroes are the women who have given birth to 10 kids or more.  There were women during USSR times in the village that will be the focal point of this new mural (so be on the lookout for it)!
Here are some of our favorite murals from Meghradzor: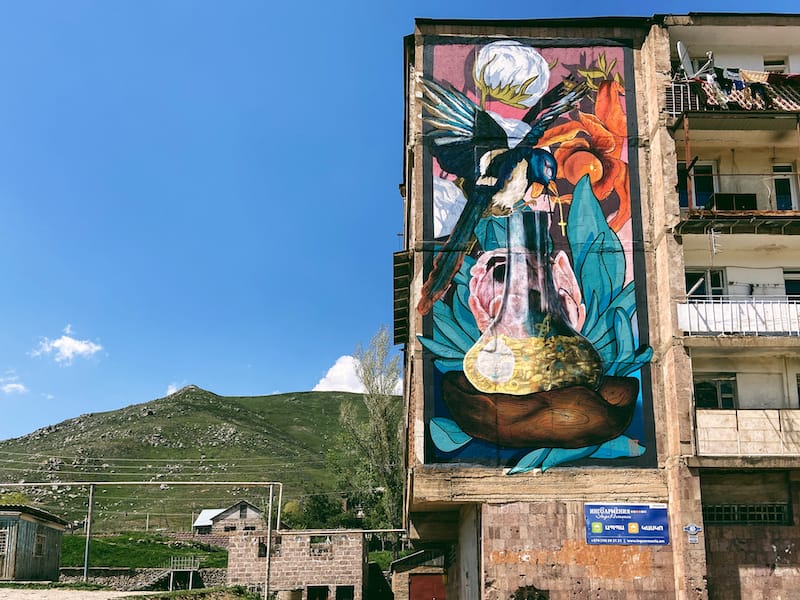 The Price of Gold: This mural was painted by the BTA Krew from Moldova.  It is based on a family story that has been shared by Romik Voskanyan.
The story details a man with a lot of wealth living in a land of poverty. He eventually lost his riches as his new wife had been stealing them little by little. This created a curse on the girls of Meghradzor if given to the village of Aghavnadzor.
The man eventually died after the stress of losing his fortune, but the story lives on in this colorful mural in Meghradzor.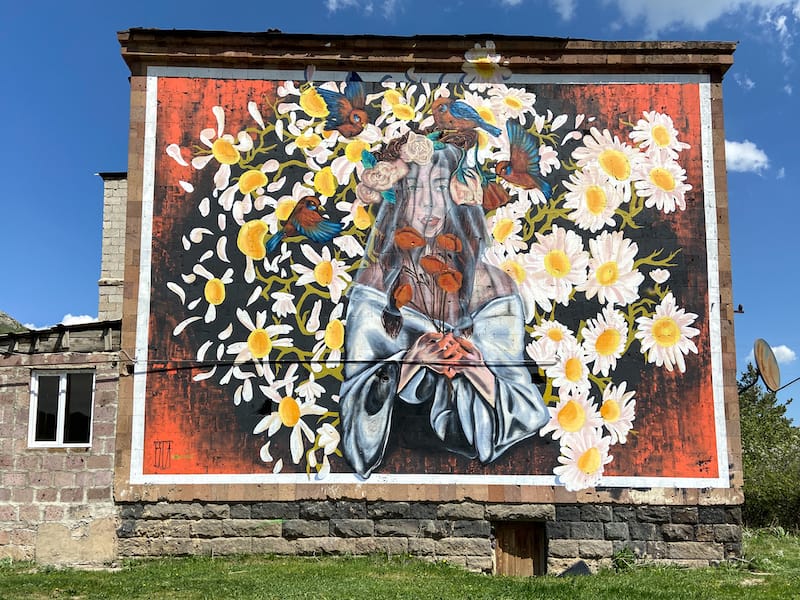 The Girl who Haunts the Milky Spring: This mural is also by BTA Krew from Moldova. It was painted in 2019 and depicts a beautiful girl that Hrach, a local, saw when he was fetching water from the milky spring at the foothills of Meghradzor.
A villager later saw her in a flowing white dress. She was so beautiful that the locals started putting crosses and candles around the Milky Spring until water no longer flowed from the ground. It was said to be the 'best tasting water' in the region.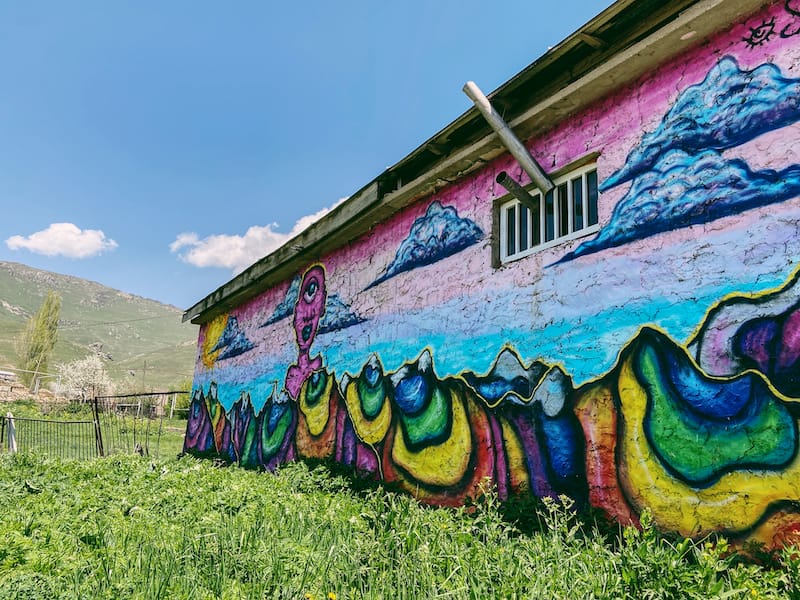 The Cyclops: Sloast from Canada teamed up with the local youth for this colorful mural in Meghradzor.  It represents the one-eyed giant cyclops that legend states first inhabited the village of Meghradzor.
Now, there are piles of rocks that are unable to be moved, not even with a car, and they are apparently left behind by creatures that perhaps once called the area home.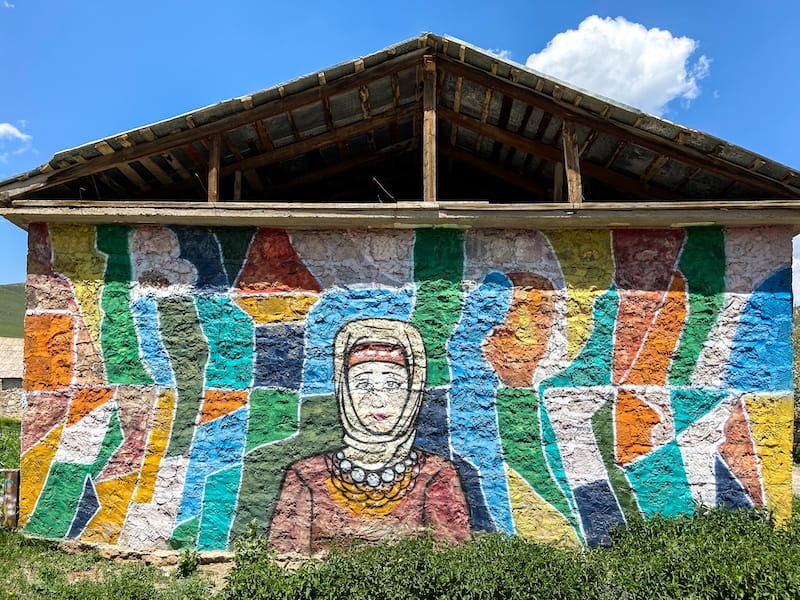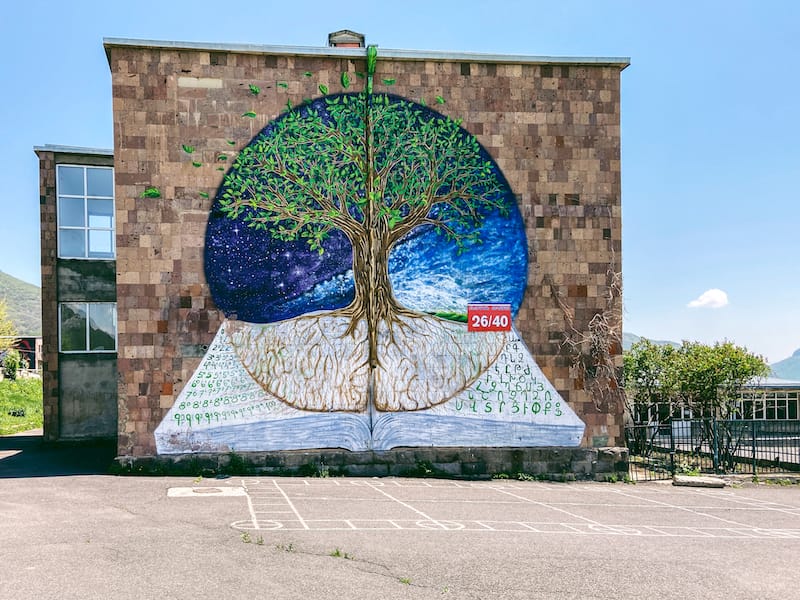 Above Left: "Nazan Tatik": a mural painted by Sevak Nazaryan (Armenia) with local youth and artist Noro Hakobyan in 2018 based on a story by Alisa Tadevosyan.
Above Right: "The Tree of Knowledge" painted by Karen Ashimyan as a gift from PATMI to the school in Meghradzor for its 100th birthday.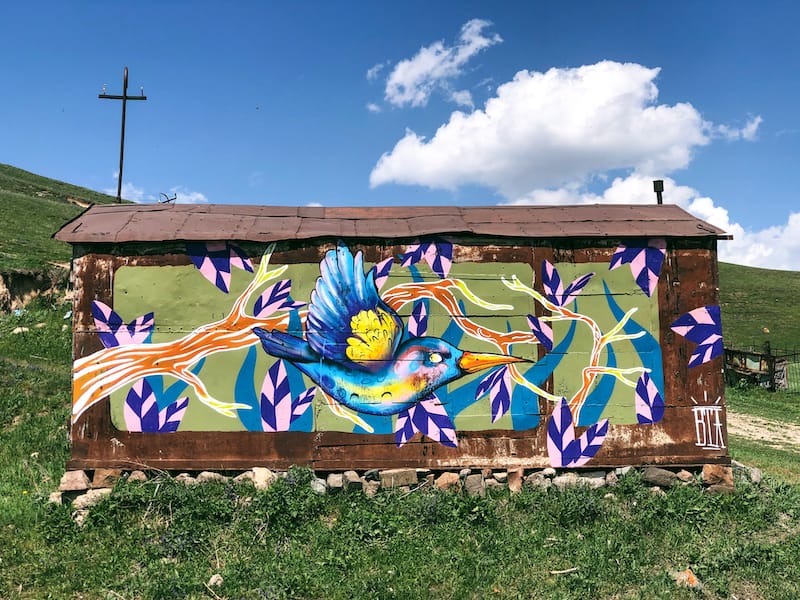 There are many other murals that we did not show on this guide – meaning you will just have to travel to Meghrazdor yourself and check them out! You can see some of the other artwork here (and there is more than what is on this website).
Check Out Tejharuyk Monastery (Թեժառույք)
Close to Yerevan, you will find the ruins of the Tejharuyk Monastery.
This monastery dates back to the 12th-century and sits just southwest of the village. The interesting thing about Tejharuyk Monastery is that it was commissioned by a commander of the Armeno-Georgian Zakaryan-Mkhargrzeli family that converted to the Georgian Orthodox Church.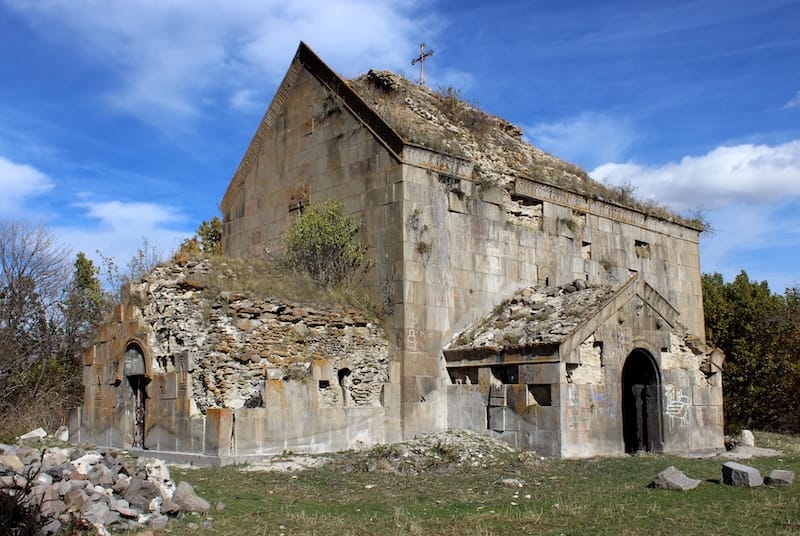 Therefore, you can find Georgian inscriptions surrounding the walls of the basilica, which is very interesting. There are still excavations happening there and it has been slightly graffitied, but it is worth a visit.
The coordinates for those looking for the monastery are 40.5978042, 44.6425232.  It is located right off of the H28.
Relax by the Meghradzor Waterfall
There are so many beautiful waterfalls in Armenia and most of them are pretty well-known.  However the Meghradzor Waterfall is not one of them and many people, aside from the locals, have no idea this waterfall even exists!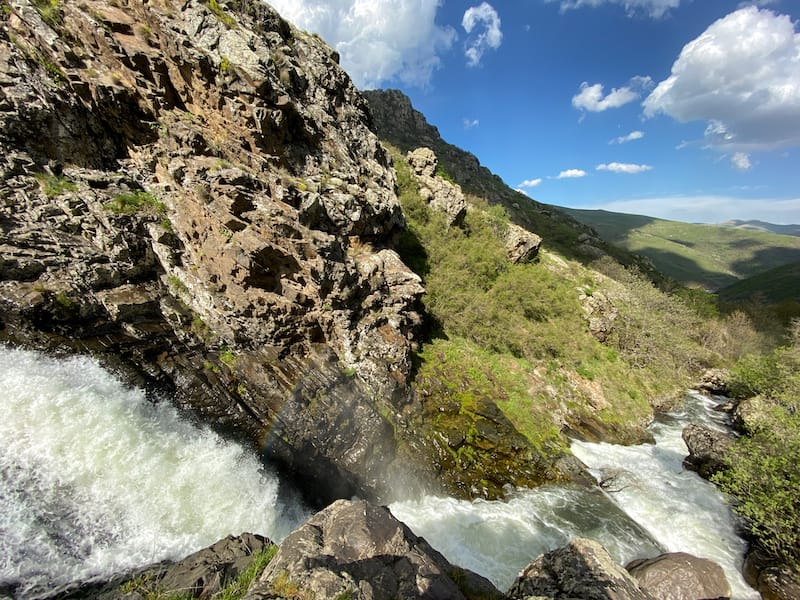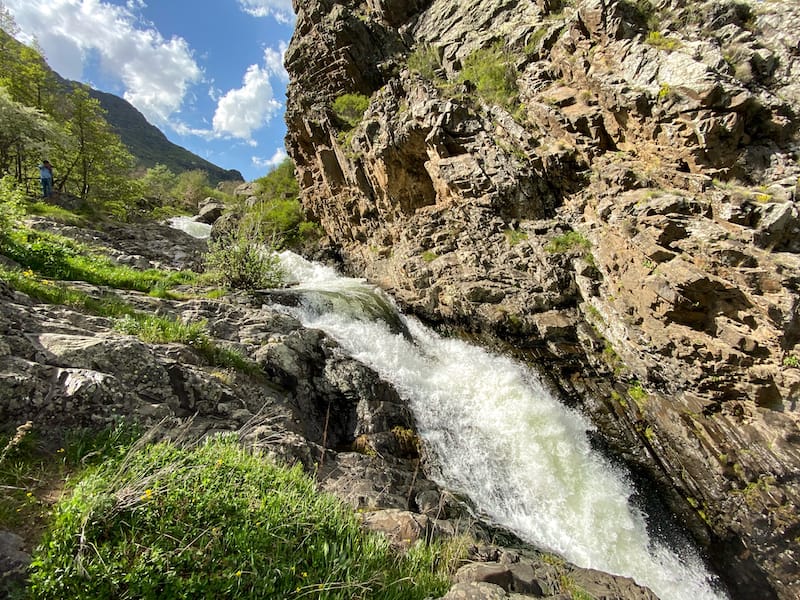 This waterfall is a bit outside of the village but near a beautiful hiking path that will lead you up to the mountains (and to several waterfalls, not just one).
The Meghradzor Waterfall has several cascades and there is a small pool at the end where you can take a dip.
Please note that you can drive to the waterfall with an off-road vehicle, but it is best walked to… just be sure to wear proper walking or hiking shoes!  The coordinates for the Meghradzor Waterfall are 40.6361, 44.6497.
Visit the Meghradzor Ethno Gastro House
One of the coolest places that you need to visit when you're in Megradzor is Meghradzor Ethno Gastro House. This is where the local traditions, culture, and food really come through!
You will get to see the incredible detail woodworks by local artist, Vardan (and you can purchase something to take home). You will also have the opportunity to make your own lavash, amongst many other things.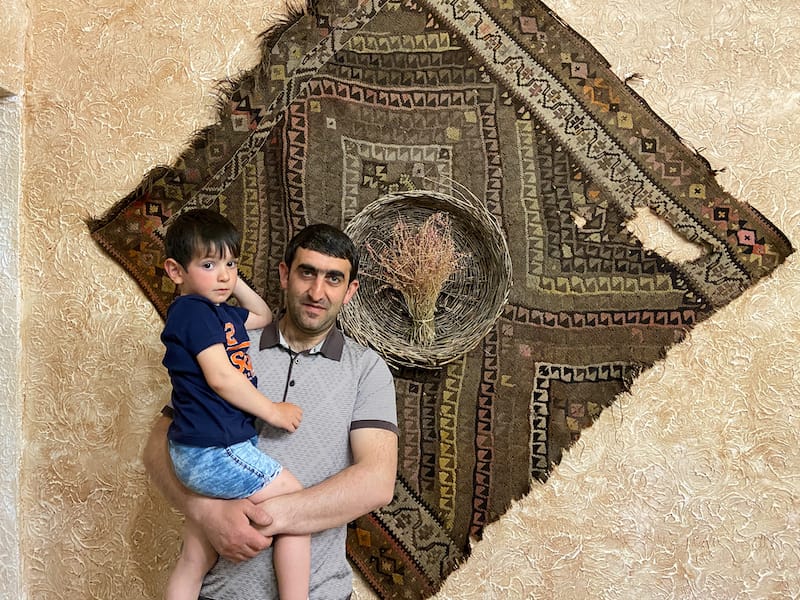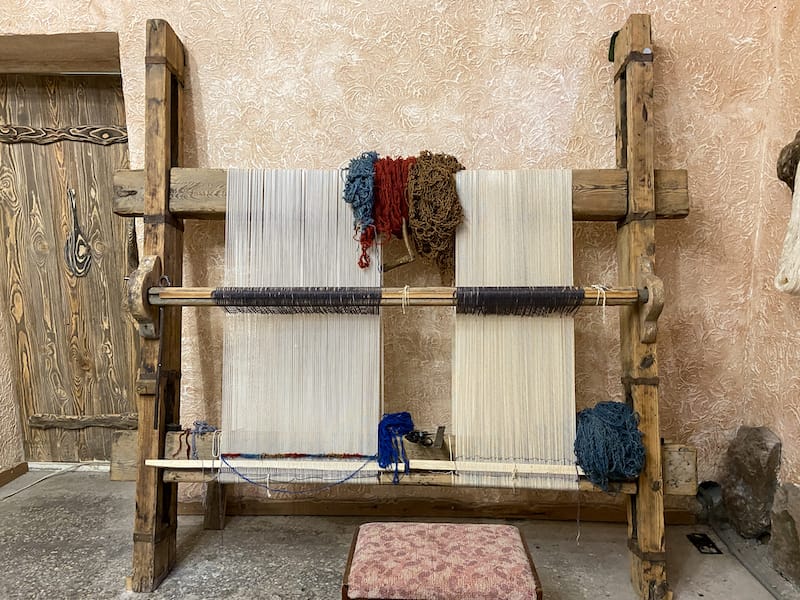 This cultural center truly is a fantastic addition to the village of Meghradzor and be sure to follow their Facebook page for updates as they make changes and enhance the village experience this year!
Enjoy the Surroundings
Meghradzor is located in such a unique area that the surrounding landscapes will just take your breath away.  It feels so far removed from city life and offers such a relaxing vibe that you won't want to leave!
Aram and I must have said 'this is the perfect place for a picnic' a thousand times during our trip to Meghradzor!
Given that the name is translated to 'Honey Gorge' or 'Valley of Honey', you should definitely be on the lookout for beekeepers selling fresh honey and taking some home with you.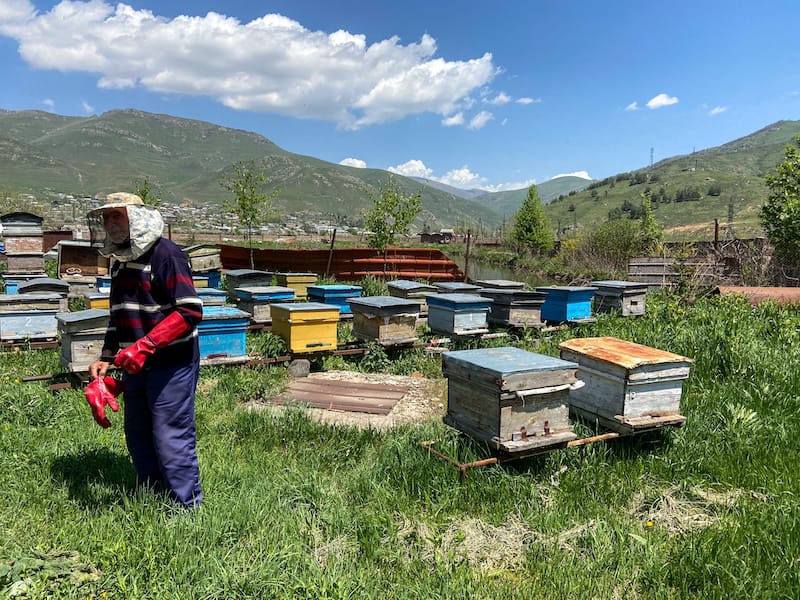 There are many other initiatives in the works in Meghradzor!  Honey Gorge Camping is one of them – so follow them for updates.
Official restaurants are still in the works but if you want to have a meal in Meghradzor, please get in touch with Meghradzor Tours below.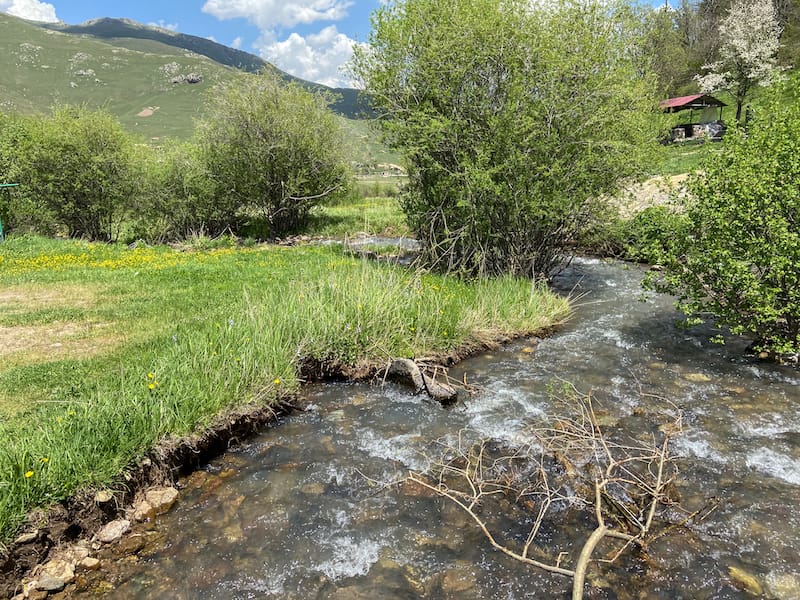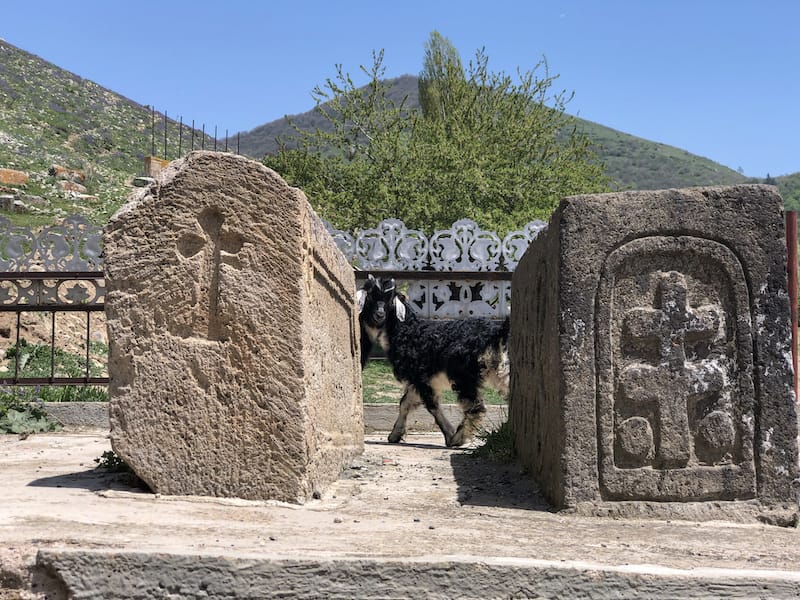 Take a Tour of Meghradzor
One of the coolest things about Meghradzor is that it is finally hitting people's radars and they are actually getting tourism there – so much that they had to start developing the infrastructure to the village at a moment's notice!
While guesthouses and other means of accommodation are still in the works, you can actually book a tour of the village, which is pretty cool!
If you reach out to Meghradzor Tours, they can help you arrange a tour.  Tours are run by trained students from the village who will guide you through the village history, the murals, and the surrounding nature.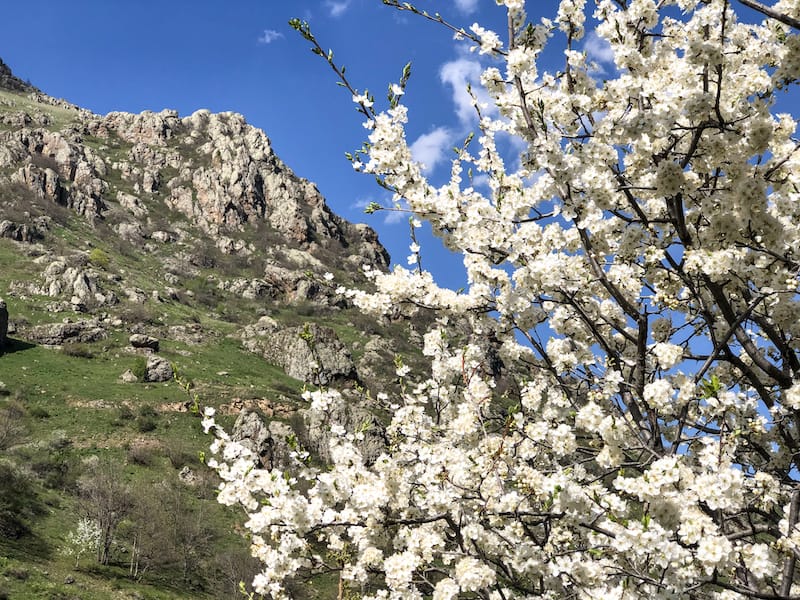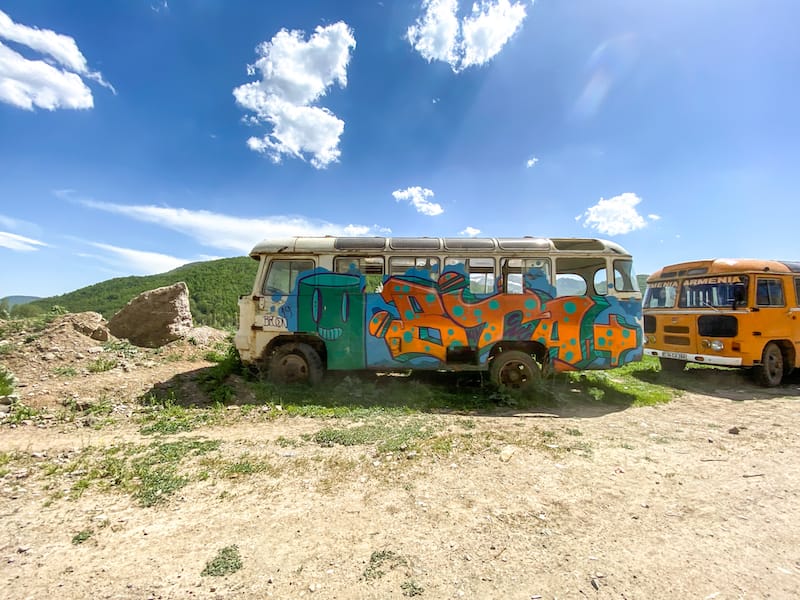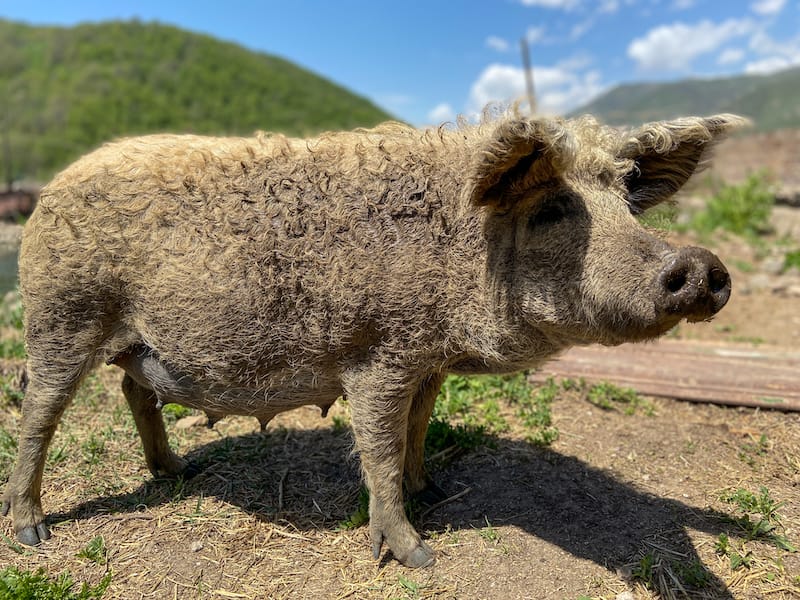 Meghradzor Tours can be reached in English, so don't be afraid to write them in English.  The price for a tour is 7000 AMD (it includes a full tour of the village) and an extra 1000 AMD if you would like to have food included.
This is a great community initiative and helps put money back into the local village, so please consider taking a tour when there to learn more about Meghradzor.
Where to Stay in Meghradzor
As mentioned before, there is not a lot of tourism infrastructure in Meghradzor just get, but stick around!  It is coming!  Right now, the only proper guesthouse in the village is the Meghradzor Eco Guesthouse.
They were closed due to the pandemic when we traveled there so be sure to reach out and check their status before going if you plan to stay in Meghradzor.  You can contact them on Facebook or call them at +374 94 853588.
Alternatively, you can reach out to the Meghradzor Facebook page here and ask about accommodation offerings and homestays there.  Please let Naira know that Absolute Armenia sent you and she speaks wonderful English and will be happy to help.
Most people will find it easiest to visit Meghradzor as a day trip from Yerevan until the infrastructure develops a bit further, however.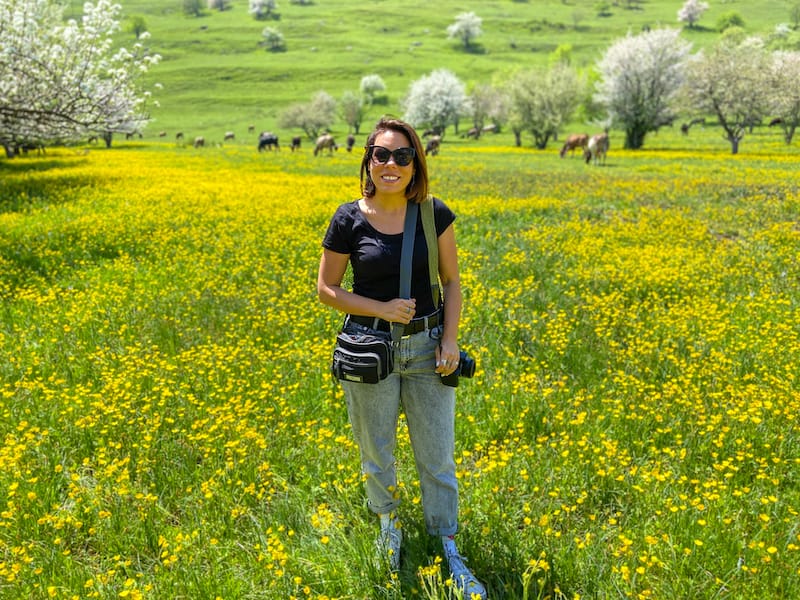 Should You Travel to Meghradzor?
YES!  There is so much more to Armenia than Yerevan and the ancient monasteries… and Meghradzor is one of those places!  We absolutely loved our time there and are excited to head back.  It is a family-friendly place with a lot to offer and many colorful murals to be seen!
If you know of any other things to do in Meghradzor that are worthwhile, please leave a comment below.  We will be updating this guide as new places open there.
Pin this Meghradzor Guide