This post may contain affiliate links which means if you purchase something through that link, we will make a small commission at no additional cost to you. Think of it as buying a cup of coffee for us on someone else. Thanks and enjoy!


It is easy to end up sucked into Yerevan and its exciting cafe scene and pleasant streets. But, there are many amazing day trips from Yerevan that make a trip to Armenia a delight for any traveler. This is a guide to some of the best Yerevan day trips.
YEREVAN QUICK REFERENCE
Last minute planning?
You can see our top travel recommendations for Yerevan right here:
Where to stay in Yerevan: The Alexander (luxury), Daniel's Boutique Hotel (mid-range), 14th Floor (mid-range), and Grand Hostel (budget).
Top-rated Yerevan day tours and experiences:
Yerevan City Pass: If you're hanging around the Armenian capital, the Yerevan Card is a great bang for your buck! You can visit museums at no charge, get a free taxi from the airport, and several discounts on day trips. Click here to purchase your Yerevan Pass.
Need insurance for Armenia? Be sure to check Armenia travel insurance rates and coverage with our recommended provider, SafetyWing.
Renting a car in Armenia? You can get great options and the best rates here with Rentalcars.com.
Need a Visa for Armenia? We recommend iVisa – they will sort your Armenian visa efficiently and quickly.
3 Essential Things to Pack for Armenia: Plug adapter (if coming from the US or a country that does not use a European plug), Klean Kanteen reusable water bottle, and a Georgia, Azerbaijan & Armenia Lonely Planet guidebook.
12 Day Trips from Yerevan
I spent many years not realizing the value and offerings of my own country. We tend to all do that with the place we call home. In recent years, I started traveling around Armenia in search of some of the best places to recommend to visitors (and locals!)
What really struck me as special is that the small size of Armenia allowed for so many opportunities to take day trips from Yerevan, the capital city. So many of these Yerevan day trips are incomparable to sights you'd find in other parts of the world.
The unique and mesmerizing sights surrounding Yerevan makes the capital city really special. This day trips guide will showcase UNESCO World Heritage Sites, historic monasteries, stunning scenery, adventurous landscapes, and much more.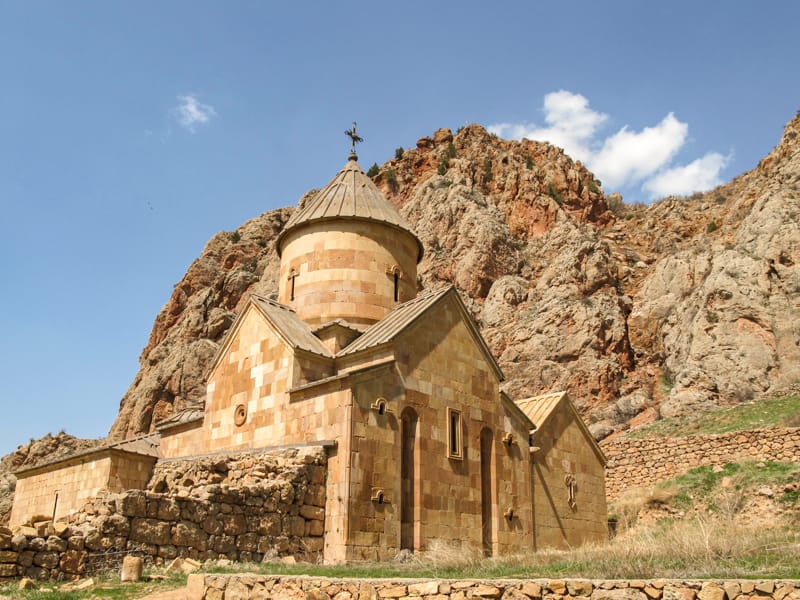 All of the places listed on this Yerevan day trips guide are within three hours of the capital city and we detail why you should visit. Many are easily visited with a marshrutka, private car, or by taking an affordable tour.
If you have suggestions of worthwhile day trips from Yerevan, please shoot us an email or leave a comment in the section below. Thanks!
Do You Need Travel Insurance for Armenia?
We definitely recommend booking travel insurance for Armenia if you're heading there. We highly suggest using SafetyWing, a travel insurance made by travelers, for travelers.
The Norwegian company is the one when we use it when on the road and Megan uses them when she is in Armenia. Their policies offer widespread coverage and affordable rates
>> Click here to get an Armenia travel insurance quote
Renting a Car in Armenia
One of the easiest ways to get around Armenia is by rental car. The roads are slowly taking shape and getting fixed and they are pretty safe to drive on these days.
Yerevan's traffic can be madness, but outside of the city, you will find the roads pretty easy and never really that congested with traffic.
>> Click here to rent a car in Armenia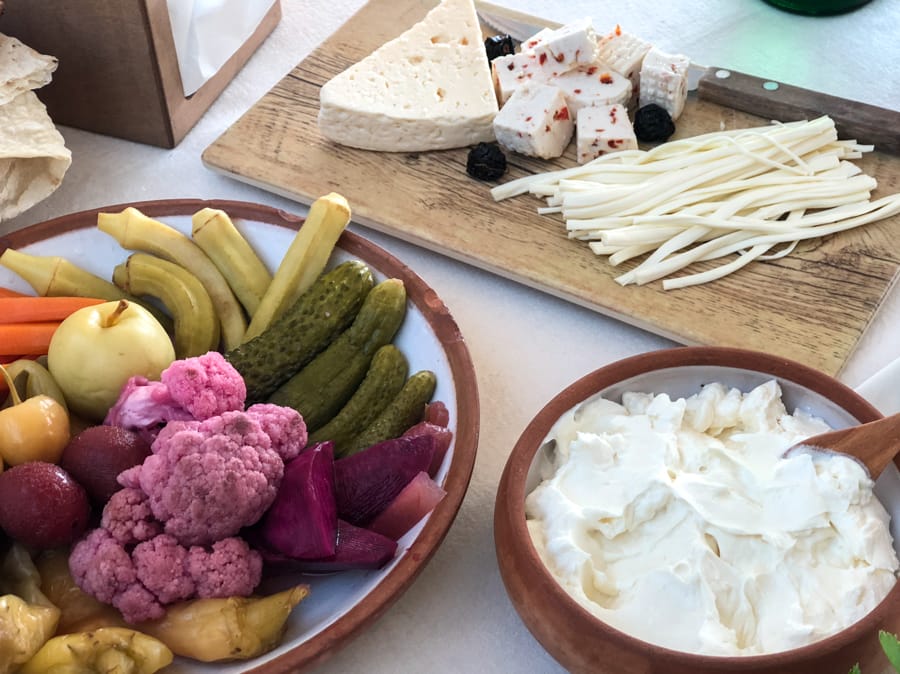 Yerevan Card
If you are spending a few days in the capital city, you will definitely want to get your hands on a Yerevan Card.
This pass comes at an affordable price and gives you access to some of the city's best sights at a fraction of the price, or even free!
We actually use the Yerevan Card around town and enjoy free museum entrances, discounts at our favorite cafes, and more. It also gives discounts for local Yerevan day trips (some that are even on this guide!) and a free taxi ride from the airport.
>> Click here to purchase the Yerevan Card
Yerevan Day Tours
Are you keen to organize some day tours from Yerevan and not too stoked on the idea of going to these places independently?
Don't worry… there are some super affordable day tours that you can take from Yerevan. We will detail them throughout this text, but here are a few we recommend investing in if you want to see the best of Armenia with very little planning: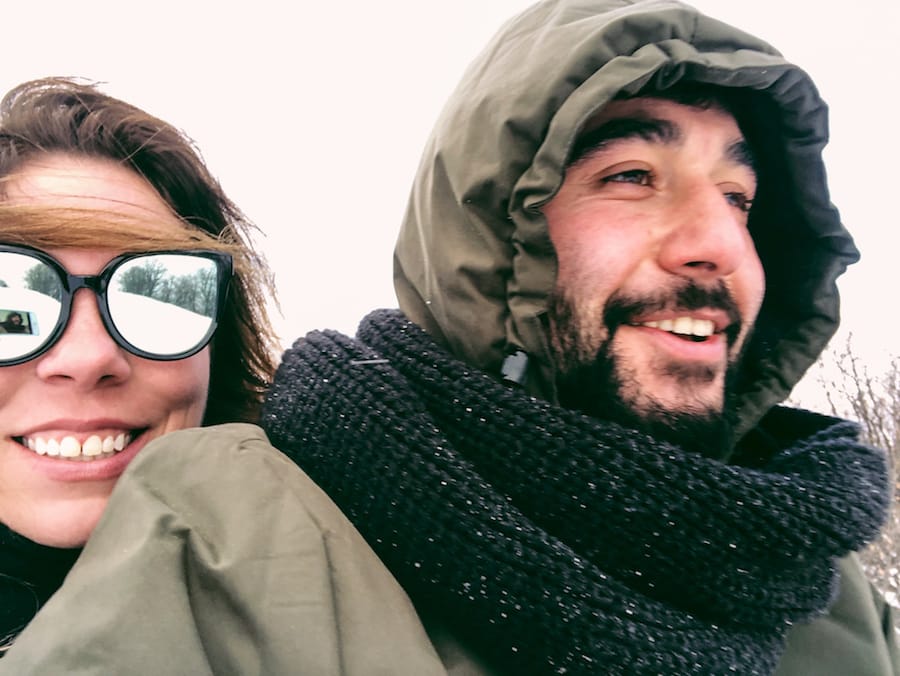 What to Pack for Armenia
Packing for Armenia is pretty easy if you pack for the correct season. Summer is hot; winter is cold. Here are some other things we recommend packing for your trip to Armenia:
Power adapter (Europe): If you're coming from the US, UK, Canada, Australia, or somewhere that is not mainland Europe, you will need a European power adapter. We recommend just purchasing one and then connecting it to a power strip from your home country's plug type.
Lonely Planet Georgia, Armenia, Azerbaijan: Sometimes it is nice to have a tangible book in your hand and the Lonely Planet one for the Caucasus is no exception.
We recommend investing in one for your trip as you will have all the information you need at your fingertips and you won't have to spend too much time glued to your phone. Click here to purchase Lonely Planet Caucasus.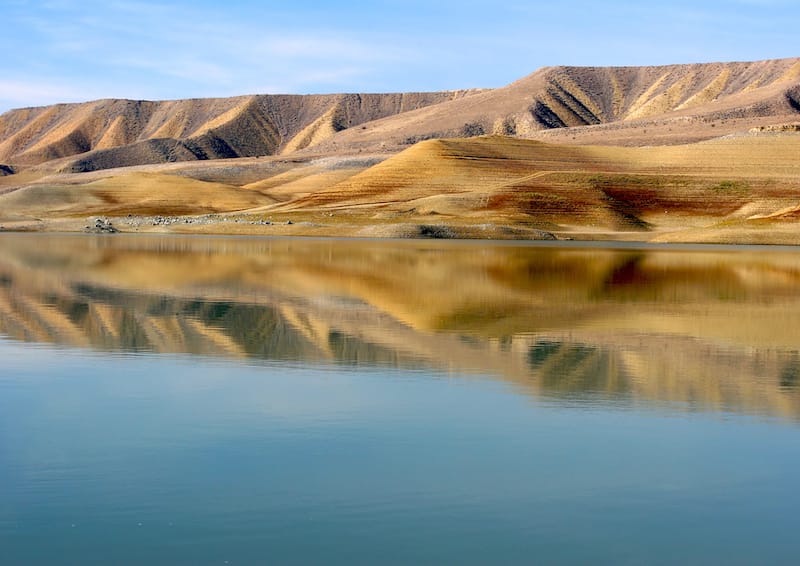 Reusable Water Bottle (Klean Kanteen): Armenia has awesome water and you will want to tote your reusable water bottle with you so that you don't have to resort to purchasing bottled water.
Armenia is trying to clean up its plastic and trash so be part of the solution, not the problem! Click here to see the Klean Kanteen we travel with.
Allergy Pills (if you need them): Megan sometimes struggles with allergies in Armenia during certain times of the year. The air can be somewhat dusty, particularly if you head down south where the climate is dry and arid and there are not many trees.
If you struggle with dust, be sure to bring some allergy pills to help you out.
Yerevan Day Trips to Other Cities in Armenia
Below, you will find some of our favorite day trips from Yerevan. We have selected the most popular ones and will continue to add to this in the future with others. We will also be creating a guide of off-the-path places to visit from Yerevan in the future.
Etchmiadzin
How far is Etchmiadzin from Yerevan? The distance from Yerevan to Etchmiadzin is 19 kilometers, or around 11 miles. It will take you about 35 minutes to reach by car or taxi.
When is the best time to go to Etchmiadzin? The best time to travel to Etchmiadzin is in the spring.
The flowers begin blooming and the churches are colorful and lively in and around the Easter holidays. Visiting Etchmiadzin around the New Year is also fun as the city is home to a Pomegranate Festival.
If you're interested in food festivals, be sure to head out this way during May for a Tolma Festival near the Zvartnots Cathedral.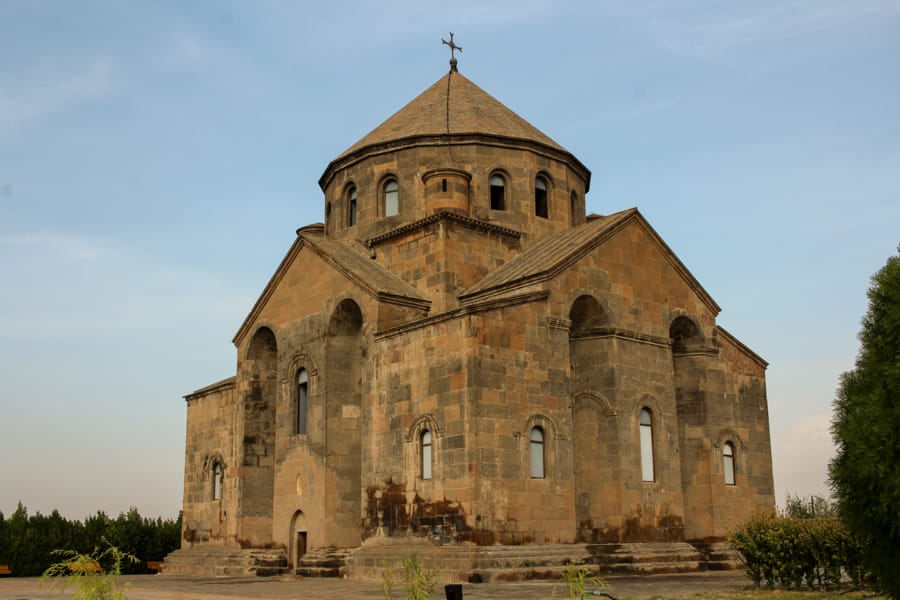 How to get from Yerevan to Etchmiadzin: There are a couple of ways to get from Yerevan to Etchmiadzin. You can take a minibus from Kilikia Bus Station at 6 Isakov Avenue to Etchmiadzin. In addition, there are new minibuses that will take you from Etchmiadzin to Yerevan center and not to the Kilikia Station. This is bus #203.
For the buses that go to Kilikia station, the price is 250 AMD (old minibuses). The new minibuses are 300 AMD back to Yerevan center. They run from approximately 0800-2000 daily.
You can also take a taxi to Etchmiadzin. It will take you only 20 minutes and less than 6 USD (2500 AMD) to take a taxi from Yerevan to Etchmiadzin. Use locals online apps like GG, Utaxi, and Yandex. Click here to view our Yerevan taxi guide. Also, booking a tour to Etchmiadzin is a great option as it will take the pain of traveling back and forth there!
Why you should visit Etchmiadzin: Also known as the Armenian Vatican, or Holy City, Echmiadizin is actually much older than the Vatican and is the main religious center for all Armenians and many other Christians in the world because the oldest Christian churches can be found there.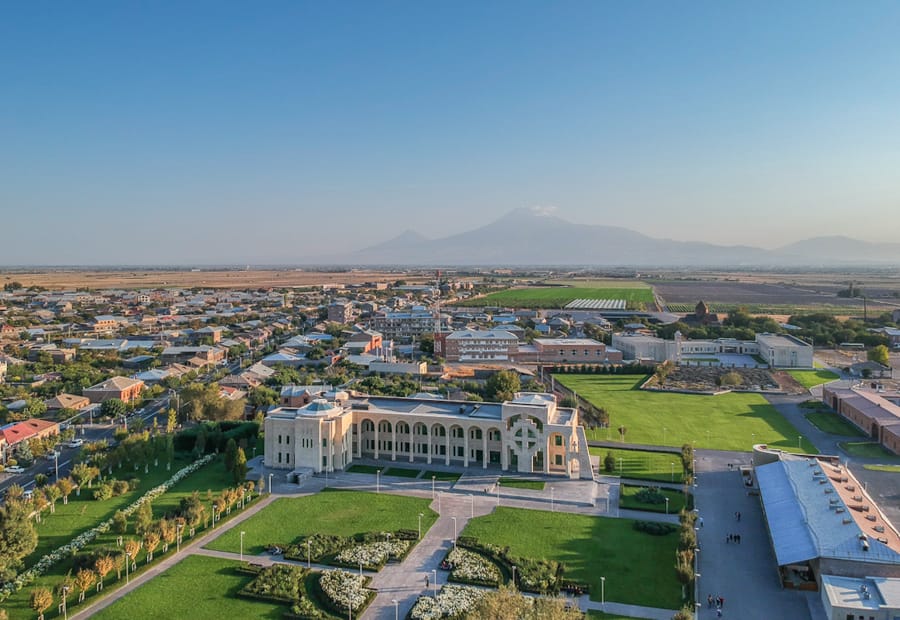 The oldest Christian churches in the world date back to the 4th-century AD and are situated in the city of Etchmiadzin, the perfect day trip from Yerevan for those that want to see UNESCO World Heritage Sites or a very important religious site.
Etchmiadzin is located 20 minutes away from Yerevan and is actually my hometown where I grew up.
Things to do in Etchmiadzin: We have previously written an extensive guide of what to do in Etchmiadzin that you can check out. For the sake of this day trips post, here are some quick places worth nothing in the Holy City.
UNESCO World Heritage Sites in Etchmiadzin: There are two UNESCO World Heritage Sites in Etchmiadzin- Saint Hripsime Church (built-in 395 AD and completed in 618 AD) and the Etchmiadzin Cathedral (built around 301-303AD).
The mind-blowing construction of these churches was amazing considering the typical architectural techniques that were traditionally used around this period.
Other Etchmiadzin Churches: There are some other, younger churches worth visiting if you're in the city. Saint Gayane, Saint Shogakhat, and Saint Mariam Astvatsatsin (Holy Mary) Churches are a few of note.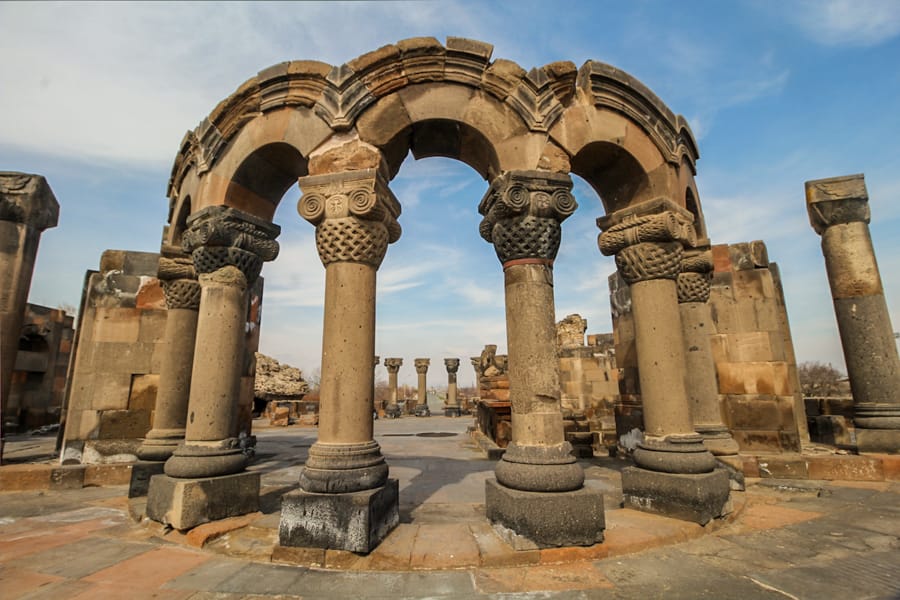 Zvartnots Cathedral: On the way to Etchmiadzin, you will pass the entrance and location for Zvartnots Cathedral, ruins dating all the way back to the 7th-century. It was previously demolished by an earthquake and is now protected by UNESCO for its unique, circular construction.
>> Click here for our Etchmiadzin travel guide
Garni
How far is Garni from Yerevan? The distance from Yerevan to Garni is 26 kilometers, or around 16 miles. It will take you about 46 minutes to reach by car or taxi due to the landscapes.
When is the best time to go to Garni? The best time to visit Garni is, again, in spring. Armenia really shines during the springtime and May is such an ideal time to take some day trips from the capital city. The weather is not too hot (July can be really uncomfortably hot) and the flowers are in full bloom.
How to get from Yerevan to Garni: There are a couple of easy ways to get to Garni. The first is by private car. The second is to take a taxi (we recommend using GG or Yandex). The third is by minibus. And the fourth is to take a tour from Yerevan to Garni.
To take a minibus, you will take #266 from the Nor Nork bus station at 14/3 Gai Avenue next to the Mercedes-Benz shop. The bus station is located outside of Yerevan center. The ride will take approximately 40 minutes and costs about 250 AMD (about $0.50). A taxi to Garni is about 3500 AMD (about $7).
Why you should visit Garni: Garni Temple is truly a unique place in Armenia and probably far beyond it. It's the only Pagan temple in the region and it's absolutely gorgeous.
Things to do in Garni: We have a whole guide about all the wonderful things to do in Garni, but here are a few quick notes about why you should visit and what there is to do there.
Garni village has breathtaking nature with a gorge cut apart by a scenic river surrounded by mountains. The Garni Temple, built-in 1 BC, is located on the edge of the gorge and is idyllic.
The protected facility has a garden and other ruins in addition to the ancient, royal bath which is located next to the Garni Temple because the temple used to be the summer house of Armenian kings.
Down in the gorge, you can see the obscure landscape of basalt columns that is also called the Symphony of Stones. They look like they were handcrafted in such an unusually symmetrical manner!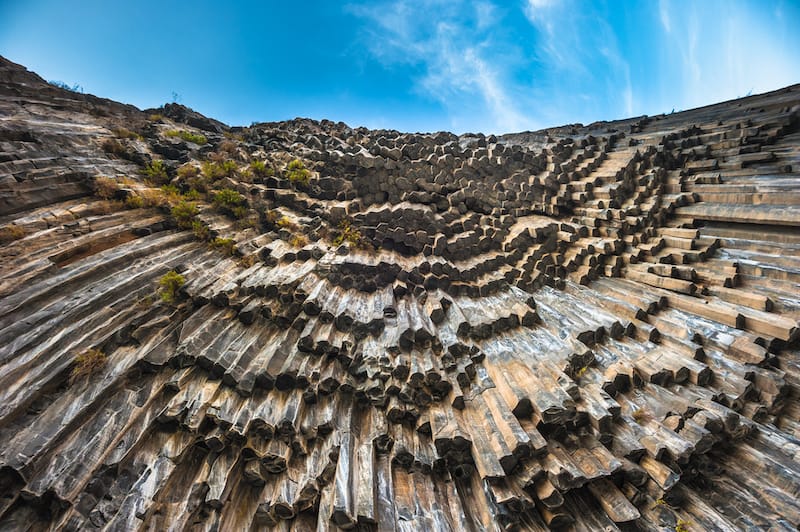 On the way to Garni, you will have the opportunity to witness such sights like the Arch of Charents, Azat Reservoir, and Caves of Voghjaberd. This is one of the essential day trips from Yerevan.
>> Click here for our Garni travel guide
Geghard Monastery
How far is Geghard Monastery from Yerevan? The distance from Yerevan to Geghard is 36 kilometers, or around 23 miles. It will take you about 1 hour to reach by car or taxi due to the landscapes.
When is the best time to go to Geghard Monastery? We are a big fan of visiting Geghard in spring or autumn. During spring, you will see flowers in bloom and during the autumn you will witness the amazing fall foliage at Geghard.
How to get from Yerevan to Geghard Monastery: The best way to get from Yerevan to Geghard is by taking a taxi. Using one of the Armenian apps for taxis suggested here, it should cost you around $8 each way (3800 AMD) for a taxi to Geghard.
How to get from Garni to Geghard Monastery: Another option is that you can go directly from Garni to Geghard (they are close to each other). The ride is about 15 minutes and a taxi will cost about 1800 AMD ($4).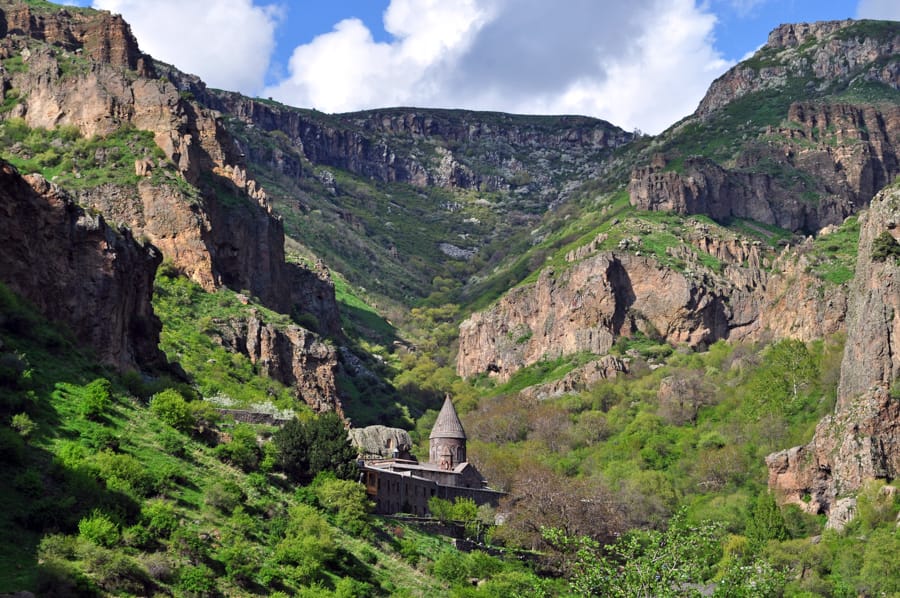 Why you should visit Geghard Monastery: Geghard is a UNESCO World Heritage Site and is located super close to Garni, so you can visit both sights in a day, easily.
Things to do in Geghard: The Geghard Monastery is located 15 minutes away from Garni in between breathtaking mountains and at first glance, you might think that is simply an ordinary, ancient church.
However, what makes Geghard Monastery unique and puts it on the UNESCO World Heritage Site list is that this 4th-century monastery is located 70% in the actual rock of the mountain and was built in an era when there were no special building tools.
Visiting Geghard is one of the top Yerevan day trips, particularly for history enthusiasts. Click here to take a tour to Geghard where you will also get to see Garni for one price!
>> Click here for our Geghard Monastery travel guide
Khor Virap
How far is Khor Virap from Yerevan? The distance from Yerevan to Khor Virap is 43 kilometers, or around 27 miles. It will take you about 50 minutes to an hour to reach by car or taxi.
When is the best time to go to Khor Virap? The best time to visit Khor Virap is pretty much at any time of the year. Do be aware that it is cold in the winter and hot in the summers.
There is also a risk that Ararat may not be visible if the skies are hazy on the day you go. Wait for a day with clear skies and try to go early.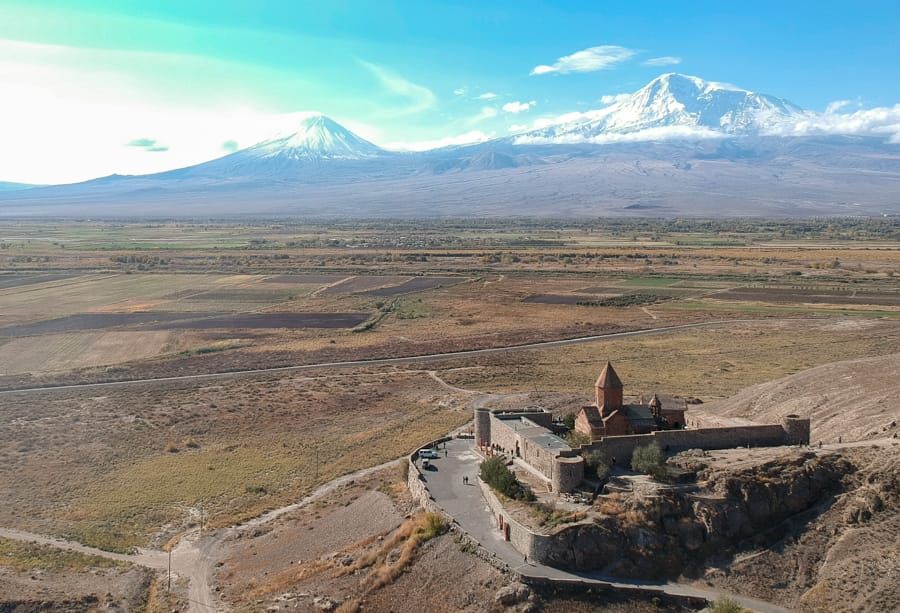 How to get from Yerevan to Khor Virap: There are a couple of ways to get from Yerevan to Khor Virap. The first is by minibus and the second is via a taxi. Of course, you can also take an organized tour there.
To take the minibus there, you'll have to find them behind Sasuntsi David Metro Station. There is a big parking lot where the bus with a sign 'Yerevan – Ararat' will be going to Khor Virap. There might be other buses that go to Khor Virap, you need to ask around if it is necessary.
Please remember that the bus is not going directly to Khor Virap but stopping on the highway at the bus stop. Tell the driver that you need to stop at that stop he will stop for you then you need to walk approximately 1.5km or pick up a taxi that is waiting there.
The buses are not that frequent, so try to start your journey early in the day. The price is 500 AMD (approximately $1) and they go at around 0900, 1100, and 1400 daily.
A taxi ride to Khor Vorap is really affordable and one of the best options. The ride will cost approximately 5000 AMD ($10).
One of the best things you can do to take the pain out of organizing a day trip to Khor Virap is to combine it with other destinations in a tour. This tour takes you to Khor Virap, Areni, and Noravank. All amazing spots and all on this guide!
Why you should visit Khor Virap: It truly is one of the iconic symbols of Armenia. There is nothing more beautiful than this sight on a clear day!
About Khor Virap: Located approximately one hour away from Yerevan in the village of Pokr Verdi, Khor Virap is the symbol of Armenian Christianity. In translation, 'Khor Virap' means deep dungeon.
This is the site where the Saint Gregory the Illuminator was prisoned for 14 years and released in order to help Christianity become the state religion in Armenia in 301 AC.
>> Click here for our Khor Virap travel guide
The monastery at Khor Virap is located on top of a rock. It is a 5th-century Church of the Holy Mother of God and it has an epic view of Ararat Mountain.
Things to do in Khor Virap: There is not much around there aside from the church and some souvenir shopping opportunities. But, if conditions are right, the image of it all will take your breath away. Khor Virap is surrounded by vineyards and as a result, the region is famous for its great wine.
Dilijan
How far is Dilijan from Yerevan? The distance from Yerevan to Dilijan National Park is 95 kilometers, or around 60 miles. It will take you about 1.5 hours to reach by car or taxi.
When is the best time to go to Dilijan National Park? Dilijan is a stunner no matter what time of the year you go, but we recommend visiting Dilijan during summer. You will find an abundance of trails there and it is a nice respite from scorching Yerevan.
Alternatively, autumn brings a new array of colors to Dilijan and we can't help but admire this time of year in Dilijan. It offers a stunning backdrop to the monasteries, lakes, and charming buildings in the region.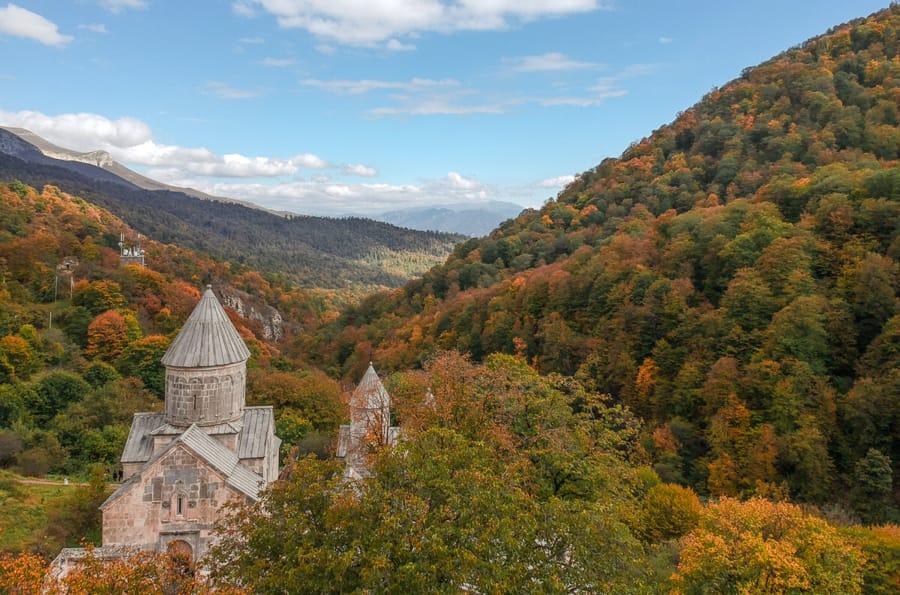 How to get from Yerevan to Dilijan National Park: There are a couple of ways to get from Yerevan to Dilijan. From Yerevan to Dilijan, you can take regular minibuses from the Northern Bus station that is slightly out of the Yerevan city center. The price is 1000 AMD ($2) and they go from around 0940-1730 daily.
You can also easily take a taxi to Dilijan. A taxi ride will cost you approximately 10,000 AMD ($20) and will take only an hour if conditions are good. This is a great option for those wanting to make a stop at Lake Sevan along the way!
Also, you can book a pretty epic tour to Dilijan combined with Lake Sevan! It is a great option!
Why you should visit Dilijan National Park: Known as Armenian Switzerland, Dilijan is an eco-paradise with lush, green mountains. Dilijan is a resort area and one of the popular destinations for locals and visitors.
Things to do in Dilijan National Park: The fauna of Dilijan is truly magical. You'll find mountain lakes, wildlife inside of Dilijan National Park, and a cozy city with a mixture of traditional and modern buildings.
The green area also is home to many interesting museums, a Greek-style amphitheater, Armenian hiking opportunities, and much more. Dilijan is great in any season, but it's truly magical in the autumn when the forest is covered with mesmerizing colors of foliage.
About 35 minutes away from Dilijan city, through Dilijan National Park, you'll find Gosh village. This is where it is possible to see the 13-century Goshavank Church that is home to unique khachkars (cross-stones). There are nice little cafes in the area with local food and delights.
Lake Sevan
How far is Lake Sevan from Yerevan? The distance from Yerevan to Lake Sevan is 60 kilometers, or around 37 miles. It will take you about 1 hour to reach by car or taxi.
When is the best time to go to Lake Sevan? The best time to visit Lake Sevan is during the summer, ultimately. The water is warm enough but the air is refreshing enough to offer a nice getaway from Yerevan. You can also attend the Sevan International Music Festival.
On the other hand, do consider going to Lake Sevan in the off-season. Sevan suffers from lack of tourism during other times of the year and you will help the economy a bit by putting your trip off for an alternative time of the year, especially if swimming in the lake isn't the priority on your list.
We love Sevan all times of the year, however.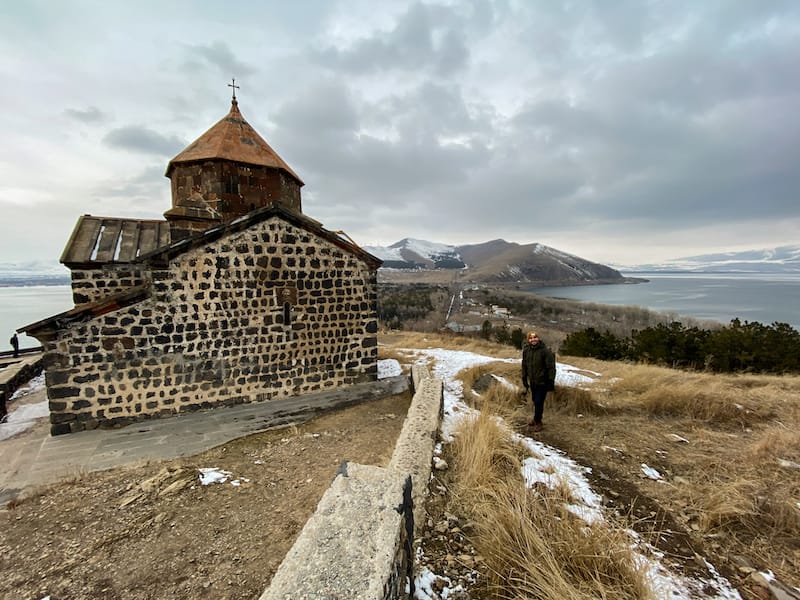 How to get from Yerevan to Lake Sevan: There are a couple of ways to get from Yerevan to Dilijan. You can see the options below or read our getting to Lake Sevan from Yerevan guide.
The minibus from Yerevan to Sevan takes off from the Northern Bus Station and the ride takes around 50 minutes. Just be sure to ask the drivers. But, bus #317 goes there. The price is 500 AMD ($1) and it runs from around 0900-1900 daily.
The train to Sevan is going from Almast Railway Station on weekdays and stops at Sevan Station which is on the opposite side of Sevan Peninsula. This gives you an opportunity to discover Sevan Peninsula and its beauty. The price is 600 AMD (little over $1) and it goes once daily at 0830.
The most comfortable option for getting to Sevan is to take a taxi. It will cost approximately 10,000 AMD ($20). Also, another comfortable option is this amazing private tour that combines Lake Sevan with Dilijan.
Why you should visit Lake Sevan: Beautiful Sevan Lake is the biggest lake in the Caucasus and is considered to be one of the largest freshwater, alpine lakes in Eurasia that is located at a high-altitude.
Things to do in Lake Sevan: The calm waters of the lake make the perfect place to visit in the summer to escape the city heat. It also gives you the chance to discover the area where is possible to visit Sevan Peninsula.
On Sevan Peninsula, there are two ancient churches with an observation point from where visitors can see a panorama of Lake Sevan which is surrounded by the Geghama Mountains. During the golden hour, the panorama is mindblowing!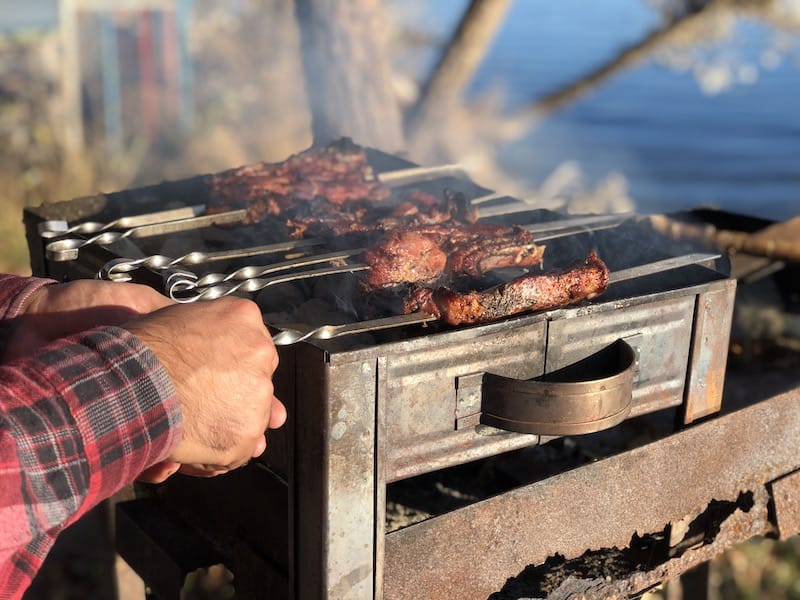 There are also other things that put Sevan on a map beside beaches, ancient churches, and nature. The freshwater lake is teeming with life and it would be remiss of you to not indulge in a crawfish BBQ when visiting Lake Sevan!
Around Sevan, you will find other cool sights like Noratus Cemetery and the lovely city of Gavar, one of our recommended day trips from Yerevan if you're keen to explore somewhere off the path.
>> Click here to view our Lake Sevan travel guide
Noravank
How far is Noravank from Yerevan? The distance from Yerevan to Noravank is 118 kilometers, or around 74 miles. It will take you about 2 hours and 10 minutes to reach by car or taxi.
When is the best time to go to Noravank? The best time to travel to Noravank is during the spring or autumn. This area can get quite hot during the summers and can be a bit dusty. However, there is no bad time to visit Noravank. A trip to Noravank is best combined with one to Areni.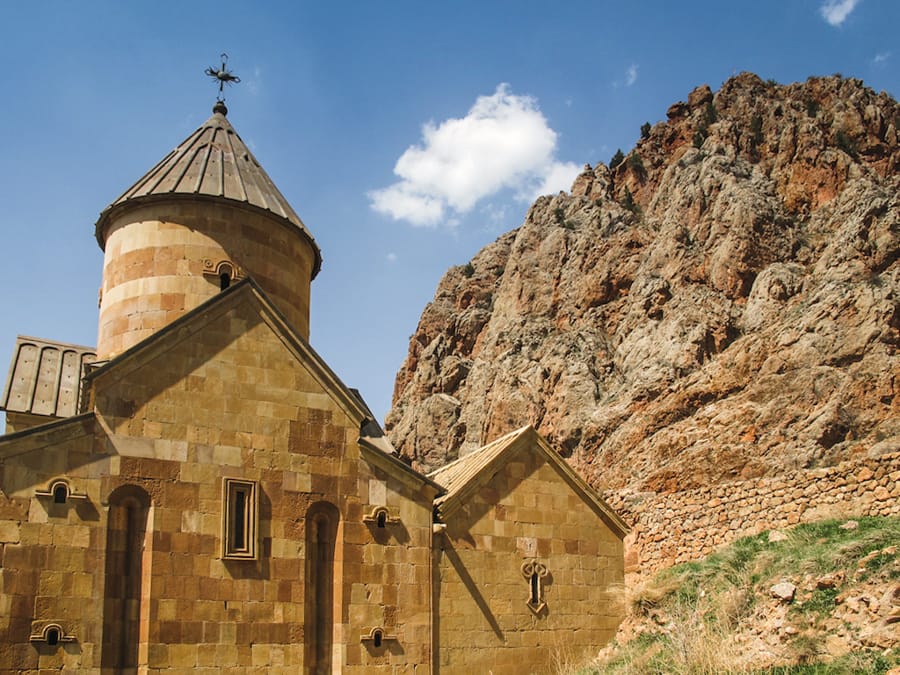 How to get from Yerevan to Noravank: The best way to visit Noravank is by joining an organized tour. Alternatively, you can take a taxi and it will cost you around 12,500 ($25) one way.
Getting to Noravank by minibus is actually not the most efficient way to get there. In order to do this, you will need to take one to Yeghegnadzor and then switch over from there. To read more about this option, go to the next section as we cover it with Areni.
Why you should visit Noravank: Surrounded by otherworldy, red-colored mountains, Noravank is considered one of the more interesting and unique sights in Armenia and the drive to it is worth going for itself.
Things to see in Noravank: The sight is located a couple of hours away from Yerevan. To get there, you will pass the Areni wine region and drive through a narrow gorge where the flowing Amaghu River will reach lead you to Noravank. It is almost like a secret place that is surrounded by dramatic red-colored rocks.
Next to the rocks, you will find two churches- the Surb Karapet Church and St. Astvatsatsin Church that were erected in the 13th and 14th-centuries.
The ornaments on these churches are masterpieces coming from the ancient times and the triangle stairs on two-story St. Astvatsatsin Church are definitely something to do when you're there. Unless you're Megan… she is scared of heights and attempted anyway.
>> Click here for our Noravank Monastery travel guide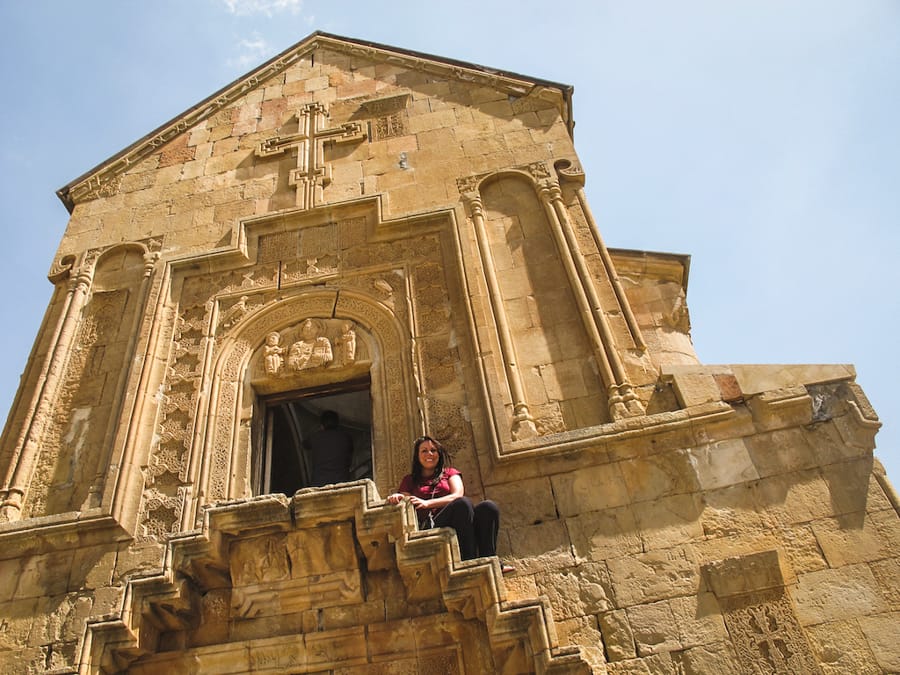 Areni
How far is Areni from Yerevan? The distance from Yerevan to Areni is 110 kilometers, or around 68 miles. It will take you about 2 hours and 5 minutes to reach by car or taxi.
When is the best time to go to Areni? We think that the best time to visit Areni is in autumn. The temperatures are more tolerable and the Areni Wine Festival is in October, making it the ideal time to travel there!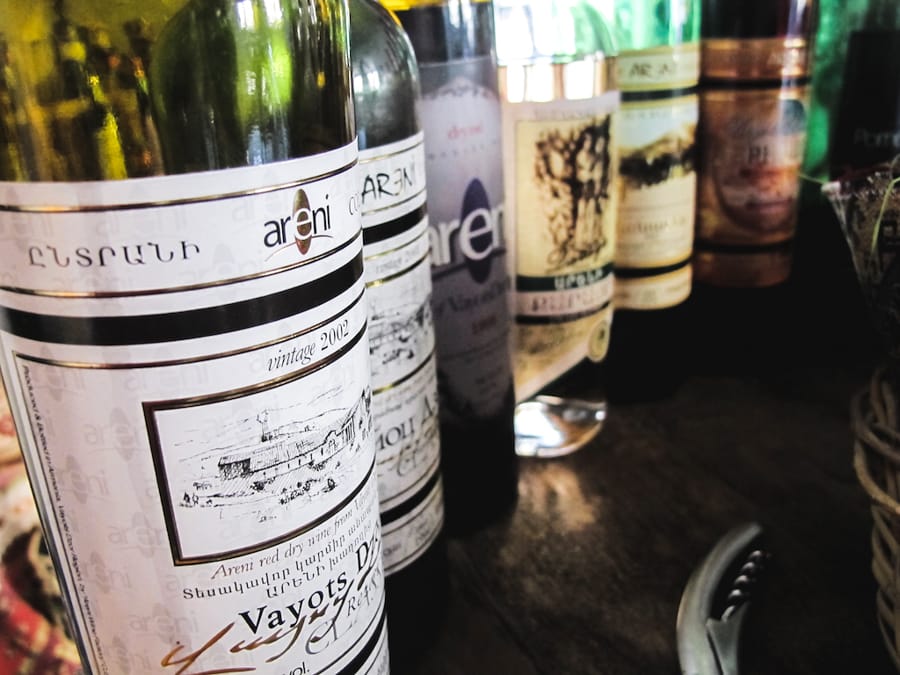 How to get from Yerevan to Areni: There are a few ways to get to Areni. The most practical is by tour or with a taxi, but they are definitely not the cheapest options.
Areni and Noravank are close to each other and on the way to Yeghegnadzor city. You will find minbuses going to Yeghegnadzor from Yerevan. It is necessary to go to the Gortsaranayin Metro Station and you will find minibuses and shared taxis to Yeghegnadzor.
After exiting the metro station, you need to turn right and go all the way until the end of the road. Then cross the road, go left, and cross it again by going right… you will then see minibuses.
The minibus will stop next to Areni village and the junction of Noravank. There is an 8 kilometer walk to Noravank, so we advise you to take a taxi from there. The price is 1200 AMD (less than $3) and they run between 0800 and 1800 (but be there before 1100).
As suggested above with Noravank, taking a taxi is also an option. The price is around 13500-15000 AMD (about $27-$30)
Why you should visit Areni: Armenia is not only churches! We are also home to the oldest known winery in the world. That winery was located in Areni and now it has become our most famous wine region despite being 6100 years old!
Things to do in Areni: The meaning and role of wine in Armenian history and religion is really monumental and it was widely used in Armenia before Christianity when the country was Pagan.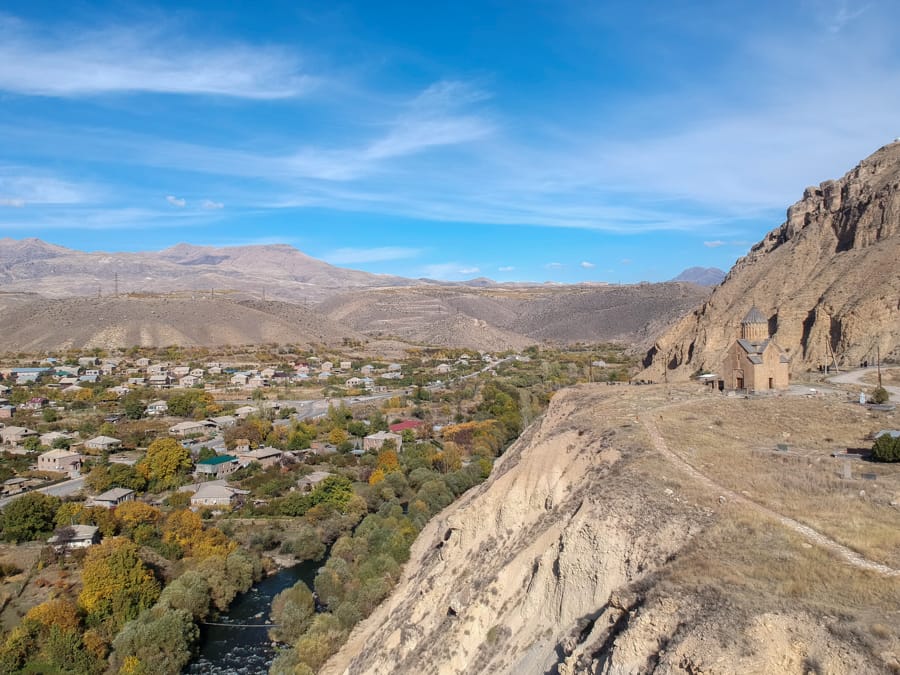 The Areni region dates back to ancient times and has always produced wine. Armenia was always famous for wine, but brandy overshadowed the beverage in recent years. But, it is making a comeback these days!
What also puts Areni on a map and makes it one of the visitable locations in Armenia is the Areni Wine Festival which is happening annually at the beginning of October.
More than 100 types of wines from different small and large winemaking companies and family businesses are displayed during the festival and the whole event is covered with positive vibes with music and BBQ ever-present.
Tsaghkadzor
How far is Tsaghkadzor from Yerevan? The distance from Yerevan to Tsaghkadzor is 56 kilometers, or around 35 miles. It will take you about 1 hour to reach by car or taxi.
When is the best time to go to Tsaghkadzor? Well, if you're into skiing, then the winter is the absolute best time to visit Tsaghkadzor. Do keep in mind that it is the high-season so things will be slightly pricier.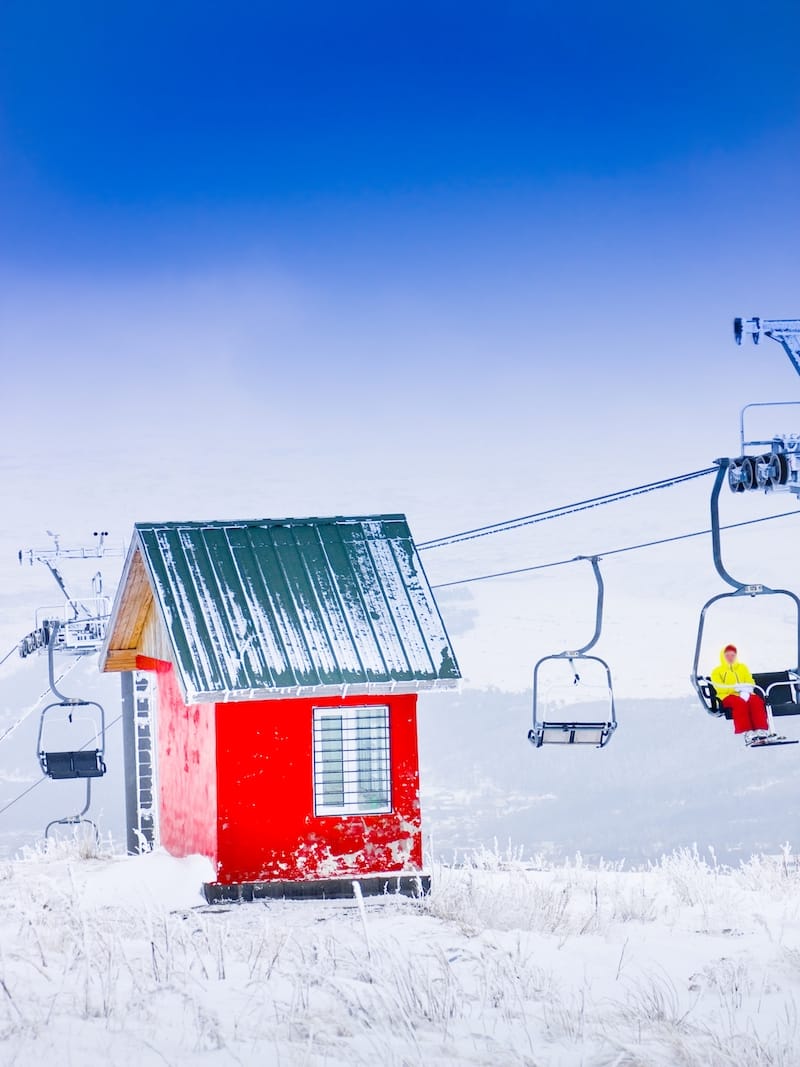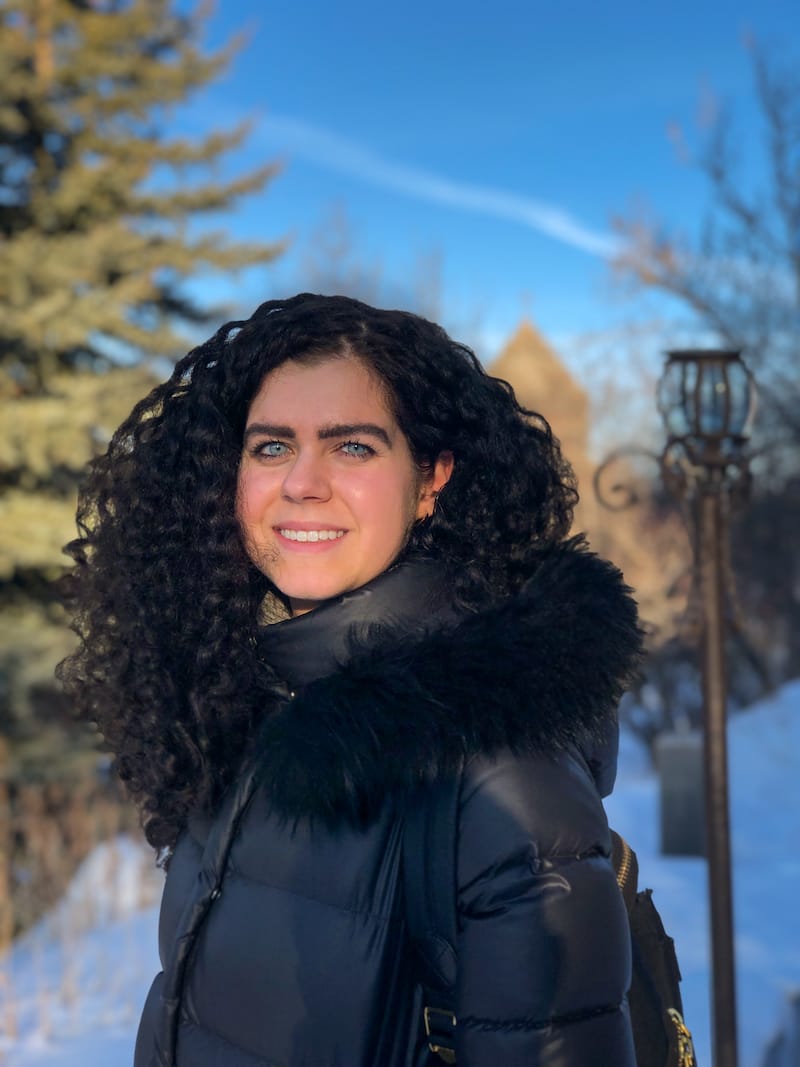 How to get from Yerevan to Tsaghkadzor: There are a couple of ways to get from Yerevan to Tsaghkadzor. The first is by minibus and it's a bit tricky to get to Tsaghkadzor because you need to change two modes of transport to get there.
To get to Tsaghkadzor, you need to take a minibus from the intersection of Azatutyun Avenue and Nersisyan Street. This will take you to Hrazdan city. That price is 500 AMD. From there, you'll take a minibus for 100 AMD to Tsaghkadzor.
The best option is to take a taxi to Tsaghkadzor. It's easy, comfortable, and cheap… and the ride will take you only 40 minutes and cost approximately 6000 AMD ($12).
Why you should visit Tsaghkadzor: Translated from Armenian, the 'gorge of flowers' Tsaghkadzor is not really known for its flowers as much as it is for its skiing and winter sports. It is the premier place to go downhill skiing in Armenia.
Things to do in Tsaghkadzor: Located 40 minutes away from Yerevan, the resort town welcomes guests all year round. During the summer, Tsaghkadzor is the perfect place for hiking and mountain biking. The newly renovated park on the hill has a variety of activities from ziplining to green space and more.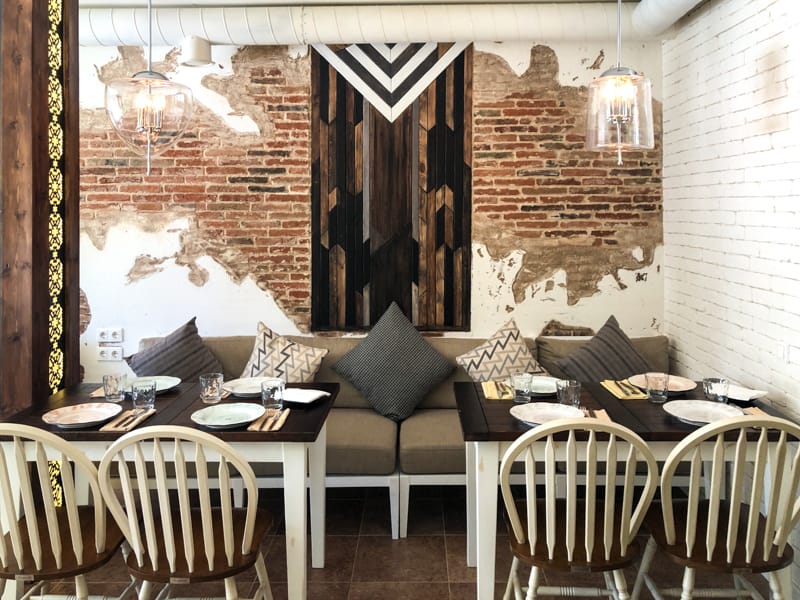 In winter, the mountain ropeway will take you to multiple bases, having skiing stations all the way up the mountains. This is where my "wise" partner Megan once wore transparent tights when the temperature was -10C.
Every base and ski station has cafes, restaurants, and plenty to do! So, definitely add Tsaghkadzor as the ultimate Yerevan day trip for those excited about winter in Armenia!
>> Click here to view our Tsaghkadzor travel guide
Arzni
How far is Arzni from Yerevan? The distance from Yerevan to Arzni is 18 kilometers, or around 11 miles. It will take you about 30 minutes to reach by car or taxi.
When is the best time to go to Arzni? We thought Arzni was amazing during autumn, but it was also very quiet then. We recommend spring, summer, or autumn to visit Arzni.
How to get from Yerevan to Arzni: Aside from a private car, the best way to get to Arzni is by taxi. There are no minibuses heading that way. A taxi is 2000 AMD to Arzni (about $4).
Why you should visit Arzni: Located only 30 minutes away from Yerevan, Arzni is another spa area with healthy mineral water sources, wellness centers, and beautiful green landscapes.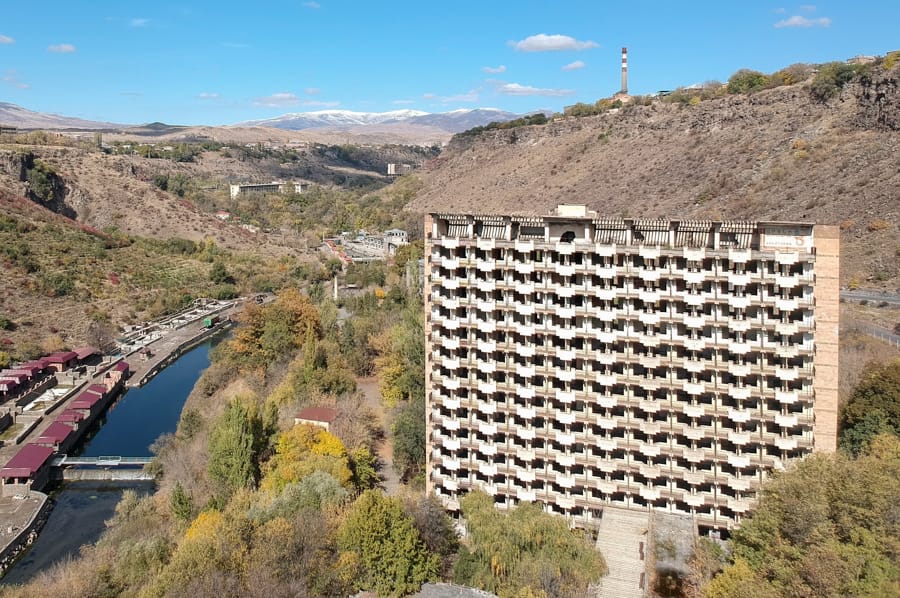 Things to do in Arzni: Arzni Gorge is one of the most beloved places for locals and visitors to have picnics with friends and family members because the whole area is full of resorts. Armenians will flock here to have a BBQ and the entire place will smell like it! It is heavenly!
The gorge is also popular for hiking along the Hrazdan River.
Ara Village (Kotyk Region) for Nairian Tour
There is a very interesting opportunity to take an eco-tour to the factory of Nairian natural cosmetics.
Located in the Kotayk region near Ara Mountain, Nairian cosmetics is producing an eco-friendly and clean natural products for skin, hair, and the body. Their products' bases come from the Armenian highlands and mountains where the volcanic minerals offer a richness unlike anywhere else on the planet.
The knowledgeable tour will take you to the charming Ara village where the Nairian eco-factory is located. You will learn and see how natural cosmetics get made and you'll have the opportunity to touch and smell the plants used in the creation of them.
Also, you'll have a chance to relax with organic, homemade tea from local herbs and enjoy your connection with Armenian nature.
Click here to learn more about an eco-tour at Nairian.
Byurakan
How far is Byurakan from Yerevan? The distance from Yerevan to Byurakan is 34 kilometers, or around 21 miles. It will take you about 40 minutes to reach by car or taxi.
When is the best time to go to Byurakan? Summer is the best time to visit Byurakan. Due to elevation, it is not too hot and it is a great launchpad for hikes to Aragats Mountain.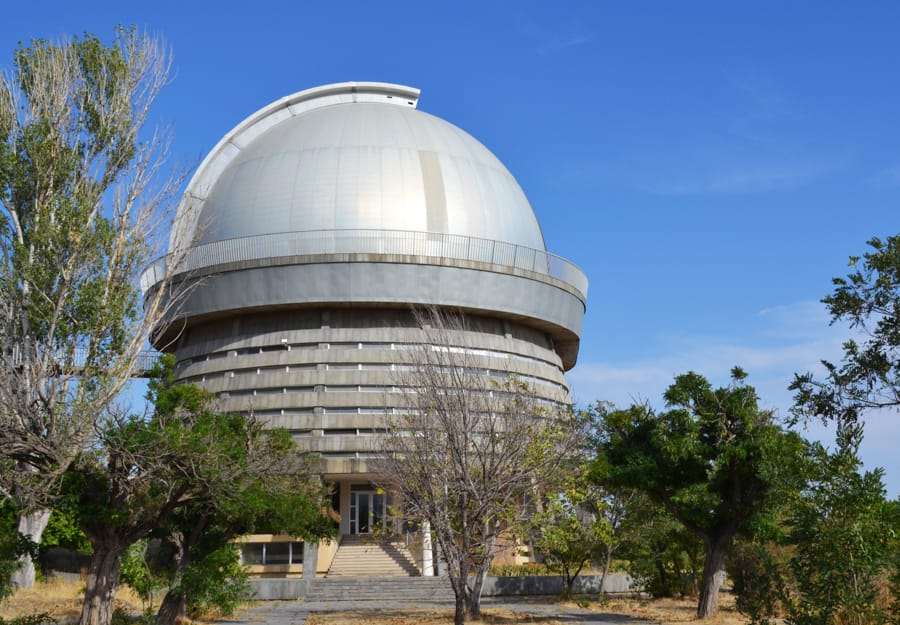 How to get from Yerevan to Byurakan: There are a couple of ways to get from Yerevan to Byurakan. There are minibuses going to Byurakan from the Kilikia Bus Station many times daily. The ride takes about one hour. The price is 400 AMD (less than $1) and it runs daily between 1030-1950.
Alternatively, you can also take a taxi. The price is around 3500 AMD ($5).
Why you should visit Byurakan: Byurakan is a very interesting, albeit obscure place that is located about 40 minutes away from Yerevan. The area is famous because it's the home of astronomy in Armenia and there are several impressive and observation centers with massive telescopes that were built in the Soviet Union and are still working today.
Things to do in Byurakan: If you're looking for a 'different' Yerevan day trip, Byurakan offers something that isn't a monastery or nature (although it does have some sick nature). It is also only around 5 kilometers away from Aragats Mountain hiking trails.
Aside from that, Byuraken is a little lovely village with hospitable locals and beautiful scenery.
Where to Stay in Yerevan
Yerevan center is lovely and staying there is essential if you're looking to attend the Yerevan Wine Days festival. There are a few hotels, guesthouses, and hostels that we recommend depending on the budget you're traveling with.
The Alexander (Splurge): For those looking to be spoiled with luxury, The Alexander is one of Armenia's finest hotels that offers class and luxury to visitors. It is located near Northern Avenue and Republic Square and is a short walk away from Yerevan Wine Days on Saryan Street.
>> Click here to check rates and availability for The Alexander
Daniel Boutique Hotel (Mid-range): Located in the center of the city, Daniel Boutique Hotel offers affordable accommodation with lovely and cozy rooms for you and your family. The hotel has all the necessary amenities for a comfortable stay in the pink capital.
>> Click here to check rates and availability for Daniel Boutique Hotel
Grand Hostel Yerevan (Budget): Located 10 minutes away from Republic Square is Grand Hostel Yerevan. It's a paradise for the budget traveler because you can get spacious, affordable, and clean rooms at whether you're wanting a private or a dorm.
>> Click here to check rates and availability for Grand Hostel Yerevan
This was quite the long Yerevan day tours guide and we hope that you have found something suitable to your travel desires! If you have any questions or suggestions for Yerevan day trips, please reach out to us. These are just some of the most popular ones… there are hundreds of others you could go on!
PIN IT FOR LATER!