Heading to a foreign country can be a challenge but, thankfully, in the age of smartphones, it can be a lot less stressful than it once was.  There are some essential Armenia apps for travel that we suggest downloading before your trip. Here is a list of apps in Armenia that will make your trip easier.
Armenia Travel Apps: 10 Useful Apps to Download Before Your Trip
Armenia is a country where tourism is on the brink of something big.  We are starting to see more and more interest in tourism development and that sometimes comes with travel apps that can make your trip easier and allow you to focus on the most important thing- enjoying it!
We have made a list of useful travel apps for Armenia travel.  We will continuously add to this list over time in order to give you the most up-to-date list possible so that you can prepare for your trip to Armenia before you're even on the ground there.
If you have any other suggestions or have recently developed an app yourself, definitely reach out to us so we can check it out and use it ourselves and hopefully get it added to this ever-growing list.
Armenia Taxi Apps
One of the most essential things to download before your Armenia trip is a taxi app.  We detail how to take a taxi in Yerevan here, but the one really important thing to note is that having an app really makes the process less of a nightmare.  The following two apps are our suggested ones to have on your phone prior to your trip:
GG Taxi
GG is an Armenian company and app.  They are highly recommended by locals and many Armenians will tell you that the cars are nicer and safer as GG has put higher standards on who can or can not drive for them.  We use them often and don't have issues.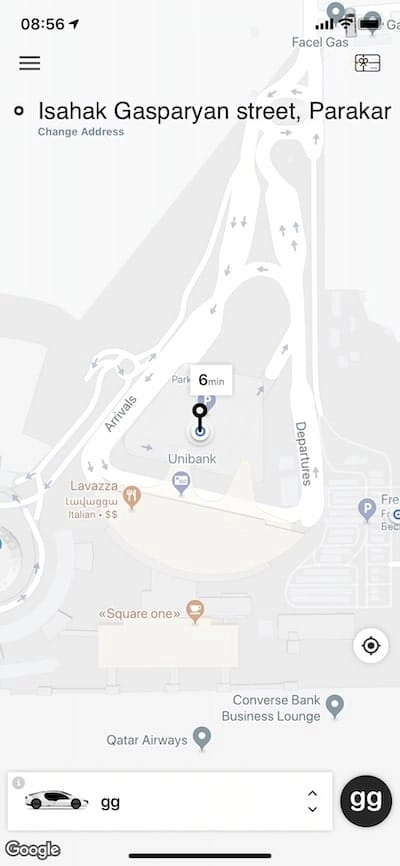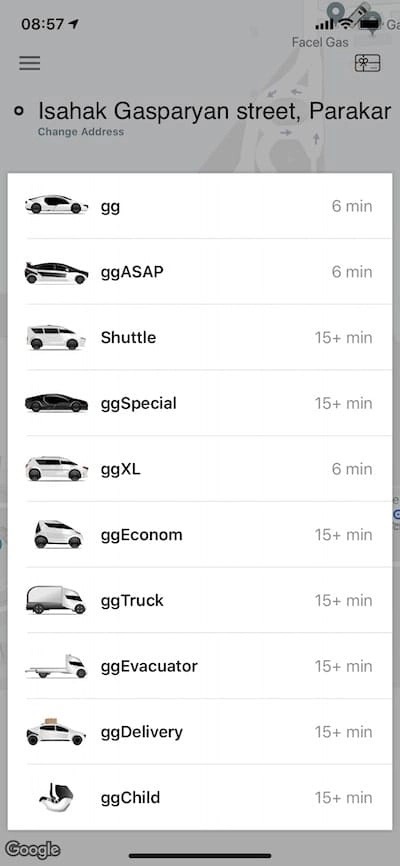 Pros:  Many people think that they have higher standards of vehicles and drivers.  The cars tend to be less smoky than Yandex. This is also an Armenian company.
Cons:  There are not often drivers available or you will have to wait a little longer.  This is particularly true if you're heading outside of Yerevan. As a foreigner, I also somewhat struggle to have the maps on GG fully download on my phone.
Click here to download on Android   | Click here to download on iOS
Yandex Taxi
Yandex is no stranger to those that have traveled in Eastern Europe, the Caucasus, and Central Asia.  The Russian company makes taking a taxi a breeze and this is the app I use. I use Yandex because the app simply works better on my phone and I can always find a taxi quickly.  No other reason.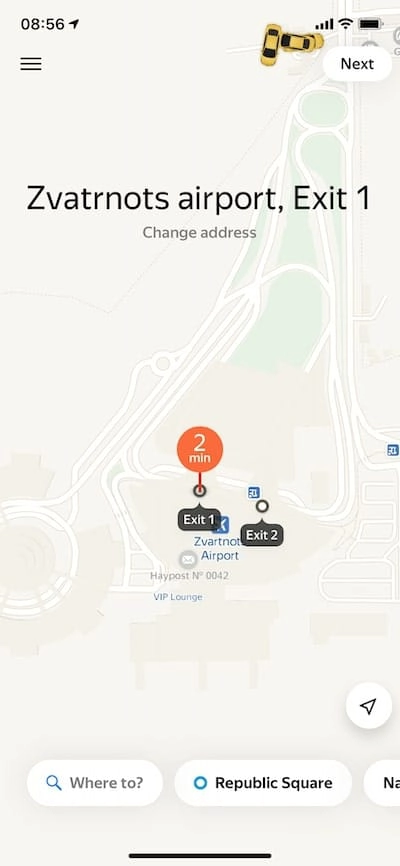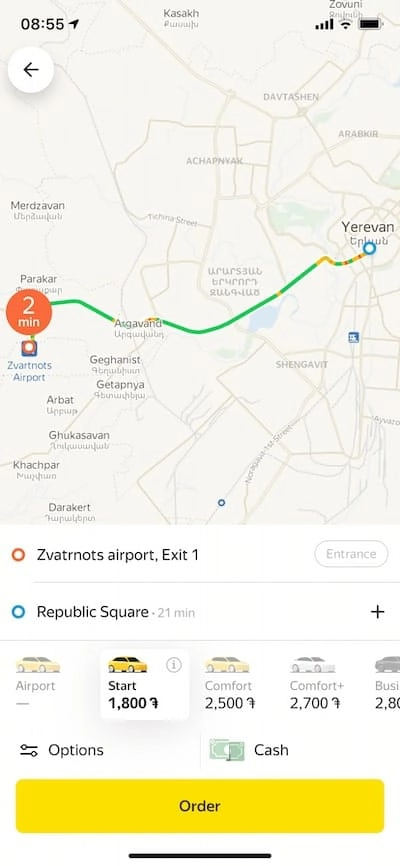 Pros:  Cars are almost always available with Yandex and they can drive you pretty much anywhere in Armenia where GG is only really easy to use in larger cities.  Yandex is also used in several other countries, so if it is downloaded on your phone, you can likely use it in other destinations on your trip (not in Georgia or Ukraine, however).
Whenever I have issues with a Yandex driver, I report immediately and the customer service is superb and handles it or refund me my money.
Cons:  Sometimes Yandex cars are old and the drivers clearly smoke in their car.  I also don't like that I can't, for whatever reason, use a card to pay for my taxis and I must carry around change at all times.  This may just be my bank though because no one else I know has issues.
Click here to download on Android   | Click here to download on iOS
Armenia Apps for Tourists
The next couple of apps are really geared toward travelers to Armenia.  Some of the Armenia travel apps on here are used by locals and just helpful for travelers.  These apps were specifically created to help give travelers a better experience in the country or in Yerevan, specifically.
HIKE Armenia
This is an absolutely brilliant app created to help outdoor enthusiasts share one of Armenia's best offerings- its insanely gorgeous nature!
HIKE Armenia has created a network of trails all throughout the country and you can find each and every one of them on their app.  It gives maps, trail details, and also notes the level of difficulty of each trail.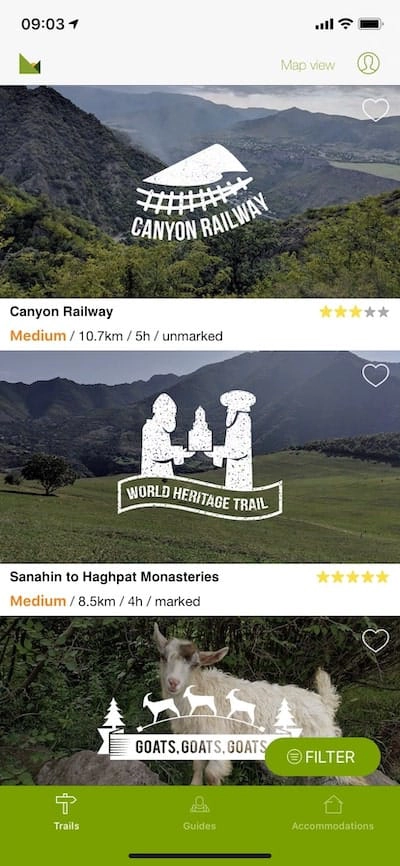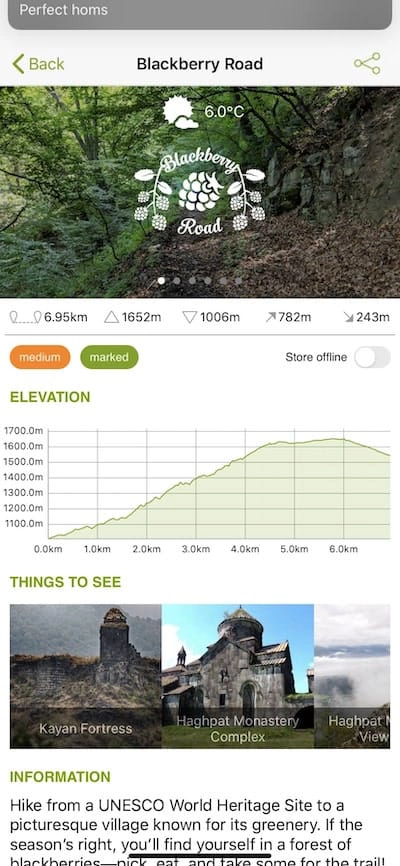 One of the best things about this Armenian travel app is that it also gives hikers the chance to find accommodation in villages with locals throughout their journeys.  This is helping develop tourism and provide jobs in villages and it is giving travelers a taste of one of Armenia's OTHER best offerings- hospitality.
If you are a nature lover or are keen to do a little bit of hiking in the Caucasian country, this is a must-download.
Click here to download on Android   | Click here to download on iOS
Yerevan Card
If you're visiting Armenia, one of the best things you can do is to purchase the Yerevan Pass, a city card that gives you insider access to so many places across the city- and often for free!
We use this card ourselves despite living in Armenia and it has been immensely helpful as it grants you museum access at no extra charge, restaurant discounts, and discounts on tours around the area- like visiting the Temple of Garni at a discounted rate.
An additional perk of the Yerevan Card is that it gives you a free taxi to Yerevan from Zvartnots Airport.  While this seems like such a minute thing, it is pretty crucial for those landing in the middle of the night and don't want to be screwed over by a taxi or don't have a SIM card to order one with the above taxi apps listed.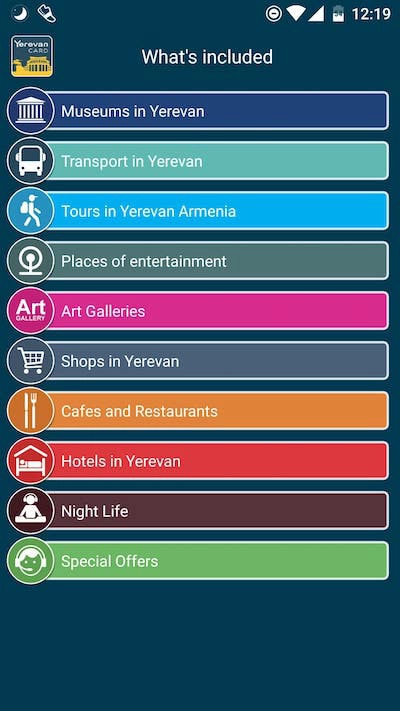 The Yerevan Card comes with an app for Android users that actually is pretty useful.  The Yerevan Card website is a bit chaotic but the app itself is clean and the formatting is easy to follow.  If you purchase the card, you will have access to all features on the app.
Getting Around Yerevan and Armenia Apps
If you're looking for how to get around Armenia easily, we would love to say 'Yes! There's an app for that!' but there really isn't.  At least not currently.  Or not one worth using (I tried the one that is currently out there and it is not really suitable for travelers).
Here are the two apps I recommend downloading for your trip to Armenia.  One can be used all over and the other is simply one for Yerevan Bike Sharing.
Maps.me
To be honest, people love Maps.me and I don't love it or hate it.  I usually use Google maps because I create maps that I also use on my websites, so it is just easier for me, especially since it syncs with my Google Drive.  But, if you're not a blogger, Maps.me is definitely the way to go.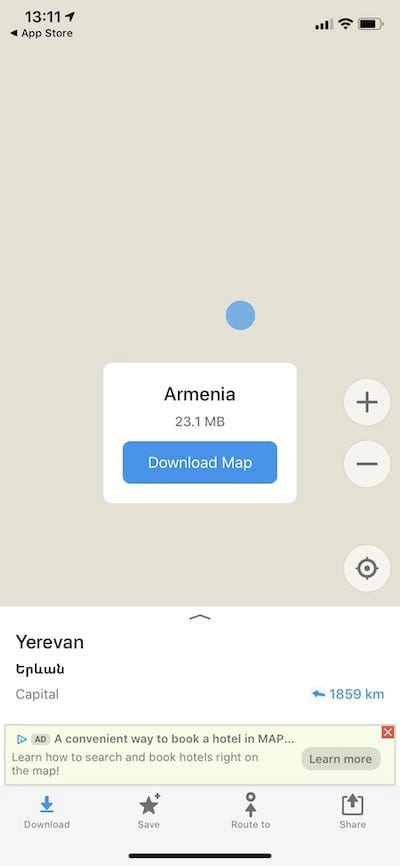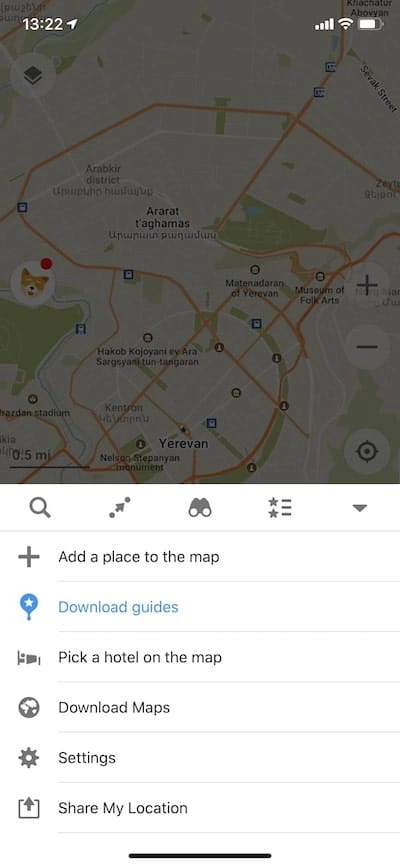 This maps app offers the option of downloading maps for destinations offline so that you don't need to be connected in order to use it.  It makes for much easier trip planning, trust us.  You don't even need an Armenian SIM card and can do this whenever you have a wifi connection.
Another great feature of Maps.me is that they have some guides for destinations within the app itself regardless of where you're using it in the world.  Many locals will recommend 2Gis, but I personally think Maps.me is far superior.
Click here to download on Android   | Click here to download on iOS
Yerevan Ride
The streets of Yerevan are not quite set up for cycling just yet, but we are getting there!  As bikes become more and more popular in Yerevan, we are happy to see bike-sharing apps, like Yerevan Ride, come into the market and offer an easier way to get around the capital city.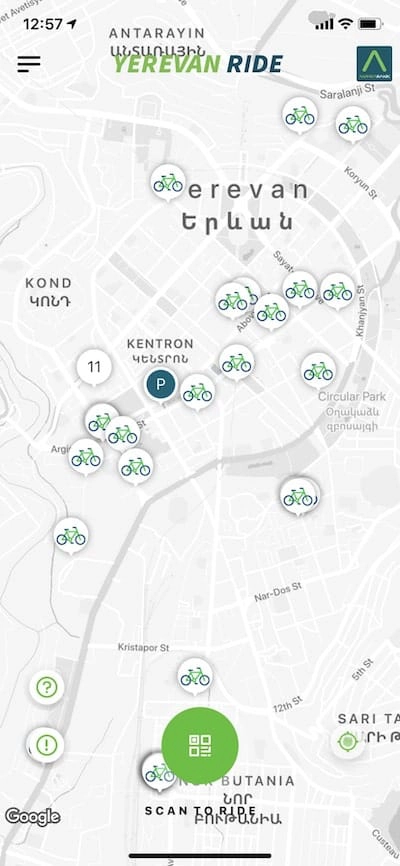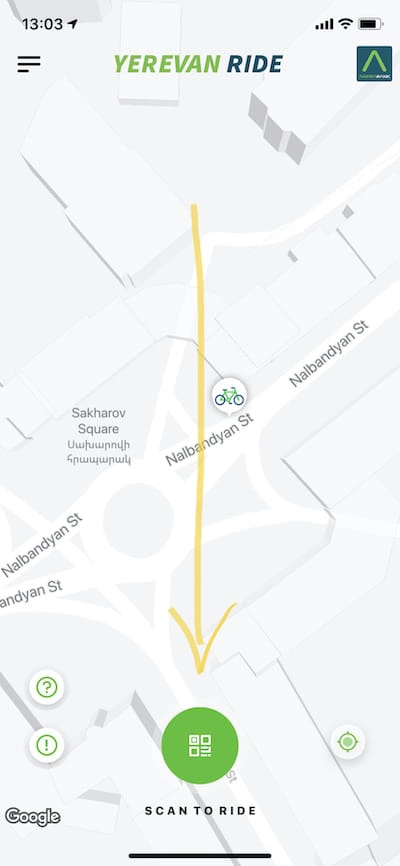 Yerevan Ride is a bike-sharing app that is merely in Yerevan for now but offers the ability to sign up with ease, see where bikes are located (or the hubs) in the city, and you will then scan a bike to reserve and use it.  It is really simple and similar to bike-sharing apps in the United States or Western Europe.
We look forward to seeing Yerevan Ride grow and more and more people using bike-sharing apps in Armenia!
Click here to download on Android   | Click here to download on iOS
Visit Gyumri
On iOS devices, you can download an app for the city of Gyumri.  While it needs a functionality update at the moment (I can't screenshot it although a few days ago I could), it is a stellar app that will help travelers passing through Armenia's second city.
The Visit Gyumri app has a lot of landmarks and sights in the city on it.  It will take you around in a walking tour of sorts and is a really useful Armenian app to have if you're visiting the city and looking for sights, food, and more!
 Click here to download on iOS
Miscellaneous Apps for Armenia
Xe.com
One of my favorite travel apps is xe.com.  I used to use their website to do currency conversions but when they came out with an app, I was smitten as I no longer had to struggle with numbers in my head.
My favorite thing about Xe.com is that I have many currencies floating in my head.  I use Euros and USD the most… mainly because I am part-time based in Germany where we use the Euro and mainly because I use a USD bank account for all online transactions.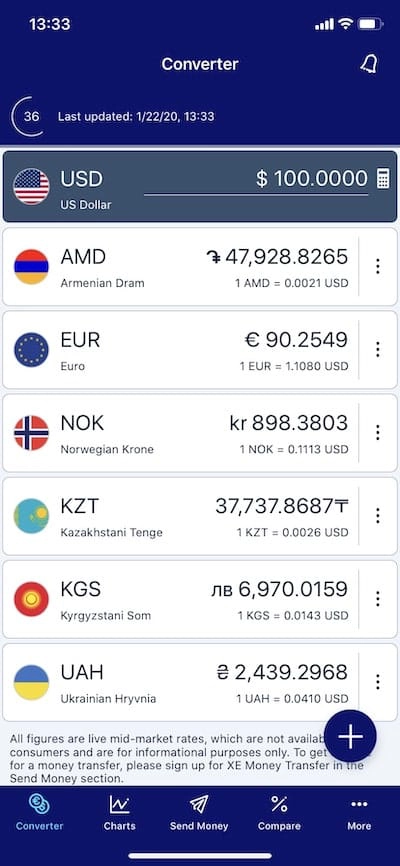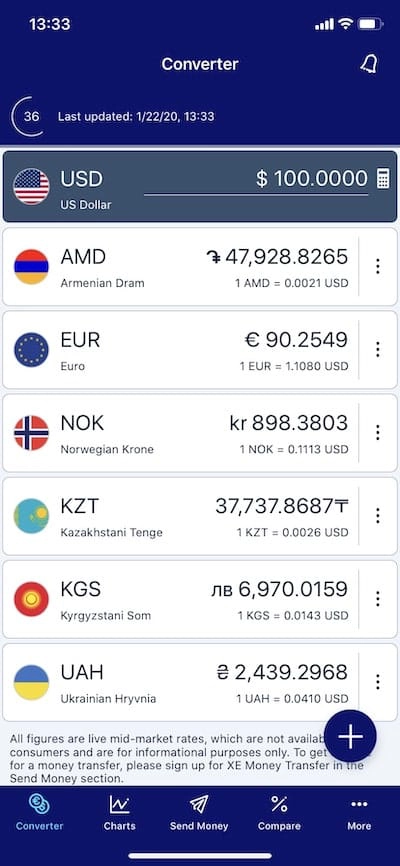 The Armenian Dram is not an easy number to work with.  It is about 500 AMD for every $1.  Xe.com keeps me in check with larger sums of money and makes sure that I know exactly what everything costs in my mind.  I highly recommend you download this app before going, too.
Click here to download on Android   | Click here to download on iOS
Menu.am
Armenian food is delicious (it really is one of my favorite cuisines on the planet and it is going up again Thai food and ramen, which says something) but there are some nights where I just don't want to eat out at a restaurant or where I want to eat somewhere that still allows smoking inside.
This is where Menu.am comes into play for me.  It is just like food ordering apps in other parts of the world and it is just as efficient and there are English options.  I
have ordered stuff to my hotel room before I got my own flat in Yerevan and I had no issues at all with the process.  It was extremely easy.  If you like ordering in after a long day of exploring, this is a great app to download.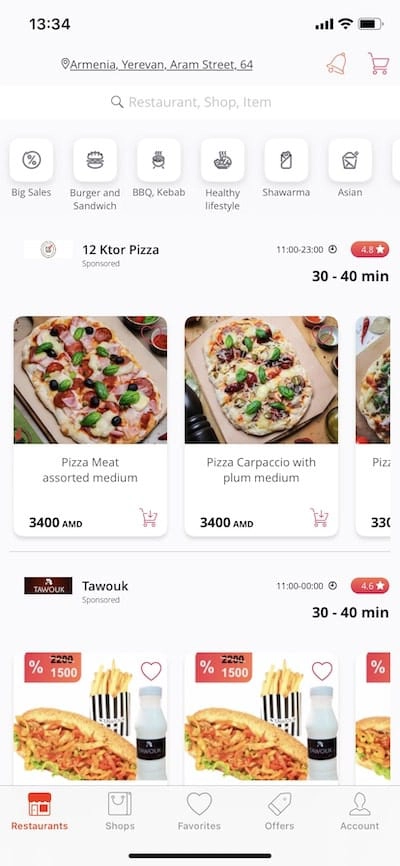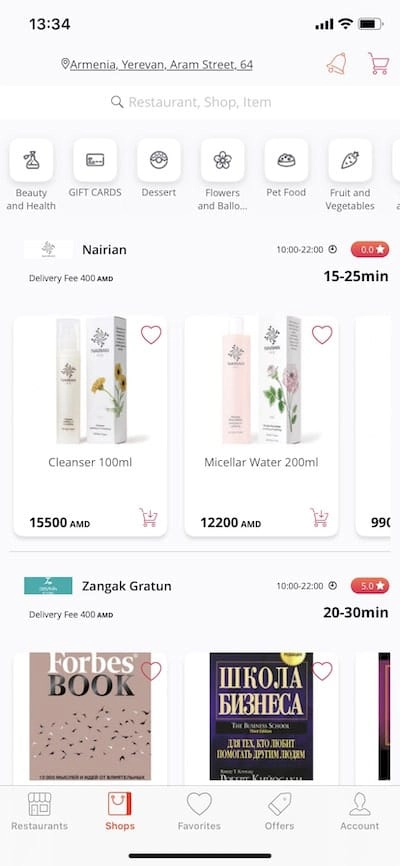 Also- you can order things that are not food-related here, like our favorite Armenian natural beauty products from Nairian!
Click here to download on Android   | Click here to download on iOS
AYOlingo
I am giving everyone a pre-warning now… the Armenian alphabet will frighten you when you first look at it if you've never seen it before.  I still can't easily distinguish all of the letters and I am pretty familiar with it.  It is like no other alphabet on the planet and until you see it enough, the letters will all look relatively similar.
While reading it may not come naturally for a traveler, speaking it is easier than you may imagine.  The words will have little correlation with the Germanic language, but if you can memorize a few, they are all quite phonetic and easy once you see how it is written in Latin.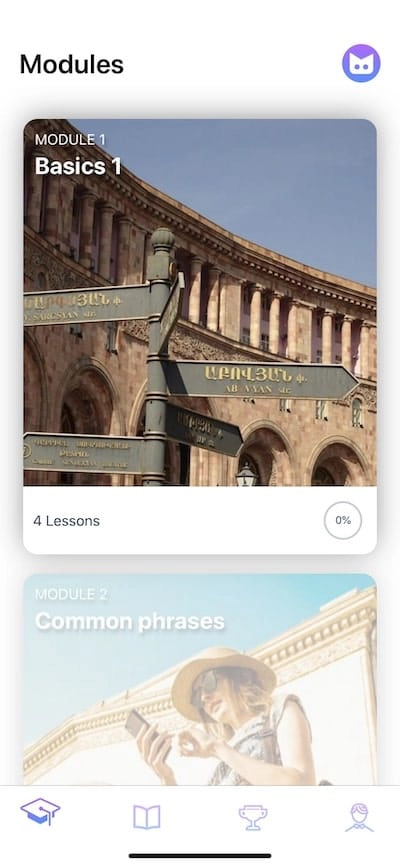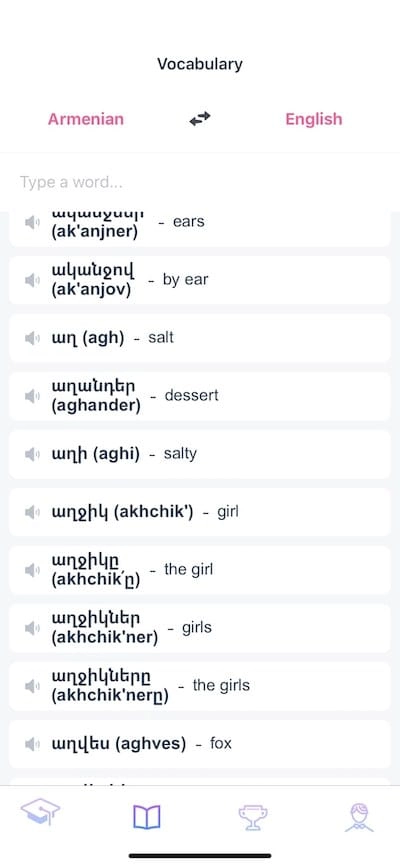 This does not mean you will be able to speak fluently or form sentences, but you can order water, say thank you, etc… with just a simple app.
There are not many great apps out there for learning the Armenian language.  But, this one keeps it simple and will help you get a little more familiar with it!  Good luck!
Click here to download on Android   | Click here to download on iOS
There are many useful apps to download before your trip to Armenia, but these are the ones we really recommend and think will be useful to you.  We will continue adding to this list as we find other useful Armenia apps or as ones are created and launched.
If you know of any other apps we can add to this list- please send them our way by email or leave a comment below.