The Temple of Garni is one of the most famous sights in Armenia.
This is a guide to the Temple, including things to do in Garni village and its surrounding area. It also includes where to stay, eat, and more!
If you have questions or your own tips for Garni, please drop them in the comments for us!  Thanks!
Things to Do in Garni
The best thing about Armenia is that many amazing, historical sights are not far from the capital city of Yerevan and the other larger cities in the country.
The Kotayk province is one of the places that is nearby to Yerevan and it contains amazing historical and cultural monuments that the province inherited from the Pagan to Christianity eras.
The Temple of Garni is the gem of that era.
Garni village is about 30 kilometers away from Yerevan and it is easy to reach by public transportation or by hopping in a taxi in Yerevan.
The village has many restaurants, seasonal cafes right on Garni Gorge, other places to score delicious food, and heaps of hospitable locals.
If you have any tips on what to do in Garni, please leave them in the comments section below.  Thanks!
Visa for Armenia
Do you need a visa for Armenia?  Not every nationality can enter Armenia visa-free just yet (soon, we hope!) even though there are many passports that can.
If you're looking to get a visa for Armenia, we highly recommend using iVisa.
They will arrange everything for you and make the process extremely easy.  They are a very reliable service!
>> Click here to get your visa for Armenia
How to Get to Garni from Yerevan by Bus
The bus station where the minibusses go to Garni from Yerevan is located outside of Yerevan's city center at 14/3 Gai Avenue next to the Mercedes-Benz (Armenia) at Gai Bus Station.
The ride is approximately 250 AMD (Less than $1) per person and it lasts 40 minutes.  The minibus number is 266.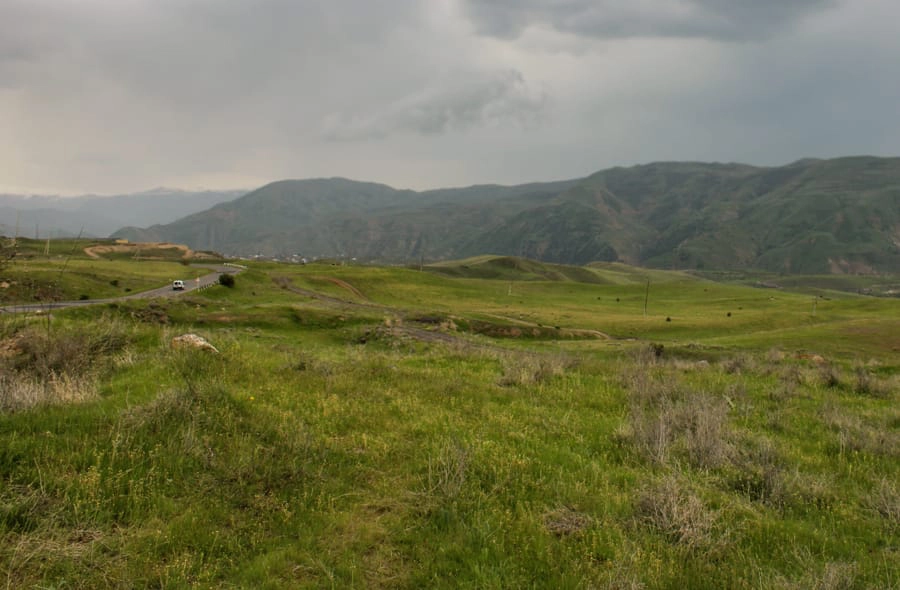 Renting a Car in Armenia
Alternatively, you can also rent a car and drive to Garni yourself.
I highly suggest renting a car if you're going to be in Armenia traveling around.  The roads are getting better and there is never much traffic outside of Yerevan itself, so we think that Armenia makes for a fantastic road trip.
>> Click here to rent a car in Armenia
Tours to Garni
There are quite a few tours that will take you to Garni easily.
Most of them are combining the Temple of Garni with Geghard Monastery, a nearby UNESCO World Heritage Site that is actually a church built into the rock in the side of the mountain and is totally worth seeing when you visit Garni.
Here are some of our recommended Armenia tours to visit Garni:
Private Tour to Garni, Geghard, Echmiadzin, & Zvartnots:  This tour will take you to the two monasteries as well as the holy city of Etchmiadzin and the nearby Zvartnots Cathedral ruins.  All places are definitely worth the visit when you're in Armenia!  Click here to inquire about tour availability and rates.
Garni, Gegard and Lake Sevan Day Trip from Yerevan:  This tour is fantastic because you can see both of the monasteries in addition to one of the prides of Armenia- Lake Sevan.  The lake is gorgeous no matter what time you visit it during the year and we highly suggest adding it to your Armenia itinerary.  Click here to inquire about tour availability and rates.
From Yerevan: 4.5-Hour Garni-Geghard Tour:  If you're just seeking to see the two monasteries and that is it, then this is the tour for you.  It only lasts a short amount of time but that duration is long enough to see and educate yourself about both temples.  Click here to inquire about tour availability and rates.
No matter how you get from Yerevan to Garni and no matter whether you add other stops on your tour or itinerary, it is definitely a worthwhile day trip to take.  Garni and the Temple of Garni is one of Armenia's highlights.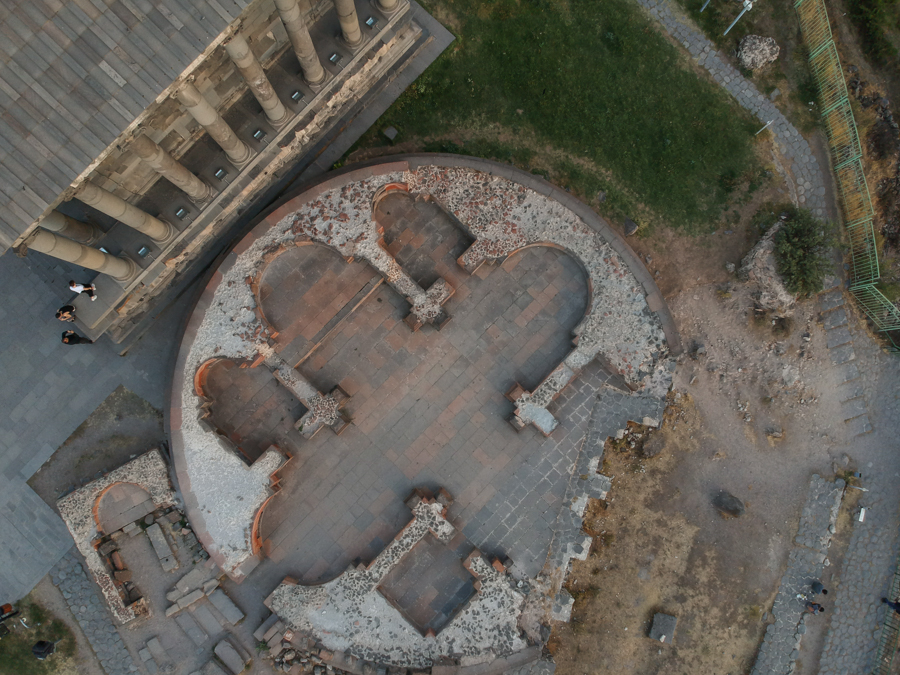 Below are some of the best things to do in Garni village – from the temple of Garni to the Symphony of Stones and more!
Visit the Temple of Garni
Being the first Christian nation, Armenia has several amazing churches with old, mesmerizing architecture.
However, before Christianity entered this small Caucasian country, the nation had a rich history with traditions that believed in many Gods and Armenia practiced paganism.
The only example of Armenia's paganism in the region is the Temple of Garni.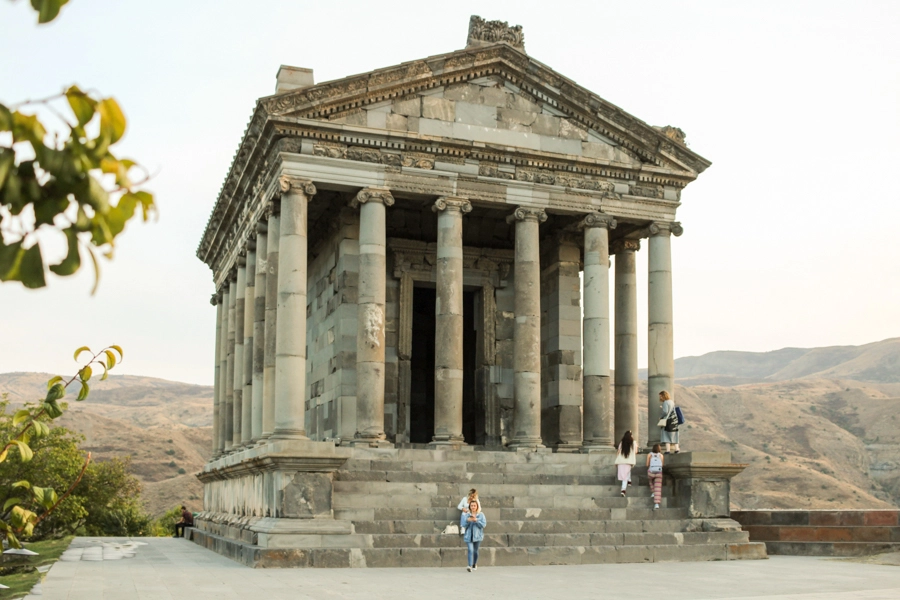 Garni Temple History
Many people are curious about when the Temple of Garni was built.
The Greco-Roman style building and monument was erected approximately in the middle of the 1st-century AD by King Tiridates I to honor the ancient Pagan God of Sun, Mihr.
The Temple of Garni is located in Garni village right on the edge of Garni Gorge because this is where the kings and queens enjoyed their rest as it was used as a summer holiday house.
Surrounded by mountains, a gorge, caves, and breathtaking nature, the Temple of Garni historical sight is truly a gift from the ancient world to us.
Garni Temple Architecture
The architecture of the Temple of Garni is an ancient, classical Greek style that is often associated with the 7th-century BC.
This particular construction had the influence of Armenian ancient architecture and was closely aligned with Hellenistic art.
The temple has a peripheral design that basically is a building that has a single row of pillars on all sides, similar to the style of the temples of ancient Greece.
Garni Temple Facts
No one knows the former name of the Garni Temple, interestingly.
In 1679, the temple was destroyed by a strong earthquake and then ended up renovated again only in 1966-1976.  The word Garni comes from the Armenian word "gar", which means a lamb.
Next to the pagan temple of Garni there is are ruins of the Christian church from the 7th-century. In addition, the construction is recognized by UNESCO.
These days, the Garni Temple is used for various events and was even the site where Acid Pauli, a Berlin DJ, performed a concert.
Garni Temple Entrance Fee and Working Hours
The Temple of Garni is open year-round and operates from Monday-Sunday.  It is open during the summer from 10:00-21:00 and during the winter from 10:00-17:00.
Below are the ticket prices for the Temple of Garni:
Children: 100 AMD
Adults: 250 AMD
Foreigners: 1000 AMD
If you're interested in taking a day trip tour to see the Temple of Garni in addition to neighboring Geghard, you can inquire about a tour here.  You can also combine your trip to Garni and Geghard with a two-day tour that will take you to both in addition to hiking Azhdahak.  You can find out more information about this tour here.
See the Symphony of the Stones in Garni Gorge
Spanning the edge of Garni village is the dramatic Garni Gorge and it offers amazing landscapes and bird-eye views over the crevice.  The Azat River flows between the cliff and separates the side where the village sits with the other side where the mountains erect from the Earth.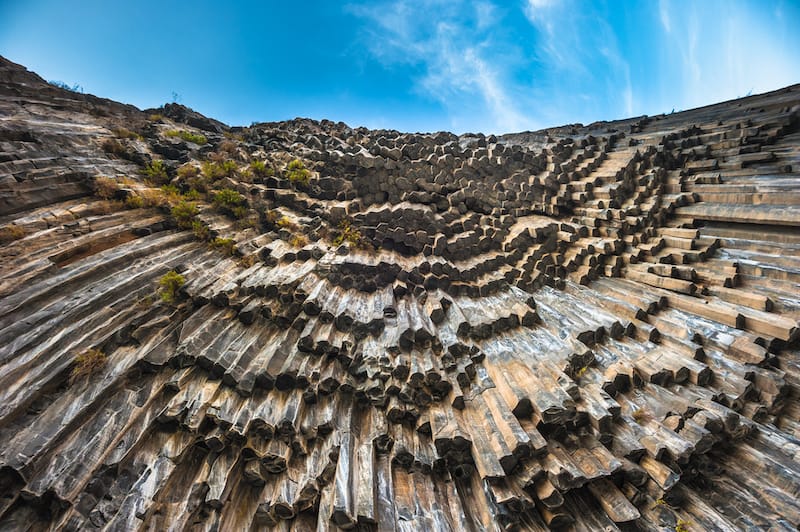 Garni Gorge contains a very unique natural wonder which is referred to as the Symphony of Stones or the Basalt Organ.  The basalt columns are mostly covering the opposite side and have a long, asymmetrical shape as if they were carefully drawn by hand.
The newly renovated road that is passing alongside the Symphony of Stones in the gorge will help you observe the natural wonder far easier than before.
Marvel at the Arch of Charents
This little but impressive arch was built in 1957 in memory of famous Armenia poet, Yeghishe Charents, who praised Armenia in one of his most notable poems.
As a result, this arch has his famous quote about Armenia engraved on it for the world to see.
The reason this arch is so worthwhile is that the view from it is stunning during any season and frames epic shots of the rugged Armenian landscapes.
The Arch of Charents is located at the end of Voghjaberd village on the way to Garni on the right side of the road.  Definitely attempt to make a stop there and grab some photos.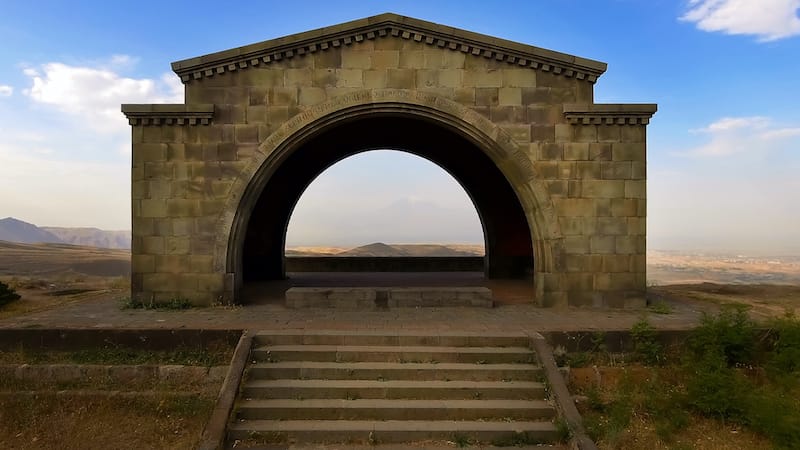 Explore the Caves of Voghjaberd
Natural wonders saturate the Armenian landscape and many of them are not easily noticeable or you may accidentally overlook them during your trip.
The Voghjaberd Caves are one of the places that you may pass on your way to Garni and not have the opportunity to hike and rock climb to the spectacular sight.
According to history, people used to live in the caves during the 12th-14th centuries and they even built these caves as places to house people.  They are simply remarkable and worth a visit.
The caves are located at the back of Voghjaberd Village on Mount Voghjaberd on the way to Garni.
Go to Azat Reservoir
On the way to Garni from Yerevan, there is an opportunity to visit the Azat Reservoir.  While this is no easy feat, it is still possible.
Surrounded by a colorful range of mountains that change colors depending on the sun's rays, the reservoir is like an azure glowing surface between the rocks where the time stops at dusk.
The Azat Reservoir can be reached from Garni Gorge by following the Azat River that flows through the crevice or from Garni road with a 4×4 vehicle (or bike).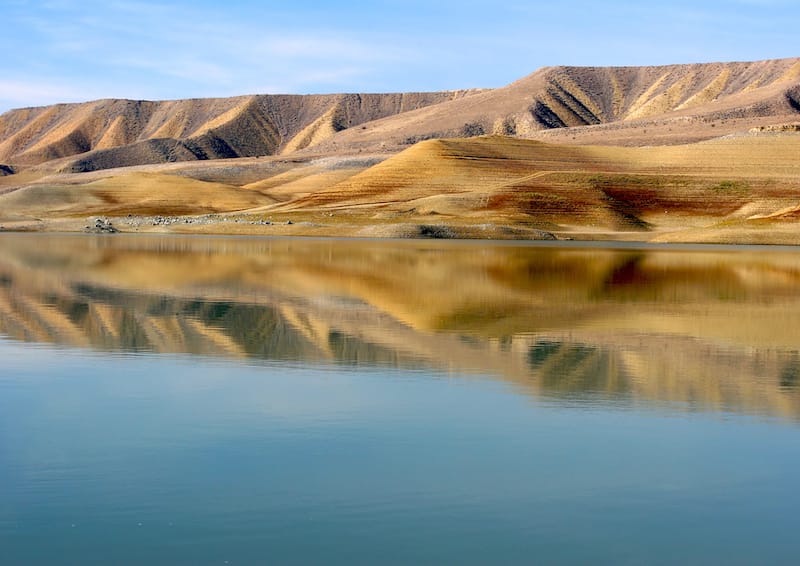 Hike to Havuts Tar Monastery Ruins
For nature lovers and those who love to hike a bit, the trek to Havuts Tar Monastery is the ideal opportunity to see the mountains from up close and in a way that allows you to enjoy the isolated, harmonious environment of the monastery and its ruins.
While the hike can be rather challenging for beginners, it is actually not labeled as being too difficult if you prepare for it.
Havuts Tar Monastery is located on the left side of the Azat River.  The XI-XIII century monastery will amaze you with its architecture and history despite it being left in ruins.  The views are not bad either!
Check Out Geghard Monastery – a UNESCO World Heritage Site
There are so many churches and monasteries in Armenia with astonishing architecture, but Geghard might just take the cake.
This UNESCO World Heritage Site is located in a heavenly area close to Yerevan and Garni Temple and the structure might just be one of the most obscure and unique pieces of architecture in the world as the monastery is built into the rocks of a mountain.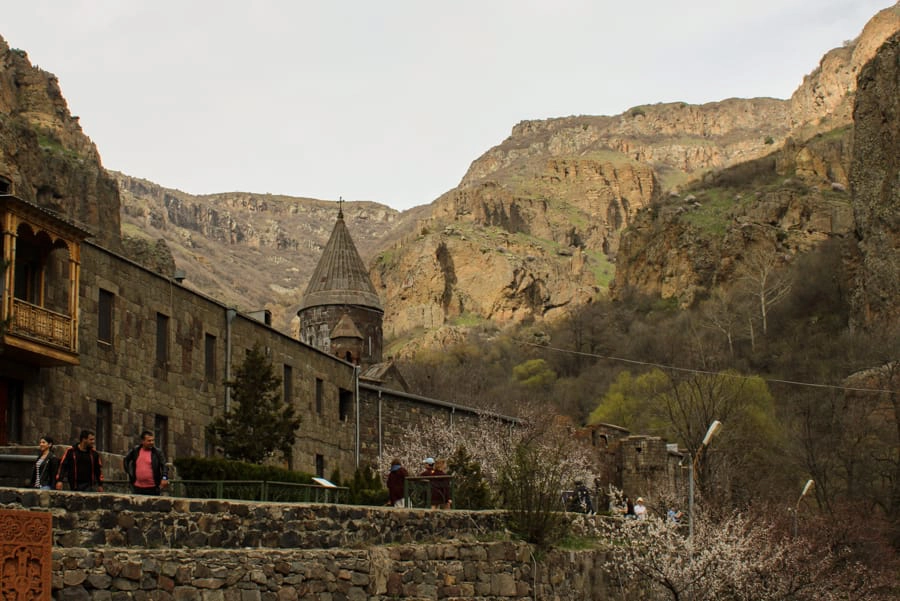 The Azat River flows beside the church and there is amazing nature, an old bridge, and several caves, making the entire area around Geghard Monastery especially wonderful.
From outside of Geghard Monastery, it just seems like a typical Armenian church.  Once you enter inside of the church, you will realize how special the religious sight just is.  The 4th-century monastery complex definitely deserves to be added to your Armenia bucket list.
To get from Yerevan to Geghard Monastery Complex, take bus 22, 26, or 36 or minibus numbers 9, 69, or 73 from the Gai Bus Station.  The cost of a ticket is about 250 AMD.
To reach Geghard from Garni village, you can take a taxi for around 250 AMD.  The opening hours for the monastery are 0800-2000 and the entrance is free.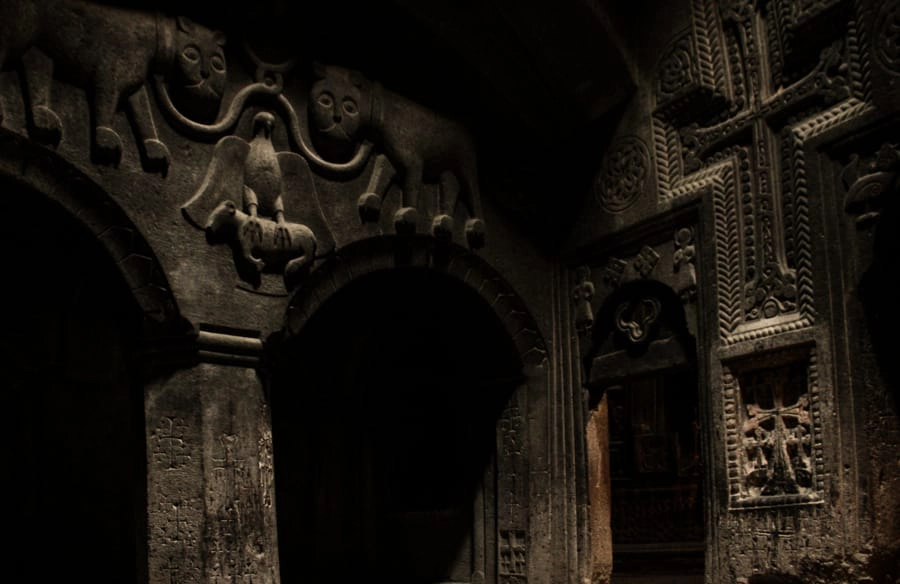 Visit Khosrov Forest State Reserve
Located mostly in the Ararat province, the Khosrov Forest State Reserve borders Garni Gorge and if you're a nature lover, this fantastic forest is a great place for active travelers like you.
Originally, the Khosrov Forest has a history of over 1700 years and was used as a hunting forest for the kings of Armenia.  It contains half of Armenia's flora which is pretty remarkable in its own right.
Khosrov Forest is a great place for those looking for some nature therapy.  You can even join a wellness tour through Armenia and the forest is included in the itinerary.
>> Click here to inquire about this wellness tour
Explore the Depths of Noah's Garden
Right before you enter the Temple of Garni is a super interesting place to visit before or after you head to the temple.
Noah's Garden is a cultural exhibition and store where you can see several open-air workshops on lavash baking, carpet making, and much more!
The venue also has a beautiful souvenir shop and open-air restaurant where you can try traditional foods like Armenian BBQ (khorovats) cooked right in front of your eyes.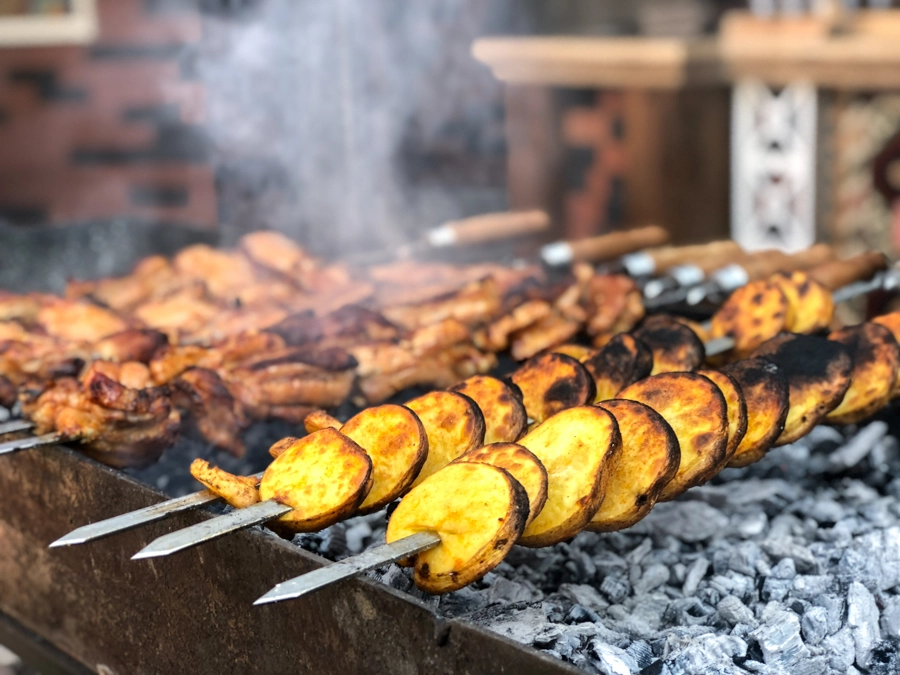 You also will have the chance to taste brandy, local wines, Garni's famous gata sweets, and many other beverages.  Try your hand at making your own sweet sujukh if you have the time.  Click here to read more about Noah's Garden in Garni.
Enjoy One of the Restaurants in Garni
There are several places to eat in Garni.
Our two favorite places are Noah's Garden, the complex we described above, or 7 QAR, a restaurant and hotel that offers some of the sickest views of the Temple of Garni and the Garni Gorge.
Below are some photos of our time at 7 QAR: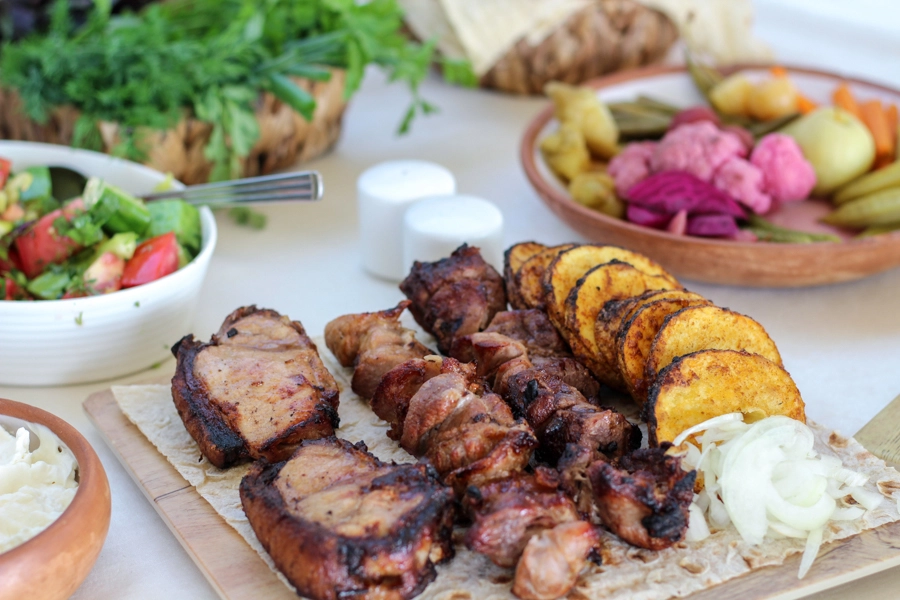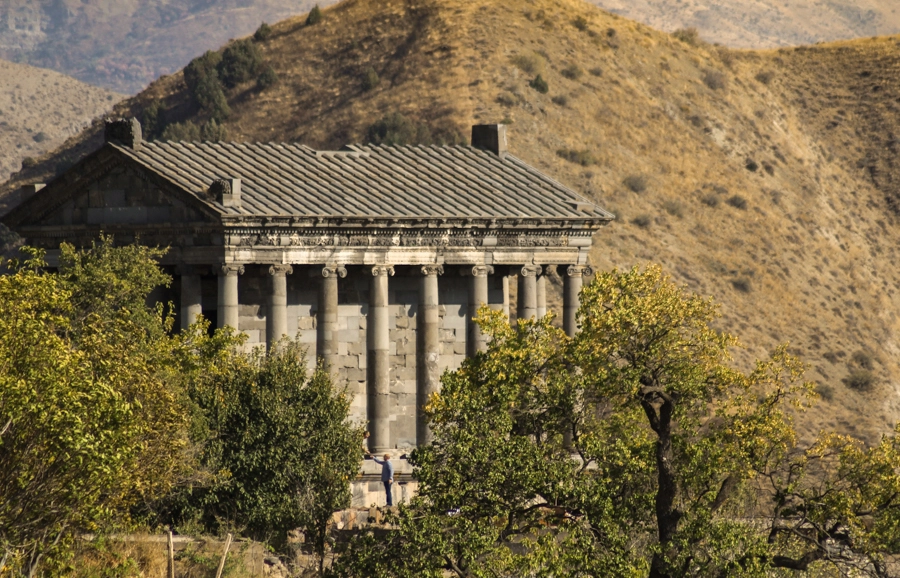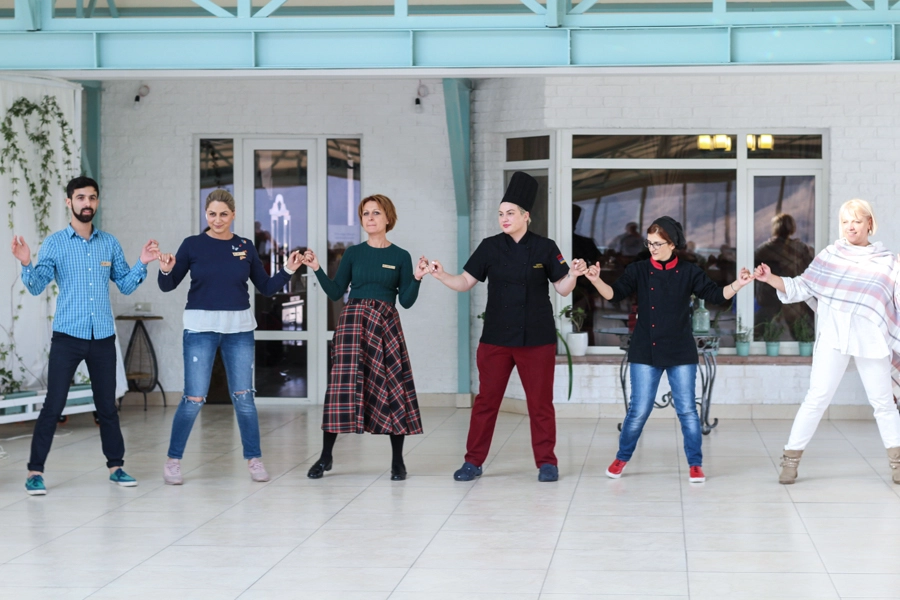 They had a delicious Armenian BBQ and there was some fun Armenian dancing taking place too by the staff.
Some other highly recommended restaurants are Mer Ojakh, Restaurant Sergey Gabrielyan, Garnitoun Hotel Restaurant, and HyeLandz Eco Village Resort.
Where to Stay in Garni
We don't typically stay in Garni when we go there because we have a place to crash in Yerevan and it is so close to the capital city.
Top Hotels in Garni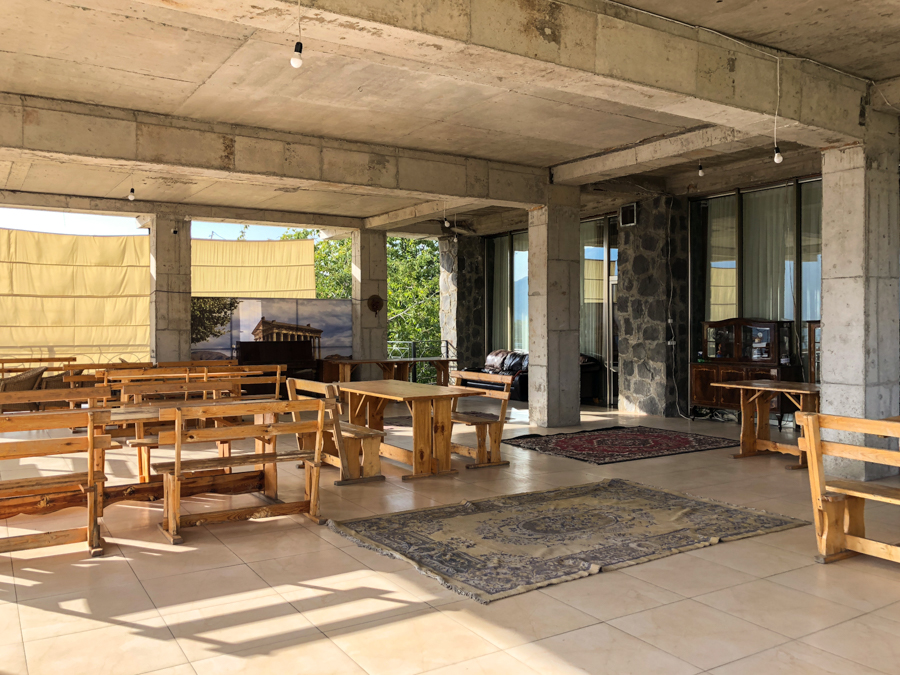 Where to Stay in Yerevan 
If you're looking to crash in Yerevan and just venture to Garni as a day trip, there are a plethora of places to stay in Yerevan.  Here are our three top picks for all budgets: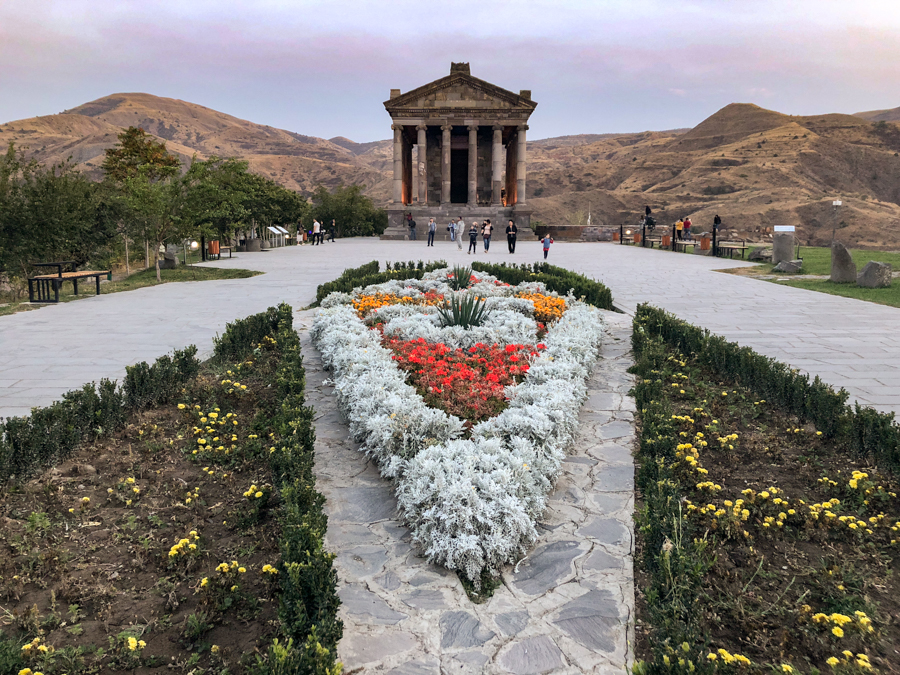 A trip to Garni is a great way to add history, culture, and nature to your Armenia trip.  It is an easy day trip from Yerevan and you will find excellent food and views while there.
Please let us know if you have any additional questions!