There are several fantastic places to visit in Armenia, but perhaps none are as renowned during the winter as Tsaghkadzor, the country's ski capital.
This is a guide to things to do in Tsaghkadzor, including places to eat and cultural events happening throughout the year.
If you have any suggestions for what to do in Tsaghkadzor (any time of the year!), please leave us a comment!
Things to Do in Tsaghkadzor
One of the best things about Armenia is that nature is so close to the main cities, especially the capital of Armenia- Yerevan.
Within an hour from Yerevan, it is possible to find yourself in the middle of gorges, mountains, forests, and lakes.
All of these places present opportunities to witness Armenia's magical nature, history, and culture.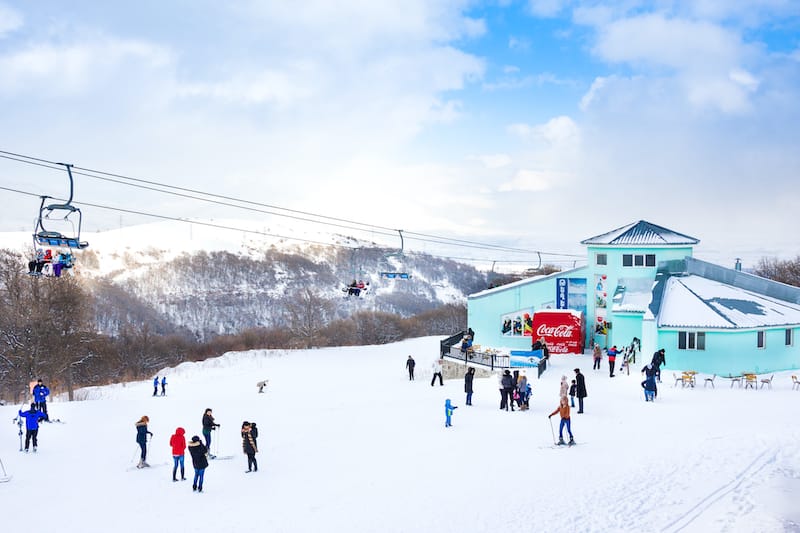 One of the best day trips from Yerevan is undoubtedly Tsaghkadzor, a spa and resort town that has become famous for its winter activities, especially skiing.
This guide will show how to get to and things to do in Tsaghkadzor, Armenia.
About Tsaghkadzor
Tsaghkadzor, translated, means ''Gorge of flowers'' and it truly deserves the name because during spring, Tsaghkadzor is covered with lush, green forests and flowers and the views are just mesmerizing.
The Tsaghkunyats Mountains surround the cozy town.
The town of Tsaghkadzor is one of the most famous health resorts in all of Armenia along with Jermuk, Arzni, Bjni, and Aghveran.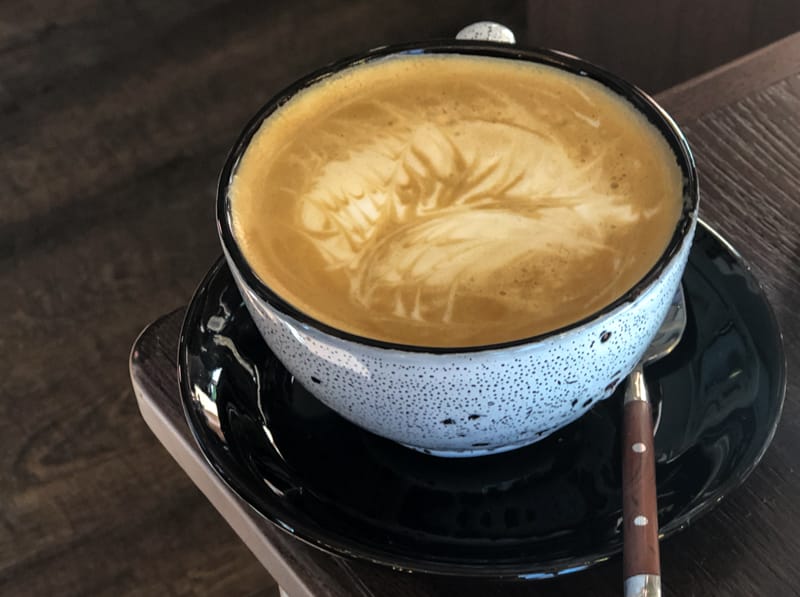 Best Time to Visit Tsaghkadzor
The most popular season to visit Tsaghkadzor is winter because of the famous ski resort which is the biggest in Armenia and attracts tourists and professional athletes from all around the world for skiing and snowboarding.
Located 50 kilometers away from Yerevan, Tsaghkadzor is one small but magical place in the Kotayk region that will surprise travelers and tourists in any season.
Therefore, the best time to visit Tsaghkadzor is whenever you can get there!
Historical Things to Do in Tsaghkadzor
See the Monument of Leonid Yengibarov
One of the greatest artists and circus clown performers in Armenian history was Leonid Yengibarov. He is still famous today due to his amazing skills and performances.
In memory of Yengibarov, you can find a statue of him in Tsaghkadzor.
You will find his umbrella statue on Flower (Tsaghkunyac) Street in Tsaghkadzor. Don't forget to photograph it!
Visit Kecharis Monastery
Located in the northern part of town, the unique church was erected at the beginning of the 11th-century and is considered one of the historical gems of Tsaghkadzor.
It is a well-kept facility surrounded by beautiful mountains and ancient cross-stones (khachkars).
Kecharis Monastery is a great place to get in touch with the history of Tsaghkadzor.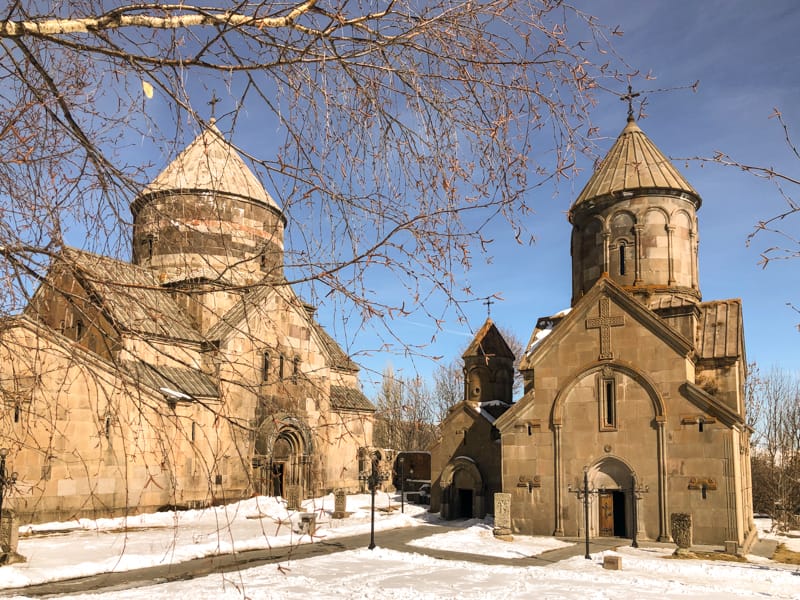 There are two churches in the complex- the St. Gregory the Illuminator is the first one.
And next to it is St. Nshan Church, dating back to the first half of the 11th-century.
In front of Kecharis Monastery, you can see a little hidden, 13th-century church called Holy Resurrection.  It is surrounded by trees.
Cultural Things to Do in Tsaghkadzor
Visit the Orbeli Brothers' House Museum
Tsagkhadzor has quite a few famous people coming from it and the Orbeli brothers are some of those people.
Coming from the renowned 12th-century scientist family dynasty, the Orbelis always played a role in the scientific research and breakthroughs of Armenia throughout the decades.
There are few names as well-known as the Orbeli brothers in Armenia.
Levon Orbeli was elected as the first president of the Academy of Science of Soviet Armenia in 1943.
To make your visit more memorable and to learn something new, you can visit this interesting museum and see their personal items, work artifacts, and much more from their 19th to 20-century scientific exponents.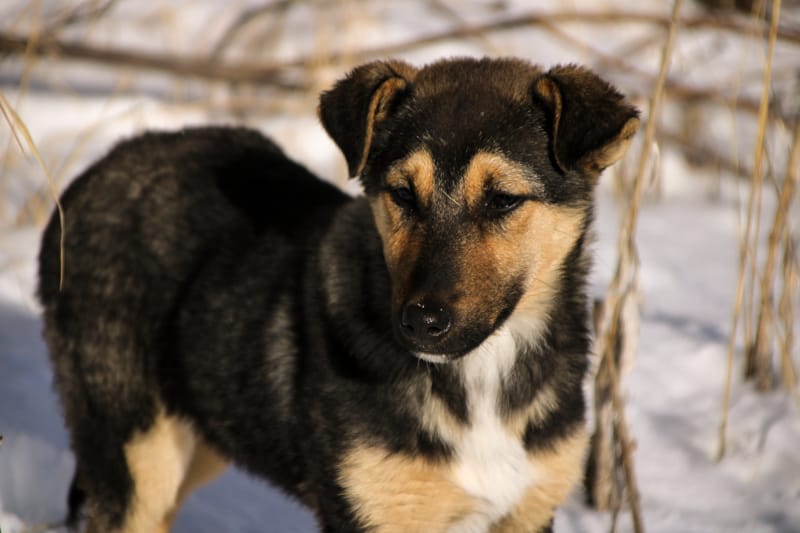 Go to the Tsaghkadzor Open International Chess Tournament
As many of you know, Armenian love to play chess and it's a well-developed sport in this little country.
So much that it's part of the education in schools as a subject.
We take chess really seriously and that is why we have produced many world champions throughout history.
Each year, participants flock to Tsaghkadzor for the Tsakhkadzor Open International Chess Tournament.
The players are chosen from hundreds and span across 20 different countries.
If you are a chess lover, Tsakhkadzor is waiting for you during this time.
The tournament has different dates each year and you can follow up and see more here.
Winter Activities in Tsaghkadzor
Winter activities are one of the main and largest attractions in Tsaghkadzor with hundreds of thousands of tourists and locals annually coming to Tsaghkadzor to enjoy this mountain spa resort.
It's the perfect place for professionals and beginners to master their skills or learn how to slide on a snowy mountain, all while enjoying the picturesque Armenian scenery.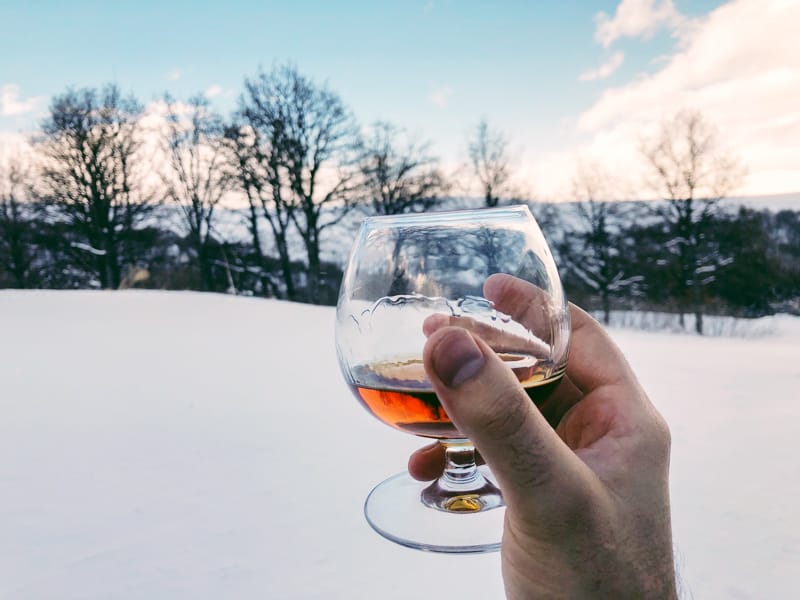 After our most recent Tsaghkadzor trip, we definitely can confirm that the treks are worthwhile and have a fantastic, well-kept appearance where it is possible to enjoy winter sports in Armenia to the fullest.
In addition, it is possible to rent all the necessary equipment right on the spot if you are a beginner or traveling light.
Take to the Slopes at Tsaghkadzor Ski Resort
Located almost at the top of Mount Tanegizon at an altitude of 1840m, Tsaghadzor Ski Resort is one of the best ski resorts in Armenia and even in the Caucasus.
Since the Soviet Union times, it was a beloved place for tourists from hundreds of countries, even today.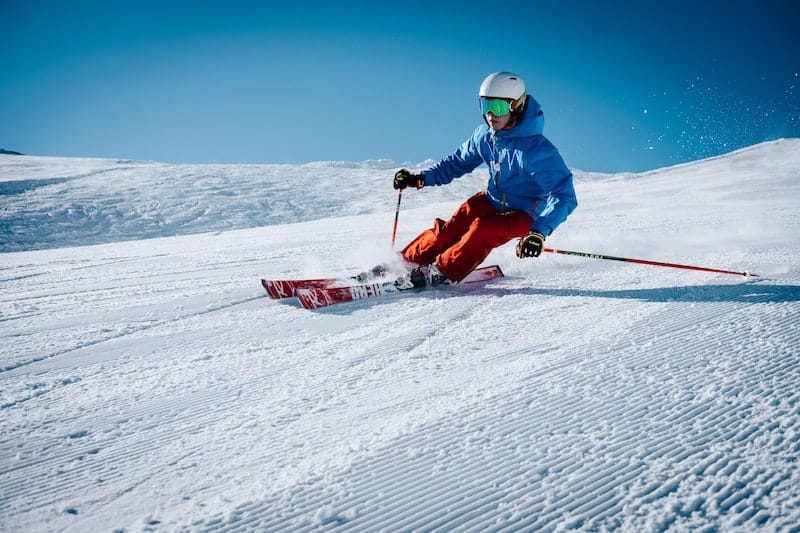 In the resort area, it is possible to organize your perfect Armenia winter vacation where you can ski, snowboard, sled, and ride on snowmobiles.
The resort has free transportation that will take you from the right next to the ropeway.
Ride the Tsaghkadzor Ski Lift
It's impossible to not take the cable car up to the mountain when you are visiting Tsaghkadzor because that's the main attraction there.
The famous chairlift goes all the way up to five stations and meets international standards.
The last station is situated on Mount Tanegizon at an elevation of 2819 meters.
Skiing down the mountain's wide and well-maintained slopes is an unforgettable feeling.
The ski lift was established in 1967 and has been working since after major repairs and updates to adhere to world standards and quality.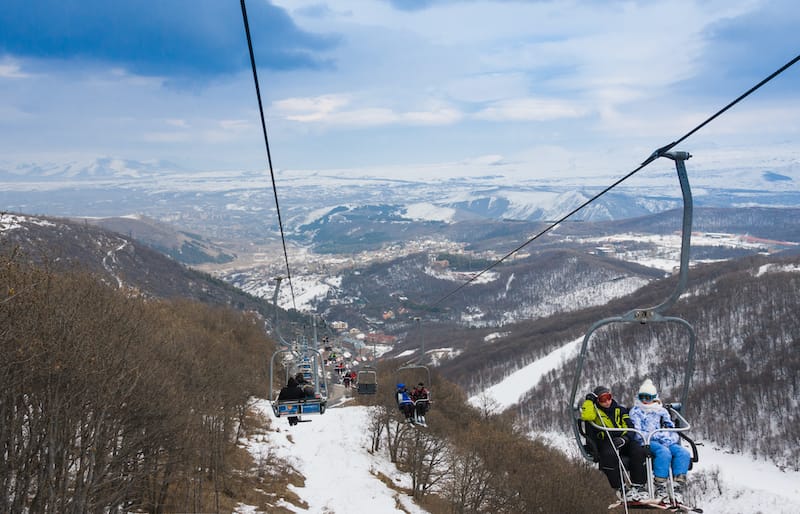 Each station has a bar-cafe, first aid station, and various fun attractions. All equipment is modern and top-quality.
From the top of the mountain, there is a magical view to Mount Ararat and all winter sports lovers need to take a ride on the Tsaghkadzor ski lift.
For more information, including ticket prices, visit their website.
Fun Activities in Tsaghkadzor
Tsaghkadzor is a fun place any time of the year, but especially in winter.
It is possible to zipline from the central park, go skiing and snowboarding, drive four-wheelers, hike in parks, and enjoy the beautiful nature that surrounds the spa town.
Get Wild at Tsaghkadzor City Park (Action Park)
Located near Kecharis Monastery complex on a hill, Action Park is a really fun and action-packed (hence the name) park full of various attractions.
The inclined park has a virtual reality simulator game, laser shooting game, bicycle paths, trampolines, cafes with jaw-dropping views, and a zip line.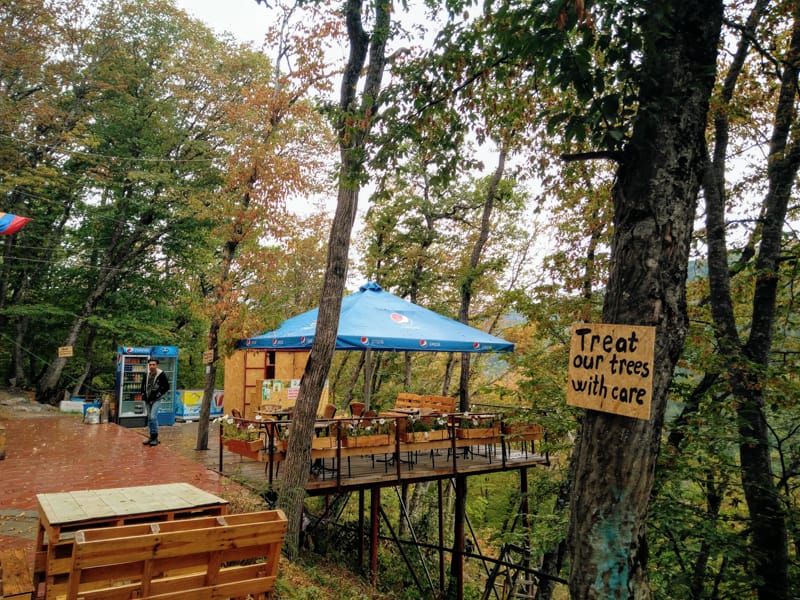 You have to visit this park and walk all the way up to the cozy cafe where is possible to enjoy your coffee or tea while watching how snow-covered mountains shine under the sun.
Tsaghkadzor Restaurants, Bars, and Cafes
Craftsmen's Tsaghkadzor Restaurant House
A lovely new place has opened in Tsaghkadzor and it has already become one of the beloved spots in the town.
Craftsmen's Tsaghkadzor Restaurant House is a one-of-a-kind restaurant that has local and international cuisine selections, the coziest of atmospheres, and stunning interior design.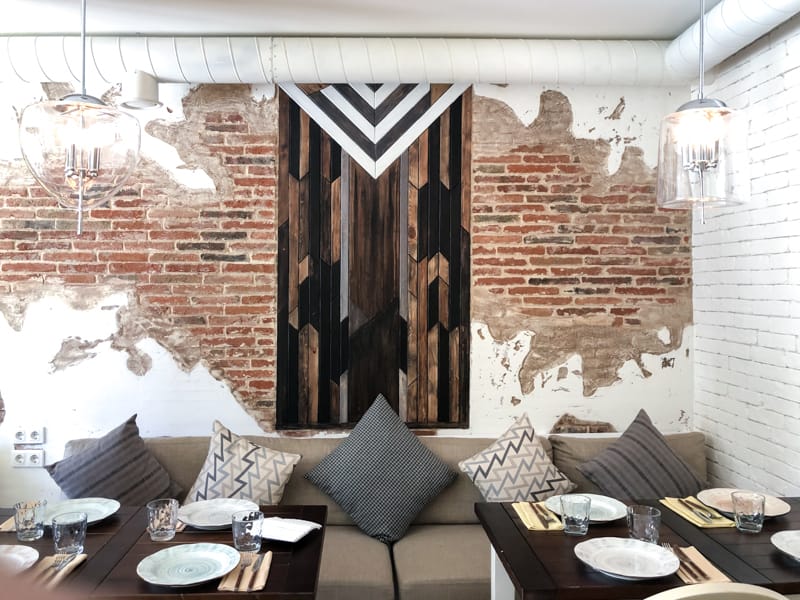 The summer terrace will definitely grant you with awe-inspiring mountain views and is another great perk of the restaurant.
Craftsmen's is open year-round and provides opportunities to enjoy a festive winter's day next to the fireplace with a glass of Armenian wine or a summer's day with a cold cocktail in your hand on the terrace.
To find out more information bout Craftsmen's Tsaghkadzor Restaurant House, check out their Facebook page.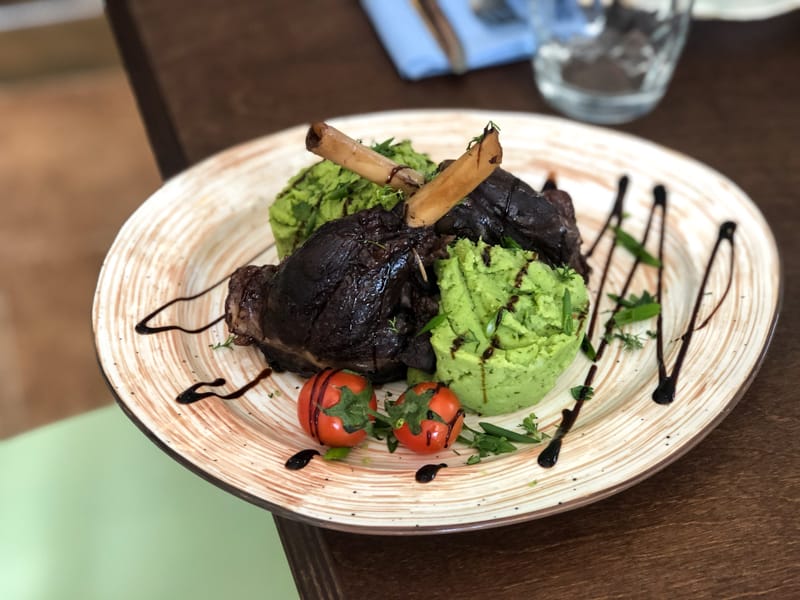 Yasaman Restaurant
One of our favorite restaurants to eat is Yasaman Restaurant, a charming and rustic venue with great service and delicious Armenian dishes.
The warm atmosphere of the restaurant will charm you when you as you drink your hot chocolate after enjoying the day in the snow.
Yasaman has a fireplace that will help you thaw out after a frigid winter's day.
The inviting restaurant is located in the center of Tsaghkadzor on Orbeli Brothers 8 Street.
Try to reserve a table before your visit.  Check out their Facebook page for more information.
The Hab's Pub
Great beer. Tasty and traditional English pub food. And a lively pub atmosphere. What else do you need to have fun in Tsaghkadzor at night?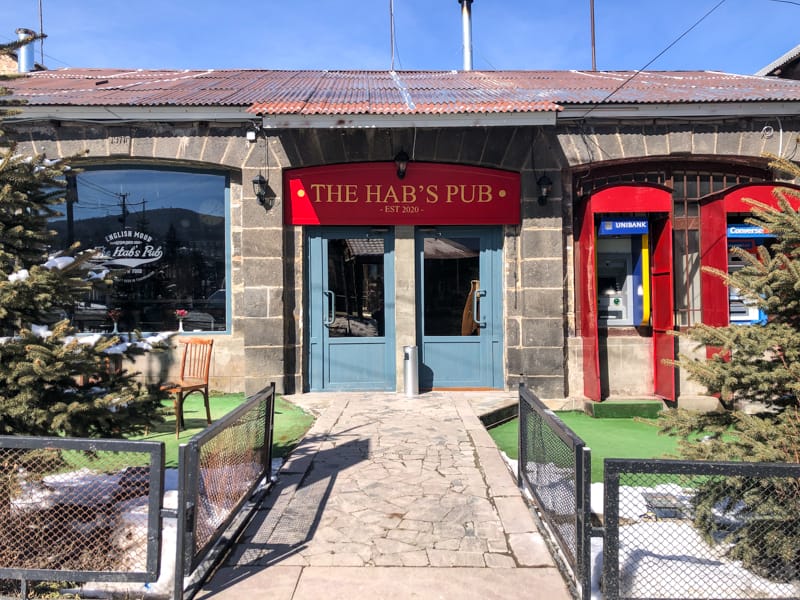 The Hab's Pub is pretty much the one and only pub in Tsaghkadzor where it's carefree and you can enjoy your evening watching football, talk with the hospitable owner, or relax next to the fireplace.
It's a perfect location to hang out after you discover all the incredible things to do in Tsaghkadzor, including rejuvenating yourself after a long day of skiing.
In addition, it has a summer terrace that makes it just as enjoyable during the summer as in the winter!  To find out more, check out their Facebook page.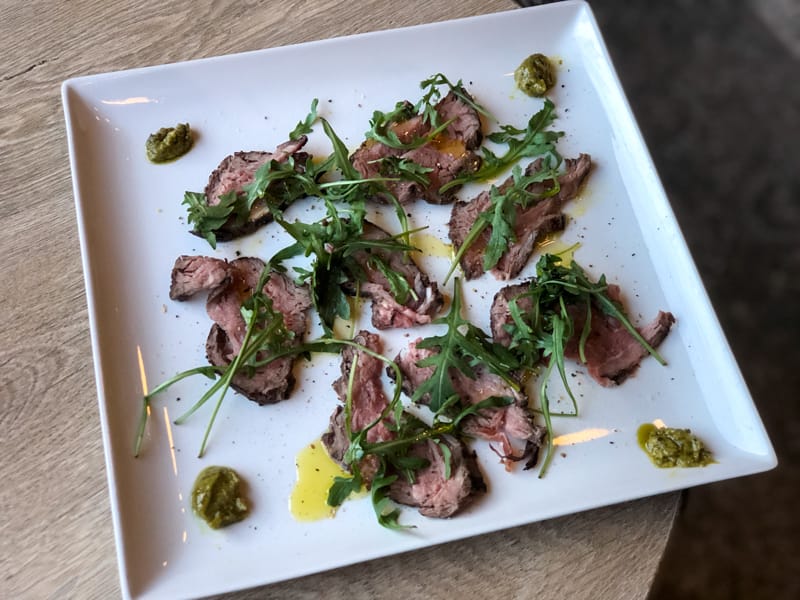 Lahmajo House
You definitely need to have lahmajo while visiting Tsaghkadzor.
It's a great, fast snack and it's absolutely delicious… especially at Tsaghkadzor's Lahmajo House.
The Lahmajo House is located in the center of town and is run by a local family is a perfect place to try some traditional lahmajo with tan (an Armenian, yogurt-like drink).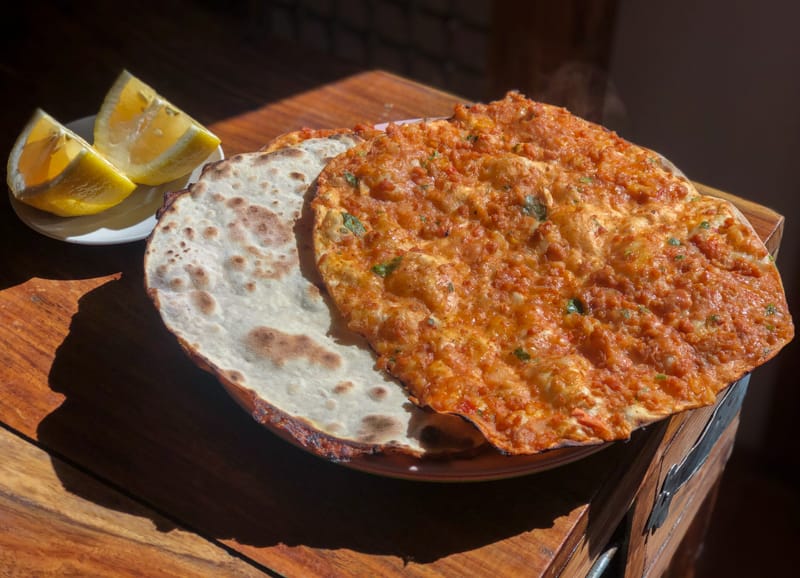 It's very cheap and won't sit too heavy on your stomach if you're participating in winter sports or activities for the day.
Where to Stay in Tsaghkadzor
There are many places to stay in Tsaghkadzor… from guesthouses to budget places to luxury resorts and more.
We strongly advise staying in Tsaghkadzor if you can as the experience is truly wonderful (especially waking up to the snow if you're there in winter)
Here are a  few of our top picks of Tsaghkadzor hotels and guesthouses.
Alternatively, you can also opt to stay in Lake Sevan.
We met many people in our hostel in Lake Sevan that were using the area as a refuge from the expensive prices of Tsaghkadzor.
You can find our accommodation picks for Lake Sevan here.
How to Get to Tsaghkadzor
Even though the Tsaghkadzor is a well-known and famous spa town and located only less than an hour away from Yerevan, it is not super well-connected with Yerevan.
This is a known problem and they are trying to rectify the situation.  For now, here is how to get to Tsaghkadzor from Yerevan.
Train to Hrazdan
Probably one of the longer ways to get to Tsaghkadzor, this option will take about two hours or more in total.
You'll need to take the train from Sasuntsi Davit train station to Hrazdan and then hop on a minibus to Tsaghkadzor from there.
The train goes three times a week from Yerevan to Hrazdan.  The buses in Hrazdan will have Tsaghkadzor written in Armenian or Russian on them.
Tsaghkadzor = English
Цахкадзор = Russian
Ծաղկաձոր = Armenian
Minibus to Hrazdan from Yerevan
From the Zeytun district in Yerevan, it is possible to take a minibus to Hrazdan.  This might be a bit more difficult for non-Armenian speakers, but it is a possibility.  The price is 400 AMD.  From there, you can take a minibus to Tsaghkadzor.
Hrazdan = English
Раздан = Russian
Հրազդան = Armenian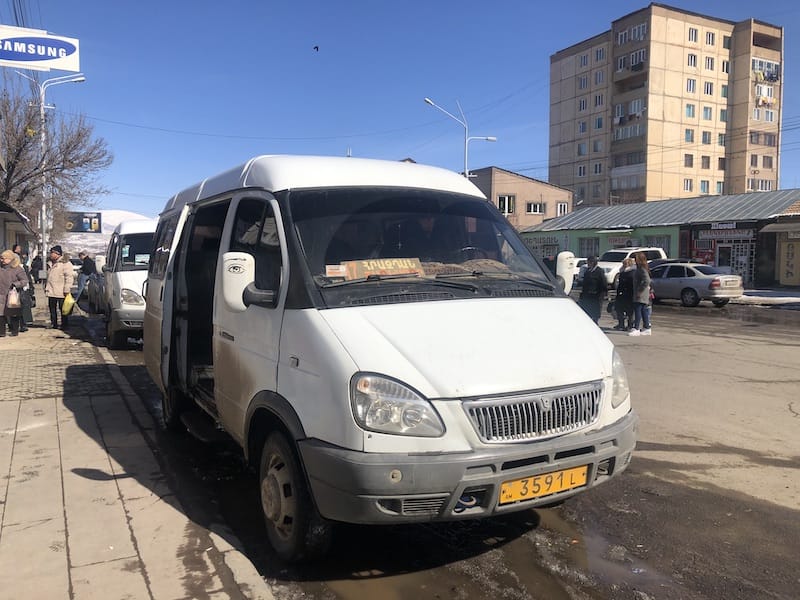 Taxi to Tsaghkadzor
Probably the best option for getting to Tsaghkadzor is to take a taxi from one of the online taxi services (you can see our picks in our travel apps in Armenia guide).
It is less than one hour to get to Tsaghkadzor by taxi from Yerevan.  The cost is around $12.
Best Tours to Tsaghkadzor
Another option for getting to Tsaghkadzor is to take a tour!  These are awesome alternatives as you will get to see other places at the same time.  Here are a few tours in Armenia we recommend that will go to Tsaghkadzor.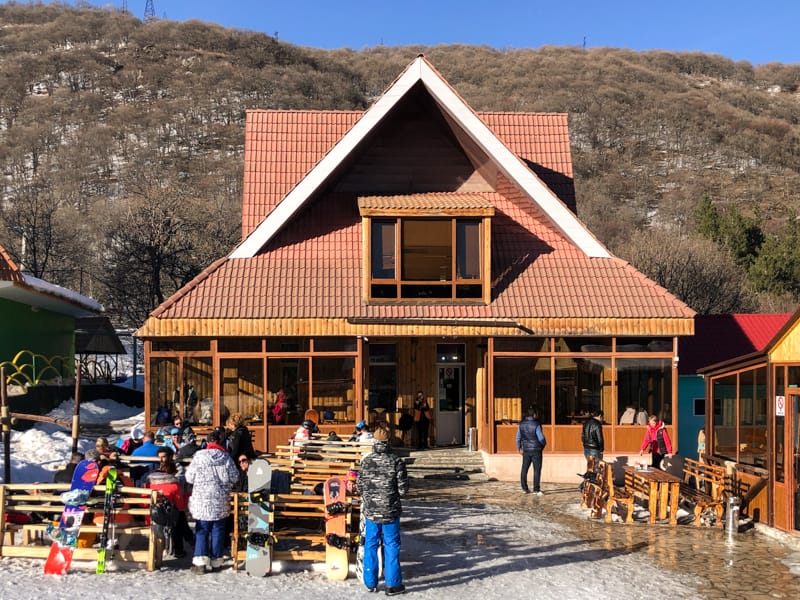 If you're heading to Armenia, especially during the winter, and are wanting to hit up one of the premier winter spots in the country, definitely head to Tsaghkadzor.
Not only will you find many things to do in Tsaghkadzor, but you will also find some of the best scenery the country has to offer.
PIN IT FOR LATER!