This guide will take you through the best Armenia tours to take when you're getting to know the fantastic country in the Caucasus.
Below is a short guide of the excursions, tours, and activities we note throughout this post in case you're looking for a quick answer:
Best Armenia Tours
Armenia is a small country with high mountains, stunning nature, and amazing historical and natural sites throughout it.
Despite the small size of the country, it's pretty challenging to travel in it sometimes because of the mountainous terrain.
And being on mountainous roads is almost inevitable when you're heading to see the sights Armenia has to offer.
But the best thing about traveling in Armenia is that you can plan a day trip or take a day tour from Yerevan and discover three or more sights and be back to the capital after 14-15 hours.
If you are in Armenia for the first time and don't know much about destinations you are planning to visit and don't have an itinerary planned, then one of the best options is to take one of these Armenia tours from Yerevan that are very affordable and for every type of traveler.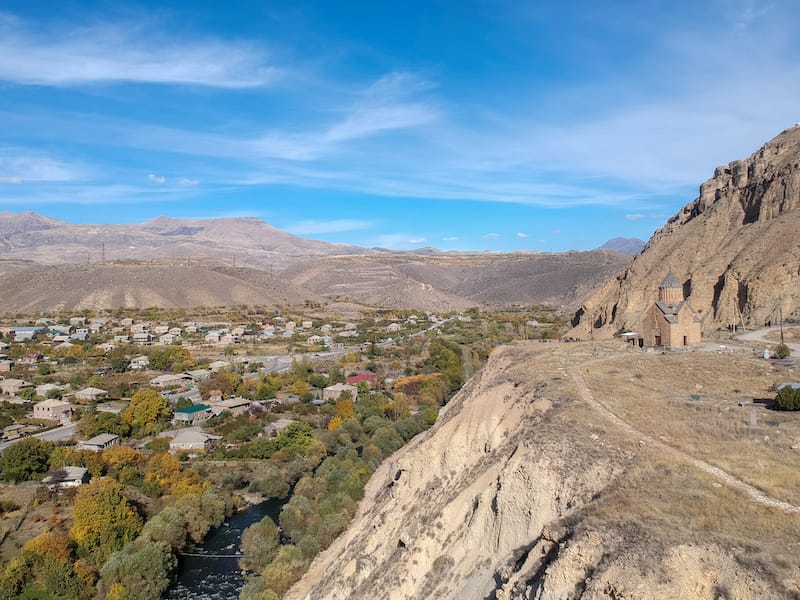 This guide will talk about the best one day tours from Yerevan, ranging from Garni and beyond.  And, it will describe each destination separately and why we think that travelers must visit them. It will also discuss the benefits of taking these day tours.
Do You Need Travel Insurance for Armenia?
Yes, we recommend you book travel insurance for your Armenia trip and tour.  While safety is pretty reliable here, you never know what kind of pickle you may end up in!
We recommend using SafetyWing as they specialize in widespread coverage at affordable rates. It is who we use when traveling!
>> Click here to get your Armenia travel insurance quote
Our Top Picks For Tours of Armenia
There are many worthwhile tours in Armenia that you should consider taking when visiting the country.  We have listed our top picks that will help you see Armenia with ease and with no worries.
All of the mentioned tours depart from Yerevan and make for fantastic day trips, covering some of the best sights and scenery in Armenia.
From Yerevan: 4.5-Hour Garni-Geghard Tour
Duration: 5 hours
Prices start from $37 
Group tour
⇒ Book it Here
One of the most popular places to visit in Armenia is the amazing Garni Temple and the unique Geghard Monastery. This tour is the perfect option to discover these wonderful sights and learn their history while you are admiring nature and the place where it is located.
Garni is the best-preserved Pagan temple in the region and is located on the edge of the beautiful and breathtaking gorge that was used as an ancient royal summer house.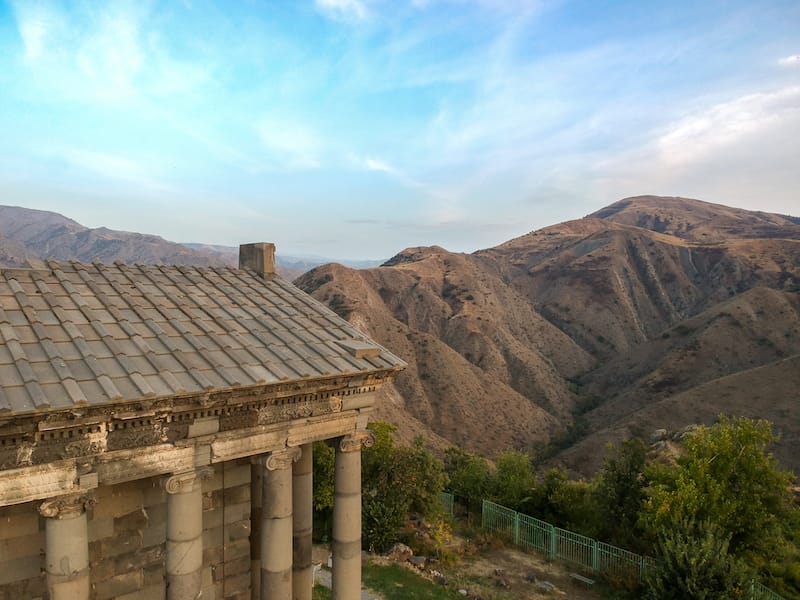 Geghard Monastery is a UNESCO World Heritage site in Armenia and a very interesting place to visit because of its unique architectural heritage.
You will be picked up from your hotel and a knowledgeable guide will tell you the stories of each place when you visit it.
On the way, you will stop to see Charent's Arch, an interesting construction where you can see one of the most beautiful views of Ararat mountain and the valley.
Lake Sevan, Selim Pass, Jermuk, Hin Areni Winery, & Lunch
Duration: 12 hours
Prices start from $34 
Group tour
⇒ Book it Here
Sevan is the blue jewel of Armenia and the biggest lake in the Caucasus. It is very high above sea level.
Located approximately one hour away from Yerevan, Lake Sevan is one of the beautiful places in Armenia with a peninsula, ancient churches tucked away, and sunny beaches. Lake Sevan is the perfect place to relax and enjoy the hot summer days.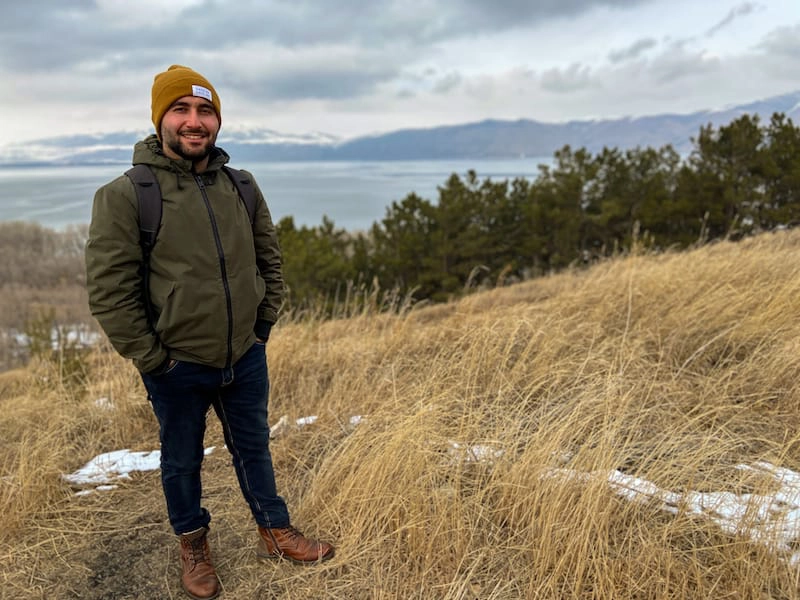 Selim Pass is one of Armenia's caravanserais built in the 14th-century that was part of the Great Silk Road that connected Europe to the Orient.
The stunning construction is adorned with beautiful ornaments and animal sculptures where many caravans were stopping as a resting point to sleep and continue their traveling.
On the way to Jermuk, one of the most popular mineral water spa towns in Armenia, you will stop to see Hin Areni winery. It is an old winery that produces some of Armenia's best and most notable wine.
Armenia Group Tour to Tatev Cable Car and Areni Winery
Duration: 14 hours
Prices start from $54 
Group tour
⇒ Book it Here
On this tour from Yerevan, you have a great opportunity to visit one of the most beautiful monasteries in Armenia, located on the edge of a gorge high in the mountains.
To get to the 10th-century Tatev Monastery, you will take the world's longest reversible aerial tramway (6km) and experience a trip to the monastery crossing over the Halidzor Gorge. The scenery will blow your mind.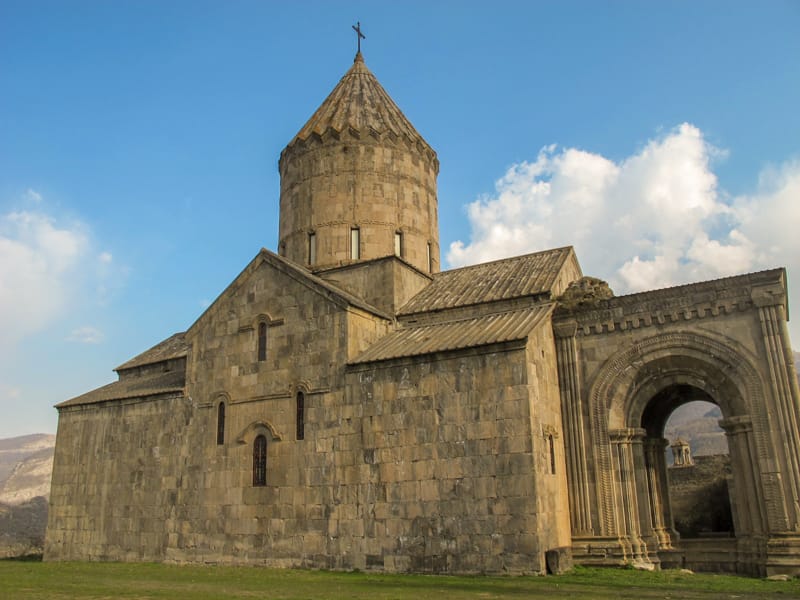 But this tour has other benefits such as visiting the Areni wine region of Armenia where wine was made 6100 years ago in caves.
You'll also have a chance to see the 18 meters high Shaki Waterfall where you can photograph and enjoy its views.
In addition to all of the aforementioned sights, you will have a chance to walk around 'Armenian Stonehenge', dating back 2500 years.  It is known as Zorats Karer (Karahunj) and it is considered to be known as an ancient observatory but it is still not fully discovered.
You'll have a chance to try local wine and eat traditional Armenian food on this tour.
From Yerevan: Khor Virap, Noravank, & Areni Winery Day Trip
Duration: 9 hours
Prices start from $33 
Group tour
⇒ Book it Here
This tour will take you to one of the most prolific places in Armenia, Khor Virap Monastery. It is located very close to Ararat mountain and has mind-blowing and memorable views.
Khor Virap actually means 'deep dungeon' and is one of the largest symbols of Armenia as the first Christian nation in the world and you just have to see it before you leave the country.
Your next stop and adventure will be to discover a Bronze Age cave called Areni-1 where archaeologists discovered the world's oldest winery (6100 years old) and the oldest leather shoe.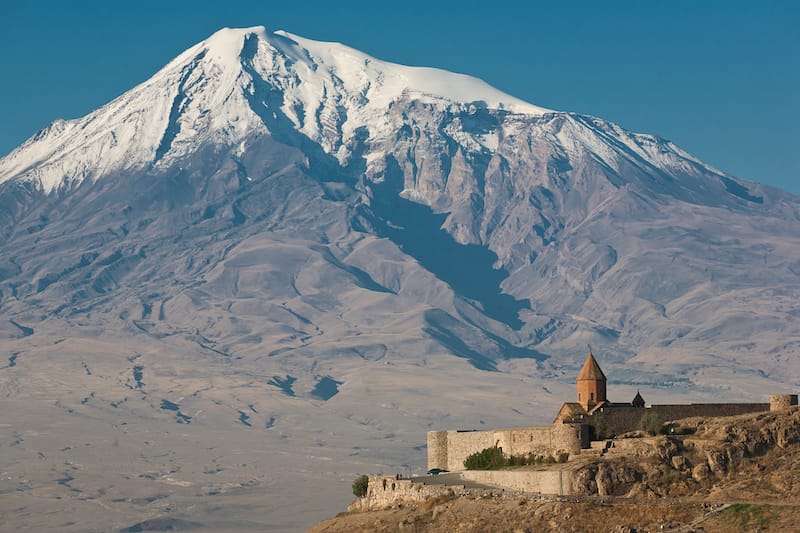 Next is the 13th-century Noravank Monastery that is surrounded by unusual red-colored rocks and mountains. It is another jewel of Armenia and a worthwhile stop where you will see one of the best examples of medieval Armenian architecture.
Tbilisi: Full-Day Armenia Tour
Duration: 11 hours
Prices start from $55 
Group tour
⇒ Book it Here
This tour is giving you a unique opportunity to discover two countries at once in a comfortable and well-organized manner.
During the tour, you will experience delicious Armenian cuisine and see UNESCO World Heritage Sites located in deep and remote places surrounded by lush green forest and colorful mountains.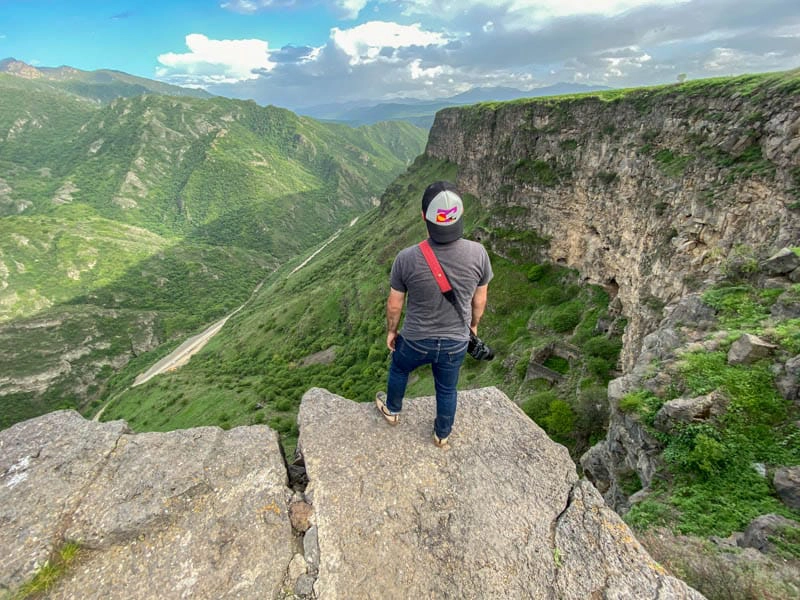 In less than two hours from Tbilisi, you will end up in the beautiful mountains of Armenia where there are 13th-century bridges, churches, fortresses, and other historical constructions.
Private Tour: Lake Sevan, Dilijan, Goshavank and Haghartsin
Duration: 9 hours
Prices start from $88 
Private tour
⇒ Book it Here
This tour is providing a great opportunity to discover one of the most sacred places in Armenia privately and without being in a large group.
During your private tour from Yerevan, you will discover remarkable places and amazing spots in Armenia like high altitude Lake Sevan and the 9th-century Sevanavank Monastery. You'll then see the green lungs of Armenia, Dilijan, and further visit masterpiece churches Goshavank and Haghartsin.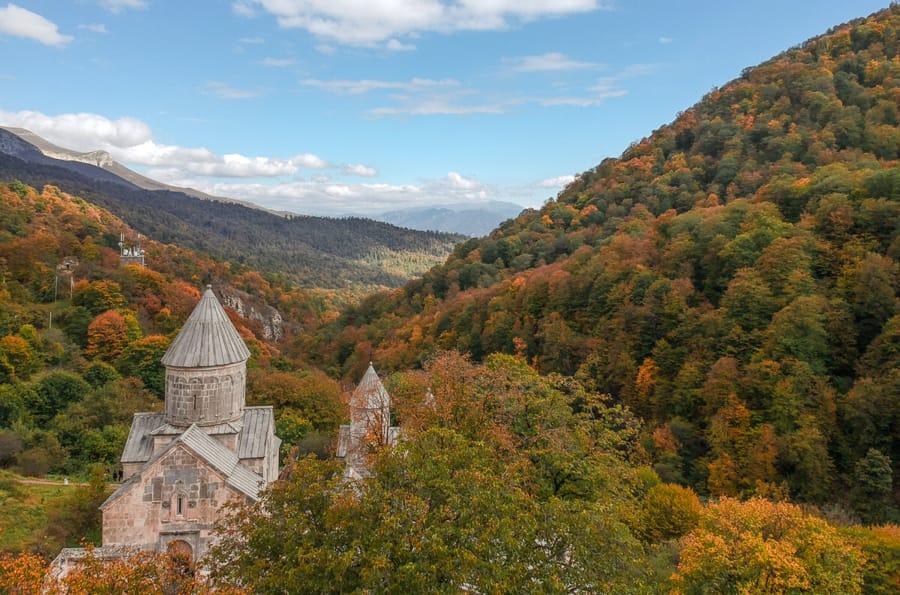 But, that's not all because your private adventure continues in the North of Armenia where the ancient monuments are aplenty and located in hidden spots surrounded by beautiful nature.
From Yerevan: Khor Virap, Etchmiadzin, and Zvartnots Tour
Duration: 6 hours
Prices start from $61 
Private tour
⇒ Book it Here
Yet another great Armenian tour to discover Khor Virap Monastery but this tour additionally gives its guests the opportunity to visit other sites in Armenia.
After the Khor Virap Monastery visit, you will head to the holy city of Etchmiadzin where some of the oldest churches in the world exist, dating back to the 4th-century.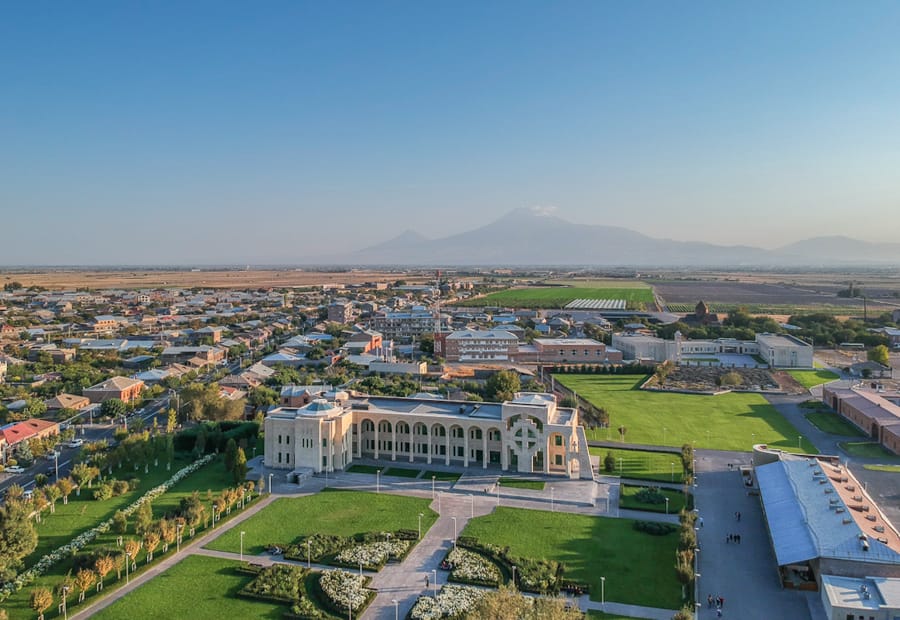 After Etchmiadzin, you will enter the facility of ancient ruins of the 7th-century Zvartnots Cathedral that is located in a dramatic location in an open field. If you're lucky, you will get to witness an incredible view of Mt. Ararat from there!
Tripsters
If you want to escape from the loud cities and reconnect with nature, then you definitely need to take one of the cool tours provided by our good friends, Tripsters.
Tripsters are organizing tours to the hidden and secret locations of Armenia and showing you the most beautiful hiking paths and adventurous activities in the country.
They have a wide selection of tours and hikes that will make your adventure in Armenia unforgettable, leaving you with memories for life.
Yerevan Free Walking Tour
By taking the Yerevan Free walking tour, you will have a great opportunity to discover Armenia's capital city for free and with an expert guide.
The interesting and knowledgeable tour will take place in the heart of Yerevan where the experienced, local guide will show you Yerevan from a different angle, helping you learn about the city and its neighborhoods.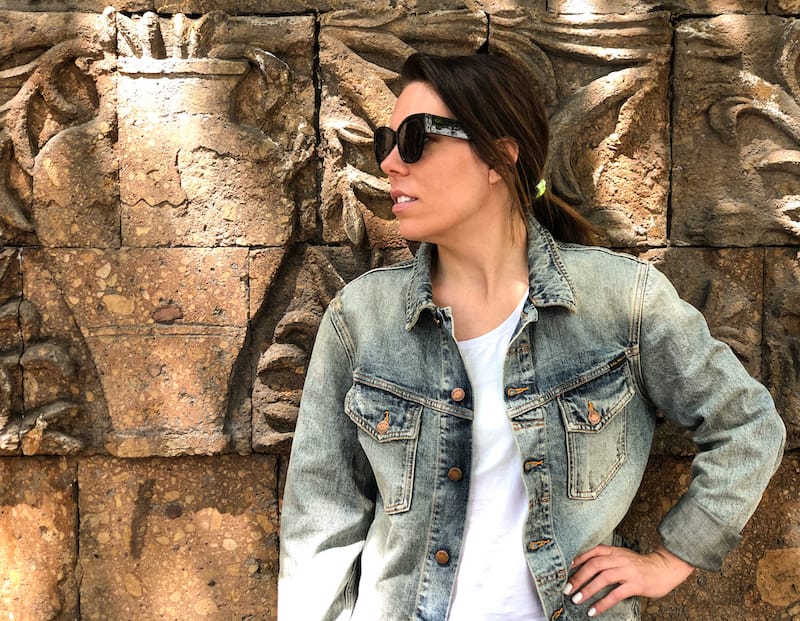 What to Pack for Your Tour From Yerevan
Armenia experiences hot summers and fairly cold winters, so pack accordingly based on the season! We do recommend bringing a few of the items below regardless of the season (but, of course, sunscreen is more useful in the shoulder seasons and summer).
If you have additional questions on what to bring to Armenia, please feel free to ask!
Sunscreen
During the high season, Armenia can be a very hot destination; with temperatures reaching 40 Celsius (104 Fahrenheit) regularly.
So, make sure you have your sunscreen with you because there are many sites that are sitting under the open skies such as Khor Virap or Tatev Monastery where you need some protection from the scorching sun.
Power bank 
The item that every traveler needs is a good power bank. We definitely recommend taking one with you so you can be in reach and have the ability to take photos with your devices.
Some tours might take an entire day and you may not have a place to charge your phone throughout the day, making a power bank essential!
Walking shoes
All tours that you will take have comfortable transportation, but during the exploration of different sites, you will need some good walking shoes.
Armenia is a very rocky country, especially outside of Yerevan. These Yerevan day tours will likely involve a lot of walking around when you're at the sights and we can not recommend wearing good and comfortable shoes enough!
Water bottle 
Armenia has great quality mountain water and for the most part, the water is free and comes from water fountains known as a Pulpulak.
In the hot season, take your water bottle with you so you can fill up it from the many water fountains throughout the country and can stay hydrated.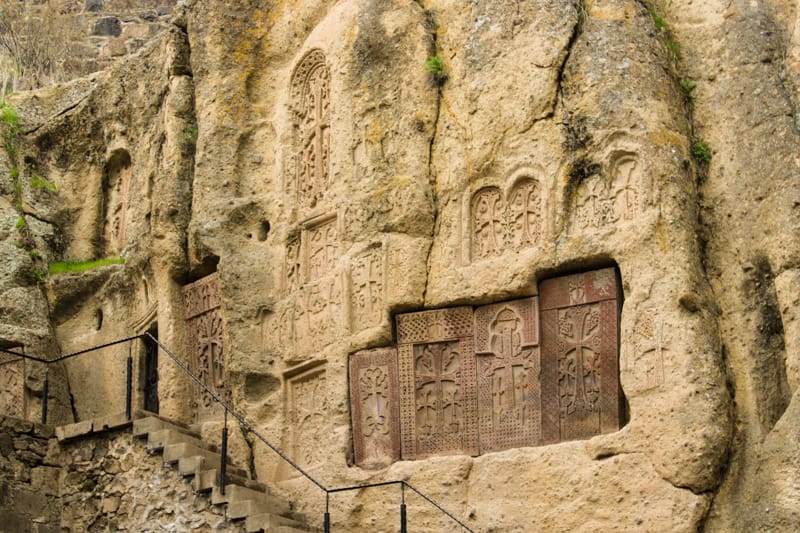 Where to Stay in Yerevan
We recommend staying in the center of Yerevan when you travel here.  The tours mentioned all depart from the city center of Yerevan and you won't want to be too far away!  Here are our recommended hostels, hotels, and guesthouses in the city:
The Alexander (Splurge):  The Alexander is for those who want to be pampered and experience luxury on their trip to Armenia.  It is located right near Northern Avenue and Republic Square and is a very convenient spot for taking a tour of Armenia.
>> Click here to check rates and availability for The Alexander
Daniel Boutique Hotel (Mid-range):  Daniel Boutique Hotel is an affordable, mid-range hotel that offers modern stylings paired with fantastic Armenian hospitality.  The hotel is located in the heart of Yerevan and is a fantastic choice for travelers.
>> Click here to check rates and availability for Daniel Boutique Hotel
Grand Hostel Yerevan (Budget):  Grand Hostel is located right on the edge of the city center and is a short walk to Republic Square and other main sights in Yerevan.  This family-owned hostel has spacious rooms and is impeccably clean.  They have privates and dorms and all are priced affordably.
>> Click here to check rates and availability for Grand Hostel Yerevan
Let us know if you have any questions or concerns before booking your tour of Armenia. If you're a tour company looking to promote your tours, please get in touch so we can head on one ourselves!
PIN IT FOR LATER!