Khor Virap is one of those must-visit places that should be on your itinerary when you visit Armenia.
This is a complete travel guide to Khor Virap Monastery.  It includes how to visit, why you should visit, facts about Khor Virap, and much more!
If you're looking for a tour to Khor Virap, please check out our top recommendations here.
Travel Guide to Khor Virap Monastery
Arguably, one of the most astonishing places to visit in Armenia is Khor Virap Monastery.
It is considered to be one of the gems of Armenia and it is definitely a place to add to your itinerary.
We have visited several times and it truly never gets old.
Our minds are blown every time we go there and we love seeing other visitors have the same experience and impression.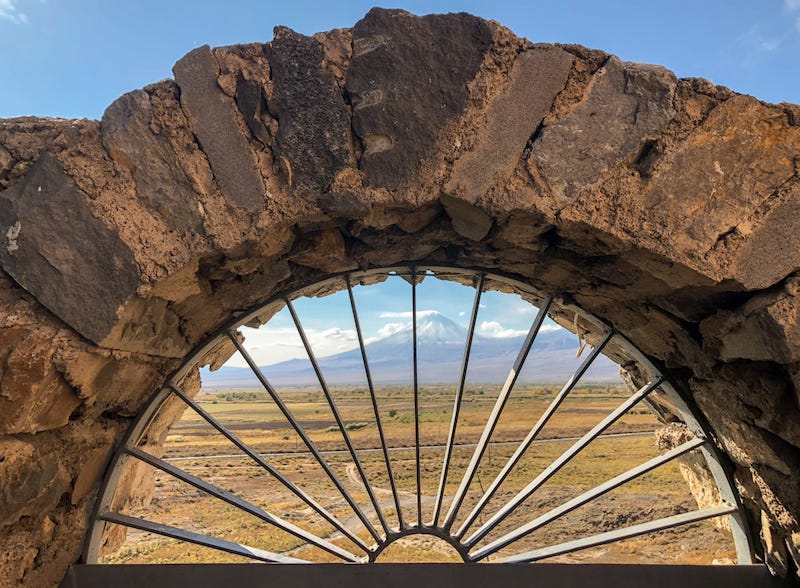 The image of Khor Virap standing in front of Mt. Ararat is one that is quite famous around the world and we have seen the picture hanging at our favorite hostel in Almaty, Kazakhstan, and Megan has seen it at a bar in Dnipro, Ukraine.
The setting is what really makes Khor Virap unique compared to other places in Armenia, and even the world.
The composition and collaboration of the human mind and nature reaching harmony are really what sets the monastery apart from the rest.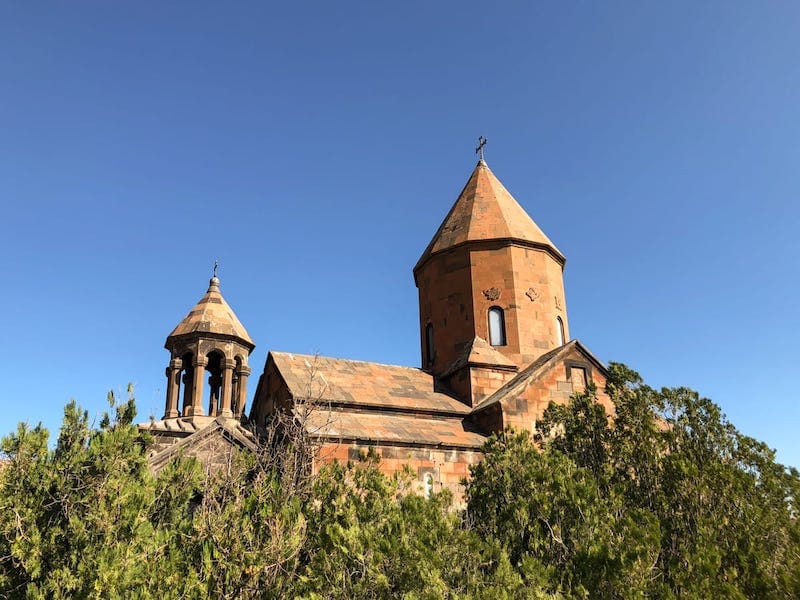 We must admit that sometimes tourists get unlucky with their view of the monastery and Ararat.
Fingers crossed you will get a clear day when you visit and you can see the entire composition in all its glory!
This is our travel guide for visiting Khor Virap, located in the Ararat province.  It will include FAQ, history, Ararat facts, how to get there, opening hours, and much more.
History of Khor Virap
When you are walking up the stairs to Khor Virap and touching the walls of the monastery that has existed for centuries, you feel the importance of the place and what impact it had on Armenia.
Originally, before Khor Virap was a symbol of Christian Armenia, it was a royal dungeon that was built by King Artashes who founded the historic capital of Armenia, Artashat, in 180 BC during the Artashesid Dynasty.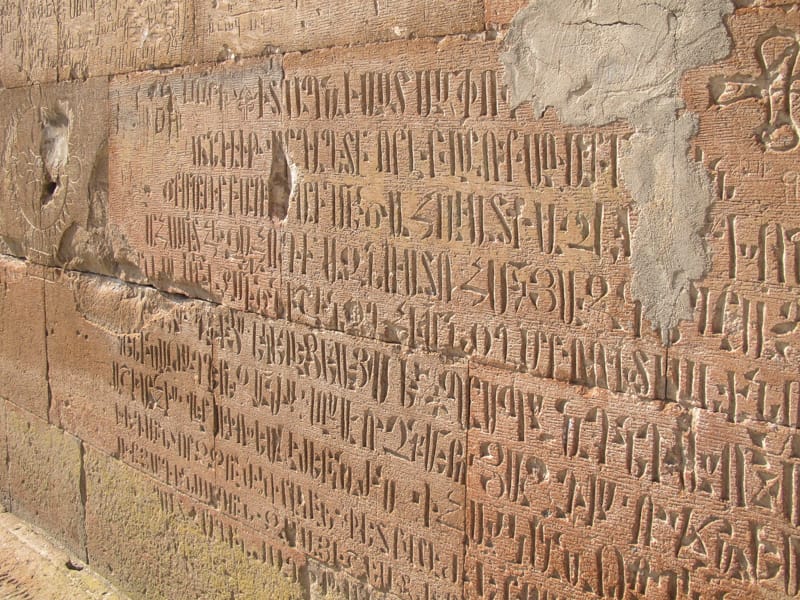 King Artashes was using the royal signet much more for his personal enemies because hence Khor Virap was translated to "deep dungeon".
That tradition was passed through other kings until one very special prisoner ended up there.
That special person was Gregory the Illuminator who later became a founder of the Armenian Apostolic Church and a key reason that Armenia eventually became the first Christian country in the world in 301.
But before that, Gregory the Illuminator was an advisor to King Tiridates III, better known as Trdat, who preached Christianity to Armenians.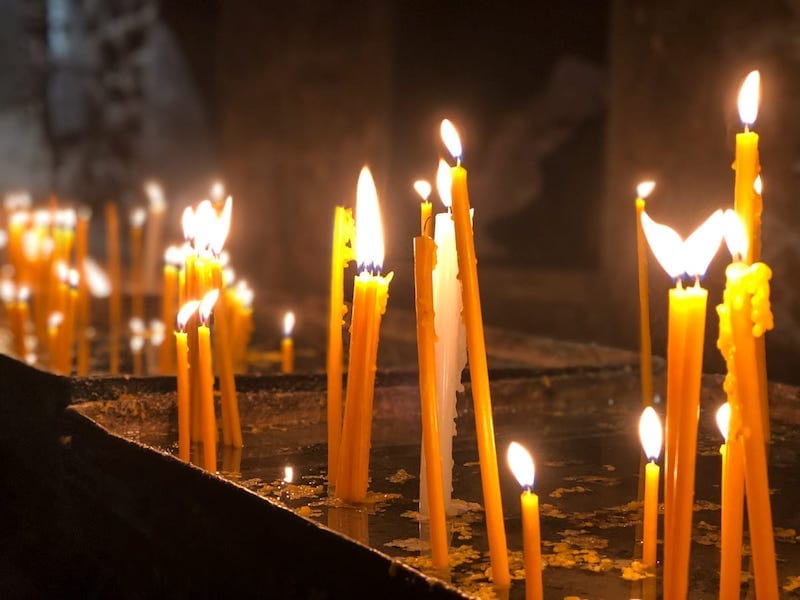 King Tiridates III believed in many gods and practiced Paganism in Pagan Armenia and was not satisfied with the information that Gregory was preaching Christianity, a one God religion, in his kingdom.
So, after torturing Gregory, he commanded to have him dropped into the Khor Virap dungeon to his death while he massively executed all Christians inside of the territory of the kingdom.
Fast forward many years…
In the 5th-century, a chapel was built in Khor Virap.  In 1662, a much larger one was built and the church and its composition started to become an icon in Armenia.
Khor Virap was used as a seat of Catholicos of Armenia and was an educational center in the Middle Ages.
After many earthquakes, such as the one in 1679, Khor Virap has undergone several restorations and has remained a gem of Armenian culture, history, and religion.
How to Get to Khor Virap from Yerevan
I wrote an entire guide on how to visit Khor Virap from Yerevan.
You can see all options there or you can read the quick details and tour options below.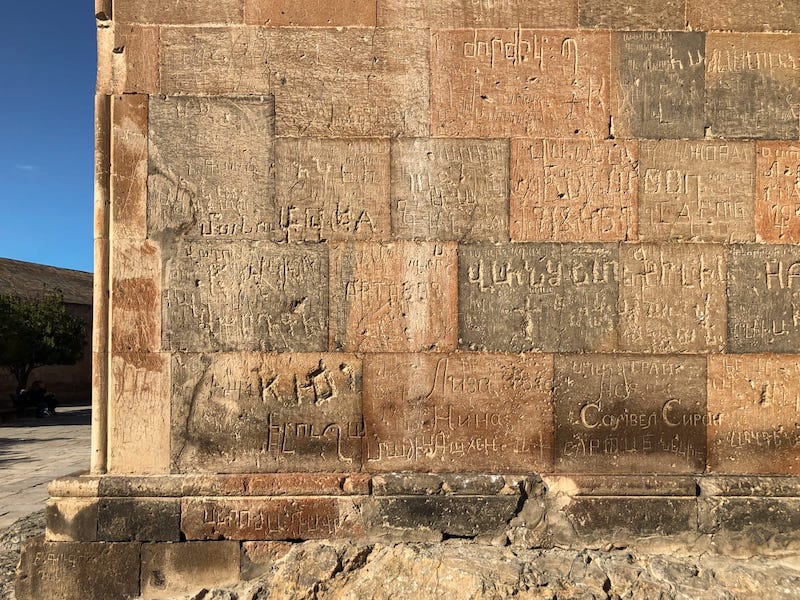 We recommend traveling to Khor Virap by tour because it is really affordable and you will have the chance to see other sights in Armenia if you choose some of the options.
It is about 43 kilometers away from Yerevan.
That was how Megan visited Khor Virap her first time in Armenia.
Below are the best ways to travel to Khor Virap.
Bus
You can catch the bus to Khor Virap from the main Yerevan Railway Station's bus area right behind it (called Intertown Bus Station).
Search for a bus with 'Ararat' written on it and that marshrutka (minibus) will take you from Yerevan to Ararat city for 500 AMD ($1).
From there, you will need to walk 1.5 kilometers to Khor Virap.
You can take a taxi from Ararat or catch another minibus to the monastery.
For additional details, please refer to our Yerevan to Khor Virap guide.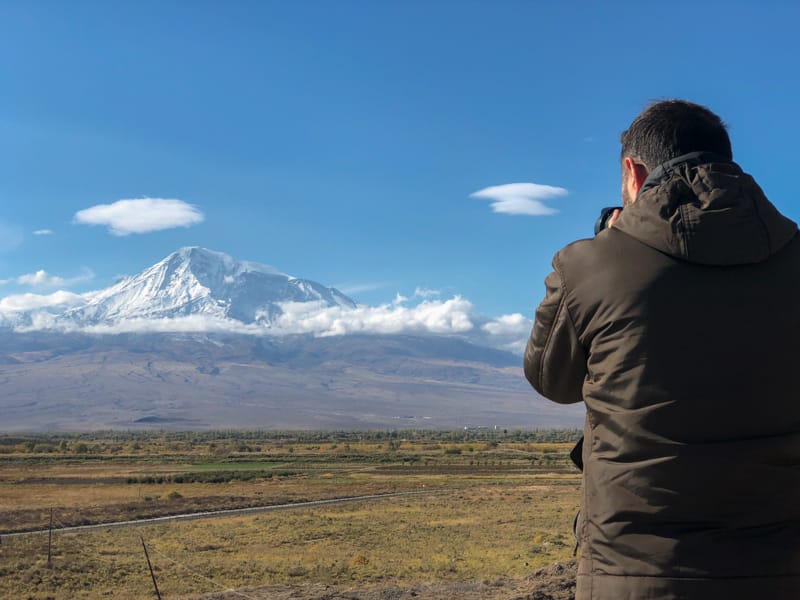 Rental Car
Renting a car is a viable way to get from Yerevan to Khor Virap.
It also gives you the chance to make stops along the way or continue your trip further south (Areni and Noravank Monastery are a bit south of Khor Virap!).
Having a rental car for the trip also ensures maximum comfort and air-conditioning.
>> Click here to check rental car rates for Armenia
Taxi
If you're keen to take a taxi, it is also an affordable option.
We recommend using either GG Taxi or Yandex, both of which are some of our favorite apps to use when traveling in Armenia.
A taxi one-way should run you about 5000 AMD ($10).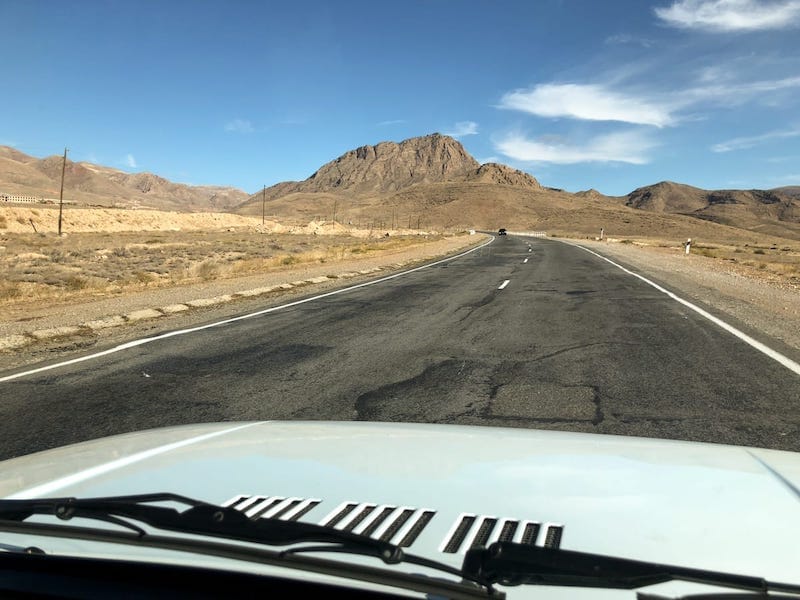 Khor Virap Tours
There are a couple of great tours to Khor Virap that you can consider taking to get to the awesome site with ease and comfort.
The following three Khor Virap tours are our top recommendations and some of the most popular and booked tours in Armenia (meaning… they are worthwhile!):
Khor Virap, Areni, and Noravank Monastery Day Trip from Yerevan
⇒ Prices start from $34
⇒ Duration:  9 hours
This popular and affordable tour is one that visits 3 of the top landmarks in Armenia all in one day.
You will get the chance to see Khor Virap, Areni (wine region), and Noravank Monastery.
On this tour, you will have the chance to see Hin Areni Winery and the famous Areni-1 Cave.
At Areni-1 Cave, some of the world's oldest artifacts can be found – ones that give an indication that Armenia is home to the world's oldest winery.  You'll also get to try some of the wine paired with traditional food.
In addition to visiting Areni and Khor Virap, you will also have the chance to go to Noravank Monastery, a notable religious site built into the red rocks of Gnishik Canyon.
Naturally, you will also have the chance to experience and visit Khor Virap on this 9-hour tour.
Your vehicle will have air-conditioning and free wifi.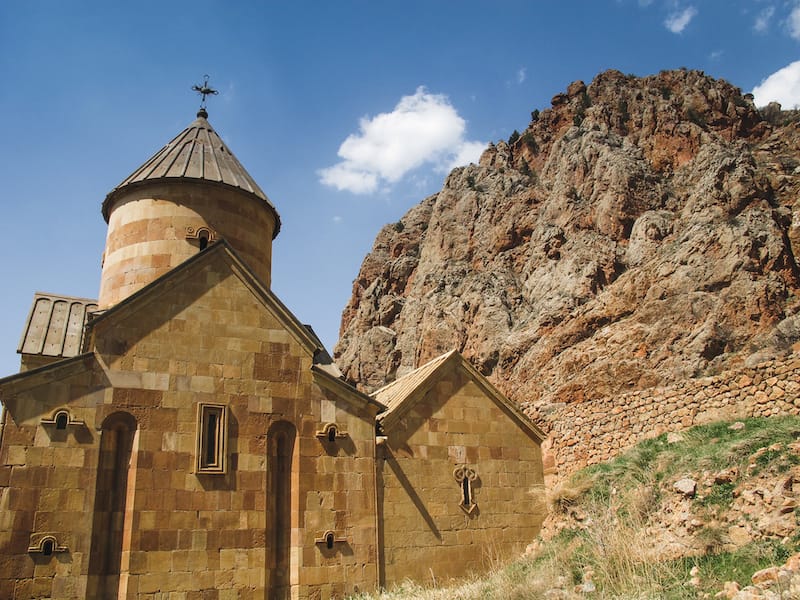 Khor Virap, Echmiadzin, and Zvartnots Cathedral Tour from Yerevan
⇒ Prices start from $62
⇒ Duration:  6 hours
Another commonly booked tour in Armenia and from Yerevan is this one that hits up Khor Virap, Etchmiadzin, and Zvartnots Cathedral.  It is a 6-hour long tour.
This tour will initially take you to Khor Virap and give you the opportunity to learn about the history and its significance to Armenian history first as a prison and then as a religious site.
Once you're done visiting Khor Virap, you will then head to my hometown, Etchmiadzin.
It is located near Yerevan and is considered to be the Holy City of Armenia, brimming with churches (even UNESCO World Heritage ones!) and a lot of important history.
In Etchmiadzin, you will see Saint Hripsime Church, Saint Gayane, the Holy Etchmiadzin Cathedral, and more.
You will also make a stop at the wonderful Zvartnots Cathedral on the way back to Yerevan.
Private Tour to Khor Virap from Yerevan
⇒ Prices start from $37
⇒ Duration:  3 hours
If you want to visit Khor Virap without other people alongside you, the best way to do this is by taking a private tour there.
This 3-hour tour from Yerevan to Khor Virap will set you up with a very informative guide if you select the option to have one as opposed to seeing the sight independently.
By taking this Khor Virap tour, you will have the comfort of being without a large group of others and you will have a comfortable car ride down there.
It is a much easier option than waiting on taxis or having to take them off the streets (especially if you opted not to get an Armenian SIM card).
Khor Virap Opening Hours
Khor Virap opens its doors for everyone from 0800 –  1800 in winter and 0800 – 2000 in summer. We advise you to arrive there as early as possible to avoid crowds and get the most epic photos possible.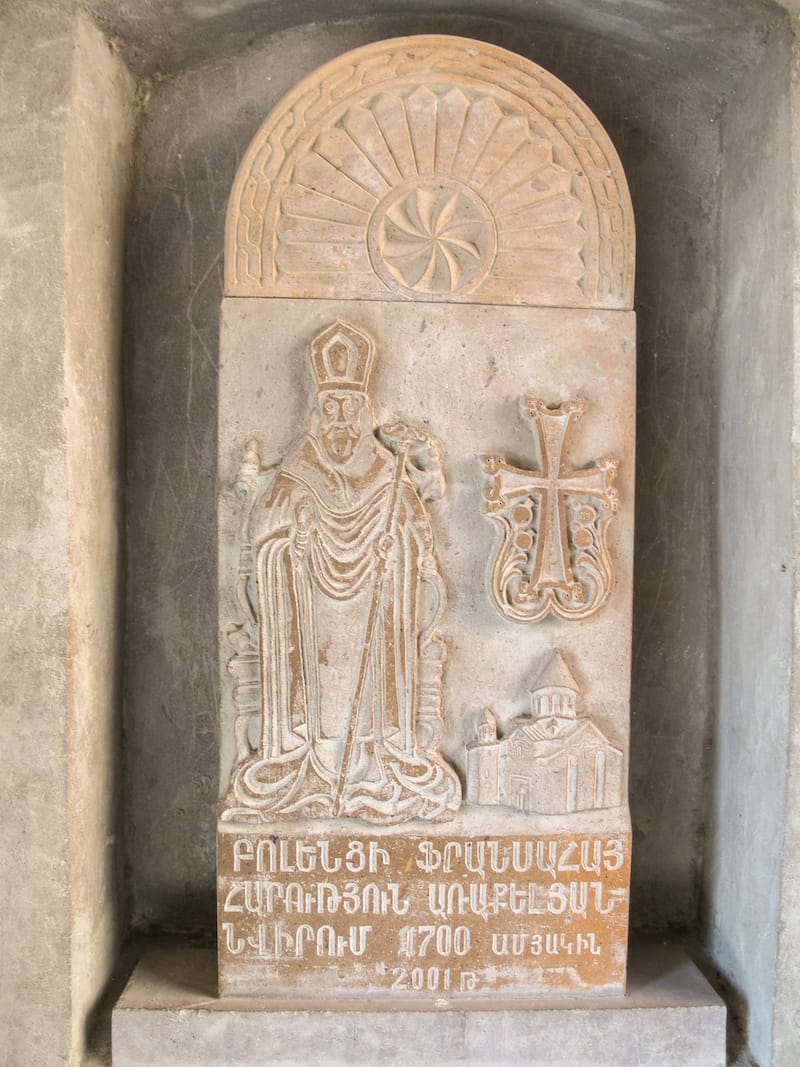 Things to Do at Khor Virap (and Reasons to Visit)
As you already probably know, Khor Virap is a unique place that has a very crucial place in history for Armenia.
It also plays such a significant role in modern Armenia and is a top place to visit these days.
Khor Virap Monastery is exceptionally beautiful no matter which season you visit in.
During the Armenian winter, it is covered with snow a lot of times and in the summers and other times of the year, it is surrounded by vineyards.
We are certain that no matter which time of the year you travel there, you will love the place and it will remain one of your fondest memories from your trip to Armenia.
Below are a few things to do at Khor Virap… as well as awesome reasons why you should visit.
Get a Close Up of Mt. Ararat
Mt. Ararat is visible from almost everywhere in Armenia and I'm sure you've seen it on postcards, images, and books of Armenia before you made the trip to the Caucasus.
While it is located in present-day Turkey, the views from Armenia are unparalleled and epic.  Nowhere more than at Khor Virap.
You can stop on the way to Khor Virap (about 1 kilometer away) to photograph the two peaks of Ararat with a great photo of Khor Virap in it.
It is also great to fly a drone in the distance if you have one as it will capture the entire scene all at once.
But, if you are traveling in a group, don't worry, you can still get epic photos of Khor Virap and Mt. Ararat from up at the monastery itself.
However, if you're traveling in a private tour, by taxi, or by rental car, make sure you stop further away to get that epic shot!
Khor Virap and Mount Ararat Facts
Many people have heard of Ararat but they don't know too much about it.
Here are some quick Mount Ararat facts that will help you know a bit more about it.
Also known as Holy Mount Ararat, the Biblical place is 5137 meters tall and is where Noak's Ark supposedly landed.  One of the best views of Ararat is from Khor Virap Monastery.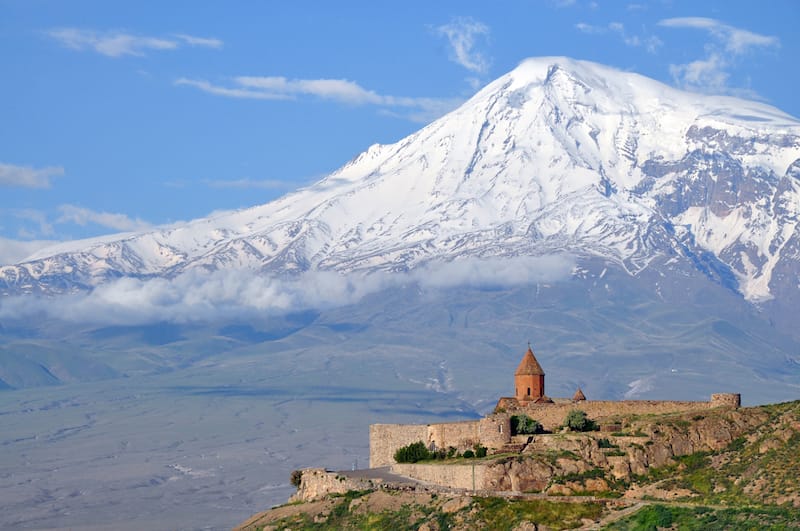 For Armenians, Mt. Ararat is not only a Biblical place of significance, but it is also a symbol of pride.
You can see the mountain on brands like Ararat Brandy and in many pieces of literature and art.
Mt. Ararat is currently located in Eastern Turkey but you will almost always hear Armenians refer to it as Western Armenia.
Discover Khor Virap Monastery In-and-Out
Khor Virap's surrounding walls are reminiscent of that of a fortress because that is what it actually was in ancient times.
Surrounded by rocks and hills, the entire monastery complex is extremely photogenic from all angles and you can spend hours walking around and discovering a piece of the complex and landscape that you missed just five minutes earlier.
It is possible to hike up on a hill to the left of Khor Virap (if you're facing the church's entrance) to see an extremely beautiful and deserty view of Khor Virap and the fortress.
St. Astvatsatsin Church is on-site and it was built-in 1662 around the 5th-century-old chapel.
This is a can't-miss place at Khor Virap that you need to check out.  The church has a domed-hall design.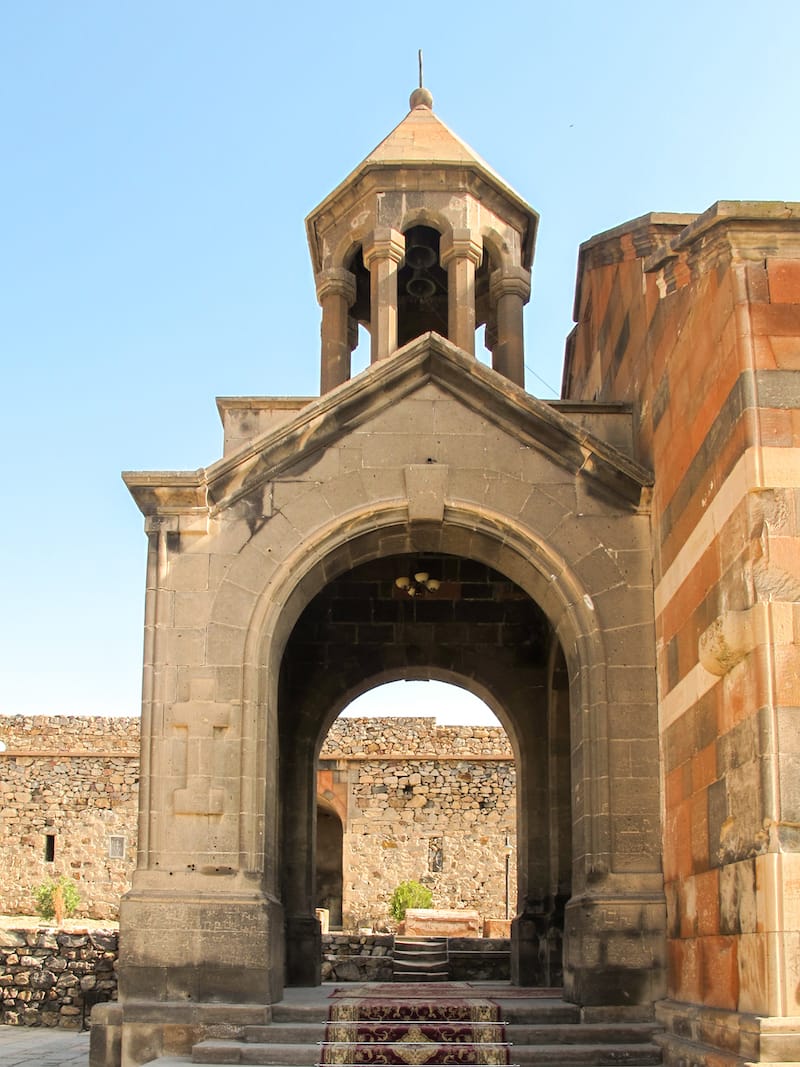 The gorgeous church has suffered multiple earthquakes since it was built; the biggest earthquake was in 1679 and St. Astvatsatsin was later renovated in the 18th-century.
Insider tip:  Please be cognizant of the rules for the Armenian Apostolic Church before going inside.
Females must cover their heads and be dressed modestly and men need to also dress modestly but do not need to cover their heads.
Unique medieval St Astvatsatsin church of the Holy Mother Church has a domed hall design that has two annexes that are located on both sides of the apes.
Descend to the Khor Virap 'Pit' (Dungeon)
It is fascinating and mindblowing how someone can live in an underground jail for 13 years, but that is what happened with Gregory the Illuminator during his time imprisoned in the dungeon at Khor Virap.
The dungeon at Khor Virap is located on the southwest corner of the St. Astvatsatsin Church and it is 60 meters deep.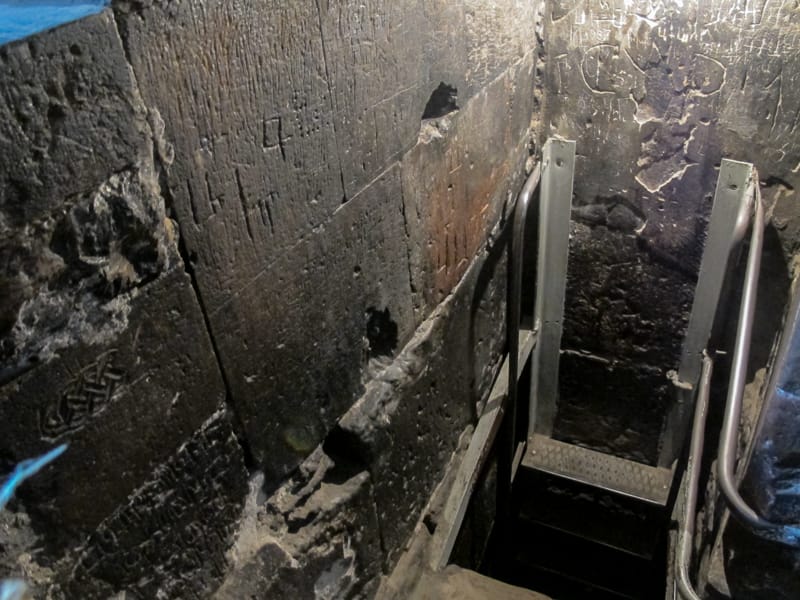 To climb down, you will need to take the metal ladder that is well-constructed.  The dungeon dates back to 180 BC and you will need good shoes to make the descent!
Insider tip:  This will be an issue for those that are claustrophobic.  It is a very narrow space.
What to Bring to Khor Virap
If you are visiting Khor Virap in summer, we highly advise bringing the following items with you in order to make your trip more comfortable:
⇒ Sunscreen and a hat:  In summer, the temperatures at Khor Virap can reach 35-40C and it is imperative to wear sunscreen and bring a hat.
Armenian sun can be brutal as it is always sunny and there are few places to shelter when you're in the countryside.
Click here to check out our sunscreen recommendation.
⇒ Power bank:  Even though Khor Virap is only one hour away from Yerevan, you should still bring a power bank for your day, especially if you're venturing to Areni and Noravank Monastery after.
Trust me, you don't want to have to scramble around looking for a charge when it dies!
Click here to check out power banks on Amazon.
⇒ Good walking shoes:  Armenia is a rocky country and outside of the cities, roads and sidewalks are less-maintained.
You also don't want to wear anything impractical if you're visiting monasteries for the day.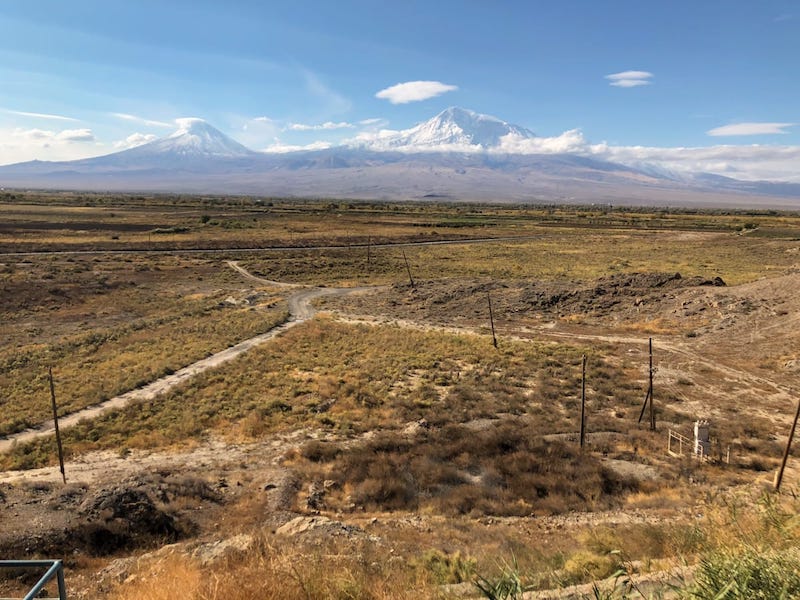 Visiting Khor Virap in winter?  Bring winter clothing (it can snow) and be prepared for potential winds or unfavorable weather.
But, usually, it is still sunny and clear, even during the winter months.
Khor Virap Monastery is definitely a sight that must be added to your Armenia itinerary.
We hope this guide gives you a good lead on how to get there, what to see, and why you should visit this extremely important Armenia landmark.
If you have any questions or additional recommendations, please leave us a comment or send us an email!  Thanks!
YOU MIGHT ALSO LIKE:
PIN IT FOR LATER!