One of the most iconic places in Armenia is undoubtedly Khor Virap.
This guide will show you how to get from Yerevan to Khor Virap Monastery, a must-visit place in Armenia.
This guide will include details about how to visit Khor Virap by public transportation, tour, and with your own car.
Click here if you want to be taken directly to the best tours to Khor Virap.
How to Get From Yerevan to Khor Virap
Around one hour from Yerevan in the Ararat province you'll find one of Armenia's most iconic sights – Khor Virap Monastery.
A mere 43 kilometers away, Khor Virap is reachable by a variety of modes of transport. You can get there by taking one of the tours to Khor Virap, a rental car, bus, or by taking a taxi.
This guide will highlight all aforementioned modes of transport to Khor Virap and list our suggested favorites.
But one thing stands true no matter which mode you opt for- you must visit Khor Virap!  It truly is a remarkable place and a worthy place to visit.
In addition, the ride there will get you out of the city and you'll get to admire some of the beautiful Armenian countrysides in the process.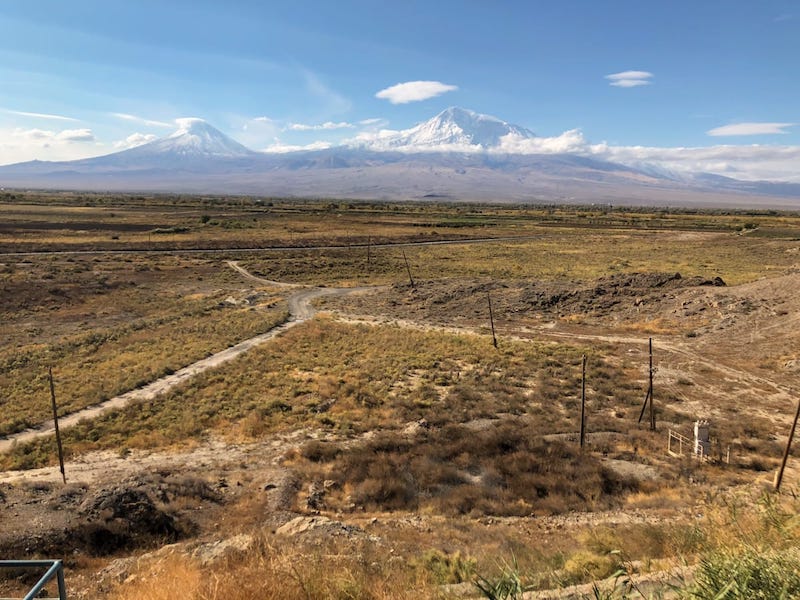 Taking a Bus to Khor Virap from Yerevan
In order to take a bus to Khor Virap, you will need to get the metro in Yerevan to Sasuntsi Davit Train Station (you can see our guide for the Yerevan train station here).
Behind the station, you will see buses parked behind it at the Intertown Bus Station.
In order to hop on the right bus, you will need to find the minibus that has a sign on it that goes from Yerevan to Ararat.
Armenian – Արարատ
Russian – Арарат
English – Ararat
This bus ride takes approximately one hour and you will need to pay the driver directly to hop on board.
The price of the bus will be about 500 AMD ($1).
However, once you arrive in Ararat, you will need to walk about 1.5 kilometers to get to Khor Virap.  Alternatively, you can take a taxi to get there but it could be challenging if you don't speak the language.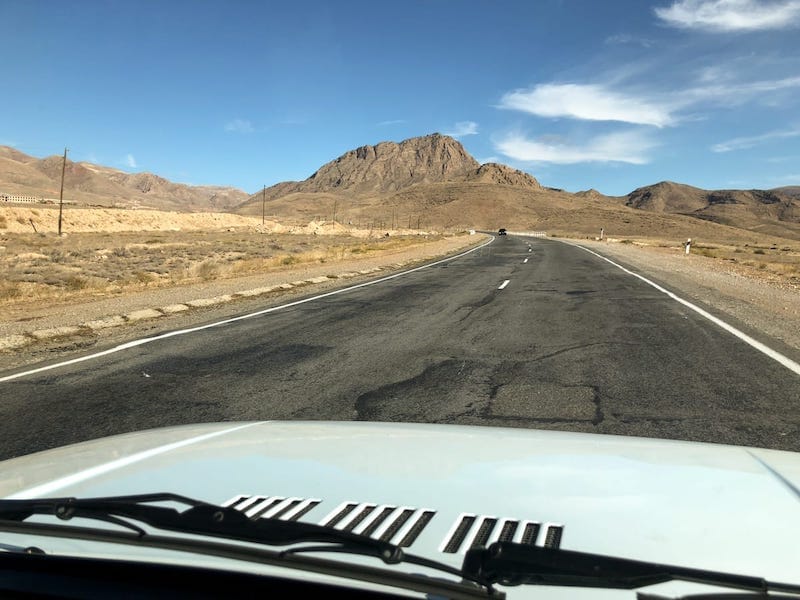 There is a minibus in Ararat that can drop you off at Khor Virap, on the other hand.
The bus number is 467 and it departs at the same station that you get dropped off at.  It will stop by Khor Virap on its way to Noyakert village.
That minibus runs 3 times a day- 1100, 1400, and 1500 and it costs 250 AMD ($0.50).
Insider tip:  If you're heading to Khor Virap from Yerevan, you should be at Sasuntsi Davit Train Station early in the morning to start the journey.  We suggest leaving the station at around 0900.
Renting a Car
One of the best ways to get around Armenia is by renting a car.  The roads are constantly being improved and it is a great mode of transport in a small country without too much road traffic.
Renting a car in Armenia also gives you the chance to stop at your leisure and really see the country outside of the main sights and just the cities.
We even rented a Lada Niva for a road trip to Khor Virap (and beyond) and it was one of the coolest experiences we have had!
>> Click here to check rental car rates for Armenia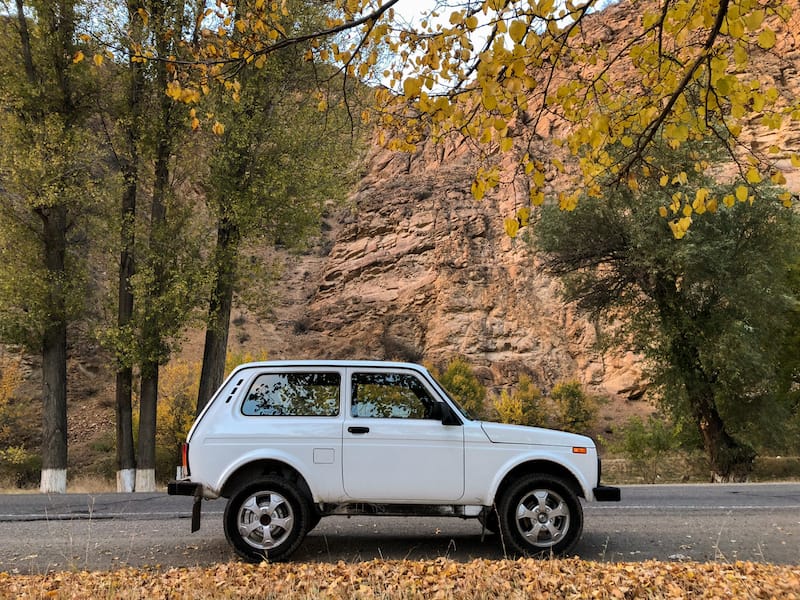 Take a Taxi
Another viable option for getting to Khor Virap is to take a taxi using one of these Armenian apps.
This is a wonderful option for those going with a small group, but more than one person.  It is really affordable and will make the trip a lot quicker.
Taking a taxi to Khor Virap will run you 5000 AMD ($10) each way.  You likely only need one hour when there, so it might be easier to just have your driver wait and pay him or her a small wait charge.
Tour to Khor Virap
Our suggested way to go to Khor Virap is to take a tour there.
The reason we suggest this method is that Megan took one on her first trip to Khor Virap and she had the chance to learn a lot about the sight this way.  It also can combine the trip along with other top sights in Armenia.
There are three different tours we recommend, all with our booking partner, Get Your Guide.
With Get Your Guide, you get a choice of Armenia tours all in one easy click and you can cancel up to 24 hours before the tour starts.
They also work only with trusted partners and we use them in Armenia and when we travel ourselves.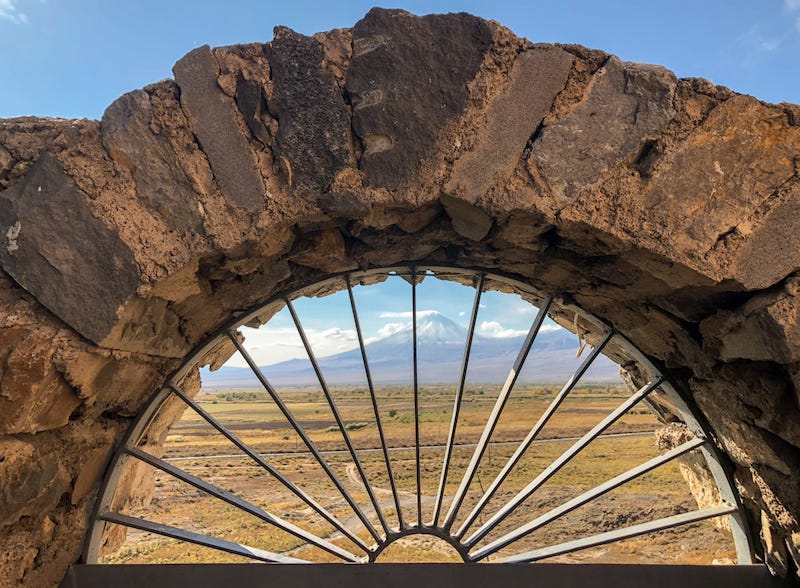 Taxis can be smoky and buses can be jam-packed.  Tours tend to be very relaxing and you'll have air-conditioning and a knowledgeable guide with you the whole time.  Trust us, it's worth it!
Here are the top three Khor Virap tours we recommend for those visiting the historic sight:
Khor Virap, Areni, and Noravank Monastery Day Trip from Yerevan
⇒ Prices start from $34
⇒ Duration:  9 hours
This tour combines three of the top sights in Armenia all into one, 9-hour experience.
You will leave from Yerevan and will hit up Khor Virap, Areni wine region, and Noravank Monastery.
You will have the opportunity to visit Hin Areni Winery, as well as the Areni-1 cave where some of the world's oldest artifacts have been found and where the world's oldest winery has been located.
You will get the chance to taste wine while pairing it with some traditional Armenian food.
Noravank Monastery is one of the most notable sights in Armenia and it is situated in Gnishik Canyon, an area known for its brilliant red rocks.
And, of course, you will have the chance to visit wonderful Khor Virap on this tour.
Your vehicle will have air-conditioning and free wifi.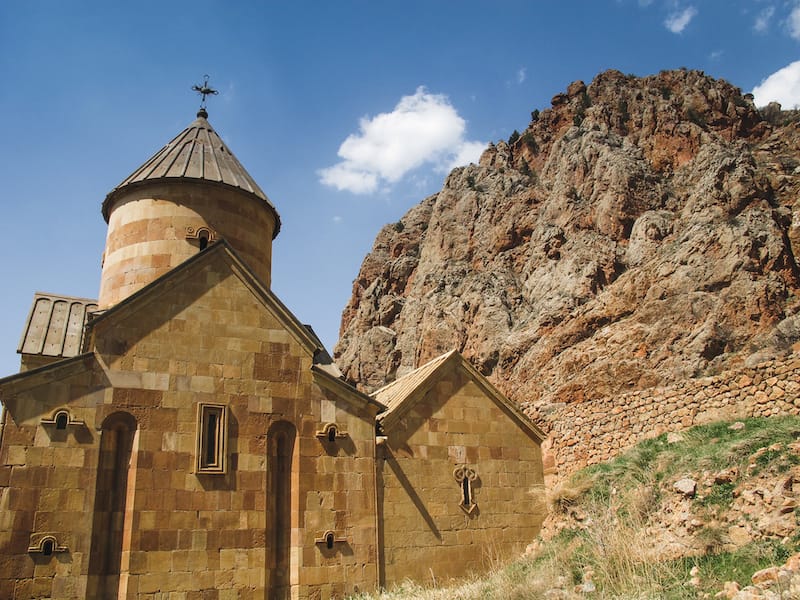 Khor Virap, Echmiadzin, and Zvartnots Cathedral Tour from Yerevan
⇒ Prices start from $62
⇒ Duration:  6 hours
This is another popularly booked tour in Armenia and it will hit up Khor Virap, Echmiadzin, and Zvartnots Cathedral all rolled into one 6-hour day.
The tour will first take you to Khor Virap where you'll get to learn about the history of the place and its significance in the region as a royal prison.
After visiting Khor Virap, you will head to my city, Echmiadzin.
The city is located close to Yerevan and it is the Holy City of Armenia.  It is home to many churches, but notably Saint Hripsime Church, Saint Gayane, and the Holy Etchmiadzin Cathedral.  These churches are all UNESCO World Heritage Sites.
On the way back to Yerevan from Echmiadzin, you will stop at Zvartnots Cathedral, a 7th-century temple that is now in ruins but still one of the most beautiful places to visit in Armenia.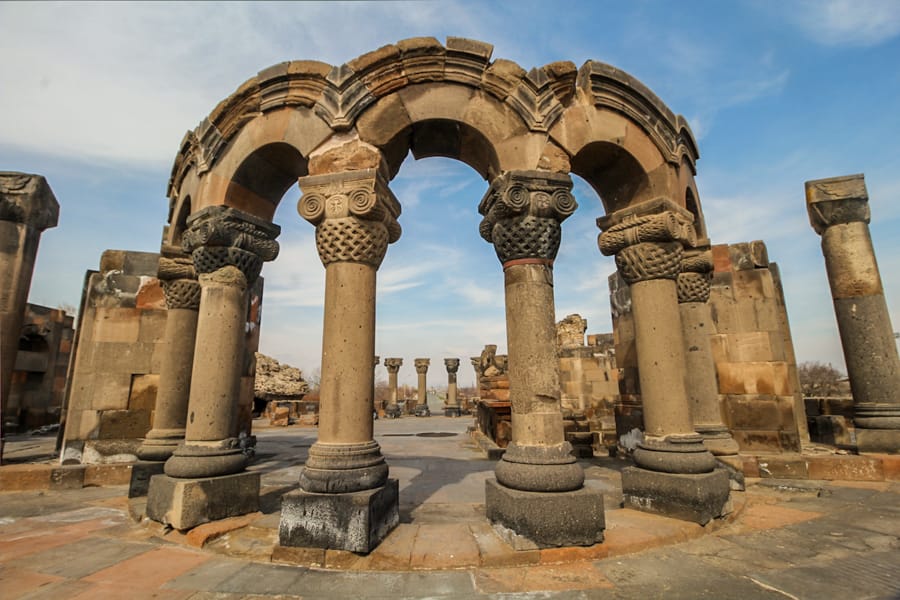 Private Tour to Khor Virap from Yerevan
⇒ Prices start from $37
⇒ Duration:  3 hours
Lastly, if you're looking solely to visit Khor Virap and don't want to hit up other sights, this is a popular option to do so.
This 3-hour tour from Yerevan to Khor Virap will take you with a very knowledgeable guide (if the option is chosen- you can also self-explore!) down to the monastery where you will learn more about the importance of Khor Virap to Armenia, Christianity, and the entire region.
We think that this option is a great fit for those who want a comfortable ride down there and either want a guide to ask questions to without others around or simply just a driver to wait without having to deal with taxi drivers.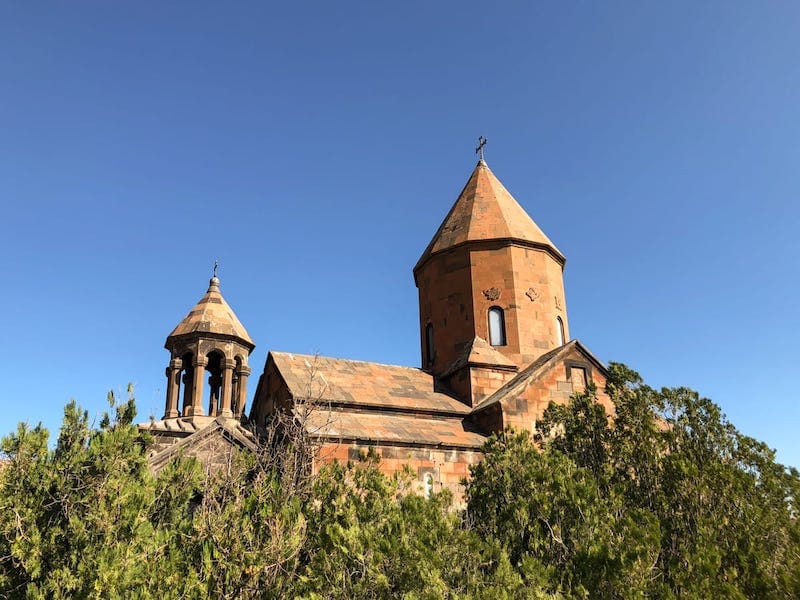 We hope that you have a great trip from Yerevan to Khor Virap!  If you have any questions, please contact us or leave a comment below and we will try to reply as soon as we can.
YOU MIGHT ALSO LIKE:
PIN IT FOR LATER!