One of the most prolific places to visit in Armenia is Noratus Cemetery, a historical graveyard that has the largest cluster of khachkars in Armenia.
This is a guide about how to easily go from Yerevan to Noratus – including Noratus tours and how to get there via public transportation.
Click here if you're simply looking for the best tours to Noratus instead!
GAVAR & YEREVAN QUICK REFERENCE
Planning last minute?
You can see our top travel recommendations for Gavar and Yerevan right here:
Where to stay in Gavar, Sevan, & Yerevan: The Alexander (luxury in Yerevan), Daniel's Boutique Hotel (mid-range in Yerevan), 14th Floor (mid-range in Yerevan), Grand Hostel (budget in Yerevan), Lake Sevan Hostel (budget in Sevan), and Qyavar House (guesthouse in Gavar).
Other top-rated Yerevan day tours and experiences:
Yerevan City Pass: If you're hanging around the Armenian capital, the Yerevan Card is a great bang for your buck! You can visit museums at no charge, get a free taxi from the airport, and several discounts on day trips. Click here to purchase your Yerevan Pass.
Need insurance for Armenia? Be sure to check Armenia travel insurance rates and coverage with our recommended provider, SafetyWing.
Renting a car in Armenia? You can get great options and the best rates here with Rentalcars.com.
Need a Visa for Armenia? We recommend iVisa – they will sort your Armenian visa efficiently and quickly.
3 Essential Things to Pack for Armenia: Plug adapter (if coming from the US or a country that does not use a European plug), Klean Kanteen reusable water bottle, and a Georgia, Azerbaijan & Armenia Lonely Planet guidebook.
How to Get From Yerevan to Noratus Cemetery
We full-heartedly believe that one of Armenia's coolest and most underrated places to visit is Noratus, a medieval cemetery in the Gegharkunik province (marz) near the beautiful city of Gavar.
The cemetery is brimming with khachkars and a lot of Armenian history and it makes for the perfect day trip from Yerevan.  This post will detail the best tours to Noratus as well as how to get there with public transportation.
We recommend traveling there by tour for now as the transportation will take you through Gavar, a city that is a bit off the path and it can be challenging to navigate the transportation as a foreigner.
Getting a taxi in Gavar can also be a bit of a challenge as the taxi drivers may charge a 'tourist tax'.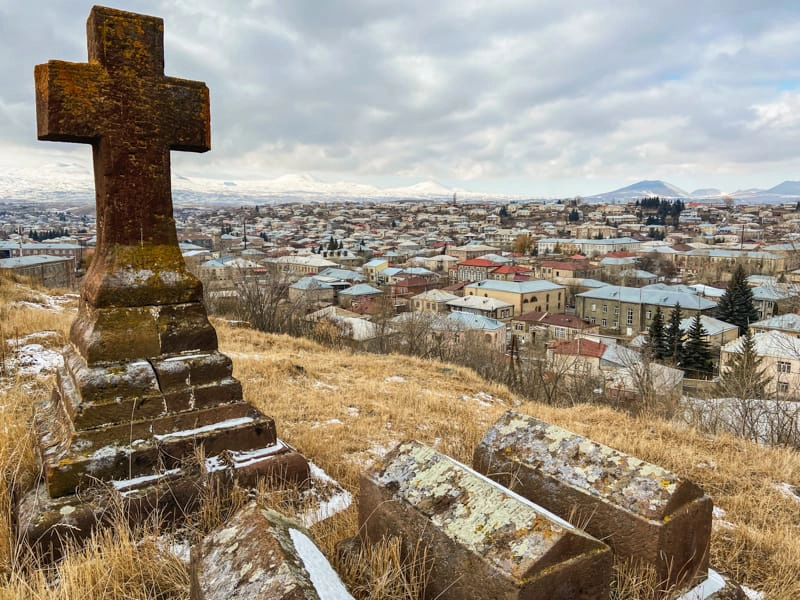 Getting to Noratus from Yerevan
Unfortunately, there is no direct public transportation to Noratus from Yerevan for now.  However, there is an option to take a minibus from Yerevan to the city of Gavar that is located only 15 minutes away from Noratus village.
We highly recommend taking a tour to Noratus (or going by private car) if you want the easiest way to get there.  The bus to Gavar will be challenging for non-native speakers or those unfamiliar with Russian.
This next section will detail how to get to Noratus by tour, taxi, and via bus.
Taking a Tour to Noratus
The easiest and most painless way to travel to Noratus is by tour.  There are two highly-recommended tours we suggest taking there.  And, these tours have additional stops which is fantastic as there is no need to spend more than an hour or two max at Noratus.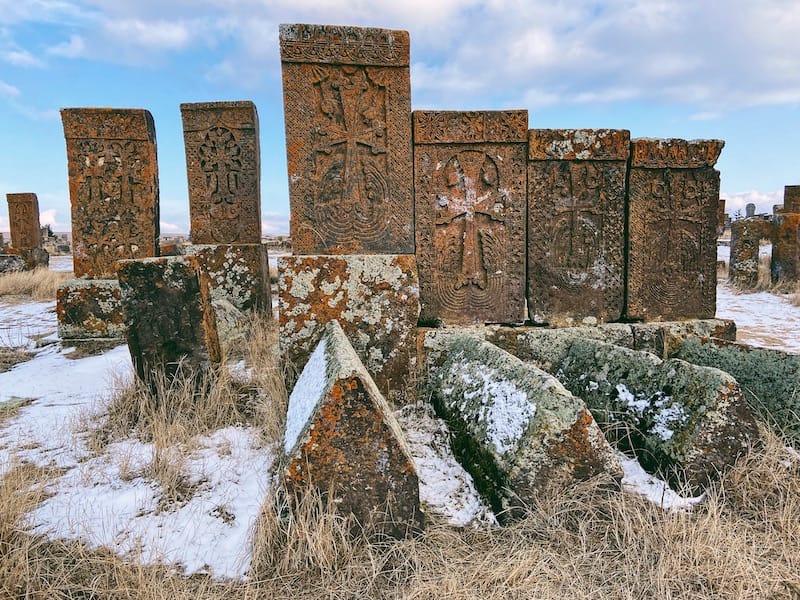 Tour 1 (Cheapest Option): Noratus, Lake Sevan, Areni, and Jermuk
This tour will take you all over Armenia and for a really fair price (starting at $33 per person for the entire day)!  You will get to see Noratus in addition to Lake Sevan, Selim Pass, Areni, and Jermuk… all places totally worth being visited in Armenia.
The tour lasts for 12 hours and picks up from around the Cascades in Yerevan.  This is the cheapest way to see Noratus with ease, in my opinion.
Tour 2: Lake Sevan, Noratus, & Hayravank Monastery Tour
If you're looking for a shorter tour (6 hours) but one that concentrates more on one area, this is the tour for you.  It will cover Lake Sevan, Noratus, and the beautiful Hayravank Monastery.
This tour will be a small group in a comfortable vehicle with wifi and a very knowledgeable guide.  This is a better option for those looking to really see the place and understand the region, especially Noratus.  And, Hayravank is absolutely stunning (so stunning that we crashed our drone into Lake Sevan there!)
Yerevan to Noratus via Gavar (Public Transport)
Another option for getting to Noratus is to take a minibus, or marshrutka.  You will need to first head from Yerevan to the city of Gavar.  These marshrutkas leave Yerevan's north bus station every thirty minutes throughout most of the day.  The bus number you'll need to take is 326.
Gavar = English
Գավառ = Armenian
Гавар = Russian
These marshrutkas will run from approximately 0940 until 1840 from Yerevan.  If you're doing this journey in reverse, the buses in Gavar will go only from 0740 until 1540.  Ticket prices are about 1100 AMD (just over $2).
Minibus from Gavar to Noratus
If you arrive in Gavar, you still have a connection in order to arrive in Noratus.  The first minibus from Gavar to Noratus village leaves at about 0830 until 1430 (almost every 15 minutes).
To find these buses in Gavar, you will need to get to the central square on the opposite side of St. Astvatsatsin Church (the crossroads of Grigor Lusavorich and Boshnagyan streets).
Taxi to Noratus
If you're not pressed for money and want an easy and personal way to get to Noratus Cemetery, you can take a taxi from Yerevan there and back.  You will need to have the taxi wait and pay the wait times while you're there.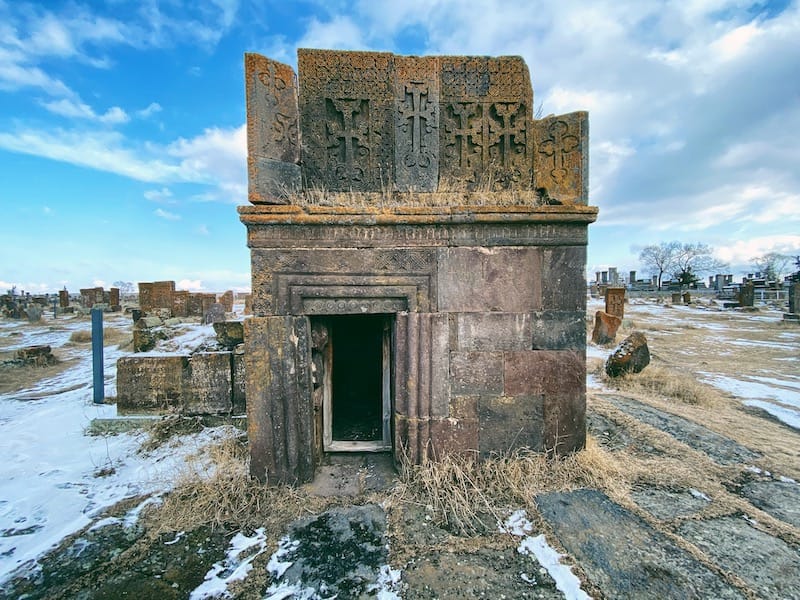 We recommend using one of the taxi apps suggested in our Armenian apps guide like GG Taxi or Yandex Taxi.  The price should be around 20000-22000 AMD for the entire journey to and from Yerevan.
This is not the most practical way to go there, in my opinion.  I think booking a tour will allow you to see more of Armenia and will give you the ease of getting places comfortably and affordably.
If you have any questions about how to get to and from Noratus from Yerevan, please reach out to us!  We will be happy to help.  Noratus is a must-visit place in Armenia during winter or summer and we highly recommend you add it to your Armenia itinerary!
YOU MIGHT ALSO LIKE:
PIN IT FOR LATER!