One of the most popular spots to visit in Armenia is Lake Sevan.
This Yerevan to Lake Sevan guide will give you the low-down on how to go from the capital city to this natural, resort area.
Are you planning your trip to Armenia last minute?
Below are some of the top tours, hotels, and more!
Top Experiences and Tours in Armenia:
Top Hotels in Yerevan:
Looking for the best way to get around Armenia? Click here to check rental car rates for Armenia!
We will detail five different options that will take you from Yerevan to Sevan.
Yerevan to Lake Sevan: Easy Options to Get From Yerevan to Sevan
Even though Armenia is a small country, the mountainous terrain can leave it sometimes a bit difficult for travelers to navigate around.
That, along with some areas lacking English signs and well-maintained infrastructure, it is advised to plan your Armenia trip in advance so you can make sure you're confident and prepared.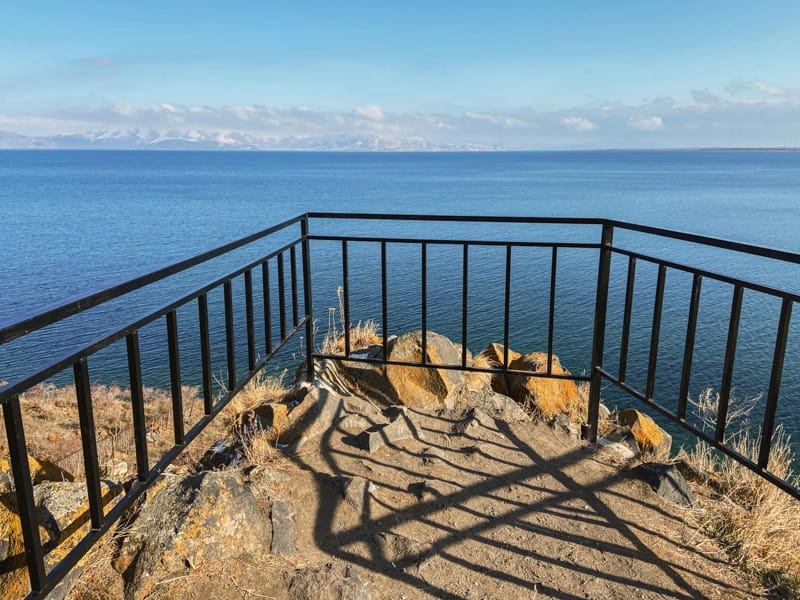 Like they say 'all roads lead to Rome'… well, in Armenia, all roads lead to Yerevan.  More or less, that is.
This guide will show you the best way to get from Yerevan to Lake Sevan.  But, the 'best way' depends on your time, budget, and patience… so we are providing four unique options for getting from Yerevan to Sevan.
Now that Gyumri is starting to get in on the Europe flights' action, we will eventually write a guide about how to get from Gyumri to Sevan, but for now, we hope this Yerevan – Sevan guide will answer all questions and concerns you have for getting to Lake Sevan.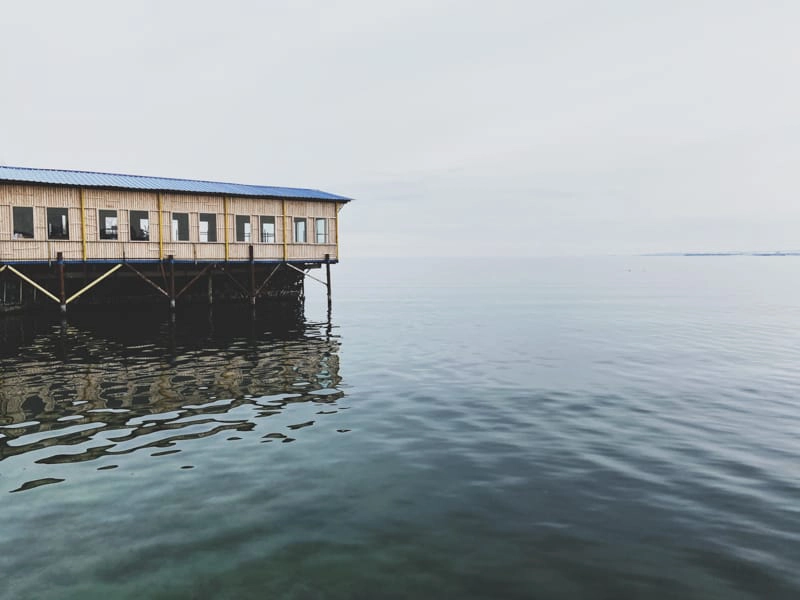 Why Should You Visit Lake Sevan?
We will be rolling out articles over time about Lake Sevan here on the site, but for now, we highly encourage you booking a trip to Sevan.  The massive blue lake is the biggest lake in the Caucasus region and it offers a unique biosphere and environment that you won't find anywhere else in Armenia.
Megan and I have traveled to Lake Sevan in many different seasons and we have found appealing reasons to travel there during each of them.
During the Armenian winter, we have gotten cozy at local cafes, in summer we enjoy the cooling waters of the lake, and in autumn we love nothing more than to prepare Armenian khorovats (BBQ) on a beach at Lake Sevan.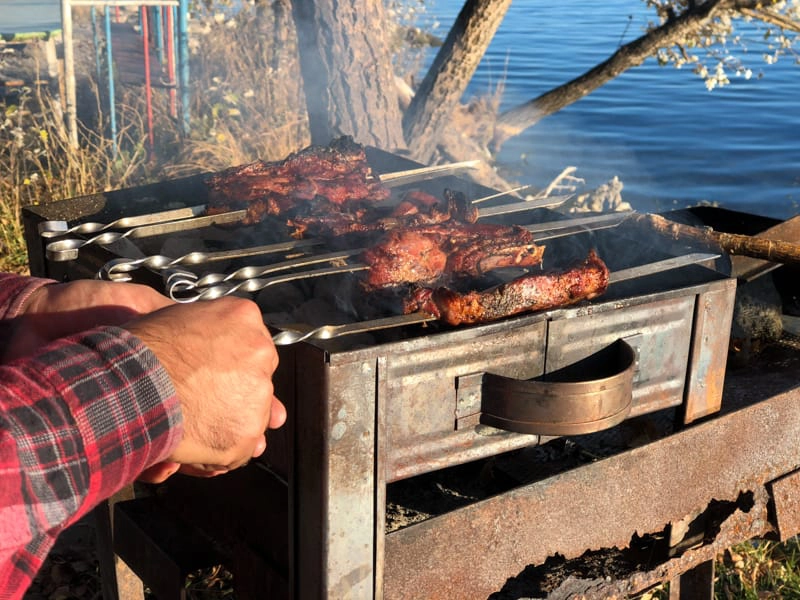 There are many reasons to go to Lake Sevan but this post is not about that… it is about how to get there!
Please let us know if you have any questions on how to get from Yerevan to Lake Sevan (and vice versa).
We are happy to answer emails or comments.
How to Get to Lake Sevan from Yerevan
Lake Sevan is located approximately 64 kilometers away from Yerevan and has an altitude of around 1,900 meters.
The lake is around 1,240 kilometers squared and is considered to be the largest, drinkable lake in all of the Caucasus.
To get to Lake Sevan from Yerevan, you will need to take one of the five modes of transportation listed in this post.
Your transportation choice will depend on your patience, budget, time, and desires.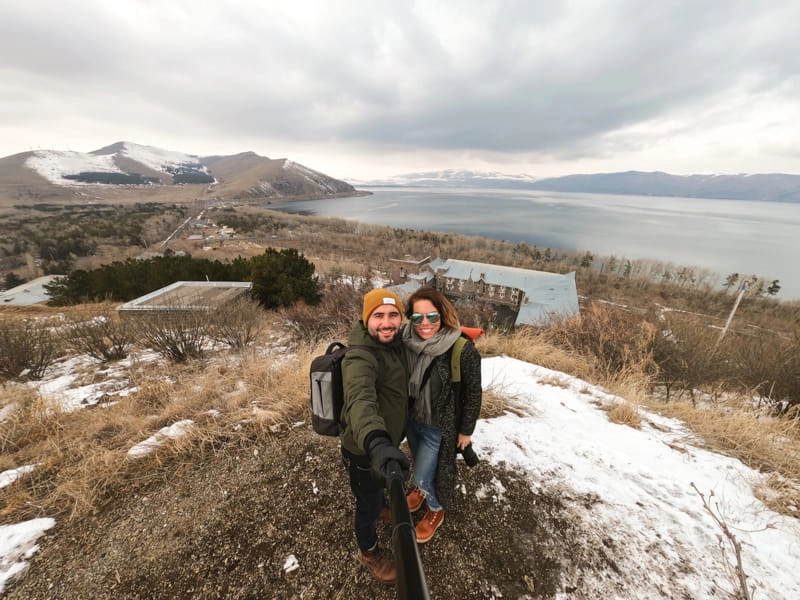 Yerevan to Lake Sevan by Minibus (Marshrutka)
One of the most common choices for getting to Lake Sevan from Yerevan is by taking a marshrutka, or minibus.
This is how many of the locals get to and from the region.
To take the bus to Lake Sevan, you will need to get to the Northern Bus Station in Yerevan.
It is located around thirty minutes from the Yerevan city center.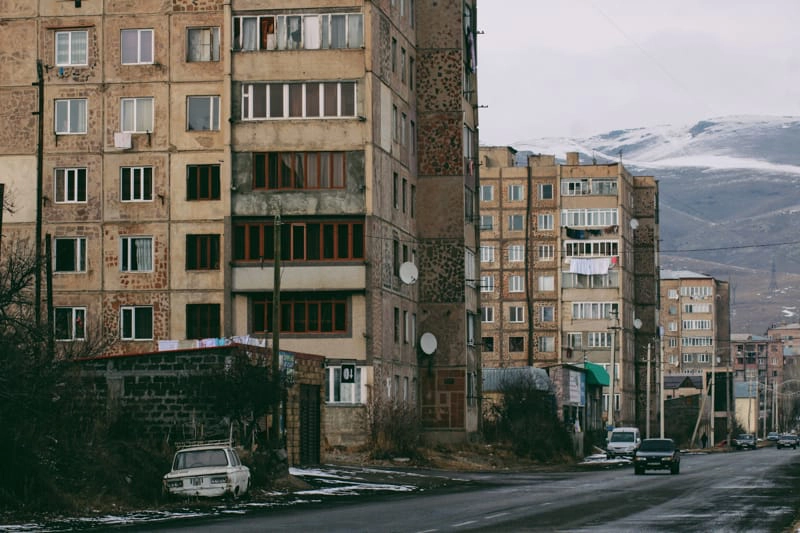 Minibuses will be leaving hourly from 0900 until 1900 and the trip will take around 50 minutes to 1 hour, depending on how many stops you will make throughout the trip.
Price for a bus ticket to Lake Sevan:  A bus ticket from Yerevan to Lake Sevan is 500 AMD (around $1).
Good to know:  The bus to Lake Sevan will take you to Sevan city and not straight to the lake.
You will need to get off in Sevan city and take a taxi to the lake or to Sevan Peninsula.
A taxi fare will be about 800-1000 AMD (about $2).  You can take a taxi through Yandex Taxi app.
Know that the minibus is not taking you straight to the Sevan lake but to Sevan city from where you need to take a taxi or transportation to Sevan lake. A taxi will cost you from 800-1000 AMD $2.
Yerevan to Lake Sevan by Train
Another viable option for getting from Yerevan to Lake Sevan is to take the train.
While this is an 'option', it may not be the desired option for everyone.  It will take the longest of any of the journeys.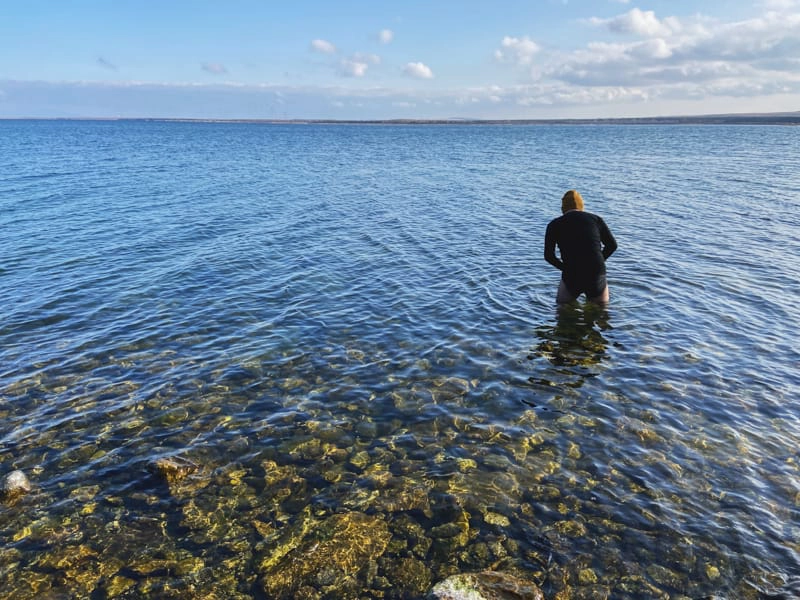 Yet another option which is comparably longer than any other option is the train ride.  The train to Sevan from Yerevan takes about three hours and you can see the lake from the window of the train for some of the ride.
The train leaves from the Almast Railway Station in Yerevan to Sevan and Shorzha.  During the summers, this is a really enjoyable trip if you don't mind being on a very old train.
The train to Lake Sevan goes on weekdays, except Wednesdays, to Sevan station near the Sevan Peninsula (you can actually walk to the peninsula from there pending you don't have excessive baggage).
On weekends, the train goes to Shorzha.
The trains leave Almast Railway Station at 0830 and come back to Yerevan at 1700.  It only moves once a day.
Price for a train ticket to Lake Sevan:  A ticket to Lake Sevan by train is 600 AMD if you're getting off at Sevan and 1000 AMD if you're disembarking at Shorzha.
Good to know:  Another great thing about taking the train to Sevan is that you can take equipment, baggage, and bikes on there with ease.  This is a great option for those planning to cycle around the lake.
Take a Taxi to Lake Sevan
One of the fastest and best options for getting to Lake Sevan from Yerevan is to take a taxi.
There are several online taxi apps, like GG, Yandex, and UTaxi that can get you from point A to point B.
Taking a taxi to Lake Sevan will give you the comfort that you may be missing with other transport options and it will take the shortest amount of time.
It will be less than an hour from the Yerevan city center to your hotel at Lake Sevan.
Price for a taxi to Lake Sevan:  It will be about $18 one-way for a taxi to Lake Sevan.
Good to know:  Taxis work in many places in Sevan, but not everywhere.
If you head out of Sevan city and the touristy areas to a place like Gavar, you may be unable to take a taxi with an app.
Drive to Lake Sevan with a Rental Car
Probably the best option for getting to.
This will give you the freedom of stopping wherever you want on the way (it's a pretty drive!)  It also will be quicker to get to Sevan if you don't stop.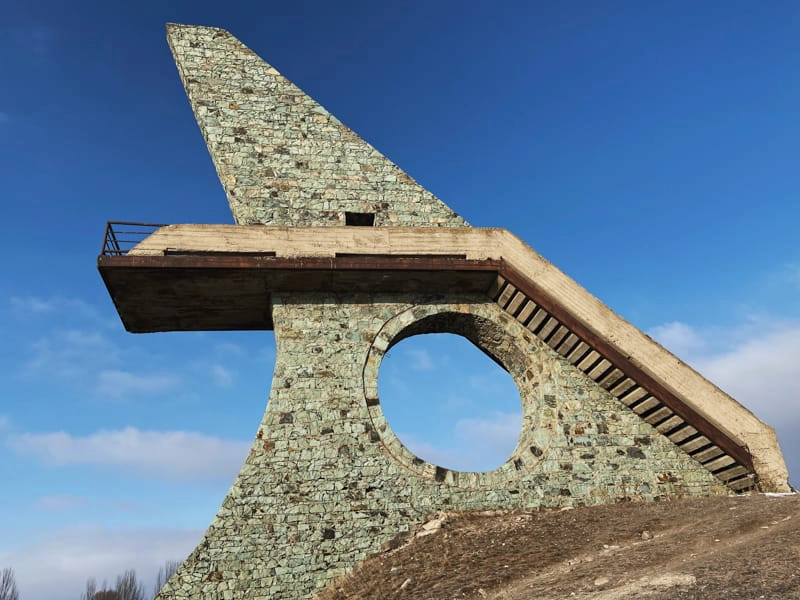 Good to know:  If you rent a car and drive to Sevan, continue north a little bit and head to Dilijan.
The area around Sevan is a bit barren and there are not many trees.
As soon as you pass through a tunnel and are on the other side where Dilijan is, it is like another world!  One with tons of trees, greenery, and forests.
It is definitely a great option for the day if you can squeeze it in.
>> Click here to rent a car in Armenia
Taking a Tour to Lake Sevan
The last and final option for getting to see Lake Sevan and the surrounding area is to book a tour to Lake Sevan.
This is definitely the best option for those that are pressed for time, want to see Sevan with an experienced guide, and more.  It kind of takes the pain out of the entire process.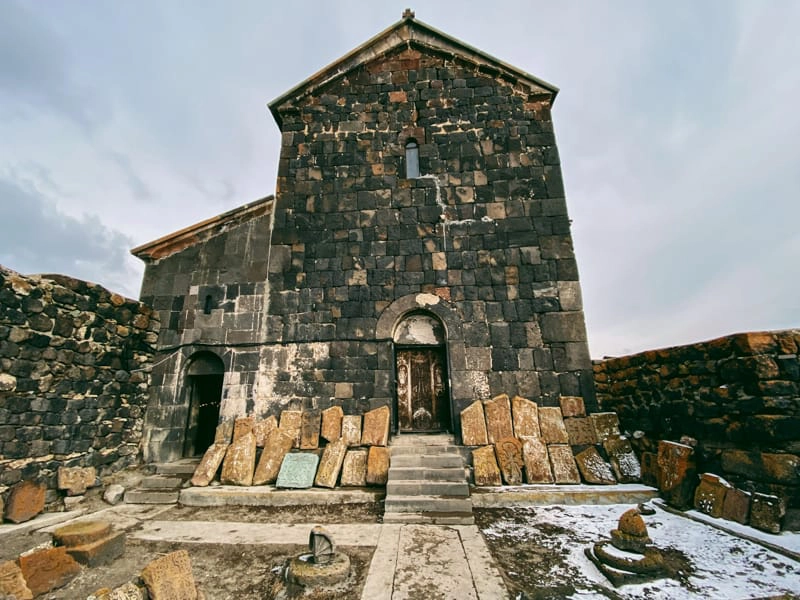 There are a few tours we recommend for getting to Lake Sevan.
We partner with Get Your Guide as we use their tours ourselves and have had nothing but exceptional experiences and they only choose quality partners for their tour providers.
Here are some of the top-rated Sevan tours we recommend from GYG:
Where to Stay in Lake Sevan
There are many places to stay in and around Lake Sevan.  Here are our top choices that will cover all budgets.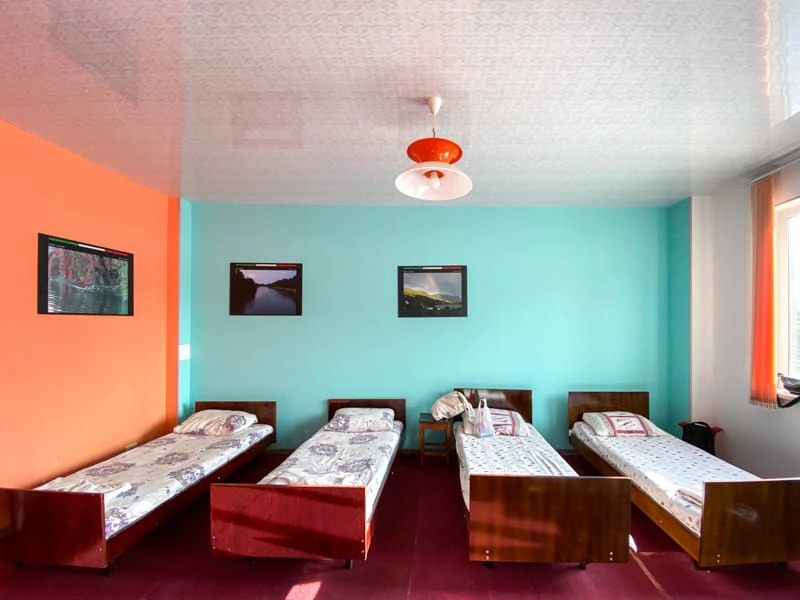 We particularly loved Lake Sevan Hostel, a family-run hostel in Sevan city that offered accommodation close to some great restaurants and the Bohem Teahouse- our favorite place in Sevan!
If you're looking at traveling from Yerevan to Sevan, we hope that you find this short guide useful for planning your trip!
If you have questions about how to get from Yerevan to Lake Sevan, please send us a message or drop a comment below.  Thanks!
Click here if you're looking for things to do in Lake Sevan or things to do in Gavar.