It's easy to come up with things to do during the warmer months of the year but it can be a challenge during the colder months and throughout the low season of a destination.
These are some awesome and festive things to do in Armenia in winter.
If you have Armenia winter suggestions, please leave them in the comments for travelers to try out.
Fun Things to Do in Armenia in Winter
If you're traveling to Armenia in winter, you will be pleased to know that there are plenty of activities to keep you occupied.
Armenia's smolderingly hot summers would lead one to believe that Armenia probably has pretty mild winters, but the landscapes and climate actually do the opposite.  Armenia can get cold!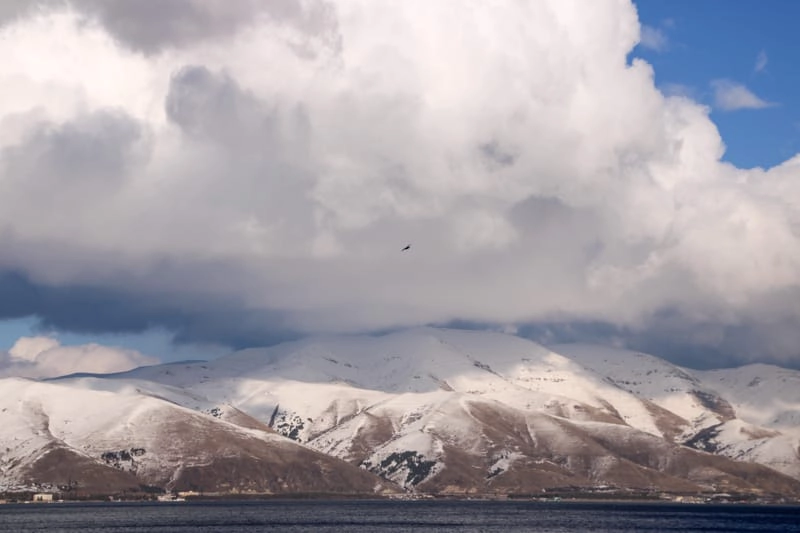 Fortunately, the cold can be easily enjoyed or taken refuge from if you're in a town or city.
This guide will showcase some of our favorite Armenian winter activities and things to do.  It will take you from Yerevan to Jermuk and beyond.
If you have additional winter in Armenia suggestions, please let us know in the comments below!
Winter months in Armenia
Usually, the winter in Armenia lasts three months, starting from December until February and it is typical for the first snowfall to take place in early December in the mountains and in the Gegharkunik region.
Winter temperature in Armenia
The temperature in Yerevan in December fluctuates from 6°C (42°F) to -7°C (21°F).
The snow starts to fall in the capital city, Yerevan, much later than in the mountainous part of the country. The average winter temperature in Armenia's mountainous region fluctuates between -10C (14°F) to -20°C (-4°F).
Armenia Winter Activities
Armenia is a mountainous country with rather rugged terrain in some parts and lush forests in others.
The raw beauty and untouched nature in Armenia really lends itself to some amazing winter activities.
This is a list of things to do in Armenia in winter for the adventurous traveler and nature lover.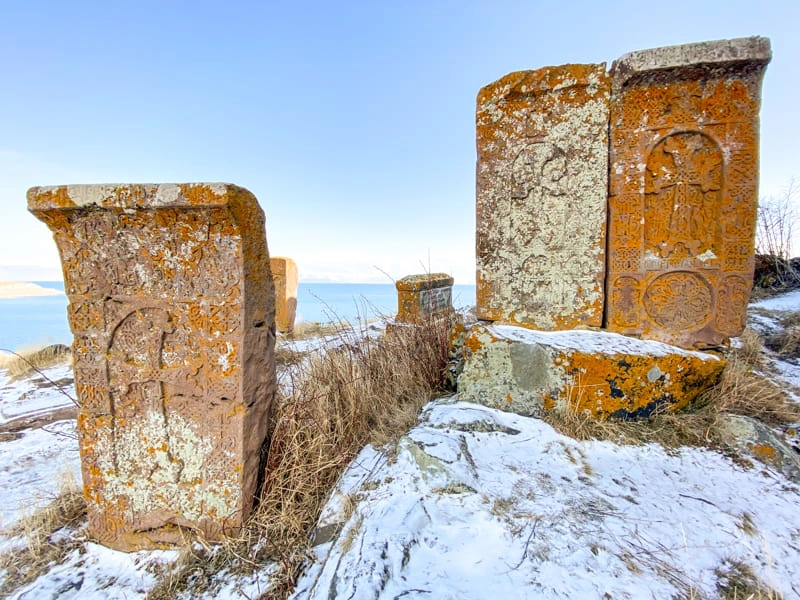 1. Skiing in Armenia
One of the most exciting things to do during an Armenian winter is to go skiing.
You can either take to the slopes or put your feet into a pair of cross-country skis and glide along the Armenian Highlands.
There are several opportunities for skiing and winter sports in Armenia.  Here are a few of our recommended places to ski in Armenia:
Tsaghkadzor (downhill)
Jermuk (downhill)
Ashotsk (cross-country)
While skiing in Ashotsk is still a work in progress, there are resorts built in Tsaghkadzor catering to those who want to enjoy the cozy mountain lodges in addition to hitting the slopes for some fresh powder.
Be sure to book your Tsaghkadzor accommodation ahead of time to beat the crowds and reserve your space there.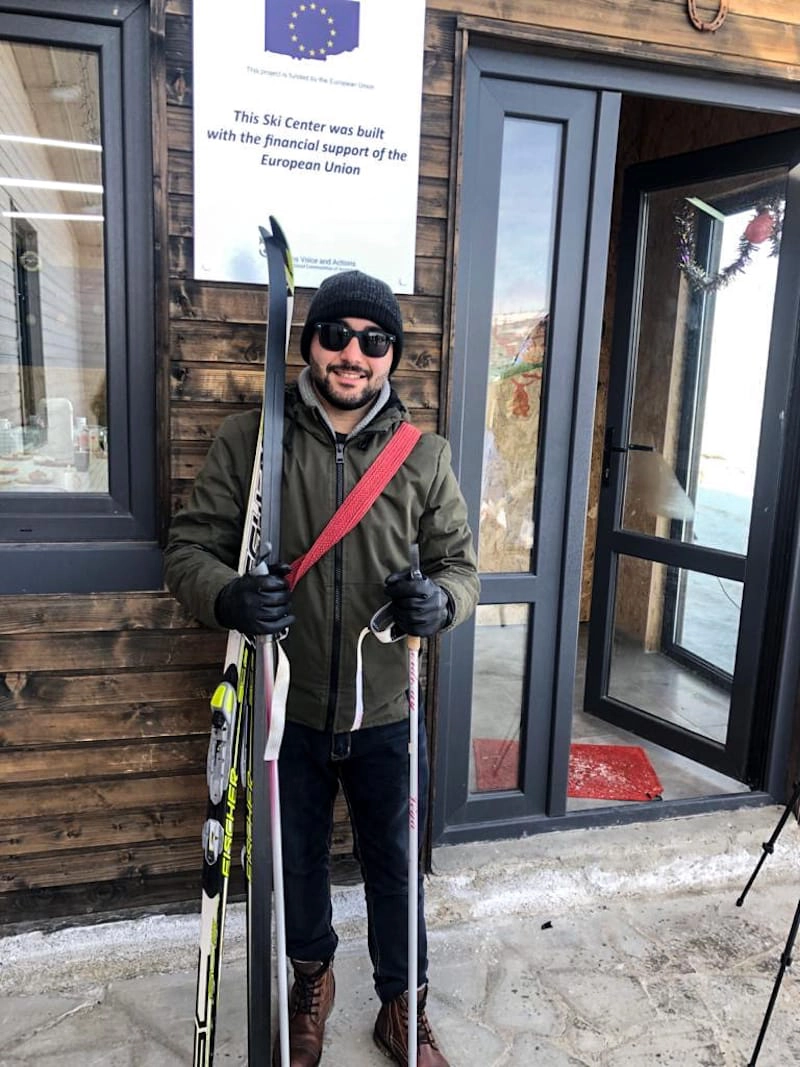 If you're down to visit Tsaghkadzor and the surrounding area, this tour will take you to Tsaghkadzor, Dilijan, and Sevan in an eight-hour trip showing you some of the best of Armenia's scenery and winter sports.
It is definitely a can't-miss tour if you're visiting Armenia in winter.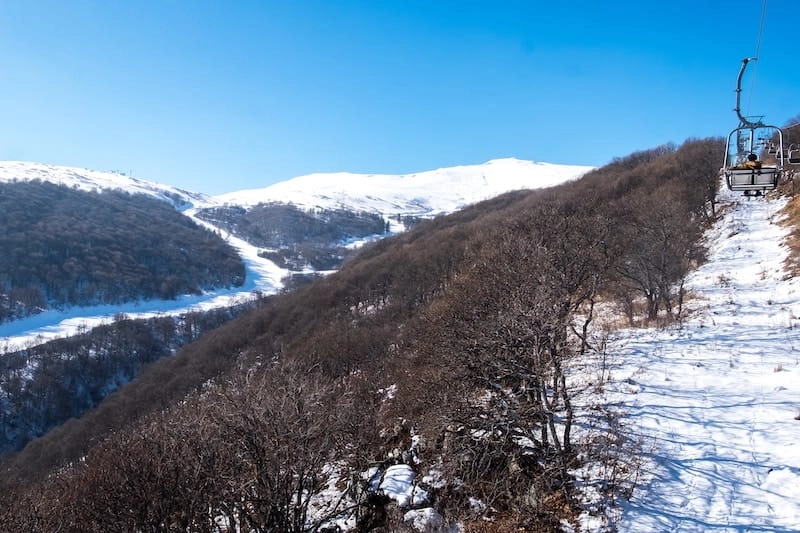 2. Ice Skating in Armenia
Another favorite Armenian winter activity is ice skating.
You can go ice skating in Armenia in a few places but we suggest heading to Yerevan to do it as you will be able to easily rent gear and enjoy it in a city environment.
Here are a few places in Yerevan where you can go skating during the winter:
Yerevan Winter Park
Swan Lake (near Opera)
Karen Demirchyan Sports and Concerts Complex
While the Winter Park in Yerevan is known for its ice skating, it is also a really pleasant place to hang around during the colder months.
There are games, food stalls, and it is in its own little way, a winter wonderland.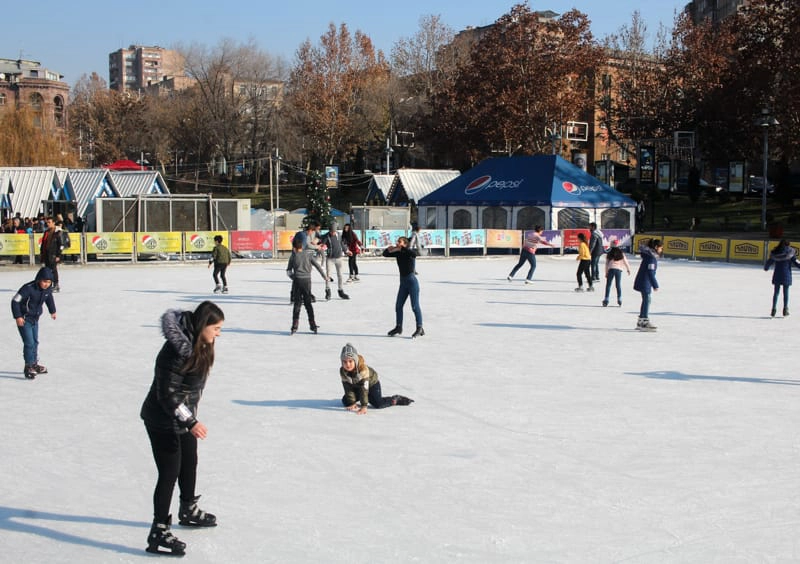 3. Winter Hiking in Armenia
This activity is definitely not for rookies or those who are not in great shape.
Winter hiking in Armenia is an adventurous activity that takes a lot of skills, patience, and endurance.  Aram recently went winter hiking and it was one of the most challenging things he has ever done.
Be sure you hire an experienced guide, dress warmly, and are physically prepared.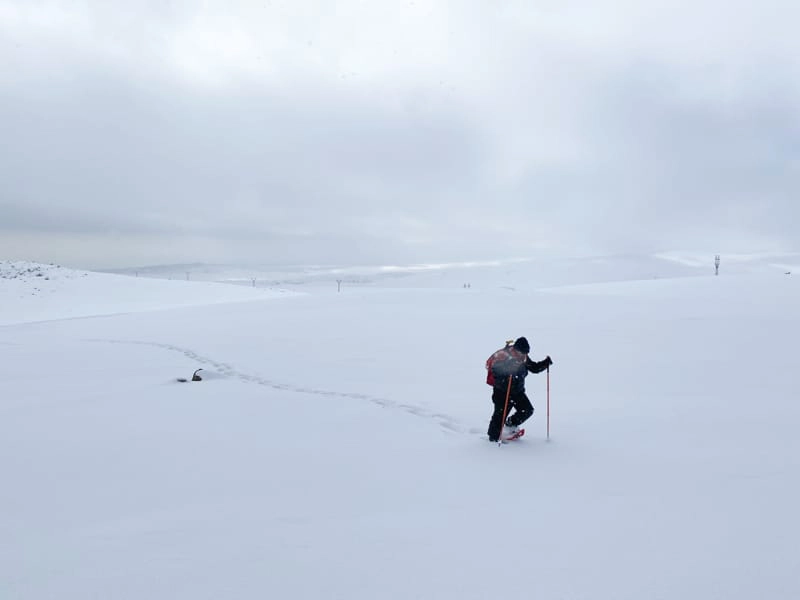 As for experienced guides, we suggest getting in touch with Tripsters, an adventure tour company that offers awesome tours, day trips, and experienced guides for every occasion.
You can also reach them by phone at +374 96 858883.
4. Visit Hot Springs in Armenia
Like many other mountainous nations, Armenia has a few hot springs you can visit and enjoy throughout the country.
They are not all within a day's drive from Yerevan, unfortunately, but visiting them may get you to other spectacular regions in the country.
Here are five well-known hot springs in Armenia that you can visit during the winter:
Jermuk Hot Springs and Geyser
Hankavan Thermal Springs
Arzakan Hot Springs (Aghveran)
Tatev Thermal Springs
Spitaklich Thermal Spring (Ararat)
If you decide to visit a hot spring in Armenia, please leave no trace and be sure that you leave the nature as you found it.
Alternatively, you can book an organized tour to Jermuk and Tatev area where these springs are located.
You may not be able to visit them directly, but you will get a cool tour of the area introducing you to the south of Armenia… which will definitely leave you wanting to return!
Armenian Food to Eat During Winter
If you're in Armenia in winter, you better be ready to eat.  And eat.  And eat.  When I am there during the New Year and Christmas, I pack on the weight and have no regrets whatsoever because the food is out of this world.
You will find everything from sweet sujukh to pomegranate to ghapama gracing tables and here are a few of our recommendations for Armenian winter foods that you must try when you visit.
5. Test Your Tastebuds with Khash
Love it or hate it, khash is one of the most embraced foods and cultures in Armenia.  I, personally, love it.
But, it was most definitely an acquired taste and not love at first sight (or slurp).
Khash is a soup made from pig trotters that cook long overnight and is typically eaten in the mornings as a 'hangover' cure… alongside a shot (or many) of vodka.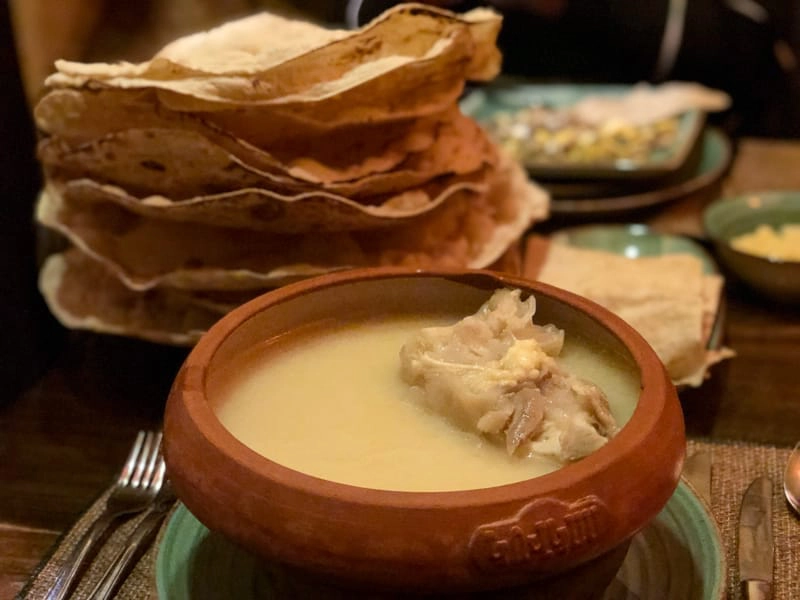 Served with dried lavash, raw garlic, and a lot of salt, this fatty soup also comes with a gelatinous pig trotter inside of it.
It is definitely not for the faint of heart but if you look past its appearance, you may just find the perfect winter meal.
You can find khash on many menus throughout the Armenian countryside but if you find yourself in Yerevan and craving it, we recommend getting it at Caucasus Tavern at 82 Hanrapetutyan St.
The restaurant is open all night and khash is always on the menu during the colder months.  You will likely see other khash lovers enjoying the soup in large groups early in the morning during the Armenian winter.
6. Find a Cozy Cafe in Yerevan… or Beyond
Yerevan is brimming with some of the coolest cafes around but the rest of Armenia is not to be forgotten about either.
Many cities have cool cafes and spaces where you can take refuge from the cold and enjoy a hot cup of coffee or tea.  Here are some of our favorite cafes in Yerevan and beyond:
Epicure (Yerevan)
The Coffee 23.5 (Yerevan)
Lumen (Yerevan)
Cafe #2 (Dilijan)
Herbs & Honey (Gyumri)
Bohem Tea House (Sevan)
Machanents Tourism & Art (Etchmiadzin)
One great things about cafes in Armenia is that they almost always have wifi.
This is great as Aram and I love traveling around to different cities and areas and working for a change of scenery.
We have gone to Dilijan solely to work at Cafe #2.  New cafes are popping up left and right across Armenia and we hope to add to this list in the future.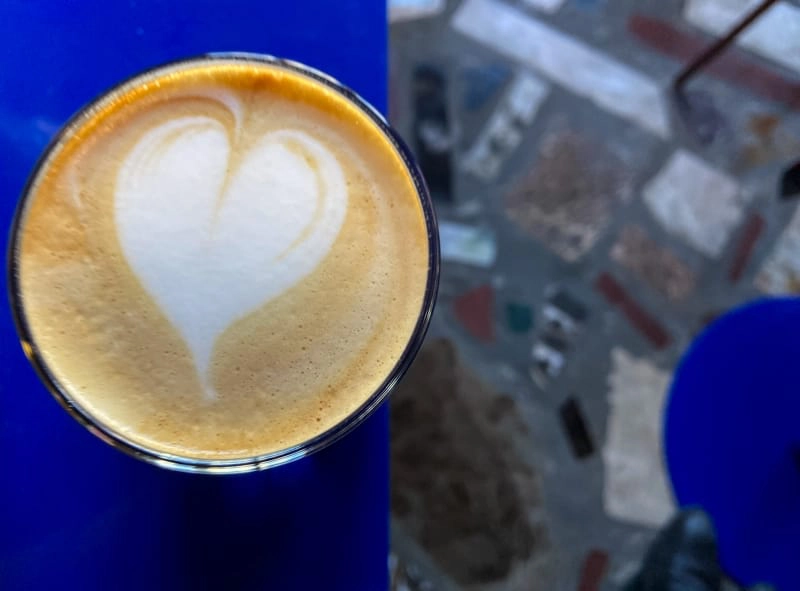 7. Devour Ghapama with Friends (or Alone)
One of the signs that autumn and winter have come to Armenia is that ghapama starts making its appearance.
Ghapama is a rice dish that is cooked inside of a pumpkin or gourd and is often either sweet or savory.
But, even the savory edition is a bit sweet (and super delicious).
It comes cooked with dried fruits and other deliciousness.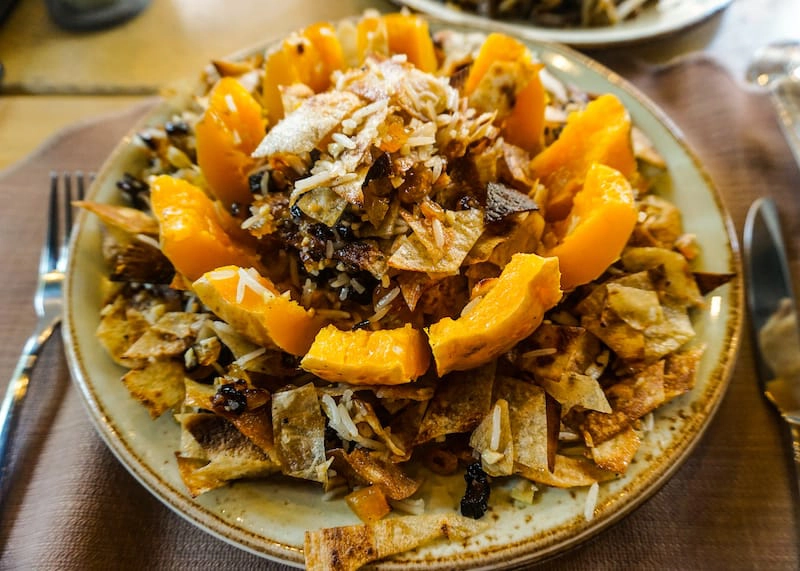 You can get ghapama at several places, particularly in Yerevan.
If you are with a group, we recommend having ghapama at Yerevan Pandok (91 Teryan Street).  Their ghapama is larger and a bit more savory.
If you're alone and want to try the dish, head to Lavash at 21 Tumanyan Street where you can have a smaller one cooked for you.
It is a bit sweeter there, for your information.
Presentation is everything with ghapama so be sure to take some photos or a video as your server cuts into it and prepares it for plating.
8. Drink a Big Glass of Armenian Beer
You can find beer in Armenia virtually everywhere.
We usually recommend coming to Yerevan for your beer needs, however, as the city has a growing craft beer and microbrewery scene.
You can find beer in Yerevan at many restaurants, bars, and pubs, but our favorite place to stop by for a cold one is Dors.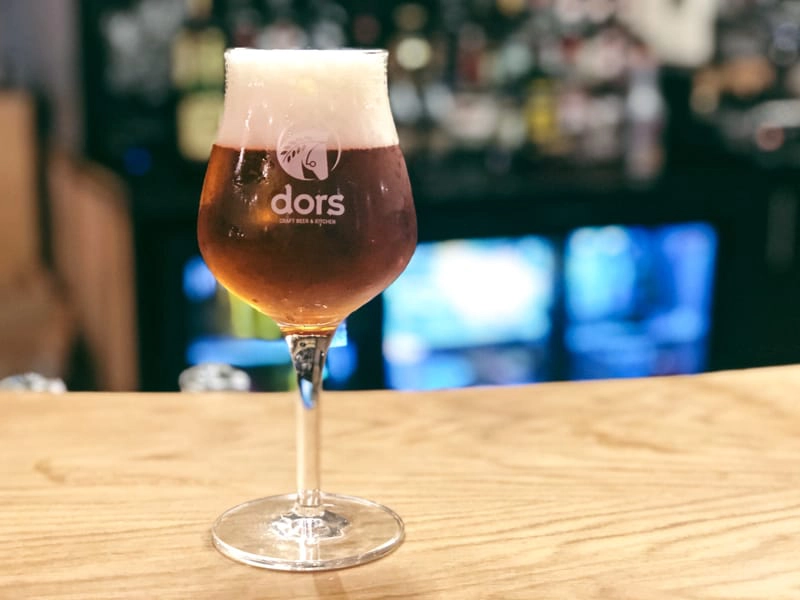 Dors opened their 'doors' in the summer of 2019 and definitely have one of the best terraces in the city.
However, this is a winter guide and we also think they have one of the best interiors in all of Yerevan… so regardless of when you head there, you will find cool vibes and tasty beer.
While Dors specializes in beer, they also have exceptional food.
We recommend ordering their grilled veggie platter and homemade vanilla ice cream and brownie for dessert.
Both are absolutely exceptional… and will leave you vying to return.
You can find Dors at 4/6 Amiryan and Buzand Street.  The location is a bit strange but if you head to Mayrig Restaurant, it is right beside it.  The space is very large.
Places and Cities to Visit in Armenia
There are so many awesome places to visit in Armenia during winter.
While we say to just bundle up warm and head out anywhere, we will definitely give a few of our favorite destinations in Armenia to travel to in winter below.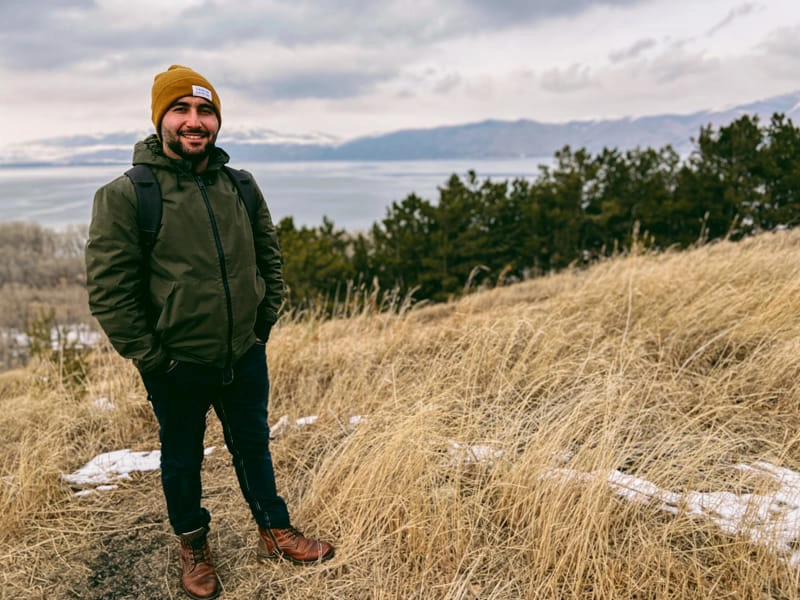 If you have additional cities or towns worth visiting, please leave a comment or send us an email.
9. Garni
Garni and the Temple of Garni is one of the most underrated places to visit in Armenia in winter.
The village is known for its historic and famed Pagan Temple but the natural beauty in the area that surrounds it adds allure and mystery that keeps people coming back for more.
Not only is Garni Temple worth visiting during winter but the Arch of Charents is also a can't-miss sight in Armenia during this season.
It offers insanely gorgeous views over the rugged, Armenian landscape.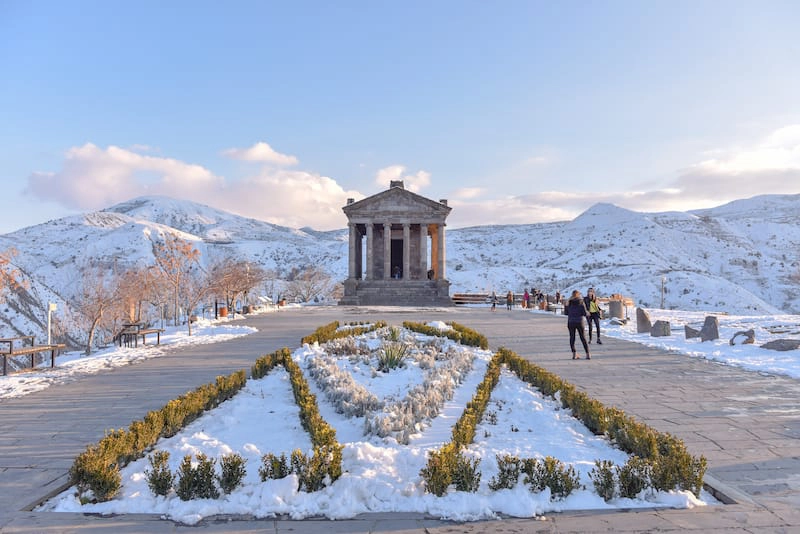 Yerevan will often be void of snow during the winter season but you will almost always find a little bit out at Garni.
Be sure to pop into Noah's Garden for some souvenirs and wine and then have a hearty, wintry meal at 7QAR when done.
If you're looking for another fantastic stop in the area, be sure to hit up Geghard Monastery while you're at it.
It is a UNESCO World Heritage Site and it is built into the side of the mountain.
⇒ Want to experience the history and scenery of Garni and Geghard for an affordable price and with someone else organizing it?  Click here to book a trip to Garni and Geghard (including lunch) from Yerevan.
10. Etchmiadzin
A winter trip to Armenia is never complete without a stop in Etchmiadzin, the Holy City of Armenia (and Aram's hometown!)
I really love Etchmiadzin during the winter months because the UNESCO sites have far fewer people but they are still standing and ready to be visited.
The city is also really cozy and you can stop by Agape Restaurant for some traditional food or over at Machanent's for an Armenian coffee.
We also recommend stopping by Zvartnots Cathedral on your way to or from Etchmiadzin.
It is especially beautiful during the winter and *hopefully* you will see it surrounded by a snowy landscape.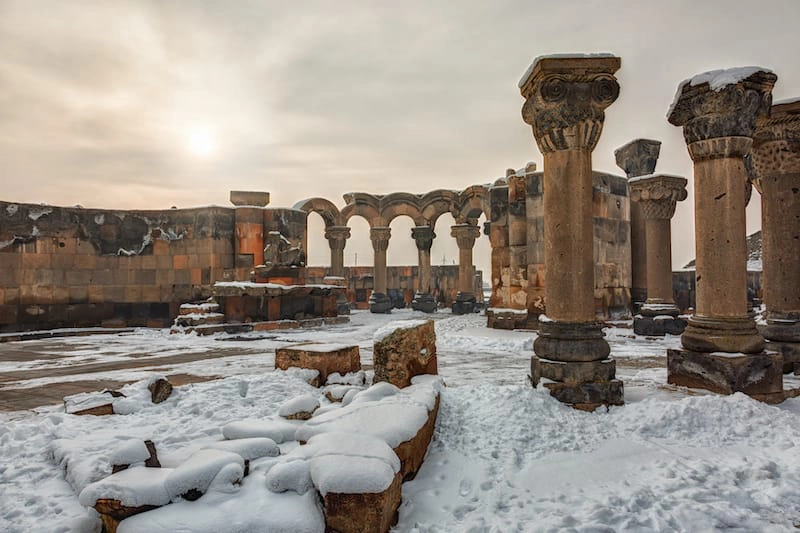 Another reason to head to Etchmiadzin in winter is to visit the Christmas Bazaar and Pomegranate Festival.
I have spent my last two New Year's Eves in the city and there is really something special about it and I think it is one of the up-and-coming places to visit in Armenia in the next few years.
If you want to learn more about Etchmiadzin and its historical importance to Armenia, we recommend taking a tour of the city with a knowledgeable guide.
This tour will take you to Etchmiadzin and Zvartnots Cathedral and you will learn all about the early days of Christianity beginning with this very region.
11. Dilijan
In recent times, Dilijan is starting to finally garner the attention it deserves.
The city, also known as the Switzerland of Armenia, sits a couple of hours north of Yerevan in a gorgeous, forested area of the country.
Dilijan is home to several wooden houses and charming, cobbled streets.
Once you get a little outside of the center, you will see forests for days, clear lakes, and some of the most famous monasteries in Armenia.
Aram and I also love stopping by Cafe #2 when in the region and working from there.  It is central, has warm soups, and offers a variety of tea options.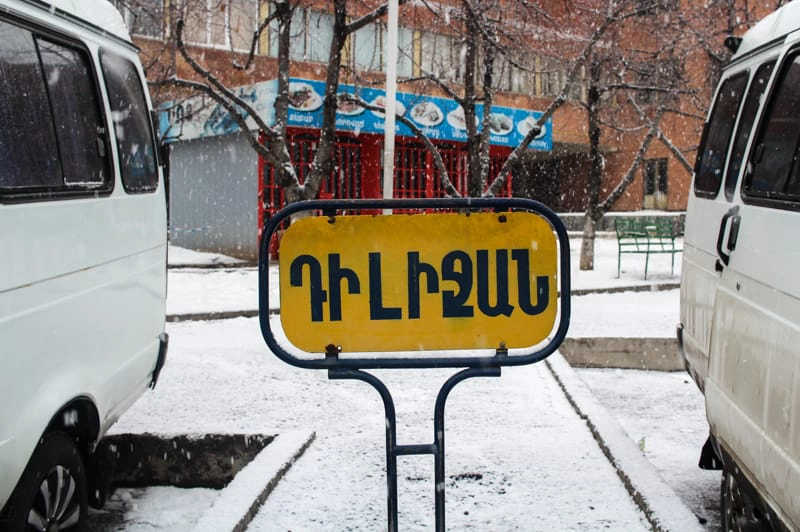 Getting to Dilijan is pretty easy from Yerevan as you will need to head to the East Bus Station and catch a marshrutka from there.
This will require patience, however, as you will need to wait for it to fill up.
Alternatively, you can take a taxi there and spend a couple of days up in Dilijan and nearby Sevan Lake.
You can also catch one of the few tours that offer trips to Dilijan.
12. Gyumri
If you're a huge fan of winter and want to tackle some even colder temperatures, book a trip to Gyumri for a couple of days.  Gyumri is Armenia's second-largest city and definitely a cultural hub and one of the best places to visit in Armenia.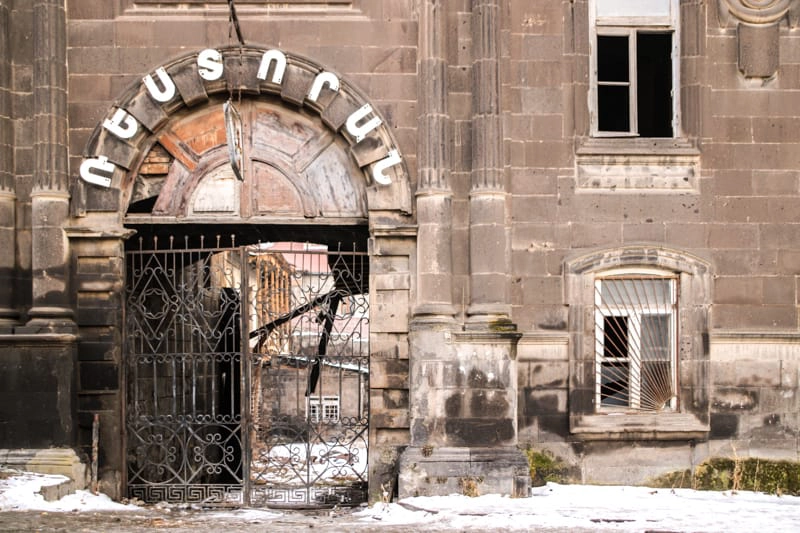 One of the best things about Gyumri in winter is that the city lends itself to a fun couple of days by having such a variety of activities.
You can go skiing in nearby Ashotsk, sit inside at a cozy cafe like Herbs & Honey, eat delicious Armenian food at the many restaurants in the city, visit a museum, and much, much more.
In addition, Gyumri now has two flights going there from Europe (one from Greece and one from Germany), so don't expect this city to stay undiscovered for too long.
It truly is a welcomed contrast to busy Yerevan and is one of the best places in Armenia.
Bazaars and Winter Festivals in Armenia
Armenia really comes alive in spring, summer, and autumn when festivals take over the city streets and everyone can be found with a glass of red wine in their hand while enjoying the tasty food the Caucasian country has to offer.
But what about in winter?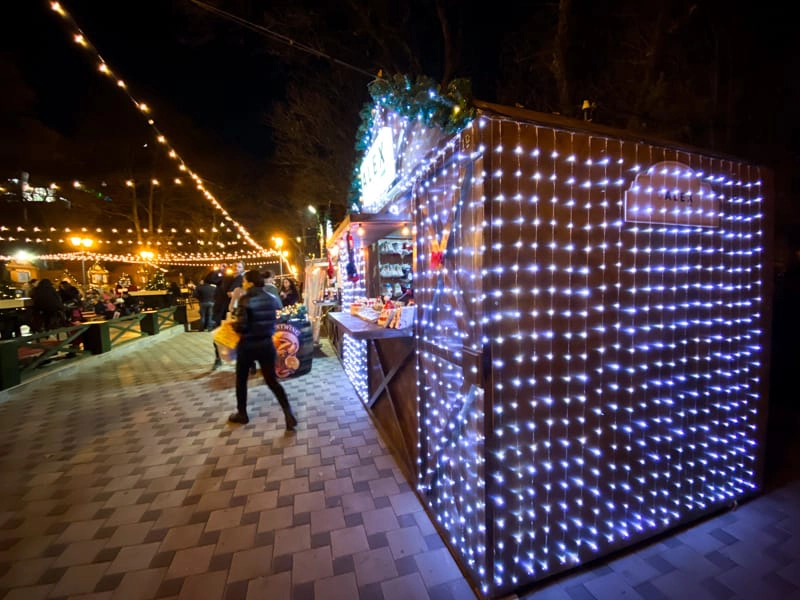 Winter in Armenia is not void of festivals and bazaars.  Many take place over the holiday season and they can be a blast to enjoy if you're visiting during the season.
Every area in Armenia has its own celebrations, and since we live in Yerevan, here are our two Yerevan winter favorites.
13. Yerevan Christmas Market (Bazaar)
The Yerevan Christmas Bazaar and Market has really expanded into a cozy and European-like market.
It used to be a much smaller affair on Northern Avenue, but it is now located right south of Republic Square and has become such a wonderful place to visit.
There are several stalls filled with baked goods, candy, coffee and cocoa, and much more.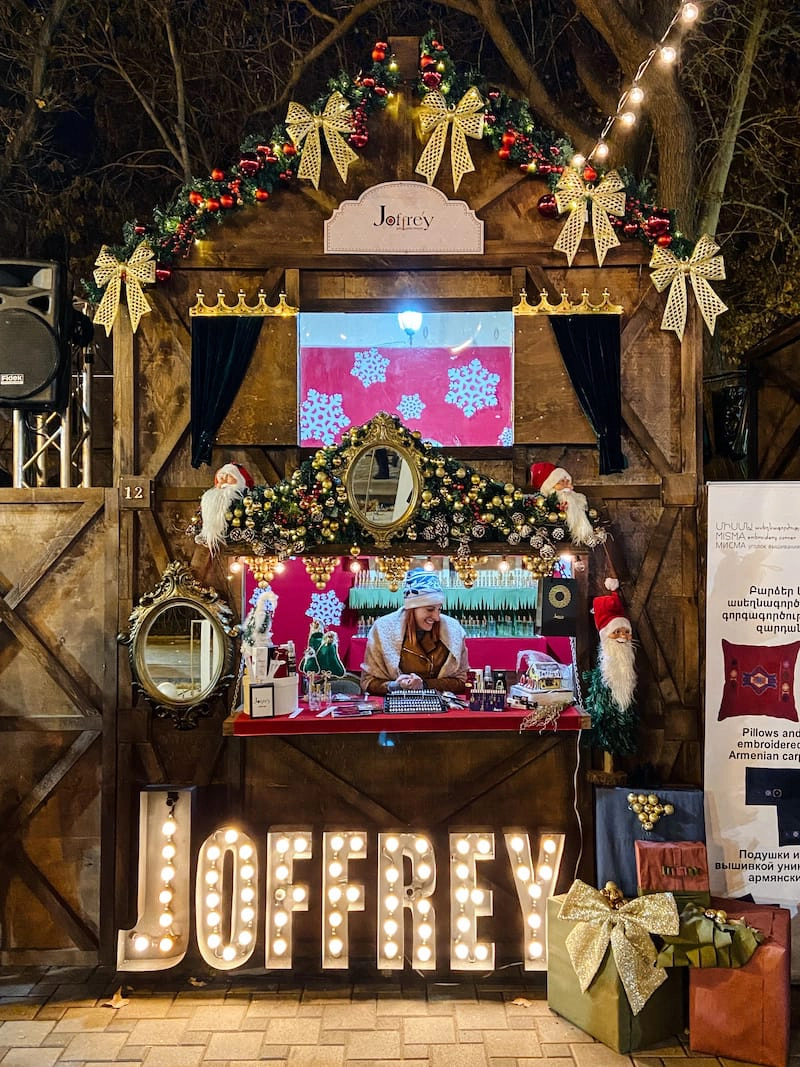 Aram and I went to the Yerevan Christmas Bazaar multiple times this season and really fell in love with the vibe of the new one.
We highly recommend stopping by if you're in Armenia during winter!
14. New Year's Eve in Yerevan
While we spent NYE solely in Etchmiadzin this year, we did spend part of last year's in Yerevan and it was remarkable.
It truly is a spectacle that everyone should experience if they are in Yerevan during the New Year!
Every year is a little bit different and worth being there for.
I could spend NYE anywhere in the world but something about ending my year in Armenia and starting a new one in Armenia really resonates with me and I am not sure I'll ever do anything else.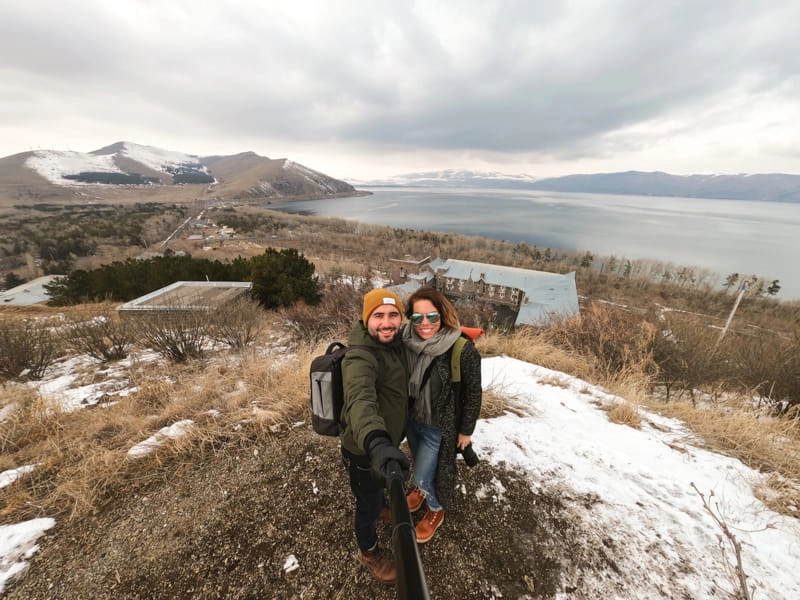 If Armenia in winter is on your list or you simply find cheap tickets to the Caucasian country during the off-season, you will certainly find plenty to do to keep you occupied and enthralled by all Armenia has to offer.
If you have any questions or recommendations, please send us an email or drop a comment for other readers!
YOU MIGHT ALSO LIKE: