Armenian cuisine is typically brimming with freshness and the most robust of flavors.  However, when winter rolls around, heartier dishes take center stage and keep us warm for the colder months.
This post showcases a handful of Armenian dishes to enjoy in the winter.  Please let us know your favorite Armenian winter dish in the comments!
Armenian Food in the Winter
One of the most interesting things about Armenian food compared to that of many other countries is that most ingredients are only available in the season that they grow in, as intended.
This means that when you see an apricot at the market, it is likely in season and at its tastiest.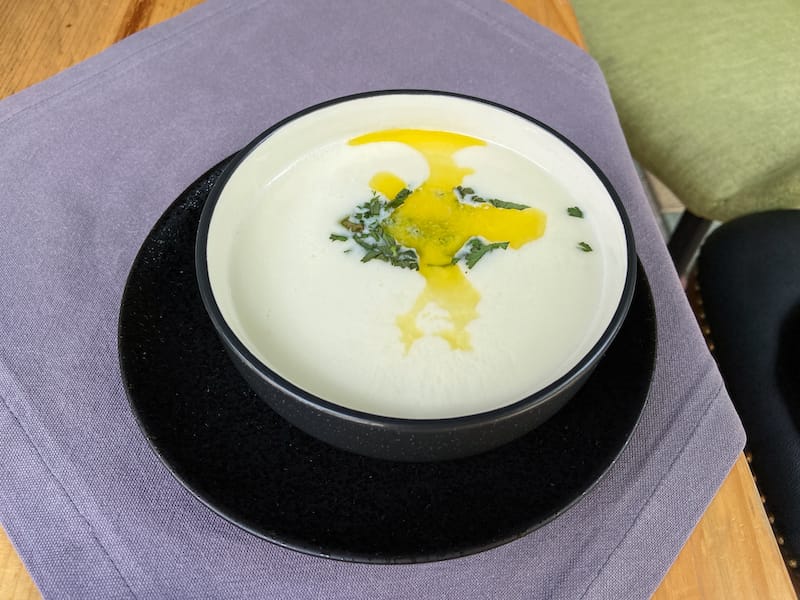 There are some ingredients that you will have no problem finding all year long, such as tomatoes, but Armenians know that they taste better in certain seasons and they will pickle, jar, or make condiments for the winter with them when they are at their most flavorful.
Summer is all about freshness and salivating over what the Earth has provided during that season.  Winter is about staying warm, soups, and heartier types of dishes.  Below are a few favorites and a little bit about them.  We have also included a couple of Armenian dishes that are vegetarian or vegan.
Khash
Armenian: Խաշ
Is it Vegan/Vegetarian? No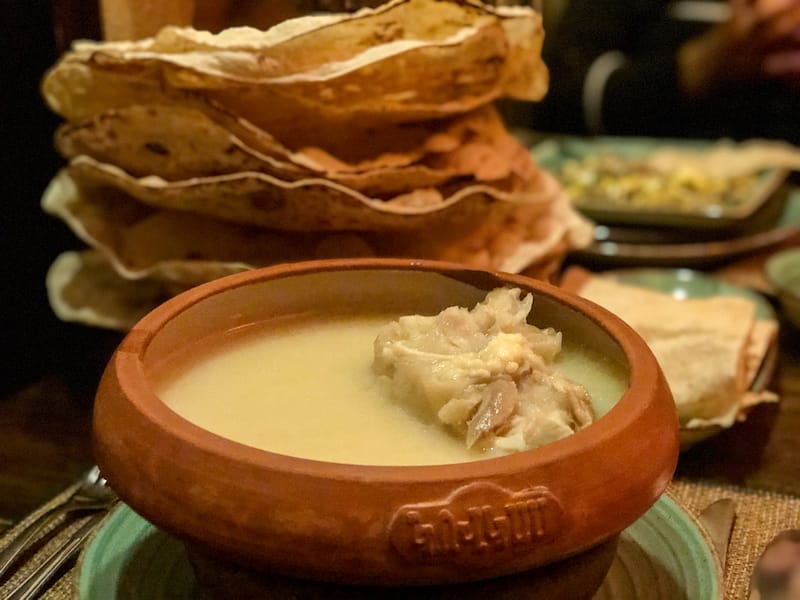 In Armenia, khash is not just a broth made from beef bones and belly. It is a ritual for the organizers and participants. Khash is an ancient Armenian dish, which later spread throughout the Caucasus and Transcaucasia.
The name of the dish comes from the word "boil". In ancient times, khash was considered the food of the poor, as it was used to make what was leftover from ritual sacrifices or meat sales.
Khash season in Armenia begins in late autumn, during the first cold days of the season, and continues until the weather turns warm again. 
It is true that the process of preparing the necessary ingredients for making khash is quite long and tiring, but the result is worth it.
The respected "khashaker" gathers around the table early in the morning. And this is not accidental! Khash is a very filling dish that can provide energy for the whole day.
To make khash, you need beef legs, and, if desired, animal guts. Eating khash has several unwritten laws that are all sacredly observed.
Cold vodka, spring or mineral water, radish, pickles, pepper, and dry lavash, are all served alongside the khash. Crushed garlic, greens, cheese (a salty cheese similar to Feta), and, of course, salt, must also be on the table.
It should be noted that salt is not added to the khash during cooking; it is added during eating. Since khash is eaten in a no-frills and casual manner, a wet napkin is placed around each table. Khash is a fantastic dish to eat in Armenia in autumn and winter, both.
Where to Eat Khash in Yerevan
You can find it at several places around Yerevan, including the 24/7 restaurant, Caucasus Tavern, where you will see several people there in groups early in the morning eating heaping bowls of khash and taking in rounds of vodka.
You can find Caucasus Tavern at 82 Hanrapetutyan St in Yerevan.
Khash will come with a cow hoof inside of it. If you just want the soup without this, please let the server know. If they do not speak English, you can show them this sentence "Խաշ առանց միս ու զինգ մեջը."  Please do note that the soup will still be made with animal… it just won't have the extremity inside of the soup for serving.
Ghapama
Armenian: Ղափամա
Is it Vegan/Vegetarian? It is vegetarian (contains honey).
Ghapama is a bright and mouth-watering dish that symbolizes unity and friendship. In the old days in Armenia, not a single festive table was complete without ghapama.
Whether it is a wedding, New Year, or Christmas, a golden pot with sweet pilaf has always stood in its place of honor.
It was placed in front of the newlyweds as a sign of wishes for a sweet and long life together. This tradition is still observed in many Armenian families. Ghapama is a festive dish that gathers friends, relatives, and family members.
After all, there is a song praising this Armenian winter dish called "Hey jan, ghapama". It is performed by Harut Pambukhchyan in a sincere tone, inviting everyone to the feast.
Ghapama is prepared by removing the insides of the pumpkin. The top of the pumpkin is cut off. Minced meat with boiled rice, nuts, and dried fruits such as chopped almonds, apple, dogwood, apricot, plums, dates, prunes, and raisins are added inside of the pumpkin.
Since ghapama has become widespread in both Eastern and European cuisine, people began to put any dried fruits and nuts of the chef's choice in it.
The pumpkin is closed on top with a cut lid, wrapped in foil, and placed in the oven. Cooking times may vary. Usually, it takes from 40 minutes to 1.5 hours. The pumpkin is baked until soft and then served. Before use, the pumpkin is cut from top to bottom into slices.
Where to Eat Ghapama in Yerevan
You can find ghapama at plenty of places in Yerevan and Armenia in winter.  If you're looking for a large ghapama to share amongst a group, Yerevan Pandok is a fantastic place to enjoy it.
You can find Yerevan Pandok at 91 Teryan St in Yerevan.  Please note that they get really crowded so you will need to likely book a table!
If you're traveling to Yerevan solo and want to still try Ghapama, you can get a small one at Lavash Restaurant or Sherep (same owners).  Their ghapama is a bit of a sweeter one that really lets the dried fruits and honey shine, so be sure to order something savory alongside it.
You can find Lavash at 21 Tumanyan St and Sherep at 1 Amiryan St.
Khashlama
Armenian: Խաշլամա
Is it Vegan/Vegetarian? No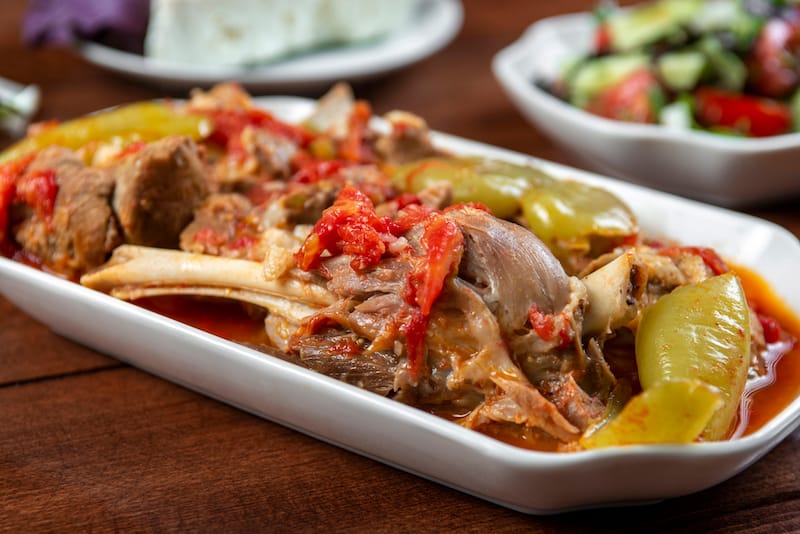 In ancient times, it was customary to slaughter a lamb on Vardavar and make a barbecue, or khashlama. Today the tradition is preserved in the Gegharkunik region of Armenia. Khashlama is usually made of lamb with vegetables.
Different regions of Armenia have different ways of preparation. Usually, they take a big pot, put the meat under it, then add tomatoes and potatoes, put meat in the third layer again, then the eggplant and onion while keeping the pot completely covered.
After that, the preparer will add 100 mg of water and put it on low heat. In the past, this dish was prepared in a tonir,  but today it is prepared on a fire, in a gas stove, or an oven. As a rule, khashlama has a strong smell, so many opt to make it outside the house.
Khashlama made in Artsakh is different from khashlama made in Armenia. It is made mainly from fatty beef or mutton (lamb). They arrange the meat, tomatoes, red-green pepper, onion, carrot in layers in the pan.
Khashlama is seasoned with salt, pepper, fresh coriander, and dill. Some preparers add prunes or blackberries for a sour taste, others may choose to add beer or wine.
Where to Eat Khashlama in Yerevan
You can find khashlama at several places in Yerevan.  One of the most renowned places to enjoy it is Tospia.
You can find Tospia at 30 Tumanyan St in Yerevan.
Spas (Tanov Apur)
Armenian: Սպաս (spas), Թանապուր (tanov apur)
Is it Vegan/Vegetarian? It is vegetarian (contains dairy).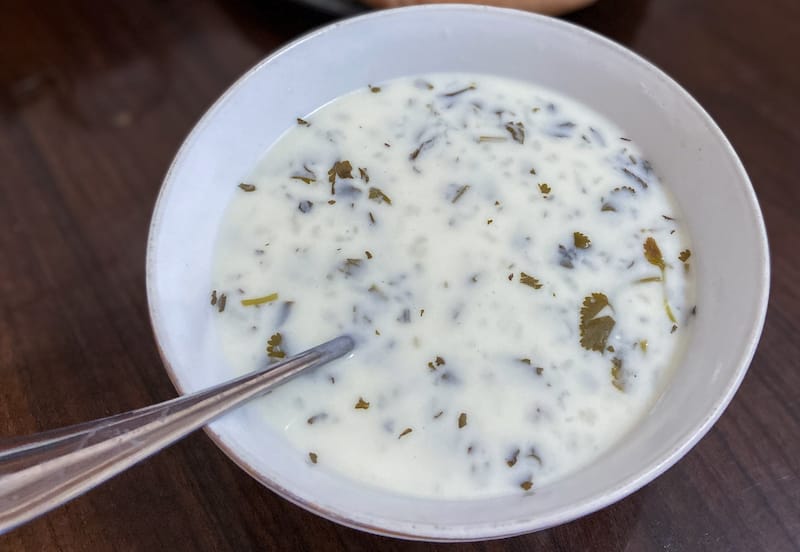 Spas, or tanov apur, and Armenian cuisine are inseparable. But there are many versions of traditional tanov apur in Armenian cuisine, many of which we don't even know exist!
In the villages, it is very common to use different greens in spas. The villagers also baked famous Armenian lavash in the tonir, which was served alongside the spas.
The traditions of making tanov apur have been preserved to this day. There are many recipes for making tanov apur presently, but the main ingredients for tasting delicious soup contain yogurt (matsun-style) and wheat grains.
Tanov apur is different from all other Armenian soups. Depending on the season, the soup is served with eggs, hot in winter, and even cold in summer.
According to some sources, in the 19th-century, after the Russian-Turkish wars, Cossack regiments were permanently stationed in the Caucasus. It was winter and the Cossacks were cold and hungry, and in the mountains, it was -30C.
Entering one of the Armenian houses in the Kars region, the host treated the unexpected guests to a plate of hot tanov apur (which translates to yogurt soup in Armenian), which has been prepared in every Armenian hearth since ancient times.
The Cossacks ate the tanov apur, thanked the host, and said: "Save us, brother, just save us."
Since then, the traditional Armenian tanov apur was given one additional name, and that name is "spas" (which means "saved" in Russian).
Where to Eat Spas in Yerevan
You can find several places that serve spas in Yerevan.  However, not all are created equal.  It can be rather hard to find a delicious bowl of spas there because many chefs don't put much salt in it and leave that up to the one eating it, but a place that has a great bowl of it is Kamancha Restaurant.
You can find Kamancha at 23 Tumanyan St in Yerevan.
Harissa
Armenian: Հարիսա
Is it Vegan/Vegetarian? No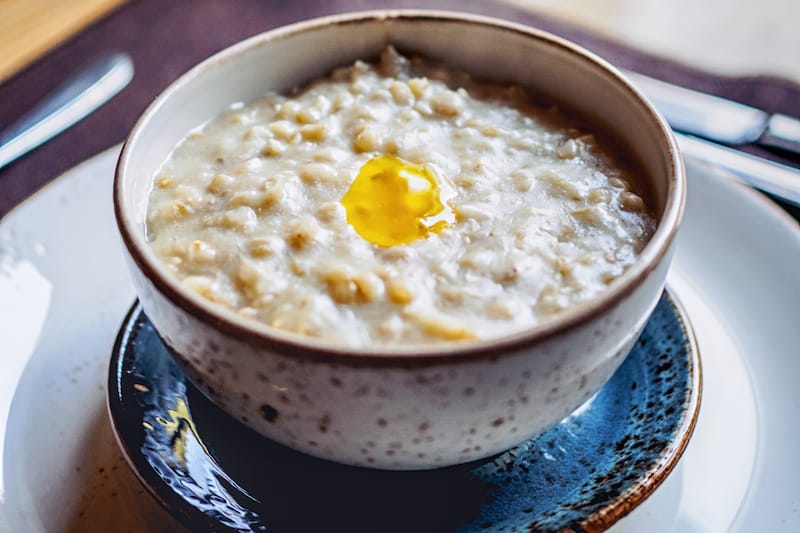 In ancient times in Armenia, harissa was considered a festive and ritual dish, and now it is considered an everyday food.
This Armenian winter dish can be eaten year-round and is made from meat (lamb, chicken, turkey) and wheat porridge.
The meat is so minced and assimilated with the wheat porridge that a homogeneous mass is the result. When ready, the harissa is enjoyed by adding a slice of butter.
After being baked in the pot overnight, people used to eat it on Sunday mornings and, today, it is considered one of the national dishes of Armenia.
There is a famous legend about the origin of harissa. When Grigor Lusavorich came out of Khor Virap to Vagharshapat (Echmiadzin), he preached to the local pagan Armenians for sixty days, who listened to him with keen interest.
To feed the poor, he ordered the villagers to bring plenty of wheat and sheep. When the wheat and the sheep were brought to him, Lusavorich slaughtered the sheep.
They put big pots on the fire, threw the meat in it, and put the lid on it. Then he ordered it to be stirred ferociously. From that moment, the name of the dish remains harissa.
Harissa has a historical past and meaning for the people of Musaler. During the heroic battle of Musa Dagh, the besieged Musaler people had wheat and goat meat and made soup with it. Harissa was their only source of food and was vital to their survival.
Where to Eat Harissa in Yerevan
To be honest, harissa is such a homely meal that it is not at the top of everyone's list to eat at a restaurant.  However, if you want a bowl of harissa, Caucasus Tavern has it for a very affordable price and it is pretty delicious.
You can find Caucasus Tavern at 82 Hanrapetutyan St in Yerevan.
Lobakhash
Armenian: Լոբախաշ (lobakhash), Պոչապուր (pochapur)
Is it Vegan/Vegetarian? It is vegan.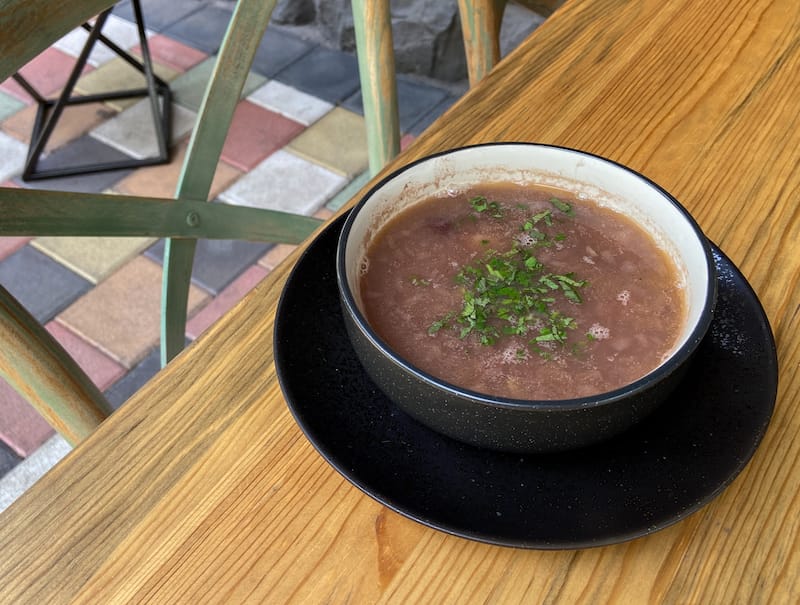 Lobakash is a red bean soup that is very famous in Armenia. It is called "pochapur", which means "tail soup".
Pochapur was used in Armenian homes to make red beans, especially in the winter months, and the root of this dish comes from Gyumri.
However, over time, the dish has changed in different regions of Armenia and, today, there are many recipes for pochapur, or bean soup.
The name pochapur may sound quite strange to a foreigner. So why pochapur? In some recipes, after cooking the beans, some preparers add sliced, elongated dough.
As soon as the soup is ready, when the lid of the pan is raised, the small pieces of dough resemble white bean tails. From there, the food got the name "tail soup". When the bowls are brimming with bean soup, pre-chopped garlic, wine, and pickled vegetables also make their way to the table.
Where to Eat Lobakhash in Yerevan
You can find this soup on many menus in Yerevan.  It is one of Aram's favorites and he orders it frequently when out in the capital city.  One place that has a great bowl of lobakhash is Kamancha Restaurant.
You can find Kamancha at 23 Tumanyan St in Yerevan.
Nraneh
Armenian: Նռանե
Is it Vegan/Vegetarian? No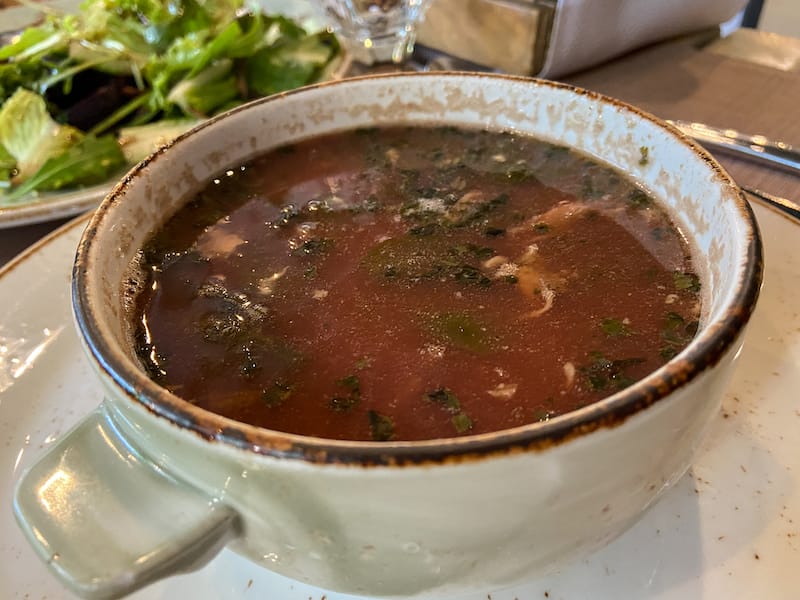 There is not much information out there about nraneh soup, a hearty and clear-broth based soup made from pulled beef or lamb, lentils, pomegranate, and beet greens.  It is an ancient Armenian soup that has been given a new life at a couple of restaurants in Yerevan and it is Megan's favorite.
While there is not much to say about the flavorful dish and the recipe remains somewhat of a secret, it is bursting with flavor and is not an easy food to make – so definitely keep it on your radar if you're heading out and looking for tasty Armenian comfort food.
Where to Eat Nraneh in Yerevan
The only two places we have seen nraneh soup is at Lavash or Sherep in Yerevan.  Paired with their delicious, homemade bread, it is a must-try! You can find Lavash at 21 Tumanyan St and Sherep at 1 Amiryan St.
There are so many delicious foods to eat in Armenia in winter, but these are just a few of our favorites! Please leave us a comment with your favorite Armenian winter food below!
Pin This Winter Food in Armenia Guide