Armenian cuisine contains a lot of meat.  On the other hand, it also contains a lot of vegetables and many dishes are actually vegetarian (without intent).
This guide will detail vegan and vegetarian restaurants in Yerevan where you can get plant-based options with ease.
Just a note:  Not all restaurants on this guide are completely vegetarian.  Catering to any one type of diet is still a newer thing in Yerevan, but it is getting there.
We will detail which restaurants are completely vegetarian and which merely contain vegetarian options.  Please let us know if you have additional questions!
YEREVAN QUICK REFERENCE
Last minute planning?
You can see our top travel recommendations for Yerevan right here:
Where to stay in Yerevan: The Alexander (luxury), Daniel's Boutique Hotel (mid-range), 14th Floor (mid-range), and Grand Hostel (budget).
Top-rated Yerevan day tours and experiences:
Yerevan City Pass: If you're hanging around the Armenian capital, the Yerevan Card is a great bang for your buck! You can visit museums at no charge, get a free taxi from the airport, and several discounts on day trips. Click here to purchase your Yerevan Pass.
Need insurance for Armenia? Be sure to check Armenia travel insurance rates and coverage with our recommended provider, SafetyWing.
Renting a car in Armenia? You can get great options and the best rates here with Rentalcars.com.
Need a Visa for Armenia? We recommend iVisa – they will sort your Armenian visa efficiently and quickly.
3 Essential Things to Pack for Armenia: Plug adapter (if coming from the US or a country that does not use a European plug), Klean Kanteen reusable water bottle, and a Georgia, Azerbaijan & Armenia Lonely Planet guidebook.
Vegan Armenia Cookbook You Can Use From Home
An Armenian cookbook that is 100% plant-based? Might seem surprising to some, but The Vegan Armenian Kitchen Cookbook is full of over 115 recipes from Armenia and the Armenian diaspora that are free of meat, dairy, and eggs.
Most of the dishes are traditional fare that arose out of Lent/times of fasting or simply as a result of the plethora of whole foods plant-based ingredients found in Armenian cuisine, and others are veganized takes on Armenian classics.
The cookbook also includes the history and stories associated with many of the recipes, beautiful photographs, Armenian food idioms, suggestions on menu pairing and holiday planning, and a thorough index making navigation as easy as possible.
A portion of proceeds from every cookbook also benefits Centaur Animal-Assisted Therapy and Rescue Center in Ushi, Armenia.
>> Buy The Vegan Armenian Kitchen Cookbook Here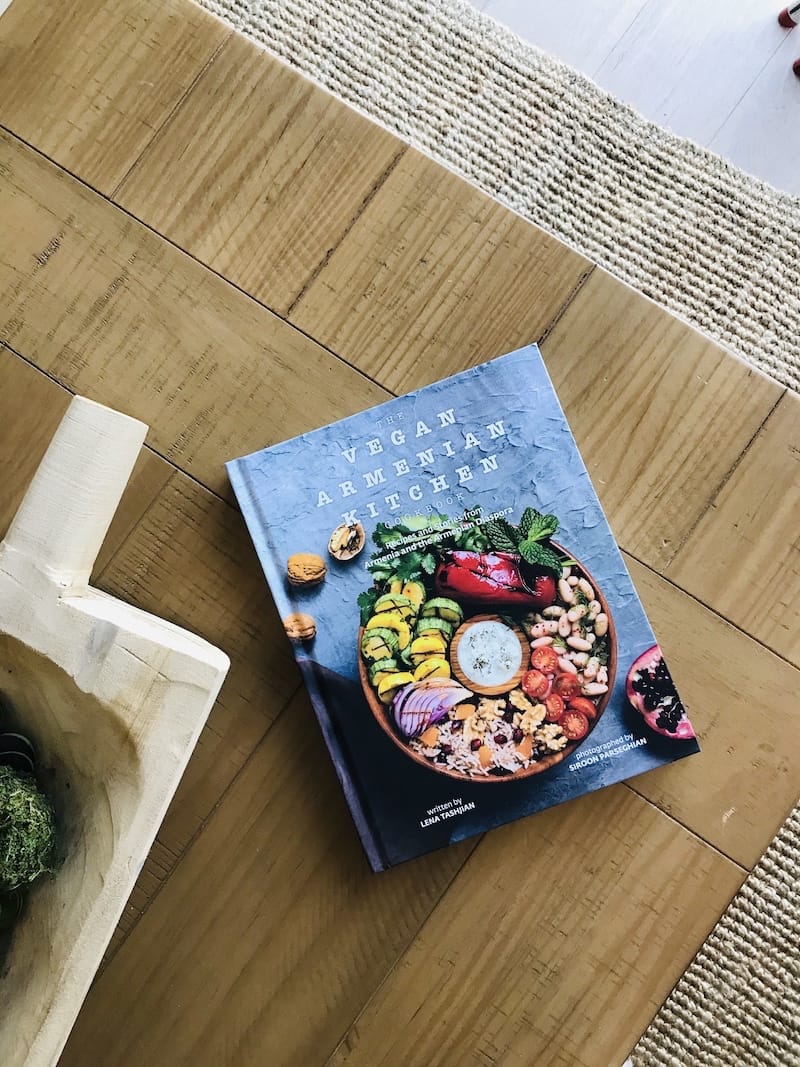 Tasty Vegan & Vegetarian Restaurants in Yerevan
When I first visited Armenia back in 2013, I was a vegetarian 99% of the time (I ate fish on the rarest of occasions in Norway).
I did struggle a little bit in Armenia when I was visiting a friend's family in Yerevan, but when I ate at restaurants, I found plenty of options to cater to my needs.
Vegetarians are not that common in Armenia despite the cuisine being a very veggie-heavy one (and the vegetables are absolutely some of the best ones you'll ever put in your mouth).
We will be writing an entire guide to the vegetarian dishes in Armenian cuisine soon… but for now, here is a guide to the best vegetarian restaurants in Yerevan.  Not every restaurant listed is purely vegetarian (in fact, most aren't), but they all do contain vegetarian options.
Aram and I opted to leave out Indian restaurants as we figured it was pretty obvious that they will have veggie-options… we wanted to showcase places that are international or local-focused.
There are a few Indian restaurants in Yerevan but I have never really been impressed by them and found the best Indian food to be the food I cook at my flat in Yerevan if that tells you anything.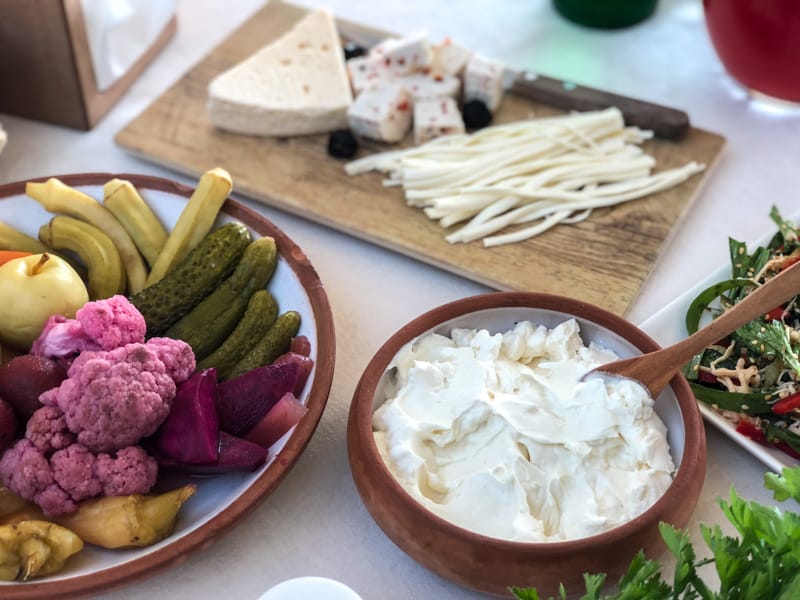 Armenian food is pretty dairy heavy but some places do contain vegan options.  We will do our best to note those places on the guide.
Yerevan Vegetarian Guide
Life Food
I have found Life Food to be one of the most underrated places in all of Yerevan.  This raw food, plant-based restaurant believes in the power of healing… by food.  It is owned by a local family who is passionate about what they do and it is so evident.
Everything is natural and raw.  They have a beautiful terrace space on Saryan Street in a hidden area that is extremely quiet and green.
Their menu contains cold-pressed juices, chia puddings, raw desserts, and much more.  If you're vegan or on a raw-diet, this is a must-visit place in Yerevan.
Vegetarian Options:  Everything on their menu.
Vegan Options:  Pretty much everything on their menu.
You can find Life Food at 24 Saryan Street.  To find out more, check out their Facebook page.
Jengyalov Hac (Ժենգյալով Հաց)
One of the best foods you can find in Armenia are Zhingyalov hats, a flatbread stuffed to the brim with dozens of green herbs.  Vegetarian by nature, this dish originates from Artsakh and Syunik and you can even enjoy festivals dedicated to it in Artsakh.
In Yerevan, you will find the restaurant Jengyalov Hac on Teryan Street and it is the ultimate place to enjoy some of Yerevan's finest renditions of the popular quick food.  If you're keen to try something truly regional but still plant-based, zhingyalov hats are your go-to!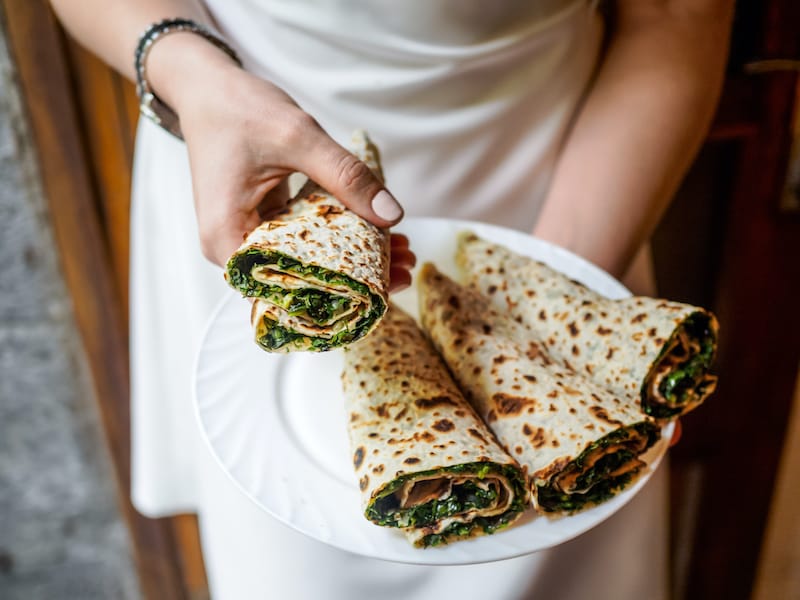 Zhingyalov hats are vegan… but do double check before ordering to ensure that they do not put anything else into the dough or to the side that may not be suitable for vegans.
You can find the locations for Jengyalov Hac at 62 Teryan Street and 21 Komitas.  To find out more, check out their Facebook page.
Gouroo Club & Garden
Easily one of my favorite places to eat in Yerevan is Gouroo Club & Garden, a cozy and unique restaurant on Saryan Street that offers one of the best food experiences and terraces in the city.
Gouroo takes pride in offering organic, natural, and local foods and ingredients to customers.  They carefully select the best and most sustainable ingredients whether it comes to their wine or their produce.  They also make desserts in-house.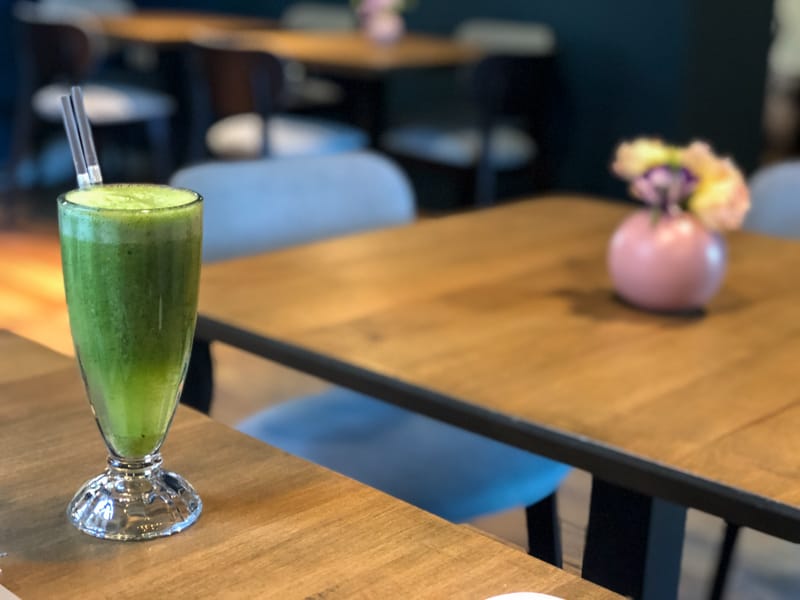 I go here for their green juices and salads.  They also have really delicious coffee and dairy alternatives for vegans.
Vegetarian Options:  I always love their kale, beetroot, and goat cheese salad during the winter months.  It is flavorful and just one of the many veggie options on the menu.
Vegan Options:  They always have vegan options.  You can follow them on Facebook to inquire further or head there and see what they currently have on the menu.
You can find Gouroo Club & Garden at 13 Saryan Street.  To find out more, check out their Facebook page.
MamaJan
Yerevan has a new wonderful vegan and vegetarian spot on one of the most charming and coziest streets of the city where you can try local and Middle-Eastern vegan and vegetarian and just relax with the nice host.
You can find MamaJan at 5 Spendiaryan Street. To find out more, check out their Facebook page.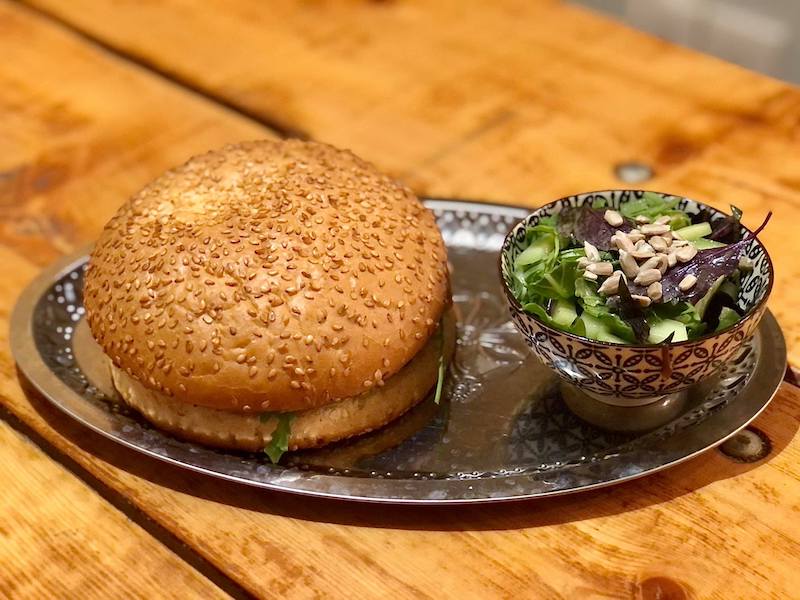 Lavash
So, Lavash is not a vegan or vegetarian restaurant but we are throwing it on here because it is very popular amongst tourists for its traditional Armenian food and they do offer plenty of vegan and vegetarian options for those wanting to try Armenian fare.
It has a wonderful location without the tacky costumes people wear at similar type restaurants.  It is modern and so inviting and the food is superb.  If you are on Tumanyan, you can stop here but if you find yourself on Amiryan, you can stop by Sherep, Lavash's sister restaurants (where you will find similar veggie and vegan options).
Vegetarian Options:  Several vegetarian options do exist from grilled vegetables to soups. I recommend trying their ghapama during the winter months (pumpkin or squash filled with rice, dried fruits, crispy lavash, and honey).
Vegan Options:  Aveluk soup (sorrel) is always a great option when it is in season.  Another popular dish is basooc dolma, a vegan dolma made with cabbage, lentils and/or chickpeas, and other delights… but no animal products.
You can find Lavash at 21 Tumanyan Street.  To find out more, check out their Facebook page.
Garun
Another top contender for vegans and vegetarians in Yerevan is Garun, a healthy, California-style cafe and restaurant off of Tumanyan Street in the capital city.
One of my favorite things about Garun is how inviting it is from the outside.  They have a nice little green space in front of it and the windows are large, allowing the natural light to shine through.  Nevertheless, it is the food that keeps me returning!
They have everything from healthy salads, small bites, and desserts.  It is one of the best places in Yerevan for vegans and vegetarians.
Vegetarian Options:  They have several salad options, both for eating in-house and to take away.
Vegan Options:  Garun has many vegan salads and small bites.  Be sure to verify all is vegan before choosing though!  They speak English.
You can find Garun at 30 Tumanyan Street in Yerevan.  To find out more, check out their Facebook page.
Dors Craft Beer & Kitchen
One of my absolute favorite places in Yerevan is Dors Craft Beer & Kitchen.  In the past, I would have loved this place because they serve craft beer.  BUT, they opened after I stopped drinking and I initially popped in because they had super hip decor.
Turns out, it was the food and stellar customer service that kept me returning.  Dors Craft Beer & Kitchen has easily turned into one of my favorite establishments in Yerevan.
Dors has an array of vegetarian and vegan dishes to satisfy all diets.  My new favorite thing to order at Dors is their grilled vegetable platter- a dish that comes with grilled leeks, eggplant, zucchini, and more.  It reminds me of why I love Armenian food and the way they prepare ingredients in the country.  If you're craving Armenian craft beer and delicious food, this is the place to be.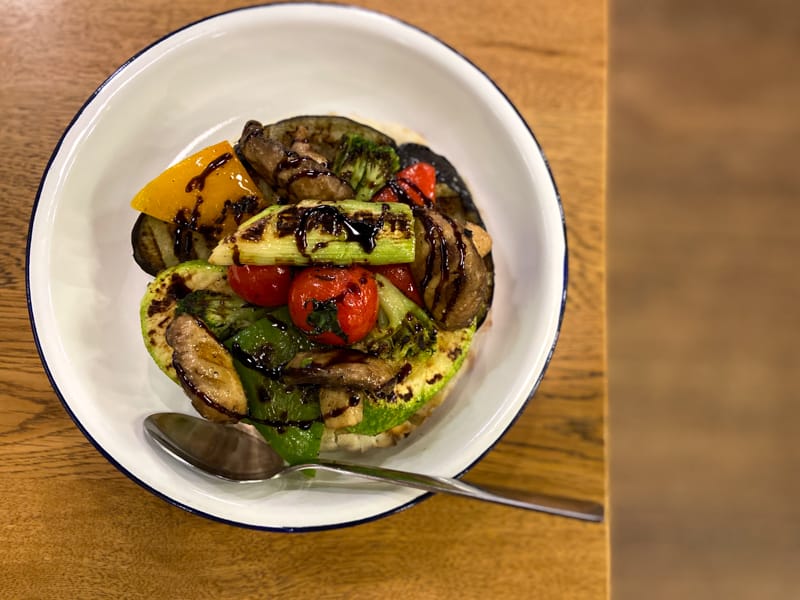 The general manager of Dors is a raw vegan, so they do take having options for vegans very seriously.
Vegetarian Options:  They have a slew of veggie options from pizzas to salads to grilled veggies.
Vegan Options:  Dors makes cheeseless, vegan pizza and a tomato soup without cream and cheese.
You can find Dors Craft Beer & Kitchen near Mayrig Restaurant at 4/6 Amiryan and Buzand Street.  To find out more, check out their Facebook page.
Dr. Veggie
On Pushkin Street in Yerevan city center, you will find Dr. Veggie, a health-food shop and vegan cafe.
Dr. Veggie is a go-to place for those also looking to try some local dishes but are unable to eat meat.  They have salads, soups ranging from tomato to pumpkin to broccoli, and much more.  They also have dolma and blinchik, two Armenian favorites, but in vegan form.
Vegetarian Options: Everything is vegan.
Vegan Options:  The entire menu is vegan.
You can find Dr. Veggie at 31 Moskovyan Street in Yerevan.  To find out more, check out their Facebook page.  They are closed on Saturdays.
Kong EVN
Could this Yerevan hotspot get any more perfect?  Kong is one of my favorite bars in Yerevan and it is not only for their extensive and intricate cocktail menu but also for their food.  And atmosphere.  And music.  And I could go on and on.
Kong EVN has one of the best menus in all of Yerevan and I frequently dine there because of their Asian flavors, coconut milk coffee, and great customer service.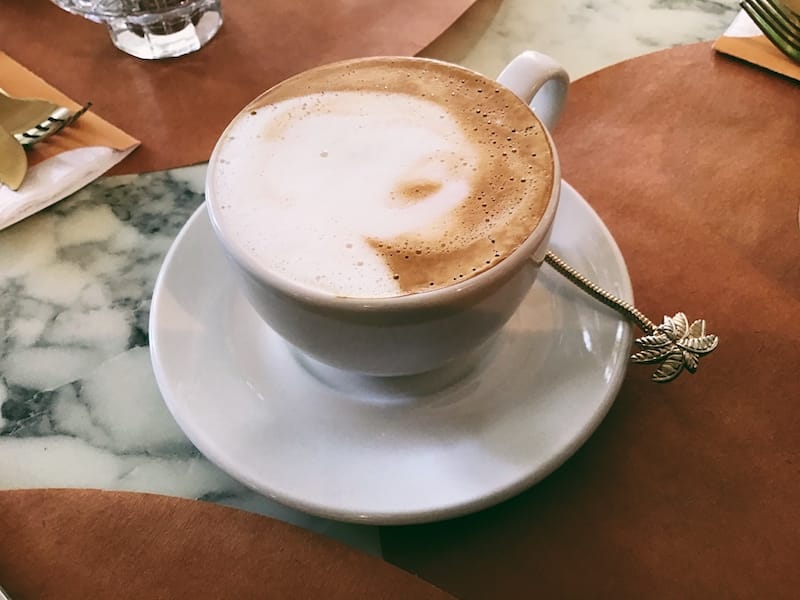 The menu at Kong is ever-evolving and they are adding more and more vegan and vegetarian options.
Vegetarian Options:  This is not conclusive, but here are some top contenders for vegetarian options at Kong –
Jamaican banana chutney, local cheese, and caramelized onion toasted sandwich
Grilled veggies, cheddar cheese, tomato salsa, jalapeno, and fresh corn tacos
Smashed avocado on toast, scrambled eggs, roasted tomatoes, and rocket salad
There are many more dishes that are Asian inspired (bao) that are veggie-friendly.  They also have vegetarian-friendly desserts.
Vegan Options:  Kong is definitely no stranger to vegan food.  Here are some of our top picks of vegan dishes there:
Field mushroom tataki, chili ponzu, crispy quinoa, and sunflower seeds
Cauliflower and courgette coconut red curry with Thai basil
Avocado, kale, rocket, and cashew salad with a soy and wasabi vinaigrette
Vietnamese pizza with carrots, spring onions, spicy coconut, and cilantro
Indian spiced vegetables with corn roti, mint, and coconut yogurt with lime
You can find Kong Yerevan at 3/1 Abovyan Street in Yerevan.  To find out more, check out their Facebook page.
Eat & Fit
One of our favorite places to get healthy food in Yerevan is Eat & Fit, an establishment located on Aram Street near Mashtots and Saryan Street.
They specialize in healthy and creative options and you can get delicious salads, smoothie bowls, and much more there.  Another perk of Eat & Fit is that the cafe is absolutely gorgeous.  They even have the place decorated with graphics created by the brilliant Nvard Yerkanian.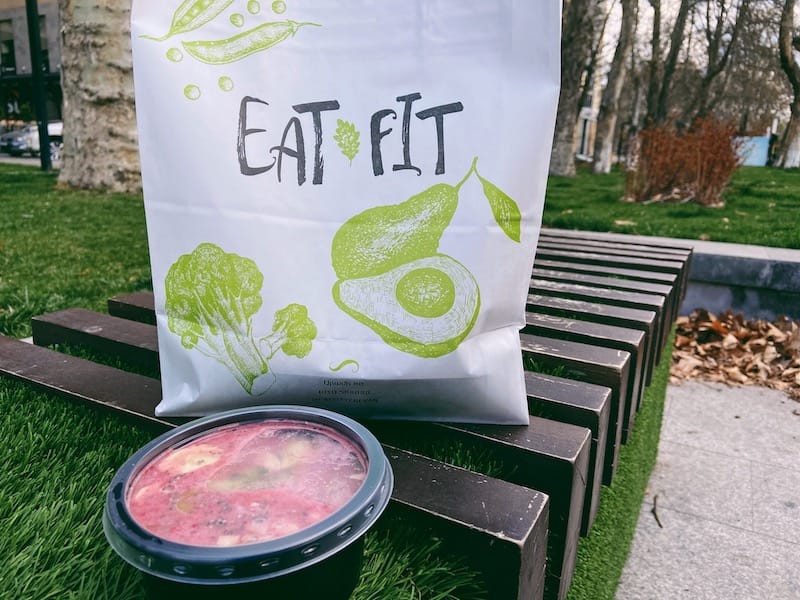 Not only is Eat & Fit one of our favorite cafes in Yerevan for its food, but it also has wifi and the spot is the ultimate place for digital nomads to work from.
Vegetarian Options:  Heaps and heaps of veggie options.  I like their avocado and egg toast and their many salad choices.
Vegan Options:  Again, they have tons of vegan options from smoothies to salads and beyond.
You can find Eat & Fit at 80 Aram Street in Yerevan.  To find out more, check out their Facebook page.
Soul Kitchen
One of the newest additions to the Yerevan restaurant scene is Soul Kitchen.  Having opened in February 2020, they offer several vegan and vegetarian dishes in Yerevan and are quickly becoming a local favorite.
Soul Kitchen specializes in plant-based options and there is definitely something for everyone there.  They also have a really cool, laid-back vibe that makes it one of our new favorite places in the city.
Their menu is always evolving so be sure to look out on their Facebook for new additions.  But, rest assured, they will always have something for vegetarians and vegans passing through Yerevan.
Vegetarian Options:  Tons.
Vegan Options:  They always have a lot of vegan options and some of our favorites are sini kofte with djadjekh on the side, imam bayelde, vegan turli, and vospov kofte (an Armenian kibbeh made from red lentils).
You can find Soul Kitchen at 25 Mashtots Avenue in Yerevan.  To find out more, check out their Facebook page.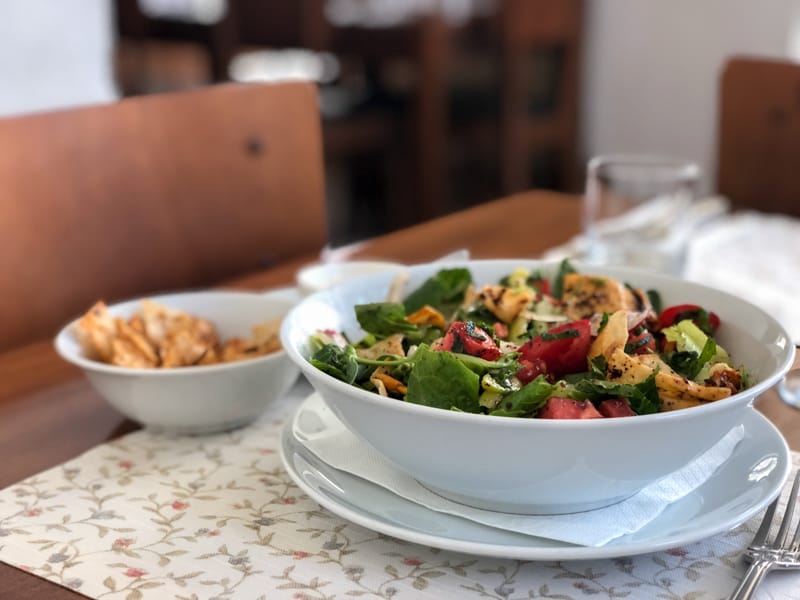 We hope that this guide gets you started to find your way around the vegan and vegetarian restaurants in Yerevan scene.  While most of these are not solely vegan or vegetarian… we will continuously add to this guide as new establishments open their doors.
Best Yerevan tours
YOU MIGHT ALSO LIKE:
PIN IT FOR LATER!