There is something so special about eating out in nature and what better way than to combine nature, food, and one of Armenia's most famous monasteries!?
This guide will dive into a Wild Food Adventure with 2492 Travel and the Riverside Grill Station in the beautiful Shirak province.
We tell you what to expect, how to book, and more! Let us know if you have any questions.
Why You Should Experience the Riverside Grill Station Near Gyumri
Marmashen Monastery is a beautiful 10th-century complex located right on the bank of the Akhuruyan River in Armenia's Shirak province, just a 15-minute drive from Gyumri.
It's a stunning example of medieval Armenian architecture and definitely a must-visit if you love architecture and Christian heritage.
But, other than the monastery there isn't much else to do there – until now!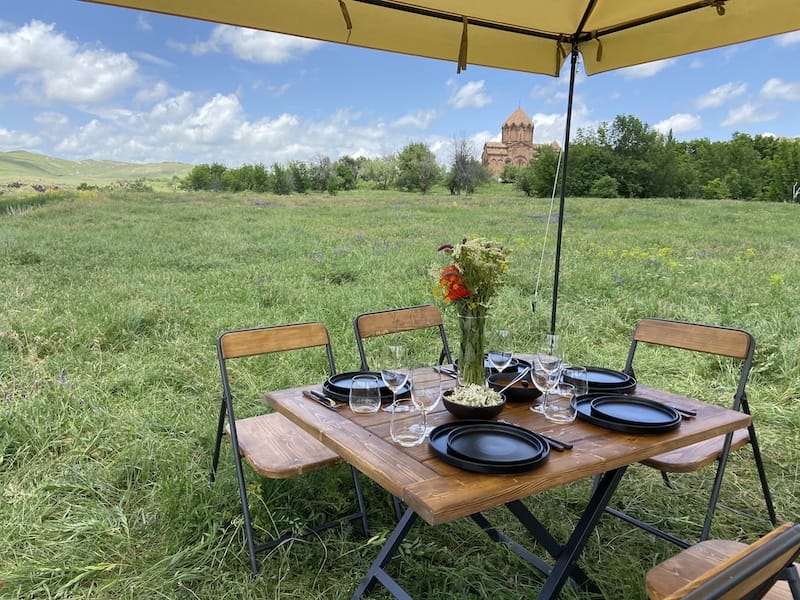 I had the opportunity to experience another Wild Food Adventure incubated by ONEArmenia (you can check out the other ones I tried here and here) called the Riverside Grill Station, which takes place near Marmashen in a beautiful little field on the bank of the river.
These culinary experiences were named a "can't-miss" by Forbes Magazine last year and were recently featured in Food & Wine Magazine.
BOOK HERE: Riverside Grill Station Wild Food Adventure
What's a Wild Food Adventure, you ask? It's a 3-course meal featuring local, seasonal recipes and ingredients that take place in Armenia's most beautiful natural settings.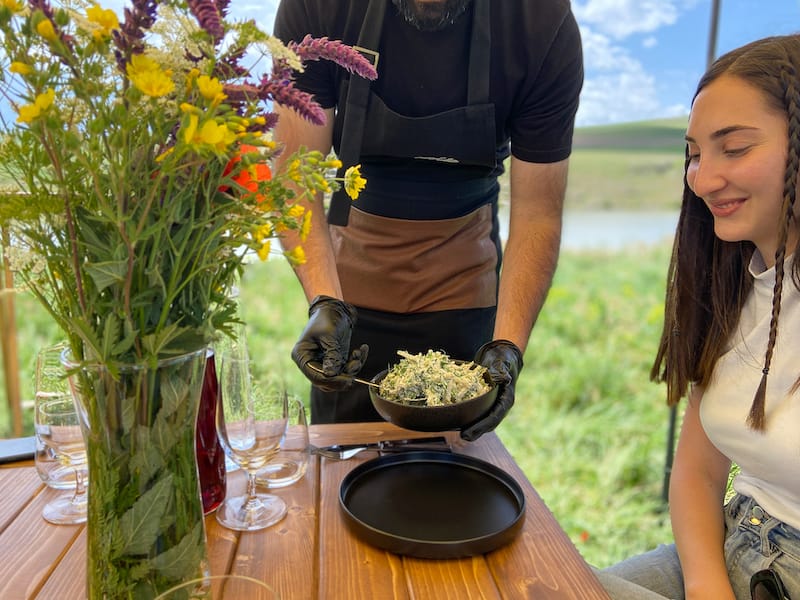 ONEArmenia works one-on-one with local hosts to develop these one-of-a-kind experiences, building menus with local culinary experts, training hosts in the culinary arts and hospitality, and providing the necessary equipment to make these dining experiences a reality.
The specialty at Riverside Grill Station? Local steaks and craft beers. Let's dive in!
How To Book
To book, simply contact Tigran, the host of Riverside Grill Station, directly ahead of time. Tigran is a local of Gyumri and has always been passionate about the culinary arts.
By day he works in IT, but during his free time, he can be found experimenting in the kitchen.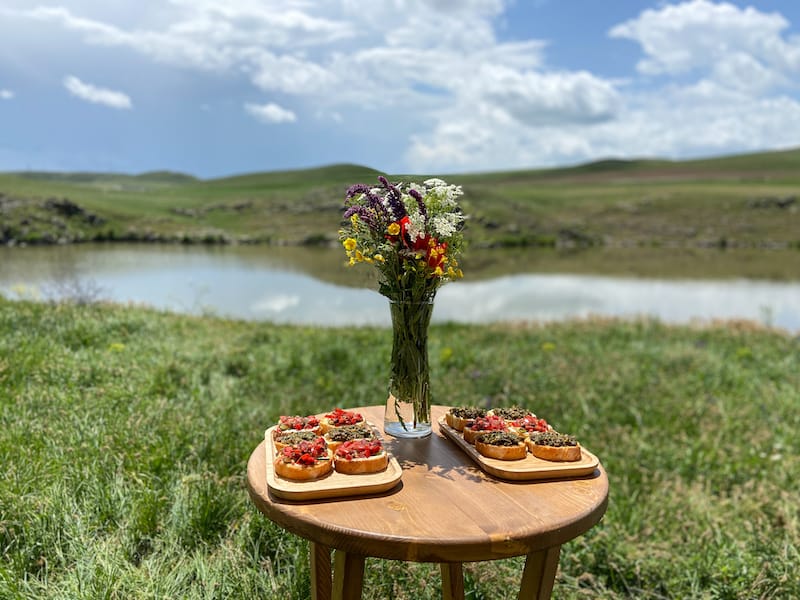 Now thanks to the support provided by ONEArmenia, he's running this outdoor kitchen for travelers to the region!
You can also contact 2492 Travel, the first and only sustainable travel brand in Armenia and ONEArmenia's for-purpose arm.
Where To Meet
The Riverside Grill Station is located in the field right next to Marmashen Monastery, which is where you'll meet your host Tigran.
Even though it is located there, you won't see it unless you book in advance or you happen upon others enjoying the experience, as the kitchen is movable and extra care is taken to make sure the environment is left exactly as it was before diners gather for a delicious meal with Tigran.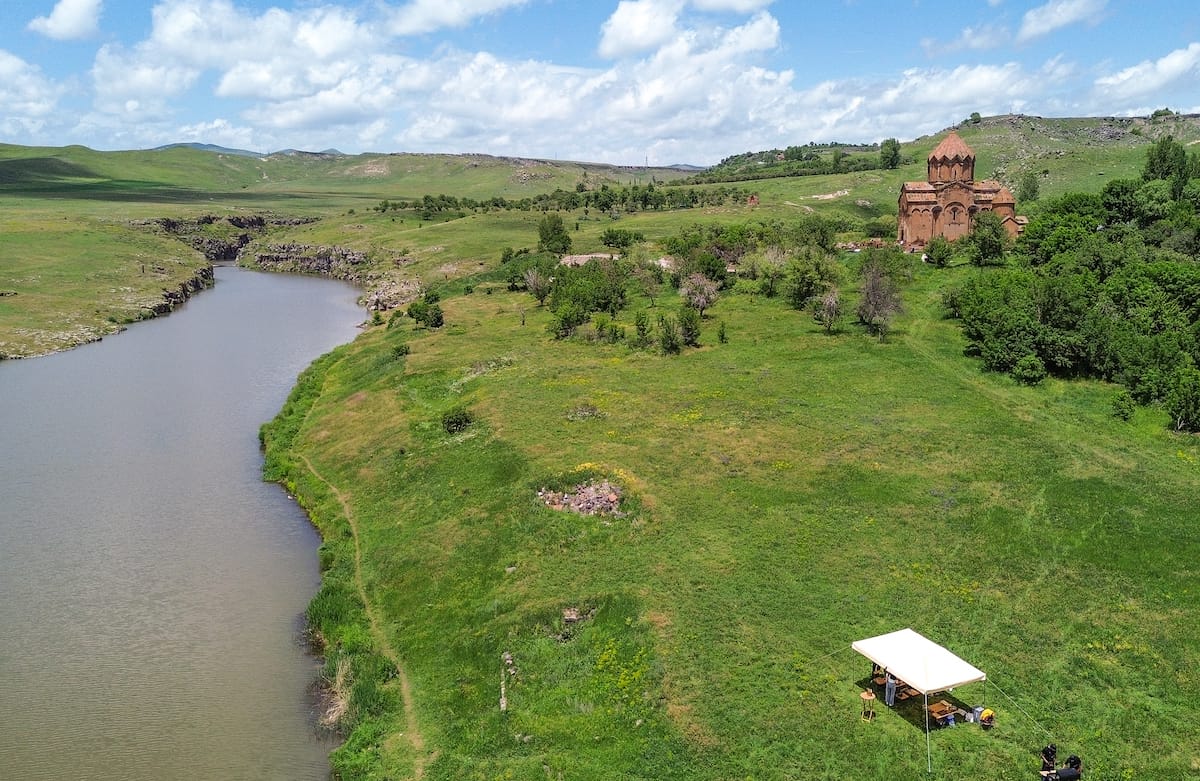 Marmashen is just a 15-20 minute drive from Gyumri – you can easily find a taxi to take you to the meeting point from the city, and the experience at Riverside Grill is a great and easy way to get out of the city and enjoy delicious food in nature.
Once at the monastery, Tigran will greet you and lead you to your dining area, just a short and easy walk through the field alongside the river.
My Experience and Highlights From the Day
Duration: 3-4 hours
Meeting Point: Marmashen Monastery
Languages: Russian, Armenian, English
🍴 CLICK HERE TO BOOK!
When I got to our dining location, I was impressed by the views it offered.
The monastery, the river, and the surrounding fields were all visible from my seat at the table, and as the sun set on the horizon, everything was painted with beautiful reds, pinks, and oranges.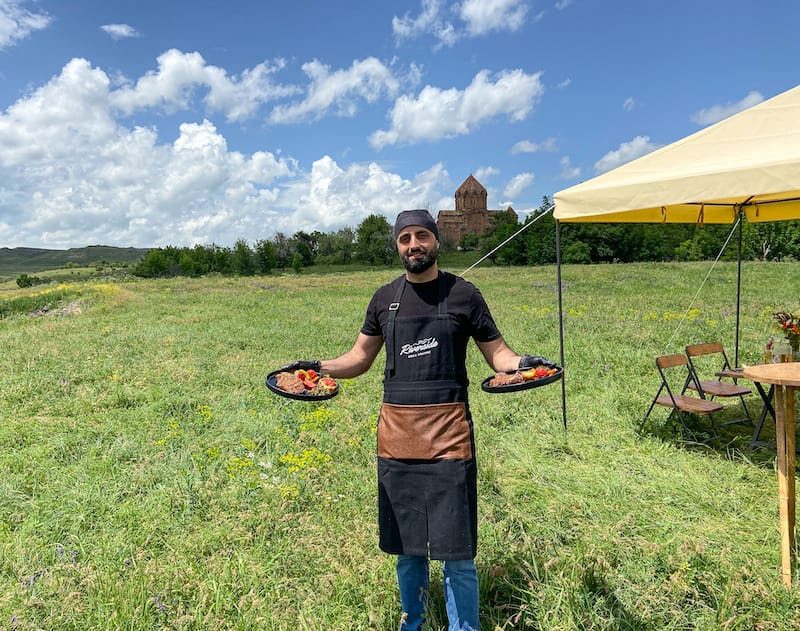 Tigran graciously offered us ice-cold local craft beers to go along with our appetizers – delicious homemade bruschettas topped with local ingredients, from grilled mushrooms to fresh tomatoes from the garden to spicy air-dried sausages called sujukh and basturma.
We also enjoyed a fresh tarragon salad to go along with the other appetizers, while Tigran told us a little more about himself and his approach to cooking.
BOOK HERE: Marmashan Wild Food Adventure
While he fired up the grill to cook our steaks, we took some time to explore the banks of the river with our beers in hand, taking in the views and the tranquility of the Armenian countryside.
Like any good chef, Tigran asked us how we each wanted our steaks cooked.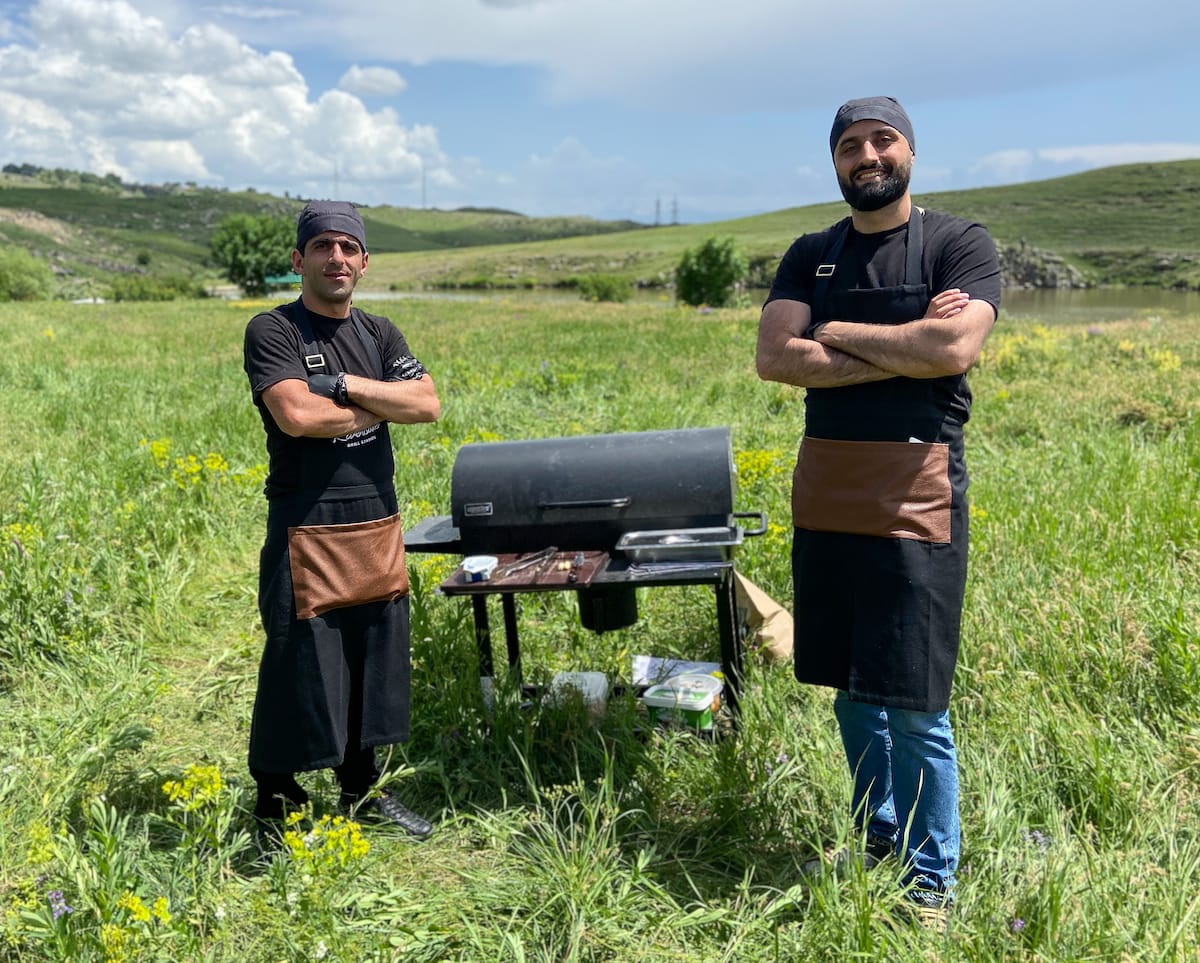 After a short while the steaks were ready, along with sides of grilled local vegetables and Tigran's homemade Armenian "salsa" that paired perfectly with the meat.
The steaks were perfectly cooked, and the combination of meat, beer, and nature left all of us in our group fulfilled – literally full of food but also with beautiful memories.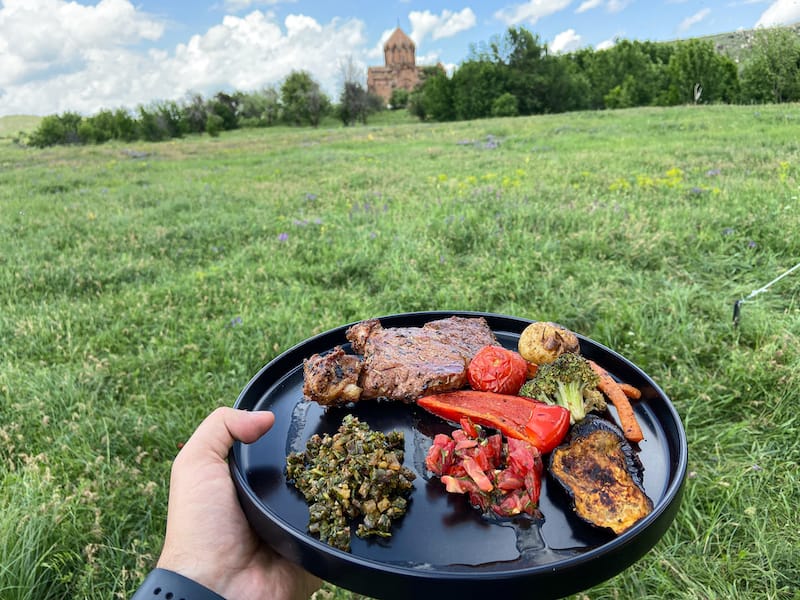 I also loved that the menu at Riverside Grill was not traditional Armenian cuisine, but international with local ingredients.
You can find Armenian food pretty much everywhere in Armenia, of course, so it's great to see variety, especially in rural parts of the country.
Who Can't Join
Unfortunately, due to the location, wheelchair users are unable to partake in this experience.
But, 2492 Travel is actively working to make this and all the other experiences they work with in Armenia accessible to all.
If you're vegetarian or vegan, unfortunately, this experience may not be for you, as the main course here is steak.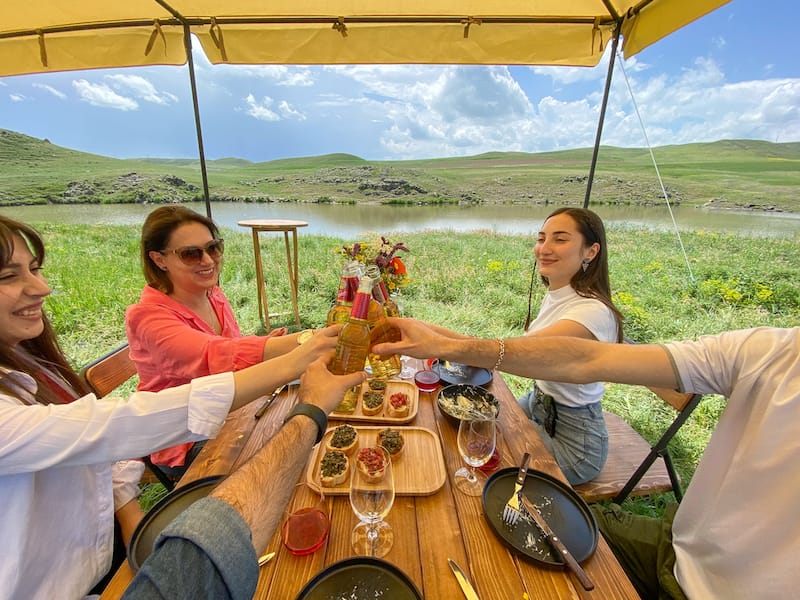 If you have any specific dietary restrictions, be sure to communicate them when booking!
We also recommend that you wear comfortable, closed-toed shoes.
Be sure to bring a hat and a warm jacket as well!
Even on a sunny day, the high elevation means that the temperature can be cool here, and Shirak is known to be the coldest province in Armenia.
Should You Book This Experience?
If local steak grilled and enjoyed al fresco with river views tickles your fancy, then yes, absolutely!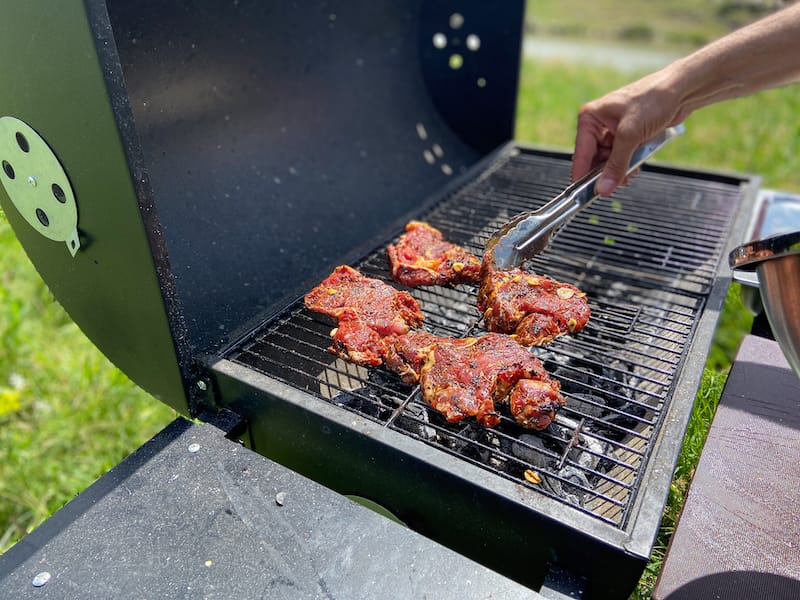 Wild Food Adventures like Riverside Grill Station are changing the face of dining experiences in Armenian tourism, and we think each and every one deserves to be tried.
Book your adventure with Riverside Grill Station here!
Do you have any questions about this Marmashen Wild Food Adventure? Let us know in the comments!
More Armenian Gastro Guides