One of our favorite Armenian dishes is arishta… and it is no question that we adore a delicious loaf of sourdough bread.
So, when 2492 Travel and Vahanatun Guest House started offering a culinary experience that taught food lovers how to make both – we were elated!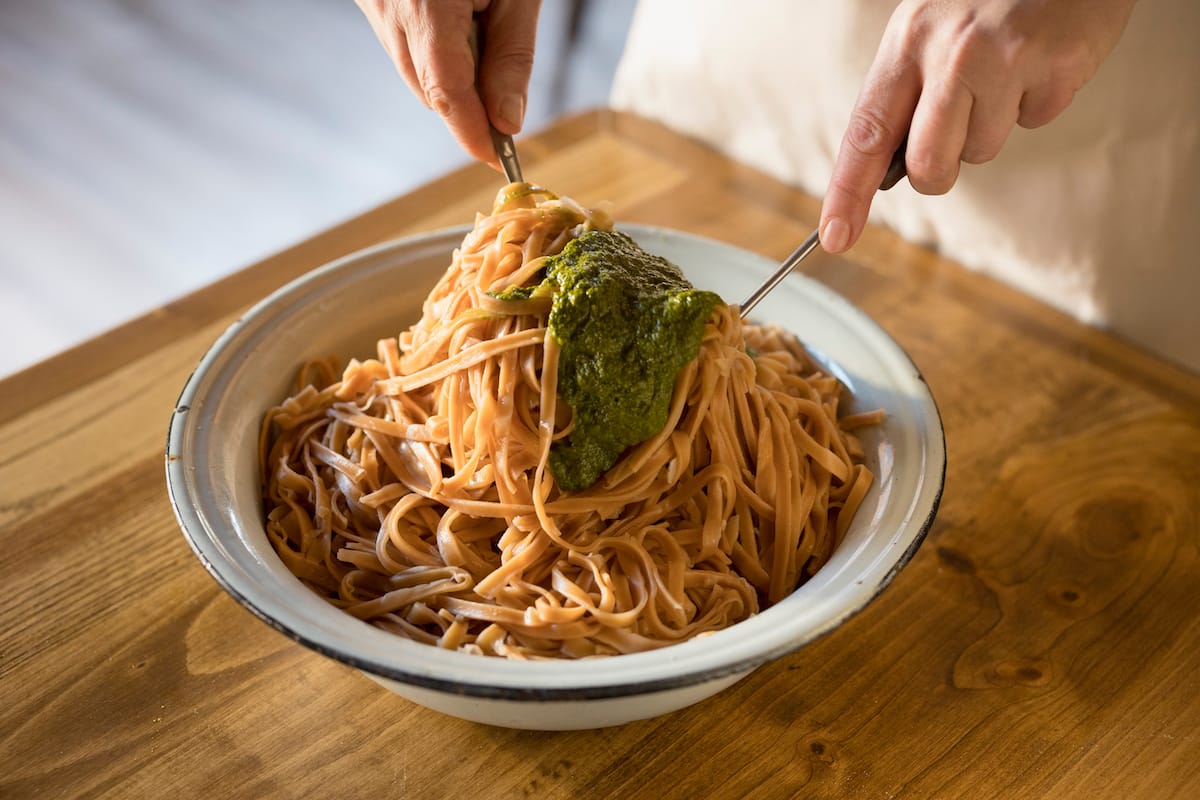 This post will detail how to book an Armenian sourdough and arishta class with 2492 Travel in Bagravan village, including what to expect from the experience… and more!
Why You Should Book an Armenian Sourdough Baking Class (+ Arishta!)
Did you know that Armenia's Shirak Province is known for its flat plains and the whole wheat that grows there?
Bread baking has been a long-established tradition here, and all over Armenia, for that matter!
BOOK HERE: Arishta + sourdough masterclass
I recently experienced traditional sourdough baking at Vahanatun Guest House in Bagravan village, near the ancient Temple of Yereruyk in Shirak, where folks are reviving traditional baking practices.
In addition to baking sourdough bread, I also got to make a traditional and beloved local dish from scratch called arishta, or rshta, as it's known in Shirak.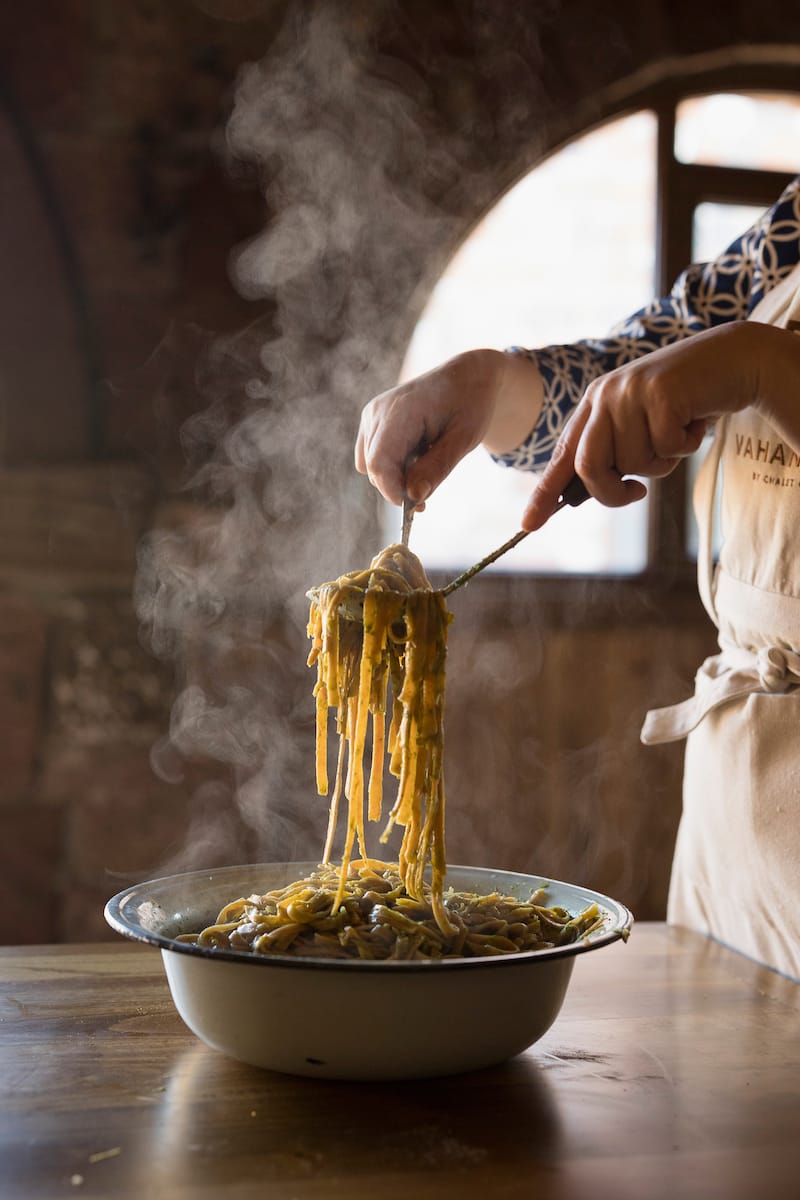 This is a dish consisting of local noodles usually topped with yogurt and fried onions. It happens to be Megan's favorite!
Keep reading to learn more about my experience and how you can do it too!
How To Book this Bagravan Experience
To book a baking masterclass at Vahanatun, simply contact them directly.
You can also make a booking through 2492 Travel, the first and only sustainable travel brand and platform in Armenia that helped develop this experience along with their nonprofit arm, ONEArmenia (1A).
Where To Meet
Bagravan is a quaint village in the Shirak province, and it's so exciting to see new experiences being offered to travelers here.
Experiences like this bread-baking class not only bring much-needed income to their owners but also increases tourist traffic to rural areas that otherwise do not receive visitors.
To have this experience, you'll have to travel to Vahanatun in Bagravan.
If you're traveling from Yerevan to Gyumri or back, this is a great stop to break the monotony of the road and experience authentic Armenian village culture.
If you're taking the train between Yerevan and Gyumri, you can also stop in Bagravan as there is a railway stop directly in the village, visible from Vahanatun.
My Experience and Highlights From the Day
Duration: 3-4 hours
Meeting Point: Vahanatun Guesthouse in Bagravan village
Languages: Russian, Armenian, English
🍴 CLICK HERE TO BOOK!
When we got to Vahanatun, we were greeted very warmly by our hosts, who are locals of the region.
After a short coffee and tea break where we got to know each other, we took a tour of their village guest house, which has a unique story of its own!
Vahanatun was established by the folks behind Chalet Gyumri, a guest house and cultural center in the city of Gyumri.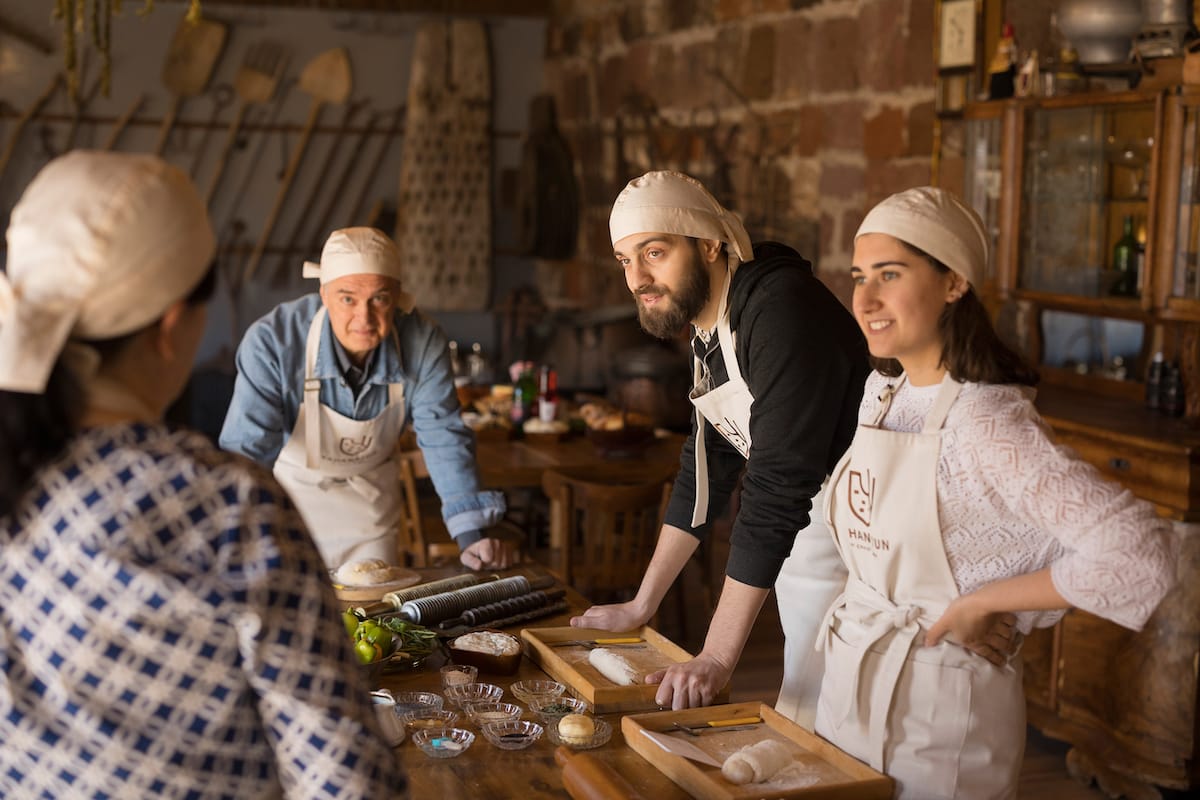 When they decided to create Vahanatun, they knew they wanted to create a similar center in Bagravan that would bring together both local people and visitors for experiences like the one we were there to do… as well as to strengthen the village economically.
Bagravan is located near the Turkish-Armenian border, and as I said earlier, it doesn't get a lot of tourist attention.
But it absolutely should! On the tour we took before we got to baking, we checked out their guest rooms, which are all furnished with old, Soviet-era furniture that has been nearly perfectly preserved.
BOOK HERE: Bagravan culinary experience
The stones used to build the guesthouse are the same tuff stones that were used to build the medieval Armenian capital of Ani, which is located not far from Bagravan across the border.
Vahanatun has a lot of Soviet artifacts preserved within its walls, including old village agriculture tools on display and even hand-painted Soviet propaganda posters!
After our tour, we washed our hands, put on our aprons and baking hats, and got to work!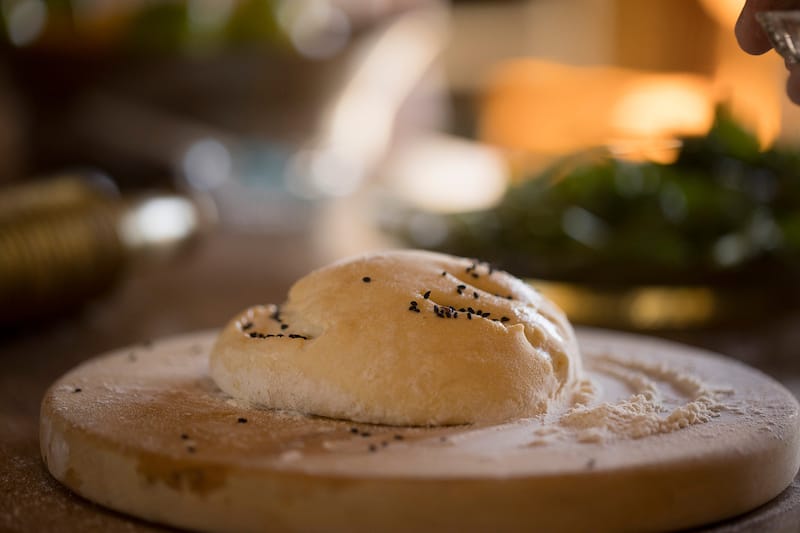 We started by making our sourdough from scratch. The starter for this sourdough was provided by a local baker and chef Ani Haroutiunian, founder of Ootelie Bakery based in Dilijan.
Ani has been experimenting with local whole-grain wheat for several years, baking different types of bread based on old techniques.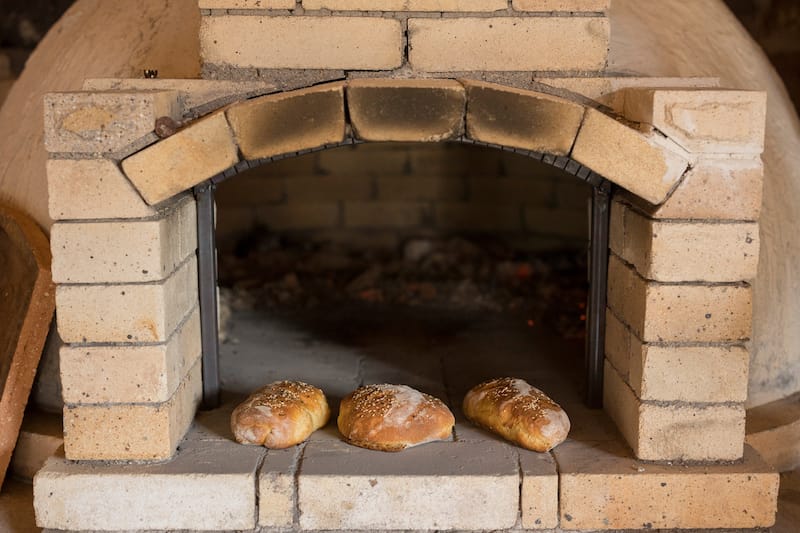 It's exciting to see different people (especially from different spheres!) cooperating with one another to keep old crafts like sourdough baking alive in Armenia!
While we waited for our sourdough to rise and then bake, we started making our arishta noodles, also from scratch.
They're super simple – just whole wheat flour, salt, and water (some recipes call for eggs).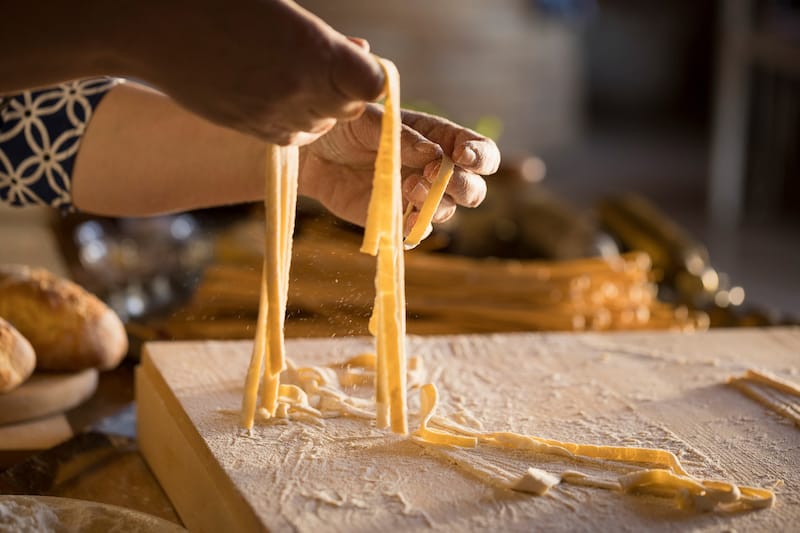 Even the tools we used to cut the noodles were antiques from the late 19th-early 20th centuries!
While the noodles dried and baked, we returned to our sourdough, which was ready to be cut and topped with tasty local flavors such as fried sorrel (called aveluk in Armenian), local cream cheese and roasted pepper, and a wild greens sauce with traditional Gyumri chechil string cheese.
Think of it like an Armenian bruschetta.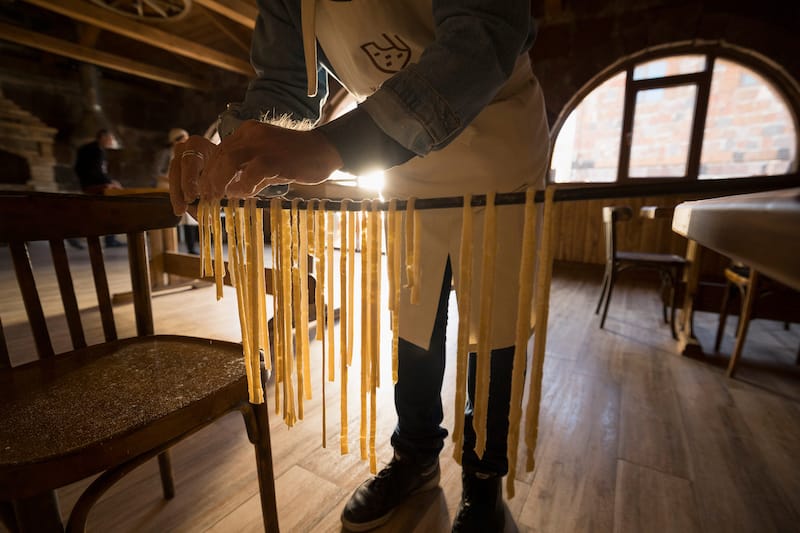 Now came the final touches to the arishta. After the noodles were dried, baked, and boiled, we topped them with a really unique and tasty sauce that was like an Armenian tarragon pesto sauce!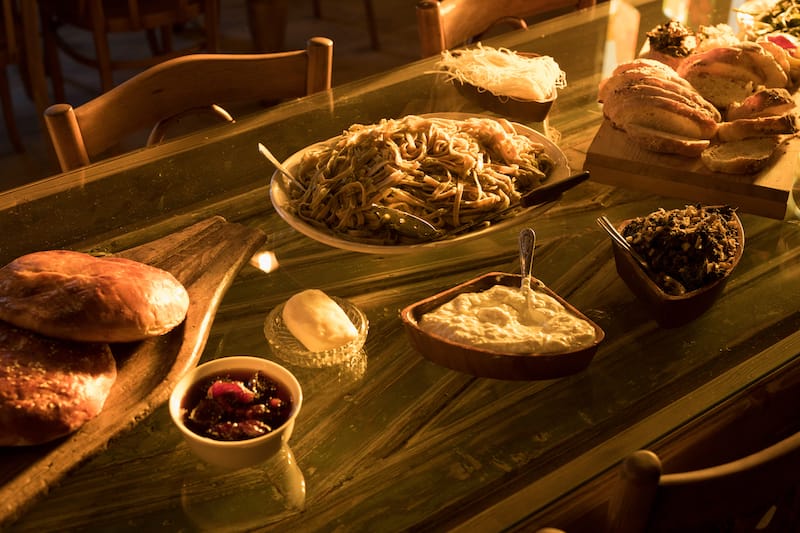 Using a mix of wild edible greens, the main ingredient of which was tarragon, we made the sauce by combining all the greens, plus spices and some olive oil in a blender and, well, bon appetit!
Who Can't Join
As this experience is based around whole wheat bread and noodle baking, unfortunately, if you have a gluten intolerance, this may not be for you. However, you can always join in on the baking fun.
The folks at Vahanatun will make sure you have something just as tasty to eat.
Additionally, the village location is not completely suitable for wheelchair users, however, 2492 Travel and ONEArmenia are continually working together to make the experience they launch accessible to all.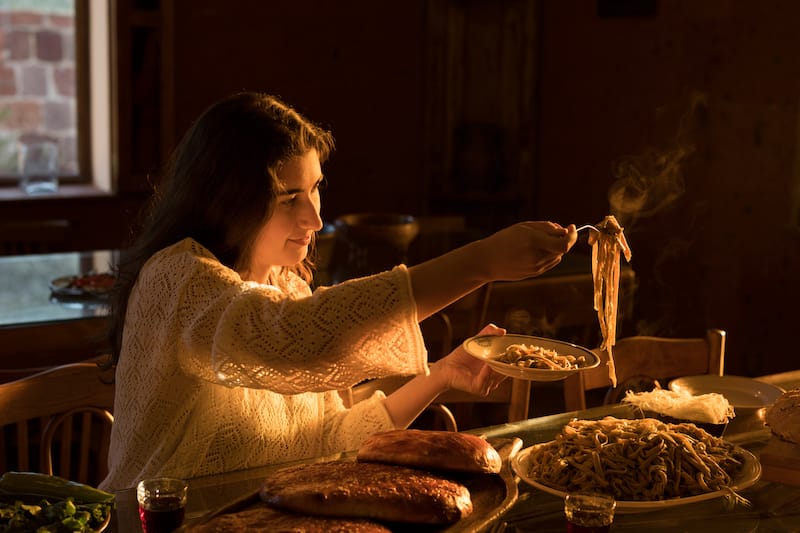 Should You Book This Experience?
The short answer is yes!
Not only will you experience an aspect of local Armenian culture that is experiencing a revival, but you will also support and bring attention to an Armenian border village that is eagerly waiting to host travelers like you!
Book your arishta / sourdough class here!
Do you have any questions about this Bagravan gastro class? Let us know in the comments!
More Armenian Gastro Guides