Armenia is filled with mind-blowing road trips and on those road trips, you will find plenty of places to stop and break up the journey.
These are the best stops to make on a Yerevan to Gyumri road trip.
While there are a couple of routes that will take one to Gyumri from Yerevan, we recommend taking the M1 there via Ashtarak.
However, we are giving a different route on the way back if you're not pressed for time so you can see some different sights.
Along the M1, we list nine fantastic places to stop and on the route back (M3 and H21), we give seven options, although you can skip Ashtarak if you already stopped there on the way to Gyumri.
Did we miss any worthwhile places to visit in between Yerevan and Gyumri? Please let us know in the comments! Thanks!
Road Trip to Gyumri – Overview
The reason we are listing two routes is simply for travelers who may be on their first journey to Armenia and are wanting to see as much as possible.
Take mind, we tried to mix it up and put an array of different sights to cater to all people.  You'll find everything from monasteries to Soviet architecture and more!
Here is a summary of the stops we list within the guide:
Itinerary 1
Town of Ashtarak
Byurakan Observatory
Orgov Radio-Optical Telescope (ROT54)
Aruchavank
Noosh Guesthouse
Dashtadem Fortress
Talin's Political Cafe
Church of Saint John in Mastara
Town of Maralik (Rublyovka Historic Buildings and Hogevank Monastery)
Shirak International Airport
Itinerary 2
Town of Ashtarak
Saint Sargis Monastery in Ushi
Saghmosavank Monastery
Armenian Alphabet Monument
Town of Aparan
Monument to the Battle of Bash-Aparan
Harichavank
Yerevan – Gyumri Road Trip Itinerary Map
To add this map to your Google Maps account, click the 'Star' icon next to the map name. You can then view it on your cell phone or computer by heading to your Google Maps account, click the menu and add it to 'Your Places'.
Stops on Itinerary 1
If you're traveling along the first route (the M1) from Yerevan to Gyumri, here are some of our top (diverse) picks for stops along the journey.
Town of Ashtarak
A wonderful place to stop that is not too far away from Yerevan is the charming town of Ashtarak.
Ashtarak is located on a gorge of the same name along the Kasagh River. There are around 18,000 people living in the town and it is a place that you will inevitably go through if you're visiting Gyumri or Vanadzor from Yerevan. But, it is totally worth a stop!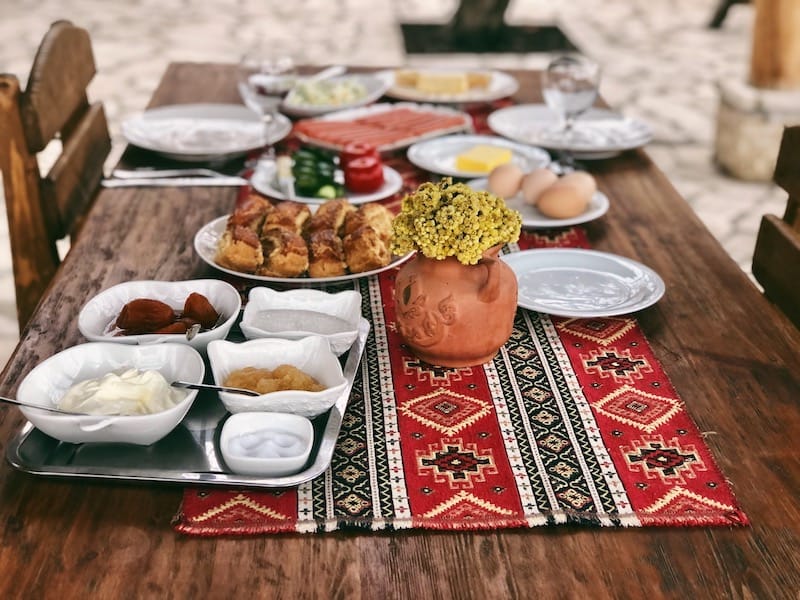 There are many things to do in Ashtarak such as visiting some of the famous churches (especially Surb Sarkis that overlooks the gorge), try Ashtarak's famous walnuts (they even host an annual walnut festival there!), and visit the Gourmet Dourme chocolate factory.
There is also a historic 17th-century bridge that crosses the Kasagh River there that is beautiful and worth checking out. For cooking classes and to hear some local stories, visit Tatoents Qotuk and Old Ashtarak Restaurant in the town.
While we don't think you need an overnight stay on this journey, if you want a great recommendation, be sure to book a place at Yeganyans' Guest House and Wine Yard!
Byurakan Observatory
Another extremely interesting place to stop in between Yerevan and Gyumri is the Byurakan Observatory in Byurakan village (on the slope of Mount Aragats).
The famous observatory dates all the way back to 1946 and was one of the Soviet Union's main astronomy centers. The architect behind the structures was Samvel Safarian and you will find multiple buildings there on-site.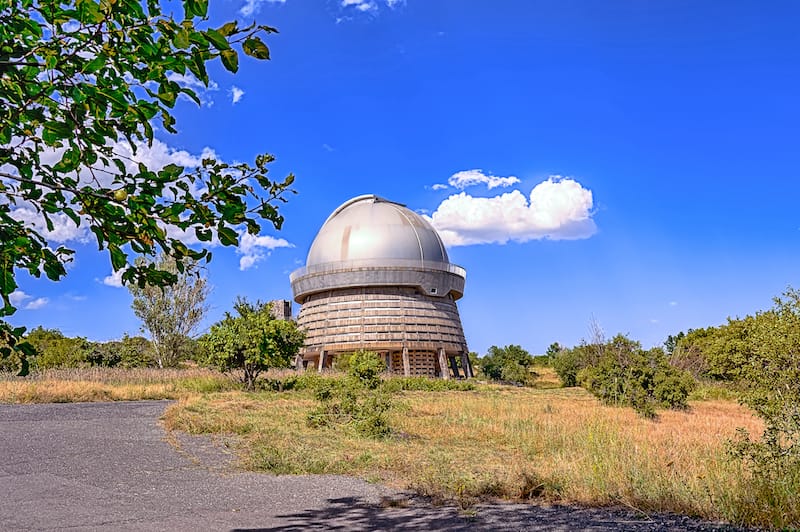 The founder of the Byurakan Observatory was Viktor Hambardzumyan and there is a museum there named after him in the village, as well.
Orgov Radio-Optical Telescope (ROT54)
The Orgov Radio-Optical Telescope, or ROT54, is a radio telescope located in Orgov, Armenia and it is a cool place to stop on the way from Yerevan to Gyumri.
It was built between 1975-1985 and was first used in 1986. It was never damaged during the earthquake in 1988 and continued to be used until around 1990.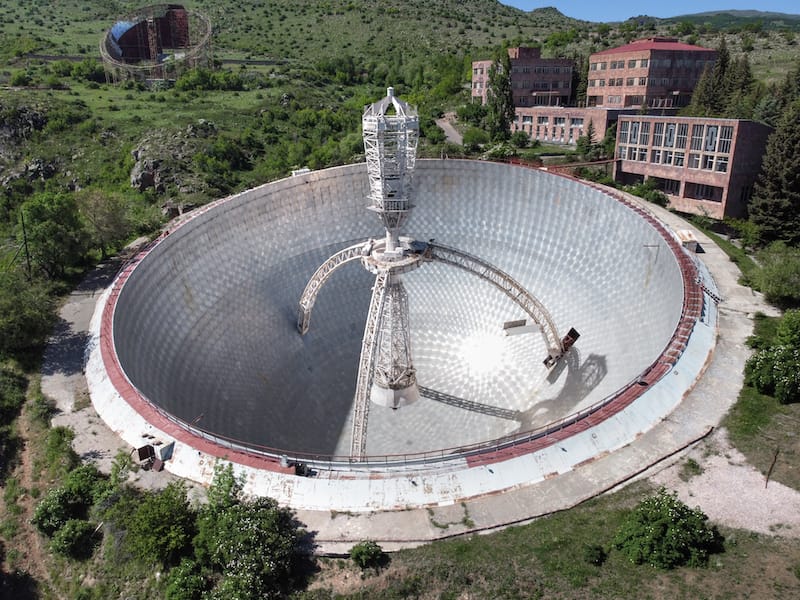 Unused for several years, there were plans to restore it to use for astronomy purposes, but it still is not in use today after discovering a defective control arm in 2012.
The telescope is sometimes referred to as the Herouni Mirror Radio Telescope.
Aruchavank Monastery
Located in the village of Aruch is Aruchavank, or the Cathedral of Aruch. This is one of the most important churches dating back to the Middle Ages (as well as one of the largest in size)!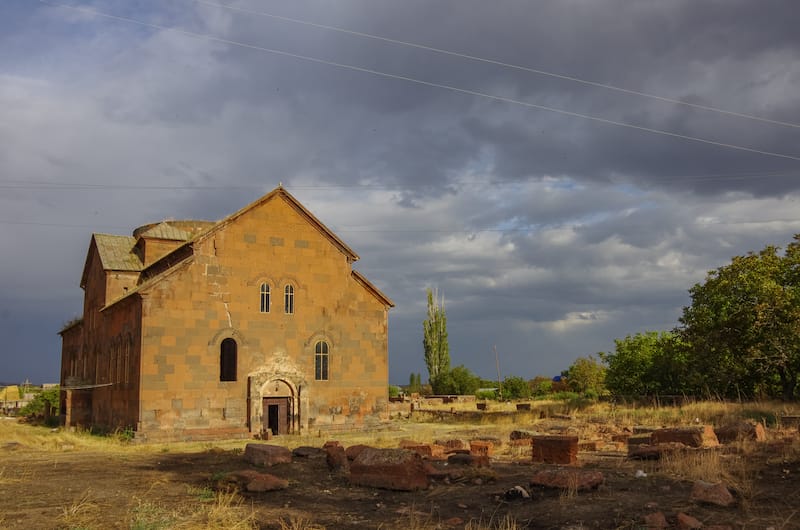 Built in the 660s, Aruchavank was a citadel throughout the Middle Ages. It wasn't until 1947 when the ruins were excavated and restored. Unfortunately, the church has suffered severe damage from earthquakes over the centuries and when it was used as a defensive fortress in the 16th and 17th centuries.
However, it is a wonderful stop for those that love history and seeing a very ancient piece of beautiful Armenia!
Noosh Guesthouse
So, why we do think that you can definitely do this trip without an overnight, we encourage it for anyone out there keen on slow traveling or wanting a pit-stop!
Noosh Guesthouse is situated in Ashnak village in between Ashtarak and Talin (you will need to detour a bit) and it is the perfect place for an overnight stay in a village or even a place to relax for a few hours and learn how to make Sasna Klulik.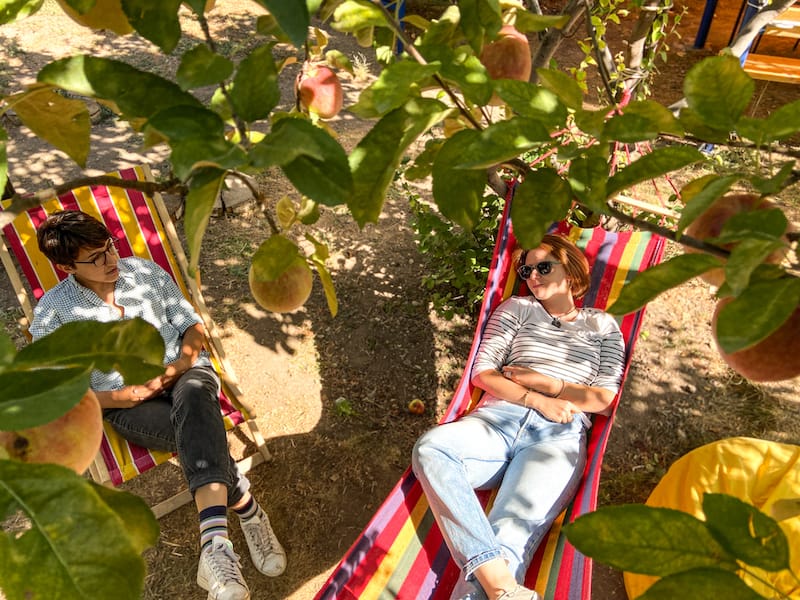 The Aragatsotn guesthouse has hammocks, co-working spaces, and an abundance of fruit trees in the garden and we can assure you that it will be an experience you won't forget!
Regardless of whether you opt to stay overnight, you should definitely contact them beforehand to set up a cooking class for Sasna Klulik, a dish with roots back to Sasun in former Western Armenia.
Noosh Guesthouse owners Ani and Gayane are absolutely fantastic hosts and you won't want to leave!
>> Click here to book your stay at Noosh Guesthouse
Dashtadem Fortress
A large and prominent fortress in the western part of Armenia is Dashtadem Fortress, a defensive structure that dates back to the 9th and 10th centuries. It is situated in Aragatsotn Province and you can even see Kristapori Vank in the distance.
The octagonal walled enceinte surrounds Dashtadem and on the eastern wall of the structure, you can see an Arabic inscription that dates back to 1174.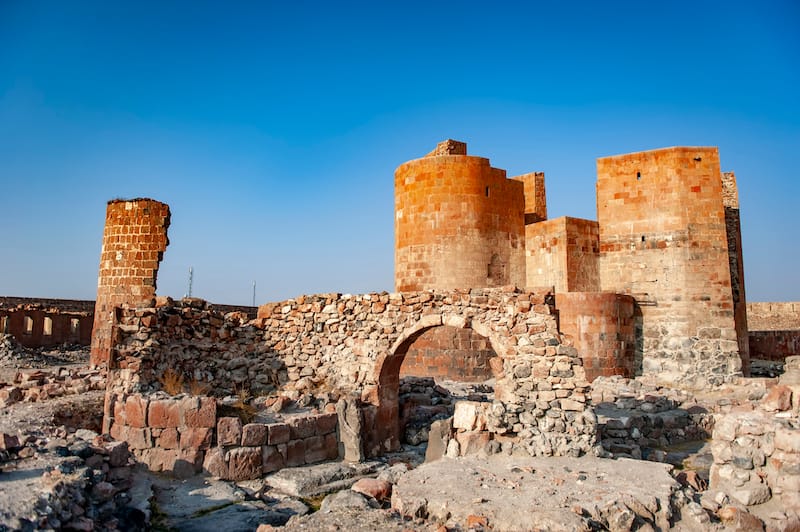 The fortress is a beautiful place to stop and it is sitting amongst some wild landscapes that make the setting perfect for photography. It is easily one of the best places to visit in Armenia!
Political Cafe in Talin
You will definitely need a quick stop on the way and there is no better place to take a break and stretch your legs than at Political Cafe in Talin.
This cafe is a free-spirited 'cultural' center of sorts. They have a spacious interior, delicious coffee (they are even offering V60 pourovers now!), and a wide variety of international and Armenian food.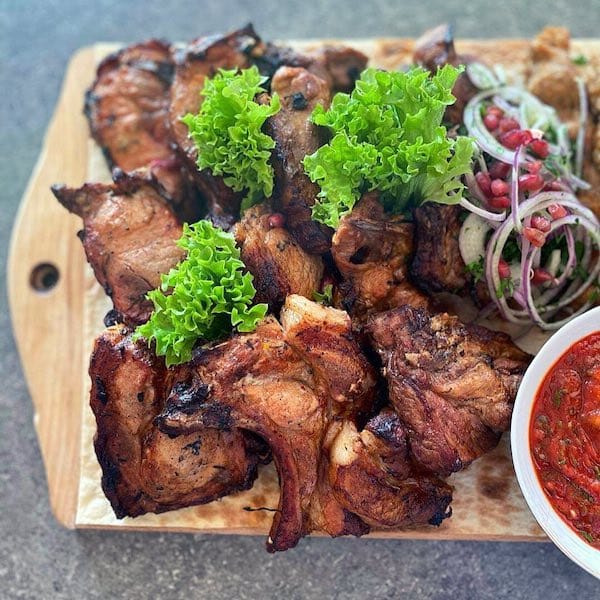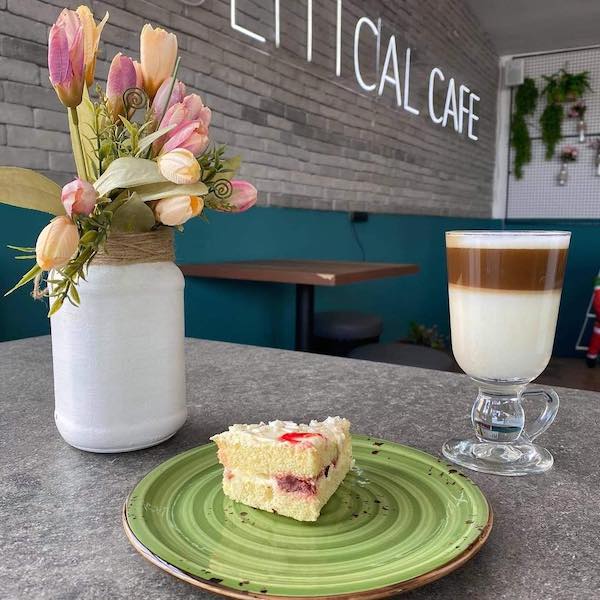 They host discussion forums and it is a great place to socialize and be inspired by other creatives in this Armenian town. They also serve a tasty Armenian BBQ!
You can find Political Cafe at Spandaryan 1 in Talin, Armenia.  Click here to check out their Facebook page.
Church of Saint John in Mastara
Often referred to as Surb Hovhannes or the Mastara Church, this ancient church is a must-visit if you're looking to see religious sights on your road trip to Gyumri.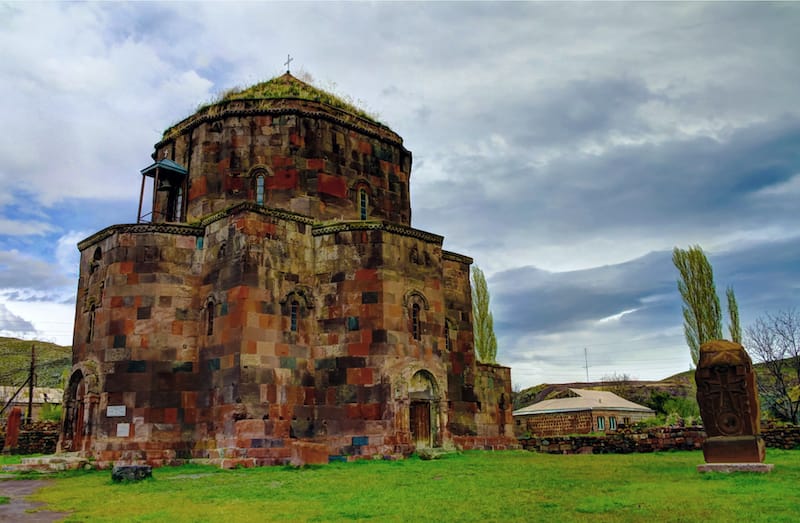 Dating back to the 5th century, the Church of Saint John has a centra cupola style and is similar to the St. Hripsime Church in Echmiadzin. There are also many khachkars around it.
You can see inscriptions on the western wall and above the western entrance of the church.
Town of Maralik
Town of Maralik (Rublyovka Historic Buildings and Hogevank Monastery)
If you bypassed Talin and are looking for a great place to stop and walk around or grab some food, make a stop in the town of Maralik!
The town has just around 5,500 residents and is home to several historical monuments. Some of the more popular places to visit in Maralik are a fortress and settlement dating back to the 2nd millennium BC, Saint Paul and Peter Church, and a medieval chapel called 'Ghushi' located just southeast of the town.
You will also find Rublyovka historic buildings in Maralik as well as the stunning Hogevank Monastery located nearby.
Shirak International Airport
Like Soviet architecture? If so, it is definitely worth checking out the Shirak Airport when you're on your way into the city. Granted, unless you've flown in, you may not be able to get inside, but the outside showcases some of Armenia's Soviet architecture.
The airport was built in 1961 and is the 2nd largest airport in the country after Yerevan's Zvartnots Airport. Built by architects Levon Christophorian and Ruben Asratyan, the airport became pretty much abandoned and unused after the 1988 earthquake.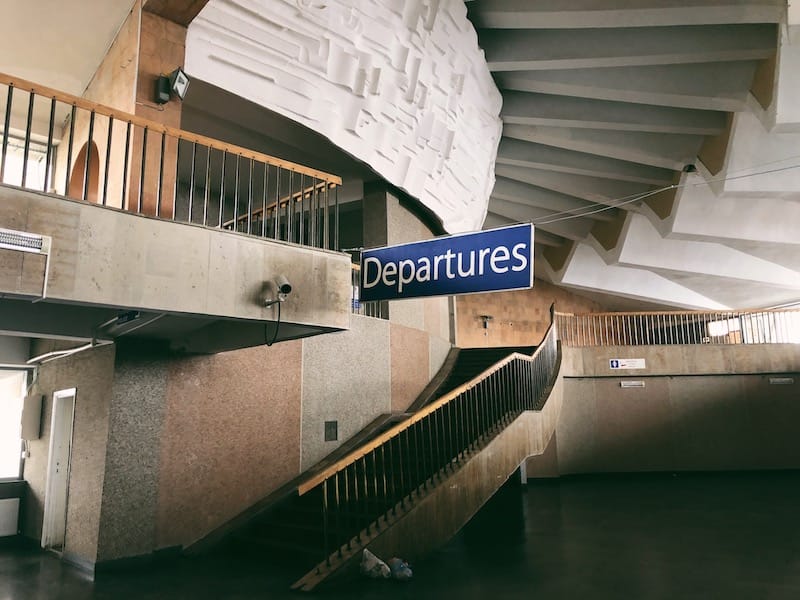 Fortunately, these days, discount airlines have decided to take advantage of it (and how cool Gyumri is!) and have planned routes there. The routes are from Memmingen, Germany and Athens, Greece (as of today).
Fingers crossed that these routes resume post-pandemic! There are regular flights to and from Russia, however.
Stops on Itinerary 2
Planning to come back a different way or don't like the first Yerevan to Gyumri itinerary? Here is another option.  It may take a bit more time depending on where you're coming from – but some of these places along the way are epic!
Town of Ashtarak
We already discussed Ashtarak on the first itinerary and if you didn't stop there on that route, we definitely recommend stopping on this one!  It really is a picturesque little place!
Saint Sargis Monastery in Ushi
A worthwhile stop on the way to Gyumri is Saint Sarkis Monastery in the village of Ushi (well, right outside of it). The complex is spacious and covers 45×54 meters in total. It actually is situated right beside an ancient settlement that dates back to the 3rd-1st Millennia BC.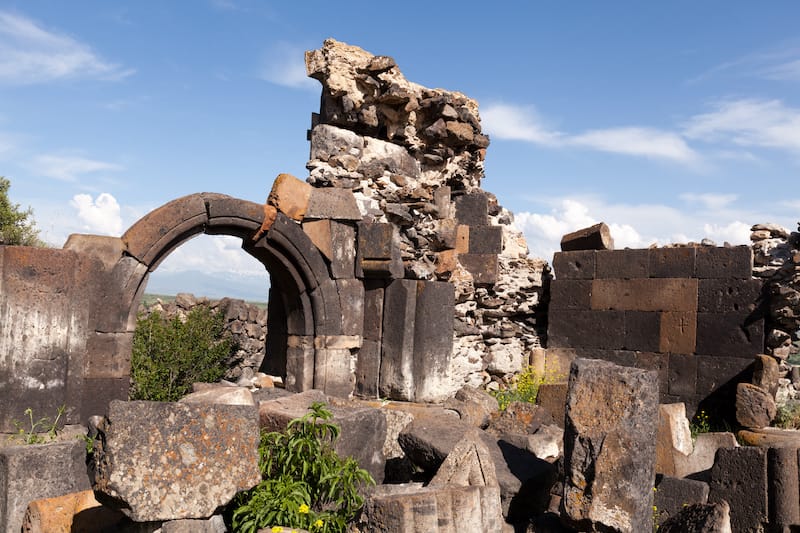 There was restoration work done of the place in late 2003 until spring of 2004 and they have since been conducting excavations are a trying to piece them together.
Also nearby, the ruins of an Iron Age fortress were found. Just another day in Armenia…
Saghmosavank Monastery
A very popular monastery in Armenia is Saghmosavank located in the village of Saghmosavan in Aragatsotn. The church sits above Ashtarak Gorge where the Kasagh River flows down through.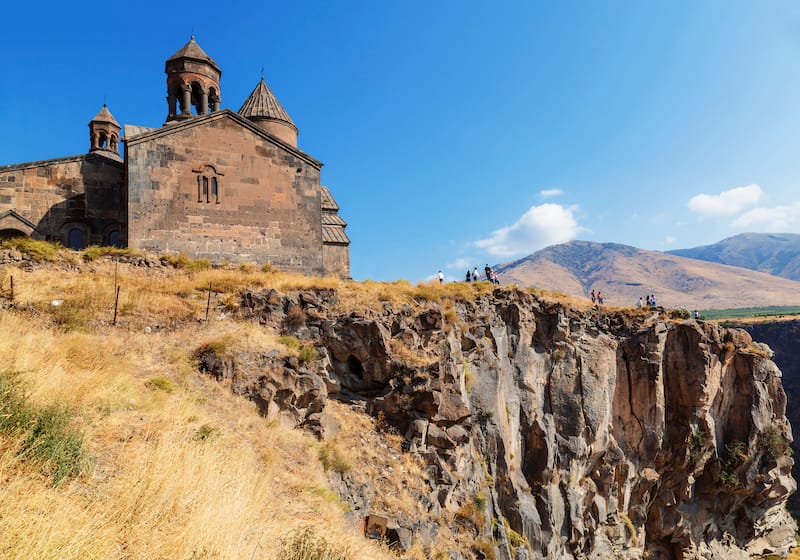 One of my favorite things about Saghmosavank Monastery is that you can see several mountains from it if the skies are clear. Behind it you can see Aragats, to the right (if you're overlooking the gorge) is Ararat, and in front of you is Mount Ara.
This monastery's construction was completed in 1221. Aram did a hike from this church to Hovhannavank Monastery 5 kilometers south (the hike was over 7 kilometers through the gorge).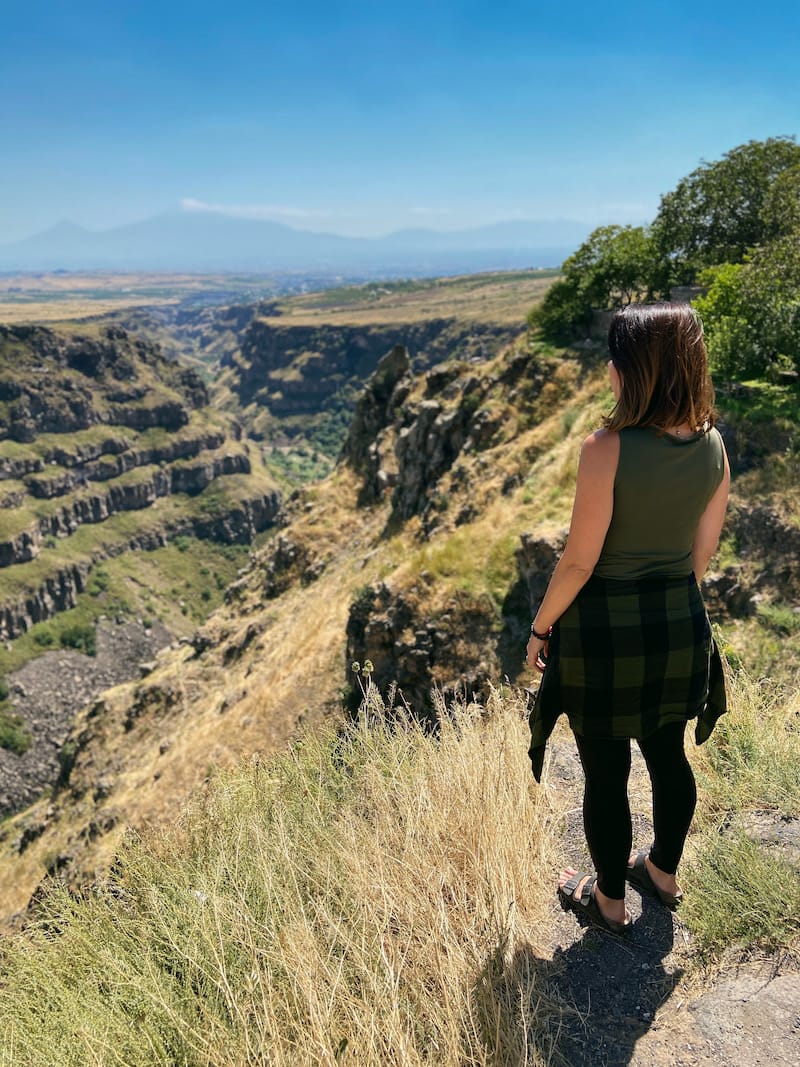 Armenian Alphabet Monument
One of the most touristy sights in Aragatsotn is the Armenian Alphabet Monument by Artashavan village.
When the Armenian alphabet (created by Mesrop Mashtots) celebrated its 1600th birthday, architect Torosyan created 39 letters to commemorate Mashtots at this popular Armenian site. In the background, you will see Mount Aragats, the tallest mountain in Armenia.
You don't need much time here but it is a nice place to take a few photos, and there is a small ice cream stand and kiosk there if you're looking for refreshments.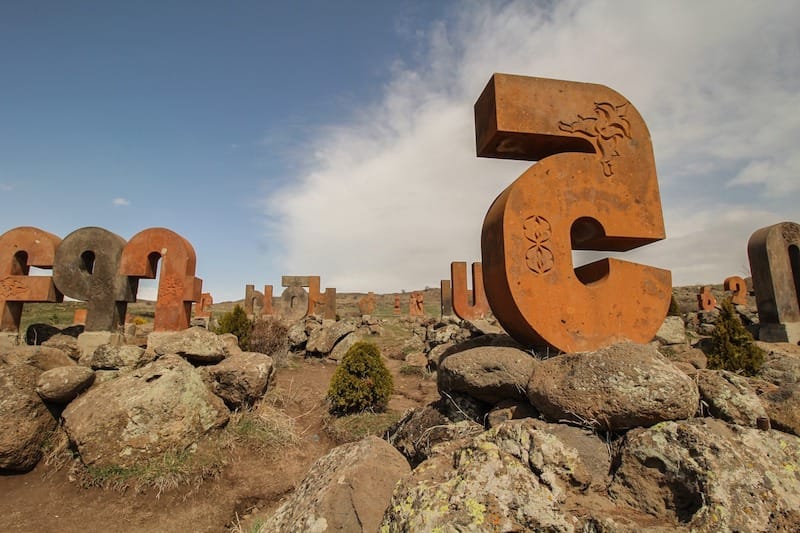 Town of Aparan
Another place I absolutely love in Armenia is the town of Aparan. I always make a stop there when I am traveling between Yerevan and Vanadzor and I feel like most Armenians do too as it seems like the entire country is inside of Gntuniq rest area whenever I am there!
One thing that is really unique about Armenia is that bread (especially lavash) tends to be part of a packing list for a road trip. You can find cheese and herbs almost anywhere – so I recommend buying some bread or lavash at Gntuniq when there!
Nevertheless, Aparan is more than bustling Gntuniq – the town is home to some of Armenia's best water, some incredible street art, and one of the world's oldest churches.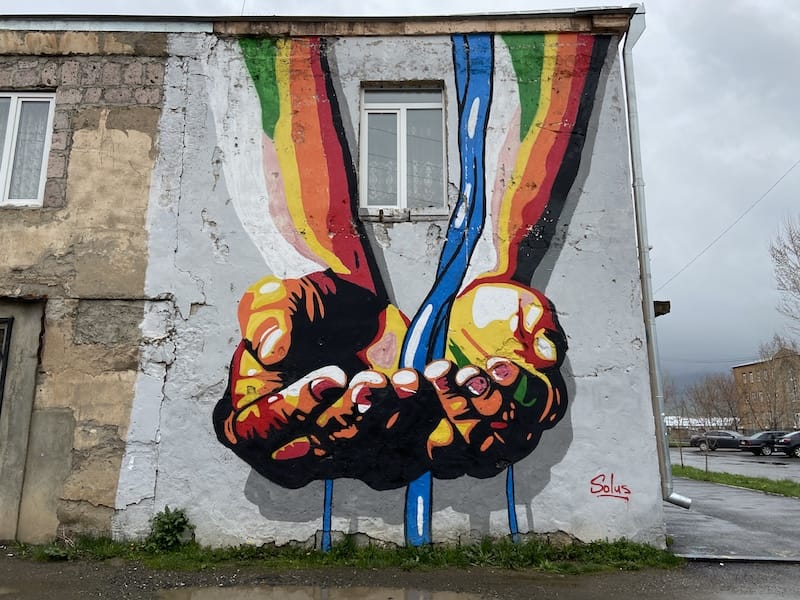 The Kasagh Basilica (formally known as the Holy Cross Church) dates back to the 4th or 5th century and an example of a medieval Armenian Church.
It is a single-nave undomed basilica and when I was there, it was undergoing a bit of construction on its exterior and the grounds, but the inside was spectacular and is worth a quick stop (it is right off the side of the road).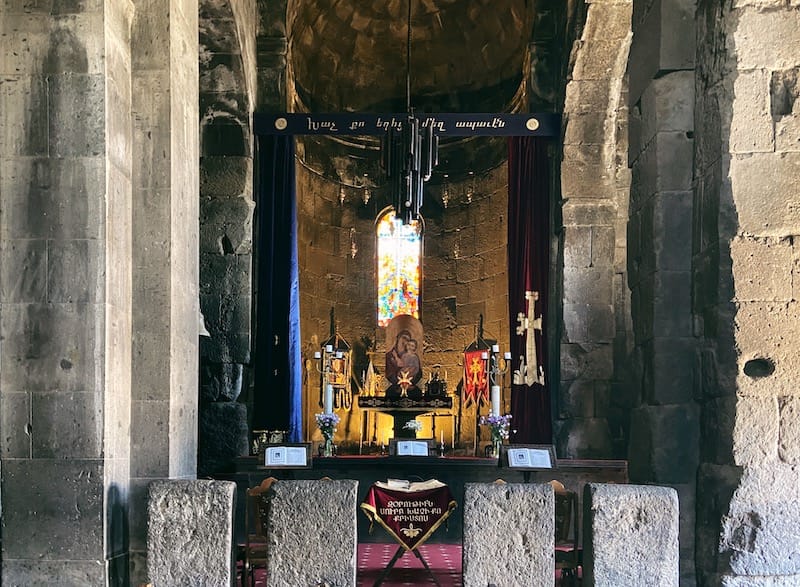 Monument to the Battle of Bash-Aparan
Also located in Aparan is this WW1 monument that was built to honor the Armenian victories at Bash Abaran, Sardarabad, and Karakilisa which eventually halted the Ottoman invasion into the Eastern part of Armenia.
Harichavank Monastery
Dating back to the 7th century, Harichavank Monastery is a famous monastery complex located in the village of Harich near Gyumri (and southeast of the town of Artik).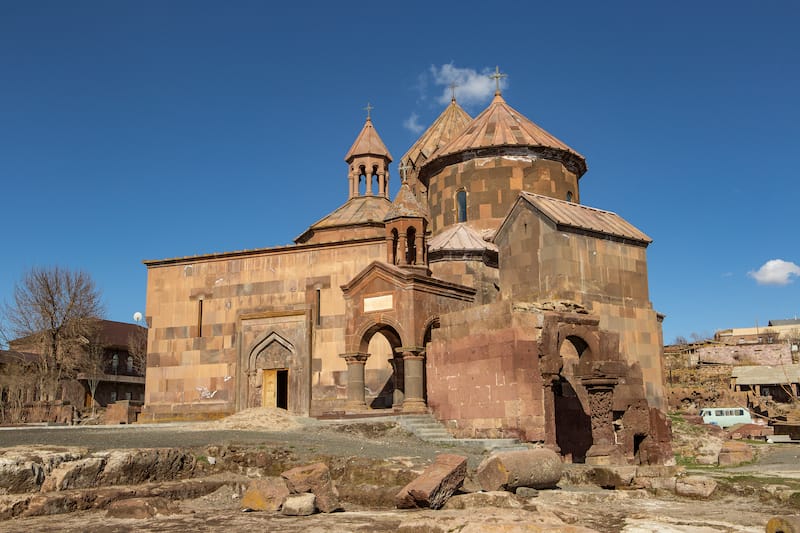 In 1966, excavations indicate that Harich was actually a fortress town that dates back to the 2nd century BC. The monastery is worth a quick stop on the way to Gyumri for a few photographs and to admire the complex.
Have you ever driven between Yerevan and Gyumri? What are some of your favorite stops on a Yerevan to Gyumri road trip? Let us know in the comments! Thanks!
Additional Gyumri Travel Resources