Armenia's third-largest city and one of its most diverse is definitely Vanadzor in the Lori Province. And, these are some of the best things to do in Vanadzor.
Planning your trip to Vanadzor (and Armenia) last minute?
Below are some of the top tours, hotels, and more! Donʻt forget to plan ahead when visiting Armenia!
Top Places to Stay in Vanadzor (and Yerevan):
Top Tours from Yerevan:
Looking for the best way to get around Armenia? Click here to check rental car rates for Armenia!
Did we miss any amazing places to visit in Vanadzor, Armenia? Let us know your favorite Vanadzor attractions in the comments. Thanks!
*We often mention booking a city tour throughout the text as it is the only way to see some of the attractions and places in Vanadzor.  In order to do so, please email [email protected] or call +37494234616.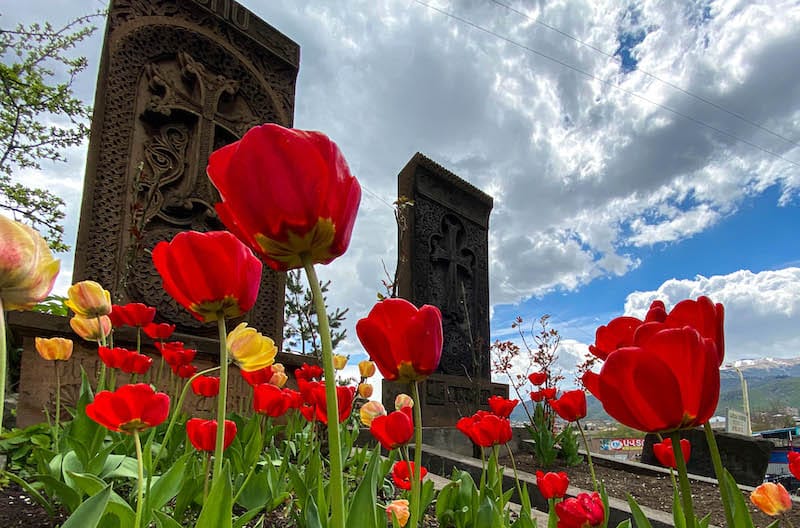 About Vanadzor
Located approximately 128 km from Yerevan, Vanadzor (also known from the Soviet Union times as 'Kirovakan') is the third-largest city in Armenia and the administrative center of the Lori region.
Before it was renamed Vanadzor, which means Valley of the Church, in 1992, the city was called Kirovakan during the Soviet-era and Karakilisa back in the Russian Empire times and all that influence is possible to see as a result of the city's appearance and dynamics.
However, a long time ago before all of that, archaeologists found Bronze age settlements, graves, tombs, and remains of the hills of Tagavoranist.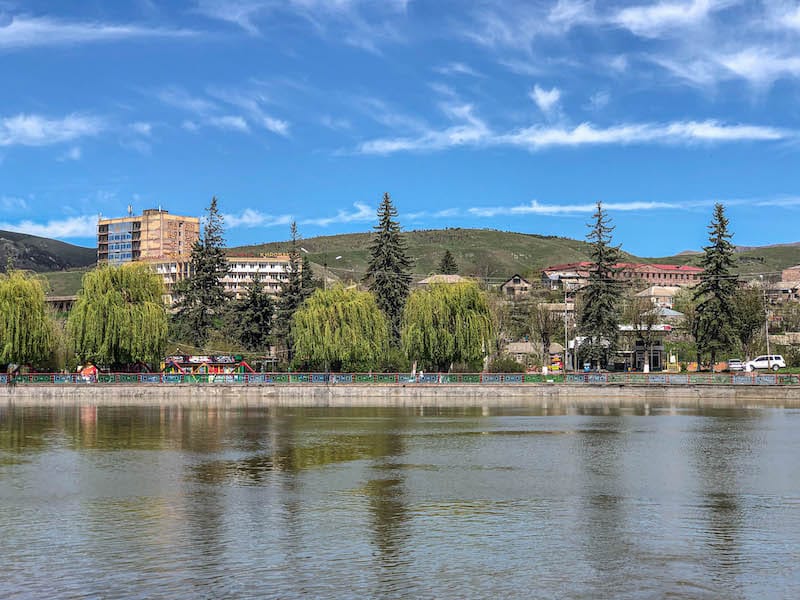 After Armenia fell to the Soviet Union at the beginning of the 20th century, Vanadzor started to be transformed and was rebuilt as an industrial city. Throughout the decades, it started to compete against other large industrial Soviet cities.
Vanadzor, at its industrial peak, had more than 25 factories and contained one of the biggest factories in all Soviet Union.
Unfortunately, after the collapse of the Soviet Union, the Armenian industrial giant Vanadzor started to collapse and many factories closed, were left abandoned, or attracted private owners despite not operating. Some of them are possible to see with a pre-organized tour.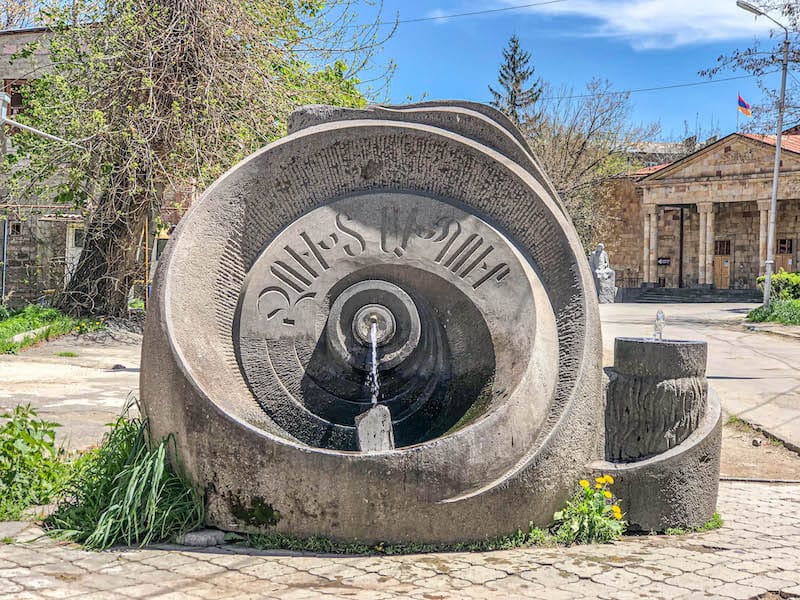 Nowadays, Vanadzor is a city that is still recovering economically and trying to attract travelers and investors to pay attention to it because Vanadzor and the Lori region is easily one of the most beautiful places in all of Armenia.
This is our guide on what to do in Vanadzor. We broke it up into different sections so you can see the great things to do in Vanadzor depending on what type of traveler you are.
Please let us know if you have additional questions in the comments… or send us a message.
Best Cultural Things to Do in Vanadzor
Shop Fresh at the Lachin Open Market
Vanadzor has a great little open market called Lachin in the center of the city where you can get all fresh fruits and vegetables. Everything is coming from local villages and farms.
We find visiting markets when you're traveling can really help you give you a first impression of a place and you can learn a lot about a destination by its market(s).  Vanadzor is no exception.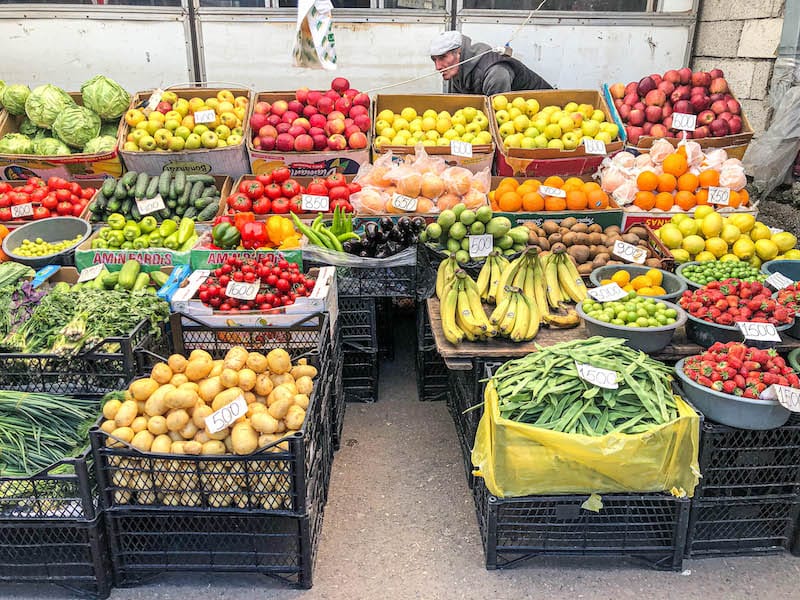 Walk around the narrow streets of the market and see how colorful the market is in displaying its products. Also, learn about local special greens and herbs that grow near mountains and be sure to take a taste of them!  Some of our favorites are sndrik, shushan, and papuk.
Visit the Abelian Theater
If you like theater and want to see local plays, then you definitely need to visit Vanadzor State Dramatic Theater.
Hidden between buildings in the center of the city, the charming drama theater was built in 1931 and named after Hovhannes Abelian has open doors for guests and travelers interested in visiting.
It is definitely one of the best things to do in Vanadzor if you're into local theater.
Address: Vanadzor Taterakan St., 3a Building
Click here for the Abelian Theater Facebook page.
Talk With the City Walls
While you are walking in the city, you may notice subtle street art and graffiti with an interesting motive, like socially or environmentally charged conversation, on the walls of buildings in Vanadzor.
The organizers created this movement to bring more awareness about various topics and while you are walking in the city, you can read a lot of it.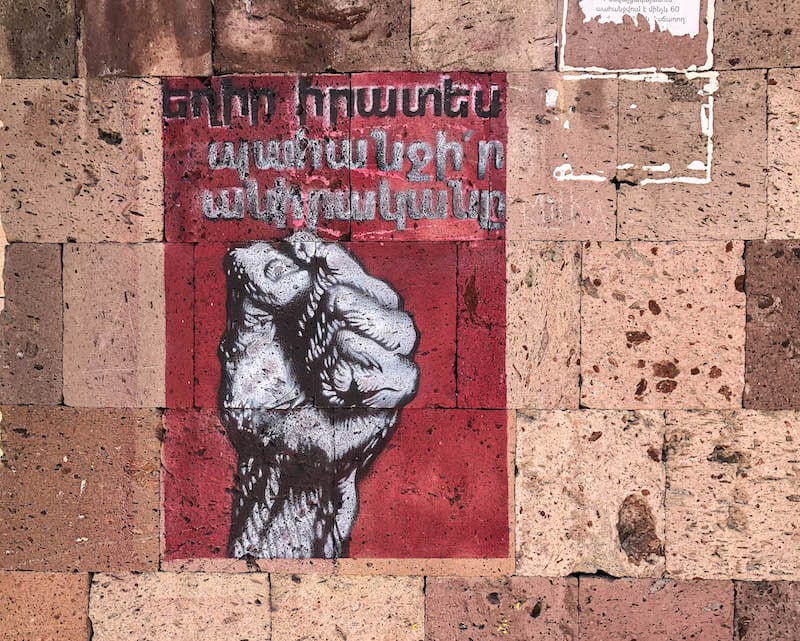 You will also most definitely notice that Vanadzor was a city accidentally created for street art because the buildings and streets lend themselves to creativity and have the space to inject so.
The locals are trying to bring more art to spice up the city and we are hopeful that in the future, Vanadzor will become the street art capital of Armenia.
Visit the Aesthetics Center
The typical Armenian-style museum complex will captivate you with beautiful handmade carpets, traditional and modern clothing, paintings, and much more.
Surrounded by a lush garden with creative stone sculptures, the Aesthetics Center aims to develop the taste of art in youth and also organize exhibitions and help them to grow as future artists.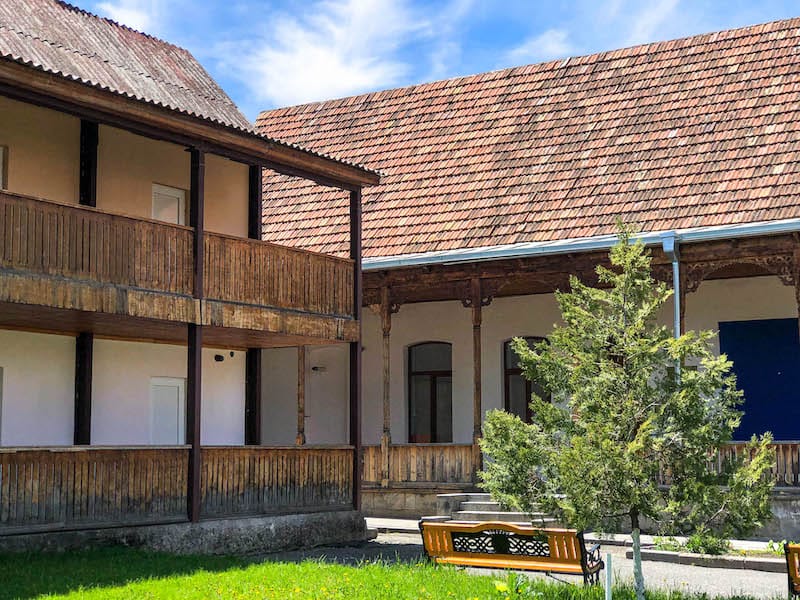 Walk inside and enjoy the artworks of incredibly talented kids and youngsters displayed in the halls.  It is definitely a different side of Vanadzor you won't want to miss!
Address: Myasnikyan 19A in Vanadzor
Go to Master Mehrab's House
Vanadzor is inviting you to visit a very interesting street where an obscure house has a stone sculpture made by one of the legendary, local artists of the 20th century, Master Mehrab.
Master Mehrab, also known as Mehrab Mirzakhanyan, was a great artist who was creating many stone sculptures in the Lori region. He was also known as a master who created stone drinking water fountains, and locals refer to these fountains as eternal water fountains.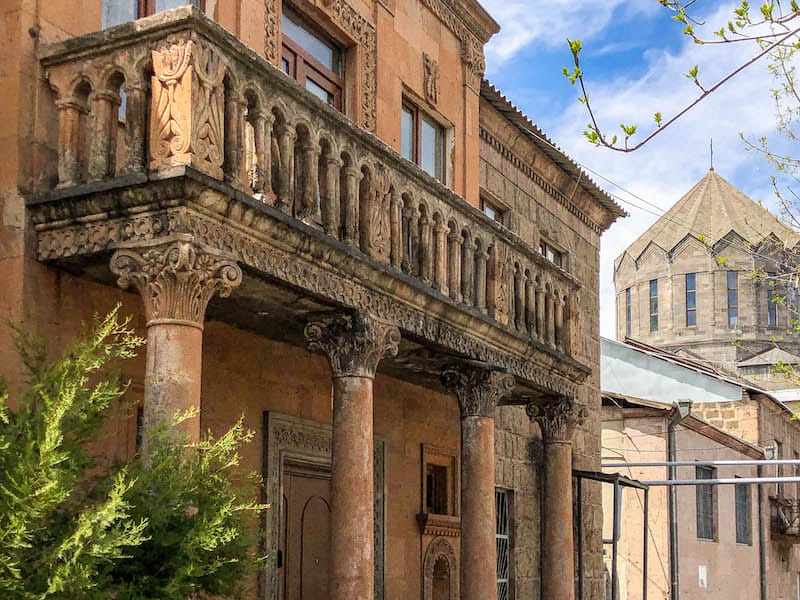 His house on Abovyan Street (behind the St. Gregory the Illuminator Church) is where his grandchildren and family have beautifully decorated the area and it is worth stopping by for a photograph.
Go to the Vanadzor Fine Arts Museum
If you love art, then walk to Vanadzor Fine Arts Museum and see temporary and permanent exhibitions with collections of more than 1,700 relics.
Learn more about local artists who, in our opinion, are very talented because Vanadzor used to be known as the city with various numbers of artists, painters, sculptors, creators, fashion designers, and more.
It's a perfect place for tourists to get more familiar with the Lori region and where the museum workers can organize a great excursion and tell the story of many masterpieces.
Address: 52 Tigran Mets Ave, Vanadzor
Click here for the Vanadzor Fine Arts Museum's webpage.
Stop by Terracotta Studio
By visiting Terracotta Studio in Vanadzor, you are entering a world of creative clay-based art.
It's a great open space platform where anyone can go and create sculptures and other things and learn more about that beautiful art.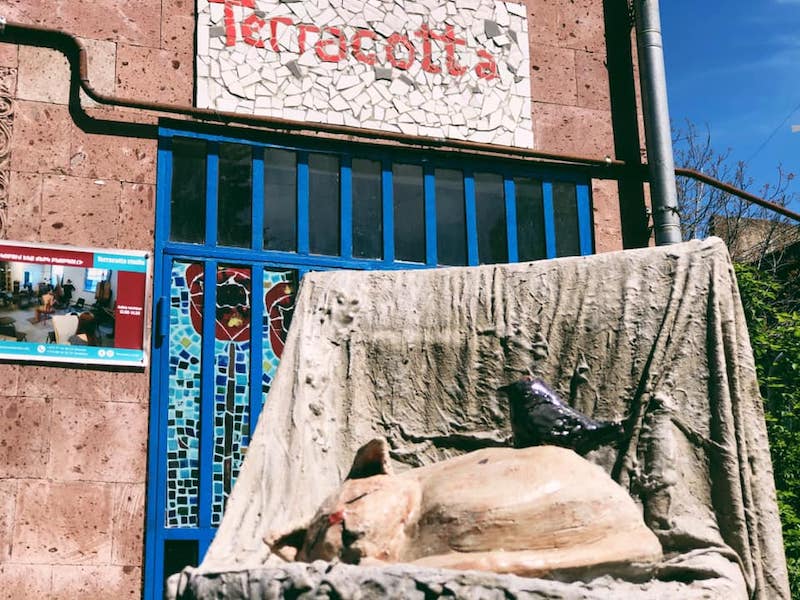 Another great thing about Terracotta is that they are supporting kids' art and trying to organize charity exhibitions and sell their art to aid them to make money from their income.
Address: Tumanyan St. 6a, Vanadzor
Click here for Terracotta Studio's Facebook page.
Historical Places in Vanadzor
Hang Out in Vanadzor Square (Hayk Square)
Explore the heart of the Vanadzor through its main square, also known as Hayk Square, where you can see ornate architecture like that municipality building, city hall, and other astounding constructions.
In the warmer season, there is always a fountain that becomes a singing fountain in the evenings and is a can't-miss Vanadzor attraction if you're there at night.
There are also interesting Soviet sculptures on the left side of the square if you are facing the municipality building. They symbolize war, power, hard work, progress, and knowledge… don't miss out on seeing them!
Get Groomed in the Old Barbershop
Every city in Armenia has an old barbershop, just like the one in Gyumri. There is also one in Vanadzor and it is an old-fashioned, men's-only barbershop.
When we discovered the barbershop, I was in need of a haircut so I decided to go all in and get my hair cut there that day.  There are generations of local barbers who have been cutting hair there for over 60 years and, to be honest, it was a job well done.
If you're a male in need of a haircut, stop by and give it a shot!
Check Out Tairov's House
One of Vanadzor's most beautiful buildings is the Vasily Tairov House located near the river with the Lover's Bridge where you will find love locks.
The Tairov House was built in the 19th century by a very rich businessman and winemaker who wanted a beautiful and ostentatious mansion that would appear different from any other large building in Vanadzor.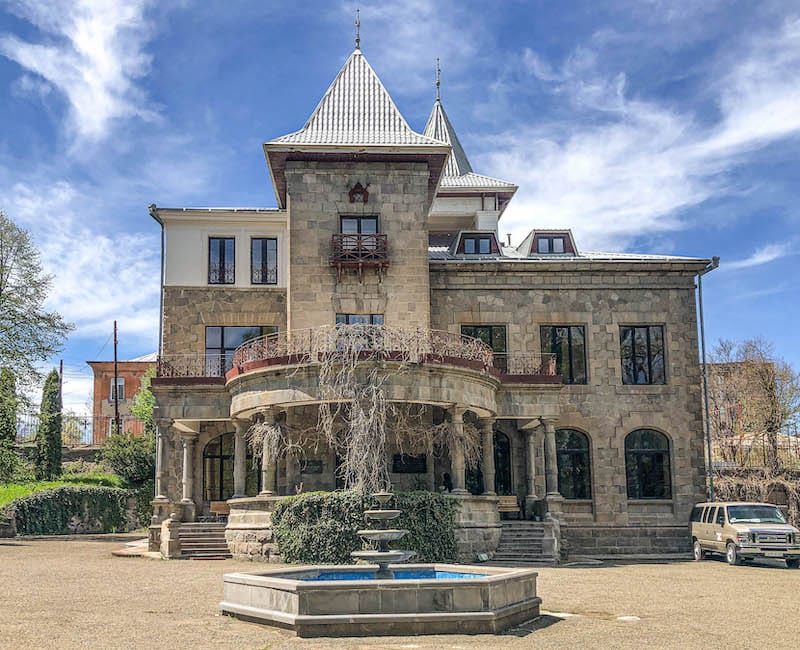 The gorgeous house is also surrounded by a charming garden, water fountains, and colorful flora.  Since 1999, the Tairov House has become the Gugark Diocese of the Armenian Apostolic Church.
Address: 33 Zakaryan St, Vanadzor, Armenia
Visit the St. Saint Gregory of Narek Cathedral
The biggest church in Vanadzor is The St. Gregory the Illuminator church which is visible mostly everywhere from higher spots of Vanadzor.
Built in the beginning of the 1990s,  the St. Gregory the Illuminator is a very photogenic construction that has beautifully painted walls from the inside.
The church is right behind the master Mehrab's House on Abovyan street surrounded by parks and green mountains.
Address: Abovyan St – St. Saint Gregory of Narek Cathedral (will likely be listed as Surb Grigor Narekatsi Church in Google).
Check Out an Antique Shop from the 1980s
If you have an interest in old and historic places and things, you will definitely need to visit Vanadzor's antique shop because you never know what you will find inside!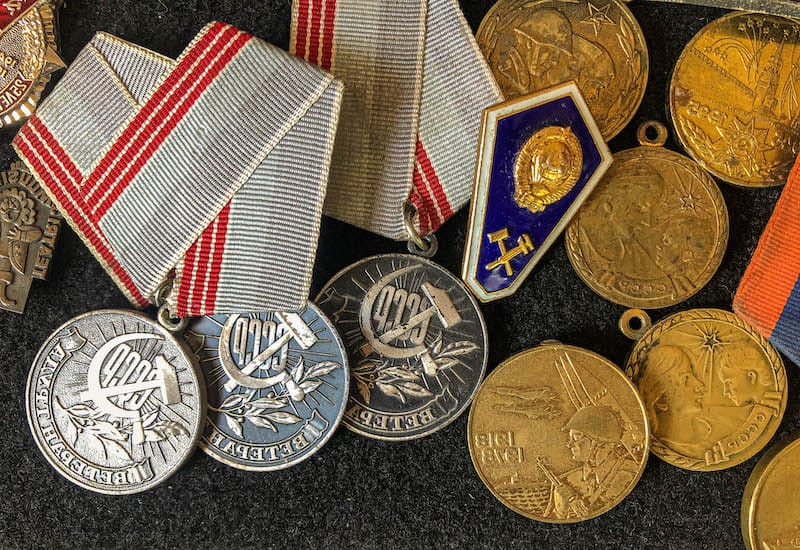 Founded in 1980 by artist Hovsep Mesropyan, the small but impressive antique shop has been in operation for several decades and has a large collection of different things like coins, rings, accessories, Soviet medals, money, 5000-year-old clay jars, and much more.
Hovsep Mesropyan collects all of his goods from around Armenia and receives some of them as gifts.
Address: 50 Tigran Mets Avenue
Visit the Russian Orthodox Church
One place you won't want to miss visiting is the Russian Orthodox Church in Vanadzor.  It has a huge contrast to the local Armenian churches and monasteries and is a place you can easily check out once you arrive in the city if you're coming by train or marshrutka.
Vanadzor's Russian Orthodox Church of the Nativity of the Blessed Virgin Mary was built in 1893 and has the same name but a smaller design, similar to the St. Sophia Cathedral in Istanbul.
This church is conveniently located and a cool place to quickly check out if you want to see one of the rarest and oldest Russian Orthodox churches in Armenia that serves the Russian community in Lori.
Address:  Khorenatsi Street (near the train station)
See the Old Train Station
Vanadzor has a very interesting train and bus station that was built during the Soviet era that was connecting big cities in the USSR all the way to Central Asia and even to the far north of Russia.
After the Soviet Union's collapse, the railway station served mostly cargo transportation and a route connecting Batumi to Yerevan.
Before the collapse, however, Vanadzor was called Karakilisa and it had a small but well-operating train station that was built at the beginning of the 19th century.  It connected places such as Dilijan and Alexanderpol (modern-day Gyumri) to other locations.
The old Karakolis train station building is still in existence.  It is located on the left side of the 'modern' Vanadzor station.  It is a short walk to the building and it has currently been converted into a weightlifting and powerlifting center.
What to Do in Vanadzor for Nature Lovers
Walk Through the Botanical Garden by Jora Sarukhanyan
Only a ten-minute drive outside of Vanadzor, one will find themselves in a green area that is home to a gorgeous botanical garden that is a key piece of Vanadzor's history.
Jora Sarukhanyan was a famous dendrologist during the Soviet times and he planted and created forests and several green spaces in Armenia.
Nowadays, the Vanadzor Botanical Garden and dendropark have been passed down to his family and it is an ideal slice of heaven in Vanadzor that will give you an immediate nature boost.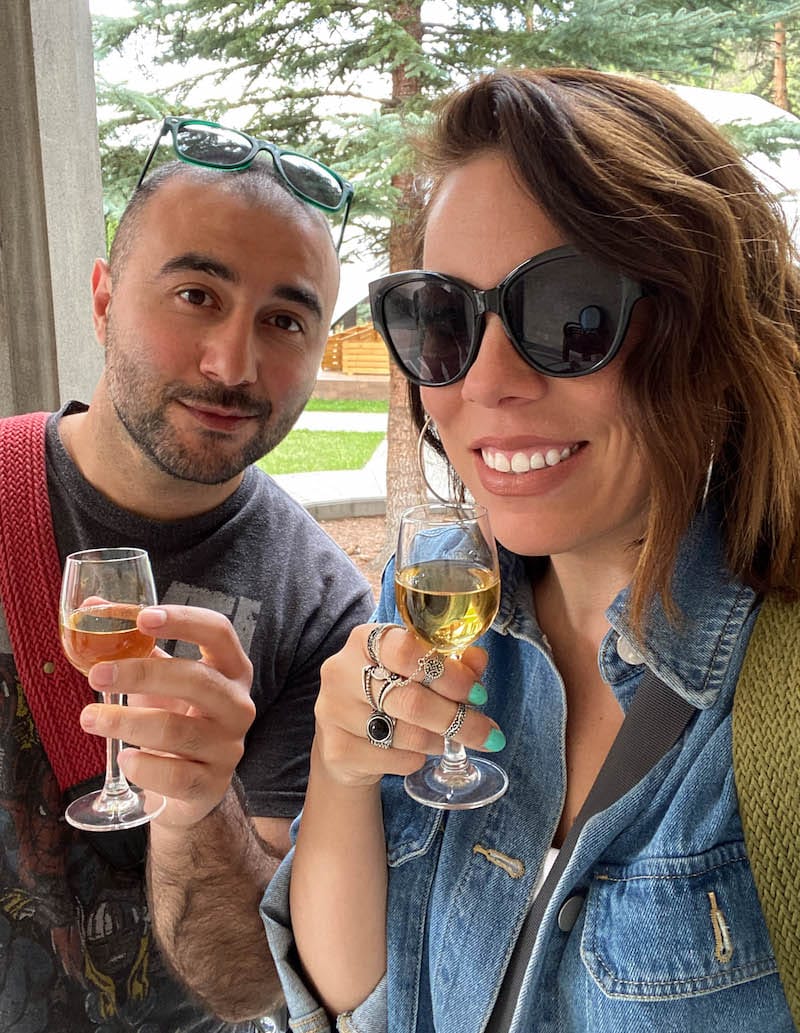 Unfortunately, you can't visit the Vanadzor Botanical Garden without an organized city tour.
You can see at the end of this post (and the beginning!) how to arrange a Vanadzor city tour with Ani.  She speaks awesome English!
Address:  end of Abovyan Street
Be on the Lookout for the 'Lcher'
Vanadzor has several small city lakes that are surrounded by cafes and walking trails where you can enjoy a morning coffee (and more!). These lakes are called 'Lcher' by locals which directly means 'little lake'.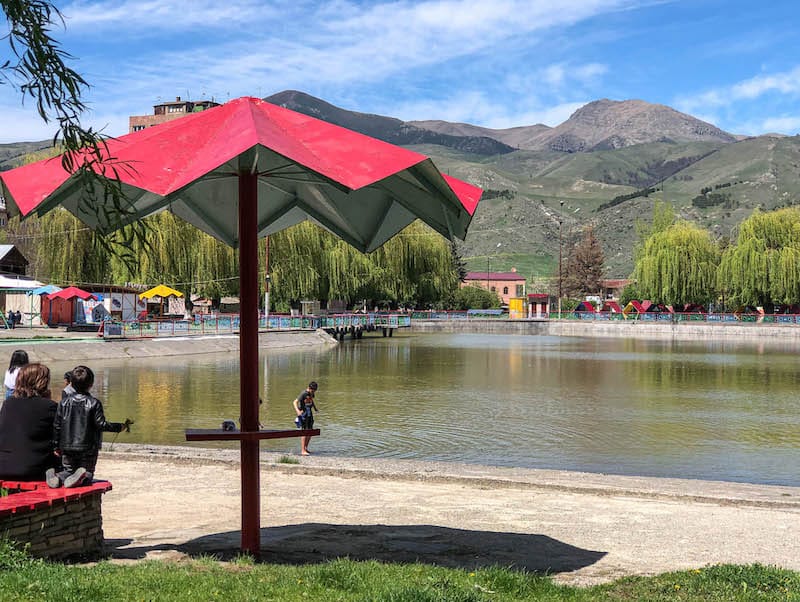 During the warm season, these lakes are active places for locals to enjoy the sunny days, cold drinks, and even a little fishing.
Drink Vanadzor Sour Water
If you want to try real natural mineral water coming from the mountains, you need to enjoy the sour water known to locals as Tetuh Djour.
The little fountain became a source of mineral water and was built in the 1970s. It is really popular with locals, has healing qualities, and provides refreshing natural water from the mountains.
Address: 52 Tigran Mets Ave, Vanadzor, Armenia
Miscellaneous Places to Visit in Vanadzor (and Nearby)
Artek Abandoned Youth Camp
Those that love abandoned Soviet architecture will enjoy visiting the Artek Youth Camp located in the surrounding hills of Vanadzor a couple of kilometers away from the city center.
Back in its day, Artek was a picturesque, forested camp for 'pioneers' (kind of like scouts) that were gathering at the camp in groups.
Nowadays, it has unfortunately been left abandoned and is slowly falling apart, but you should definitely visit if you like Soviet architecture as the building still stands.  There is also an abandoned restaurant across the street that has a unique shape to it.
Go Rafting in Armenia in Vanadzor
If you are in Vanadzor and want something different and adventurous to try, head out rafting in Armenia.  This is organized by Rafting in Armenia.
All the action takes place in Debed where the professional and knowledgeable staff will show you how to test your skills on the river's rapids. The route also passes UNESCO World Heritage Monasteries Sanahin and Haghpat.
To book, contact [email protected] or you can dial 094 12 90 13 or 096 12 90 13.  Check out their Facebook page for more information.
Go to Amrakits to See the Abandoned Russian Church
Only 35 minutes away from Vanadzor is the village of Amrakits.  Inside this village, there is a gothic and mysterious abandoned Russian church from the 19th century that is definitely worth a visit for those that love obscurity and something hauntingly beautiful.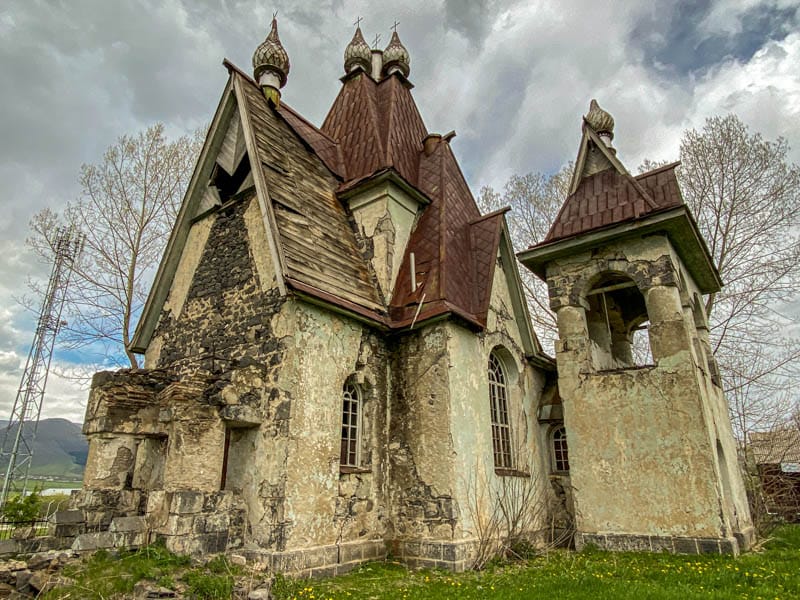 The church's name is Saint Nikolai the Wonderworker and it is worth a trip out to Amrakits to see.  The village is rather charming in its own right and there is plenty to see in the nearby vicinity.
First Lenin Statue in the World
Close to Vanadzor in the hills is another Soviet camp called Arbanyak (Satellite) that is actually still in operation during the summer months and maintains an authentic and original feel.
The main reason to pay this camp a visit is not solely because of its forested and beautiful location but because of the valuable statue that is contained within.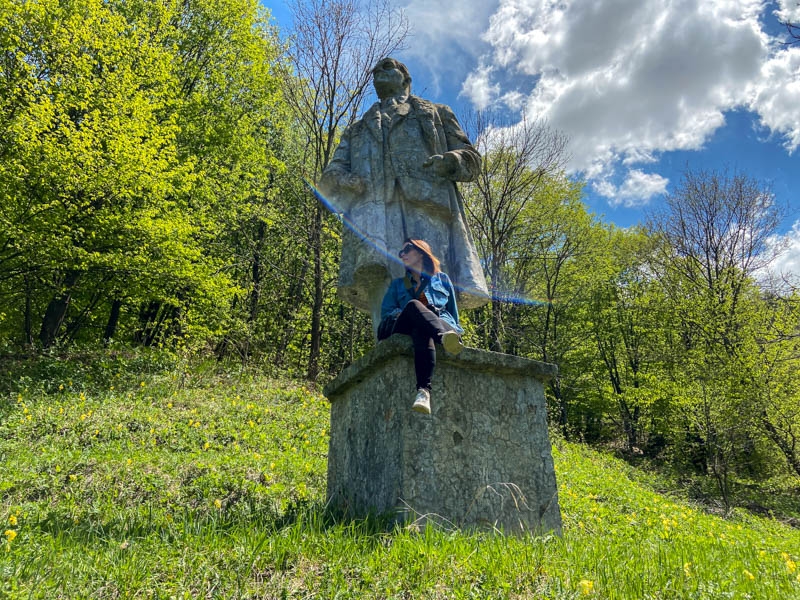 Inside Arbanyak Soviet Camp, one will find the first Lenin statue that was built during his lifetime (and ever).  This is definitely something that Soviet history and statue lovers will enjoy venturing to.
A family owns the property where the statue is located, so the best way to currently see it is by booking a Vanadzor City Tour with Ani as we mentioned above.  You can find her details at the beginning and end of this post.
Kzher Art Saloon
Vanadzor has many hidden corners and spots where you can see unexpected and interesting things like the Kzher Art Saloon.
Kzher Art Saloon is a small little artist and collector's paradise within the Vanadzor city center that allows guests to see beautiful artworks, cross-stones, and Soviet-era goods for sale.  It is run by Samvel who opened it up 30 years ago and has been collecting and adding to the workshop ever since.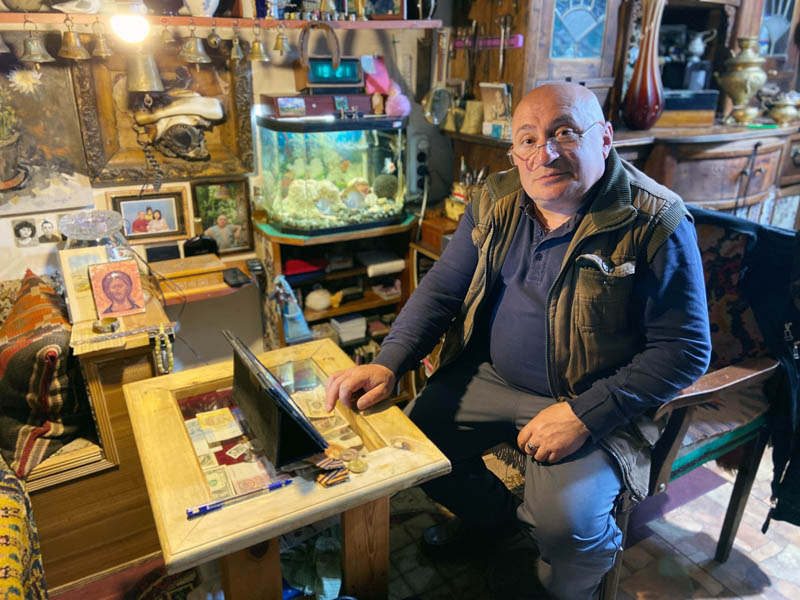 If you're looking for a fantastic souvenir to take home with you from Armenia, the Kzher Art Saloon is a must-visit landmark in Vanadzor.
Address: Taterakan Street, Vanadzor
Click here for Kzher Art Saloon's Facebook page.
Pushkin's Pass
One of the unique natural gems in Lori connects the city of Vanadzor to an area around Stepanavan and it is called Pushkin's Pass (or Pushkin Pass).
When you cross it, you will be greeted by Armenia's first windmill farm and views that will make your jaw drop.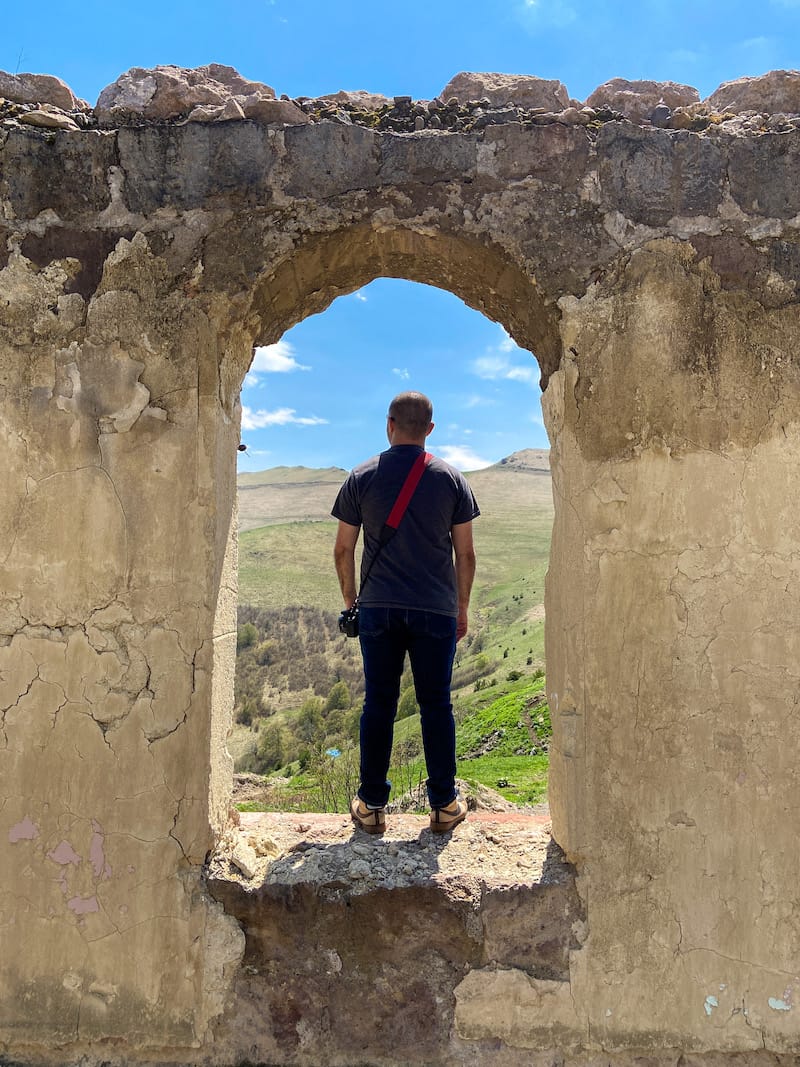 The altitude is 2037 meters and the road could use a little bit of work but it is relatively safe to drive.
The reason the pass is called Pushkin Pass is that legendary Russian writer Alexander Pushkin was traveling through the Caucasus and met travelers transporting the body of another famous Russian writer, Alexander Griboyedov, who was recently killed in Iran.
There is currently a museum that is now abandoned at the top of the pass that was built at the beginning of the 20th century.  This is definitely one of the most fascinating places to visit in the region!
Stepanavan Dendropark
A famous dendropark, or arboretum, in Lori, is the Stepanavan Dendropark.  It is a must-visit if you're in the area or want a cool excursion from Vanadzor.
The Stepanavan Dendropark is located 30 minutes away from Vanadzor and it is the reason a lot of people find themselves in the city.  It was founded in 1931 and has hundreds of different species of trees and plants that have been grown in a 35-hectare area.
The entrance fee for Stepanavan Dendropark is 200 AMD and it is open daily from 0900-1900.
Odzun Village
A favorite village of ours in the north of Armenia is the village of Odzun, close to the border of Georgia.
You can easily take a day trip from Vanadzor to breathtaking Odzun. The village is located near the edge of Debed Canyon and offers some of Armenia's best views (trust us!)
Odzun is one of the largest historical villages in the Lori region and it has many historical and cultural heritage points that every traveler passing on the Yerevan-Tbilisi highway will appreciate as a stop and break from driving.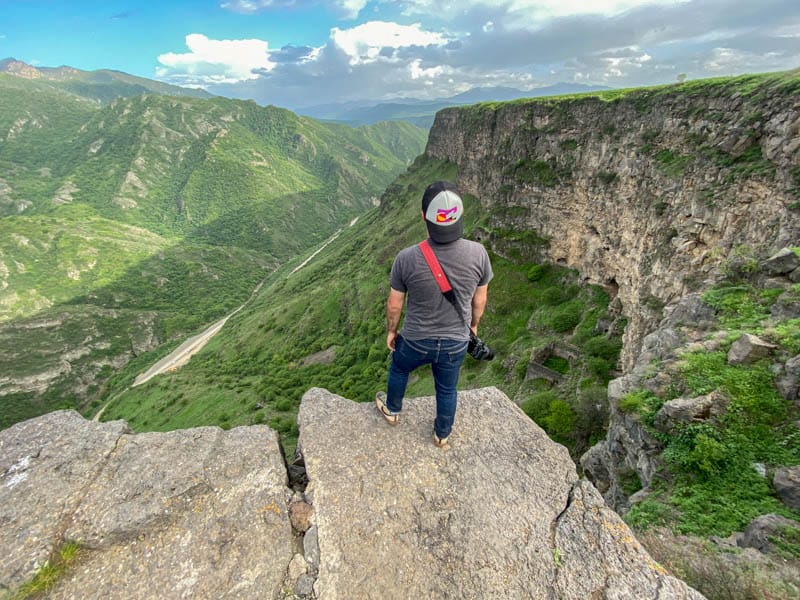 Places such as the 5th-century Odzun Church in the center and the ruins of the Horomayri Monastery make Odzun well-worth the visit.
If you're looking to stay overnight, look no further than B&B Odzun, our top recommendation and a place we fell in love with.
Lori Fortress (Berd)
If you're visiting Vanadzor or the Lori region, you definitely should factor in a trip to Lori Berd, or Lori Fortress, only a mere forty minutes away from the city.  It is one of the most beautiful fortresses in Armenia.
Built in the 11th century, the gorgeous Lori Berd is a construction that is located right on the edge of the Debed Gorge, and in 1065, it became the capital of the Kingdom of Tashir-Dzoraget.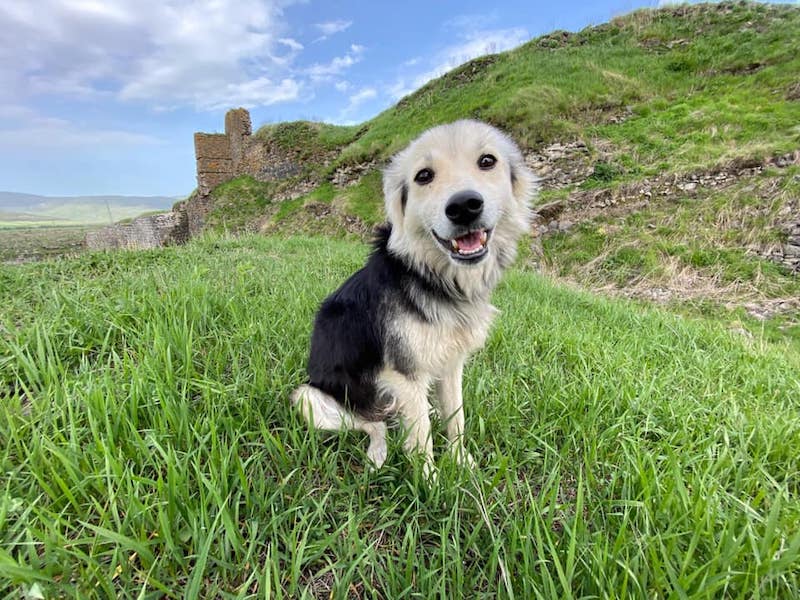 Don't miss out on seeing the remains of the large fortress and learning the history of the province.  There may or may not be cute puppies to play with when you're there.
The ticket price for Lori Fortress is 650 AMD for locals and 1300 AMD for foreigners.
Where to Eat in Vanadzor
Grandpa's (Home Restaurant in Vandazor)
Our favorite meal in Vanadzor most definitely came from the Home Restaurant in Vanadzor, a local home restaurant run by a family renowned in the area for having awesome food and hospitality.  Locals simply call it 'Papi Mot' (at Grandpa's).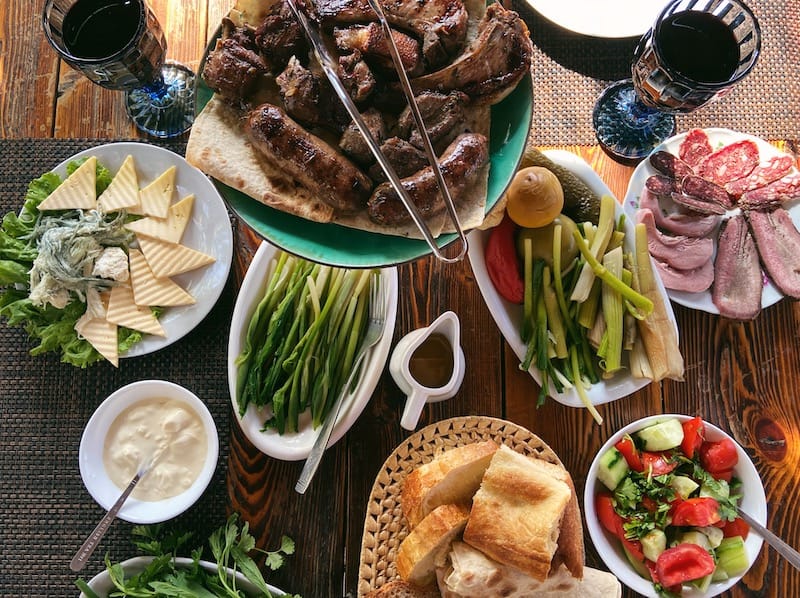 Home Restaurant in Vanadzor is located in the backyard of Tigran and Gayane's home and the food was absolutely stellar.
From the homemade sausages containing pomegranate seeds to the homemade salads, kompot, and more… we can't get enough of the place!
For a super fresh, delicious meal and true Armenian hospitality, head over to Home Restaurant in Vanadzor and indulge!
Address: Zoryan 32A, Vanadzor
Click here for Home Restaurant in Vanadzor's Facebook Page.
Shamam's Macarons
We recently had a chance to visit Shamam's Macarons in Vanadzor and the small cafe left us inspired (and extremely satisfied with the delicious baked goods)!
Shamam spent her life raising a family despite having a dream to open her own cafe. On her 55th birthday, she decided to make her dream come true and pursued a grant alongside other local females to do just that.
She won the grant and opened Shamam's Macarons in 2021. While the first year was extremely rocky, a wave of Russians moved to the area earlier this year and their decentralization of Armenia saved her business.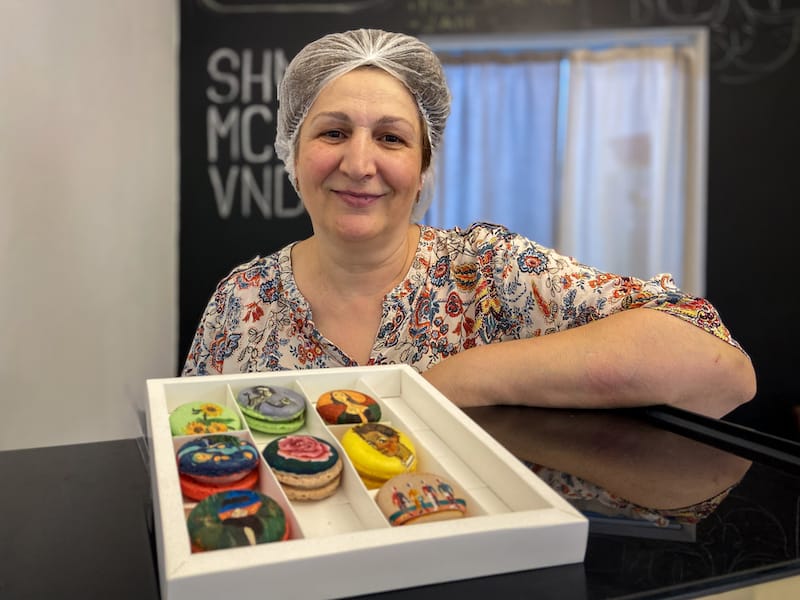 New Vanadzortsi, Konstantin Antonov, has partnered with Shamam to create unique artwork on her macarons, luring in visitors interested to see what the macarons look like today!
Another cool thing about Shamam is that she now partners with the females who did not receive the grant she won and sells many of their products in her cafe.
A true example of female empowerment and a surefire reason to visit Shamam's when you're visiting Vanadzor!
Address: 19 Myasnikyan Street
Click here for Shamam's Macarons' Facebook Page.
Maran Beer House Restaurant
Recently, Vanadzor hopped into the craft beer scene with a brewery of its own and you can enjoy Lori craft beer at Maran Beer House Restaurant in the city!
I had the opportunity to enjoy their deliciously diverse food and unfiltered light beer which I found to be tasty and I know I'll be a returning customer when I'm in Vanadzor. They have a wide portfolio of other beers to test out, as well.
This is the perfect place to stop by for a social evening with friends and a good beer in Vanadzor.
You can find Maran Beer House Restaurant at Tigran Mets 34-2/1 in Vanadzor.
Click here for Maran Beer House's Facebook Page.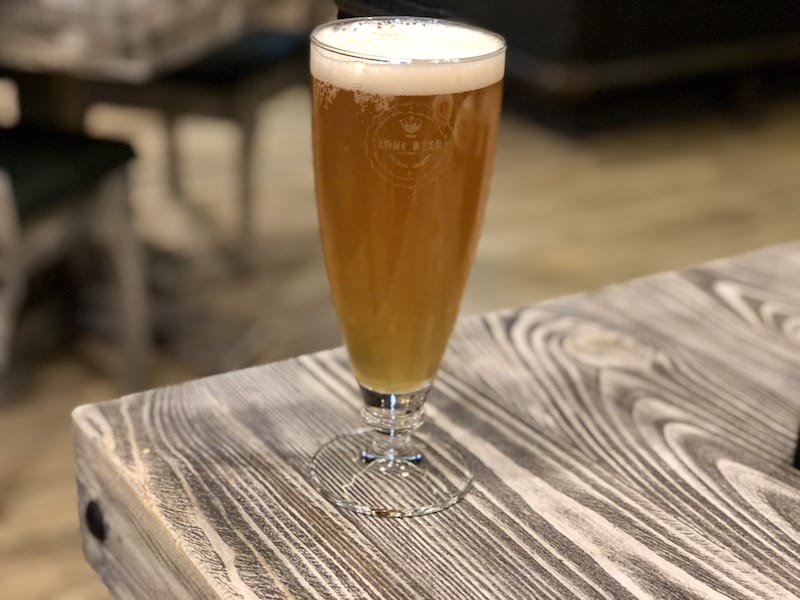 Artsakh Center
Enjoy your morning coffee with a gorgeous view of the surrounding mountains on the top floor of the Artsakh Center building in the city center of Vanadzor. They serve delicious food and wine, too!
You can find Maran Beer House Restaurant at Tigran Mets 34
Click here for Teynik Cafes's Facebook Page.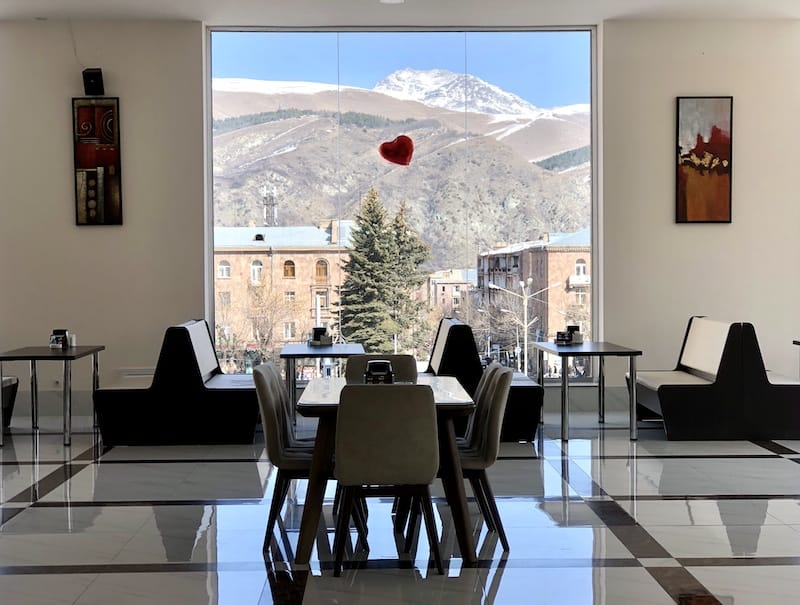 Where to Stay in Vanadzor
B&B MagHay
One of the most charming places we have ever stayed on our travels is at B&B MagHay in Vanadzor.  We LOVED it.
Everything was exceptional at B&B MagHay and we loved the rooms and stay and most definitely… the FOOD.  We had the best breakfast in Armenia when there and it really left us with the best impression and extremely eager to return.
Besides the comfortable rooms for solo travelers, couples, and families, the Vanadzor guesthouse has a fabulous garden with chairs and tables to hang out on and even a hammock to relax in.
>> Click here to check rates and availability for B&B MagHay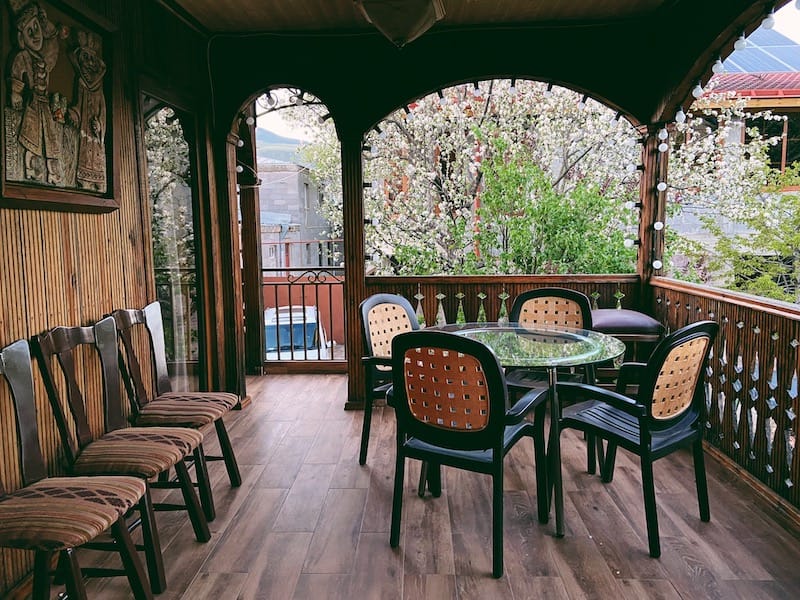 Kirovakan Hotel
If you want to experience a Soviet hotel that still has elements of the USSR times with an elevated and renovated twist, definitely book a stay at the Kirovakan Hotel in Vanadzor.
The large, visible hotel building is located up on the hill and it will not only give you a comfortable stay, but also a fantastic view of Vanadzor.
The rooms are large and pretty modern and you will have all the necessary amenities to enjoy your stay… including breakfast in the morning.
>> Click here to check rates and availability for Kirovakan Hotel
Alternatively, if you're looking to get out of the city and into the village, we highly recommend booking a stay at the Geologist's House B&B in Gargar!  It will help you unwind and enjoy Armenian village life on your Lori trip!
We hope you enjoyed our guide of things to do in Vanadzor and that you definitely consider putting the Armenian city on your itinerary when you plan your trip to Armenia.
If there are any elements or things we left out, please drop them in the comments below so we can do it next time we visit!  Thanks!
Pin this Best Things to Do in Vanadzor Guide