Did you know that one of the coolest activities in the Caucasus is rafting in Armenia? This guide tells you why to go, what to expect, and more!
We often mention in our blog that Armenia is not only a county with ancient history, monuments, and fabulous churches but it is also a paradise for extreme sports lovers.
The country is surrounded by mountains where it is possible to rock climb and base jump, ski and snowboard, zip-line, and enjoy many more activities.
In addition, Armenia has many wild rivers with a powerful flow where the local extreme lovers are currently developing the local rafting culture. This guide will tell you all about rafting in Armenia, and in particular, doing it in the lush and stunning Lori region.
Rafting is a new thing in Armenia and it merely has about 5 years of history in the country, but it feels like it was made for Armenia and its rich nature. It is definitely one of the coolest activities and excursions in Armenia!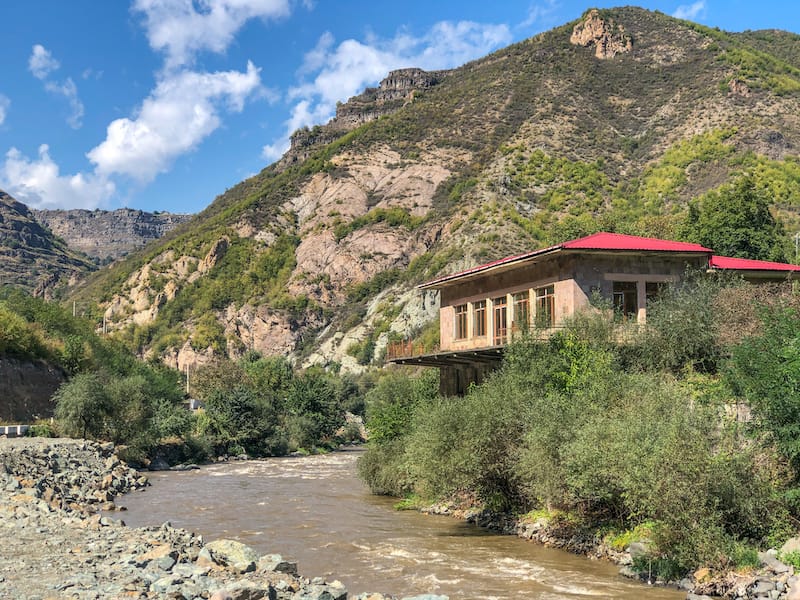 Things to Know Before Going Rafting in Armenia
The Location
The Lori region is located in the north of Armenia, approximately a 3 hours drive away from the capital of Yerevan and the rafting takes place on the Debed River.
The region is also known for UNESCO World Heritage Sites like Haghpat and Sanahin Monasteries, Debed Gorge, and a few fortresses. 
When Does Rafting Season Start?
The season for rafting in Armenia usually starts at the beginning of May. However, that's for the more skilled and professional rafters and it's called 4.4 categories because the river is very strong and the level of the water is high. 
So, if you love more extreme rafting and you are considering yourself a professional or adrenaline-junkie, try Armenia rafting in May.
At the end of May, the season is open for beginners because the river is less powerful and it's a 3.3+ category.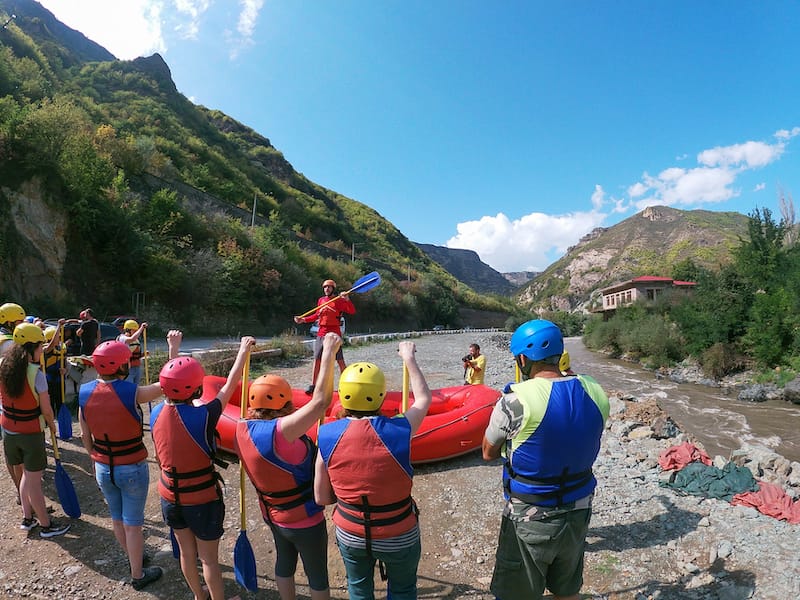 How Long Does the Rafting Trip Take?
The length of rafting on the Debed River is 12 kilometers with a mixture of calm and very strong stream sections, with a stop to drink natural water coming with the mountains and the only entrance to it is from the river. 
The trip will begin with a safety briefing. After the briefing and learning the safety regulations, how to raft, and other important information like how to behave in the boat during the trip, your actual rafting trip will last approximately 3 hours. 
How to Book Your Armenia Rafting Trip
There are several ways to book a ticket for rafting in Armenia and one of them is to purchase the ticket online. It's also possible to pay on the spot once you reach Lori.
Alternatively, It's also possible to take a tour that includes rafting and hiking to Kobayr Monastery Complex, an amazing monument located up on a hill surrounded by beautiful, overgrown nature.
>> Book your rafting trip here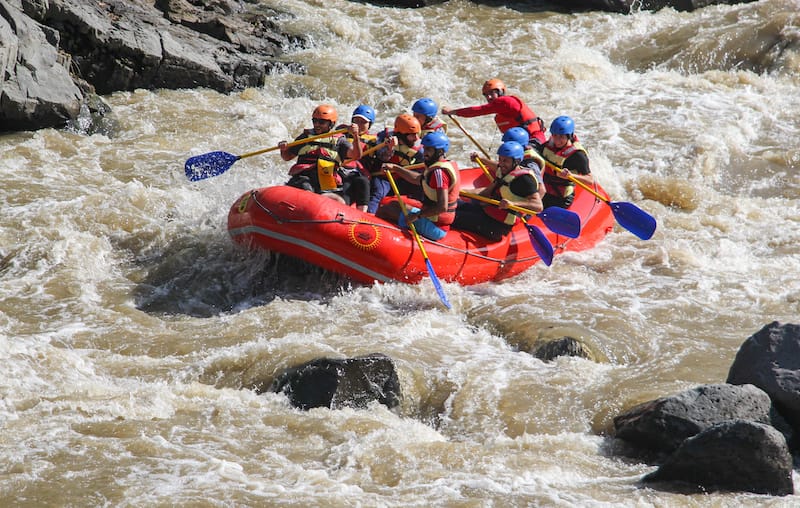 How Much is Rafting in Armenia?
The rafting trip costs 12000 AMD, approximately $22, and it doesn't matter if you book it online or will pay on the spot.
The price of the ticket reduces if you are going there with 4 or more people. That reduced amount is 10000 AMD, approximately $20.
Your trip includes training, insurance, the rafting trip itself, water sliding, and jumping into the water, which are totally fun things to do and you will be sure of after trying them.
For the tour, the price is different because it includes transportation and hiking to Kobayr Monastery. These are added to the rafting activity. 
Pick up is from Yerevan in front of the Yerevan State Conservatory building. The time will be determined and announced after the booking is confirmed.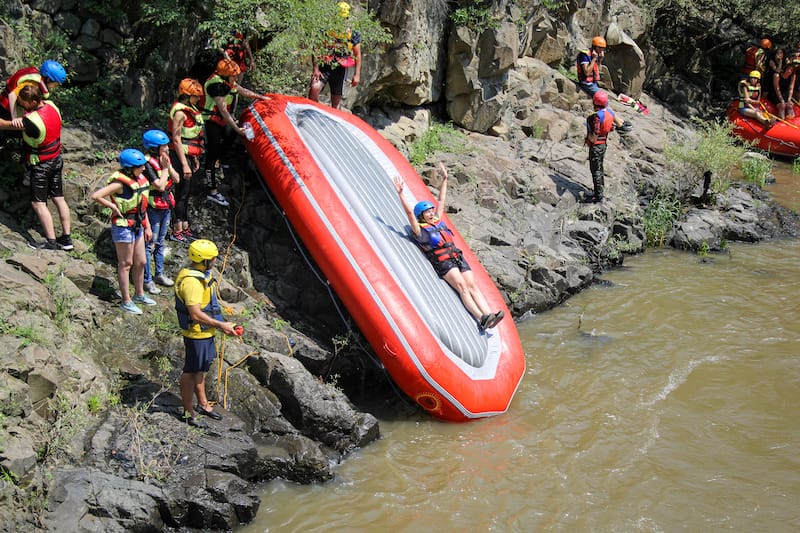 Practical Information
Before the booking is confirmed, the participants need to send their information to the company so that they can create the insurance because it's an extreme sport, and safety needs are imperative!
Also, it's important to know that the participants must not be drunk or hungover and need to be 100% sober because this activity requires focus and concentration. You will not be permitted on the raft otherwise.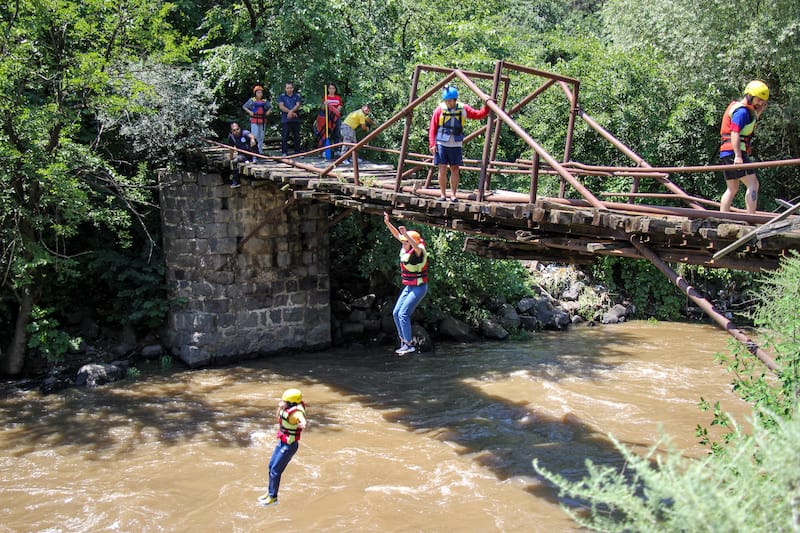 About Rafting in Armenia
The company is one of the first ones in Armenia established in 2017 by local adrenaline lovers who discovered that the nature of Lori is a perfect place for rafting. 
Year by year, rafting in Armenia has become more and more popular for locals and travelers who are visiting the region.
In addition, Armenia is the first county where the rafting boat is being used by the Rafting in Armenia company during the wintertime to slide down hills and mountains (aptly called 'winter rafting').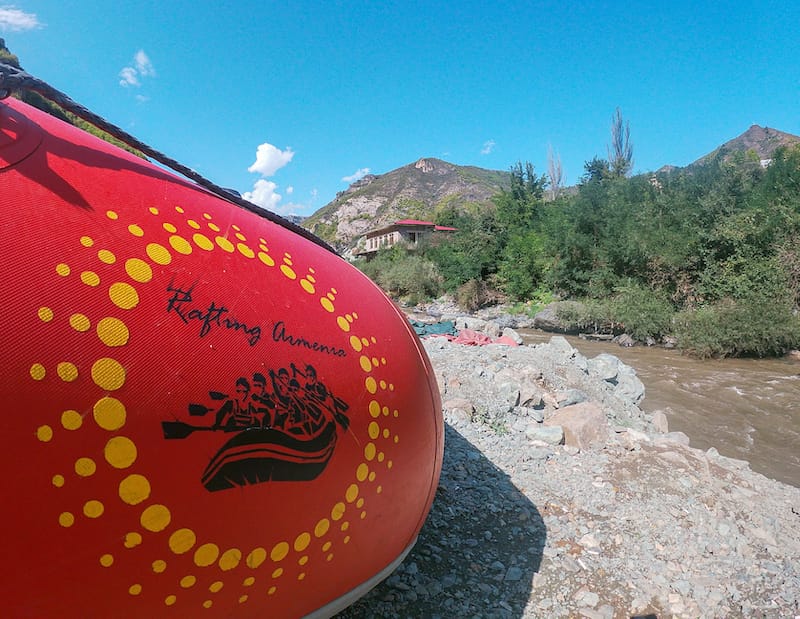 In 2021, the organization is planning to establish a small rafting town near Odzun village and plans to call it Raftingashen.
It will become possible to visit a training school that teaches rafting and kayaking starting from the age of 7. There will also be a small rafting production center, free camping space with beautiful mountain views, a hostel, a food court, and 26 attractions for a fun and entertaining time.
All these efforts are with the mission to develop extreme traveling and adventure in Armenia, and especially the Lori region. 
Let us know – is rafting in Armenia on your travel bucket list?  We hope it is!
Pin This Armenia Rafting Guide