Are you looking to visit one of Armenia's best UNESCO World Heritage sites? This guide discusses everything you need to know about visiting Haghpat Monastery in the north of Armenia.
If you are planning to discover the gorgeous North of Armenia, then the ancient architectural masterpiece of Haghpat Monastery Complex must be on your list and Armenia itinerary.
Simply looking for the best tours to Haghpat? Here are the best rated day tours to Haghpat Monastery from both Yerevan and Tbilisi:
Private tour to Haghpat and Sanahin Monasteries (from Yerevan)
Tour to Odzun, Haghpat, Sanahin, and Akhtala Fortress (from Yerevan)
Day trip to North Armenia to Sanahin, Akhtala, Haghpat (from Tbilisi)
Located in the Haghpat village high in the mountains near Alaverdi, and will you need to drive up to reach the fascinating monument and UNESCO World Heritage Site.
Lori Marz (province) is truly picturesque with breathtaking mountains and gorges where the churches and villages are built into places that will boggle your mind and leave you curious and fascinated with the region.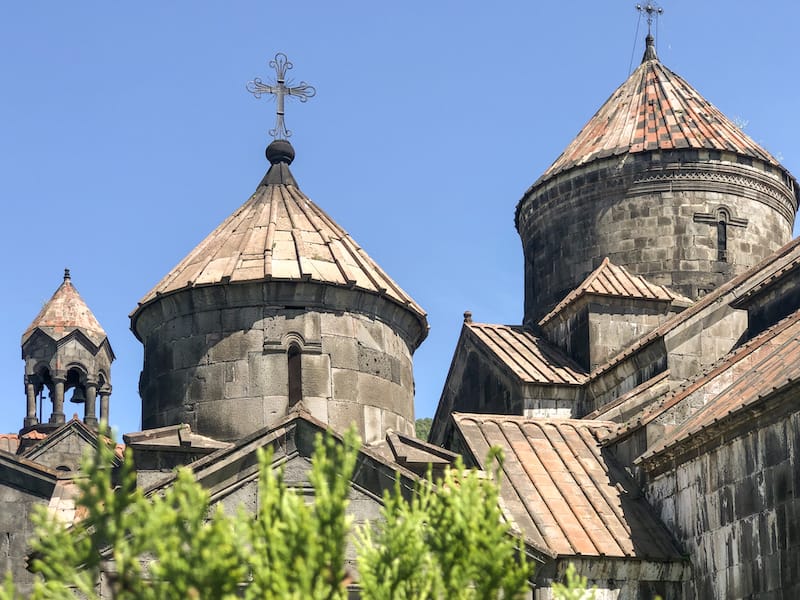 This guide will give you a brief history of Haghpat Monastery, reasons why you should visit, how to get there (4 options!), and the best tours to Haghpat.  If you have any questions or tips, please reach out!
Do note that most people opt to visit Haghpat and Sanahin Monastery on the same trip.  It is very easy to do so, especially by taking a tour. This guide covers solely Haghpat, but do note that it is very easy to visit both together!
Haghpat Monastery History
The UNESCO World Heritage Site of Haghpat Monastery was founded by Queen Khosrovanush approximately in 976. 
The monastery is located at an altitude of 2,500 meters on the other side of the Debed River and by its capacity, the Haghpat Monastery is one of the largest ones in Armenia.
Just like Sanahin Monastery, the Haghpat Monastery complex is a combination of churches like Saint Astvatsatsin, Saint Nshan, and Saint Grigor. There is also a bell tower, a repository, and of course, it is surrounded by a fortress to protect from invaders.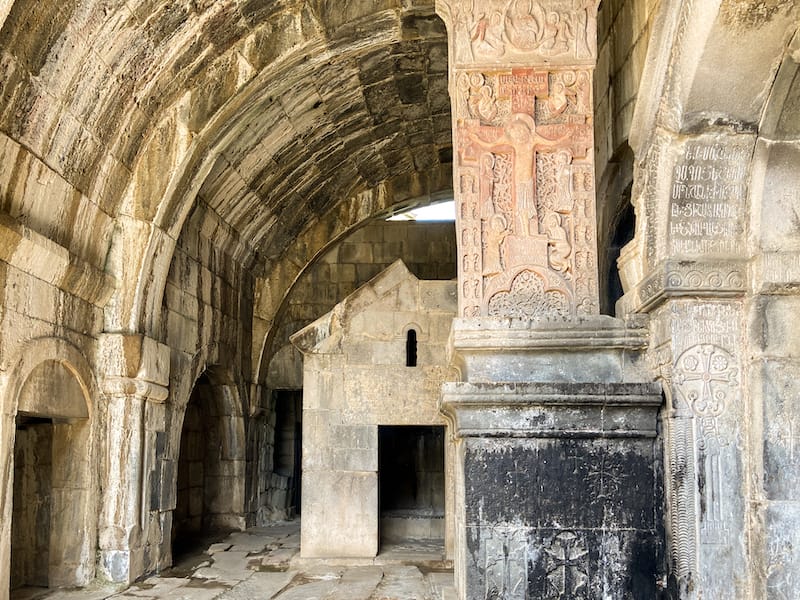 The monastery complex at Haghpat contains different constructions that were erected in different decades after the foundation and construction of the Haghpat Monastery.
The tenth-century, typical architecture style that was popular in Armenia was used to build the biggest Cathedral of Surb Nishan in the Haghpat Monastery complex.
Haghpat Monastery complex is one of the wonders and highlights of Armenia's ancient architecture which will amaze anyone who appreciates and loves art, history, and masterpiece architecture.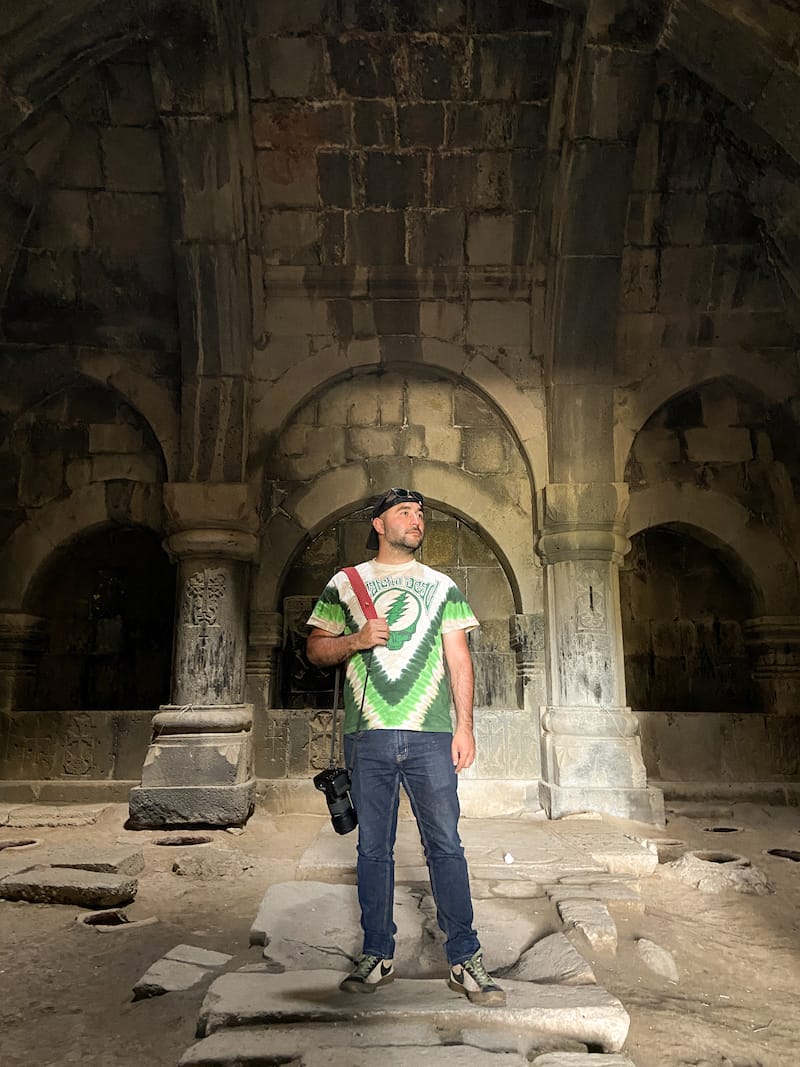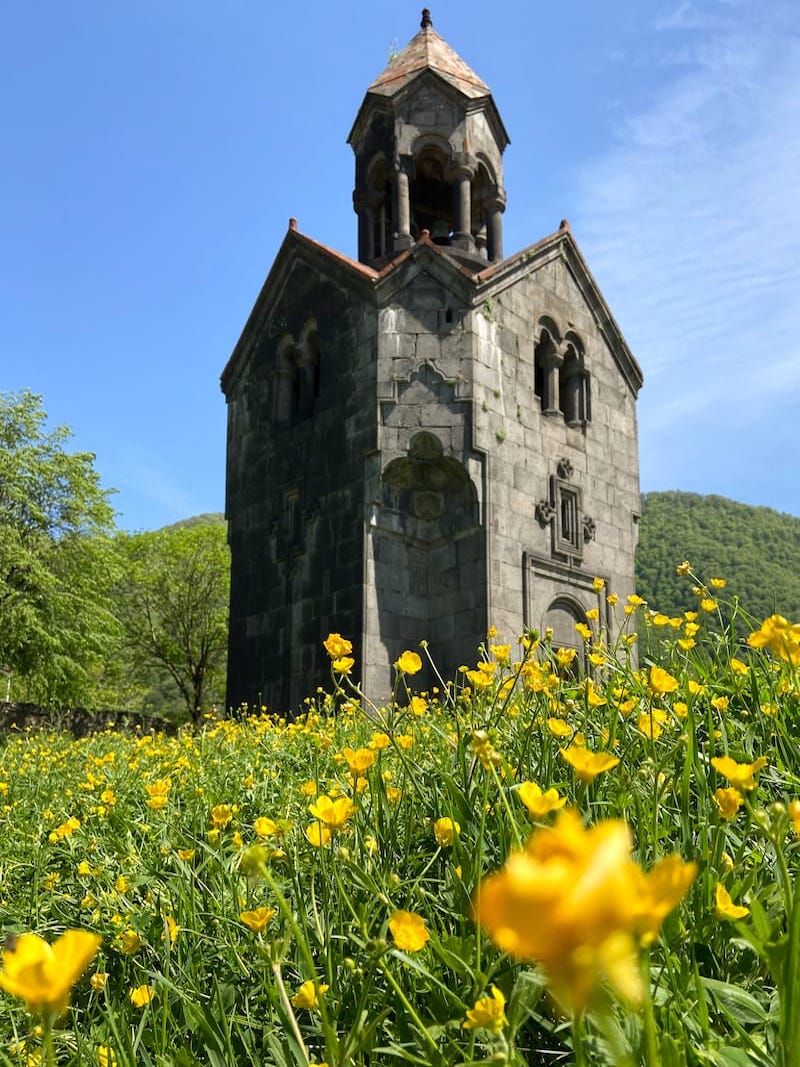 Haghpat Monastery Practical Information
Here are a few FAQ about Haghpat Monastery from those who are curious to visit and those who have already been:
Is it free to visit Haghpat Monastery?  There is no entrance fee to Haghpat, a UNESCO World Heritage Site.  However, donations are accepted and you will need to bring cash if you are keen to purchase souvenirs or something at a cafe or kiosk nearby.
Is there wheelchair access at Haghpat Monastery?  The area is wheelchair-friendly but please note that some places inside of the monastery will be inaccessible (narrow walkways and stairs).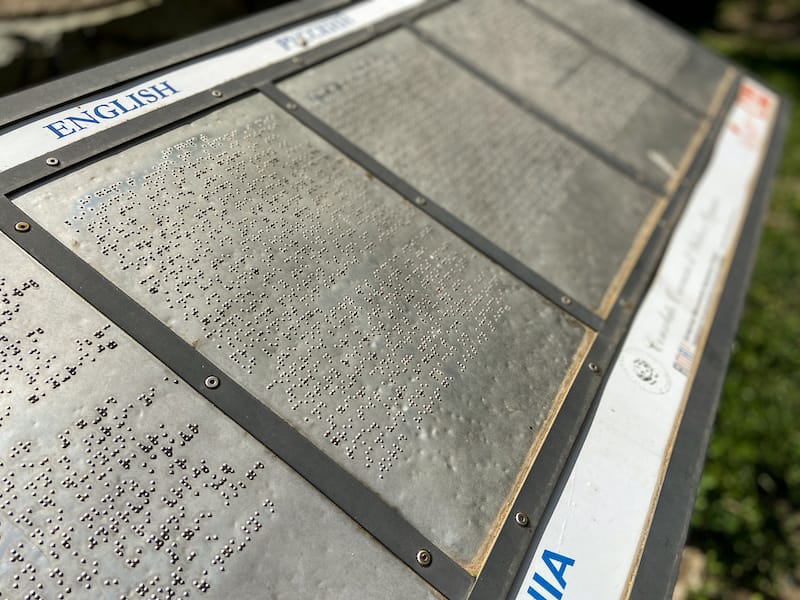 How far apart are Sanahin and Haghpat Monasteries?  Sanahin and Haghpat are 15 kilometers away from each other (or 36 minutes in driving distance).  If other websites tell you that these monasteries are right beside each other, they are very wrong!
Are there restaurants near Haghpat Monastery? Yes, but not particularly on-site. You will find our favorite, Atorick Restaurant, right on the river in Alaverdi. It has a wonderful terrace area, perfect for solo travelers or large groups.
How to Get to Haghpat Monastery from Yerevan
Getting to Haghpat Monastery from Yerevan is pretty easy but it can be a bit time-consuming.  It is fairly far from Yerevan by Armenia standards so we definitely recommend booking a tour there if you're pressed for time.  You can see our tour recommendations below!
Are you visiting Haghpat Monastery from Tbilisi? There are a few tours that operate in the North of Armenia from Tbilisi and we also note them below!  Distance-wise, Tbilisi is closer to Haghpat than Yerevan is to Haghpat.
There are a few other options for visiting Haghpat from Yerevan (four options pending you can get to Alaverdi!).  Not all are reasonable with price or time, but we do list all options below.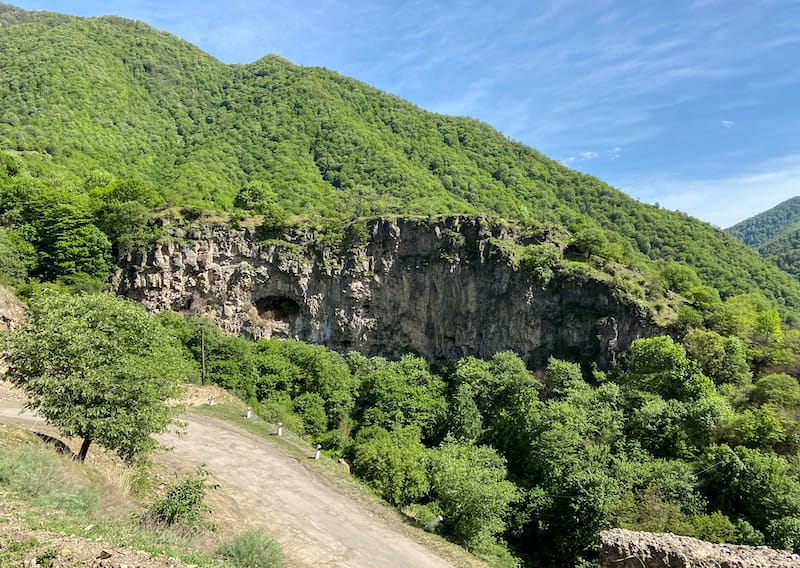 Bus
The first option for traveling to Haghpat from Yerevan is to take a bus (minibus, or marshrutka).  The distance is around 165 kilometers, which makes it around a 3.5-hour journey.
There is no direct transportation between Yerevan and Haghpat village, so you will need to take the bus from Kilikia bus station in Yerevan to Alaverdi (Ալավերդի).
From Alaverdi, you will need to take a taxi to Haghpat Monastery, which is around a 10-kilometer drive.  If you are unable to get a taxi driver to fully understand, you can show him that you're going to Հաղպատ (Haghpat).
The bus departures from Kilikia bus station to Alaverdi are as follows:
The price for a ticket from Yerevan to Alaverdi is 1500 AMD ($3).  
Renting a Car
An alternative option for getting to Haghpat from Yerevan is to rent a car.  Public transportation can be a bit slow in Armenia as the country develops its roads and system better, but renting a car in Armenia allows you to explore at your own pace and make stops along the way.
Some of the places you can explore in Northern Armenia with a rental car alongside Haghpat are Lori Fortress, Ijevan, Sanahin Monastery, Akhtala, and more!  
>> Click here to check rental car rates in Armenia
Taxi
A third option for getting from Yerevan to Haghpat is to take a taxi.  This may not be the most budget-friendly option, but if you're with a group, it isn't really that bad.
The ride is more comfortable and it can be done at your own pace, pending you're willing to hire a taxi all day.  A taxi trip to Haghpat from Yerevan will cost around $38, one-way (17200 AMD).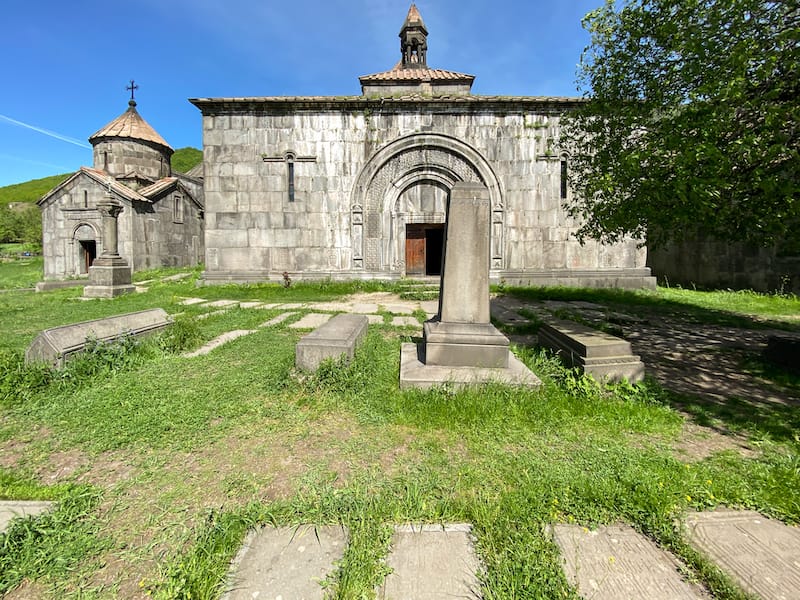 Tours to Haghpat from Yerevan
Another way to visit Haghpat Monastery is to take a tour from Yerevan there!  There are a couple of fantastic, organized tours that will make your trip educational and a breeze!
A second plus to taking an organized trip to Haghpat is that you will get to see other famed Armenian monasteries and sights along the way.
Below are the top tours to Haghpat Monastery from Yerevan.
Armenia: Private Tour to Haghpat and Sanahin Monasteries
Prices start from €388 per group 
Duration:  9 hours
Private tour
BOOK HERE
Don't miss out on the opportunity to explore the wonders of ancient architecture at the UNESCO World Heritage Monasteries in the North of America – Sanahin and Haghpat.  This is a private tour (can be a private group of up to five people).
This tour is for those who want privacy and to explore at their own pace and really relish in the historic sights of Lori province.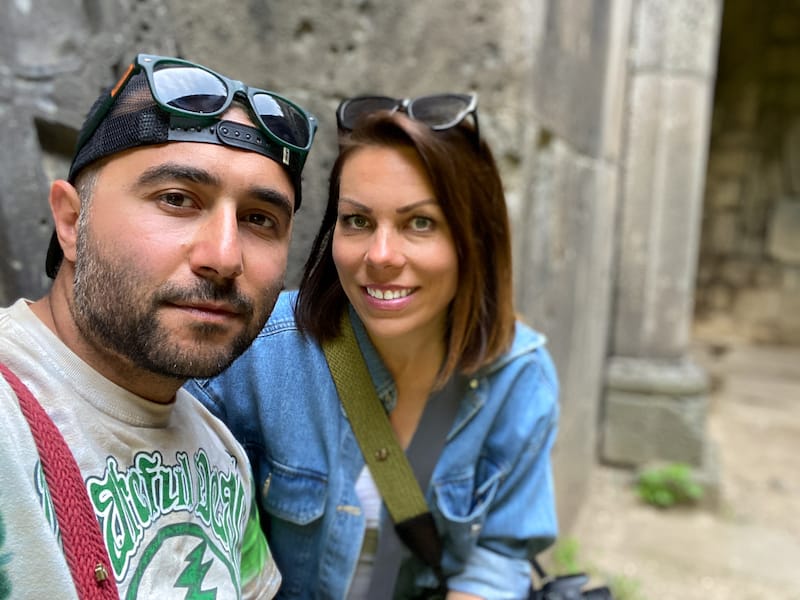 You'll be picked up and dropped off in Yerevan at your hotel and your day will be spent exploring by means of a modern vehicle with WIFI, air-conditioning, and bottled water.
Insurance will be covered by the tour organizers and you will have a knowledgeable guide that will ensure no detail is overlooked and you really enjoy your day at Sanahin and Haghpat.
>> Click here to check tour rates and availability
Armenia: Odzun, Akhtala and UNESCO Heritage Sites Tour
Prices start from $138
Duration: 11 hours
Group tour
BOOK HERE
Another fantastic way to see Haghpat and the other iconic sights in America's north is to take this tour of Armenian cultural heritage in the Lori region.  You will be with a knowledgeable guide in a private transfer vehicle that has wifi and comfort for everyone.
This tour will guide you to Odzun, one of the oldest villages in Armenia and home to a very historic church called 'Odzun'.  It is located right on the Debed Gorge and is spectacular!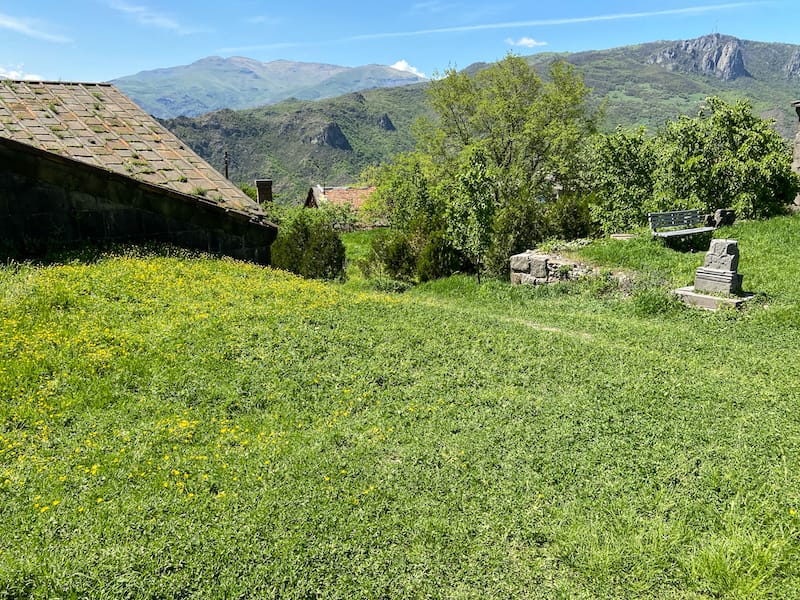 You will then visit UNESCO World Heritage Sites Sanahin and Haghpat Monasteries.  You will get to learn more about each on this all-day tour. 
Finally, you will explore the fortress-monastery of Akhtala, a gorgeous piece of architecture that sits nestled in the forests and mountains near Alaverdi.
>> Click here to check tour rates and availability
Tours to Haghpat from Tbilisi
A surprisingly popular option for visiting Haghpat is as a day trip from Tbilisi.  It is around 110 kilometers one-way and it is a fantastic way to see these UNESCO monasteries! 
The following tour is a top-rated one that will take you from Tbilisi to Northern Armenia (and Haghpat!)
Tbilisi: Full-Day Armenia Tour
Prices start from $55
Duration: 11 hours
Group tour
BOOK HERE
If you're looking for an affordable day tour from Tbilisi to Haghpat Monastery, this is one of the best options!  It is a wonderful way to see some of Northern Armenia's most iconic sights, such as Haghpat and Sanahin.
On this tour, you will visit Haghpat, Sanahin, and Akhtala Fortress (one of our very favorite sights in Armenia!).  You will also have a chance to marvel at the Debed Canyon, wander around a Copper Smelting Factory, and check out a legendary MiG 21 aircraft.
This is a fantastic day trip from Georgia and you'll be so amazed at Armenia's beauty that we hope it entices you to pop down for a bit longer!
>> Click here to check tour rates and availability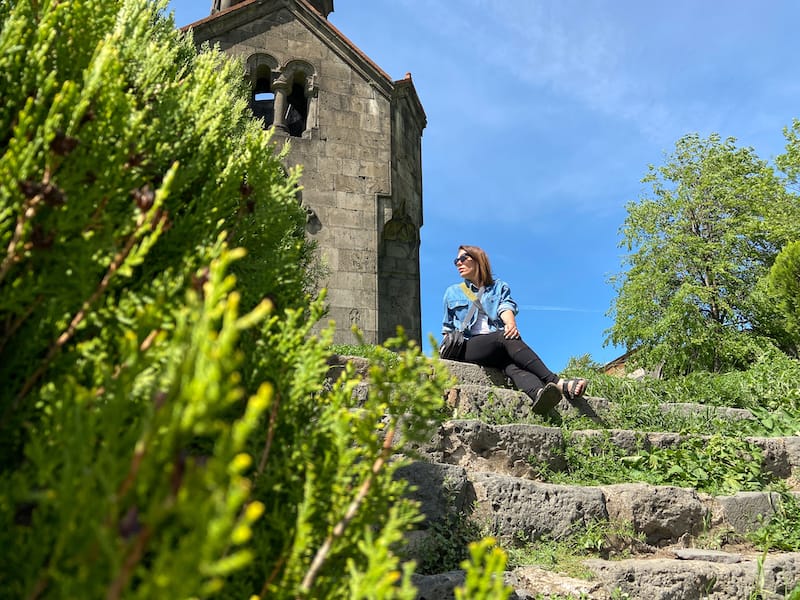 Should You Visit Haghpat Monastery?
If you're interested in historic culture and to get away from Yerevan a bit, visiting Haghpat Monastery (and Sanahin) is definitely a great choice!
You can visit as a day trip from Yerevan or even stay overnight somewhere close by like in Debed village or Armenia's third-largest city, Vanadzor.
Pin This Haghpat Travel Guide for Later!