If you're planning a trip to Yerevan and are wondering what to do- don't worry, we have you covered! There are many things to do in Yerevan that all types of travel tastes will be fulfilled.
This guide tells you our tips for what to do in Yerevan ranging from top restaurants to day trips and more.
Please let us know if there are any secret or interesting sights in Yerevan that you think we missed on this list!  Thanks!
What to Do in Yerevan
If you are thinking of visiting the capital of Armenia, know that the city is waiting for you and will always welcome you.
Yerevan is an ancient city more than 2,800 years old, even older than Rome.
It has a complicated and dramatic history but also has hospitable people who are the treasure of the city and will help discover many interesting and fascinating things to do in Yerevan.
Built from the volcanic pink stone tuff, Yerevan is the creation of the dreamer Alexander Tamanyan, who designed modern Yerevan at the beginning of the 20th century.
He created a unique city concept with mixtures of bohemian and modernist styles.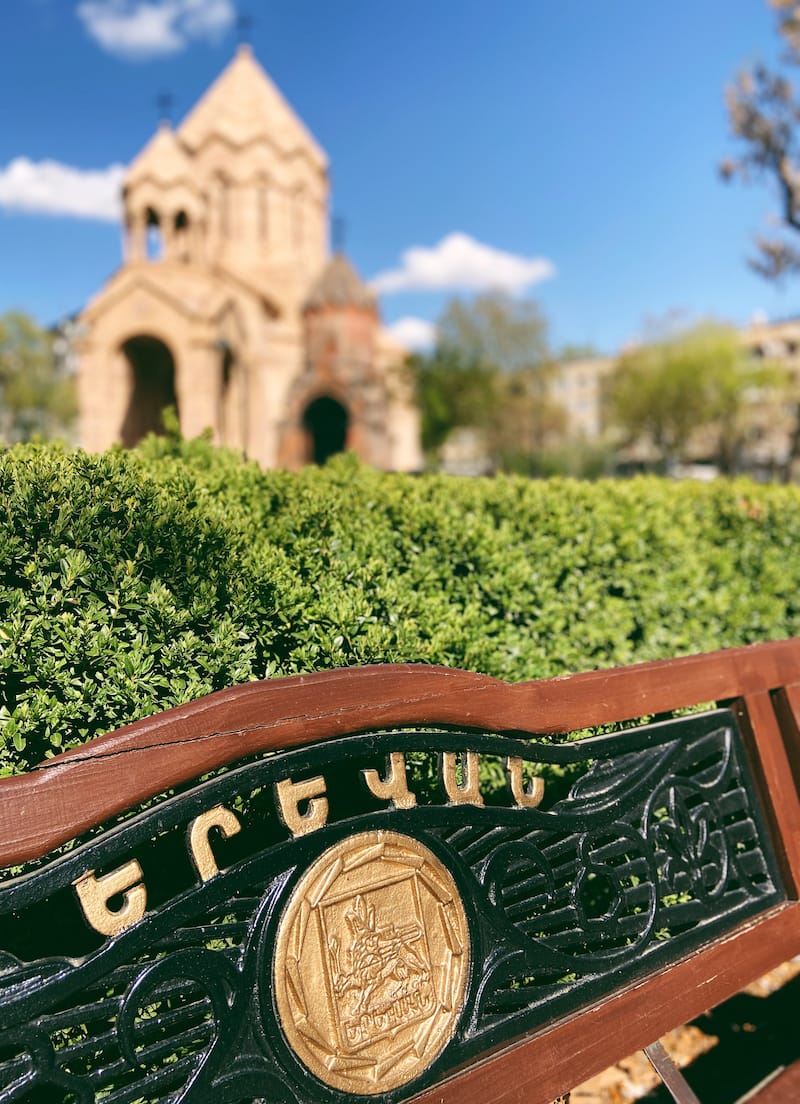 Yerevan is a very comfortable and walkable city and one of those unique cities that has a beautiful green gorge with a river running through the city center.
There are many things that can be said about Yerevan and why it is one of the most beautiful cities to us, but in this guide, we want to specifically showcase the things to see in Yerevan that we love and think everyone should visit.
If you're simply keen to take a tour of Yerevan city, here are some top-recommended tours we encourage taking!
Best Yerevan City Tours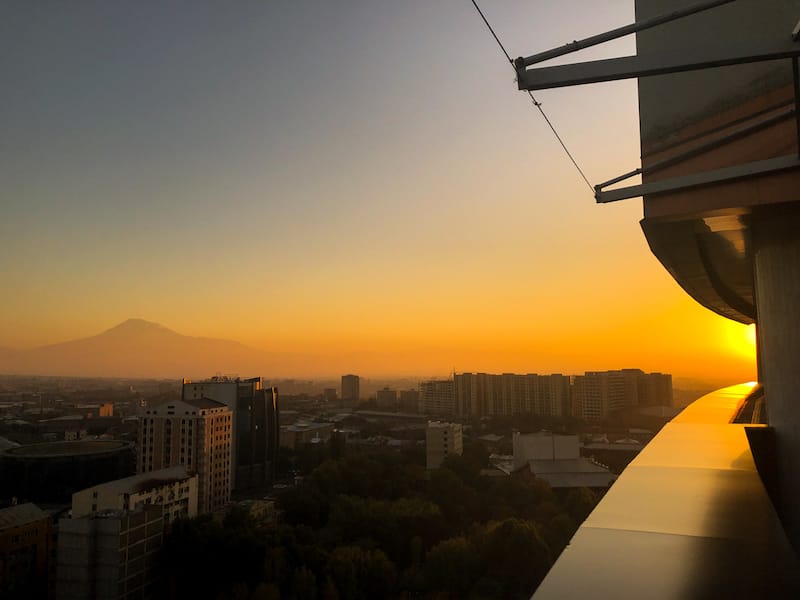 Cultural and Historical Places to Visit in Yerevan
Yerevan Cascade Complex
Yerevan has several must-see places, but the Cascade Complex is perhaps the most superb and memorable one.
It is an architectural masterpiece that occupies a large part of Yerevan's center and a great opportunity for travelers who are looking for free things to do in Yerevan.
The complex was designed by the legendary Armenian architect Alexander Tamanyan, who was the main architect of Yerevan city.
Although he designed it, the Yerevan Cascade Complex was built after Tamanyan's death in the 1970s and over time became one of the main places to visit in Yerevan.
Erected from limestone, this mesmerizing monument is a one-of-a-kind structure that is basically an enormous staircase.
It connects northern Yerevan to the center in a very unique way. The Yerevan Cascades has several levels and each level has a different look and design to it.
Another great thing about the Cascades is that you can find some of the best Yerevan coffee shops close by!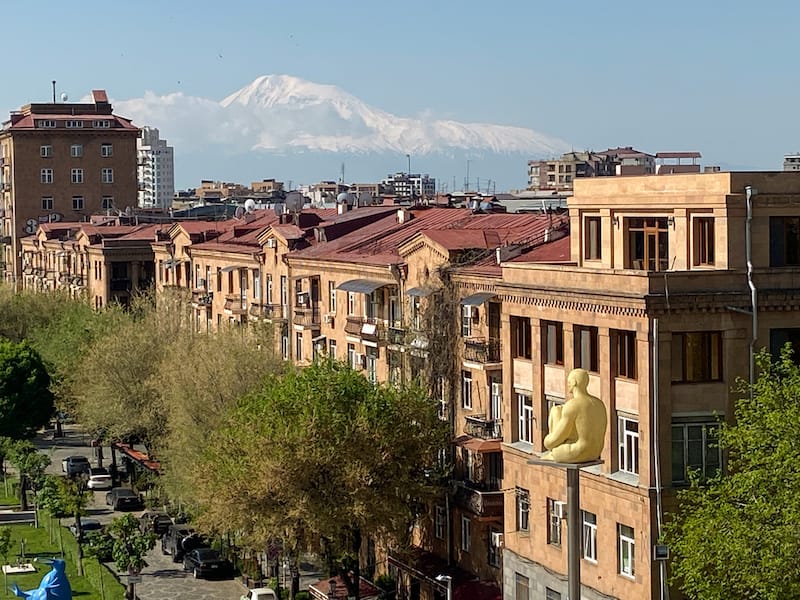 The Cascade Complex allows its guests to see Yerevan from one of the highest points from its 572 stairs, where the pink city shines under the Ararat mountains.
In 2002, the businessman and philanthropist Gerard Leon Cafesjian started to renovate the historical monument and establish the Cafesjian Center for the Arts.
The Center presents modern and contemporary art on each level of the structure on both the inside and outside of the Cascade.
Also, many concert and cultural events take place in the complex's main yard.
On the left side of the complex, there is an entrance where visitors can take an escalator to ride to the top and enjoy the different levels of artwork on the way up.
The Cascade Complex's main garden is surrounded by many beautiful cafes and restaurants, where both guests and locals enjoy the time under the trees and lights.
Address: 10 Tamanyan St, Yerevan 0009
Working hours: Friday-Sunday  8:00 – 20:00. Closed Mondays-Thursdays.
Ticket fee: free
Insider Tip:  Yerevan has copious amounts of renowned architecture and the Cascades is merely one structure that is marvelous. If you're interested in Soviet architecture in Armenia and beyond, check out this coffee table book by Frédéric Chaubin that showcases a variety from around the world (Megan owns this!)
Ararat Brandy (Cognac) Factory
Another top thing to do in Yerevan is to visit the legendary Ararat Brandy Factory which is a perfect place to try one of the world's best Armenian brandy/cognac.
The beloved Armenian cognac of Winston Churchill and Joseph Stalin was established at the end of the 19th century and since then has become one of the must-see places of Armenian alcohol making.
To learn about, have a tasting, and take a historical tour in the Ararat Brandy Factory, it is necessary to register on their website or make an appointment by calling them.
The tour involves a walk through the factory, a brandy tasting, a guide on how to drink it, and interesting and historical information about their brand.
After the tour, you can also buy Armenian brandy right on the spot. The Ararat Brandy Factory is located right next to the Victory bridge at the entrance of the city.
Address: 2 Admiral Isakov Ave, Yerevan 0082
Working hours: Monday – Saturday  9:00 – 18:00. Closed on Sundays.
Insider Tip:  There are many awesome ways to experience Armenian cognac but we suggest enjoying it with a traditional Armenian crayfish party!  This Armenian cognac and crayfish experience will allow you to do just that! 
Yerevan Noy Wine Brandy Vodka Factory
Erected in the Erivan Fortress area, Yerevan Noy Wine Brandy Vodka Factory is a truly historical monument, built on the edge of Hrazdan Gorge.
The capacity of the 125-year old fortress factory is very large due to the fact that it goes many floors underground.
Each underground floor contains different old barrels filled with wine and brandy and historical alcohol-producing equipment. This amazing facility with a rich history is open 6 days a week to welcome groups of tourists and show them the secret corners of the old factory.
The guests will see, touch, and taste the alcohol at the end of the tour in a special celebration room.
Address: 9 Argishti St, Yerevan 0015
Working hours: Monday-Saturday  19:00 – 18:00. Closed Sundays.
Yerevan Opera Theatre
One of the most beautiful and astonishing monuments in Yerevan is the Opera Theatre.
This architectural gem is located at the center of Yerevan. The creator of Yerevan, architect Alexander Tamanian, came up with the unusual design for this modern architectural masterpiece.
The building process took place in the '30s and '60s and in 1980 was finalized with reconstruction.
There are two halls in the Opera house: the theatre and the philharmonic society hall.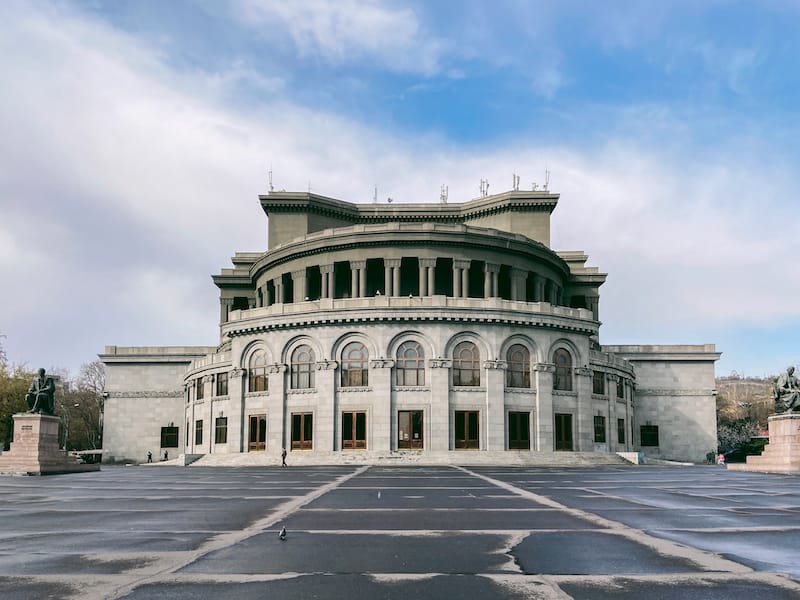 Besides its marvelous architecture, the Opera is surrounded by many lovely trees and cafes.
The statue of legendary composer Aram Khachaturian stands next to the main entrance of the concert hall, which is named after the maestro.
Address: Tumanyan St, Yerevan
The theatre capacity: 1,260 people
The philharmonic society hall capacity: 1,400 people
Tsitsernakaberd (Genocide Memorial)
Built-in 1967, the Memorial Complex of Tsitsernakaberd is a monument dedicated in memory of the Armenian Genocide.
In 1915, the Turkish government began a massacre of 1.5 million Armenian living in Western Armenia, nowadays known as Turkey.
The complex has an original architectural design and is considered an important site and an architectural masterpiece of Yerevan.
It is located on a beautiful hill on the other side of Hrazdan Gorge from Yerevan center, surrounded by many trees.
The complex measures 4,500 square meters. This space includes a genocide museum and a garden where the leaders of different countries have plant trees in memory of the victims.
Address: Tsitsernakaberd Hill
Working hours: Tuesday-Sunday  11:00 – 16:00. Closed Mondays.
Ticket fee: free
Insider Tip:  If you're keen to know more about the history of the Armenian Genocide and its impact around the world, this tour will take you there, along with other places locally, with an experienced guide. 
Mother Armenia
The statue of Mother Armenia is the biggest and one of the most recognizable statues in Yerevan and symbolizes the country as a body and soul of a strong Armenian woman.
Located on the top of a hill in Victory Park, the monument came to replace the statue of Joseph Stalin in 1967.
Stalin's statue was erected in 1950 after his death and was removed in 1962.
Designed by sculptor Ara Harutyunyan, Mother Armenia symbolizes peace through strength. She holds a covered sword in her hands and a shield next to her legs as the protector of peace and harmony.
The statue is situated on a beautiful pedestal designed by architect R. Israyelyan which displays traditional Armenian symbols and architecture elements.
The height of Mother Armenia and the pedestal is approximately 51 meters, which makes it very visible from different parts of Yerevan.
From afar, the Mother Armenia statue looks like the protective guardian of Yerevan.
Address: Azatutyan Avenue, area 2
The Erebuni Museum
The Erebuni Historical & Archeological Culture-Preserve takes you back in time to the origins of this ancient city.
Founded in 1968, the Erebuni Museum is not the nearest place to see in Yerevan center but its an absolute archeological gem that showcases three amazing historical sites: Arin Berd, Karmir Blur, and Shengavit.
King Argishti, who founded Erebuni (also named Arin Berd) in 785–753 B.C., established the fortified city on top of a hill during the time of the Kingdom of Urartu, an ancient and powerful kingdom.
Address: 38 Erebuni St, Yerevan 0020
Working hours: Tuesday-Sunday  10:00 – 16:30. Closed Mondays.
Ticket fee: 1000 AMD
Blue Mosque
The only operating mosque in Armenia, the beautiful Blue Mosque is a quiet and harmonious place located in the center of Yerevan.
The 18th-century Shia Mosque was closed down during the Soviet era and reopened in the '90s with funding from the Iranian government.
The gorgeous garden surrounded by amazing, colorful architecture is a well-loved place to visit for locals and tourists alike.
Address: 12 Mesrop Mashtots Ave, Yerevan 0015
Working hours: Daily 10 am-1 pm,  Daily 3 pm-6 pm
Matenadaran
Another fascinating place to visit in Yerevan is a unique museum called the Institute of Ancient Manuscripts, mostly known as Matenadaran.
This church of ancient manuscripts is considered one of the rarest museums in the world and is the pride of Armenia.
Built between 1945 and 1958, architect Mark Grigorian was inspired by Armenian medieval architecture.
The collection in Matenadaran is a mind-blowing 23,000 manuscripts and scrolls and is the biggest manuscript collection in the world.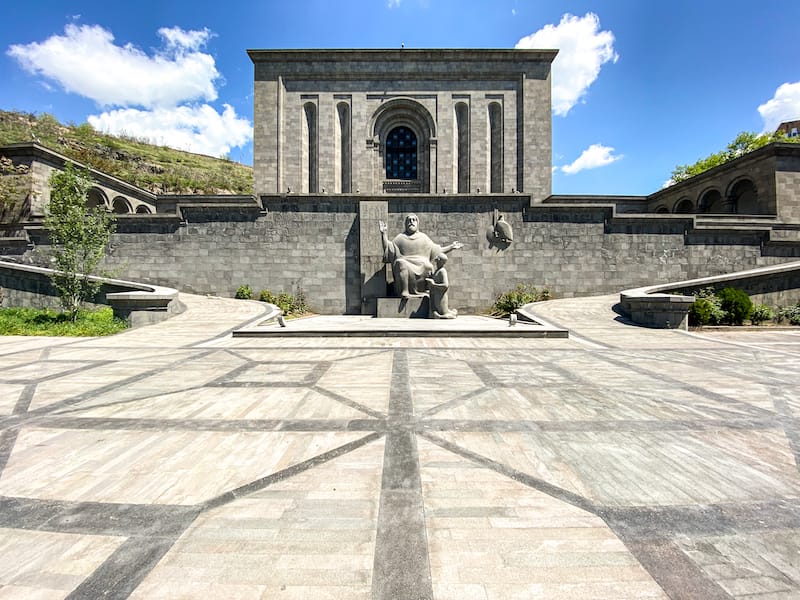 From the world's biggest book to the world's smallest book, Matenadaran contains a wide variety of manuscripts, even some from civilizations that no longer exist nowadays.
Address: 53 Mesrop Mashtots Ave
Working hours: Tuesday -Saturday  10:00 – 16.30. Closed Mondays and Sundays.
Ticket fee: 1500 AMD
Insider Tip:  There is so much history that is challenging to learn by strolling yourself through Yerevan. This half-day tour of Yerevan will guide you through and take you to Matenadaran and more!
The National Gallery of Armenia
One of the biggest museums in Yerevan is the National Gallery of Armenia, located right in the heart of the capital in Republic Square.
Founded in 1921, Alexander Tamanyan's architectural masterpiece contains 26,000 works of art and has 56 galleries and halls.
The collection and capacity of the National Gallery of Armenia increased after the donation of more than 400 Armenian, Russian, and European pieces from Moscow in 1925.
This museum is a must-see for anyone who wants to learn about Armenian culture.
Working hours: Tuesday-Saturday-11:00-17:30. Sundays from 11:00-16:30. Closed Mondays.
Ticket fee: 1500 AMD
Insider Tip:  If you're keen to visit museums in Yerevan and have discounts at several restaurants and cafes in the city, definitely invest in the Yerevan Card! This city pass will grant you FREE access to most of the city's museums, including the National Gallery, and you'll be able to save quite a bit of money at the same time.
Republic Square and Singing Fountains
Republic Square is in the heart of the beautiful capital city, connecting one part of the center to the other.
The shape of Republic Square is similar to the unique round design of Yerevan's city center, formed by five masterpiece buildings.
The National Art Gallery and History Museum of Armenia are the jewels of ancient Armenian history.
This grand building (both in the same place) is an important part of the square. The Government House of the Republic of Armenia is the symbol of the Republic of Armenia.
The beautiful building has an amazing masterpiece of stone art on it and the main tower has a clock and bells.
The Central Post Office of the Republic of Armenia, yet another architectural jewel, is characterized by a large arch its center, decorated with national ornaments and symbols.
Since the early days, this building has served as a post office, a place for transferring money, and many other things.
The Marriott Armenia, one of the most popular hotels, is located in a historical building in Republic Square. It has a beautiful facade made of stone art with traditional designs.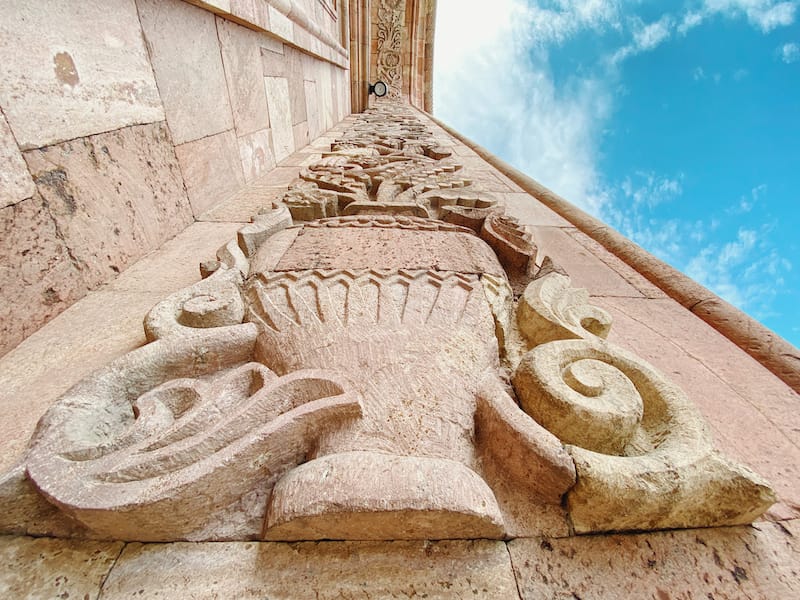 The former Ministry of Energy and Natural Resources building is made from white stone and gives a contrast to the otherwise pink square.
At the moment it's not being used, but occasionally it hosts art exhibitions.
Another beautiful thing to see in Yerevan is definitely the legendary Singing Fountains that are located next to the National Gallery and are the final piece of the architectural showcase that is Republic Square.
Republic Square was constructed in 1924 by the notable Armenian architect Alexander Tamanyan.
Through his design, he showed us how it is possible to create one harmonious project with multiple buildings that are not connected to each other.
The square is very easy to reach with a metro station right next to it.
Sports and Concerts Complex Karen Demirchyan
This huge complex is located on the Tsitsernakaberd hill, looming over the western part of Yerevan.
If you look at the complex from the outside, you will see that it is shaped like a bird opening its wings. In 1987, the architects of the complex won the USSR State Prize because of their amazing seating concept.
They designed a turning tribune which connects to two halls together to reveal more seating.
The two big halls in the complex are the concert hall and the sports hall.
There is also a Hayastan hall where conferences and exhibitions are held.
After only being open for a year and a half, in the beginning, a fire broke out and they were forced to close the complex. It was renovated and reopened at the end of 1987 where it continued to host events.
The architects involved in building the complex were A. Tarkhanian, S. Khachikyan, G. Pogosyan, and G. Mushegyan.
Vernissage Yerevan
Vernissage is an open-air market/gallery and its another famous Yerevan tourist spot.
You can find local handicrafts at stands or inside some of the stores around the area.
This market is one of the most famous Yerevan attractions where souvenirs, jewelry, and many more items are found.
It is a must-visit point on your things to do in Yerevan list and the perfect place to spend a relaxing day and discover a part of the Armenian culture.
Address: 1, 3 Buzand St, Yerevan 0010
Walk the Old Streets of Hanrapetutyan, Arami, and Abovyan
Hanrapetutyan
Located in central Yerevan, it's the main street that is easy to find.
Though there isn't too much to see, Hanrpetutyan has some of Yerevan's oldest buildings, dating back to the end of the 19th century. One of the most interesting buildings is #32.
You must enter the building on the left and walk through the corridor where, to your right, you will see a very special room.
Decorated with both Persian- and Armenian-style decor, you can spend quite a bit of time there enjoying and examining the beautifully decorated room.
Arami
This street was named after Aram Manukian, the "Popular Dictator" and Minister of Internal Affairs for the First Republic (1919-1921).
It was one of the more fashionable streets in Yerevan, where "Armenian Belle Époque" mansions could be found. Unfortunately, very few remain now.
These days, it is worth the walk to be able to visit the Art Nouveau Afrikian Profit House and the stone workshop of a master khachkar carver.
Abovyan
The most prominent feature of Abovyan is the hidden courtyards, where you can find refuge from the heat of the summer under trees and near the fountains.
This street is also lined with cafes, which have pleasant outdoor seating along the sidewalk, where you can enjoy a drink or meal.
Insider Tip:  Many buildings off of Abovyan and the area around it have secret courtyards and cafes and businesses nestled in them.  You can find out more and see them for yourself in this 'Magic and Secrets of Yerevan' walking tour.
Victory Bridge
Named after the victory in the Second World War, this beautiful historical bridge dates back to 1945. Measuring 200 meters long, it is longer than its predecessor, which collapsed in the 1679 earthquake.
Hrazdan Gorge can be seen by crossing the bridge. On one side of the gorge, there are many restaurants that still retain their old charm.
Zodiac Fountain at Charles Aznavour Square
At the center of Charles Aznavour Square, you can find a fountain designed with the zodiac signs.
At the square, there are cafes where you can stop for a delicious coffee. The square also boasts the Moscow Cinema, where every year, a rock concert is organized.
Address: 18 Abovyan St, Yerevan 0001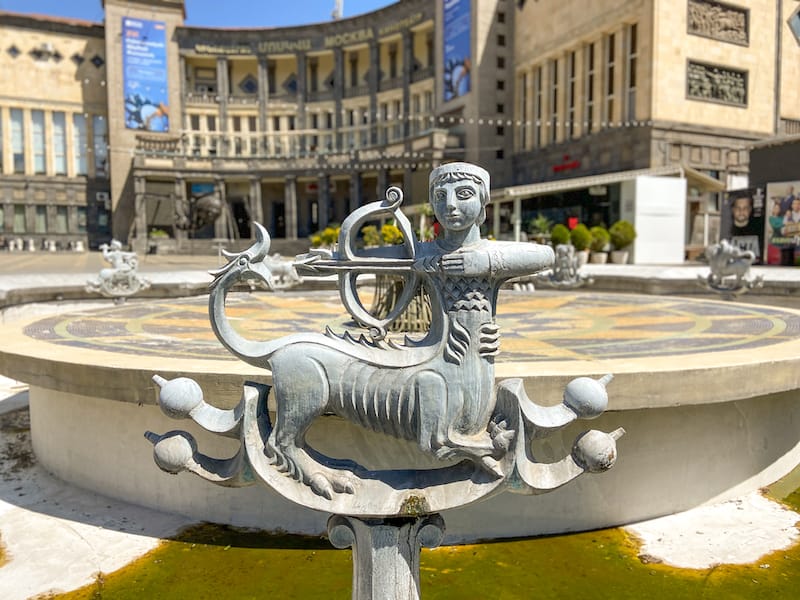 Yerevan History Museum
This museum first opened in 1931 on the second floor of the Yerevan Fire Department building.
Later, in 1936, it moved to the Blue Mosque, then from 1994-1997, it was located in the former Hripsime Female Gymnasium.
From 1997 to 2005 it was located in the building of the School N1, until finally being established in a new building in 2005 together with the City Hall.
There are tens of thousands of artifacts in the museum, with pieces from ancient times to the present day.
These pieces tell the story of the city and its people and are exhibited throughout various rooms in the museum.
Address: 1/1 Argishti St, Yerevan 0010
Working hours: Monday-Saturday  10:00 – 17.30. Closed Sundays.
Ticket fee: 500 AMD
Best Restaurants in Yerevan
There are many restaurants in Yerevan and here are a couple of special places where you can try fresh and delicious Armenia cuisine and with top quality brandies or the best Armenian wines:
Sherep
Located next to Republic Square, Sherep restaurant has a beautiful open kitchen and real Armenian lavash bakery. You can't miss it if you're going down Amiryan Street to the square.
The bread baking process will entice you to try one of the best meals in Yerevan, from old Armenian dishes to international cuisine fusion.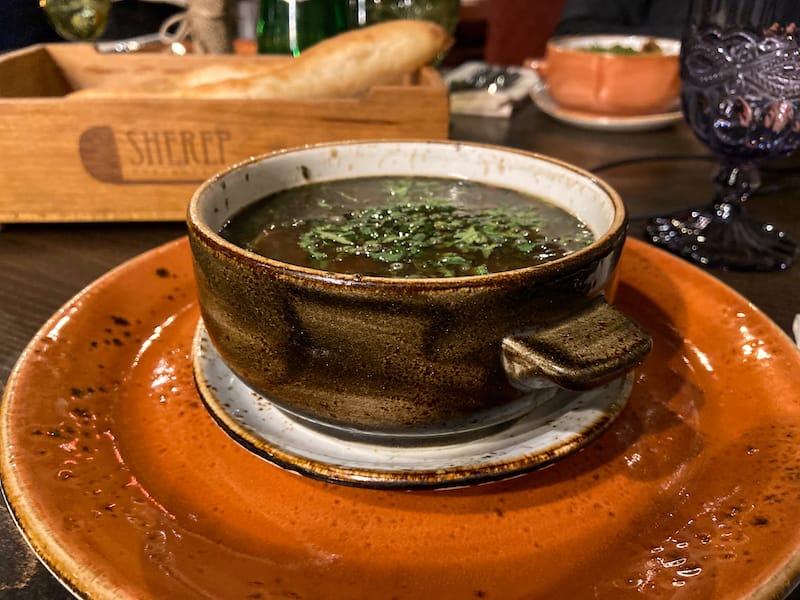 The restaurant is very busy after work and on the weekends, so we recommend reserving a table in advance or trying it during the day not at peak hours.
Address: 1 Amiryan St, Yerevan 0010. For more information, check out their website.
Kamancha
Kamancha restaurant is a great place to relax after walking around and discovering Yerevan.
This restaurant has a wonderfully cozy sidewalk terrace where you can chill with refreshing drinks during the hot season and try great quality food made from fresh local ingredients.
In the evenings, there are concerts with local folk and other genre bands.
Address: 23 Tumanyan St, Yerevan. For more information, check out their website.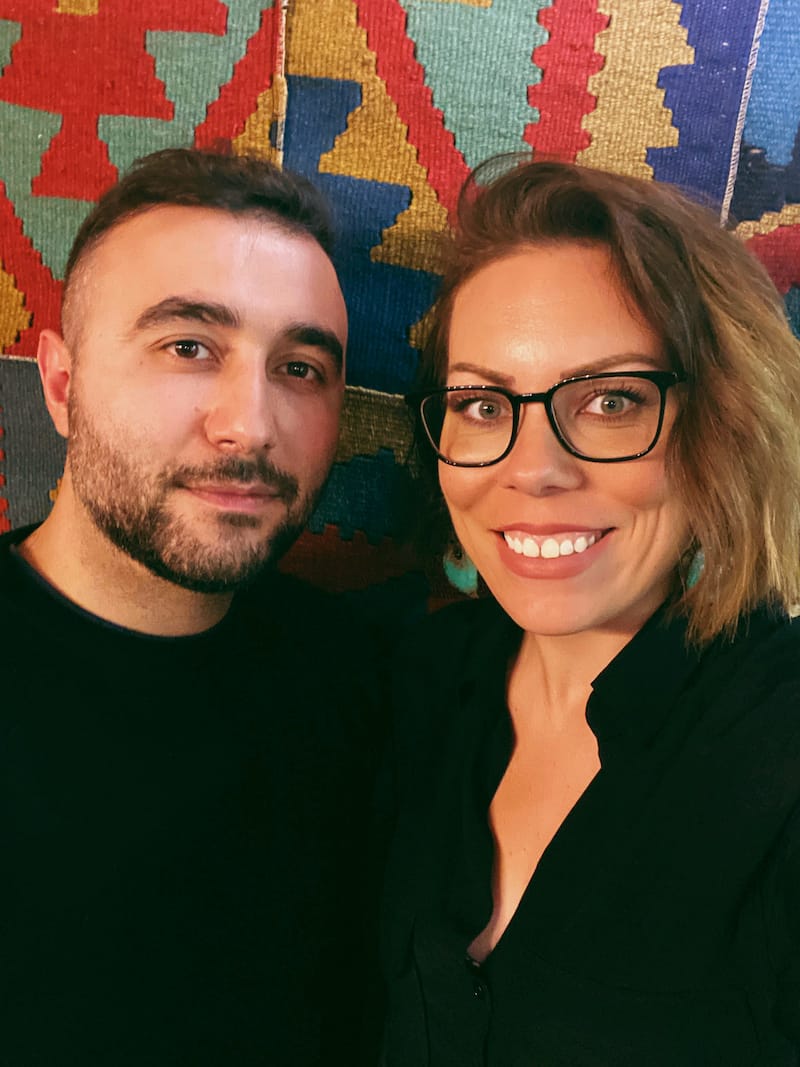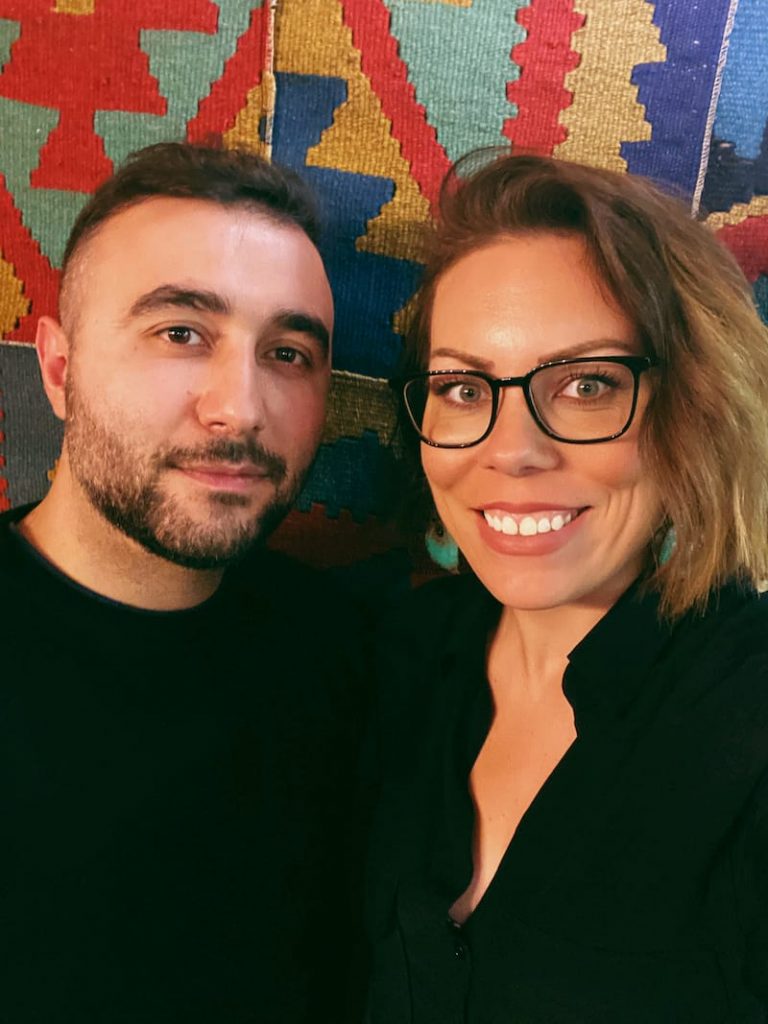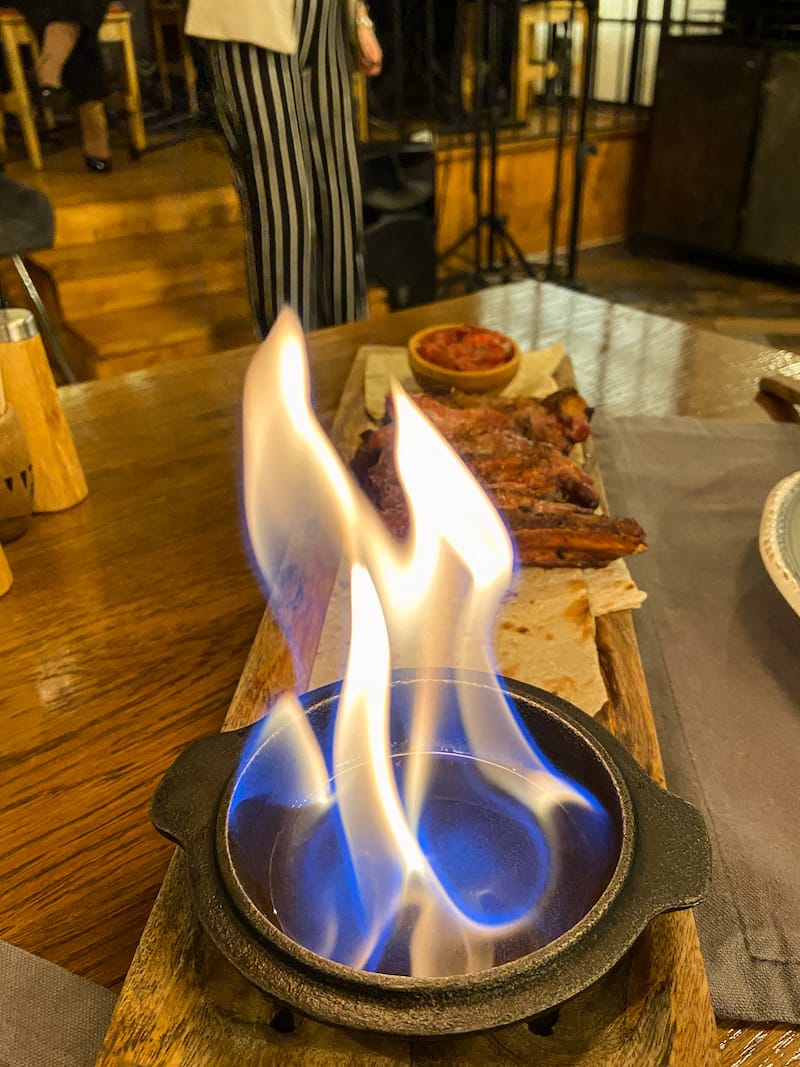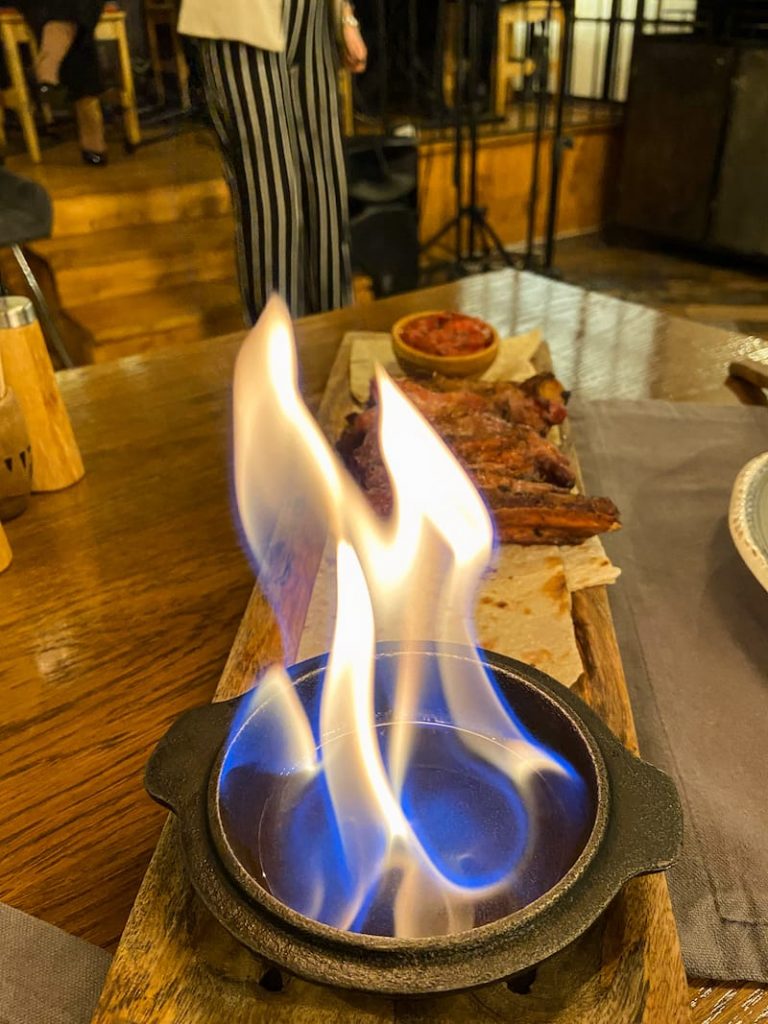 Beer, Wine, and Coffee
Dors
One of the best craft beer breweries in Yerevan, Dors Craft Beer & Kitchen is located in the old town of Yerevan and has high-quality delicious craft beer.
If you love good craft beer and good food to compliment your selection, Dors is definitely the place for you. Their friendly staff and beautiful interior and exterior just wait for beer lovers.
Address: 4, 6 Amiryan St, Pavstos Buzand St, Yerevan 0010. For more information, check out their Facebook page.
In Vino
One of the most beloved places in Yerevan for wine lovers is definitely the little cozy In Vino with selections of hundreds of wines.
One of the pioneer wine houses of Saryan Street, In Vino serves fantastic quality wines with delicious cheese place and prosciutto. The sidewalk tables or inside interior are very inviting and will please every wine lover.
Address: 6 Martiros Saryan St, Yerevan.  For more information, check out their Facebook page.
Insider Tip:  You can learn all about Armenia as the birthplace of wine in this fantastic wine tour of Yerevan.  You will get to try local favorites and dive into its history in the country.
Voskevaz Wine Time
In the central part of the Saryan wine street, Voskevaz Wine Time welcomes you to their comfortable second-floor terrace.
Voskevaz restaurant amazes with its wide selection of wines coming from Voskevaz Winery located in the Aragatsotn region.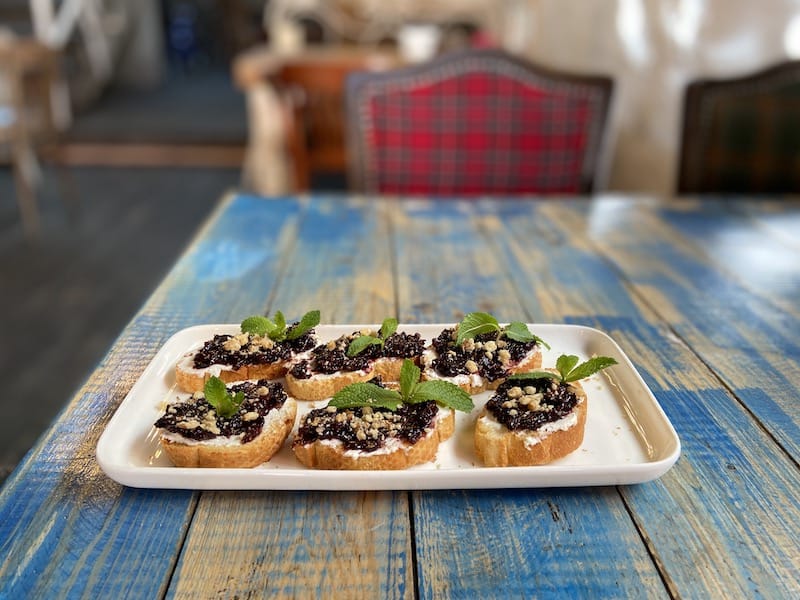 The quality wines are served with tasty Armenian and fusion dishes.
Address: 6 Martiros Saryan St, Yerevan 0002. For more information, check out their Facebook page.
Brew 1582
With a beautiful and modern interior, Brew 1582 is one of the newest coffee shops in Yerevan with great service and professional staff.
The cafe is located near the Cascade and has a beautiful, cozy terrace where you can enjoy not only a high-quality coffee but a great dinner or breakfast in the morning.
Address: 1A Tamanyan St Yerevan, Armenia. For more information, check out their Facebook page.
Hip Bars and Cafes in Yerevan
Yerevan has always had a great cafe and bar life but over the years the industry was revolutionized and became hipper and new places started to open with experimental elements and interiors.
It is possible to find the best cafes in Yerevan throughout the city that have influences from the East to the West, spiced with the traditional Armenian cafe experience.
Epicure
Epicure is a cool bar with a terrace that has a great ambiance.
In the day time, it can be a great coworking spot and on the weekends, a nice place to relax on the terrace and in the evenings a hip spot where both locals and travelers hang out.
The idea of Epicure is to "feel free to feel free" and help others to feel free and happy by enjoying good food and music by guest DJs.
Address: 40 Pushkin Str. Yerevan, Armenia 0010. For more information, check out their Facebook page.
Kong Yerevan
Kong is a hip cafe where no detail has been overlooked in an effort to make the space beautiful and comfortable.
Located in one of the historical buildings on Abovyan street, Kong is a tropical dream hidden in the city center.
The cafe has an open terrace on the first floor and non-smoking lounge rooms on the second floor where you can try many types of coffees, great Asian food, and much more.
Address: 3/1 Abovyan Street Yerevan, Armenia 0010. For more information, check out their Facebook page.
Mirzoyan Library
Yet another hidden spot in Yerevan center, located in a typical old Yerevan building with a charming little backyard.
Mirzoyan Library is a beloved place for Yerevan locals and travelers because it is the place where an authentic environment meets creative, hip ideas.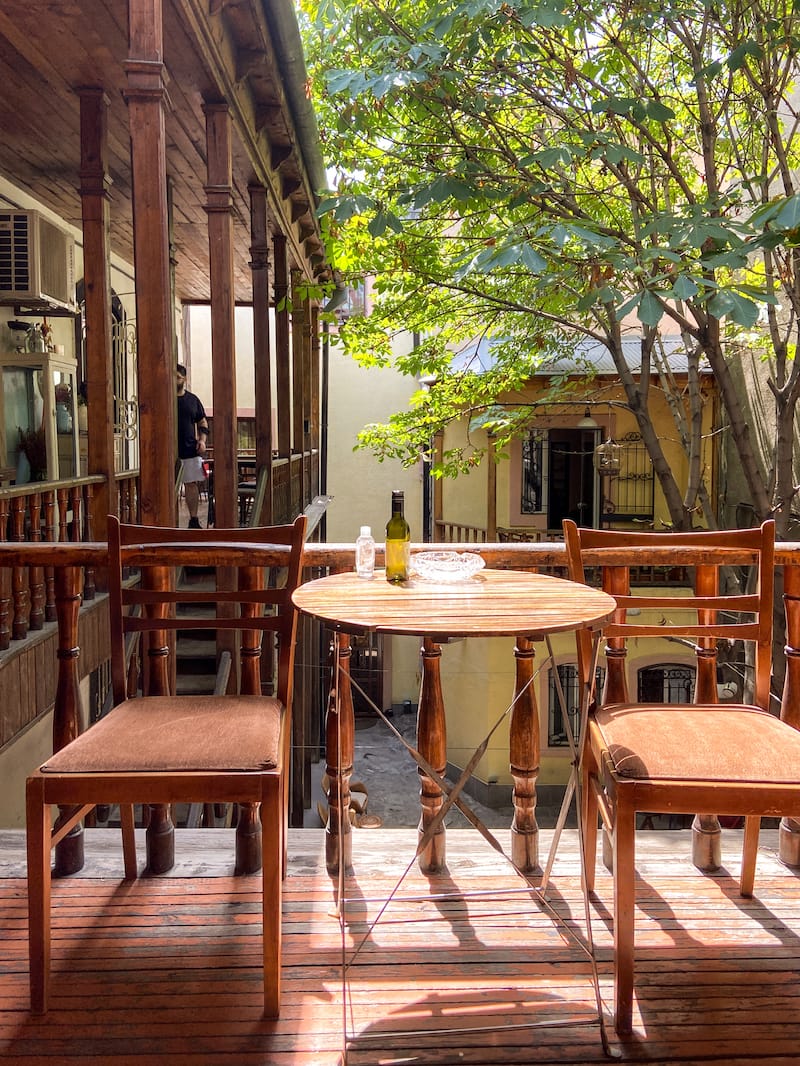 Mirzoyan Library is the first photobook-library in the region where lovers of photography and photo books can visit, read their books, or donate a book.
Address: 10 Mher Mkrtchyan Street Yerevan, Armenia 0010. For more information, check out their Facebook page.
Nightlife in Yerevan
Moyka Garage Bar
Located in the old Kond district of Yerevan, Moyka Garage Bar is an old Soviet-era car wash garage converted to a cool and hip nightclub with great music and a fun environment.
This unique bar brings back the simple idea of fun and a good time with international DJs, finger food, and cocktails.
These types of new formats of entertainment in Yerevan are growing and becoming movements just like the annual Urvakan Festival.
Address: 46 Leo St, Yerevan. For more information, check out their Facebook page. 
Poligraf
Poligraf is a multifunctional space for urban art and music development platforms. The hip facility hosts DJs from Armenia and beyond who are experimenting and diversifying the electronic music genre.
Address: 19a Koryun St, Yerevan 0009. For more information, check out their Facebook page. 
Yerevan Sightseeing for Nature Lovers
Victory Park
Located at the top of Cascade, Victory Park was a commemoration of Armenia's participation in World War 2.
It is a large forested area with its own amusement park and an artificial lake with a breathtaking view of Yerevan.
Here you also find the Mother Armenia statue that replaced the statue of Stalin, which was built in 1950 after their victory in The Great Patriotic War. Stalin's statue was removed in 1967, and two workers were killed during the process.
Now, Mother Armenia proudly stands in its place as a representation of strength, peace, and protection for the city.
Yerevan Botanical Garden
A beautiful and refreshing place for a long walk, the Yerevan Botanical Garden is perfectly peaceful.
There are several greenhouses throughout the park, some of which are open to the public.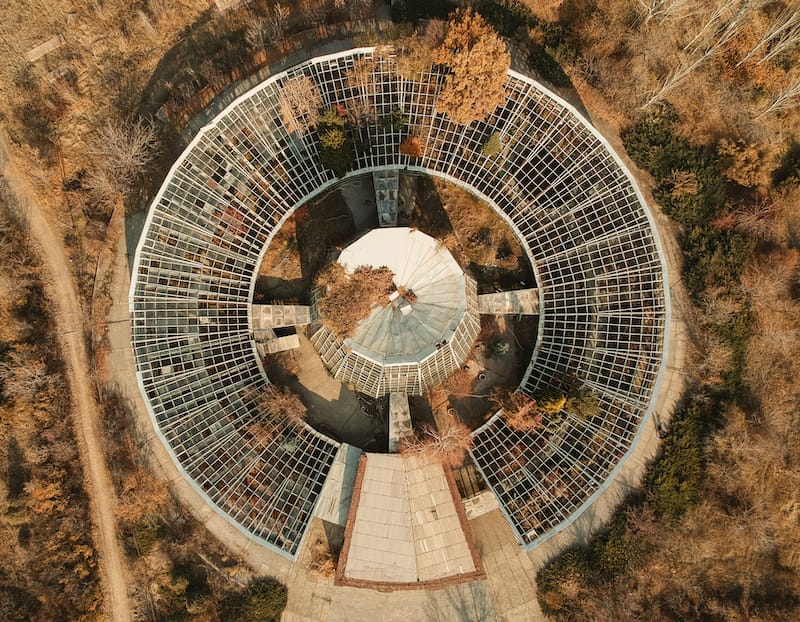 Inside the greenhouses, you can see how its plants are grown and even buy some that are for sale.
The garden is home to over 200 species of plants, some that are very rare and endangered. It is a popular place for newlyweds to take pictures and a great picnic spot for families and friends.
Address: Acharyan St., 1 Building
Working hours: Monday-Sunday  8:30 – 22.30
Ticket fee: 300 AMD
Lovers' Park
This park is known as Lovers' Park because of its popularity with newlyweds.
On Sundays, you can see many couples taking photos. Its waterfalls, ponds, and bridges make it the perfect location for photos, and the free wifi is a plus.
Inside the park, there is a restaurant where you can enjoy a nice lunch or drinks after many things to do in Yerevan.
Address: Bagramyan Marshal Ave 21
English Park
One of the oldest parks in Yerevan, it dates back to the 1860s. In 1920, it hosted the first-ever football match in the modern history of Armenia.
On the outskirts of English Park, you can find the Sundukyan Academic Theatre, the French Embassy, the Italian Embassy, and the Best Western Congress Hotel.
It is located on Italy Street in Yerevan.
Tumo Park
One of the most exceptional parks in Yerevan, Tumo Park has an absolutely breathtaking view of the city and the gorge it stands over.
To get to the park, you need to cross the Kievyan Bridge, which in itself has a beautiful view on either side.
Particularly popular in the summer, the park is noticeably cooler than the city center.
There, you relax and just lie on the grass sipping a drink, or you can play sports with friends and enjoy what the park has to offer.
Address: 16 Halabyan St
Hrazdan Gorge
The best way to access the gorge is at the southern end of Mashtots Avenue.
You should walk on the side of Mashtots with odd numbers, take the underground passage at #3, and just continue walking until you reach a terrace where you will have a view of the Hrazdan Gorge, Victory bridge, and sometimes Ararat.
From there, you can choose what path to take but exploring Hrazdan Gorge is definitely one of the best hidden things to do in Yerevan.
Yerevan Tunnel to Hrazdan Gorge
A hidden Soviet-era built tunnel connects Yerevan's downtown to the lush green Hrazdan Gorge with a river and old aqueduct and railway station.
This secret tunnel is 480 meters from one side to another and you can see graffiti and murals as you walk through it.
The tunnel passes underneath the Kond old district and has an interesting zigzag light design and the experience of walking in it is an unusual thing to do in Yerevan.
Children's Railway Station
One of the few miniature railways that remain, the Children's Railway has three train stations. Tickets cost less than a dollar.
The ride is 2km long and departs about every 15 minutes.
This place was built over 80 years ago, and now has a beautiful garden, game room, and new trains.
Even though it is intended for children, everyone is welcome to visit this unique part of Yerevan.
The old-fashioned railway station was revitalized when the popular Urvakan electronic music festival hosted a big festival in the Hrazdan Gorge and one of the main locations was this train station.
Yerevan Zipline
The Yerevan Zipline is the longest zipline in Armenia. It crosses over the stunning Hrazdan Gorge and passes under the bridge at the height of 90 meters.
The longest line at Yerevan Zipline is 870 meters and the second line is 650 meters.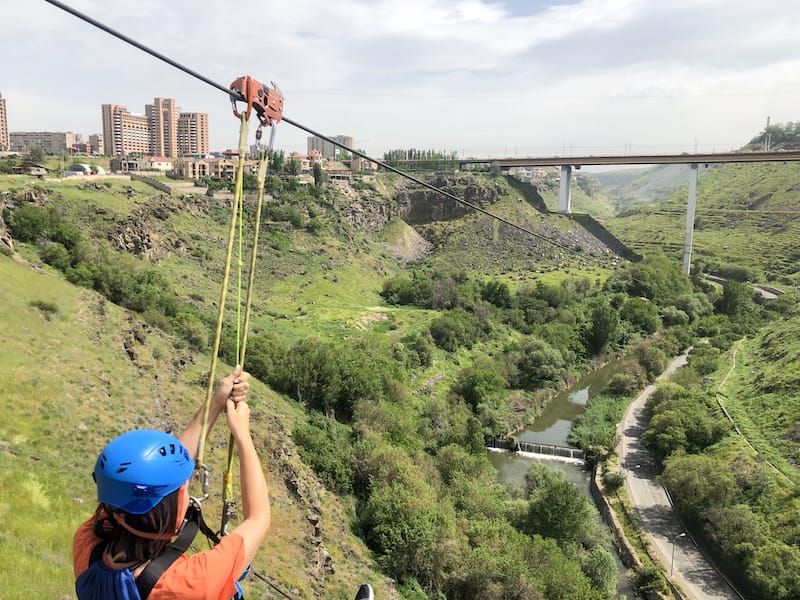 You can fly down at a speed of 150km and admire beautiful views of the gorge mixed with an adrenaline rush.
If you aren't afraid of heights, don't miss out on the fun that Yerevan Zipline offers, with stunning views of the beautiful, natural gorge.
Working hours: All week  10:30 – 19:30
Ticket fee: 14,000 AMD
Address: Arabkir, Papazyan st. 114/1 Yerevan, Armenia 0089. For more information, check out their Facebook page.
Unusual Things to do in Yerevan / Hidden Gems
Kond District
The Kond district is one of the three original neighborhoods from the 17th century. It translates to "long hill," which is most likely because of its location.
During the Persian rule, it became the home of Armenians and has remained that way.
You can see different types and styles of structures in Kond since it has survived through many eras.
You can still see the remains of the Thapha Bashi Mosque, where many Armenians hid during the 1915 genocide.
St. Hovhannes Church is still in its original spot, thanks to extensive renovations. Unfortunately, Kond is the main target of urban redevelopment.
The neighborhood has an improvised nature and seems somewhat messy in terms of urban planning, but that gives it its own charm. Many of the residents don't even have addresses for their homes.
Currently, there is construction around the historical structures, but we still don't know what the future holds for Kond.
Graffiti artists have given Kond a new purpose as it is now a Yerevan attraction where you can walk through the neighborhood and take pictures of some amazing wall murals.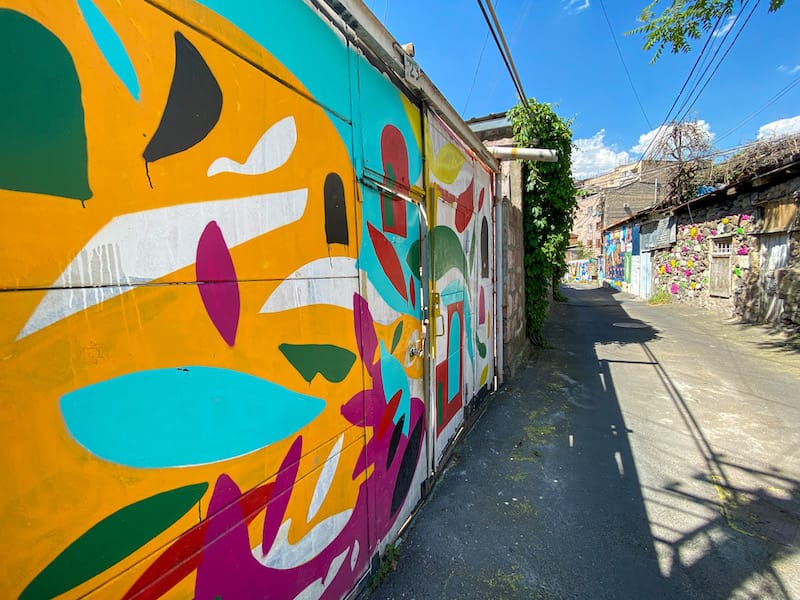 Open Air Cinema Yerevan
The open-air cinema is a perfect activity when summertime hits and the weather calls for nights outside.
This theater is behind the Moscow Cinema where the St. Paul and St. Peter Church once stood.
It was built during the Soviet Era, but even after the collapse of the Soviet Union, when the church wanted to reclaim the land, there was strong opposition by Yerevantsis.
Presently, the amphitheater plays screenings during the Yerevan Golden Apricot International Film Festival and continues to show movies during the summer. It is right downtown with plenty of bars and restaurants nearby that you can visit before or after watching a movie.
Address: Abovyan St., Building 18, Yerevan
ICA Yerevan
The Institute of Contemporary Art Yerevan (ICA) is a place for the development and production of art projects.
It is an organization that promotes the development of the art economy in Armenia, implements art collecting, exhibitions, and projects, and organizes teaching programs in theory and art education among many other things.
The ICA provides a network for people and their ideas and through the ICA School, Project, and Research labs they have access to the resources necessary to work in the contemporary art scene.
They provide the Karoyan Gallery and Nest artists' residency for particularly outstanding artists, where local and international artists can meet and exchange ideas.
The space is open to the public, and you can enjoy the garden while drinking tea or have a peaceful place to do some work.
Coming here is a great way to meet people from different backgrounds and professions and exchange ideas and projects. It is full of art residents, so there is always a chance of meeting someone interesting.
Address: Fizkulturnikneri, Aygestan 5th street
Arev Art Gallery
Arev is the artist behind the stained glass piece "The Power of Unity" displayed at the Assembly Hall of PACE. She was covered in the Women in Art magazine for her piece on Mother Armenia.
She has participated in many international expositions including the Beijing International Art Biennale, Art Monaco, and the Dubai Art Fair.
She has also designed several television sets, incorporating her unique style into each one.  You can learn more about her and her contributions at the Arev Art Gallery in Yerevan.
Address: 19 Teryan St., Yerevan
Books 1512 Old Bookstore
Near the Matenadaran building, there is a bookstore called Books 1512. It doesn't look that special from the outside, but inside you will find it is a hidden gem. The tucked-away bookstore has a beautiful, well-preserved interior built in the 1940s.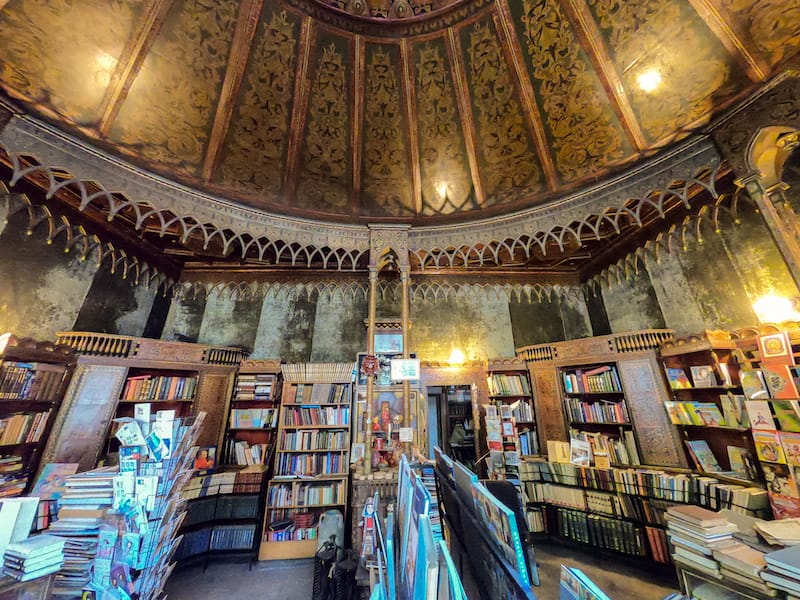 Here you can buy books about Armenia in different languages as well as many other interesting books.
Address: 45 Mesrop Mashtots Ave
Sergei Parajanov Museum
Sergei Parajanov is a world-renowned film director and artist with a unique style that has been praised by his contemporaries. The museum was founded in 1988, but it wasn't opened until 1991 due to construction delays.
The museum first held around 600 of Sergey's possessions, from collages, drawings, film sketches, and furniture; now, it stores over 1,500 pieces. Apart from Parajanov's personal belongings, the museum also has gifts from friends and letters from other prominent cultural figures.
In a separate hall are his drawings and collages created in prison, where he spent several years.
The museum has organized 64 exhibitions in more than 30 countries and is one of the most popular and interesting places in Yerevan.
Address: Dzoragyugh 1st St, Yerevan
Dalan Restaurant Art Shop
At the entrance of this beautiful restaurant is a souvenir shop that has a collection of beautiful, local works of art.
Whether you are a tourist or a local, you can't help but want to buy the whole store when you step inside.
Dalan has absolutely beautiful jewelry displayed at the center of the shop and perfect souvenirs lining the walls.
Most of the items are pieces made by masters of their trade; made from clay, wood, leather, or metal, each piece is unique.
Address: 12 Abovyan St, Yerevan
Megerian Carpet Museum
The Megerian family, who was originally from Armenia but later moved to New York, has been in the carpet business for over 100 years.
They were a key component to revitalizing this traditional art after the fall of the Soviet Union.
Originally, they were focused on selling rugs, but later learned the art of restoring existing antiques.
As antique rugs became more scarce, they began to develop the skill of producing their own rugs. They began to copyright their designs to mark their individuality.
Their carpets are now being produced in several countries including Egypt, Armenia, Romania, Afghanistan, Pakistan, and China, with over 22 facilities in Armenia.
Apart from its 5th Avenue location in New York City, the company has showrooms in Italy, France, Switzerland, and Germany.
Address: 9 Madoyan Street, Yerevan is where you'll find the Megerian Carpet Museum in Yerevan.
At Gayane's Hidden Restaurant
Truly a hidden gem, At Gayane's is not the easiest place to find right off the street, but it will be extremely worth it if you decide to go. They offer a delicious seasonal menu at affordable prices.
The restaurant is a popular Yerevan tourist spot even though not everyone knows where it is located.
The best way to reach the restaurant is by entering the arch numbered 33 on Tumanyan Street and go right until you reach a green gate to your left.
Address: 35b Tumanyan street, Yerevan
Shopping in Yerevan
5Concept
One of the coolest places to go shopping in Yerevan is 5Concept, a colorful concept store that specializes in promoting the products of local designers.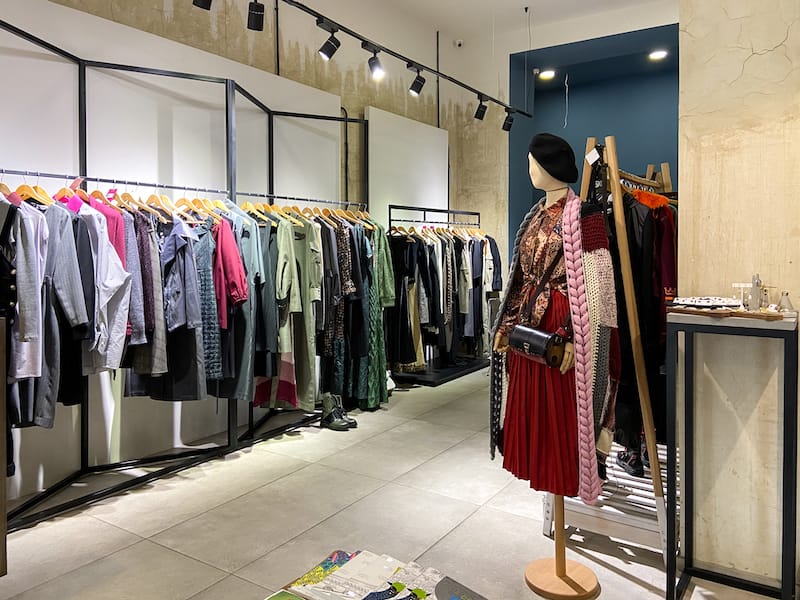 You will find an array of unique items in-house, from designer shoes from Ellasi to vibrant socks from Art Socks, a local brand that creates designs on socks inspired by Armenian art and other artists from around the world.
If you're into shopping for local designers, definitely make a stop in 5concept.
You will find 5concept at Sayat Nova 5 in Yerevan. For more information, check out theirFacebook page.
Prime Casual Wear
On the opposite side of the spectrum, you will find more casual, Armenian designs at Prime Casual Wear.  They have two locations (one just opened near the Yeritasardakan metro station) and an online shop that sells interesting designs at affordable prices.
Prime is a great place to pick up some clothes for the road.  Their designs are very Armenian and the cloth is high-quality compared to its price.
I find their tops and sweatshirts make a great travel accompaniment when I am traveling and need something comfortable but still able to make a statement.
And, they are an Armenian owned company so you'd be supporting a fantastic local business!
You can find Prime Casual Wear at 67/2 Hanrapetutyan St in Yerevan.  For more information, check out theirwebsite.
Day Trips from Yerevan
There are many fantastic day trips from Yerevan that you can take when visiting.
Our Yerevan day tours guide has some of our favorites and be sure to check out our guide to the best Armenian tours leaving from Yerevan!
Garni Temple
Garni Temple is the rare and the only pagan temple that exists in Armenia and in the whole Caucasus region today.
Located only 40 minutes away from Yerevan in the Kotayk region, Garni Temple was built in 1 AD as a king's summer house, right on the edge of the breathtaking Azat Gorge.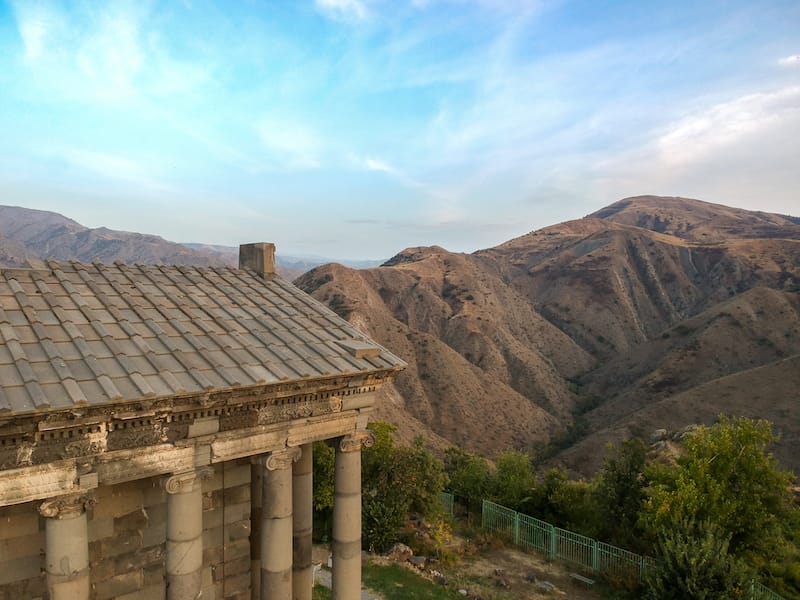 It was dedicated to Mihr, the god of sun and light. Garni village itself is a wonderful place to try Armenian cuisine at local restaurants, hike into the gorge over old volcanic stones, and photograph amazing scenery.
Click here to see how to get from Yerevan to Garni.
Geghard Monastery
Fifteen minutes away from Garni Temple, you can visit a unique UNESCO World Heritage Site, the Geghard Monastery complex.
The road to the Geghard Monastery is stunning. The monastery is on the UNESCO World Heritage Site list because of its very unique and complicated architecture.
Half of the Geghard Monastery complex is actually dug into the huge rock behind it, and as you enter you will notice that the interior size does not visually match the perceived exterior size.
Khor Virap
One of the biggest symbols of Christianity in Armenia, aside from Etchmiadzin, is the Khor Virap Monastery.
Khor Virap, which means "deep dungeon," used to be a royal jail where Gregory the Illuminator was locked underground by Tiridates III.
Khor Virap is located in the breathtaking Ararat Valley in front of Ararat Mountain.
Here you can explore the church of Khor Virap, walk down to the iconic dungeon, and explore the beautiful surrounding nature as it is one of the best places to visit in Ararat province.
Sevan Lake
Sevan is the biggest freshwater lake in all of the Caucasus with ancient churches, islands, lakeside restaurants, and an amazing ecosystem.
Sevan Lake is located only an hour away from Yerevan and very easy to get to by car.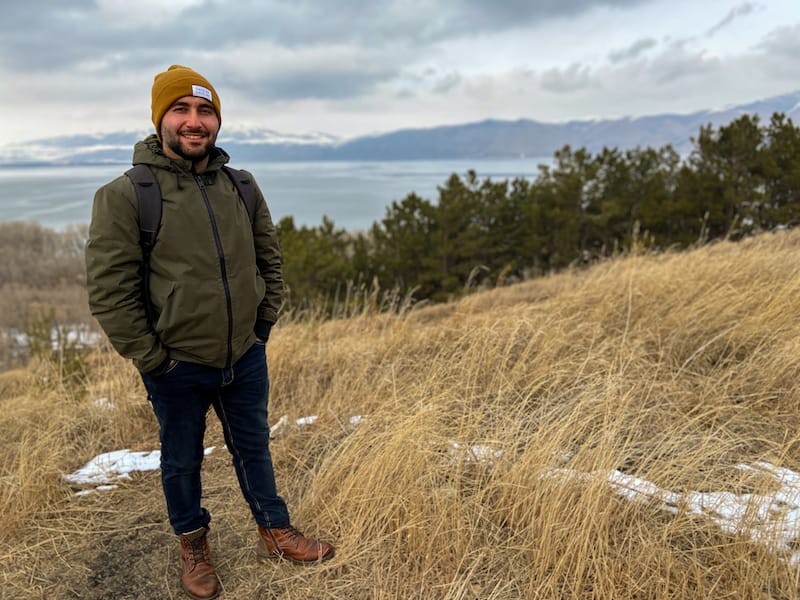 Known as the "Blue Pearl of Armenia", Sevan Lake hosts tourists and locals all year round, even in winter.
The most visited place is the Sevan peninsula which has two ancient churches you can walk to while enjoying amazing views of the lake and surrounding mountains.
Where to Stay in Yerevan
Yerevan center is lovely and staying there is essential if you're looking to visit Yerevan with ease.
There are a few hotels, guesthouses, and hostels that we recommend depending on your travel budget.
If you are looking for the best Airbnbs in Yerevan, check out our linked guide!
The Alexander (Splurge):  For those looking to be spoiled with luxury, Alexander is one of Armenia's finest hotels that offers class and luxury to visitors.
It is located near Northern Avenue and Republic Square and is only a short walk away from Yerevan Wine Days on Saryan Street.
>> Click here to check rates and availability for The Alexander
Daniel Boutique Hotel (Mid-range):  Located in the center of the city, the Daniel Boutique Hotel offers affordable accommodation with lovely, cozy rooms for you and your family.
The hotel has all the necessary amenities for a comfortable stay in the pink capital.
>> Click here to check rates and availability for Daniel Boutique Hotel
Grand Hostel Yerevan (Budget):  Located only 10 minutes away from Republic Square is the Grand Hostel Yerevan.
This place is wonderful for the budget traveler because you can get spacious, affordable, and clean rooms whether you want a private or a dorm.
>> Click here to check rates and availability for Grand Hostel Yerevan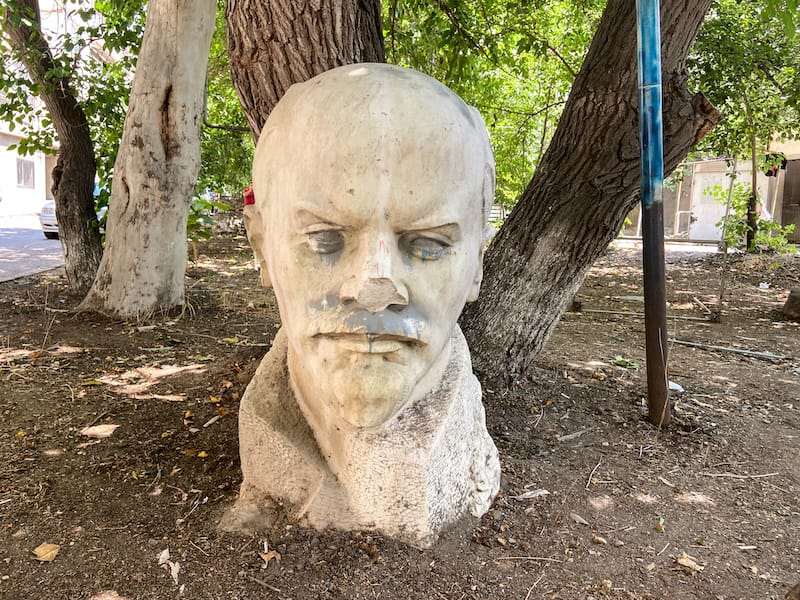 Do You Need Travel Insurance for Armenia?
Armenia is a relatively safe country and we are trying to show all the best qualities and colors of it.
Still, when you are traveling, safety is something that always needs to be a top priority, which is why we partner with the Norwegian travel insurance company SafetyWing.
This health insurance company has very affordable rates. We personally use their insurance while traveling and love their service!
>> Click here to check Armenia travel insurance rates
We hope that this guide of things to do in Yerevan will help you plan your trip and enjoy Armenia's capital city!
Be sure to check out our guide to Armenia in autumn if you're visiting during the fall or our Armenia winter guide if you're visiting during the colder months!
PIN IT FOR LATER!