Autumn is my favorite season, hands-down. I get giddy when September rolls around and I can break out the boots and take in the fresh air. And, autumn in Armenia is no exception!
This is our guide of things to do in Armenia in autumn.
There are copious activities to keep one occupied, but these are definitely some of our favorites and ones we enjoyed doing during the months leading up to winter.
Please let us know if you have any other fantastic recommendations for Armenia autumn activities!
What to Do in Armenia in Autumn
As noted before, we could realistically make a list of 100 things to do in Armenia during fall… but we just hand-picked a few of our favorites.
The colors across Armenia vary and are absolutely stellar.
Don't discount visiting Armenia during this time of year!  We love it and you will too!
Road Trip to Jermuk
In 2018, Aram and I embarked on a road trip to Jermuk in October.
We rented a Lada Niva and decided to pace ourselves on the journey and stop at several places on the way.  Our road trip to Jermuk led us to Khor Virap, Tigranashen village, Areni, and more.
Armenia in October is simply stunning and is definitely my favorite 'fall' month in the country.
September can be too transitional and still a bit warm for my liking… but October?  Utterly perfect.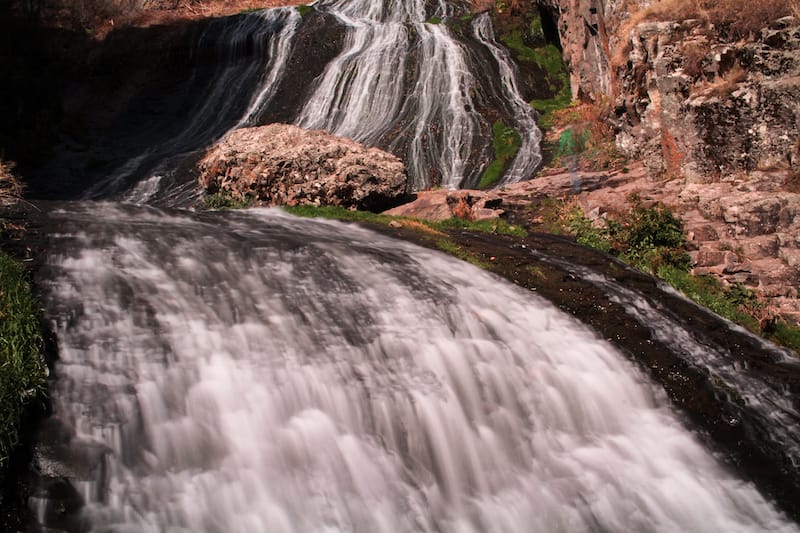 The road trip to Jermuk was breathtaking and we even stopped by the river around Noravank and Areni to have a BBQ.
Another great thing about autumn in Jermuk is that the place was quiet.
We found ourselves at the Jermuk Waterfall and there was maybe one other visitor there alongside us.
It gave us the chance to take it all in and we also had a chance to peruse the town, stopping through abandoned buildings like the sports and cultural center and more.
Our trip was truly epic and I believe that an autumn road trip in Armenia is a must-do for those visiting!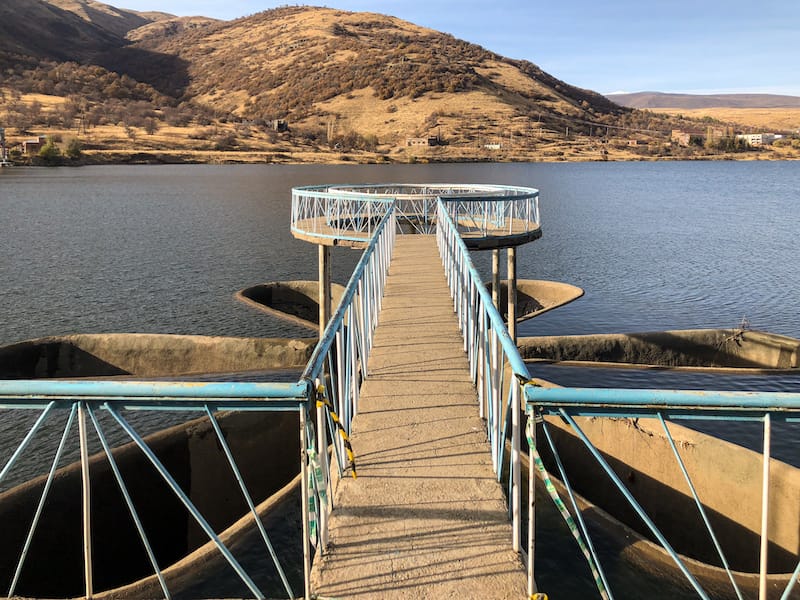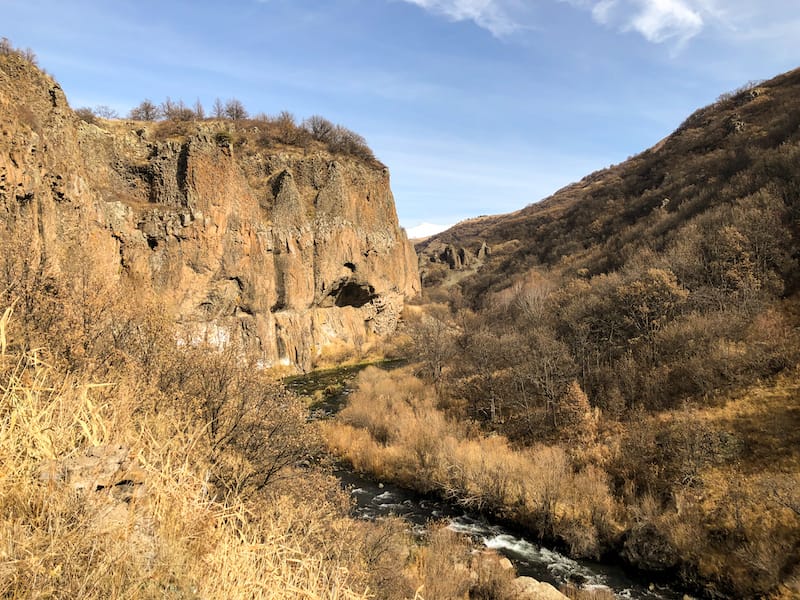 If you don't have a private vehicle to visit Jermuk, don't worry- there are some fantastic tours that run down to that area and stop at other cool places along the way!
Here are a few suggested tours of Jermuk:
Hrazdan Gorge
If leaving the city of Yerevan is out of the question, there are plenty of things to do in Yerevan that will give you a taste of autumn.
One of those things is visiting Hrazdan Gorge.
You don't find too many cities with a gorge and remote nature in the middle of it, but Yerevan is most definitely an exception.
Head down to the gorge and walk from the Children's Railway Station (a Soviet timepiece) along the tracks toward the stadium.
You will find some of the city's best fall foliage and it is such a relaxing thing to do during this time of year.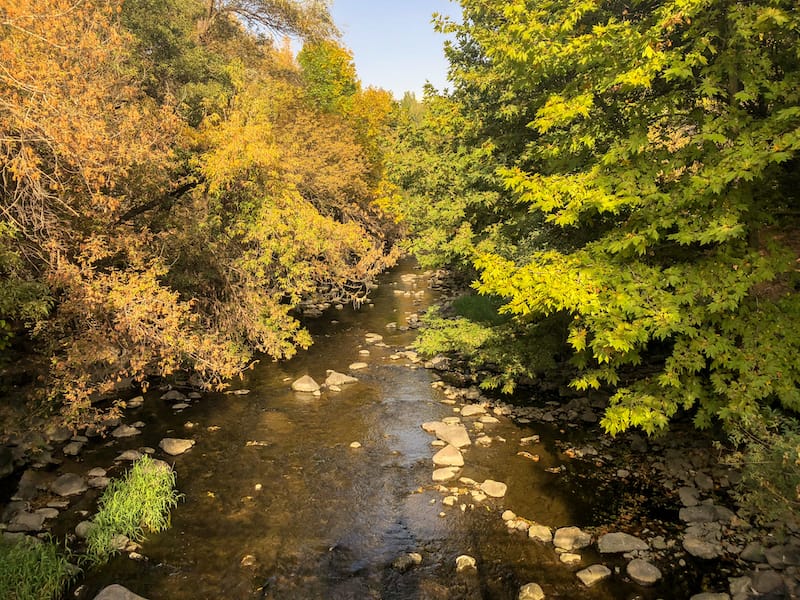 The summer months can be a bit too warm in the gorge, but autumn is near perfect!
The river flows calmly past and it is even a great place to take a book or notebook and to read or write as you listen to the sounds of a season of transition.
Areni Wine Festival
Every October, the Areni region turns into a harvest and place brimming with life as the Areni Wine Festival comes into town.
The Areni Wine Festival is definitely a can't miss if you're in Armenia during the event.
Dates vary from year to year, and if your dates are flexible for visiting Armenia during that time, make sure you do it!
Areni is the location where the oldest winery in the world was found and it is currently the epicenter of historical winemaking in the country.
In addition, there is no charge to enter the festival; just bring some money with you to purchase drinks and food.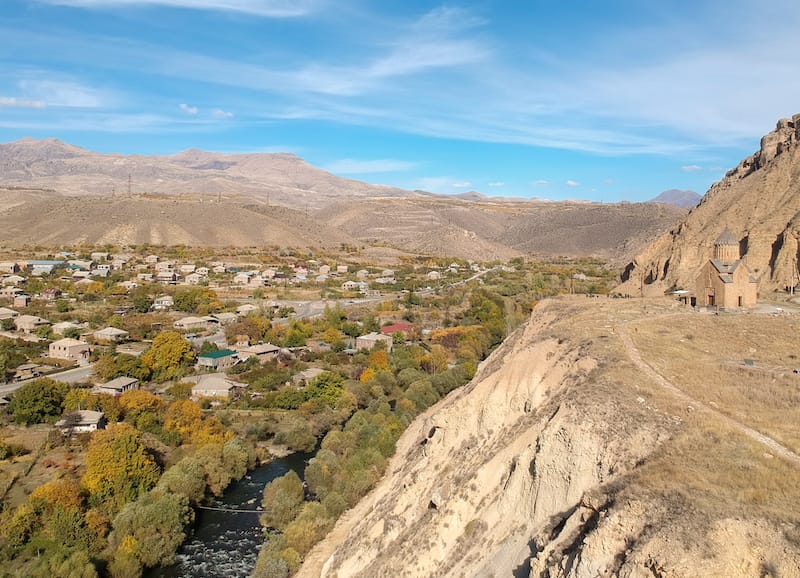 If you miss the festival, no worries!  Areni is still worth a visit anyway.
You can visit the Areni-1 Cave Complex where the oldest winery was unearthed (as well as the oldest human brain and leather shoe).
There is a lot to do for wine and food lovers in the village and it is one of the best things to do in Armenia in fall.
If you need to have transportation arranged for a trip to Areni and won't make it there for the festival, this tour to Khor Virap, Noravank Monastery, Jermuk Waterfall, and Areni might be worth considering!
At $23/per person, it definitely is a steal!
Have a Beer at Dors
While wine lovers will rejoice during Armenia in September, October, and November… it is definitely a place for beer lovers too!
One thing I love about craft beer in Armenia is that they really utilize local ingredients into the beer and even though the ingredient may be seasonal, such as apricot or cherry, it somehow works in liquid form during other times of the year.
Dors is my favorite place to hang out in Yerevan and their beer is tasty no matter what time of the year you end up there.
The terrace and inside are spacious and the staff is exceptional.
They also have delicious food with an ever-changing menu depending on local ingredients.  Everything on the menu is made in-house.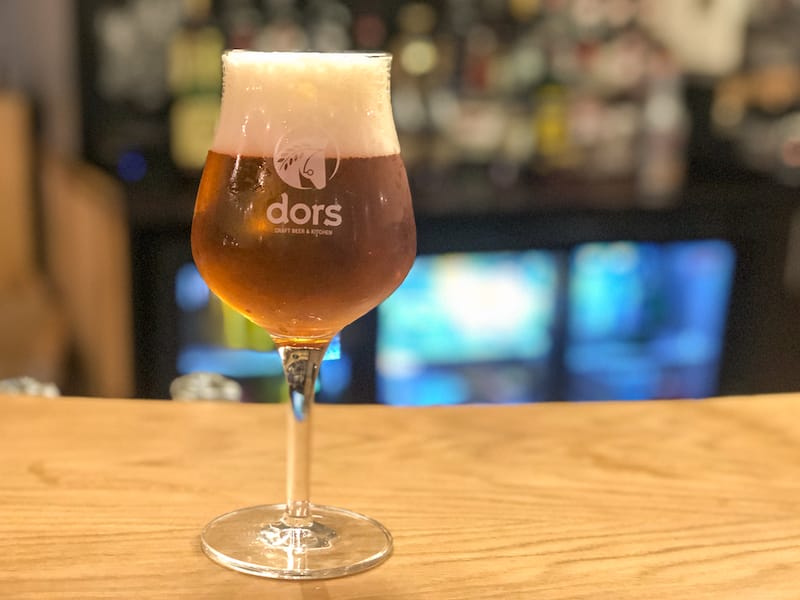 I recommend heading to Dors and ordering a flight of beer and finding the one that suits you best.  Their carrot cake is so delicious and it pairs well with a variety of beers, as do their homemade pizzas.
You can find Dors Craft Beer & Kitchen right beside Mayrig on Buzand Street (the address is a bit strange… it is just easier to find it by walking there from Republic Square toward Mayrig).  To find out more information, check out their Facebook page.
Enjoy Khash
You either love it or you hate it.  I actually love it but I have to eat it 'my way' (sorry, Armenians!).
Khash is a winter soup (that starts being served in autumn) that is prepared by slow cooking bovine shanks until the tendons fall off and the water thickens into a broth.
It is traditionally eaten in the mornings as a hangover cure… alongside vodka.  Not sure how that works, but I'm sold!
Armenians will state the best way to eat it is in villages and the mountains, but it is just easier to find it in Yerevan and enjoy it there.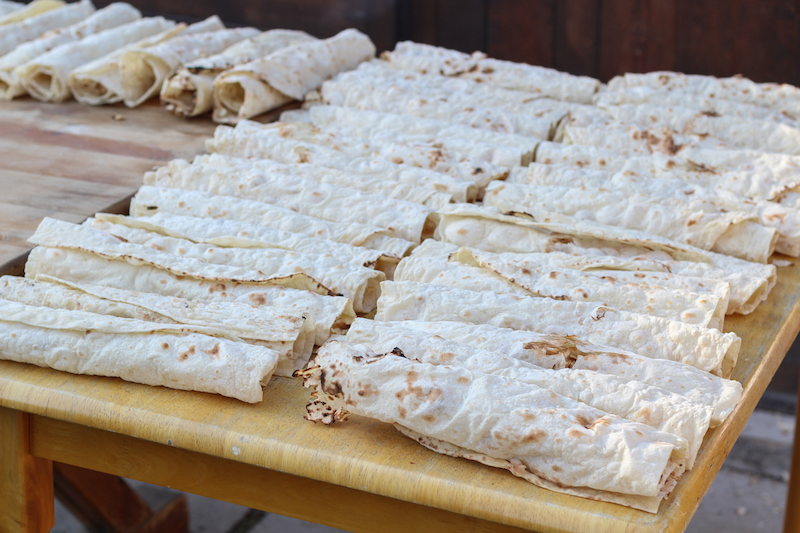 The khash comes with a heaping pile of dried lavash and garlic and salt.
It is delightful, but I can completely understand if it is not everyone's 'cup of tea'.
But, if you're not a vegan or vegetarian visiting Armenia, I definitely recommend trying it during the late fall through the winter season.
A place to get it for a cheap price at any hour of the day (they are open 24/7) is Caucasus Tavern.  You can find Caucasus Tavern at 82 Hanrapetutyan Street in the city center.
See Foliage in Dilijan National Park
Locals love to flock to Dilijan National Park and while you'll see it teeming with people during the summers, I reckon that autumn is my favorite time to visit Dilijan.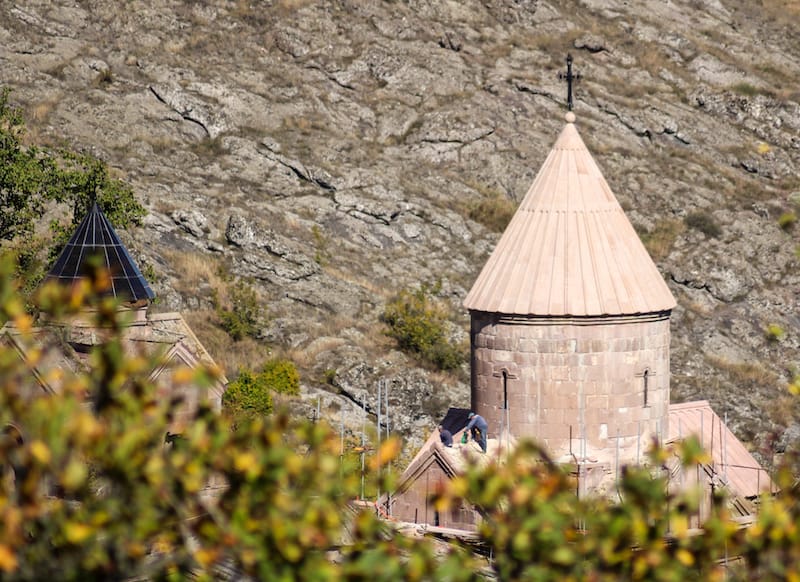 The leaves change in Dilijan in such a harmonious and mesmerizing way that it truly offers one of the most colorful views of Armenia.
Alongside local food, gastro yards, and fantastic places to stay in the area- it is definitely one of the best places to visit in Armenia in fall.
We recommend getting out of the city center and embarking on a hike with Hike Armenia or visiting one of the monasteries situated in the park or nearby.
Two places we loved during the cooler months were Goshavank and Haghartsin Monasteries.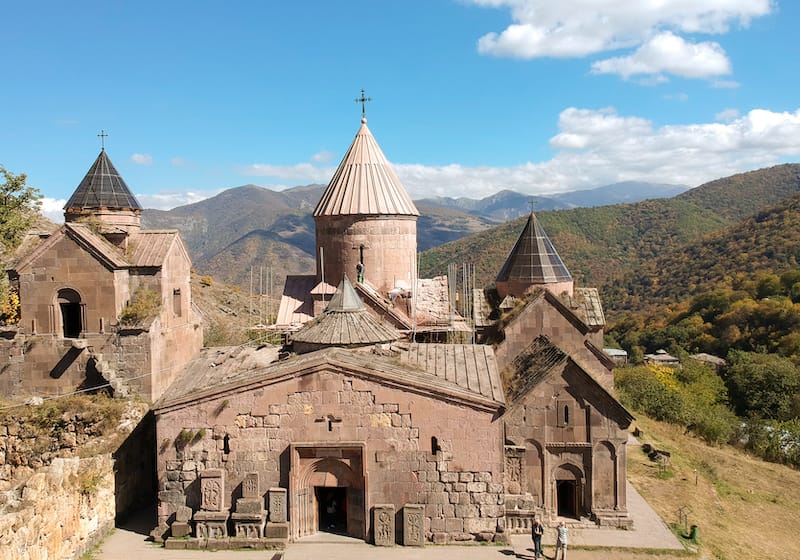 Both offered fantastic views of the mountains and the leaves of all different colors.
You can drive to Dilijan on your own, take public transportation, or simply join a tour of the area.
This tour of Dilijan will not only take you to the monasteries and some of the park's main sites, but you can also visit Lake Sevan on it!
Gata Festival
One of my favorite foods in Armenia is gata, a sugary pastry dessert that is something I crave every single day that I'm there.
It is mostly the smell that lures me in, but the taste keeps me coming back!
Anyway, there is a gata festival at the end of every September and while it is probably best that I stay away from it, my stomach says otherwise and I definitely recommend those visiting Armenia to head over to Khachik village in Vayots Dzor and enjoy some of the dessert if visiting when the festival takes place.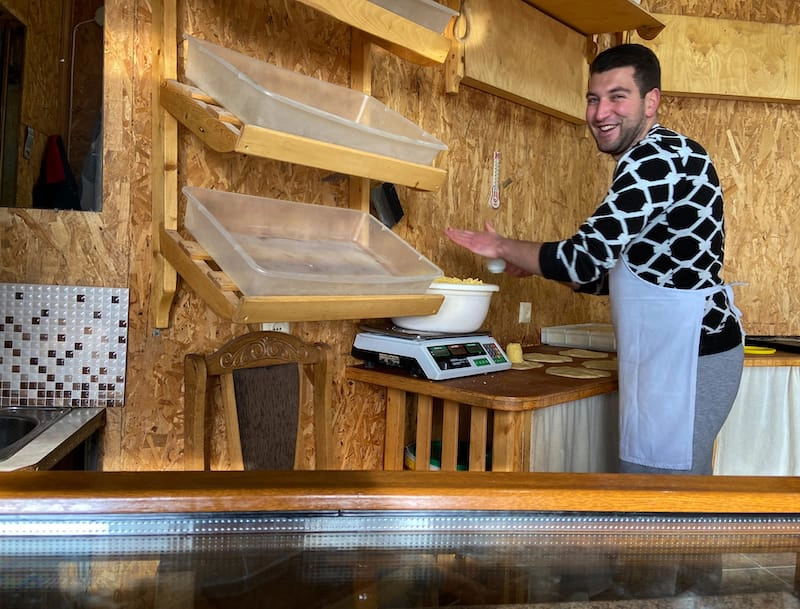 If you can't get there during the festival, Garni has some sensational gata and is known for the treat!
You can head to Garni by taking this best-selling tour or you can visit with your own car or rental car.
Alternatively, we had some fantastic gata on Sevan Peninsula earlier this year!
Right as you walk up to Sevanavank, there is a stall selling freshly made gata.
You will likely smell it before you find it!  Click here to find the easiest way from Yerevan to Lake Sevan.
BBQ at Lake Sevan
Oh, how I love Lake Sevan.  While it heats up with tourists during the summer months, I think there is something truly magical about the place during autumn… or even the cold Armenian winters!
We decided on a whim one time to drive to Lake Sevan from Yerevan and have a BBQ.
We met some locals and newborn puppies while there and it remains one of my fondest memories to date!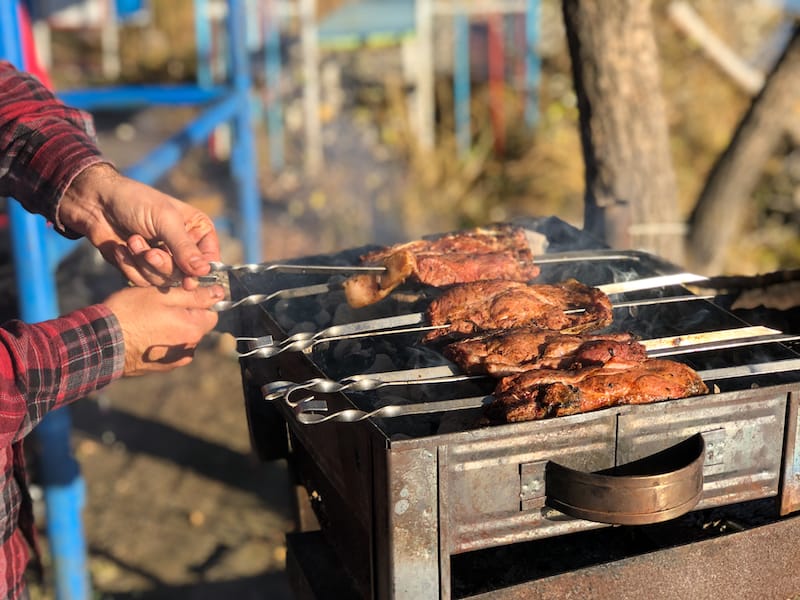 Aram is a killer BBQ master and we just enjoyed a chilly day by the lake without anyone else around and made some delicious food.
While this does involve having a car, if you have one, take the time to do it!  You may even meet a few locals and discover new, hidden spots of the lake at the same time!
Exploring Abandoned Buildings in Arzni
The spa town of Arzni is not high on too many lists of places to visit in Armenia, but it definitely is a favorite of ours!
Situated merely 23 kilometers north of Yerevan, the resort town has something for everyone, but you might just find it a bit deserted during autumn.
This gave prime opportunity to explore the Kotayk town to the fullest and venture into some of the abandoned sanatoriums and buildings that have been left to rot there.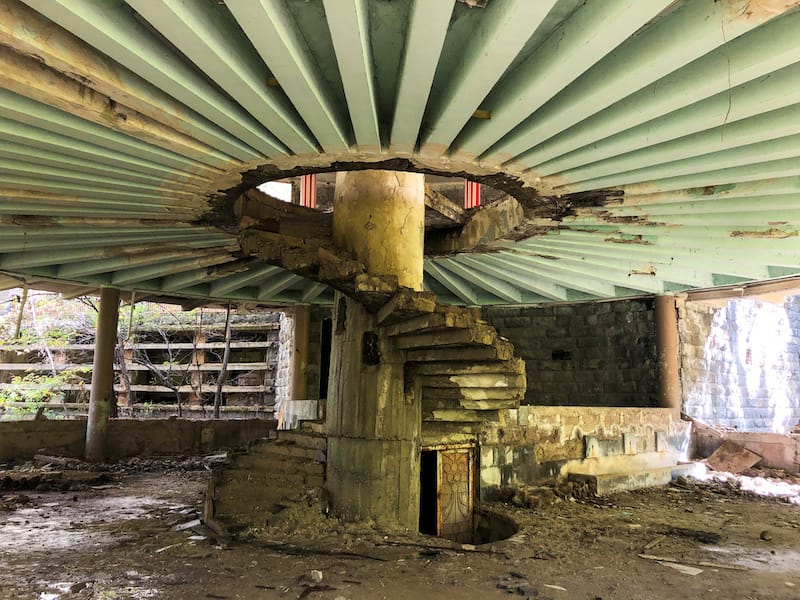 In addition to abandoned buildings, you will find some stunning nature and foliage in Arzni during fall.
It is definitely a unique day trip from Yerevan if you're looking for somewhere far off of the usual radar.
Stroll the Streets of Yerevan
And finally, we love Yerevan in autumn!  In fact, after the scorching summers, there is nothing I look forward to more than the night winds dying down and throwing on a long jacket with boots and strolling around the Armenian capital city.
In autumn, the air becomes cleaner and more breathable and I, personally, think it is when you can see the best sunrises and sunsets in Yerevan.  I see Mount Ararat far more often during this time of year than in summer!
Some of my favorite things to do during autumn in Yerevan are to walk the small pathways of Nork Marash, have a wine or beer on a terrace bundled up with a blanket on Saryan Street, and to admire the frescas scattered throughout Yerevan on buildings and walls.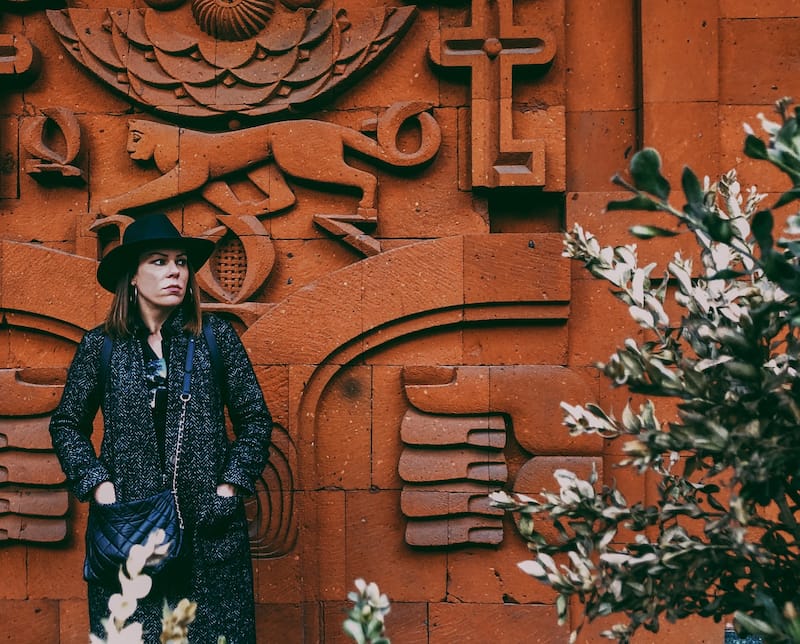 There are many things to do in Yerevan in fall but the food is where it's at!
Armenian cuisine really shines during spring and summer with all the fresh produce but fall is special for me because you get a mixture of the late summer and winter ingredients at your fingertips.
And nothing is tastier than dolma on a cold day.  Or spas… or khashlama… or harissa… or pretty much any other hearty Armenian food.
Another place we fell in love with during Armenian fall was the Yerevan Botanical Garden.
While this poor garden is in desperate need of attention, there is something so mysterious and nostalgic about it during autumn.
It is almost like it tells a different story and as curious of a person as I am, I am ready to listen.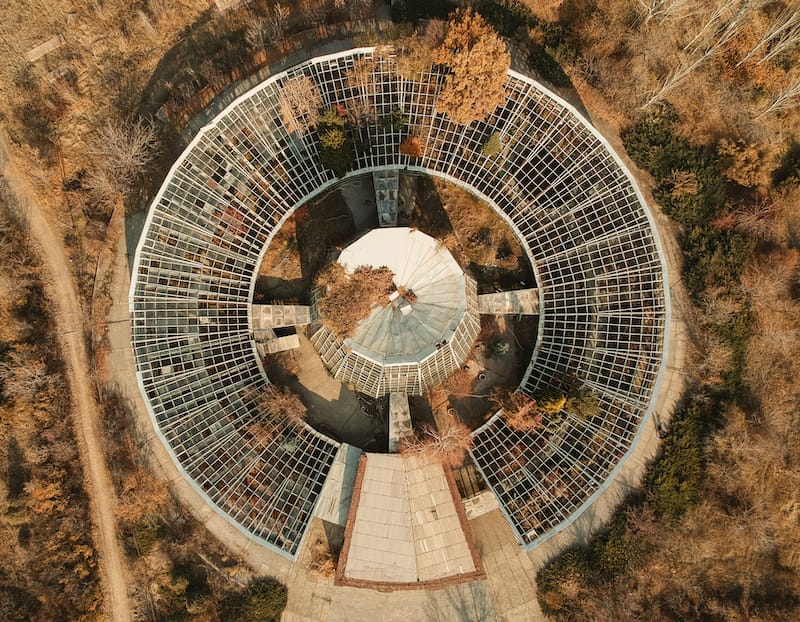 The streets of Yerevan are lined with colorful trees and the smell of food cooking will assault your senses in a way that just doesn't happen during the hot summer months or the cold winter months.
While I love Yerevan in spring for its flowers and sidewalk cafe openings, I appreciate Yerevan the most during the fall… simply because it is my favorite season.
We hope that you found plenty of reasons to visit Armenia in autumn!
If you have a favorite thing to do during autumn in the country- please let us know with a comment below!  Thanks!
PIN IT FOR LATER!