This Lake Sevan travel guide will help you plan your trip to the largest lake in the Caucasus with ease.
It will give you an idea of all the many things to do in Lake Sevan and how to get there from Yerevan and beyond.
Are you planning your trip to Armenia last minute?
Below are some of the top tours, hotels, and more!
Top Experiences and Tours in Armenia:
Top Hotels in Yerevan:
Looking for the best way to get around Armenia? Click here to check rental car rates for Armenia!
Lake Sevan is one of Armenia's most popular spots- enjoy!
Things to Do in Lake Sevan (and Why You Should Visit!)
I'll never forget the first time I passed Lake Sevan.  It was long after my first trip to Armenia (nearly five years, in fact!) and I had been asleep on a marshrutka taking me back to Tbilisi.
We jerked around a corner, abruptly waking me up, and it was right in front of me- beautiful Lake Sevan.
It was early May and birds were flocking around as we stopped to fill up on petrol.
I just couldn't believe my eyes.  Lake Sevan looks fabulous in photos but nothing compares to seeing the lake with your own eyes.  Nothing.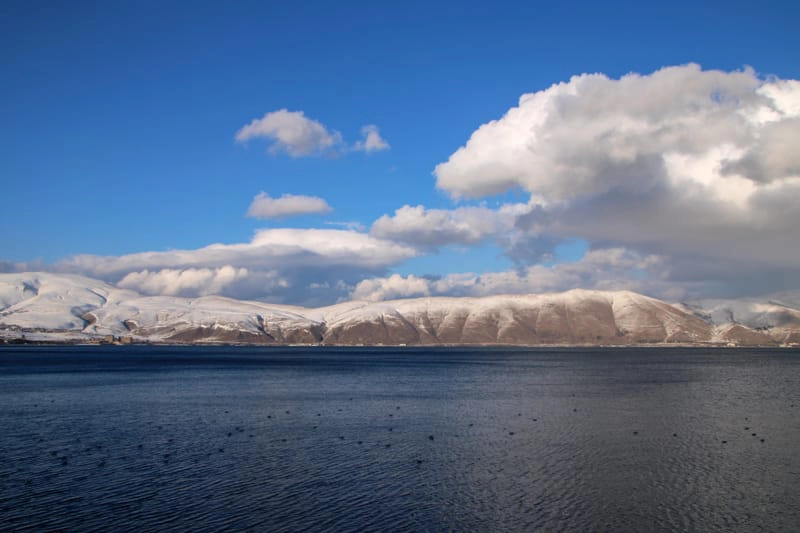 I went back on many occasions since and it was always on a whim.
We would change plans last minute and somehow end up at Lake Sevan for whatever reason.
There was just always something pulling me back.
We finally went there on a more 'organized' trip this winter and it gave the region a bit more time.
While we will get more familiar with the east side of the lake in the future, we know the west side fairly well.
This is a guide of what to do in Lake Sevan.
Why You Should Visit Lake Sevan
There are so many reasons to visit Lake Sevan (and we are about to give you thirteen things to do there that are all reasons, too!)
Our main reason is that the scenery is just mind-blowing.
You're very high up, altitude-wise and the gigantic blue lake provides a stark and mesmerizing contrast between the nearly treeless landscapes of this part of the Gegharkunik region.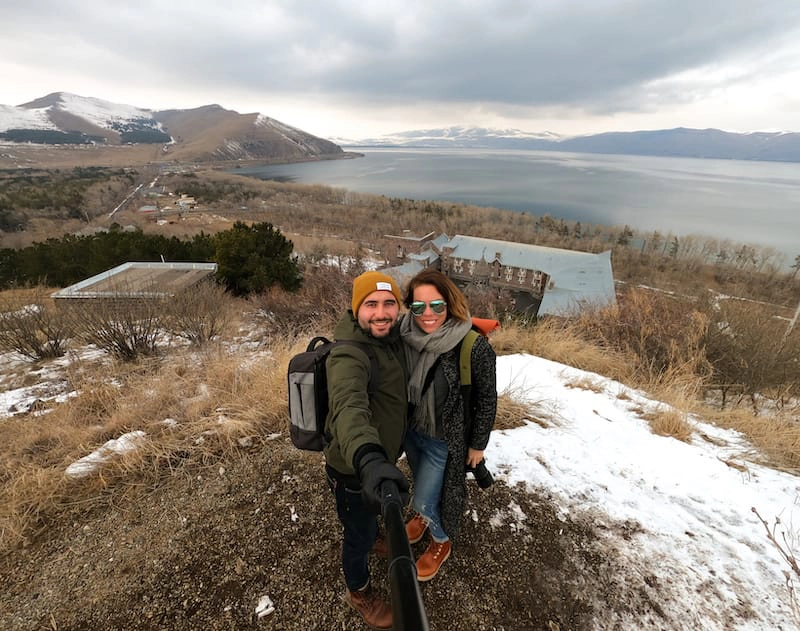 Nature aside, the area is known for some delicious food and to be Armenia's 'fish' hub.
You can get some of the most delicious freshwater fish from Lake Sevan and the preparation of it in and around Sevan is just incredible.  It is a reason to travel there all in itself!
What to Do in Lake Sevan
If you're planning a trip from Yerevan to Lake Sevan, I highly suggest you stay overnight there and give some time to the region.
By just taking a day trip up that way, you will not get to visit as many local businesses and believe us, there are some fantastic places to eat in and around Sevan and some really fascinating places to visit there as well.
These are some of the things we recommend doing when you're in Lake Sevan, including many sights in Sevan city, a place that is kind of overlooked compared to the Sevan Peninsula but is definitely worth a visit.
Visit Sevan Island (Peninsula)
If someone tells you they want to head to Sevan, they generally are speaking about Sevan Island, or Sevan Peninsula.
This area in the northwestern part of the lake used to be an island and during the Stalin-era, the lake was drained a bit, creating a peninsula out of the former island.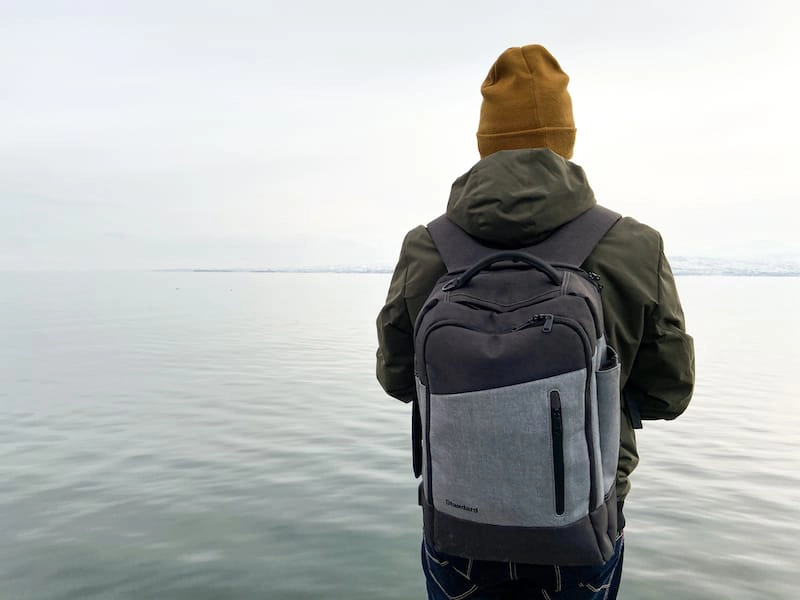 Nevertheless, Sevan Peninsula is where many of the most famous sights in Sevan are and it is definitely worthy of a day trip or half-day trip.  There are great sights in Sevan as well as many opportunities to purchase souvenirs and gifts.
There is also a beautiful pier.
In addition, you can have lunch or dinner at Ashot Erkat, a very famous restaurant located right beside Sevanavank at the bottom of the stairs.  However, we don't recommend it for anything but sheer convenience.
Our top two recommendations are Semoyi Mot Restaurant (near the Peninsula) and Maku Hacatun in Sevan City.
Both are exceptional and better value for your money.
If you do, by chance, go to Ashot Erkat, be sure to order either their Lake Sevan trout (ishkhan) or crayfish (khetsgetin).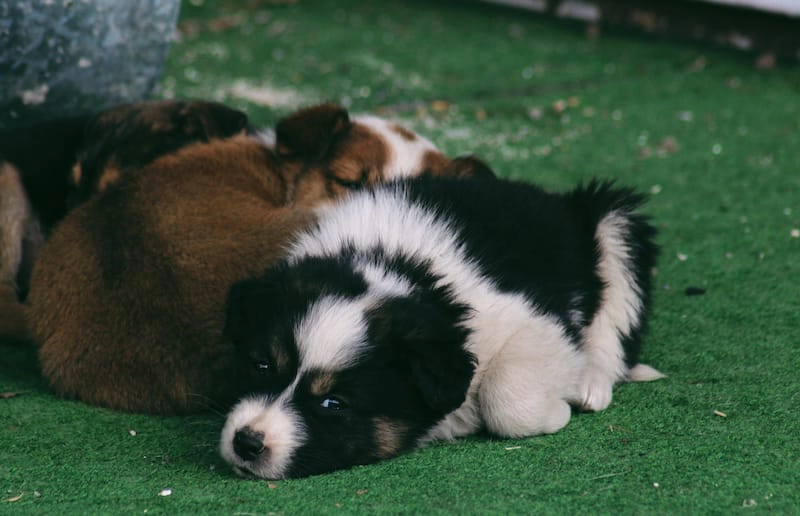 We think that the best way to ultimately see Sevan Peninsula is with a tour.
The reason is that you may have no idea what you're viewing and the history behind it.
Organized tours are very affordable in Armenia and will allow you to really get to understand what you're visiting.
Here are a few organized tours we recommend that will stop in Sevan Peninsula (and other really cool places):
Here are some of our Sevan Peninsula recommendations and what to do when you're there.
Eat Way Too Much Gata
As we were coming down the stairs from visiting Sevanavank, we smelled something that was so mouth-watering we couldn't help but follow the scent.  It led us to gata, naturally.
We were the first in line for the newest batch and even though we had to wait fifteen minutes for it to come out, it was absolutely worth it.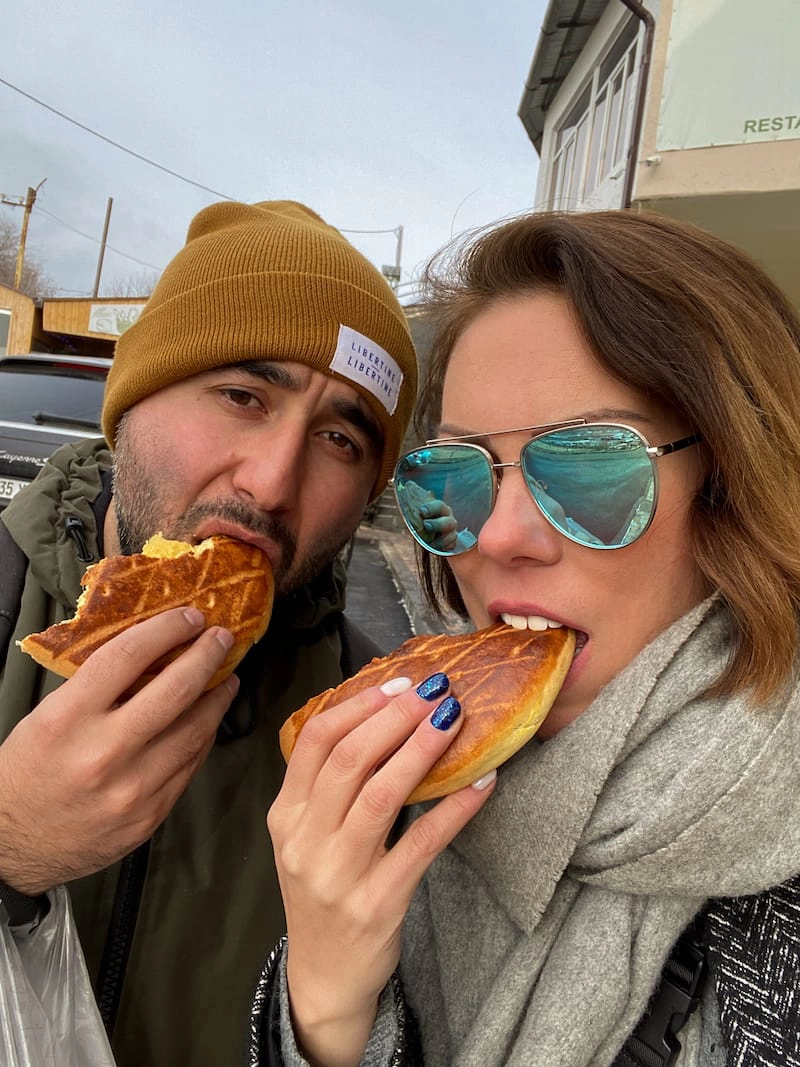 Gata is a sweet Armenian pastry bread that is made out of sugar, flour, and butter.  It is heavenly and comes in different varieties depending on where you get it in Armenia.
You will find the gata at a tiny place right at the bottom of the stairs leading up to Sevanavank.
You will likely smell it before you find it, but it will most certainly lead the way.  The sign says 'Gata Boulangerie'.  And this friendly man works there.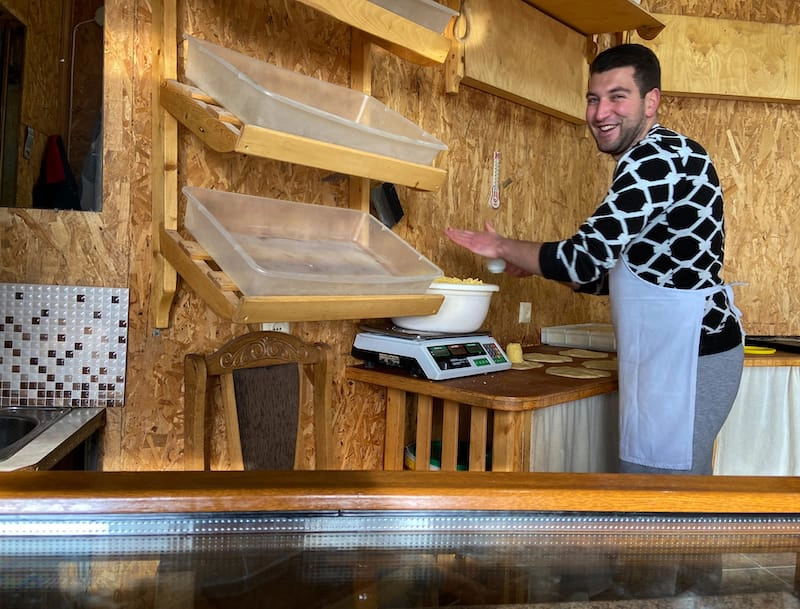 Admire Sevanavank Monastery
Sevanavank is the most popular monastery around Sevan and it was built on Sevan Island long before the land became a peninsula.
The monastery was founded in 874 AD by Princess Mariam while Armenia was still under Arab rule.
Interestingly, the monastery was built for a 'punishment' for sinning monks from Etchmiadzin.
Based on the views it offered, it wasn't as much of a punishment as it was a retreat (okay, in my opinion).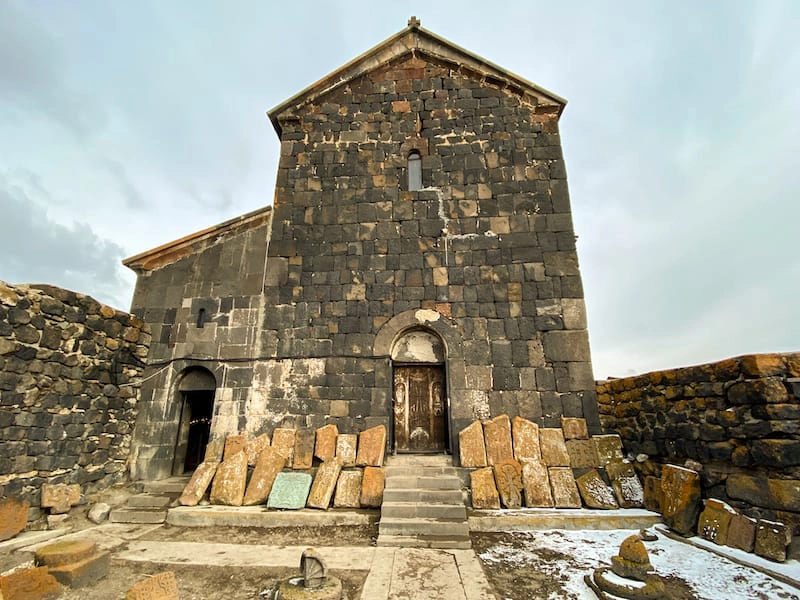 The monastery is surrounded by outstanding views and many khachkars. Be sure to walk inside and check things out in addition to strolling the perimeter and feasting your eyes on Lake Sevan.
Visit the Sevan Writers' House
Built in 1969 by two young architects, Gevorg Kochar and Mikael Mazmanyan, the Sevan Writers' House is probably one of the biggest 'opportunity' projects I have ever set my eyes on.
This used to be a house for writers, as the name suggests, and now it is merely a decrepit pension that overlooks the water.  It is ramshackle and needs help.
The government owns the Sevan Writers' House and we are DESPERATE for them to transform this into something magical.
The structure is one of the most well-known Soviet architecture masterpieces anywhere in the world and it's a shame for this to not get a bit 'cleaned up' (just for safety … the remarkable structure and design can stay!) and do something with it.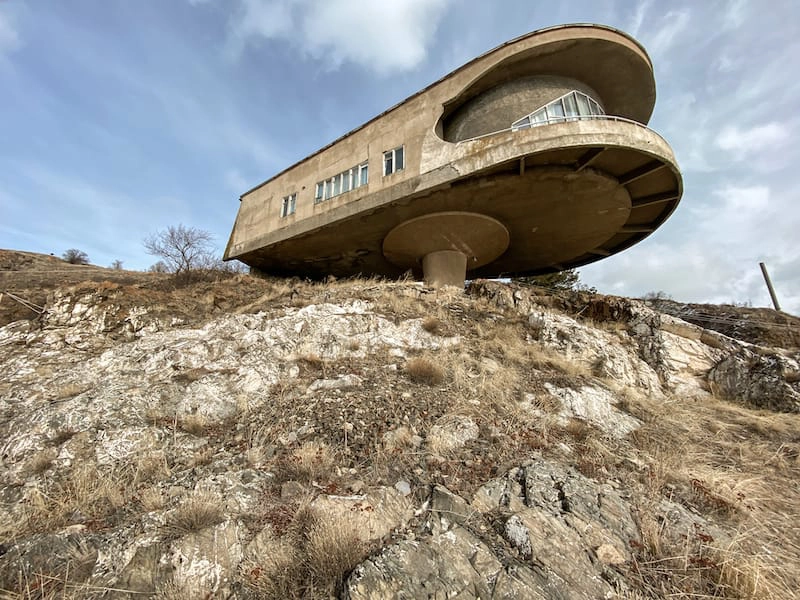 Anyway, for now, it is worth a photograph from the outside.  Send a few thoughts its way as we hope someone decides to turn this into its fullest potential.
Check Out Sevan (City)
One place that gets a bit overlooked by those visiting Sevan is the city of Sevan.
Most people flock down toward the water when they travel to Lake Sevan… but we recommend giving Sevan city some love too!
Sevan has roughly 20,000 residents and it takes a seasonal hit from tourism, so if you can brave it in winter, it is definitely still a cool place to visit.
Here are a couple of our recommendations for Sevan city (and we also advise staying at Lake Sevan Hostel at the end of this post for budget travelers).
Hang Out at Bohem Studio Teahouse
Our favorite place to hang out in Sevan was, hands-down, the Bohem Studio Teahouse.
We were told about Bohem from multiple people and we ventured over to it in the cold to check it out and it was closed.
Fortunately, we were just a bit early and we got to hang out there that evening… and we never looked back!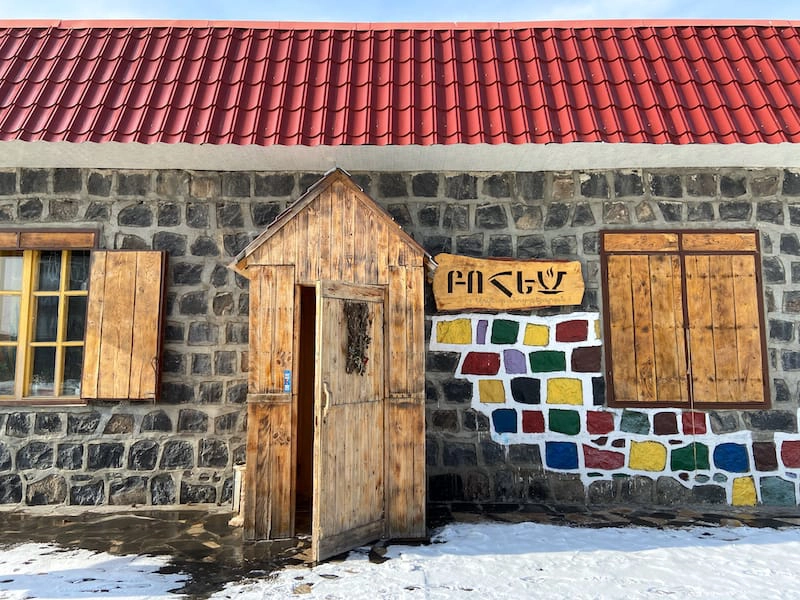 Bohem Teahouse is more of a cultural center than anything else.  And it is inclusive.
This is very important in Armenia… it is a place where visitors can be themselves and just have a good time.  Mante, a Peace Corps Volunteer who was assigned a position there said it was kind of a place for the 'misfits'.
Misfits or not, the creative and social vibe had everyone inside feeling like family regardless of whether or not they were a first time visitor or a regular patron.
We felt instantly welcomed when we walked inside and we didn't want to leave!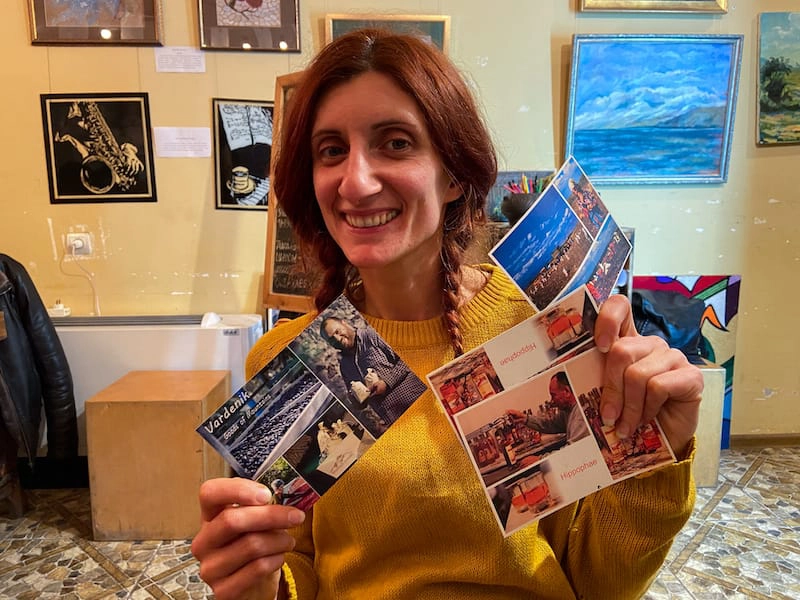 If you're in or around Sevan, you definitely need to stop by Bohem.  They have excellent Armenian tea, food, and vibes.  Check out their Facebook page for more.
Walk Up and Down Nairyan Street
One of the most unexpected things we enjoyed was strolling up and down Nairyan Street, the main thoroughfare in Sevan.
We found small businesses and some interesting buildings along the way.
One of our favorites was the old wooden house that is one of the oldest, if not THE oldest building in Sevan city.
It looks so unassuming in photos but felt so uniquely out of place amongst the concrete and more modern ones.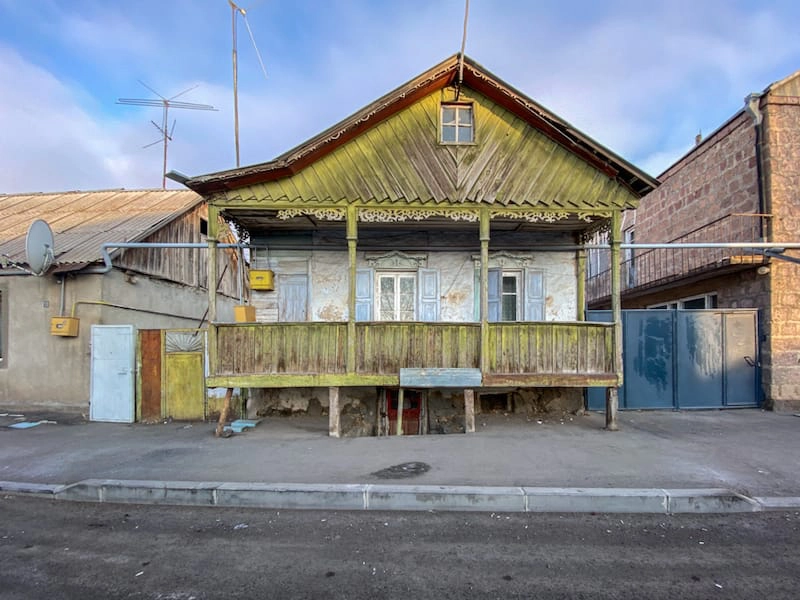 Close to the small wooden building on Nairyan was Sevan Church, a newly constructed Armenian church that was really imposing and beautiful to look at.
It was definitely worth the stop and I really enjoyed Sevan's Nairyan Street and found it to be a surprising highlight in a city that is often neglected for the lake itself.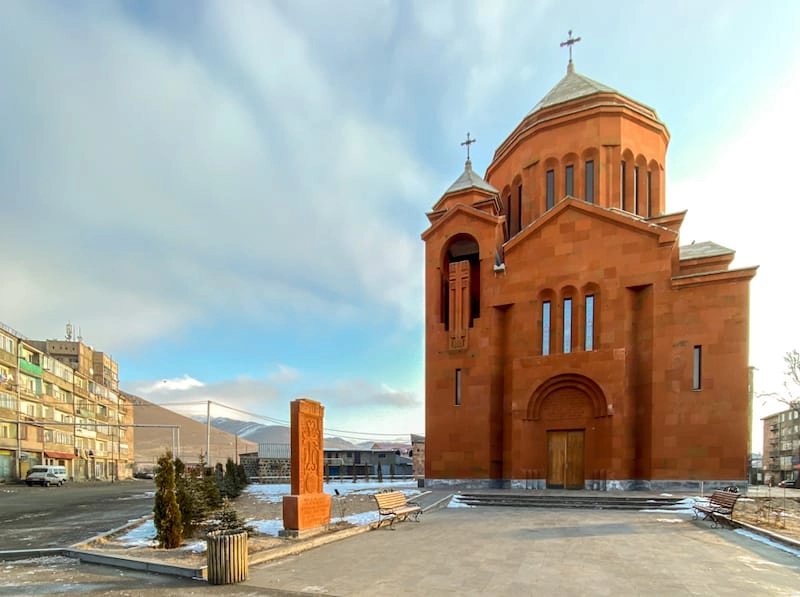 Have Dinner at Maku Hacatun Restaurant
When we were recently in Sevan city, we were excited to find a tasty place to eat.
Every local recommended Maku Hacatun to us and we were so eager to go there and trial their food.  Unfortunately, since it was over the holidays, it was closed.
We were gutted but people continued to recommend it to us, so we feel confident to recommend it here.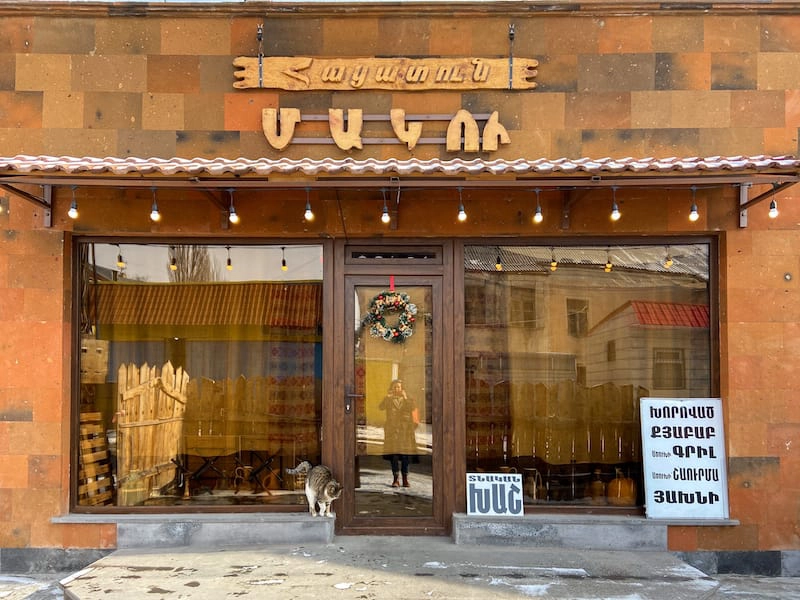 BBQ by Lake Sevan
One of my favorite memories with Aram is driving up to Lake Sevan with our friend, Christina, and making a  BBQ by the lake.
We did this in autumn and it was pretty cold, in retrospect, but the fire from the BBQ and the quietness by the lake just made for the perfect day.
If you drive to Lake Sevan from Yerevan, you will see a lot of turns that will take you by the shore.
And, because you're in Armenia, you will almost always see BBQ pits available.
Sometimes locals will wander up to you and charge you a couple of bucks to use them… but it is never more than a few dollars.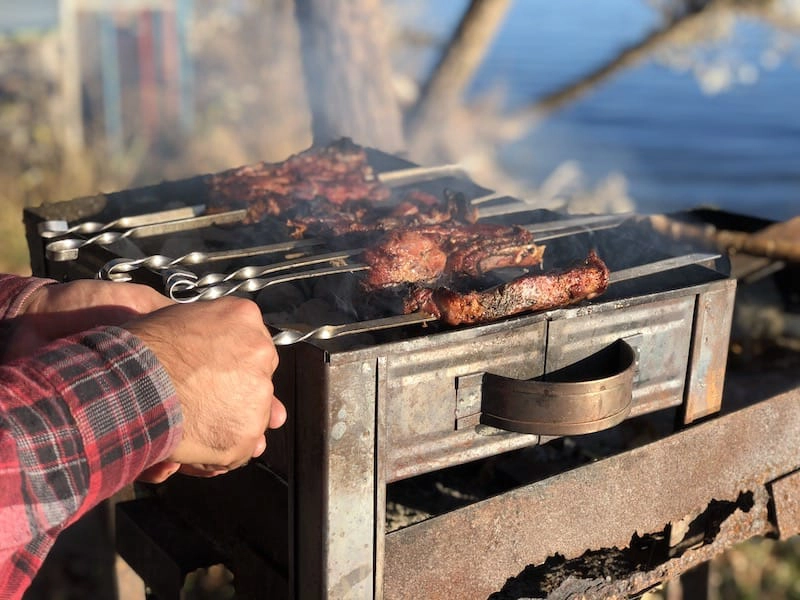 We set up shop and just had the greatest day.  We met a family of dogs and down shots of homemade vodka with a local man who lived near where we were BBQing.  It was an absolutely remarkable day.  And the food was some of the best I've ever had.
Eat at Semoyi Mot Restaurant in Tsovagyugh
Just north of the Sevan Peninsula is Semoyi Mot Restaurant (often called Collette Restaurant), one of my favorite stops along the way.
This restaurant kind of has it all- it is very long and has a cafe, takeaway area, fresh bakery, and the restaurant itself.
All of it shares one thing, however… EPIC views.  The views are just outstanding.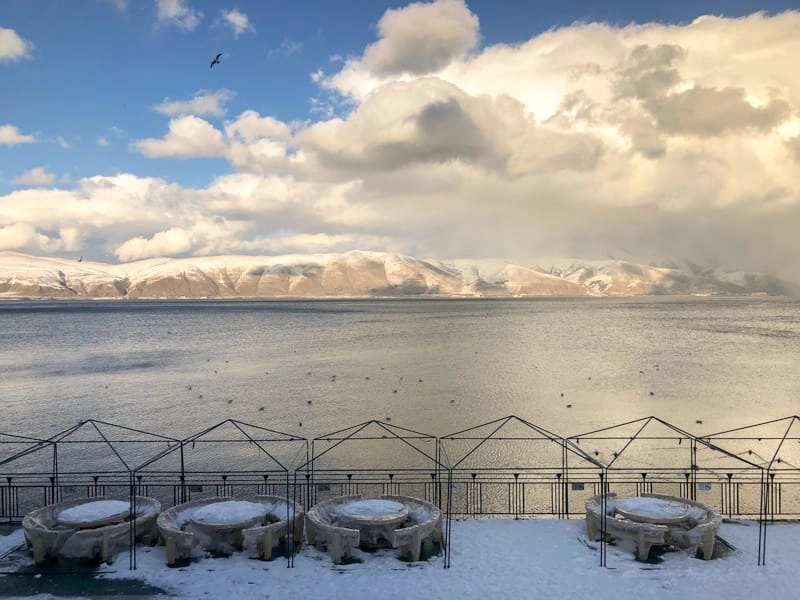 We definitely recommend stopping here for some food if you have a car or are comfortable taking the marshrutka or a taxi there.  It is worth the stop.
Stand Atop a Soviet Viewing Platform
For years, I would gaze out the window and wait to pass this wildly obscure Soviet structure on the right side of the highway coming from Tbilisi to Yerevan.
I never knew what it was, but it looked like a place that would stay on my mind for years… and it did.
Once we went back to Lake Sevan, I knew I had to find a way to get us to stop here.
Whether it was by taxi or bus, I had to check out this amazing structure.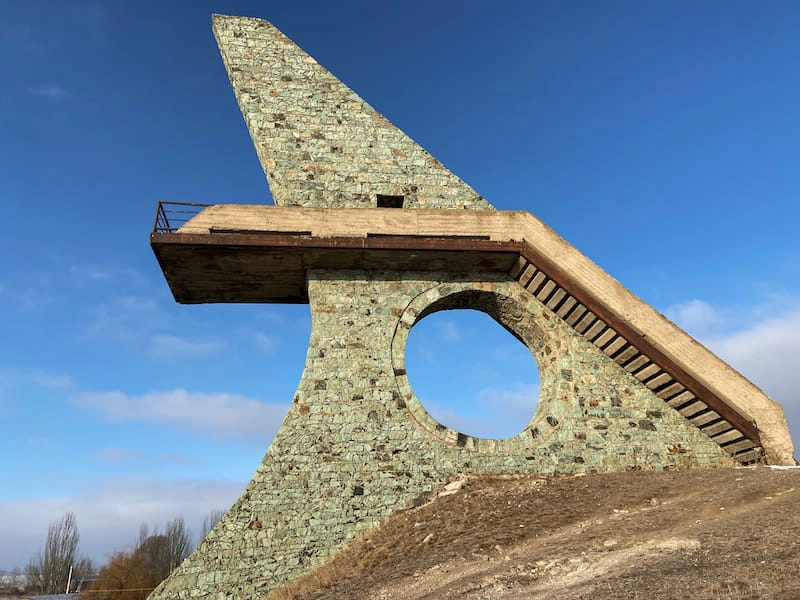 Built-in 1978 by architect Makabe Manuelian, this Soviet viewing platform is exactly as it suggests… a place to view out over the stunning Armenian landscape and Lake Sevan.
The platform is close to Sevan city and can easily be seen from the main highway (on the right side if coming from Tbilisi and on the left if coming from Yerevan).
We were like little kids playing around on it.  It is definitely worth a quick stop.
Visit Hayravank Monastery
Sevanavank gets all the hype when it comes to monasteries located along Lake Sevan but we definitely favor Hayravank, to be honest.
So much that we selflessly donated our drone to Lake Sevan from Hayravank.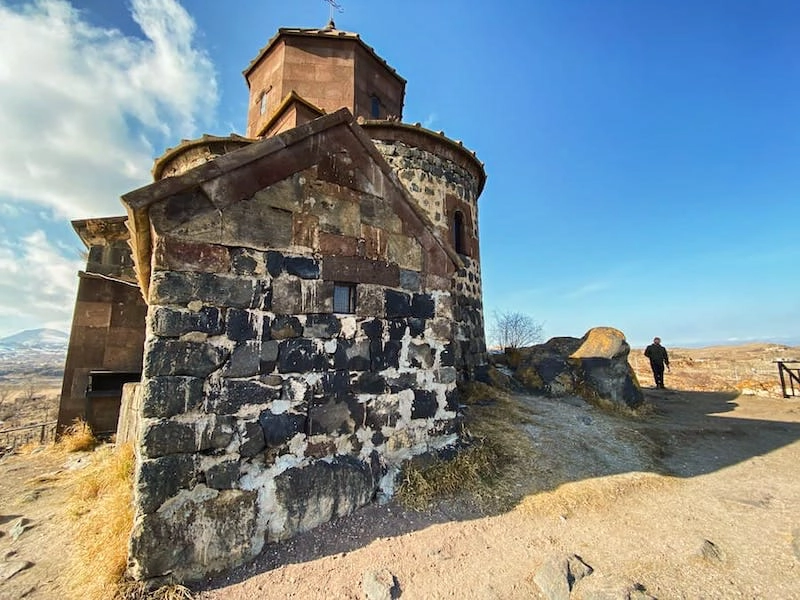 Hayravank Monastery dates back to somewhere in between the 9th and 12th centuries and it sits right on the high shores of Lake Sevan.
The views are outstanding and it is less busy than other places, so we loved it for that.
Don't expect to be the only ones there, on the other hand.  It definitely gets visitors.
The views around Hayravank were so exceptional that Aram and I decided to fly the drone there and get some shots of the monastery with the lake in it.
I guess Lake Sevan hadn't fed itself for a few days because it unexpectedly got hungry and ate our drone if you get my jist.
It was a woeful day… but we still love the place and can't wait to return!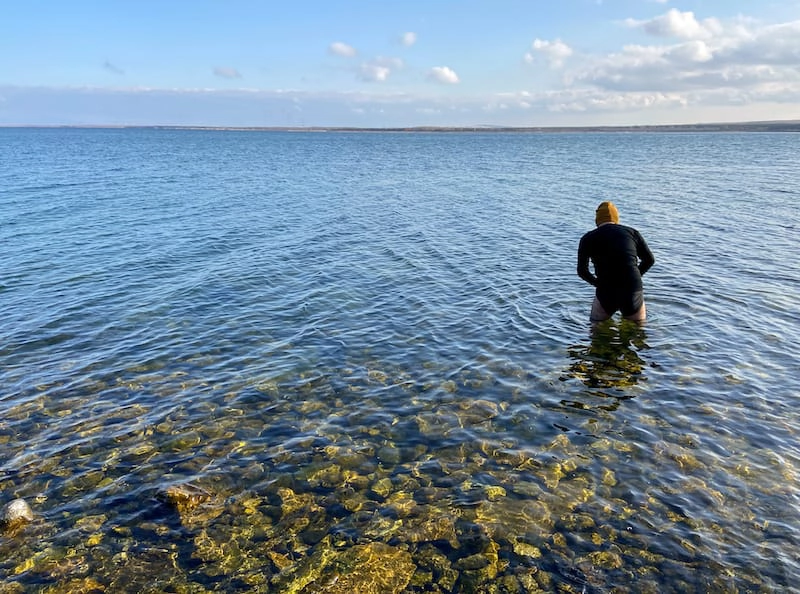 Other Places to Visit Near Lake Sevan
A fun thing about traveling to Lake Sevan is that there are several places around it that are worth visiting.
The following places are some of our favorite stops around and near Lake Sevan that we think you should dedicate time to visit.
Noratus Cemetery
One of the most photogenic and beautiful places to visit in Armenia is Noratus Cemetery, about 90 kilometers north of Yerevan.
This medieval cemetery is home to the largest collection of khachkars and just walking around it will give you chills as it is truly a sight to behold.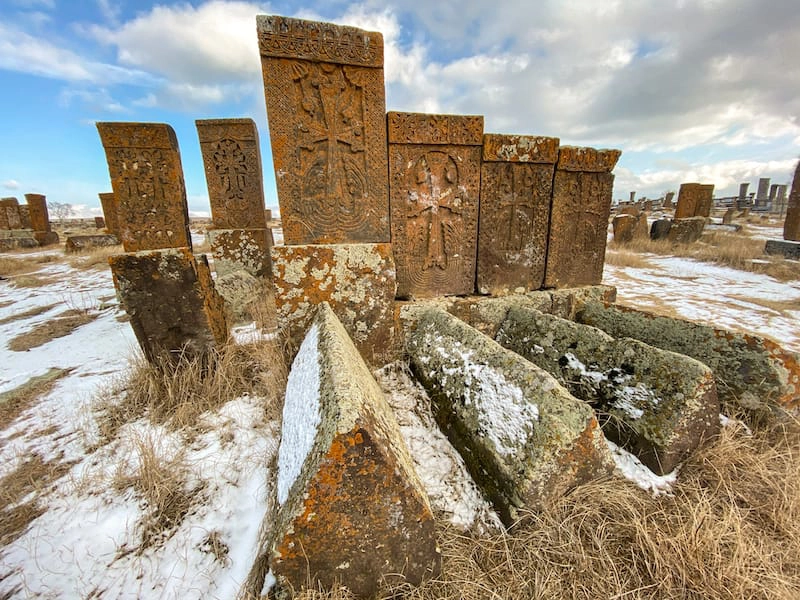 It is free to enter and is located in Noratus village not far from the lake.
You can wander around and see various khachkars and admire the intricate and detailed work that went into creating them.
The oldest surviving khachkars in Noratus Cemetery date all the way back to the 10th-century.
If you want to visit Noratus Cemetery with ease, consider taking a tour there.  It will give you a really good insight into what you're looking at and it is really affordable.  There are two tours we recommend that stop by Noratus:
The first tour will take you merely around the area around Lake Sevan, including Noratus.
The second one is a long tour that will take you up and around Lake Sevan but then over to Jermuk and Areni.  This is a great tour if you're looking to cover a lot of ground for a cheap price!
Take a Day Trip to Dilijan
When I ask Armenians what their favorite place in Armenia is, I am often told Dilijan.
I have been several times and to be honest, it somewhat reminds me of where I'm from in the US, so I definitely understand why people love it.
My favorite thing about visiting Dilijan from Lake Sevan is the contrast between the two places.
You're in Sevan one minute with barren, mostly-treeless landscapes and once you pass under a tunnel on the way to Dilijan, you're automatically greeted with trees and lush greenery on the other side.
I guess the grass is somewhat greener on the other side (at least if you're heading to Dilijan).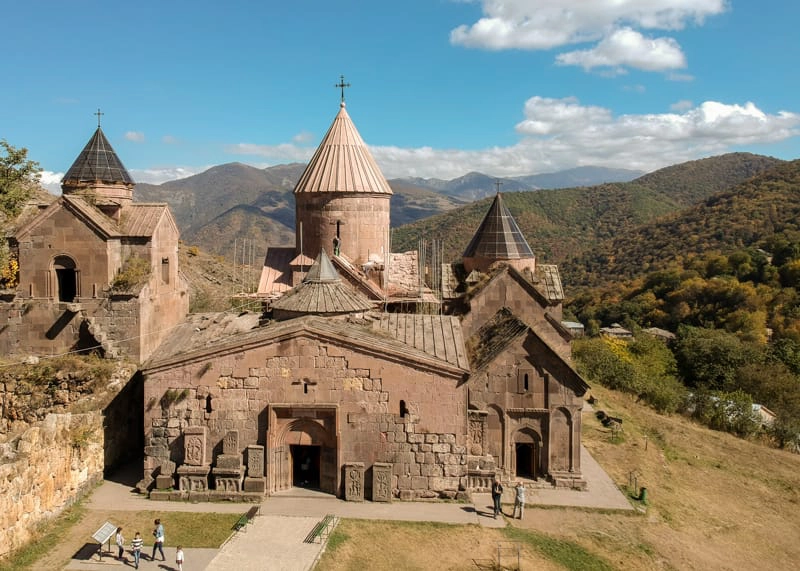 Dilijan is home to several monasteries, hiking opportunities, and hip businesses and cafes such as Cafe #2.
It truly is worth spending at least one day there if you're visiting Lake Sevan.  But, I recommend spending much more time, personally.
Here are a few tours that will take you to Dilijan on a day trip from Yerevan (other stops are included on them!):
Gavar
One of the most underrated cities in Armenia is undoubtedly Gavar.
We took a trip to Gavar from Yerevan and in conjunction with our Lake Sevan trip and we found it to be such a hidden gem in Armenia.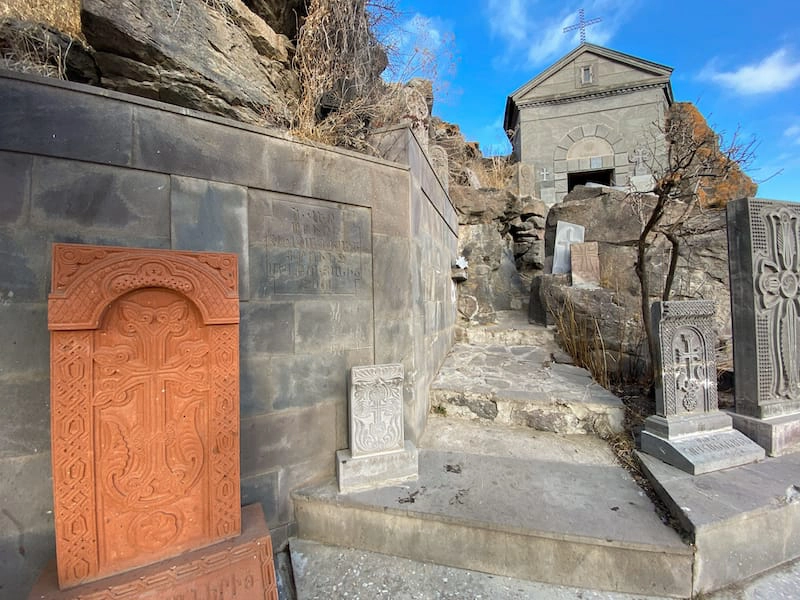 Some of the many things you can do in Gavar is to eat bakhlava (seriously, they are known for it!), take in the views from the ancient cemetery and St. Stephanos Chantry, and visit the Chapel in the Rocks (St. Hovhannes Chantry).
The city is brimming with cultural sights and good food- it is definitely worth stopping and checking it out for yourself!
Taking a Tour to Lake Sevan
There are a few tours we recommend for getting to Lake Sevan.
We partner with Get Your Guide as we use their tours ourselves and have had nothing but exceptional experiences and they only choose quality partners for their tour providers.
Here are some of the top-rated Sevan tours we recommend from GYG:
Where to Stay in Lake Sevan
There are many places to stay in and around Lake Sevan.  Here are our top choices that will cover all budgets.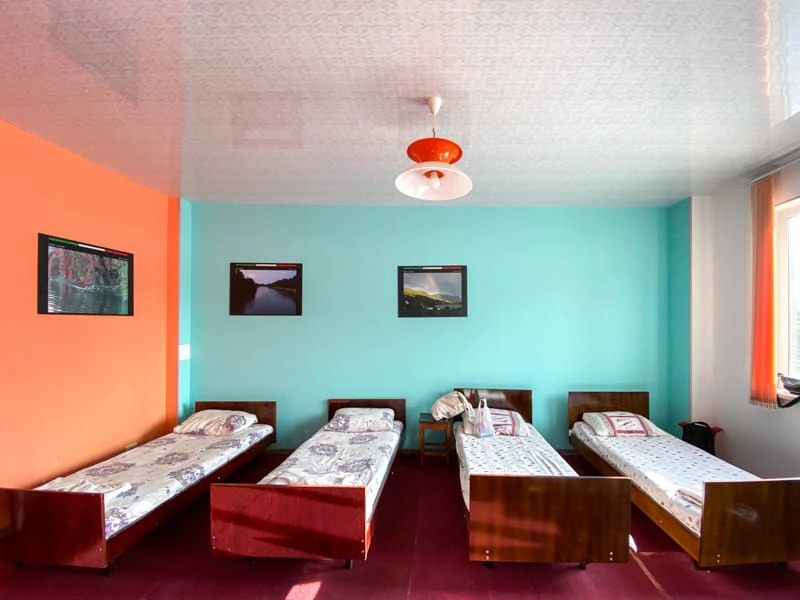 We particularly loved Lake Sevan Hostel, a family-run hostel in Sevan city that offered accommodation close to some great restaurants and the Bohem Teahouse- our favorite place in Sevan!
If you're looking for things to do in Lake Sevan, we hope you find this guide useful!
It is definitely a can't-miss place that should be on your Armenia itinerary.  Be sure to also stop in Charentsavan on the way back to Yerevan!
If you have any questions, please leave us a comment or send a message!