Located only 38 kilometers from Yerevan on the Hrazdan River is the beautiful town of Charentsavan.
This is a guide to the best things to do in Charentsavan, how to visit, and a few tips to help you plan!
About Charentsavan (Չարենցավան)
Situated in the Kotayk province, the Armenian town was initially called Lusavan before later being renamed Charentsavan in 1967.
Charentsavan was named after famous Armenian poet, Yeghishe Charents, and the town definitely takes pride in this with its many statues, museum, and more dedicated to him!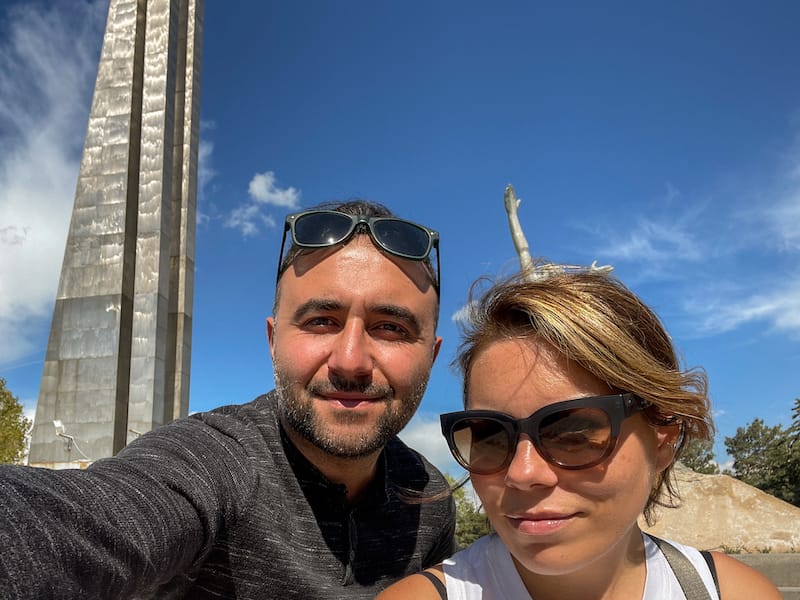 With just under 20,000 residents, the Kotayk town was traditionally known for its industry, including the famous USSR hydroelectric power plant called Gyumush.
While the town was built to accommodate factory employees, it further grew as many other industrial firms moved in.
Today, it remains an off-the-path destination in Armenia… but I think it deserves a lot more attention than it receives. It felt clean and the streets seemed rather orderly.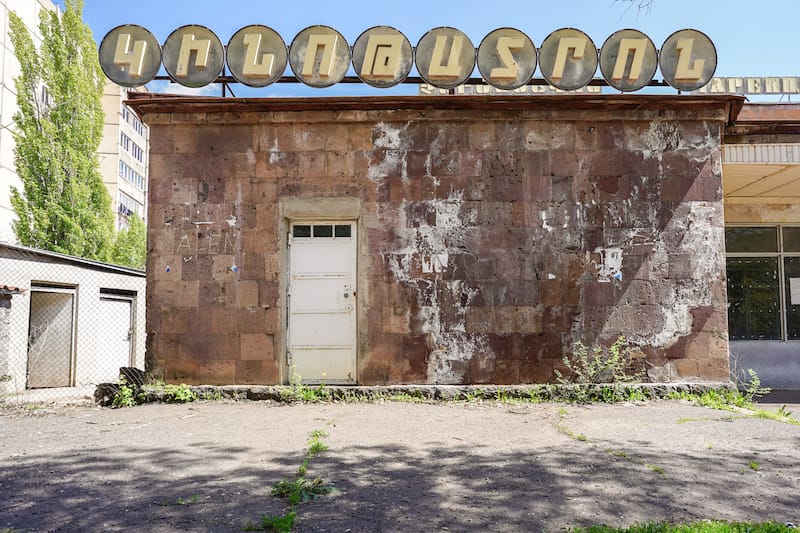 The surrounding area was green and the temperature was a bit cooler than in other places in the region.
While there is not too much to do in Charentsavan, it definitely deserves a stop if you are heading north from Yerevan!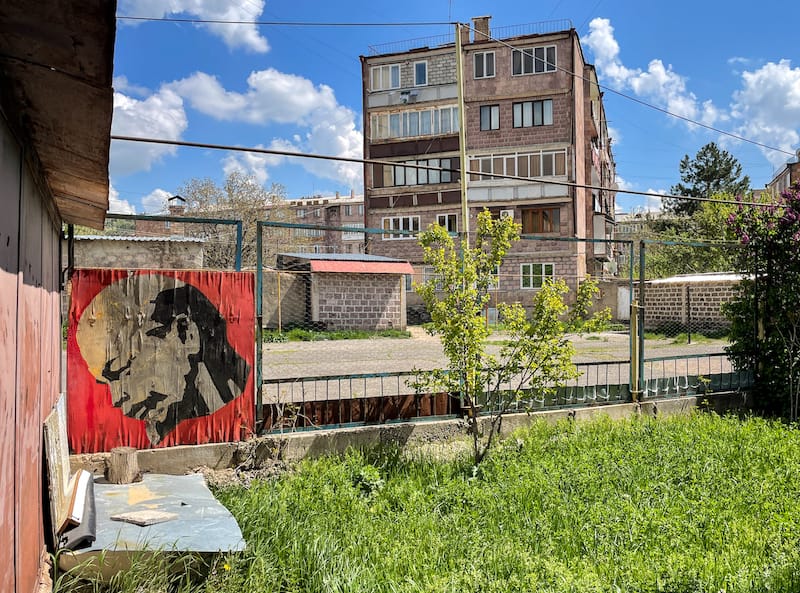 Below are some of the top things to do in Charentsavan, Armenia!
Best Things to Do in Charentsavan
Have a Coffee at BreakPoint
In Charentsavan, you will find a small coffee shop called BreakPoint and we highly encourage you to stop and grab a cup of joe from this local business!
BreakPoint offers everything from iced coffee to a hot flat white and even has a nice terrace where you can enjoy the coffee from.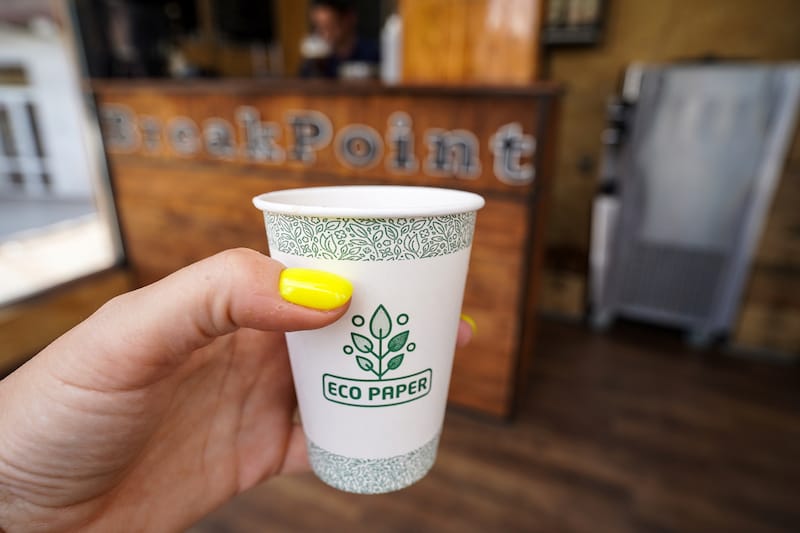 Not only does BreakPoint serve coffee, but they can also fill your ice cream needs to combat the hot summer weather!
The cafe is open from 1030-2330 daily. It can be found at the crossroads of Khanjyan, Qochar, and Proshyan Streets in the 3rd district in the city center. Click here for more.
Walk Around Karen Demirchyan Square
The most famous square in Charentsavan is called Karen Demirchyan Square. You will see the palace of culture there (with a statue of Charents in front of it!) as well as an abandoned train station and a beautiful fountain in the center of the square.
The train station is pretty derelict, but you can enter (this could change at any moment – beware!) through the door on the right side of the building.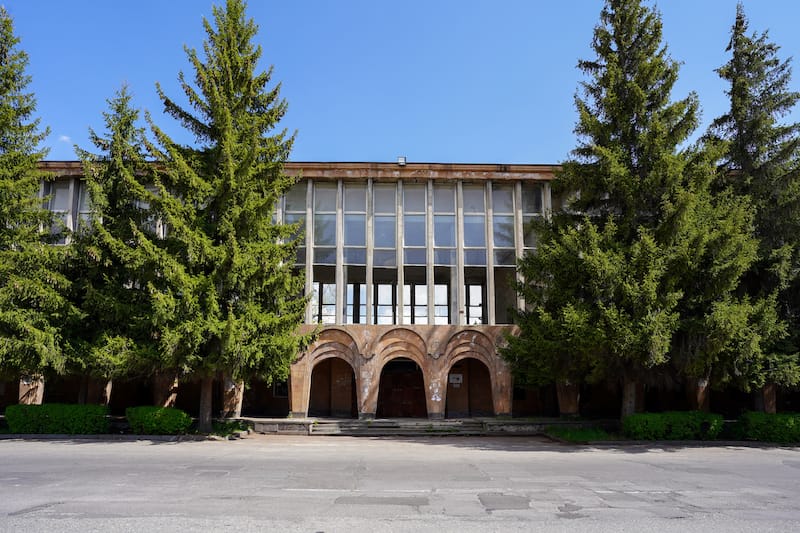 When inside, if you walk to the central foyer area, you will find some beautiful artwork on the floor as well as a circular door that is pretty original!
There isnʻt much there, but it offers a lovely view over this part of the town from the windows. I would love to see something done with this train station in the future as it truly is a masterpiece!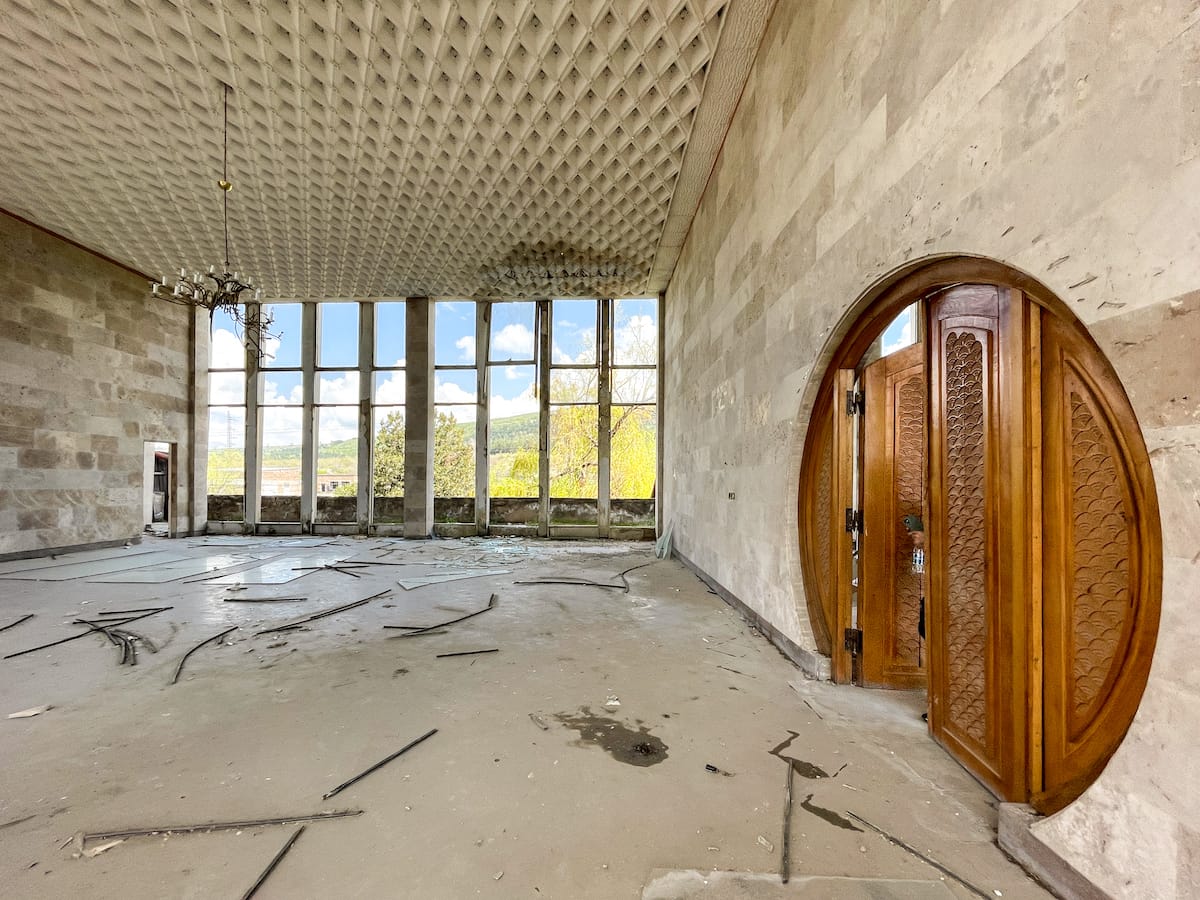 It was constructed by Arakelyan in the 1970s.
Stop by Surb Amenaprkich Church
There is only one church located in Charentsavanʻs center and it is called Surb Amenaprkich (Holy Savior Church).
This church is pretty traditional looking but it is truly beautiful and a good example of a modern church in Armenia.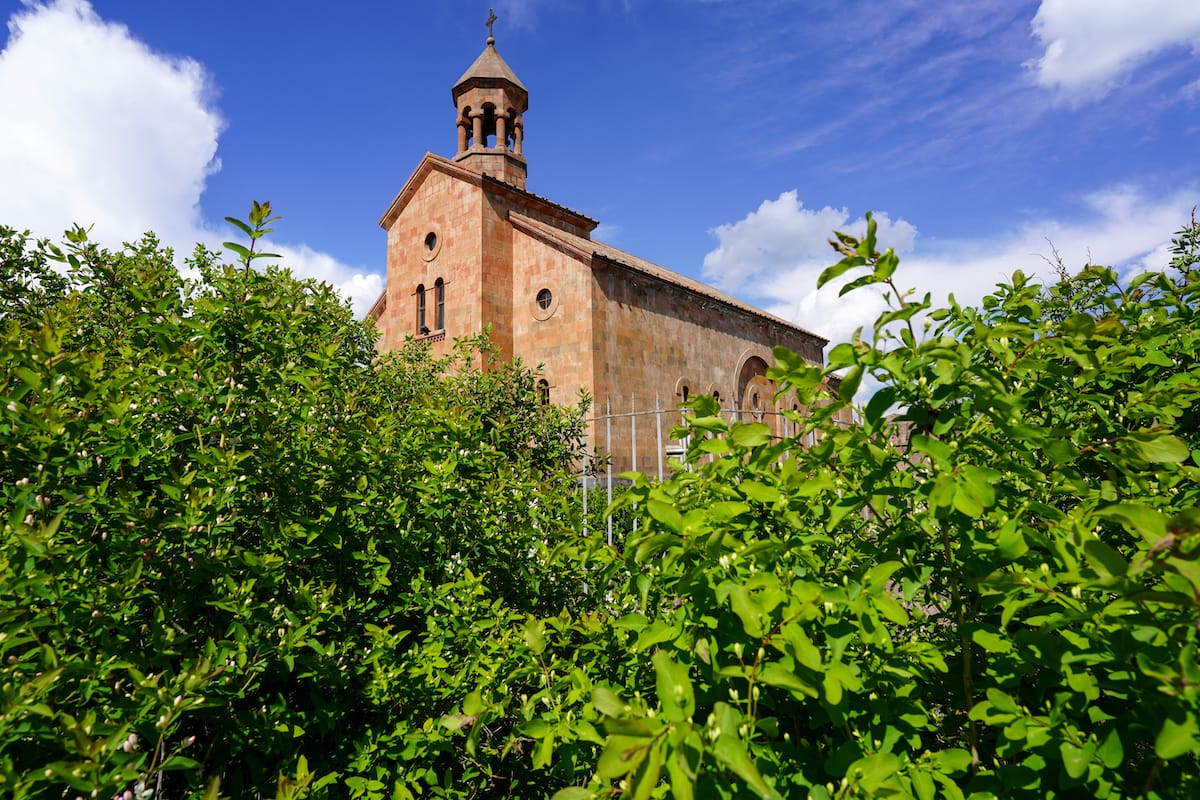 The church was opened in 2000 with assistance from the Canadian Dervishian family.
Wander about the Amusement Park
In Charentsavan, you will find a pretty decrepit amusement park in the center. While it is a somewhat sad sight, it is worth a short walk around as you can palpably feel the memories and stories that were created here by thousands throughout the years.
And… when you are in the park, you can find a Charents statue hidden in front of the (now closed) Charents Museum.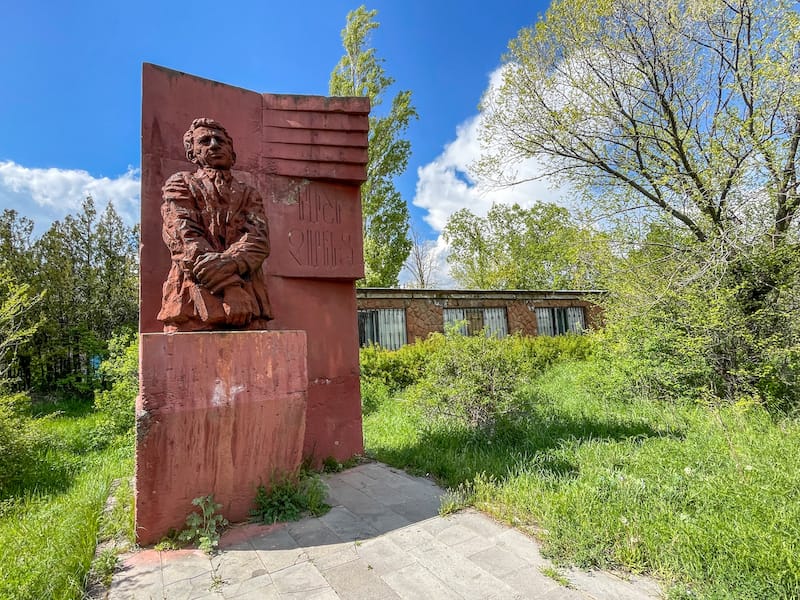 I am not sure if the museum will be reopening, but it was closed either temporarily or permanently when I was visiting.
The statue was hidden amongst overgrown weeds, but it was still a pretty cool place to check out!
Enjoy Lunch at iFood
There are not too many places to head to for a bite to eat in Charentsavan (for now…) but one place that really stood out and had some delicious options was iFood.
The options were basic, but it was definitely a good place to check out if you need a quick bite for lunch/dinner! They are open daily from 1100-2300.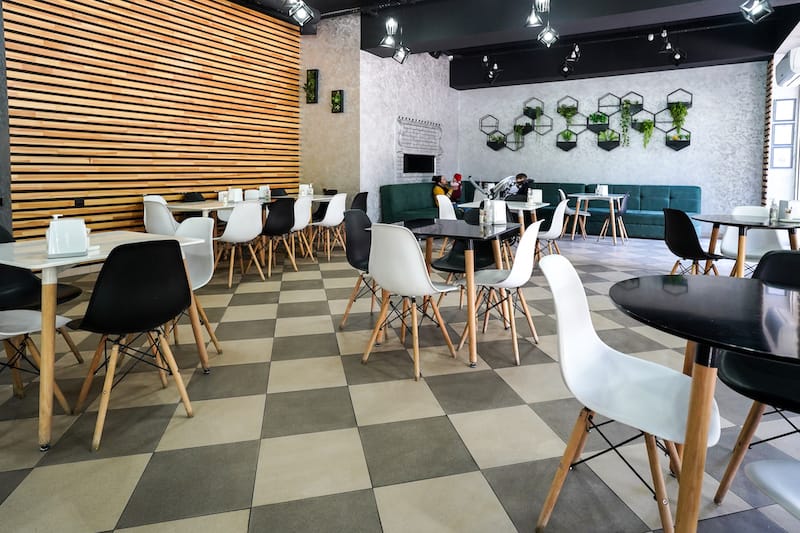 You can find them in the 6th district in building 22. Click here for more.
Stop by the Curly Boy Statue
In 1980, the Curly Boy (Veratsnund) statue was erected in an area just outside the town of Charentsavan.
It is also referred to as the Renaissance statue and it was created by architect H. Arakelyan and sculptor Khachik Mirijanyan.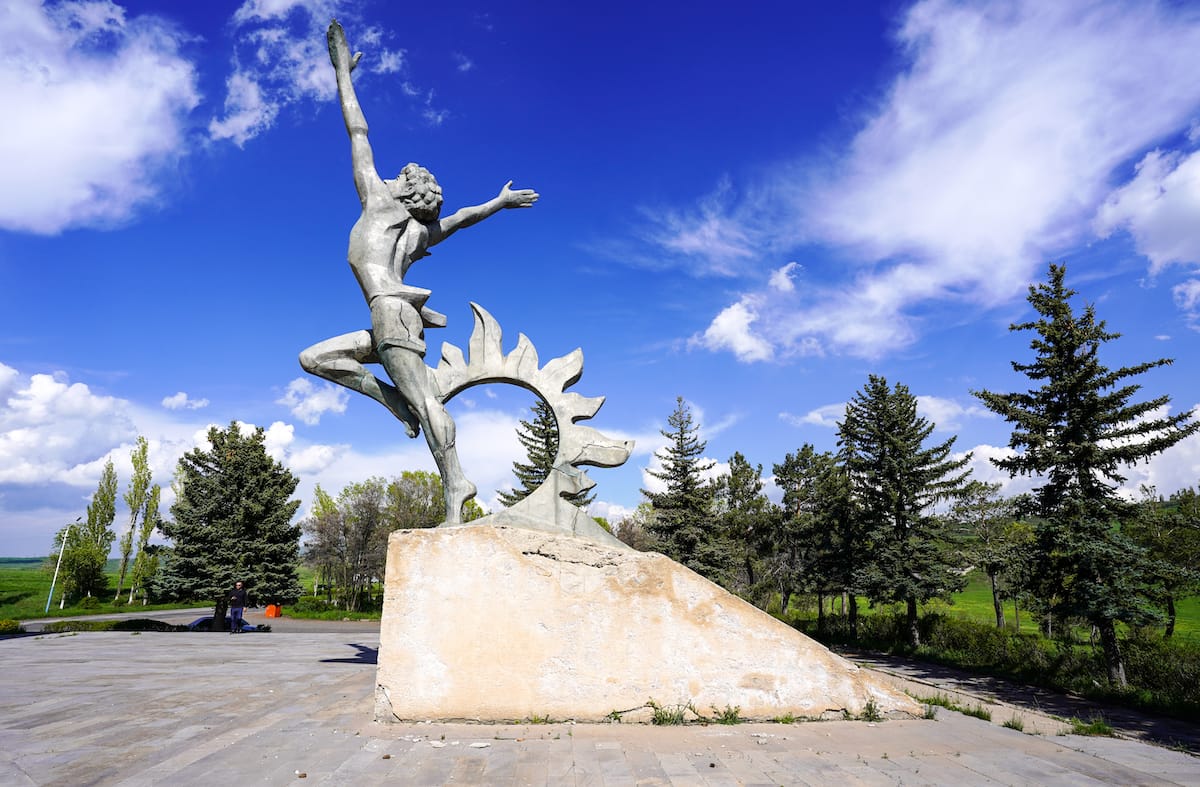 The area is quite impressive and, to be honest, was a nice welcome to the city! The statue was inspired by a character from a poem by Charents.
Take a Quick Road Trip to Argel
Not too far from Charentsavan is the small village of Argel (Արգել). While there is truly not much to do here, the road to the village is anything but boring!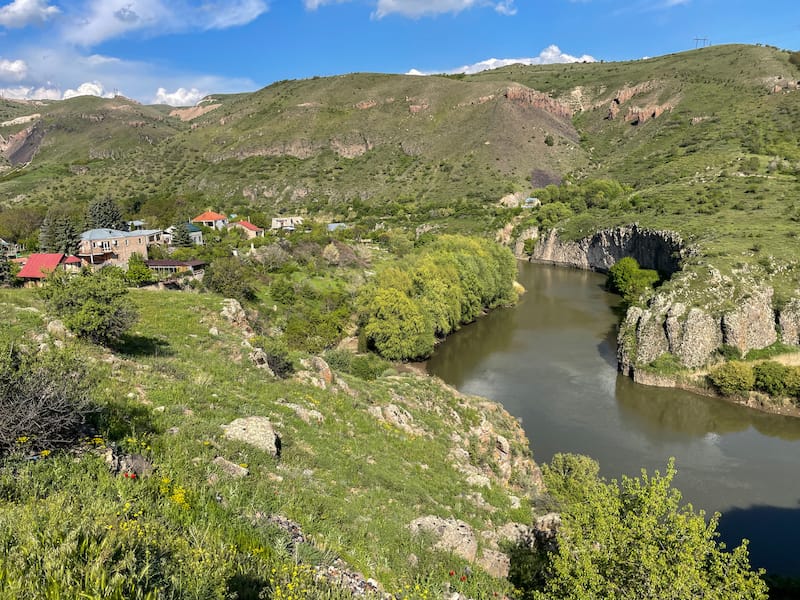 Aram had previously explored this area with our friend Raffi and decided to drive me that way to see it for myself. Along the way, we saw basalt columns, a gorge with dramatic cliffs along the river, and a few other places.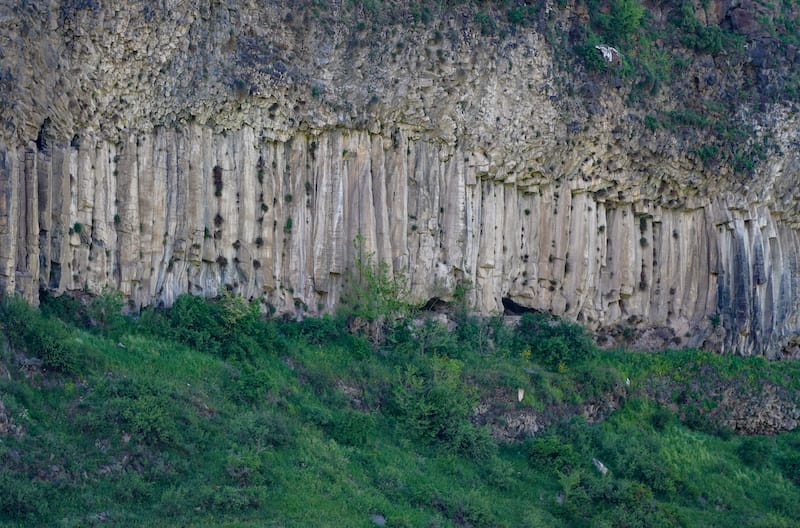 In Argel itself, you can stop by the S. Gevorg Church (1890), the Christian Armenia memorial, and more!
Some other noteworthy places near (or on the way… depending on your route!) Charentsavan are Bjni (on the way toward Yerevan) and Gagarin (up near Lake Sevan).
How to Get to Charentsavan
Getting to Charentsavan is fairly easy from Yerevan. You can either take a personal car there (easiest way… and my recommendation as you can explore the surrounding area), a taxi, or a marshrutka.
A taxi from Yerevan will cost you anywhere from 4100 AMD – 5000 AMD, one-way. It will be able a 50-minute drive from the center of Yerevan, depending on the traffic exiting the city!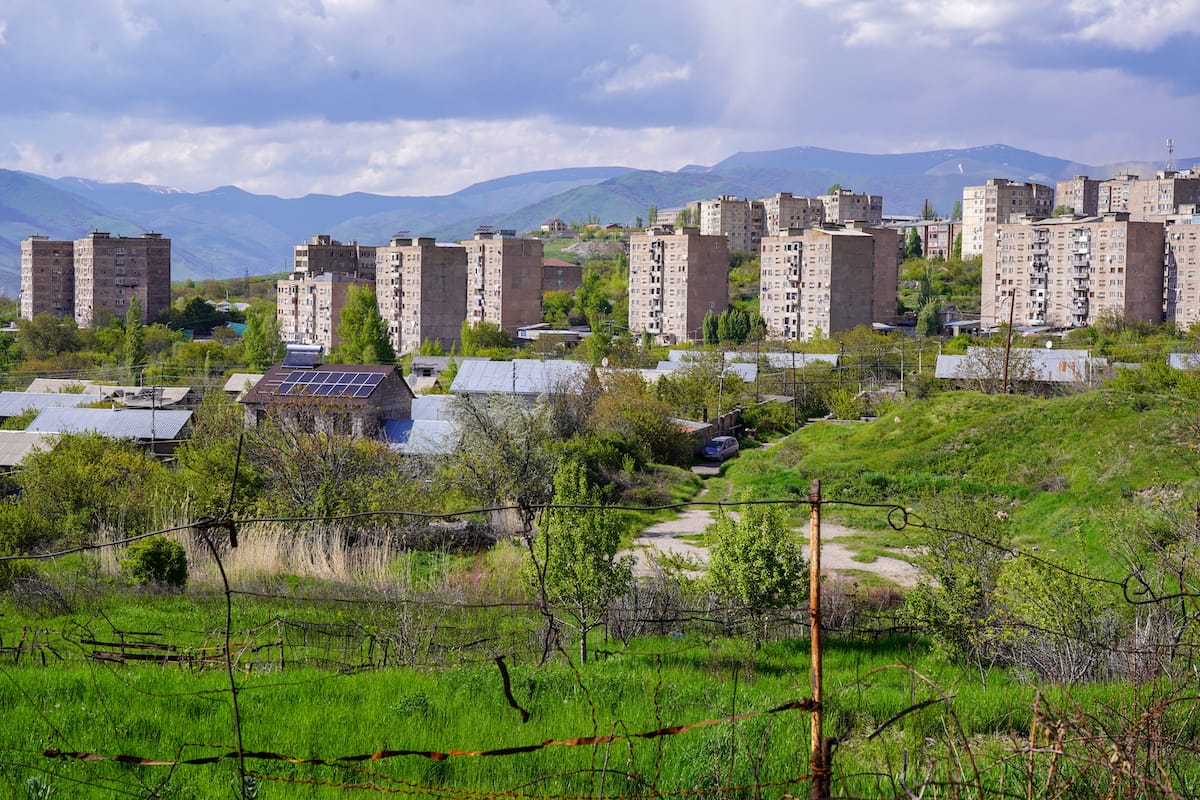 If you are keen to take a marshrutka, there are a few options but one requires some changes… so we recommend getting to the Northern Bus Station (Heratsi Street) and taking bus 275 to Charentsavan (Չարենցավան).
You can alternatively take this marshrutka from its starting point near the Yeritasardakan Metro Station, but I have never done this, personally. It will take a little over an hour to reach your destination.
Buses leave hourly (sometimes more than once an hour) from 0845 until 2100 from the Northern Bus Station. Ticket prices are around 100-150 AMD.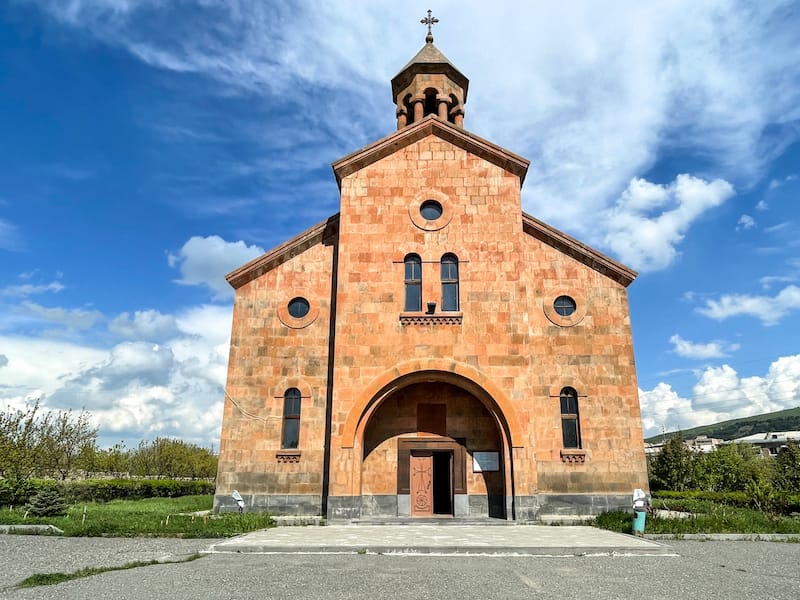 Where to Stay in Charentsavan
You wonʻt be spoiled for choice of accommodation in Charentsavan (it is pretty much void of such now), and many will visit as a day trip, but if you are looking to stay nearby, you can opt for a place in Bjni or Tsaghkadzor.
Have you ever been to Charentsavan? Let us know your favorite things to do in Charentsavan in the comments. Thanks!
Places to Visit Close to Charentsavan