There is so much more to Areni than just wine (okay, but the wine is pretty awesome too)!
This is a guide to the best things to do in Areni village, including some of our favorite cultural experiences, wineries, and locations worth visiting nearby!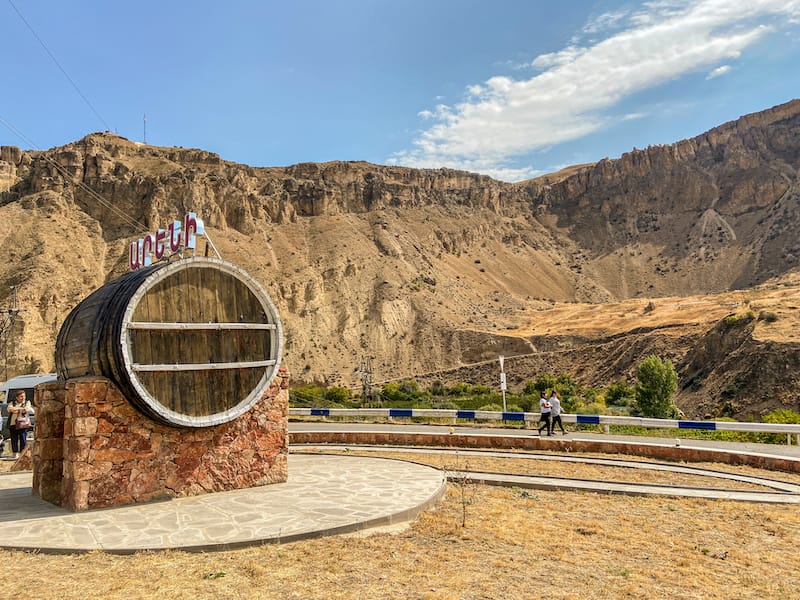 Armenians have known about the importance of Areni for centuries, but foreigners are only starting to pay attention to the area and we definitely think it is on the brink of something major!
Do you have any tips for what to do in Areni? Let us know in the comments!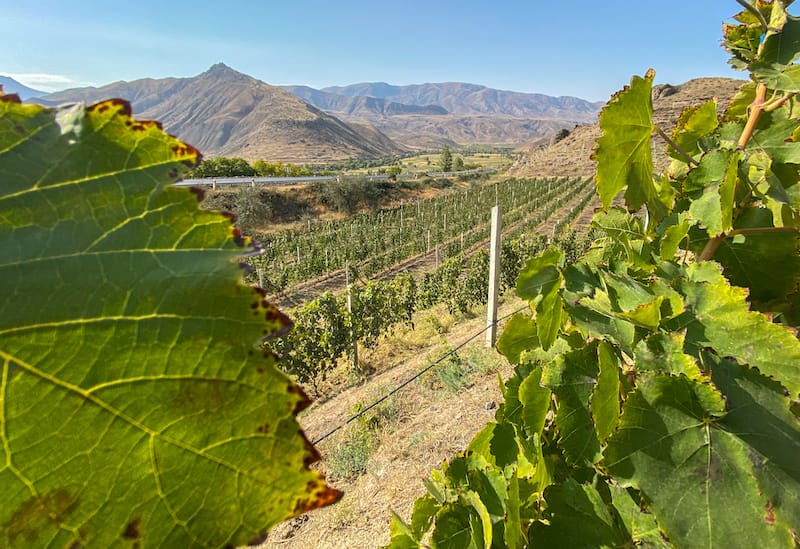 Best Things to Do in Areni (& Nearby)
Arhestanots Studio
Not only famous for its wine, Areni has some really cool attractions and experiences within the village! In 2019, a hidden art center called Arhestanots (Արհեստանոց) was opened by founder Arpine Matevosyan.
She is originally from Areni but after moving to study and work in Yerevan for years, she decided to relocate back and develop her community even further. Arhestanots is an art center that helps little kids channel their inner creativity.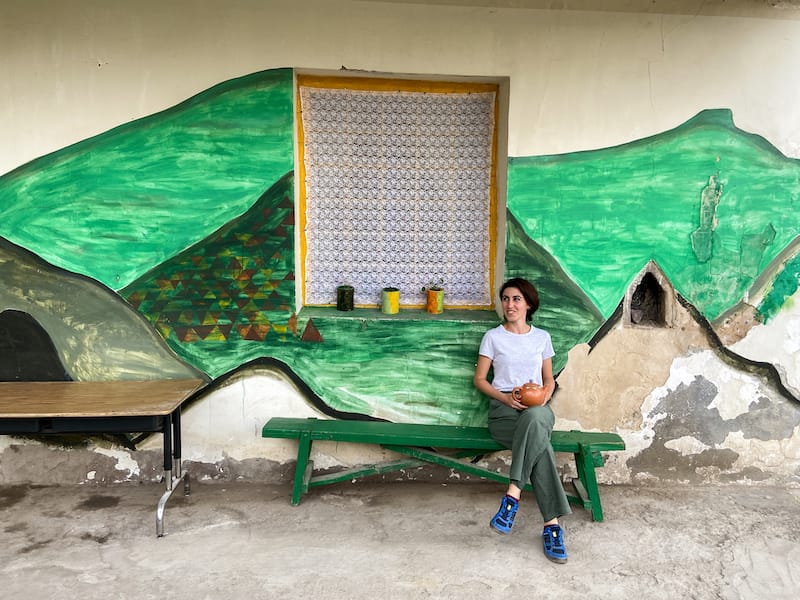 If you're passing through Areni, it is a great place to check out because they offer masterclasses with clay!
You can learn pottery and the art surrounding clay and you will do so in the basement of this cultural house that is in a historic building. Even the outside of the structure has khachkars built within it!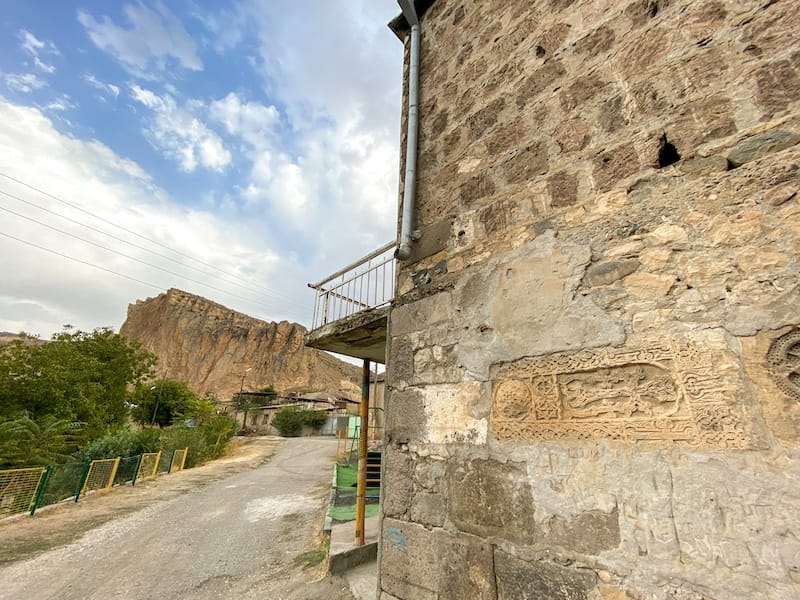 This is truly a fantastic place to get your hands a little dirty and prepare a beautiful souvenir to bring home (while supporting a local business). 
Wineries in Areni (along the Vayots Dzor Wine Route)
Throughout Vayots Dzor, you will find one epic initiative called the Vayots Dzor Wine Route. This wine route currently consists of six awesome wineries, a few of which we have included in this guide.
The six wineries that are part of the Vayots Dzor Wine Route are Momik, Hin Areni, Trinity Canyon, Old Bridge, Areni Wine Factory, and Getnatoun. Click here to view more about the Vayots Dzor Wine Route.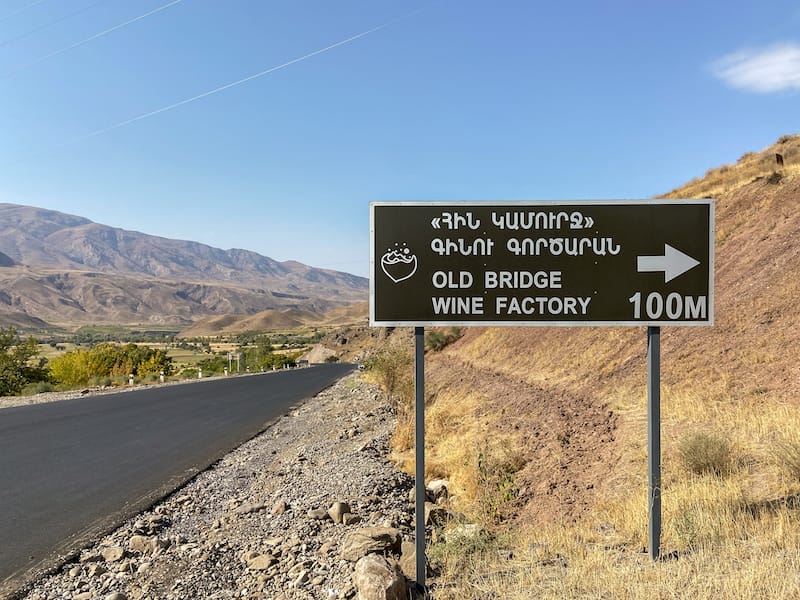 You can see some information about a few of the stops on the route below!
Old Bridge Winery
Located along the highway surrounded by a colorful array of landscapes is Old Bridge Winery, a small winery located about 7-8 kilometers away from Areni village near Yeghegnadzor. It is part of the Vayots Dzor Wine Route.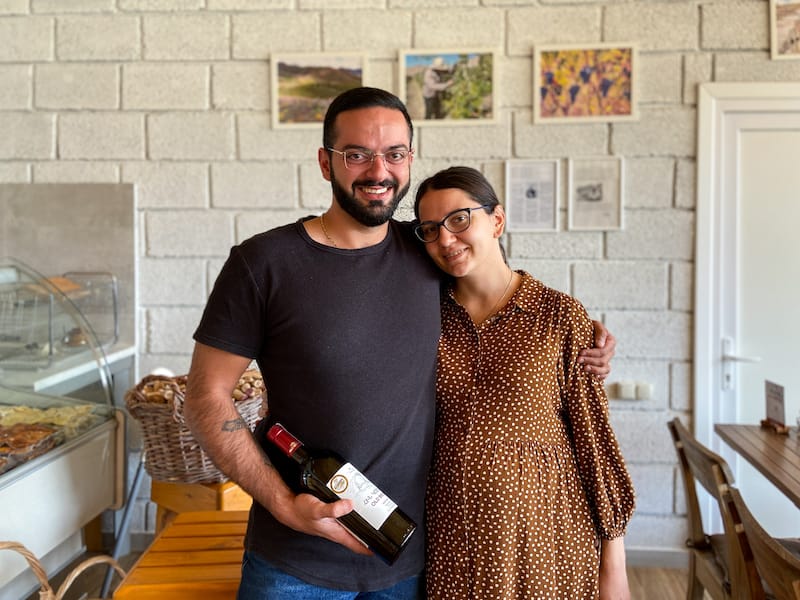 Inside the winery, you will get a chance to meet a lovely couple named Musho and Lusine who run the place. They greeted me and took me to a relaxing, green terrace where I got to enjoy a wonderful glass of wine sourced from their 9,000 bottles produced annually. 
Musho has given new life to the family-owned winery which was founded by his father in 1998. He studied abroad in Sweden and his travels and life there inspired the 2018 birth of the cafe and degustation inside of the Vayots Dzor winery.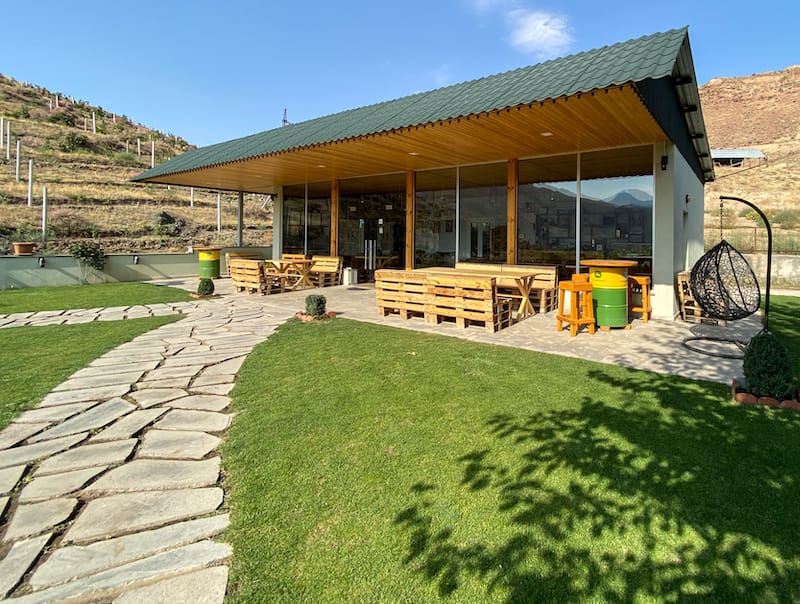 Old Bridge Winery was such a unique place to me and was one unforgettable experience! PS: They also have a B&B there!
Trinity Canyon Vineyards
Winemaking is a complete science (and art) at Trinity Canyon Vineyards, one of the best places to visit in Areni.
The place is run by specialists, including chief winemaker Artem Parseghyan who studied in Montpellier. I had the chance to meet him when I was there and he is ready to teach you all about his passion and his job!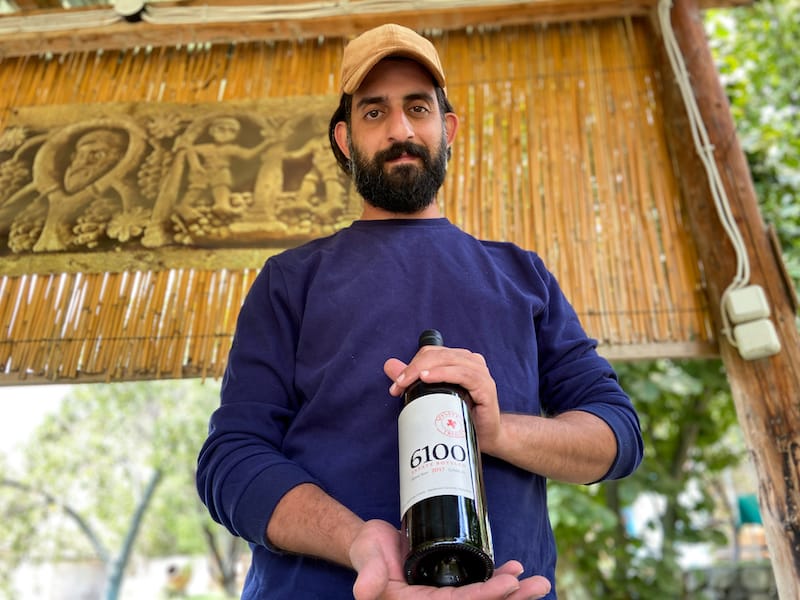 While it is not situated directly in Areni village, Trinity Canyon is located nearby in between Areni and Yeghegnadzor and they take quality wine over mass quantities of the stuff any day.
Artem told me they work with only the best Armenian grapes such as Areni Noir and Kharji to produce their products, which also include eco-friendly wines.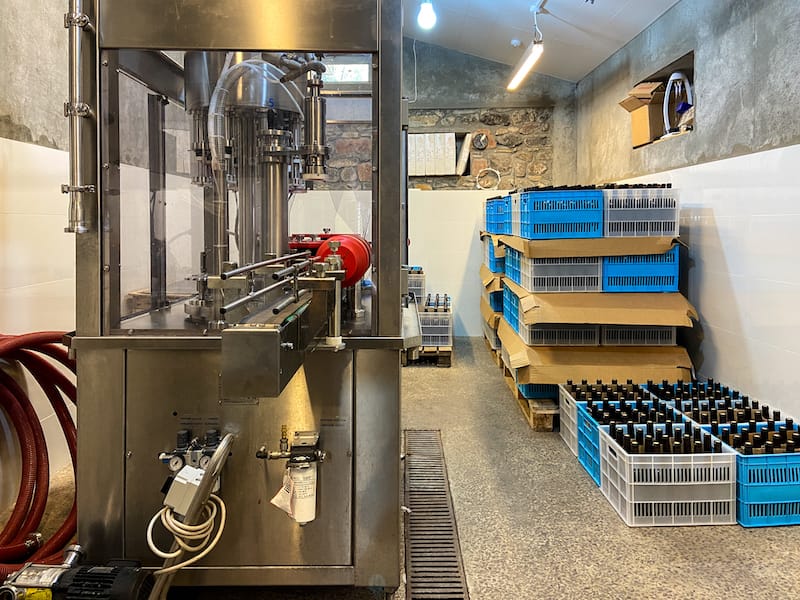 During your visit, you will be able to enjoy a wine tasting with many of their wines as well as the chance to get familiar with the process of winemaking, the history of the region, and simply just relax in their beautiful vineyards.
Momik Wines
Momik Wines is becoming one of the most recognizable names in wine in Armenia – largely due to the entire experience surrounding visiting their winery!
Momik has an area called the Momik Winecube which is one of the most interesting places I have had the chance to visit! The Winecube was part of a project in collaboration with ONEArmenia and it is an area where you can have a tasting and full-on experience.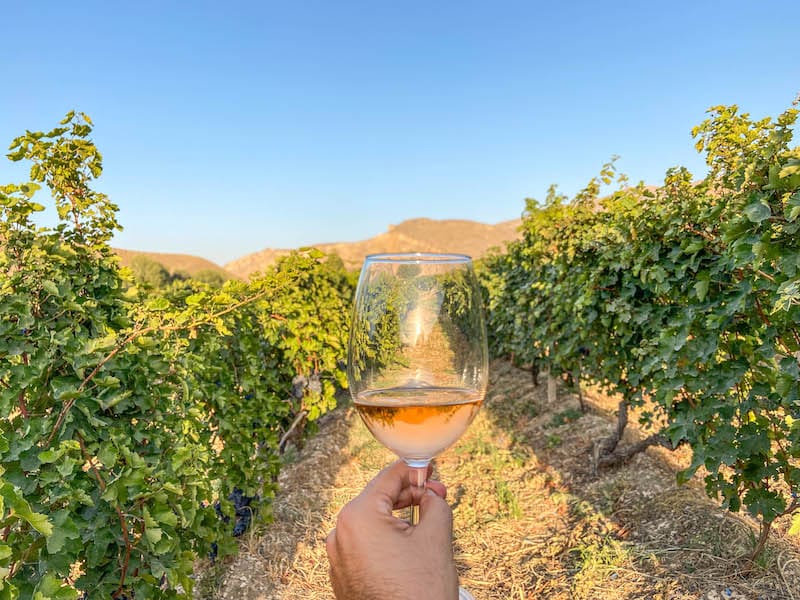 Run by Nver and Narine, the winery also sits in one of the most aesthetically beautiful places I have visited in Armenia. I can not think of any experience that felt more 'Vayots Dzor' than my evening visiting the winery.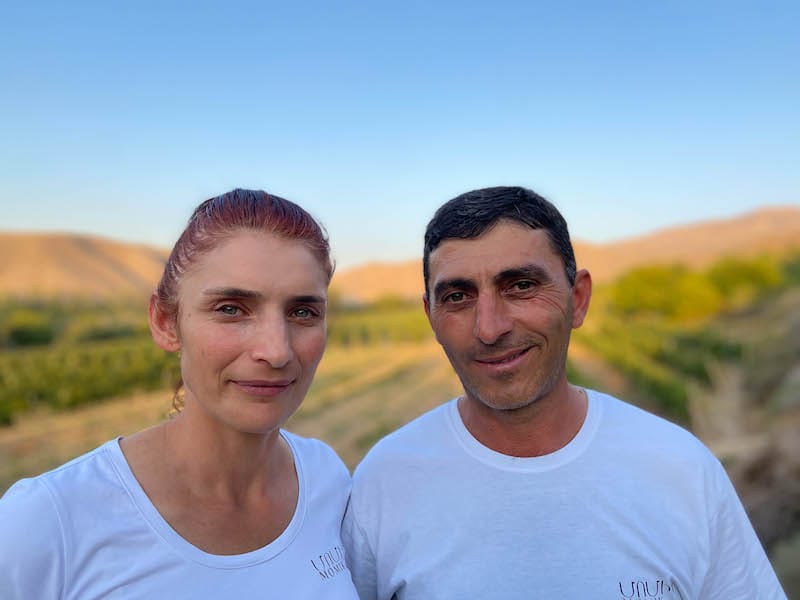 Nver's family has been growing grapes in the region for 40 years and the wines are a top-quality result of their excellence. This is definitely a fantastic winery to add to your itinerary for Armenia.
Areni Wine Factory
One of the most famous names in wine in Armenia is the Areni Wine Factory. For years, tours have gone through this Areni winery and many people who have visited Armenia have made the stop in and learned about the region's favorite drink.
In fact, on Megan's first trip to Armenia, she went there and even purchased some wine to take back to Yerevan from Areni Wine Factory.
The Areni Wine Factory opened its doors in 1994 and it has, over the years, transformed into one of the most popular and recognizable names in wine in Areni. Annually, over 30,000 people pass through their doors and tasted their wines!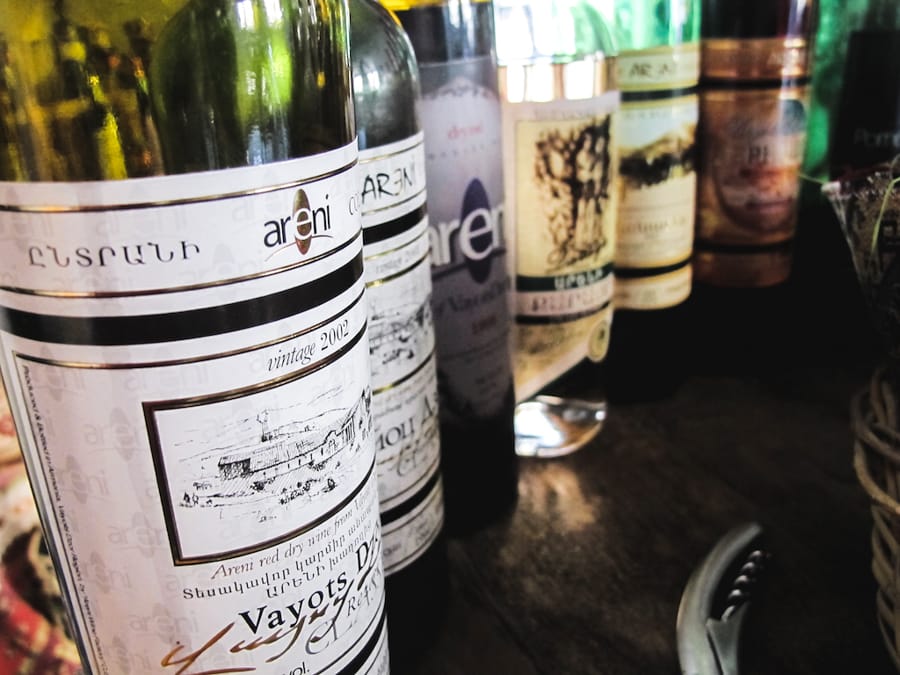 The family-owned business offers a selection of fruit wines (including Armenian pomegranate wine), souvenirs, and even tours through the cellar where you can learn more about the process in its entirety.
And, you can even arrange a lavash-making workshop if you reserve in advance!
Noravank Monastery
Noravank Monastery, a jewel of Armenian medieval architecture, is located 10 kilometers south of Areni village in the Vayots Dzor region.
The picturesque monastery was built above the Amaghu River in a small winding gorge, adding to the scenic views. Noravank was founded in 1105 by Bishop Hovhannes and became a spiritual and educational center thanks to the Orbelian family.
St. Karapet, St. Stepanos, the Precursor, and the Holy Mother of God are among the chapels and churches that make up the Noravank Monastery complex. St. Karapet, the first church, was built between 1216 and 1223.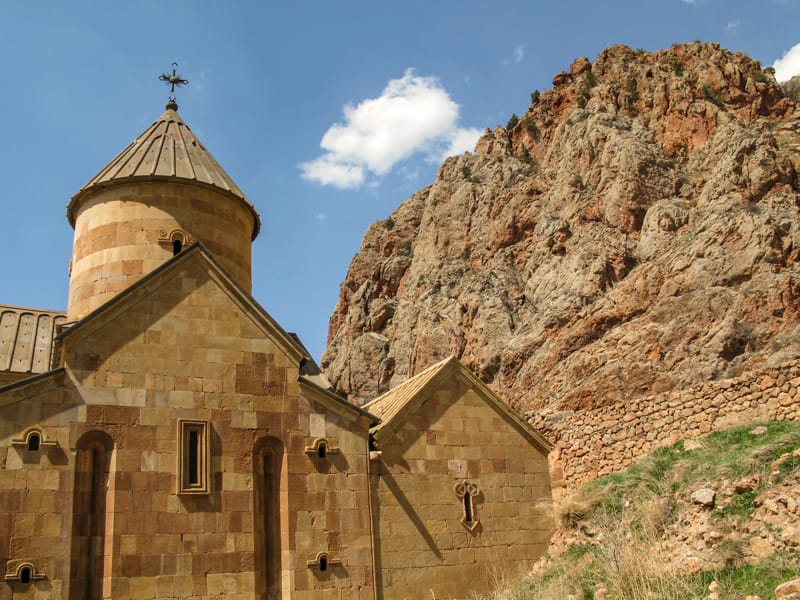 There are numerous decorative ornaments as well as deep niches with khachkars in and around the churches.
The Holy Mother of God church, which is fancier because it honors Prince Burtel Orbelian, is the most impressive structure in the complex. Climbing the two-story church's tiny stairway is needed to access; yet, it is well worth the effort.
AR Areni
Right next to the entrance of Areni village on the side of the road, you will find Ar Areni Restaurant, a lovely place founded by Gevorg Grigoryan and his wife Svetlana Khachatryan.
The family-owned facility is not only a restaurant, but it is also a cozy garden and a small winery where Gevorg produces his own wine and stores it underground in his cellar.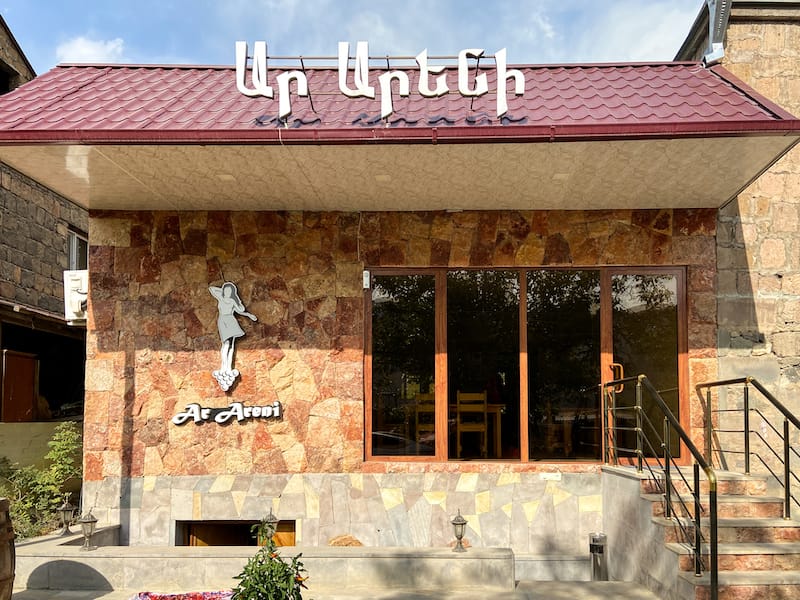 The beginnings of Ar Areni were humble and production started because the local wineries wouldn't take their grapes… so they decided to use the high-quality grapes they grew for their own wines and to share them with those passing through and with locals.
It eventually spawned into something a lot larger and now, they even offer experiences at the place!
You can book a cooking class with Svetlana where you will get to learn to make tolma and river fish… two dishes that pair so perfectly with a glass of their wine!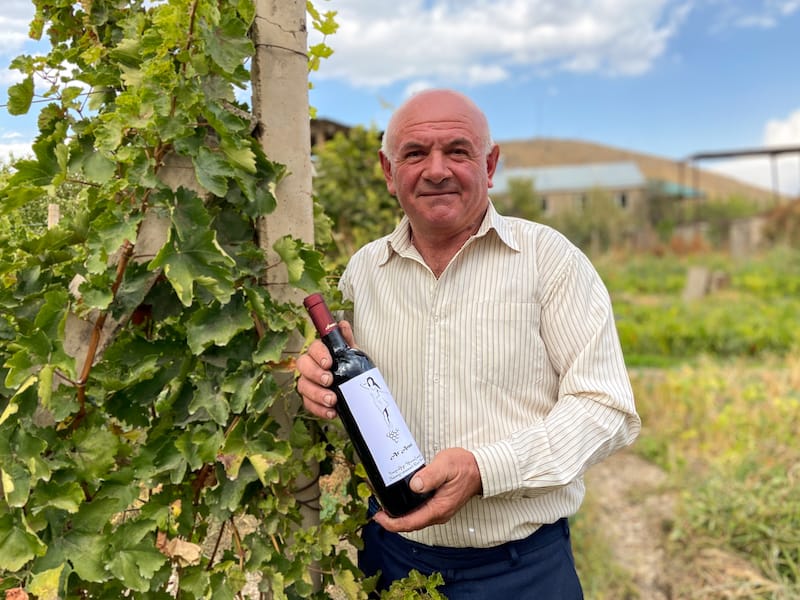 I had an absolutely wonderful time visiting Ar Areni Restaurant and getting to taste their delicious food, try their wine, and learn more about what they do.
It turns out, they are planning to produce his first branded wines in the near future so that is definitely something to visit Areni for! 
Areni-1 Cave
Areni-1 Cave, located in the Vayots Dzor region, offers proof of Armenia's inhibition since ancient times. The cave is thought to have been built between 5000 and 4000 BCE during the Copper or Chalcolithic age.
Archaeologists discovered a series of clay pots holding the skulls of pre-teen corpses dating from 5000-4000BCE after excavations. One of them, in particular, has remarkably well-preserved brain tissue, making it the earliest Neolithic brain ever discovered.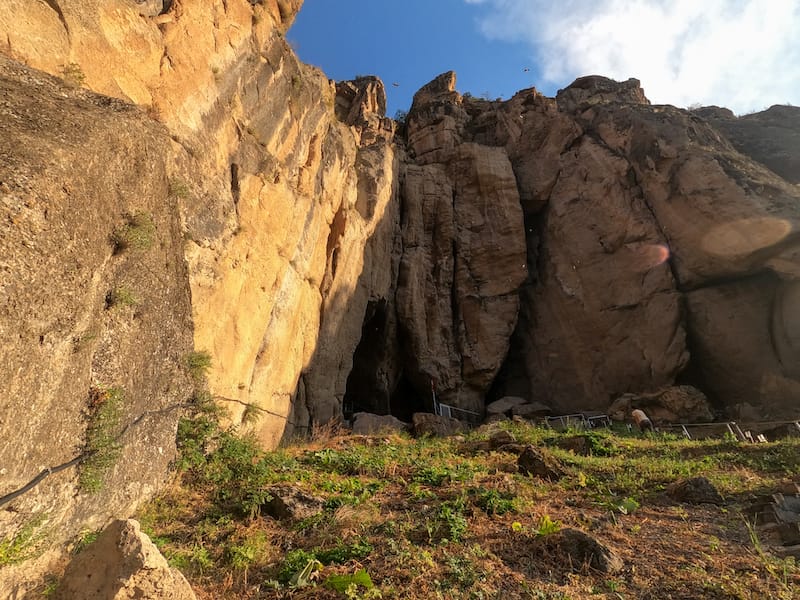 Sewn leather shoes going back to the Copper Age have also been discovered in Areni-1 Cave, making them the earliest example of their kind.
As if that wasn't enough, prehistoric people also built the world's oldest known winery, which is the earliest proof of winemaking, in that same cave.
Later, archaeologists theorized that wine was most likely made by treading barefoot on grapes. As a result, there was a left-over shoe.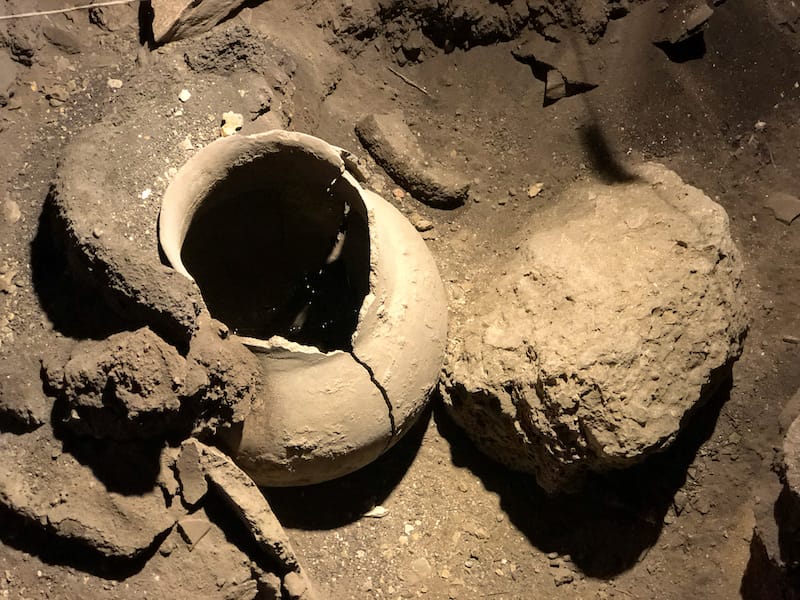 Holy Mother of God Church
Surb Astvatsin of Areni (literally "Holy Mother of God Church") is a single-nave two-aisled domed church that was completed in 1321. It is located in the Vayots Dzor Province, above the Arpa River and the village of Areni.
This church was built by Bishop Hovhannes, who also supervised the construction of the nearby Noravank Monastery. The church was designed by Momik, an architect and miniaturist, and it is one of Armenia's most beautifully proportioned churches.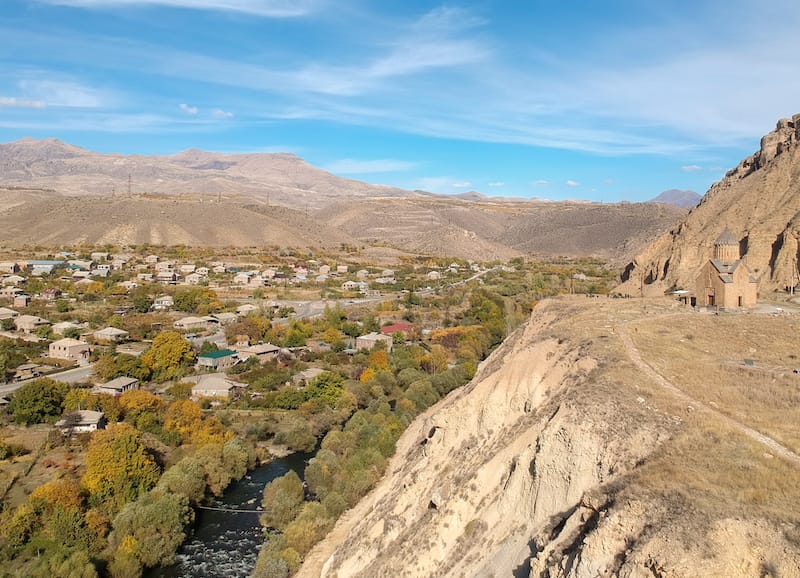 The church's architectural design is unusual, with small and upward buildings that force you to look up every time. Unfortunately, the earthquake in 1840 caused several elements of the church to collapse.
The church's walls and roof were renovated between 1967 and 1972. In addition, Artashes Tyuzmechyan voluntarily renovated the church dome in 1998, restoring it to its initial appearance.
Areni Wine Festival
One of the best reasons to visit Areni is to go to the annual Areni Wine Festival that takes place every October at the beginning of the month. Each year, hundreds of local winemakers gather in the ancient village to celebrate Armenia's famous beverage!
Surrounded by red-colored landscapes, you will have a chance to enjoy homemade wines as well as wine from large wineries not only in Armenia, but also from other parts of the country.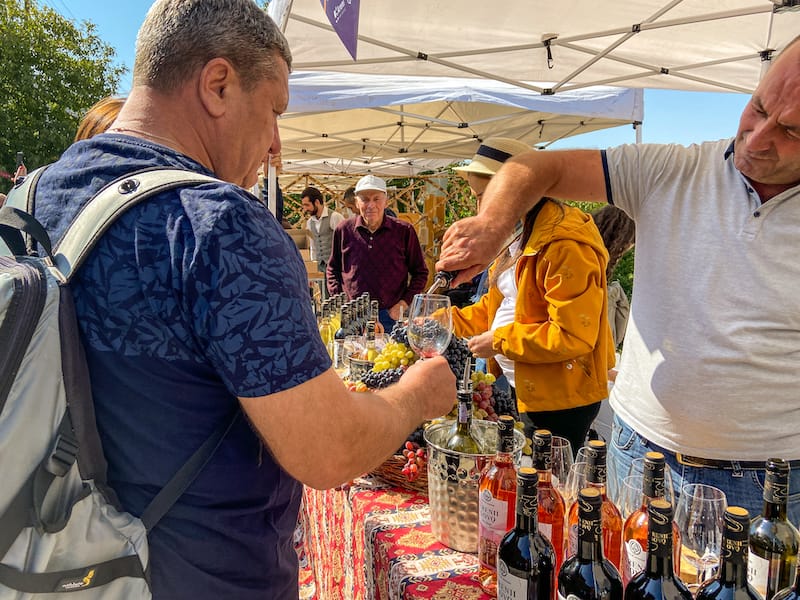 There is food, dancing, music, and so much more at this autumn celebration. This is definitely one of the coolest things to do in Areni and reason alone to make the trip to the village!
You can read more about the Areni Wine Festival in our linked guide!
Arpa Protected Landscape
One of my favorite experiences in Armenia was my trip through Arpa Protected Landscape in the Vayots Dzor region.
This protected 6000 hectares of land contains an abundance of wildlife, including bezoar goats! There are also 900 species of flora and 525 species of fauna (and a lot of it is endangered).
When there, you can take a safari tour of the area to witness its rawness just as I did and it was truly one of the most incredible experiences.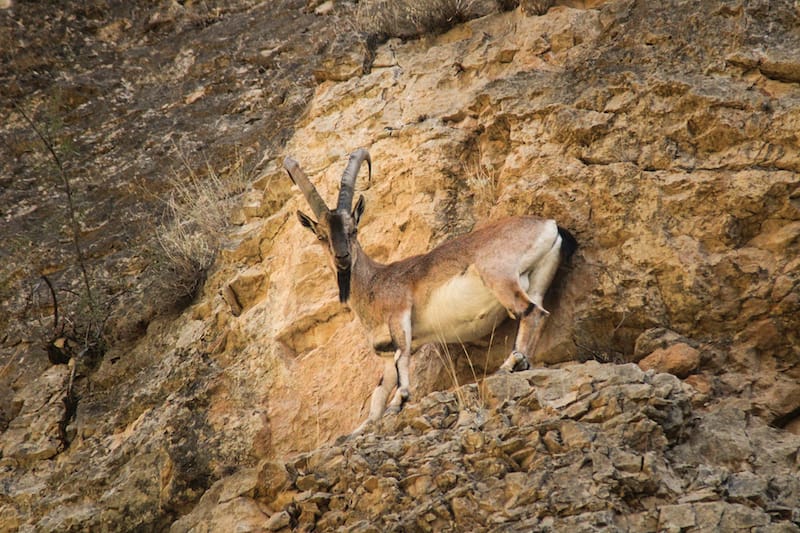 The pickups are in Yeghegnadzor and Areni both, so this is one of the best things to do in Areni for nature lovers and those looking to escape the wineries for a bit!
In addition to a safari tour, you can hike along one of HIKEArmenia's prolific trails (Bezoar Goat Trail and Chukar Trail are fabulous options) that take you through the landscapes and to Noravank Monastery.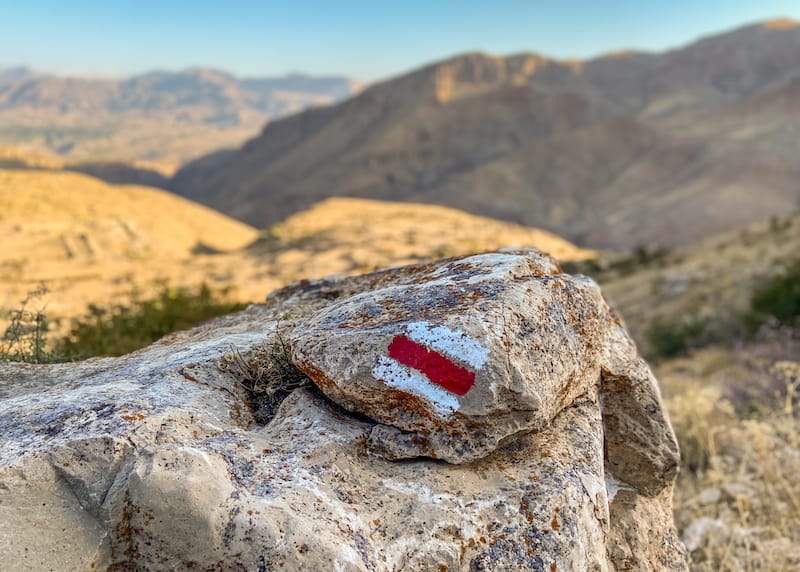 Mozrov Cave
Mozrov Cave, one of Armenia's most beautiful and distinctive caves, is located in the southern part of Vayots Dzor Province.
The cave is a true gift from nature, and it is well worth visiting; however, keep in mind that it is very raw, and you should enter with a guide if you have no prior experience.
The cave was discovered 30 years ago while building work was being done in Mozrov village. As a result, it was given that name. The cave is divided into three large halls that are connected by narrow corridors.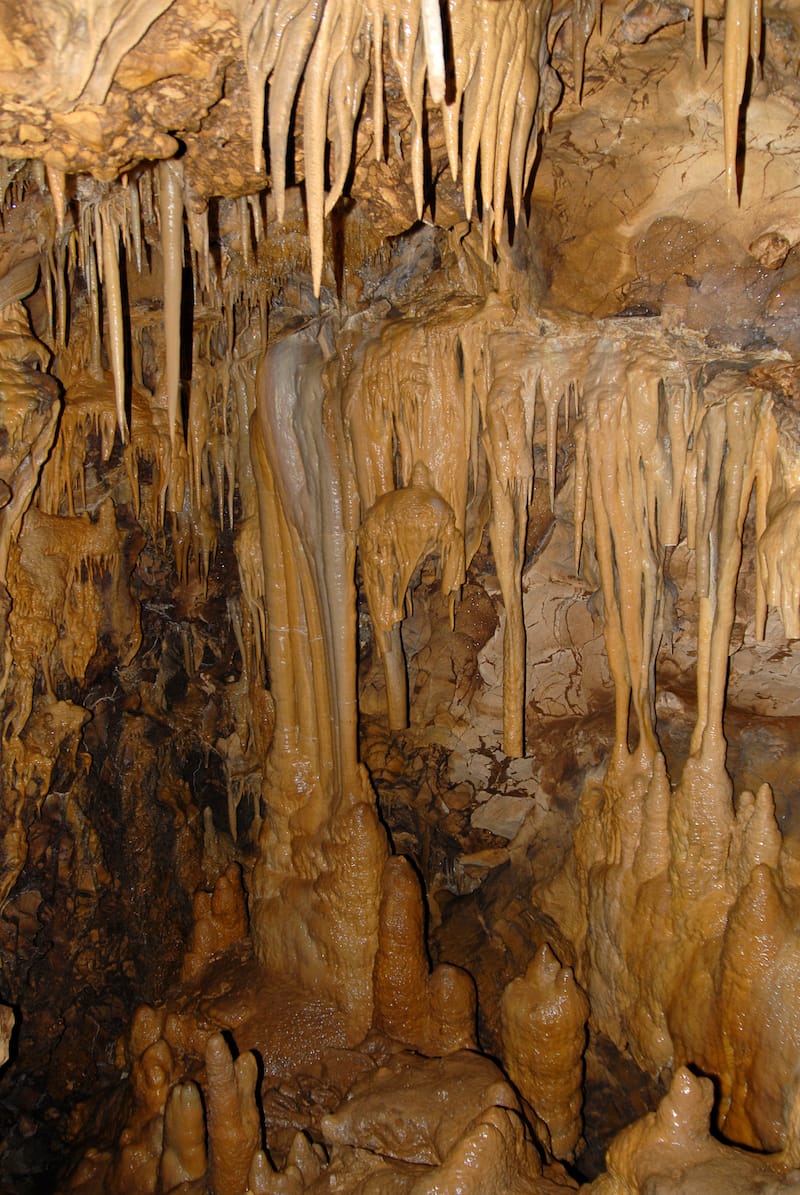 The 700-meter cave also features one of the largest collections of golden and yellow stalactites and stalagmites.
When limestone came into contact with the rich carbon dioxide contained in underground mineral water springs, the cave took tens of thousands of years to form.
>> Click here to book a trip to the Mozrov Cave from Yerevan
Where to Stay in Areni
There are so many places to stay nearby, but we have selected two of the best places to stay in Areni village for this guide (if you are not staying in the village, definitely consider Yeghegnadzor as an option!)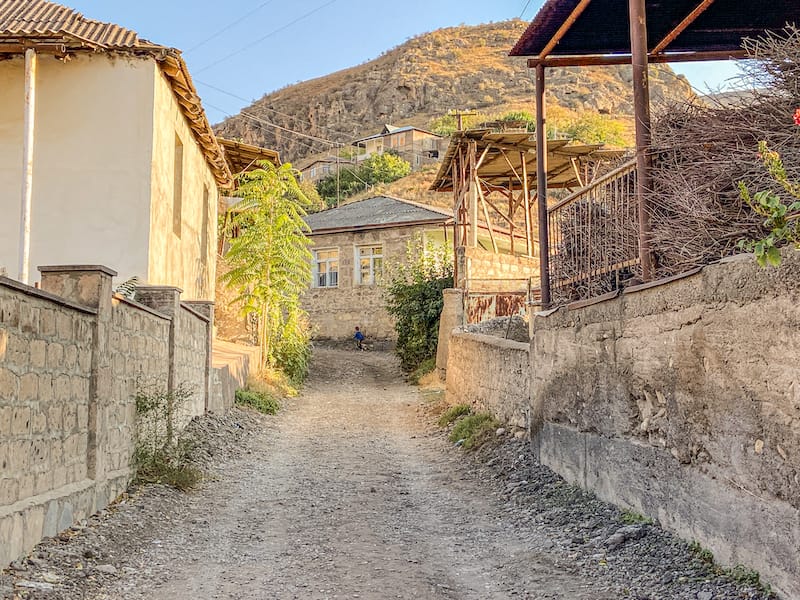 What are your favorite things to do in Areni? Leave us a message and let us know! Thanks!
More Vayots Dzor Travel Guides
**This article was produced with the support of My Armenia, a program funded by the United States Agency for International Development (USAID) and implemented by the Smithsonian Institution. The contents are the sole responsibility of the authors and do not necessarily reflect the views of USAID, the Smithsonian Institution, or the United States Government.