I recently had a chance to visit Old Martiros village and stay at the local guesthouse of the same name and my mind was just transported to a different era and one that makes me want to tell everyone to go and visit this place!
This post recaps my experience at the Old Martiros Guesthouse, an experience making the region's famous 'buried cheese', as well as my time learning about the local delicacy 'karshmapur'.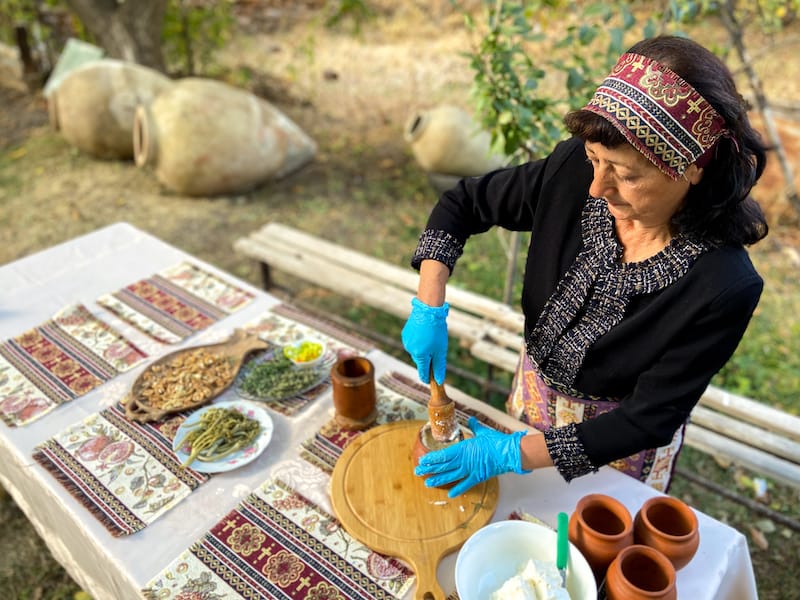 It is blowing my mind how many things there are to do in Vayots Dzor that I didn't realize even existed until recently. This guesthouse is also an epic place to stay when you are completing the Old Martiros Loop Trail and Old Martiros Waterfall Trail hikes.
We discuss my time on the trail with guesthouse owner, Hamlet, in another post but this post is all about FOOD!  And the amazing guesthouse that you can call home for a night (or many)!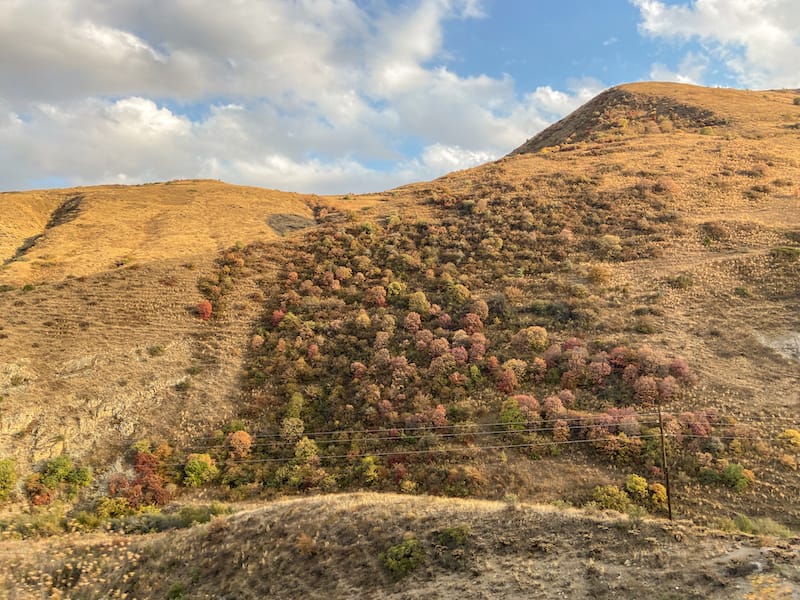 I really encourage everyone to explore this province deeply and get to know its people and history! It will blow your mind the same way it did mine!
Old Martiros Guesthouse
Meet Hamlet and Gohar
The owners are Hamlet Yeghiadzaryan and Gohar Babayan. The lovely husband-wife team opened the guesthouse in the home that was built by Hamlet's father in 1960.
Old Martiros Guesthouse is situated in the village of the same name, a village that was left mostly abandoned in the 1980s due to the threat of landslides… but 10-20 families still remain there.
Most residents fled to either Yeghegnadzor or New Martiros village. Gohar is from Yeghegnadzor.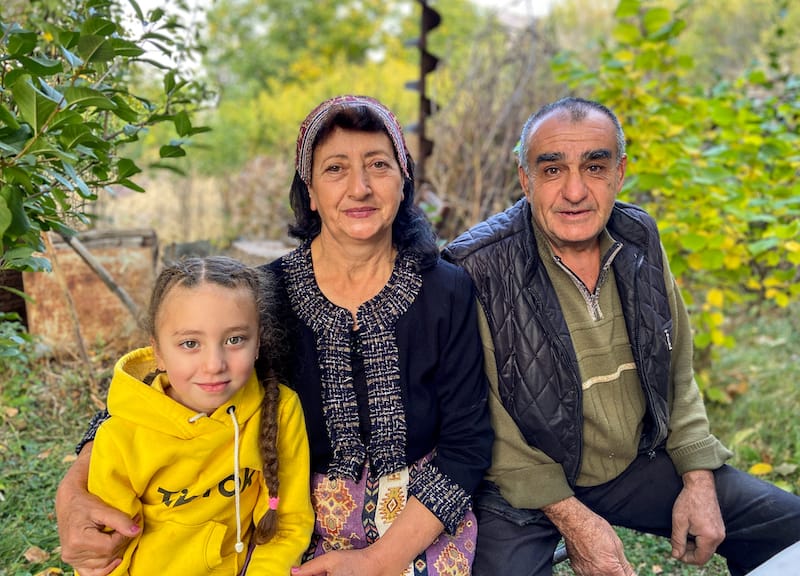 The village of Old Martiros lacked accommodation but offered so much potential for hikers and people looking to visit a historic village and its landmarks.
The couple decided to transform Hamlet's old family home into a place where guests can stay and experience the magic of Old Martiros in 2019.
As one of the oldest villages in Vayots Dzor, you will find a deep-rooted history there, including a special connection to the herbs and greenery that surrounds it.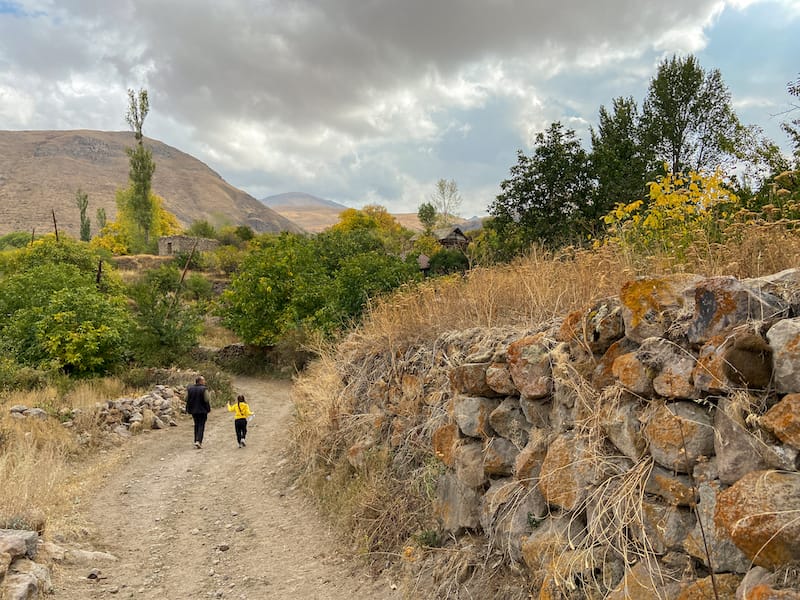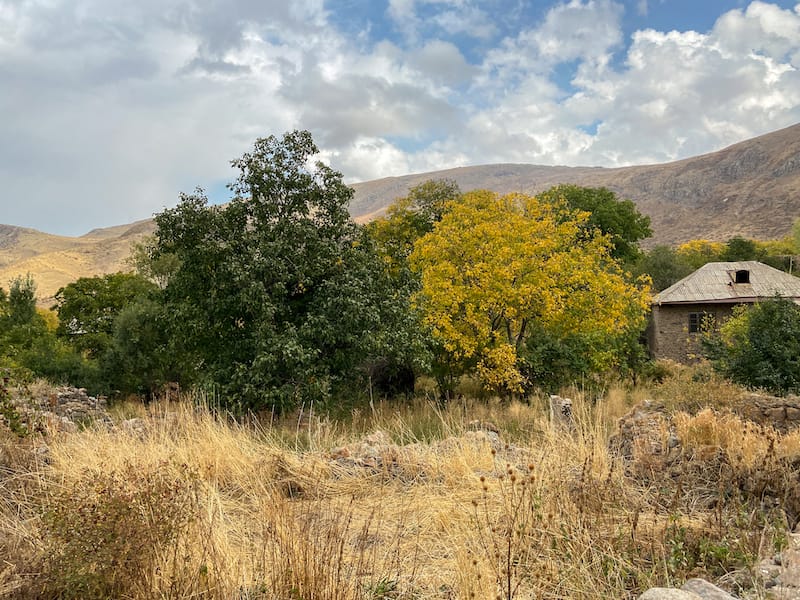 As a result, Gohar has decided to use her extensive herb knowledge to create some of Armenia's coolest cultural experiences at the home, making the Old Martiros Guesthouse one of the rarest stays in Armenia – combining history, food, and hiking all in one place!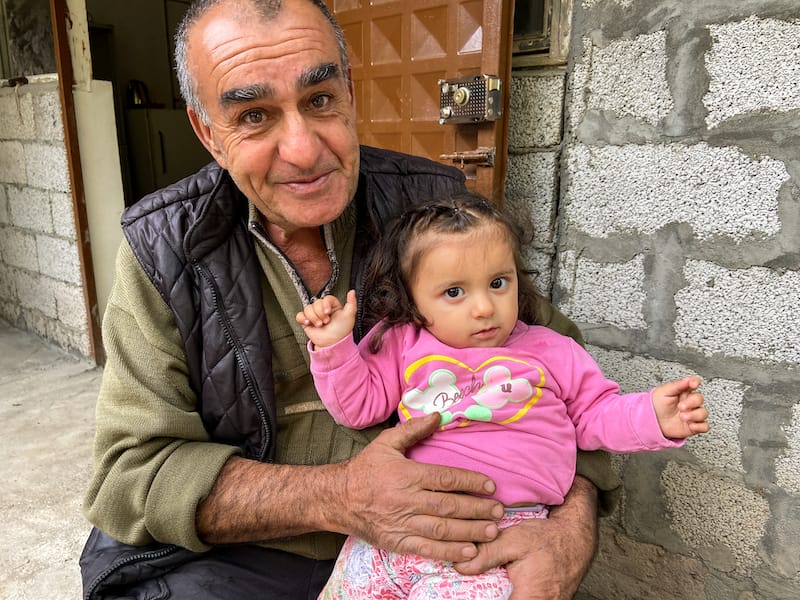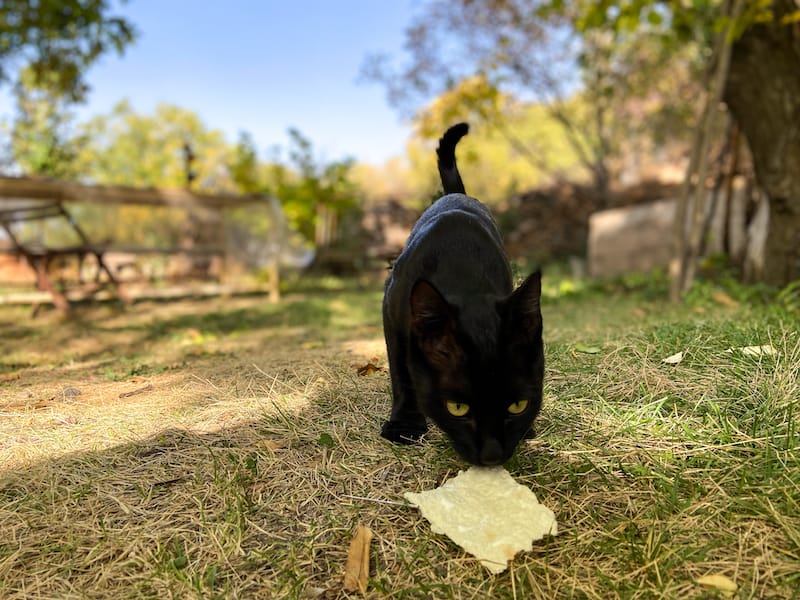 Staying at Old Martiros Guesthouse
The house is undergoing small changes throughout but is still available for a stay and experience! You will find a couple of rooms inside ready to host hikers and visitors and they are affordable for those traveling on a budget. You will also have hot water and nice showers there.
The property is medium-sized and the outside has a tonir, garden, and a few houses surrounding that belong to his family. Inside, there is a dining room, kitchen, and rooms.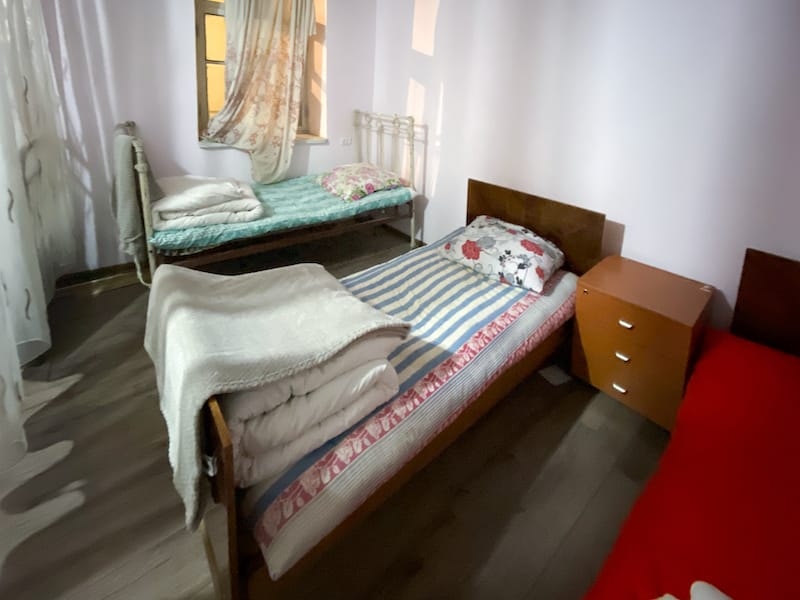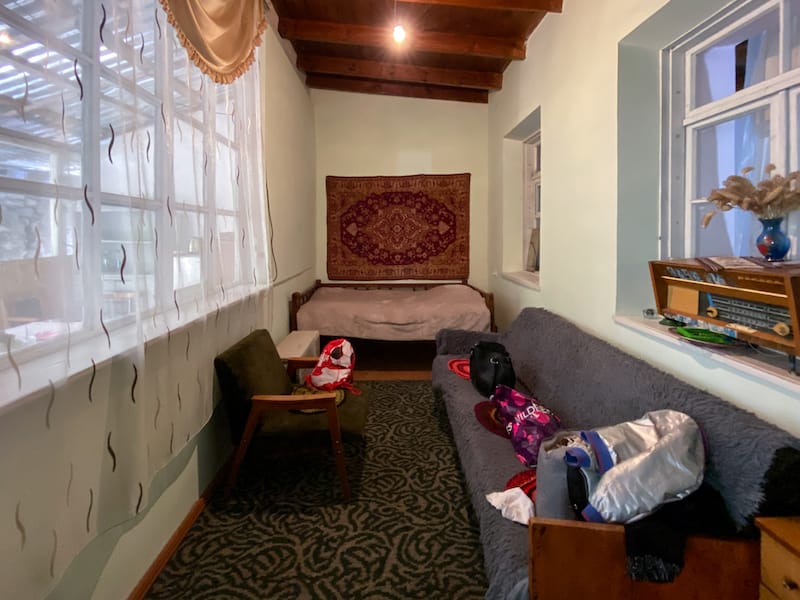 Getting to the guesthouse is quite easy via a paved road from New Martiros to Old Martiros. It even is accessible in winter, making this the perfect year-round escape!
One of my favorite things about the guesthouse was that it had a cozy garden surrounded by trees and greenery that made my morning coffee absolutely perfect. It is also a great place to unwind and relax after a grueling summer hike!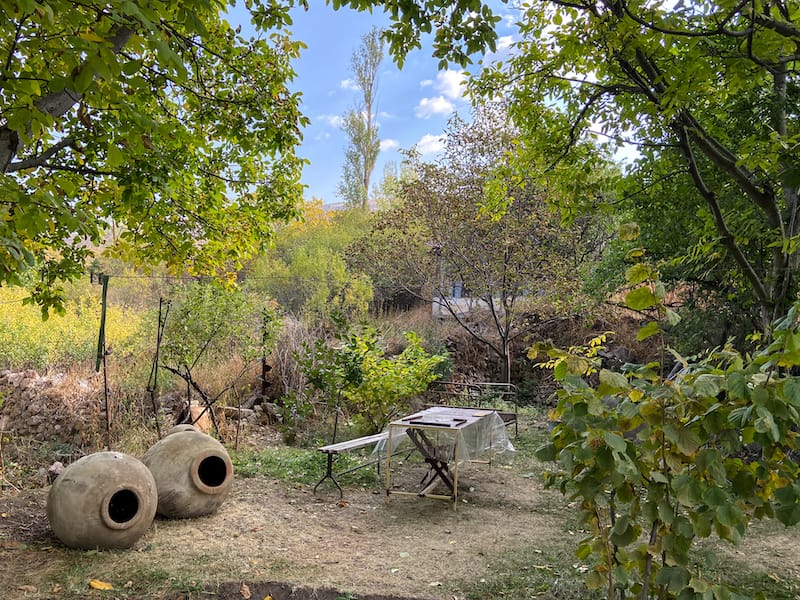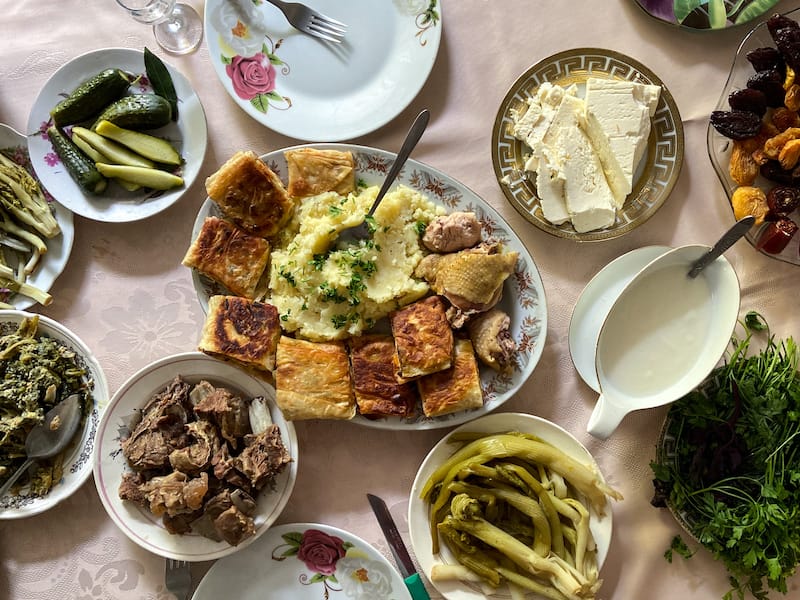 Food Experiences at Old Martiros Guesthouse
Perhaps the coolest thing about Old Martiros Guesthouse was Gohar's willingness to share her herb and food knowledge with guests! They offer a few experiences there that really make you understand and connect with the village and the local area.
Buried Cheese
I had a chance to learn more about the area's famous 'buried cheese'. In Yeghegnadzor and Vayk area, buried cheese is common but I never really understood the process or witness it being done until this experience.
Gohar will show you how she takes the cheese (which you can eat a bit as you're doing it!) and presses it tightly into a clay pot, layer by layer. In between each layer, she adds some local, hand-picked mountain herbs to enhance and richen the flavor.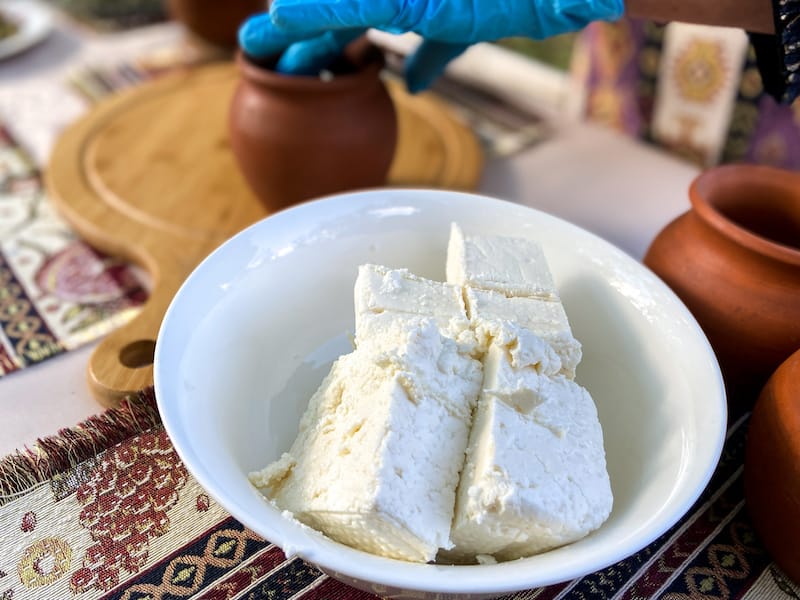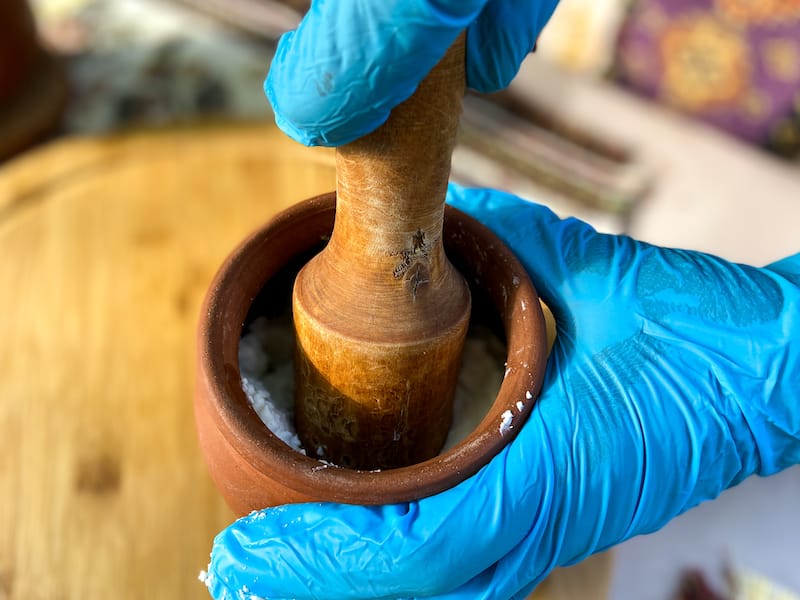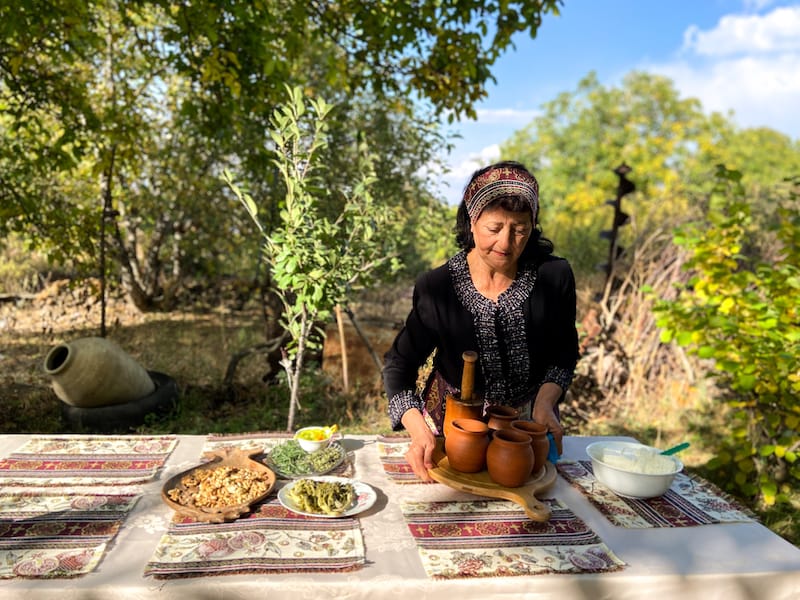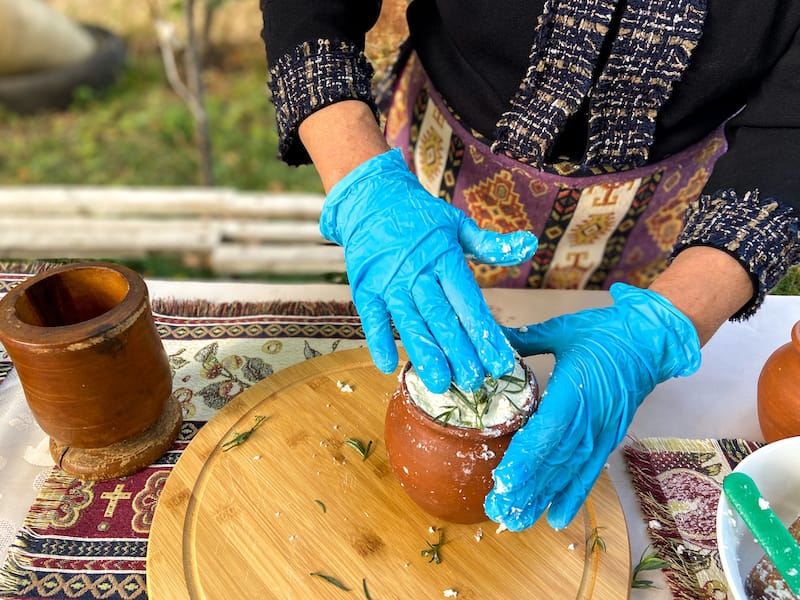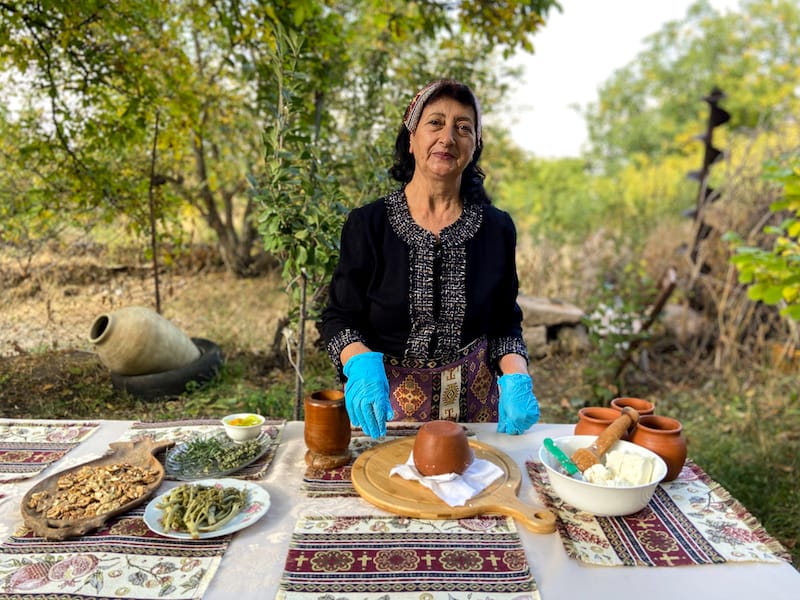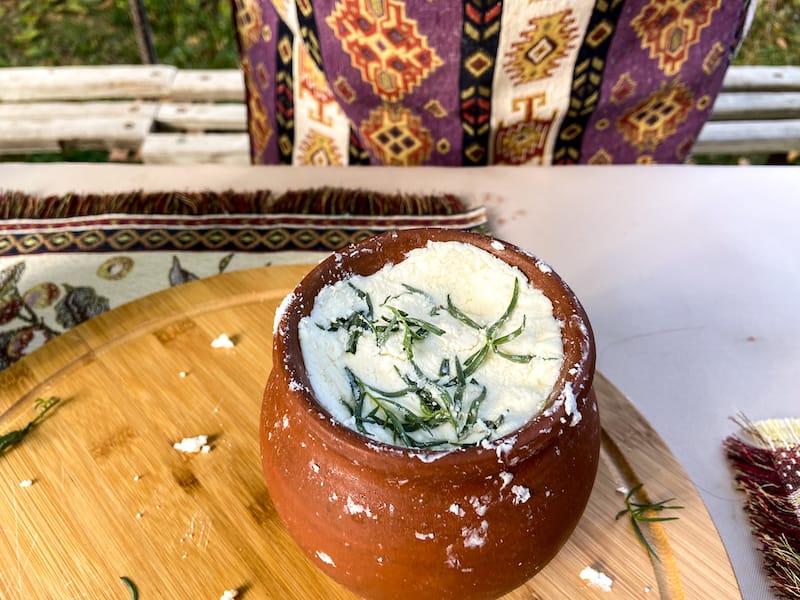 Once it is filled to the top of the hand-sized clay pot, it is then compressed and covered and stored underground somewhere where there is high humidity so it can develop the pungent, yet delicious flavor.
Some of the herbs she used were tarragon, thyme, and hornbeam (similar to beech in North America). The cheese stays buried for about three months to five months and then it is ready to be enjoyed!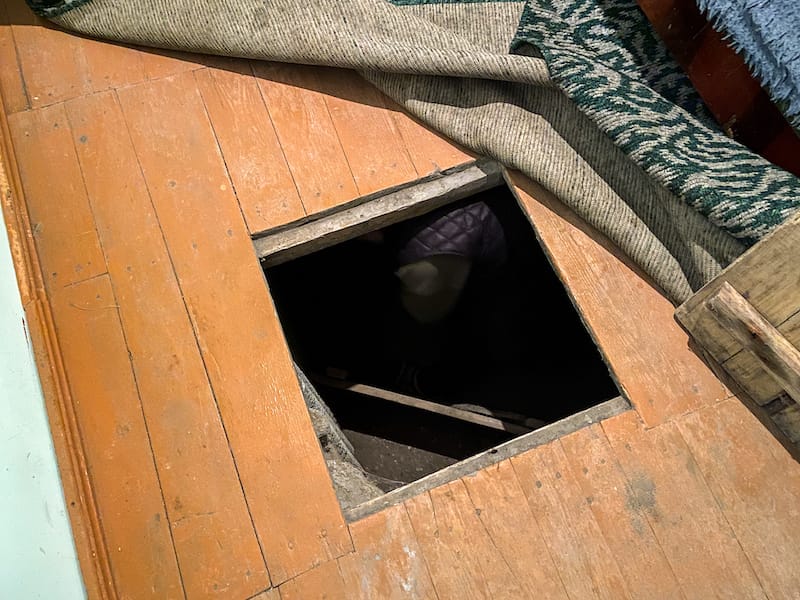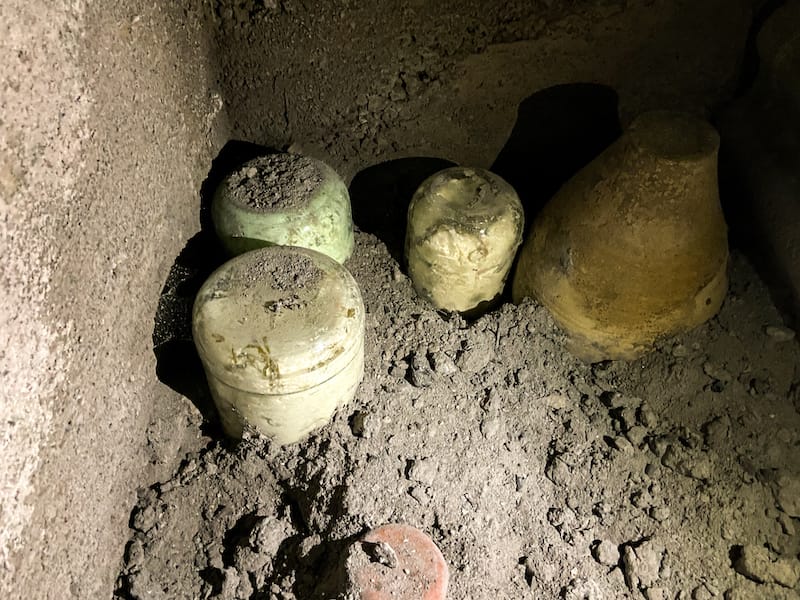 Locals often call it 'rice cheese' due to its texture. You can eat it with almost everything but my favorite way to consume it is simple – inside of warm lavash with butter.
You won't have a chance to consume your cheese that day unless you stick around for a few months (or come back!) but you can certainly taste some of the cheese that has already been finished.
Karshm
Another extremely unique experience they have at Old Martiros Guesthouse is making soup with 'karshm'. This local wild green is like nothing I have seen anywhere else and I can't even think of a proper comparison for it.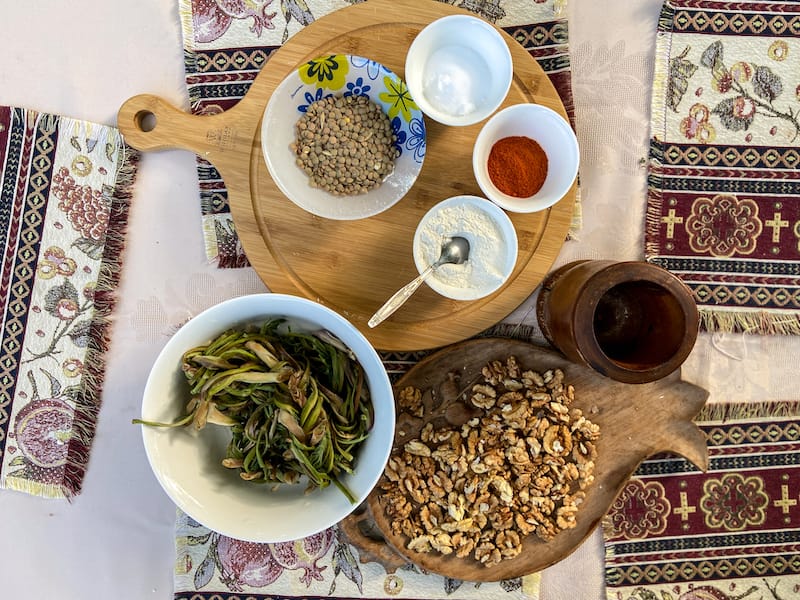 The Vayots Dzor herb is harvested in May and June and they braid the stems of it similar to aveluk (wild sorrel in Armenia).
I had never heard about karshm before traveling to Old Martiros on this trip and it was so cool seeing it go into an ancient and lesser-known Armenian soup (aptly called 'karshmapur').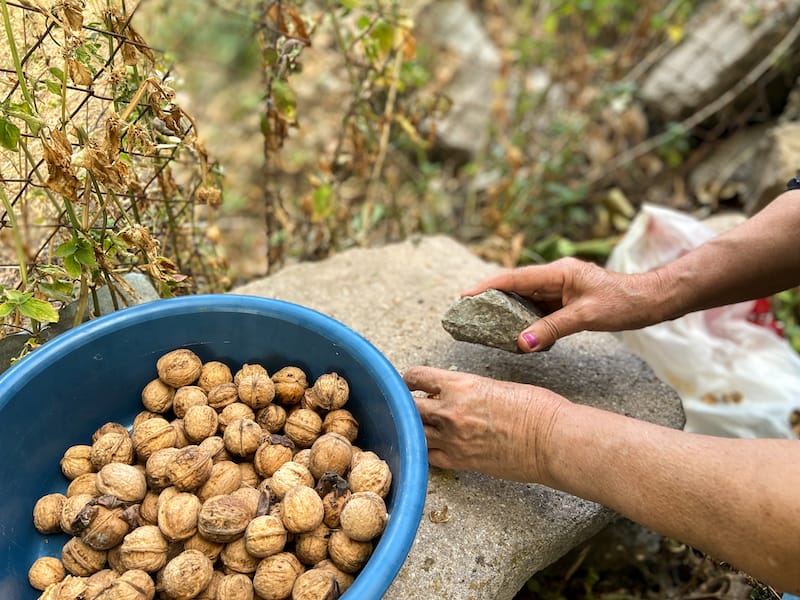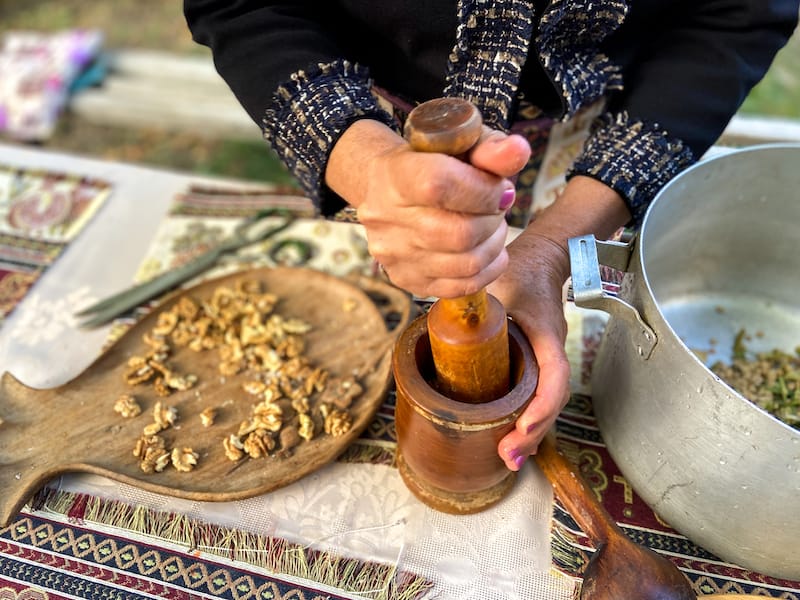 This soup has to stew for 7-8 hours and it contains lentils, bulgur wheat, garlic, ground walnuts, and dried lavash. Of course, it also contains the delicious karshm, giving it a flavor all of its own, and one that is incomparable.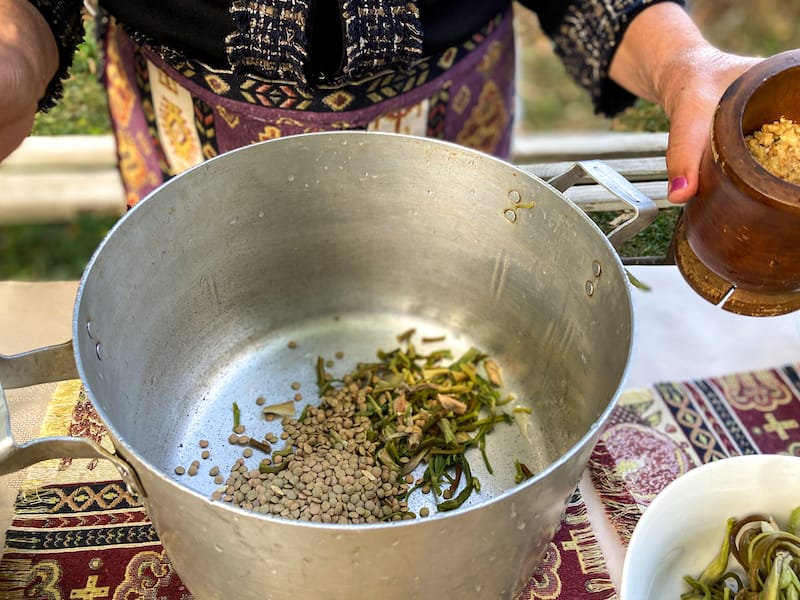 Learning about Herbs
Gohar really knows her local herbs and she had a chance to teach me about many of them, and we even got to put them into tea!
They had 12 different mountain herbs to put into tea – the herbs are tarragon, thyme, wild mint, St. John's Wort, Everlasting flower (these flowers never lose their color even after picked and left for years), cephalaria (native to Caucasus region), rosebuds, primrose, rosehip, peppermint, hawthorn (the flower, not the fruit), oregano, and a variety of chamomile called 'stinking chamomile' in North America.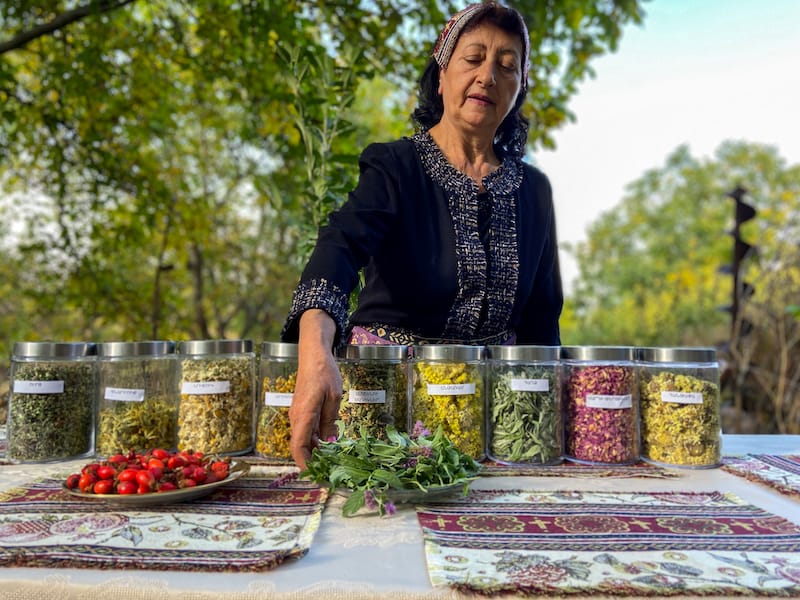 One of the coolest things about these experiences is that you can do them outside under the walnut trees and in their gorgeous garden if the weather permits!
Otherwise, you can do them by a fire or inside. Gohar provided me gloves for the buried cheese experience and it was so cool to be able to make this alongside her and learn more about this local Armenian delicacy.
How to Book an Experience at Old Martiros Guesthouse
Availability: 7 days a week from 8 AM – 8 PM. Reservations must be made 24h in advance.
Duration: 1-2 hours
Languages: Armenian and Russian (English can be requested in advance).
Seasonality: Year-round
Group size: 2 minimum, ideal size is 10, max size is 15. All ages welcome!
You can find Old Martiros Guesthouse on the 3rd Street in the 4th Land. Most of the village is abandoned.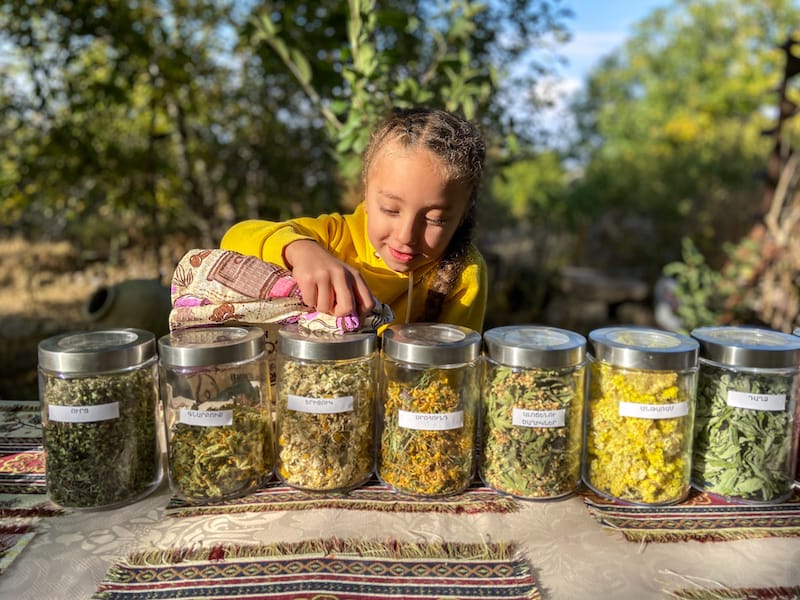 To book an experience or for inquiries, contact Hamlet Yeghiazaryan at +374 94 52 00 69. If you'd like his email, please send us a message privately and we will send it your way!
Have you ever visited Old Martiros Village or stayed at the wonderful Old Martiros Guesthouse? Let us know in the comments!
More Vayots Dzor Travel Guides
**This article was produced with the support of My Armenia, a program funded by the United States Agency for International Development (USAID) and implemented by the Smithsonian Institution. The contents are the sole responsibility of the authors and do not necessarily reflect the views of USAID, the Smithsonian Institution, or the United States Government.