Noravank Monastery is one of the best places to visit in Armenia, especially for those wanting to pair stunning scenery with deep-rooted Armenian history.  This is our travel guide to Noravank Monastery.  It includes how to visit, why you should visit, facts, and more!
If you're looking for a tour to Noravank Monastery, please check out our top recommendations here.
YEREVAN QUICK REFERENCE
Planning last minute?
You can see our top travel recommendations for Yerevan right here:
Where to stay in Yerevan: The Alexander (luxury in Yerevan), Daniel's Boutique Hotel (mid-range in Yerevan), 14th Floor (mid-range in Yerevan), and Grand Hostel (budget in Yerevan).
Other top-rated Yerevan day tours and experiences (Noravank included!):
Yerevan City Pass: If you're hanging around the Armenian capital, the Yerevan Card is a great bang for your buck! You can visit museums at no charge, get a free taxi from the airport, and several discounts on day trips. Click here to purchase your Yerevan Pass.
Need insurance for Armenia? Be sure to check Armenia travel insurance rates and coverage with our recommended provider, SafetyWing.
Renting a car in Armenia? You can get great options and the best rates here with Rentalcars.com.
Need a Visa for Armenia? We recommend iVisa – they will sort your Armenian visa efficiently and quickly.
3 Essential Things to Pack for Armenia: Plug adapter (if coming from the US or a country that does not use a European plug), Klean Kanteen reusable water bottle, and a Georgia, Azerbaijan & Armenia Lonely Planet guidebook.
Travel Guide to Noravank Monastery
One of the most beautiful and unusual places to visit in Armenia is definitely Noravank Monastery.  Not only is the religious sight an ancient masterpiece but it is also really renowned because of the location and scenery surrounding it.
The road to Noravank Monastery is dramatic and narrow.  Once you pass through Areni village, you will wind through canyons and the colors of the mountains change to a vivid red and orange.  The entire landscape surrounding Noravank is truly surreal.
Located in Vayots Dzor province, Noravank Monastery is considered to be one of the most famous pieces of architecture in Armenia and has faced many renaissances and renovations throughout its rich history.
Noravank Monastery is a must-visit for those visiting Armenia.  This guide will help you learn more about Noravank as well as how to travel there, what to do in the local area, and how to get from Yerevan to Noravank.
History of Noravank Monastery
The Monastery of Noravank is easily one of the most important complexes in all of Armenia. It was founded in 1105 by Bishop Hovhannes and includes the church of S. Karapet, the S. Grigor Chapel, and the Church of S. Astvatsatsin (Holy Mother of God).
It was the residence of the Oberlian princes and because of them, it became a spiritual, educational, and cultural center in the region that it is situated in. Noravank Monastery is also where some of Armenia's most important medieval artists worked and were buried.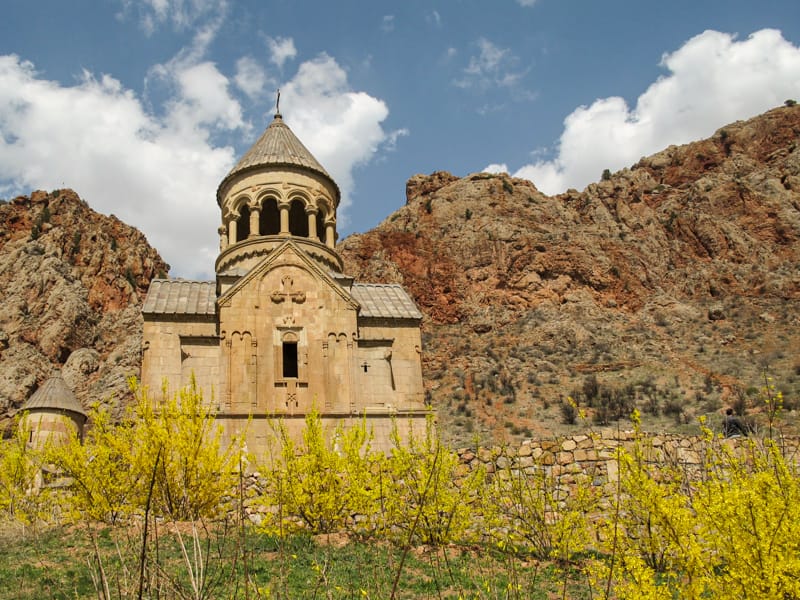 Khachkars play an important role in the history of Noravank Monastery and are seen all around the complex. In fact, one of the most prominent figures of the Middle Ages who contributed to creating the most important sculptures and khachkars was Momik.
He was believed to have rebuilt the St. Stepanos domed church after the 1321 earthquake damaged it. In 2001, restoration work finished and in 2002, it became part of the UNESCO World Cultural Heritage tentative list for Armenia.
How to Get to Noravank from Yerevan
Getting from Yerevan to Noravank Monastery is pretty simple and it all really depends on how quickly you want to see the sight and how comfortable and simplistic you want the transportation to be.
Taking a taxi is probably the fastest way, as locals know how to handle the roads much better, but it could be more expensive than renting a car.  You could also try your hands at public transportation there but it does require a bit of walking.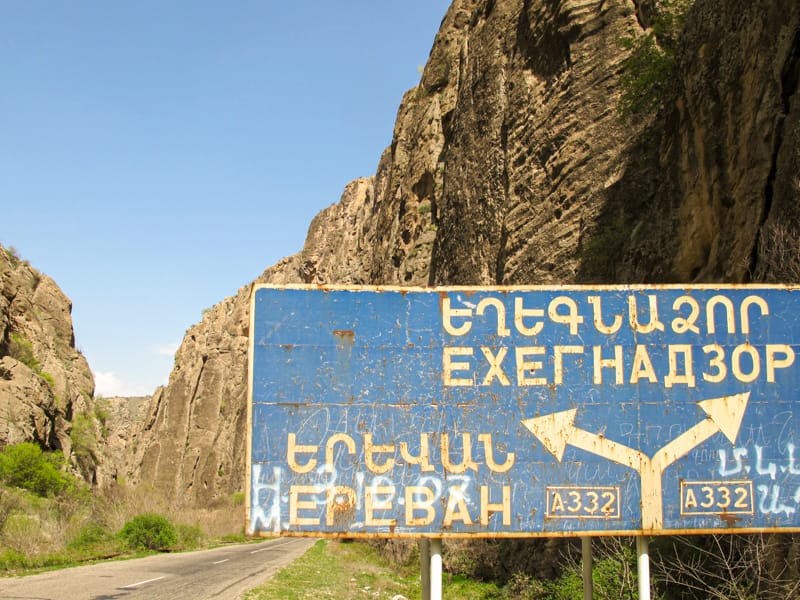 Alternatively, you can look to join a tour to Noravank, which we highly suggest.  That is how Megan first saw the gorgeous sight.  Usually, the tours take you to other sights in addition to Noravank, such as Areni, Khor Virap, and Tatev Monastery.
Bus
There is no public transportation directly to Noravank, unfortunately, so you would have to take a bus to a nearby town and either walk, hitchhike, or take a taxi from there.
Depending on how adventurous or how big your group is, it will probably be much easier to choose another way to get there for the time being until options become more frequent (and easy).
From Kilikia Bus Station, it is possible to take a bus to the spa town of Jermuk for approximately 2000 AMD ($5) and then from there, take a taxi to Noravank.
Approximate departure time from Yerevan: 2x daily at 1300 and 1600
Price: 2000 AMD
If you do choose this option, it would cost about $15 (12,000 AMD) per person if you end up taking a taxi for the last part of the journey.
Rental Car
Once again, if you are comfortable driving in a foreign country, renting is a great option, especially if you like making your own schedule.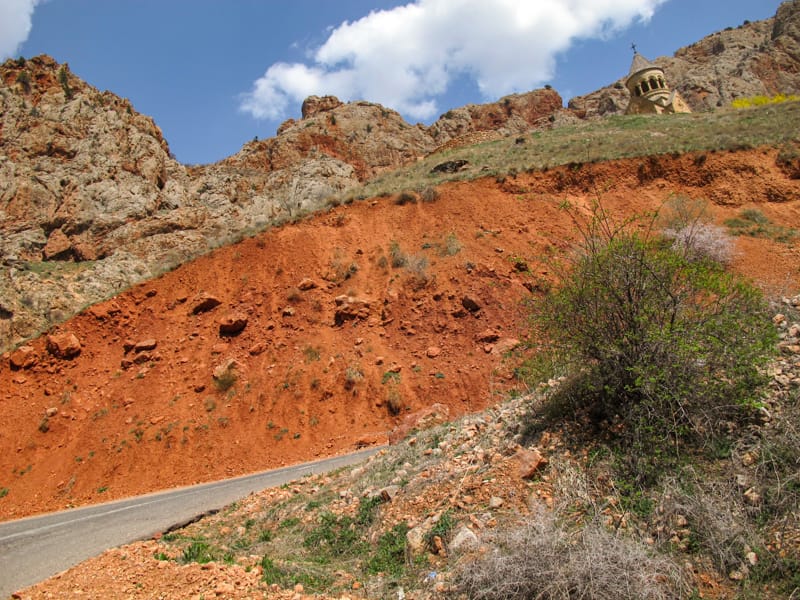 On Google Maps, it says the drive is about 2 hours, but it will probably take closer to 3 hours from our experience, so please keep that in mind. Plan your schedule accordingly and do note that Khor Virap is on the way south to Noravank so you may want to plan extra time in there to stop at the gorgeous monastery.
>> Click here to check rental car rates for Armenia
Taxi
Taking a taxi is probably the most comfortable option and you won't have to worry about driving and you'll probably get there faster, especially if you don't desire to make additional stops along the way.
For the most part, your driver won't mind waiting for you to drive you back or taking you around, but make sure to negotiate that ahead of time or place the information in the Yerevan taxi app that you choose to use.
With Yandex and GG Taxi, the price will be placed in the initial fare which will provide more transparency, but if you choose to go with a taxi from the street, you will have to negotiate with them from the start.
A taxi to Noravank will run you about 12,000 AMD or slightly more, depending on the day and taxi capacity in Yerevan.
Noravank Tours
In our honest opinion, the easiest way to travel to Noravank is via an organized tour.  The public transportation options in Armenia leave something to be desired at the moment and a tour will offer comfort and will allow you to forget about the minute details you may forget.
If you're not down to rent a car and travel there independently, this is definitely the best option and the tours from Yerevan that we list all include other sights you will see on your trip, too.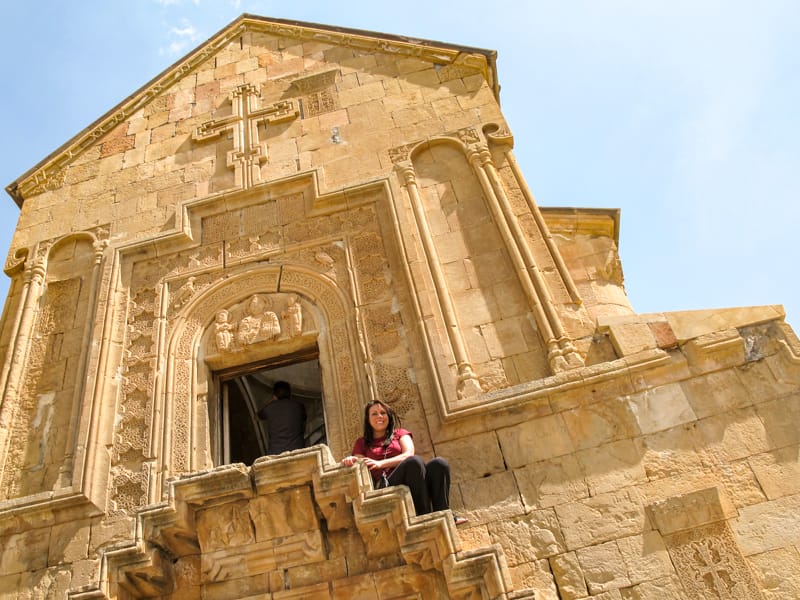 Some of the most popular sights that you'll see on any of the tours listed below are Tatev Monastery, Areni cave (the oldest winery in the world), Khor Virap, and more.
Here are our Noravank tour recommendations:
Khor Virap, Areni, and Noravank Monastery Day Trip from Yerevan
⇒ Prices start from $34
⇒ Duration:  9 hours
This popular and affordable tour is one that visits 3 of the top landmarks in Armenia all in one day.  You will get the chance to see Khor Virap, Areni (wine region), and Noravank Monastery.
On this tour, you will have the chance to see Hin Areni Winery and the famous Areni-1 Cave.  At Areni-1 Cave, some of the world's oldest artifacts can be found – ones that give an indication that Armenia is home to the world's oldest winery.  You'll also get to try some of the wine paired with traditional food.
In addition to visiting Areni and Khor Virap, you will also have the chance to go to Noravank Monastery, a notable religious site built into the red rocks of Gnishik Canyon.
Naturally, you will also have the chance to experience and visit Khor Virap on this 9-hour tour.
Your vehicle will have air-conditioning and free wifi.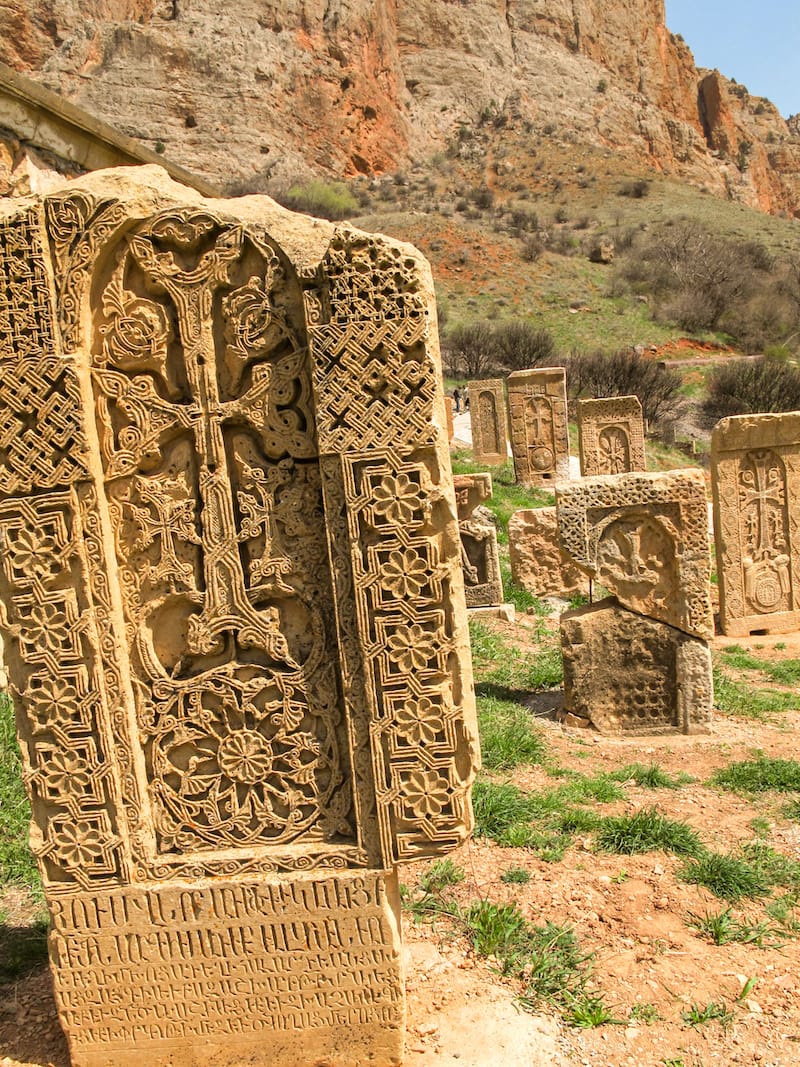 Private Day Trip to Khor-Virap, Noravank & Tatev Monasteries
⇒ Prices start from $172
⇒ Duration:  12 hours
This 12-hour tour takes you to three of Armenia's best sights: Khor Virap, Noravank Monastery, and, of course, the beautiful Tatev Monastery down in the Syunik region.
It is a private tour, meaning you'll get to take in everything you see by yourself or with your chosen group and you will get to learn a lot about each sight with your own private guide.
The drive will be comfortable and hotel pickup in Yerevan is an option.  It will be a long day, so be sure to pack accordingly!  Meals are not included.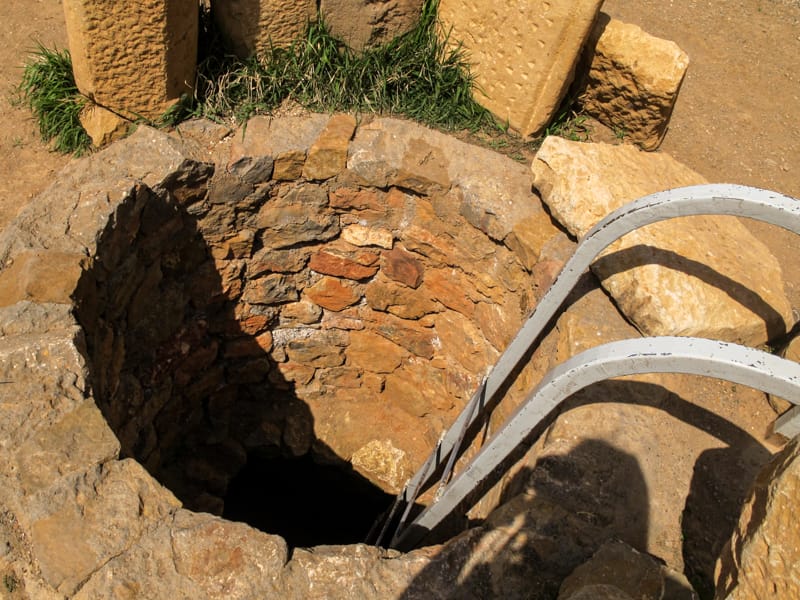 Things to Do near Noravank Monastery
The area surrounding Noravank Monastery has plenty to do to keep visitors occupied for the duration of their trip south of Yerevan.  Below are some of our top recommendations for things to do near Noravank.
Visit Areni-1 Cave
One of the most ancient and historical sights in Armenia is actually located on the way to Noravank and it is the Areni-1 Cave.
This cave has been identified as the world's first winery and it was only recently discovered in 2008 in a cave near Areni village which is still recognized today as the wine region of Armenia.
It is definitely worthwhile to visit Areni-1 Cave when you're on your way to Noravank Monastery.  The winery actually dates back 6,100 years!
Another interesting fact about Areni-1 Cave is that the world's oldest leather shoe was discovered there (although it is now on display at a museum in Yerevan).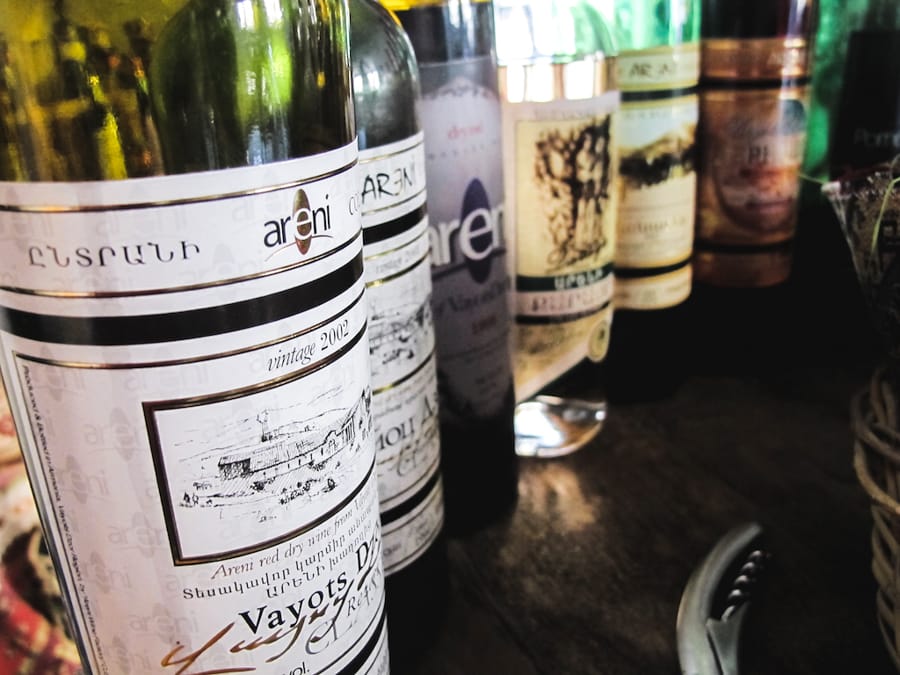 Take a Trip to Jermuk
Located approximately one hour away from Noravank is the spa town of Jermuk, a place better associated with the famous water that comes from there.
Divided by an amazing and breathtaking gorge, Jermuk Waterfall is one of the best natural sights to visit in Amenia.
In Jermuk, it is possible to take a bath in natural mineral waters coming from the mountains and you can even taste the water in the town center in a place called the "Gallery of Mineral Waters".
What to Bring to Noravank
If you are visiting Noravank in summer, we highly advise bringing the following items with you in order to make your trip more comfortable:
⇒ Sunscreen and a hat:  In summer, the temperatures at Noravank can reach 35-40C and it is imperative to wear sunscreen and bring a hat.  Armenian sun can be brutal as it is always sunny and there are few places to shelter when you're in the countryside.  Click here to check out our sunscreen recommendation.
⇒ Power bank:  Even though Noravank is only three hours away from Yerevan, you should still bring a power bank for your day, especially if you're venturing to Areni and anywhere else after.  Trust me, you don't want to have to scramble around looking for a charge when it dies!  Click here to check out power banks on Amazon.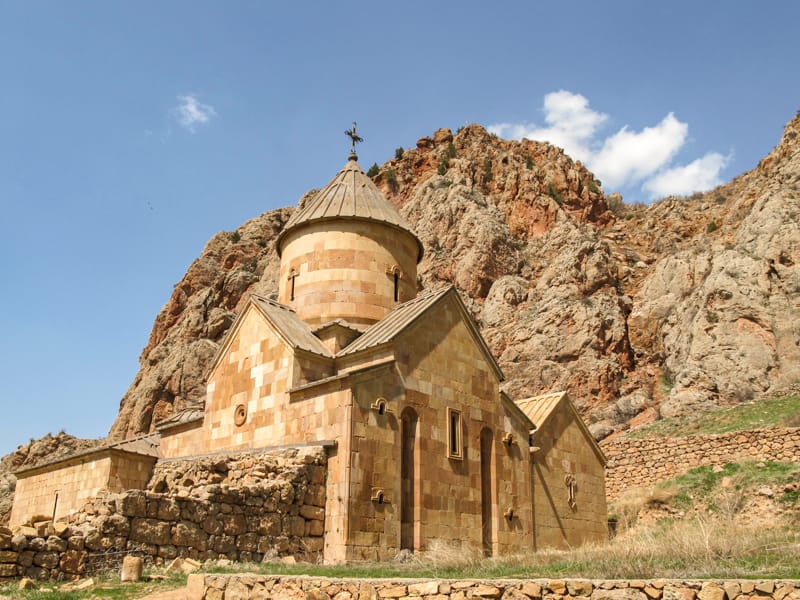 ⇒ Good walking shoes:  Armenia is a rocky country and outside of the cities, roads and sidewalks are less-maintained.  You also don't want to wear anything impractical if you're visiting monasteries for the day.
Visiting Noravank in winter?  Bring winter clothing (it can snow) and be prepared for potential winds or unfavorable weather.  But, usually, it is still sunny and clear, even during the winter months.
Noravank is definitely a place you want to include on your Armenia travel list.  We hope our guide to visiting Noravank Monastery helps you plan your trip and know what to expect when you head there.
If you have any questions or additional recommendations, please leave us a comment or send us an email!  Thanks!
YOU MIGHT ALSO LIKE:
PIN IT FOR LATER!