Arriving at a destination can be a stressor if you don't plan ahead! This is a no-nonsense guide about how to get from the Yerevan Airport to the city center in EVN.
Are you planning your trip to Yerevan last minute?
If youʻre booking your trip to Yerevan last minute, we have you covered. Below are some of the top tours, hotels, and more!
🇦🇲  Top Experiences and Tours in/from Yerevan:
🛌  Top Hotels in Yerevan:
The Alexander

  (luxury option + SPA, authentic dining venues, indoor pool!)

Daniel's Boutique Hotel (mid-range in excellent location!)
14th Floor (in the center with a wonderful view of Mount Ararat!)
Grand Hostel (budget option in Yerevan!)
🚗  Looking for the best way to get around Armenia? Click here to check rental car rates for Armenia!
It will show you how to get from Yerevan Zvartnots Airport to the city by bus and taxi and will also detail how to get a SIM card and store luggage.
How to Get From Yerevan Airport to the City Center (Zvartnots)
The Yerevan Airport, or Zvartnots International Airport, is a mid-size, comfortable airport that is located about twenty-five minutes away from the Armenian capital city.
The newly-built airport was constructed to replace the iconic Zvartnots International Airport that previously stood and was a masterpiece of Soviet architecture with its unique design and obscure control towers.
Yerevan Airport is well-connected and new flight routes are careening their way to Yerevan in droves.
Nearly ten new routes have opened in the last couple of months and low-cost carriers such as Ryanair and Wizzair have also moved into Armenian territory.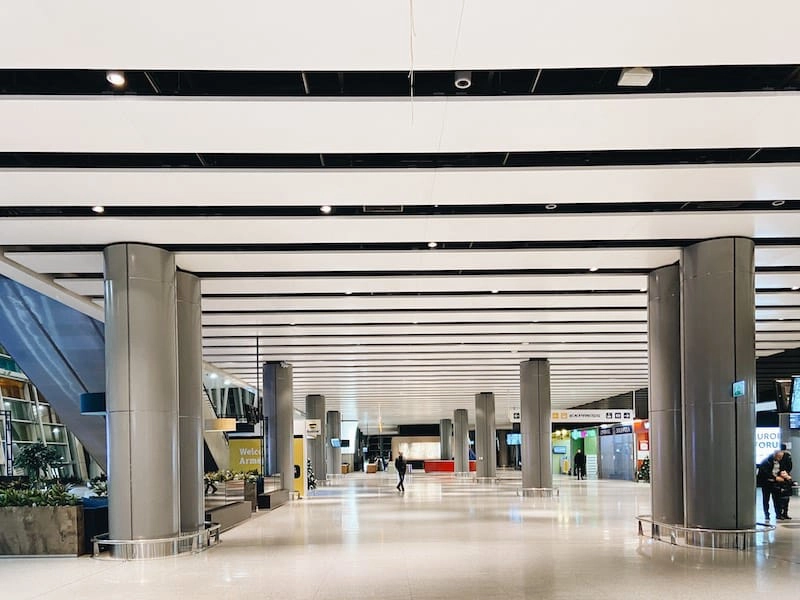 Because of its small size and manageable design, navigating your way through Yerevan Airport is easy once you arrive.
This guide will detail how to get from Zvartnots Airport to the city center in an efficient and seamless manner.
It will give options for getting from Yerevan Airport to the city center as well as some quick details on other services that can be arranged or taken care of at Zvartnots.
It will also include Yerevan Airport transfers.
Please be aware that there are no trains going to and from Yerevan Airport.
The only options are the ones included in this guide (as well as rental cars).
Also, please be aware that many flights arrive at Yerevan Airport at ridiculous hours.
We will list some Zvartnots Airport Transfers in this article if you feel more secure with a pre-arranged transfer to Yerevan city center.
Getting from Zvartnots Airport to Yerevan City Center
Airport Express #201 Minibus
One of the best options, and certainly the most affordable one, is taking the Airport Express bus that goes to and from Yerevan city center to the Zvartnots Airport daily.
The Yerevan Airport Express buses depart every half hour from 7 am until 10 pm, daily.
Please do note that many flights arrive in the middle of the night, so this would not be an option then.  You will need to take a taxi or have prearranged transportation.
Bus from Yerevan Airport to the City
After arriving at Zvartnots International Airport, you will need to exit the arrivals area on the ground floor.
You will immediately see a sign that says 'Shuttle Bus' and it will guide you in between where the taxi stand is and the regular parking lot.
This is where you'll find the Yerevan Airport Express bus.  A ticket costs 300 AMD (under $1).
Bus from Yerevan City to the Airport
From the city center to the airport, you will take the same bus going the opposite way.
The Airport Express starts at Yeritasardakan metro station in the city center by the Metronome underground shopping center.
You will see the signs above ground detailing where it departs from.
Alternatively, the 201 Minibus also passes through Republic Square and drives down Abovyan Street.
It is possible to take it from there, but due to high traffic, it may not be the most reasonable option.
It will stop on the corner of Abovyan and Buzand Streets in central Yerevan.
The bus ride will last about 40 minutes and it costs 300 AMD.
You can read more about the bus to and from Yerevan Airport here.
Yerevan Airport Taxi Options
Taking a taxi is not always the most efficient and cheapest option at most airports, but fortunately for Yerevan, it is actually probably the most efficient and it is still quite affordable.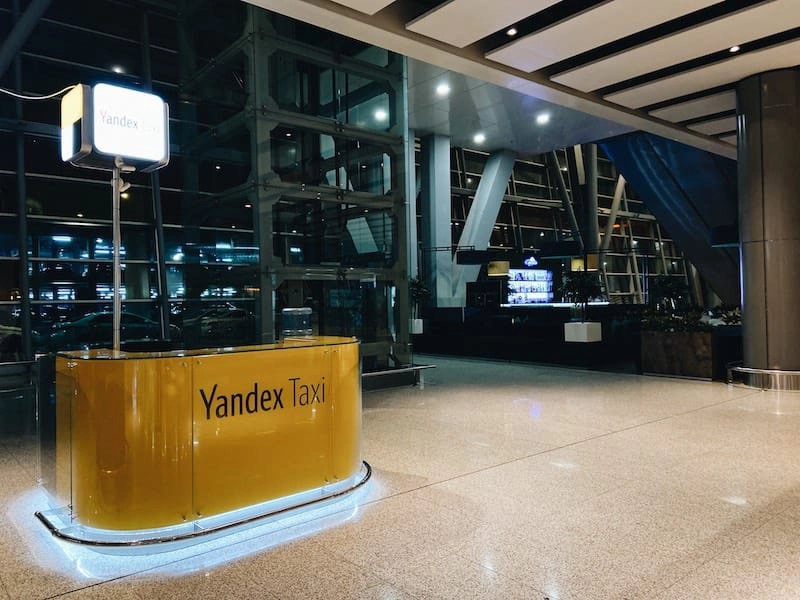 If you want something set and easy upon arrival, you will see a stand for taxis that is called Aerotaxi.
This taxi service will run travelers about 5000 AMD (about $11).  This will allow you to avoid private taxi drivers and to have a fixed price and reliable service.
To be honest, we don't use this option.  We download a Yerevan taxi app, such as GG Taxi or Yandex Taxi, and order one from there.
If there is no traffic, the price should be anywhere from 2000-2500 AMD (about $5-7).  I have taken several for 1500 AMD.  It just depends on the demand and traffic.
Yerevan Airport Transfers
If you're looking for a pre-arranged Yerevan Airport transfer, there are a few options that you can book ahead of time to keep your mind free of worries.
This is our recommended airport transfer as they will let you book it one-way or roundtrip, leaving you free of worries during your trip.
Luggage Storage at Yerevan Airport
You can easily store your luggage at Yerevan Airport if you wish to do so.
To find the luggage storage at Zvartnots, you will need to exit arrivals and take an immediate left.
You will quickly see the luggage storage area and if no one is there, ring the bell.
The prices for storing luggage at Yerevan Airport are affordable at 1500 AMD daily per bag ($3).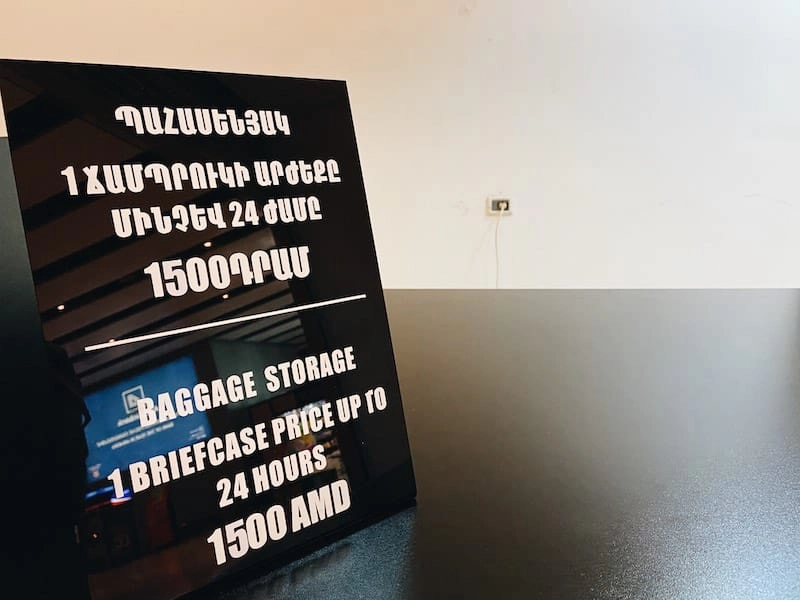 Getting a SIM Card at Yerevan Airport
If you wish to purchase a SIM card at Yerevan Airport, you're in luck!
There are three companies there and they work around the clock in accordance with arrivals.
You will find MTS Vivacell, Beeline, and UCom there.  Megan and I use Vivacell. They offer various tariffs according to your needs.
You will find SIM cards in Armenia extremely affordable compared to most other countries.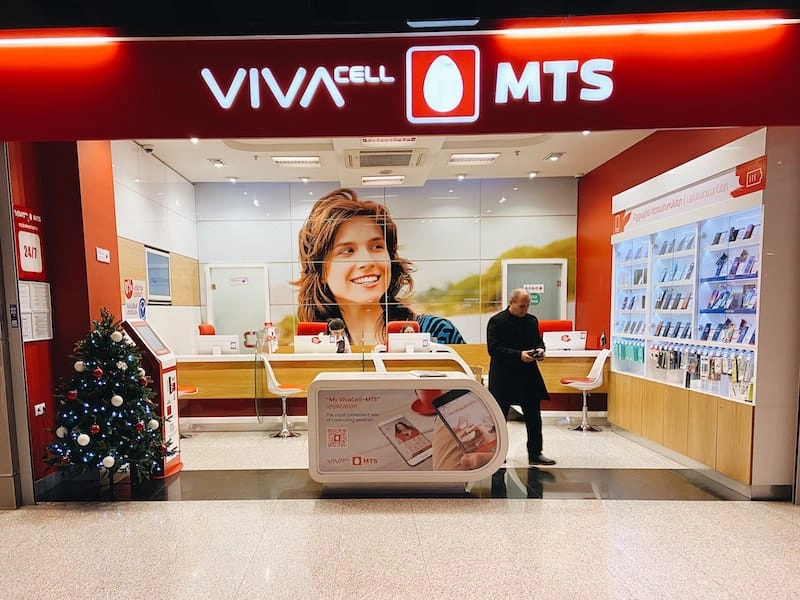 WiFi at Yerevan Airport
There is good working wifi at Yerevan Airport.
You can log on without needing an Armenian phone number and you can use it at your leisure.
This is a great option if you want to book a taxi out of Yerevan independently.