The bus is not my preferred form of transport. Actually, it is the type of transport I avoid like the plague.
But, when I travel from Tbilisi to Yerevan, I always prefer to travel by bus.
Going from Tbilisi to Yerevan by bus, or marshrutka (a minibus still prevalent in many former-Soviet states), is cheaper, faster, and allows you to witness spectacular views along the way.
And if you're traveling to Georgia on a budget, you will like this cheaper option.
While marshrutka rides can be my nemesis (people PLEASE turn off ringtones, keyboard noises, and spit out the sunflower seeds…
I don't know what it is with people needing to be so accessible at all times over this way), they almost always leave me with an interesting story later on or, if I am lucky, a new friend.
This trip takes about five to six hours once you leave Tbilisi.
This is how to get from Tbilisi to Yerevan by bus… and some tips for making the journey from Georgia to Armenia.
Where to Take the Bus From Tbilisi to Yerevan
Depending on your location and preference, you will need to get to either Station Square (Sadguris Moedani or სადგურის მოედანი), Ortachala Bus Station (ორთაჭალა), or Avlabari to catch your bus from Tbilisi to Yerevan.
The map above has all the locations listed.
The last time I was making this journey, my taxi driver in Tbilisi decided it would be convenient to ignore the hostel that ordered me the taxi and he took me to Didube Bus Station.
If you show up at Didube, you may find a shared taxi to Yerevan, but basically, you're going to be finding marshrutkas to other destinations in Georgia, such as Kazbegi, not abroad.
From Station Square, the first bus leaves at 0900 and from Ortachala Bus Station, it is about the same.
The buses at Station Square tend to be more efficient in filling up and leaving Tbilisi for Yerevan on time.
The Avlabari buses run on a schedule (listed below).
Ortachala can be a pain.  I waited three hours for the marshrutka to fill up the last time I was making this journey.
During those three hours, we still didn't fill to capacity.
There were protests happening in Yerevan that day, so I am going to blame that.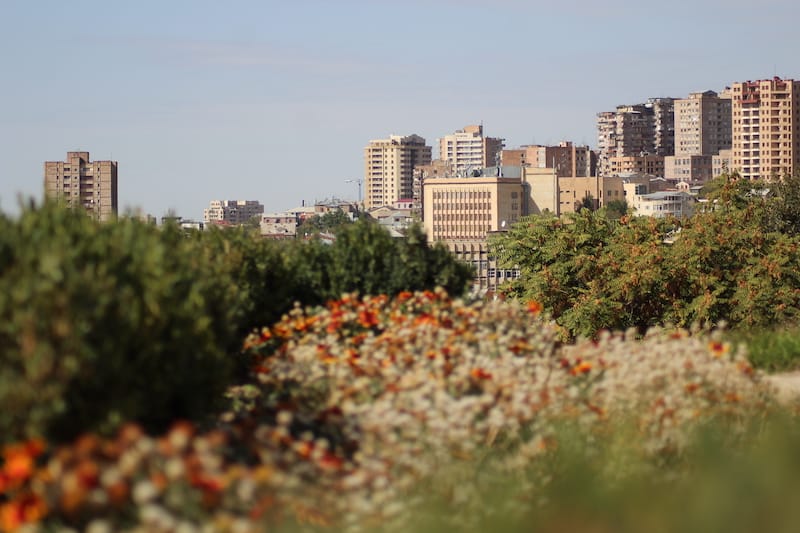 But usually, it takes under two hours to fill up at Ortachala. There are better things to do in Tbilisi than wait on a marshrutka to fill up, anyway.
>> BOOK TBILISI TO YEREVAN PRIVATE TRANSFER HERE
Do You Need Travel Insurance for Armenia?
Armenia is a safe country, but traveling around can be difficult and you just never know what to expect.
We highly recommend making sure you have top-quality travel insurance booked before you embark on a trip to Armenia. 
We recommend the Norwegian company, SafetyWing, for all of your Georgia and Armenia travel needs.
>> Click here for an Armenia travel insurance quote
Best Tours in Yerevan
Yerevan is a gorgeous city no matter what season you arrive in. 
There are tons of hidden gems and sights… but some are slightly hidden and are best seen with a guided tour (trust us!) 
There are also so many cool day trips from Yerevan that you will want to do while in the capital city and it is much easier to do them with an organized tour. 
Below are some of our recommended tours for Yerevan and its surrounding area.
Renting a Car in Yerevan
If you decided to come overland to Yerevan but decide you want to rent a car, it is probably a pretty good idea! 
Armenia is actually one of my favorite road trip destinations in the world and I think you'll enjoy seeing it at your own pace too. 
It also helps to have air-conditioning available inside the car giving you comfort during the hot summer months.
Avlabari
Many people looking to go to Yerevan take a bus from Avlabari. I actually have now taken a marshrutka from Avlabari two times.
The buses run on a 'schedule' (I put that in quotes because this is Georgia, after all) and run every couple of hours. If the bus fills up, it leaves.
So, be prepared to wait an hour or so if going there.
This is an easy option for a location to take a bus to Yerevan because it is by the metro station and centralized, unlike Ortachala.
There are often really nice marshrutkas that depart from here. Mercedes Sprinters in fact.
But then other times, you'll get put in a van that looks like a soccer mom owns it.
These prices and times are current as of 2023:
The schedule from Tbilisi to Yerevan is as follows:  0900, 1100, 1300, 1500, and 1700.  The price is 50 GEL.
The schedule from Yerevan to Tbilisi is as follows:  0830, 1030, 1300, 1500, and 1700.
These buses leave from the left side of Kilikia Bus Station in Yerevan. The company is called 'Comfort'.  The price is 8000 AMD.
>> BOOK TBILISI TO YEREVAN PRIVATE TRANSFER HERE
Station Square
Once at Station Square (which is also the Central Railway Station), you will need to be pointed toward the marshrutkas.
There are plenty of people speaking English there and you shouldn't have an issue.  The bus from Tbilisi to Yerevan costs 35 GEL.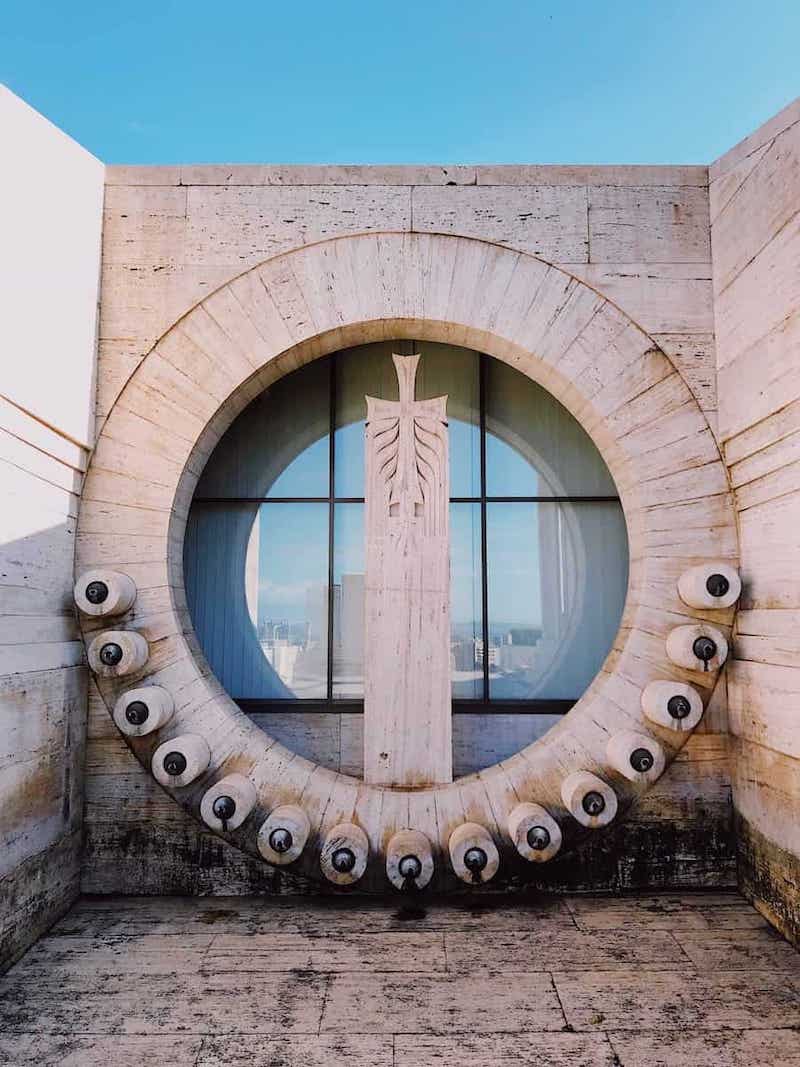 While these buses seem to stay on schedule a bit better, you will also go to Avlabari (ავლაბარი) in Tbilisi after you leave the Railway Station as it will pick up additional passengers there.
So, you are able to take these buses from the Central (Railway) Station or Avlabari depending on your location and desires.  I prefer to take from Avlabari from the start.
Ortachala Bus Station
Ortachala is a bit more difficult to get to as it is out of the city center a bit.
A taxi shouldn't be too much getting there- expect to pay around 5 GEL for one.  Once you arrive, you will see heaps of vans and shared taxis.
These are not the ones you want to take. I took a shared taxi there one time with my friend and we paid for it to just be us.
I am 97% certain our taxi was making a drug run into Armenia, but that is another story for another time.
>> BOOK TBILISI TO YEREVAN PRIVATE TRANSFER HERE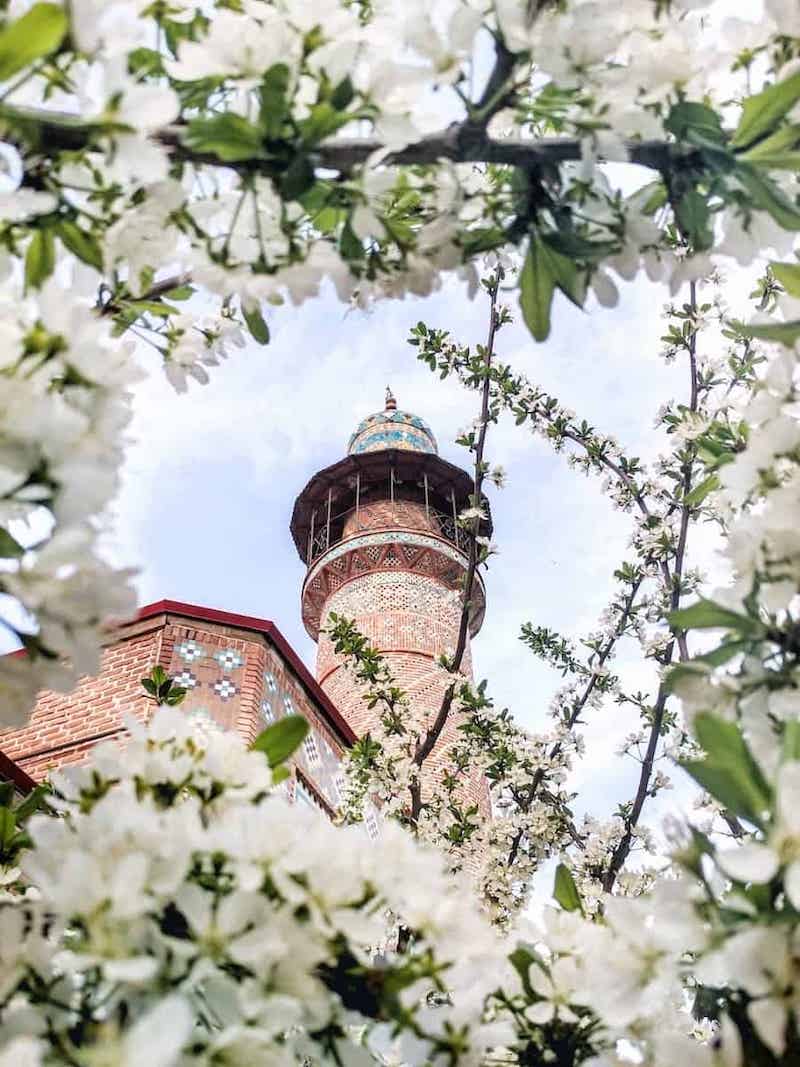 Once you arrive at Ortachala, start walking toward the actual bus station building.
You will eventually see a sign that says 'Tbilisi to Yerevan – 50 GEL'.  Go down the stairs where this points and you will be in the right place.
Once down there, someone will likely see that you have a lot of bags and will inevitably assume you're heading from Tbilisi to Yerevan.
Just get pointed in the right direction and there should be a marshrutka underneath the building spelling Yerevan in Russian.
Just in case, here is the spelling of Yerevan in Georgian, Russia, and Armenian:
ერევანი – Georgian
Ереван – Russian
Երեւան – Armenian
From there, you will want to pay the driver 50 GEL. Depending on other passengers already inside of the marshrutka, he may take your passport then or wait a bit.
But, give him your passport and the money and then he will go get the ticket at the office himself.
Take a seat (preferably a window seat!) and enjoy the wait until you get going.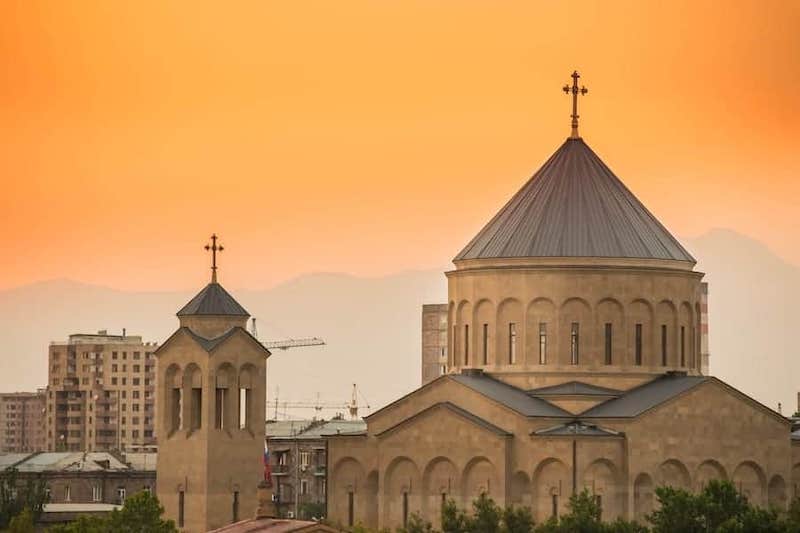 There are a few shops around that sell bread and snacks for the journey.
There will also be loads of other buses heading to different destinations down here (several to Russia), so you won't be alone.
If you haven't changed over to Armenian drams yet and want to do so, you can also do that around there.
Update:  I am being told that the price is now 35 GEL.  Not confirmed, but just beware.
Arriving at the Georgia – Armenia Border
It'll take an hour or an hour and a half to arrive at the border of Georgia and Armenia.
You don't need to remove your bags at the Georgian border.
Just head inside and get stamped out.
Once you arrive at the Armenian border, however, you will need to grab all of the bags you have on the bus.
Head inside and wait in line to get stamped into Armenia.
My wait was no more than 15-20 minutes in this line.
There was a large bus that pulled in ahead of us, but I knew that many people would end up delayed by me, so I let many of them go in front of me.
Do you Need a Visa for Armenia?
I used to need a visa for Armenia way back in the day, but Americans no longer need one.  We get 180 days a year inside of the country visa-free.  But do check before you go there.
These are some of the countries that do NOT need a visa for a 180-day stay in Armenia annually (based on my readership here):  EU Citizens, United States, Norway, New Zealand, and Australia.  To see this full list, click here.
If you are from Canada, South Africa, or Mexico- you do need a visa and it can be picked up on arrival at the border.
This permits you access to Armenia for 120 days maximum annually.
The cost of the visa is 15,000 drams (about $30).  You can also apply for this online via the Armenia e-visa portal.
>> BOOK TBILISI TO YEREVAN PRIVATE TRANSFER HERE
The Journey Through Armenia
Unfortunately, once you get into Armenia, you will notice a major slow-down in your speed.
Armenian roads are in desperate need of a facelift and there are potholes everywhere. (The new road is already ready).
This hasn't changed since my last time on these roads in 2013 and likely won't be a priority to change any time soon as Armenia has bigger issues on their plate.
But, the Armenian scenery is so outstanding that you won't even notice it after a while.
You will make a few stops here and there for food, smoke breaks, etc. We stopped fairly quickly after hitting the border and then again for a while in Stepanavan.
The air was brisk that day, so the stops were really enjoyable and refreshing.
Arriving in Yerevan
You will arrive in Yerevan at the Central Bus Station, which is often referred to as the Kilikia Bus Station (Kilikia is a popular beer in Armenia).
Once dropped off, you can take a taxi, bus, etc.
Taking a Taxi in Yerevan
Taking a taxi in Yerevan is fairly easy and cheap. There is a standard flat rate of 600 drams (around $1.25) for 4km or less.
Anything over that becomes 100 drams per kilometer.
Try to know your place of accommodation or have an offline map loaded before arrival so that you don't end up screwed over.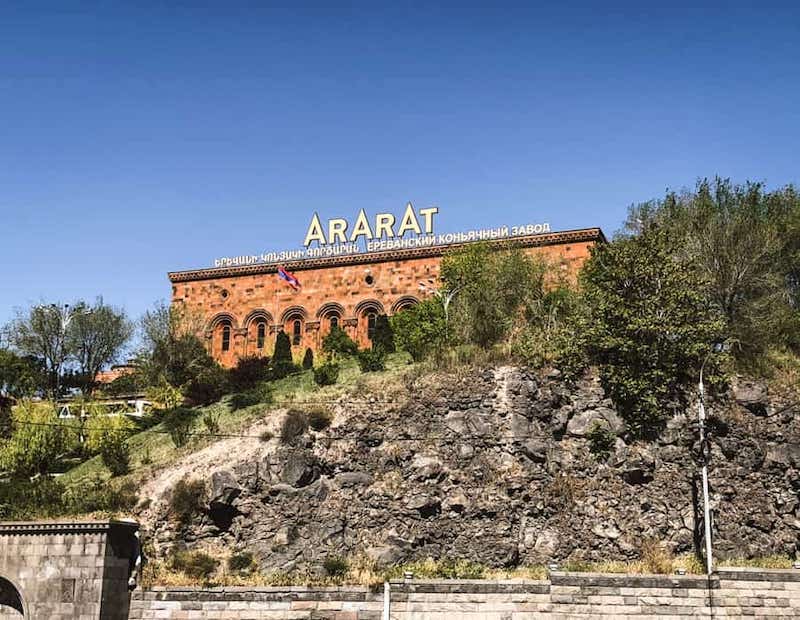 I was willing to pay 1000 drams without negotiating once arriving (like $2.15) because my journey ended up especially long due to filling up the marshrutka and then being stopped because of protests in the city.
I didn't have a SIM card, I didn't have any idea of where my hostel was, etc.
If you want to download an app, you can try Taxi GG, which comes highly recommended by my local friend in Yerevan.
Or Yandex taxi.  Uber does not work in Armenia currently.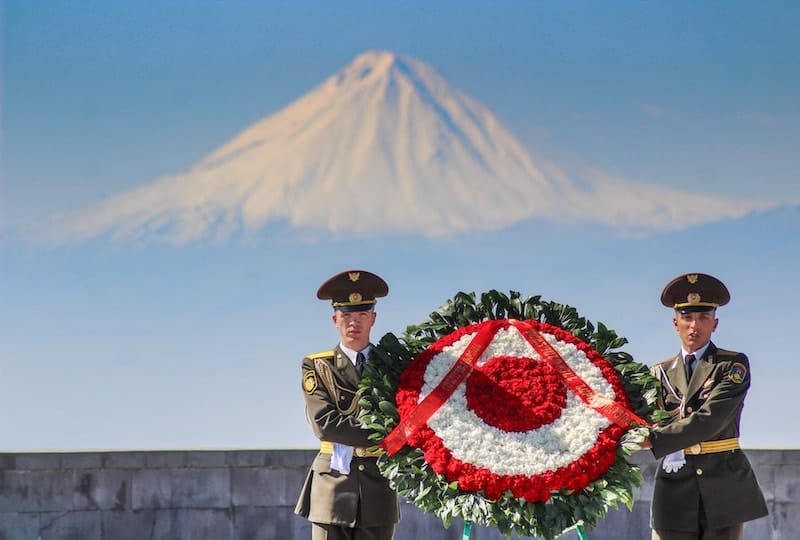 Travel Tips for the Tbilisi to Yerevan Bus Ride
If you can change money before entering Armenia, it is nice to have a little bit on you for the journey. If you don't have Armenian Drams on you, bring some USD or EUR.  We stopped at a supermarket on the way that had a currency exchange.
If you make a stop at the supermarket, there are some really malnourished, young pups hanging around that are curious and hungry. Try to see if you can grab them something inside of the shop.  The shop only takes cash.
Your Georgian SIM card will not work in Armenia.  There was a Beeline in Stepanavan (and I'm sure other places in Armenia) that I ran into to see if I could get a card, but they only took cash and there was no ATM nearby.
I found the ride from Tbilisi to Yerevan was done best with good music and getting lost in my own world, however. Dodging potholes and the roads would have been nauseating if I had had access to the outside world.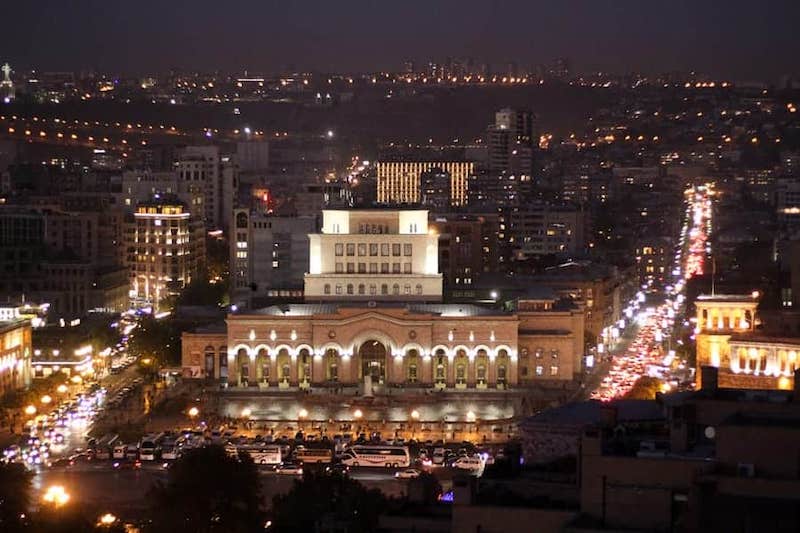 Helpful Information
Bring some food and water for the trip.  I didn't bring nearly enough with me and my journey from Tbilisi to Yerevan took longer than usual as the protests in the Armenian capital slowed things down majorly.
Fortunately, people constantly purchased bread at every stop we made and always shared. The bread that was purchased in Stepanavan is probably the best bread I have ever had in my life.
If you are claustrophobic, try to secure one of the 'single' seats in the marshrutka. I was there early enough that I got a single seat with a lot of legroom.
Get a good night's sleep the night before so you can stay awake for the journey. It really is jaw-dropping!
Have your Yerevan accommodation information with you at the Armenian border as they will likely ask. I handed over my phone with the screenshot of it and that sufficed.
Once you arrive in Yerevan at the Kilikia Bus Station, there is no ATM on the bus station side. You will need to go under the road (there is a tunnel) and to the other side to the right.
There is an ATM.  It shot me out large bills and it was a pain to exchange them out, but one little market permitted me to purchase water for change back for a taxi.
The taxi should be 600 drams into the city center. Give yourself a limit and accept it.  Mine was 1000 drams at that point as I had been on the road for far too long that day!
Wear the right clothing and shoes for the journey.  Something comfortable and suited for travel is always good. Click here for some great travel clothing ideas.
>> BOOK TBILISI TO YEREVAN PRIVATE TRANSFER HERE
Getting from Tbilisi to Yerevan is actually quite a simple process by bus or marshrutka.
The train is at least double or triple the price, so if you are on a budget and have 'been there, done that' with Soviet-style trains before, this is definitely a feasible option.
Also, the train is an overnighter, so if you want to see some scenery, it is not the most viable option.
Many people want to take the train to save on accommodation, but if you're a budget traveler, you likely won't be paying more than $4 a night for a hostel bed in Yerevan, so the process will actually save money if you decide to take the bus from Tbilisi to Yerevan.
If you have any additional questions or simply want to share your experiences (good and bad!), please drop them in the comments below.
Where to Stay in Yerevan
The Alexander (Splurge): If you're looking for the 'cream of the crop' accommodation in Yerevan, look no further than The Alexander. 
This luxury hotel just exudes elegance and is the top place to stay in Armenia. They have beautiful rooms, a cigar bar, and much, much more. 
The location is also epic. Click here for rates and availability.
Daniel Boutique Hotel (Mid-range):  This lovely boutique hotel offers some of the best hospitality in all of Yerevan. 
The location is pretty centralized and the rooms are extremely comfortable and offer all the amenities a traveler to Armenia could wish for.  Click here for rates and availability.
Grand Hostel Yerevan (Budget):  I have stayed at many hostels but this is definitely one of my favorites. 
The property is located right on the edge of the city center (but still within walking distance to all the main sights). 
It is a family-run establishment and the property is new and very modern, which is a rare find in Armenia.
There are dorms and private rooms there with plenty of bathrooms.  Click here for rates and availability.
Returning to Tbilisi From Yerevan on Bus
To get back to Tbilisi from Yerevan by bus, you will need to go to the Kilikia Bus Station in Yerevan and head to the left-hand side.
There will be an area with Mercedes Sprinters and the name is called 'Comfort'.
There will be a sign. These marshrutkas leave on a schedule to Tbilisi and that schedule is as follows:
The schedule from Yerevan to Tbilisi is as follows: 0730, 0830, 1030, 1300, 1500, 1700, and 2130.
The buses will leave once they fill up, so be a bit early.  The price is 8000 AMD.
If you have any tips for getting from Tbilisi to Yerevan, please leave them in the comments!  Enjoy your trip!
Additional Yerevan Reading: