If you are looking for how to travel from Yerevan to Tatev Monastery, then our guide will detail the process, showing you just how easy it is to get to Tatev from Yerevan (and back).
Planning your trip to Tatev (and Syunik) last minute?
Below are some of the top tours, hotels, and more! Donʻt forget to plan ahead when visiting Armenia!
Top Tours from Yerevan (including Tatev):
Top Places to Stay in Yerevan and Goris:
Looking for the best way to get around Armenia? Click here to check rental car rates for Armenia!
Also, in this guide from Yerevan to Tatev Monastery, you will see how to make stops at Areni-1 (cave) and Noravank Monastery.
Anyone who visits Armenia puts Tatev Monastery on his or her bucket list because Tatev is one of the most famous and iconic monasteries in Armenia and even in the whole Caucasus! It is very historical and is renowned for its unique location (and the cable car).
GOOD TO KNOW: Wings of Tatev will be closed from November 20, 2022 until March 1, 2023 for its annual preventative inspections and technical checkups.
Tatev Monastery was built in the 9th century and was famous not only for its masterpiece architecture but also for being one of the most important universities in the Caucasus.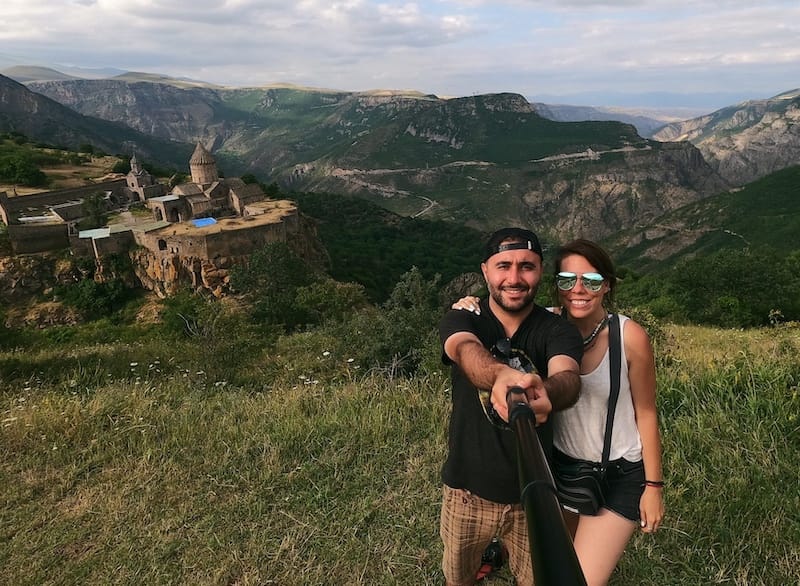 While Tatev Monastery is a popular place to visit these days, the place was not always accessible due to its remote location.
However, in 2010, the Wings of Tatev aerial cableway was built and included in the Guinness World Records book as the world's longest non-stop double track cable car.
The jaw-dropping ride starts from Halidzor village to Tatev Monastery and returns back, making the experience unforgettable.
Also, in 2019, the Armenian government renovated the road to Tatev, making the ride a lot easier and everything in the region far more accessible.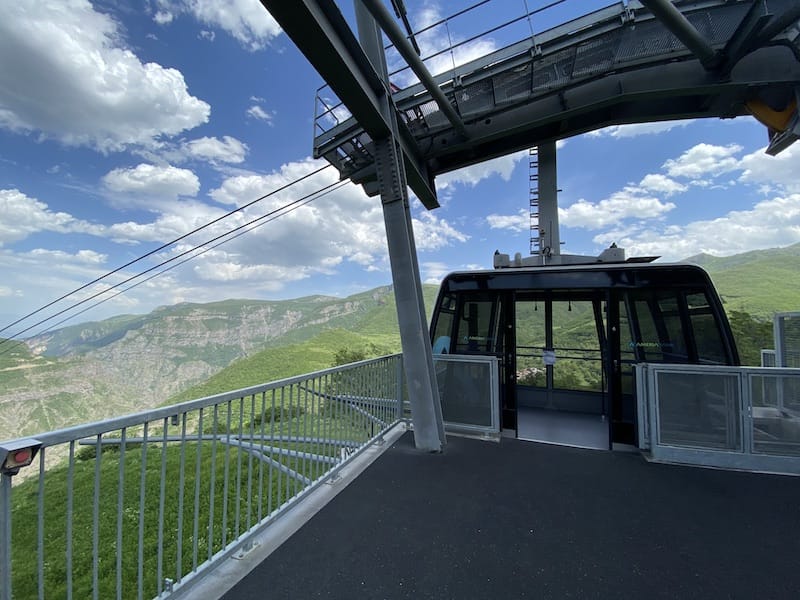 Where Is Tatev Monastery Located?
The Monastery of Tatev is located in the Syunik region in the south of Armenia on a huge basalt plateau right next to Tatev village. It is about 35 kilometers away from Goris.
Distance And Time to Tatev from Yerevan
From Yerevan to Tatev, the distance is 256 kilometers (160 miles). The trip from Yerevan to Tatev Monastery takes approximately 4.5 – 5 hours by car.
There are several options to get from Yerevan to Tatev – some are affordable but may be a slower journey. We list a variety of options below so you can see which one suits your travel needs best!
How to Get from Yerevan to Tatev Monastery
Public Transportation (Marshrutka)
Unfortunately, there is no direct route from Yerevan to Tatev. As a result, you will need to take a minibus (marshrutka) to the closest town, Goris.
From Yerevan to Goris, minibuses are departing from Yerevan Southern Bus Terminal behind the Sasuntsi Davit metro station twice a day at 9 AM and 3 PM. It should be bus 607.
The cost of the ride is 3000 AMD ($8) and takes approximately 4-5. There is a bus that also goes from the northern bus station but it takes an additional two hours.
Taxi
The taxi ride directly from Yerevan to Tatev can be pricey but is one of the more comfortable options to reach the historical landmark.
You can download local taxi apps and find your preferred ride to Tatev from Yerevan. The price from Yerevan to Tatev by taxi is approximately 25,000 AMD ($50) and takes 4-5 hours.
If you are more than one or two people, you can try to share the taxi cost or you can get shared taxis which are at the bus station. These cost around 5000 AMD per person.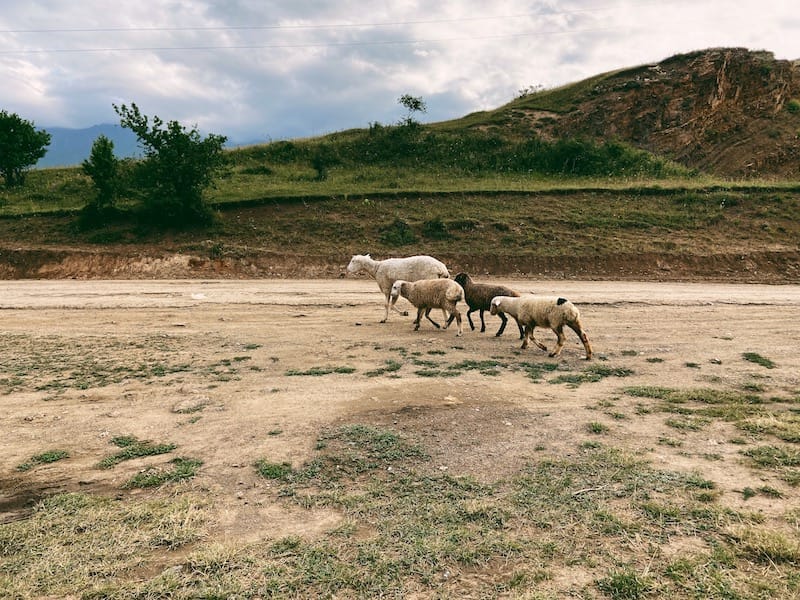 Renting a Car in Armenia
For trips from Yerevan to Tatev, renting a car is a great option because you can control your journey and make many stops along the way!
Armenia is having its roads and infrastructure repaired at a rapid rate and many historical and natural sights are easily drivable. If you love beautiful road trips and can drive then renting a car in Yerevan and discovering Armenia will be the best option.Click here to check rental car rates in Armenia
Tours from Yerevan to Tatev
Taking a tour to Tatev from Yerevan is probably the most comfortable and cost-efficient option.
It will save time, give you a chance to see multiple sights, pre-planned food stops, and you will have a very knowledgeable guide who can tell you all about the places you'll visit!
There are many tours that depart Yerevan to Tatev and have very affordable prices. Some are private tours and some are group options.
Below are some of the top-rated tours to Tatev Monastery:
Private Day Trip to Khor-Virap, Noravank & Tatev Monasteries
⇒ Duration:  12 hours
⇒ Private tour
This 12-hour tour takes you to three of Armenia's best sights: Khor Virap, Noravank Monastery, and, of course, the beautiful Tatev Monastery down in the Syunik region.
It is a private tour, meaning you'll get to take in everything you see by yourself or with your chosen group and you will get to learn a lot about each sight with your own private guide.
The drive will be comfortable and hotel pickup in Yerevan is an option.  It will be a long day, so be sure to pack accordingly!  Meals are not included.
>> Click here to check tour rates and availability
Can You Visit Tatev from Yerevan as a Day Trip?
Even though Armenia is a small country and traveling in Armenia looks easy on a map, there are many destinations in Armenia that are located in very remote locations. Armenia is a mountainous country and that may not always appear as so on a map!
From Yerevan to Tatev, the road trip is best done with an overnight stay somewhere.  While tour companies may do the trip as a day trip from Yerevan, trust us… it does not allow you to enjoy everything to the max!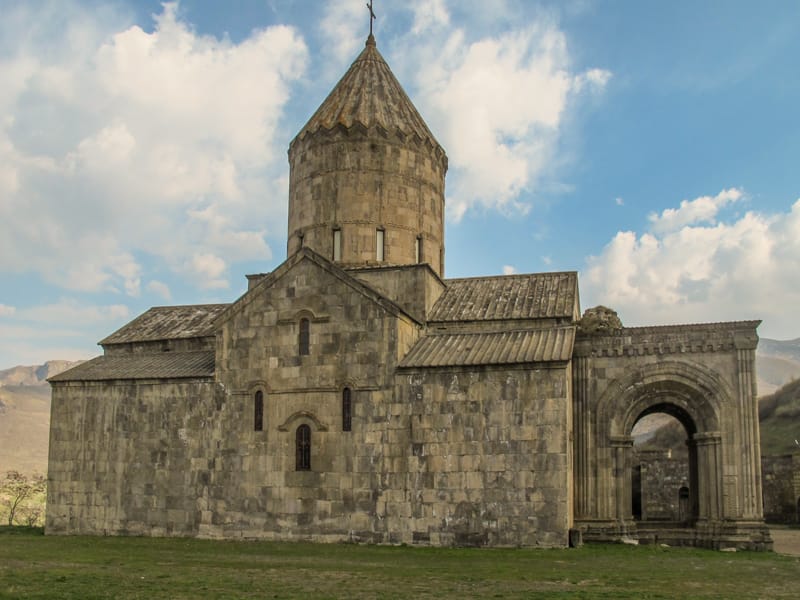 Just driving one-way to Tatev from Yerevan takes 4-5 hours and the same on the way back, so you really recommend two or three days.
This will give you the chance to see many places in Syunik and Vayots Dzor… and the chance to stay at some incredibly awesome guesthouses along the way!
Stop at Areni Cave, Noravank, and Shaki Waterfall
The benefit of the road trip from Yerevan to Tatev Monastery is that there are several iconic attractions you can visit on the way there.
The first of them is the mind-blowing Areni Cave, the oldest winery in the world! It dates back 6100 years! Also in the same winery cave, you can see the world's oldest leather shoe (5500 years old).
Right after Areni, you will see a narrow and picturesque road and signs pointing to the 13-century Noravank Monastery.  This is a can't-miss site and should definitely be included on your Armenia itinerary!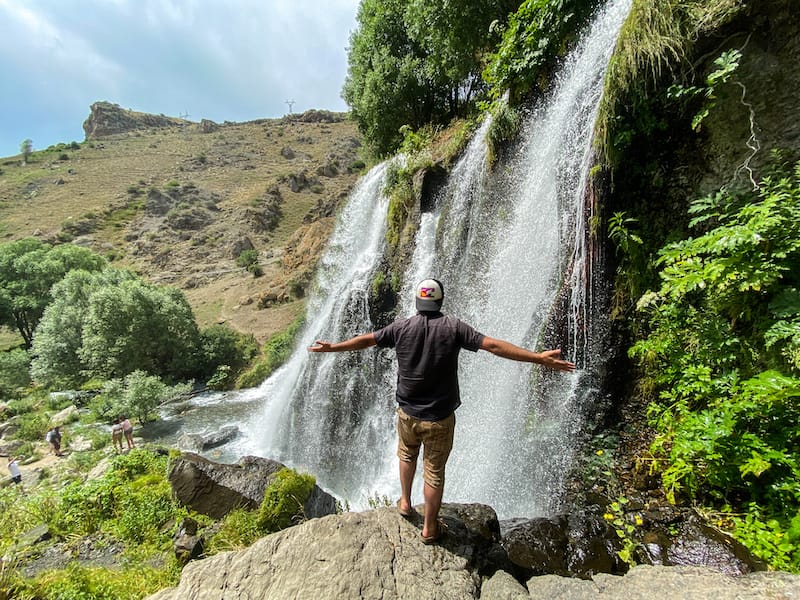 On your way back, we recommend making a stop at Karahunj Observatory (one of the oldest in the world) and Shaki Waterfall, one of the most famous waterfalls in Armenia!
We hope that you find a comfortable way to make your journey from Yerevan to Tatev Monastery.  If you have any questions, please let us know in the comments! Thanks!
Additional Places to Stop in Syunik