Goris is one of the cities in Armenia that will easily just blow you away! And these are the best things to do in Goris from two travelers who love the place!
Planning your trip to Goris (and Syunik) last minute?
Below are some of the top tours, hotels, and more! Donʻt forget to plan ahead when visiting Armenia!
Top Tours from Yerevan (including Syunik options):
Top Places to Stay in Goris:
Looking for the best way to get around Armenia? Click here to check rental car rates for Armenia!
This includes what to do in Goris if you choose to stay in the city, where to eat, where to stay, and day trips. Let us know if you have any questions or comments! Thanks!
Best Things to Do in Goris
The southern part of Armenia has always fascinated us and we finally decided to explore it more thoroughly.
Our first destination was not the beautiful city of Kapan, the largest city in the region, but instead the authentic and charming Goris.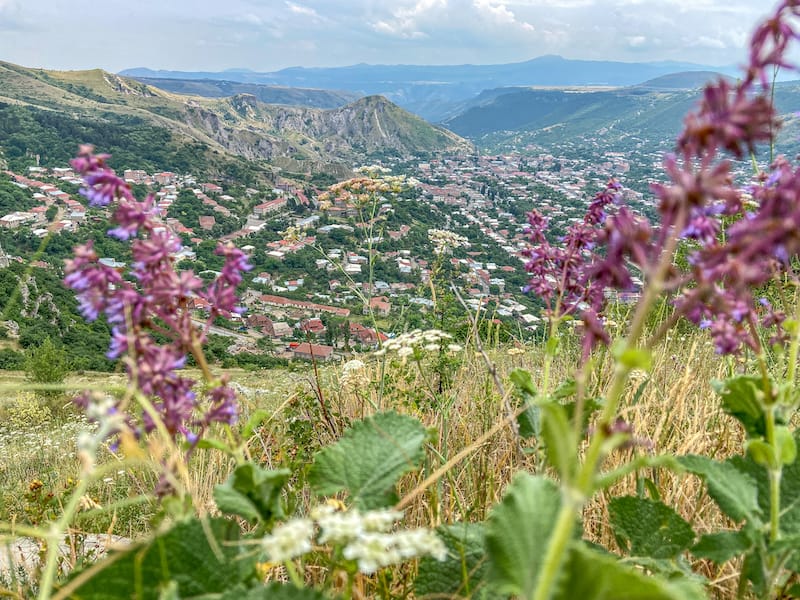 This small-sized city has more than meets the eye, with plenty of things to do! As we arrived, we were amazed by the surrounding nature, its lovely and hospitable people, and its unique architecture.
This guide will inform you of the best things to do in Goris and will help you visit its surrounding natural and historical sights that blew our minds, which will definitely blow yours too.
About Goris
Goris is located 254 kilometers away from Yerevan and is the second-largest city in the region of Syunik.
The first time Goris was mentioned was in the Urartian kingdom times by King Rusa I (735-713 BC) as a part of his mighty kingdom. It was called Goristsa country.
Over the centuries, Goris has seen invasions from Persia (modern-day Iran), rulers of the Russian Empire, and later the Soviet Union. Still, during all of that chaos, it kept its unique and beautiful traditions, including its architecture and religion.
The city is divided by the river Vararak and has both old and modern parts to it. In Old Goris, people still lived in medieval cave dwellings and stone pyramids until the mid-20th century. They also resided at St. Hripsime Church, built in the 4th century.
Traveling to Armenia soon? Click here to read our local's guide on what to know before visiting Armenia
From Old Goris, people slowly began to move to the more modern part of the city during the Soviet era.
There are many things that can be said about Goris, but you can discover it for yourself just as we did. The city is dynamic for its size and definitely one of the best places to visit in Armenia!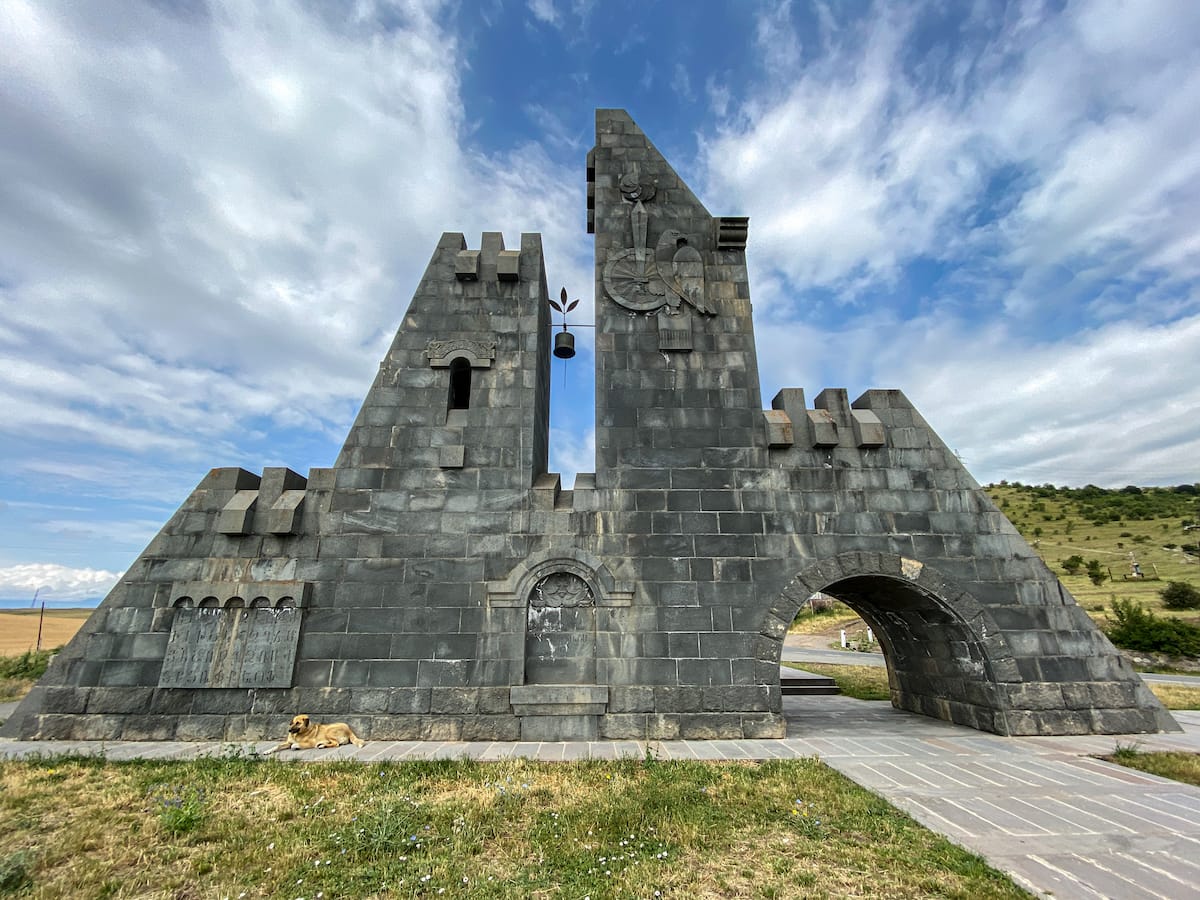 How to Get from Yerevan to Goris (Գորիս)
Getting from Yerevan to Goris is pretty easy.  You can either drive there, take a taxi, or grab a marshrutka.  
A taxi from Yerevan to Goris with the GG app is about 25000 AMD (about $50) one-way. 
To get to Goris from Yerevan, you will need to go to the southern bus station in the capital city and grab a marshrutka to Goris.  This takes about 4-5 hours and costs about 2000-2500 AMD ($5).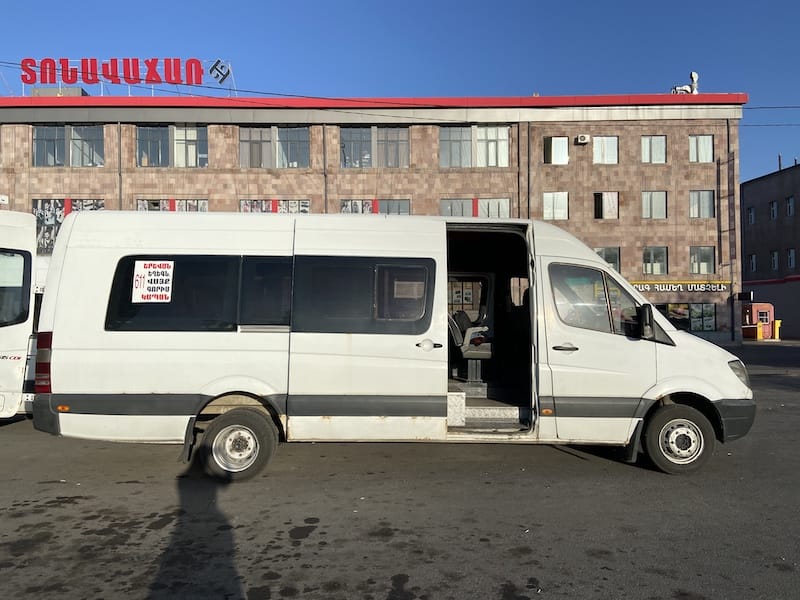 Please note that 4-5 hours is generous.  It can take a bit longer so plan accordingly. These buses leave at 9am and 4pm daily. Please have your Yerevan accommodation double-check before you leave to ensure all is still running and on schedule.
You can also take a shared taxi to Goris which will be about 4500 AMD per person and can be about 4.5 hours in total.  
Cultural Things to Do in Goris
St. Gregory the Illuminator Church
The biggest and most beautiful church in Goris is St. Gregory the Illuminator. It was founded in 1903 and is located in the heart of the city.
As you enter the complex of the church, you will see a lovely garden where you can observe the outside of the church walls and its surroundings.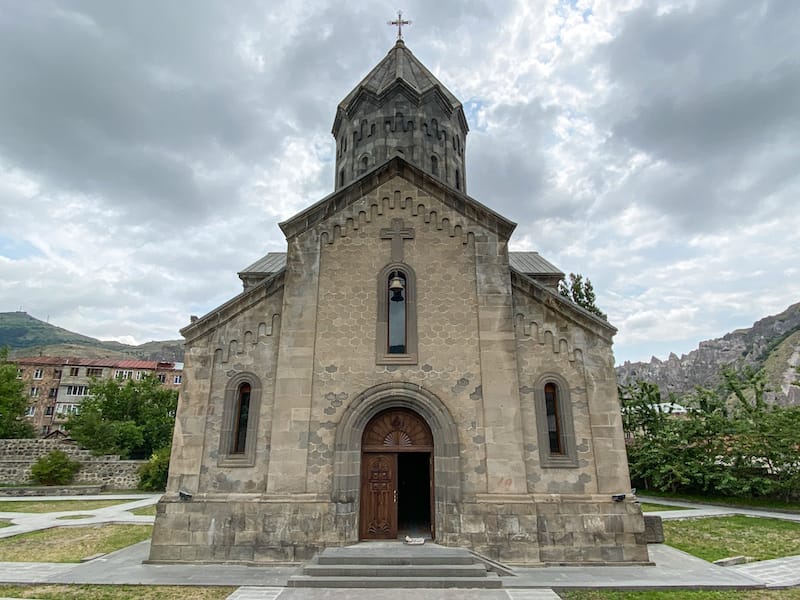 The St. Gregory the Illuminator Church was built by an Italian-Armenian architect. It has a triangle design with one main central chapel that makes the church look very ornate and detailed.
During a time of war, the front part of the wall was damaged slightly by a cannon shell. It is currently sitting beside the church as you walk in as historical memory.
Visit Aksel Bakunts House-Museum
One of the most popular poets in Armenia, Aksel Bakunts, who wrote the legendary Alpine Violet story, was from Goris and is the pride of the Syunik region.
His house museum is definitely a great place to visit, with its charming little garden where you can see many statues, a beautiful water fountain, and much more.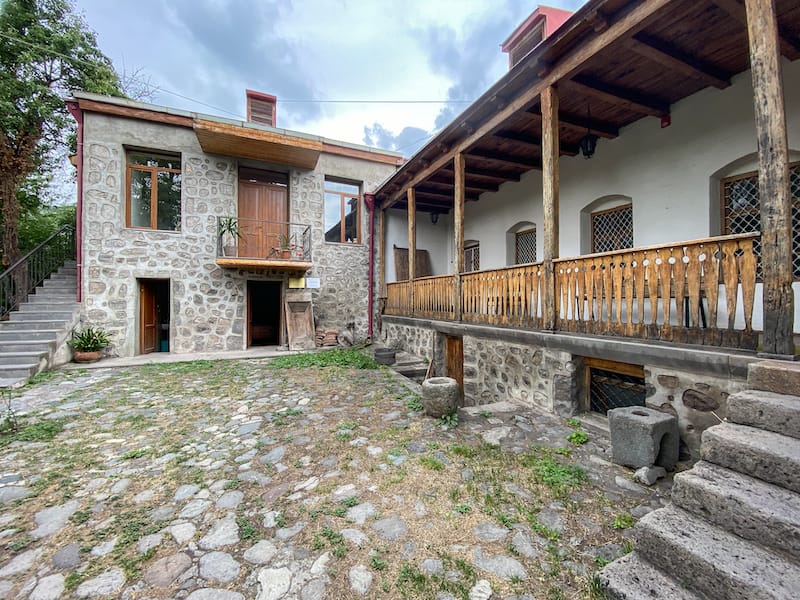 The house of the legendary poet is a typical 19th-century Armenian house with an interesting interior of old-style furnished rooms, showing where he worked and lived.
Please note that the museum is not open on Mondays. The working hours are from 10 am-6 pm. You can find it at 41 Mashtots in Goris.
Observe Goris Architecture
Goris has very interesting architecture which gives the city its lovely charm. Most of it is 19-20th century two-story houses with beautiful arched gates and stone fences.
The old part of the city is full of houses that still look very authentic and beautiful, even if some of them are now abandoned.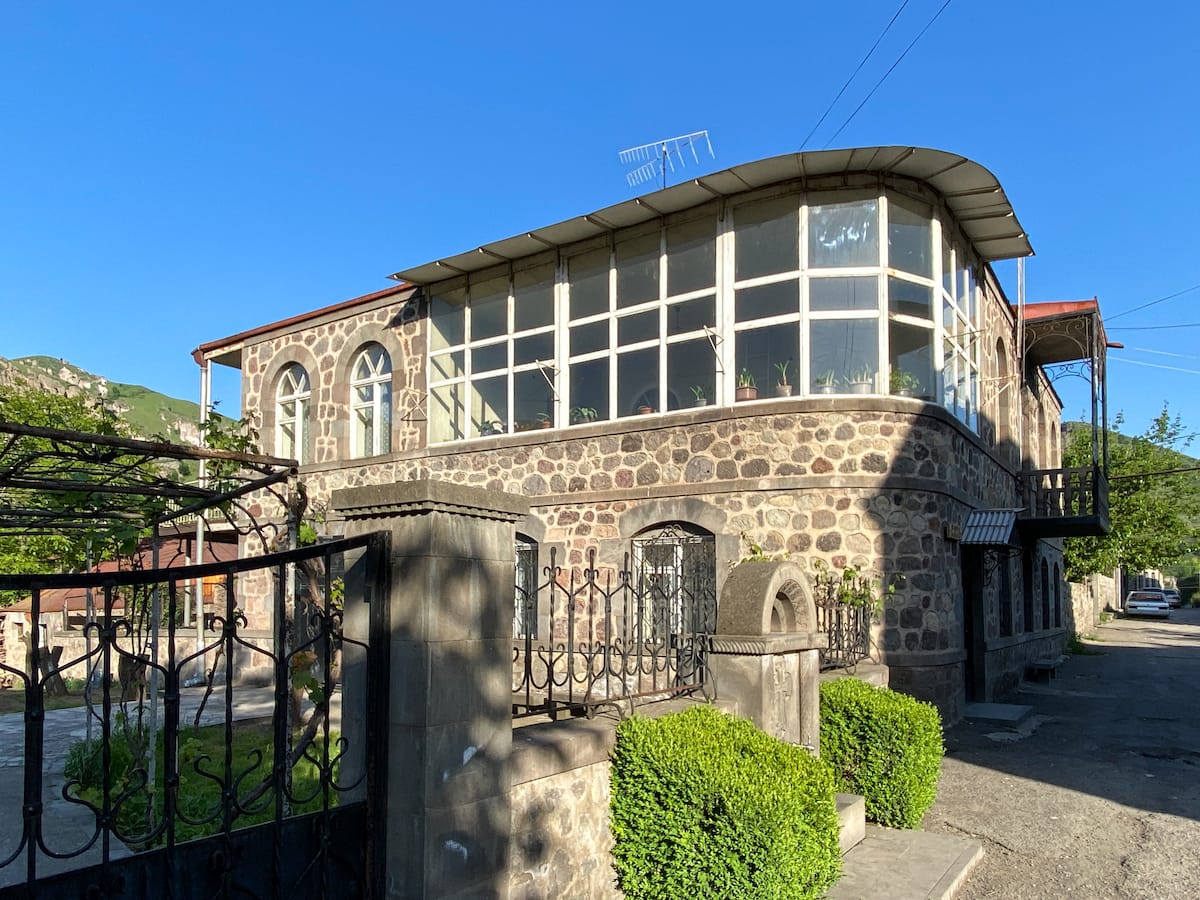 You will notice that the facades of the houses are not covered but have a round stone shape design on them, which is called ''barqyash'' in the local dialect.
This is a style very specific to Goris that you will not see anywhere outside of the Syunik region, except maybe in rare places in the country that are Goris-inspired.
Goris Geological Museum
The Syunik region has an amazing and interesting ancient history. It is possible to see the many remains that were found in the region at the Goris Geological Museum.
Located right next to the city municipality building, the museum has a fascinating collection of artifacts and folk art from different centuries.
Please note that the museum is not open on Mondays. The working hours are from 10 am-6 pm. You can find it at 28 Komitas in Goris.
Admire Local Art at City Gallery
If you like art and painting, then you can go and support local artists at the Goris City Gallery, which is located on the right side of the municipality building.
Don't miss out on seeing beautiful paintings from the talented artists of Goris. You can find it at 3 Ankakhutyan Street in Goris.
What to Do in Goris for History Lovers
WW2 Memorial
There are several Second World War memorials in the city. Stroll down Syunik Street to the big pool where you can see a big memorial.
You can also see an interesting wall fountain memorial right in the city center behind the municipality building, next to Vienna Park.  It is on Gusan Ashot Street in Goris.
Visit Hrant Baghdagyulyan's Studio
One of the coolest places to visit in Goris is housed in locally-known artist Hrant Baghdagyulyan's ex-studio which is located in a traditional building that became neglected throughout the years.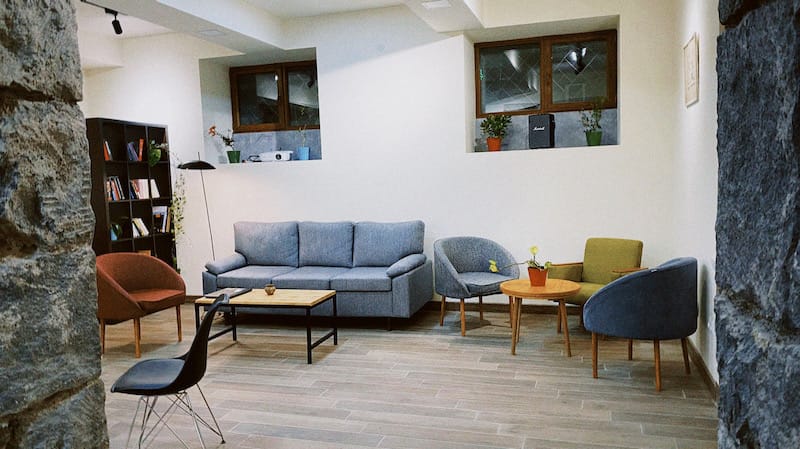 With the idea and help of the Goris young people like Yeva Dalakyan and Hrant's son Narek the studio now is converted into ideas generator youth center, an anti-cafe, a little concert place, and more.
Best Views of Old Goris
There are a couple of places where you can see Goris at their best. One of them requires a long hike in the surrounding hills or driving there to see the city from the top.
To easily see beautiful views of the caves and stone pyramids, you can visit the lookout point of the city which is a 15 minutes walk from the city center.
In Old Goris, where people were living centuries before they moved to the main city, you can still see old houses and a lovely small church surrounded by beautiful, steep hills.
Medieval Cave Dwellings and Stone Pyramids
It's fascinating to realize that before moving to the current Goris city, people were still staying in the medieval cave dwellings until the mid-20th century.
To get there, you will need to cross the gorge over a bridge and walk up towards the stone pyramids, which are visible from afar.
If you walk to the little church, you can see the old settlements on the way. There is also a little cemetery there.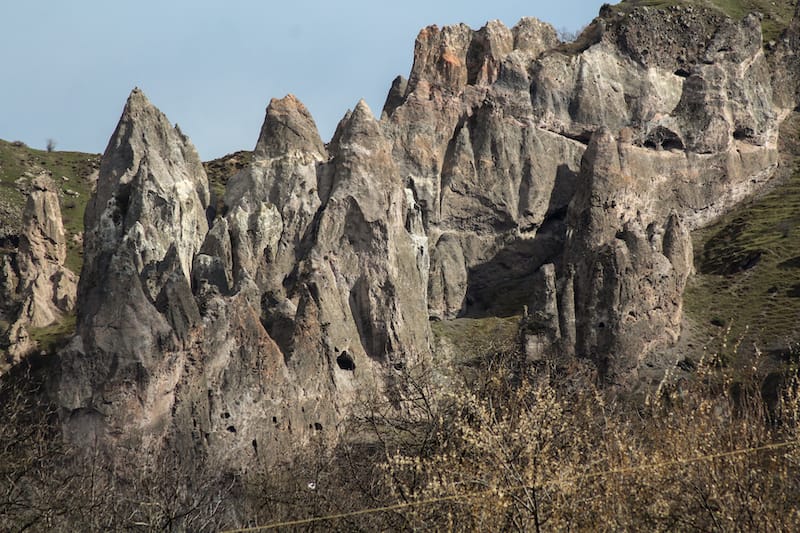 Walk Around the Central Square
The city center of Goris is very small just like the city itself, but the charming little city square is a very picturesque place. From there, you can see the surrounding mountains and stone pyramids.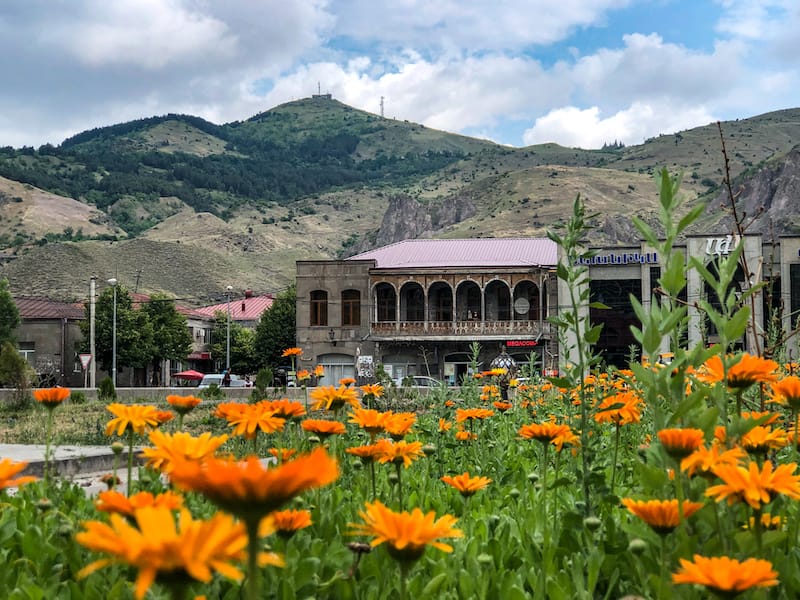 If you walk to the side of the fountains to Vienna Park, you can have a refreshing coffee or a smoothie at the Delux Cafe located inside of the park.
Drink Goris Draft Beer
This city has its own draft beer. It's not a big company, and its small factory used to be a big one during the Soviet Union.
You can order Goris draft beer in many restaurants and cafes in the city as it's quite popular there.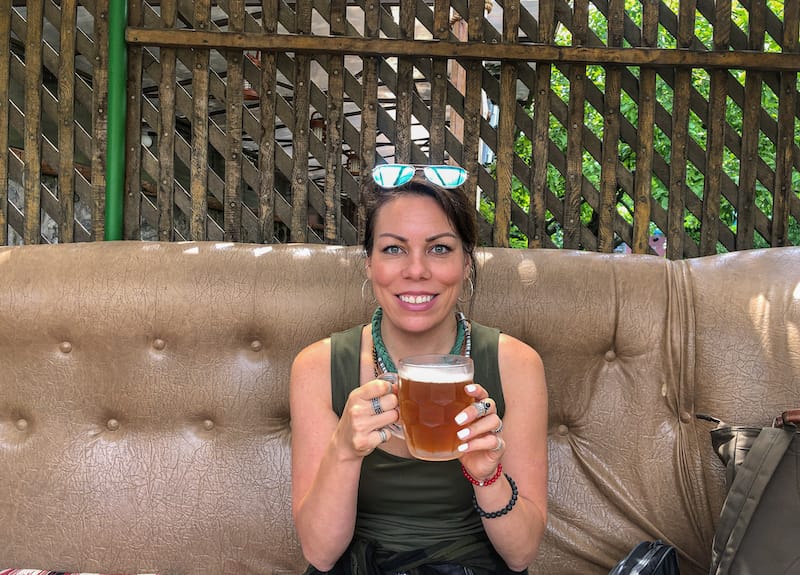 Make sure you give it a try when you visit Goris. It is especially refreshing to have a drink with friends during the summer.
Places to Visit Near Goris
Tatev Monastery
One of the most important churches in Armenia, the legendary Tatev Monastery is located only 35 km away from Goris.
This stunning monastery is the pearl of the region and many travelers go there to experience the world's longest non-stop double-track aerial cable car which takes you up to the ancient church.
Alternatively, you can drive through the Harsnadzor gorge up to the monastery, where on the way you can see Harsnadzor Watchtower and the mysterious Devil's Bridge.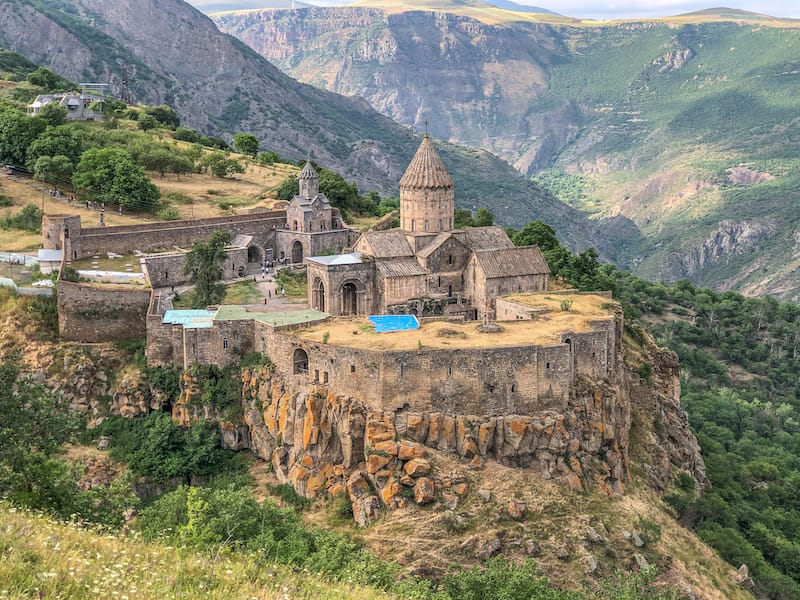 Khndzoresk
The Syunik region has many abandoned old villages; one of the most famous being the mesmerizing Khndzoresk.
Khndzoresk used to be the biggest village in the region in the 19th century. Before that, in the 18th century, it was a military fortress.
After you see Khndzoresk, you will ask yourself how people were still living there until the 1950s.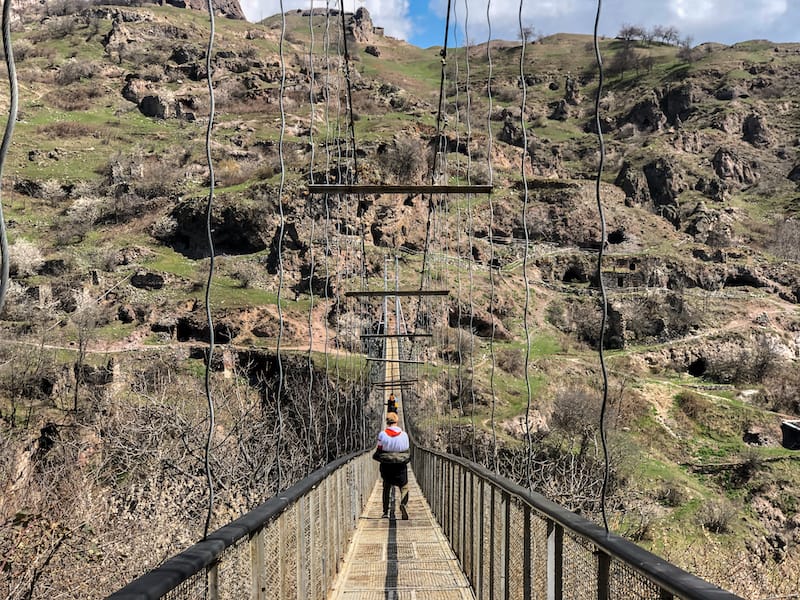 Well, the answer is that those caves were turned into then-modern homes, and when the time came to move they took everything with them and moved to the upper part of the hill, which is current-day Khndzoresk.
Today, it's a popular touristic sight. To visit the old cave settlements, you need to cross the gorge on a "Shaking Bridge."
Karahunj (Carahunge)
Fascinating, mysterious, and super photogenic, Karahunj has quite a history. It is also known as "Armenian Stonehenge."
Karahunj is probably the world's oldest lunar observatory. Though it's suspected to be an observatory, no one knows the true purpose of why people created such a place 7500 years ago.
Karahunj is located only 35 km away from Goris and it is a truly fascinating place to visit.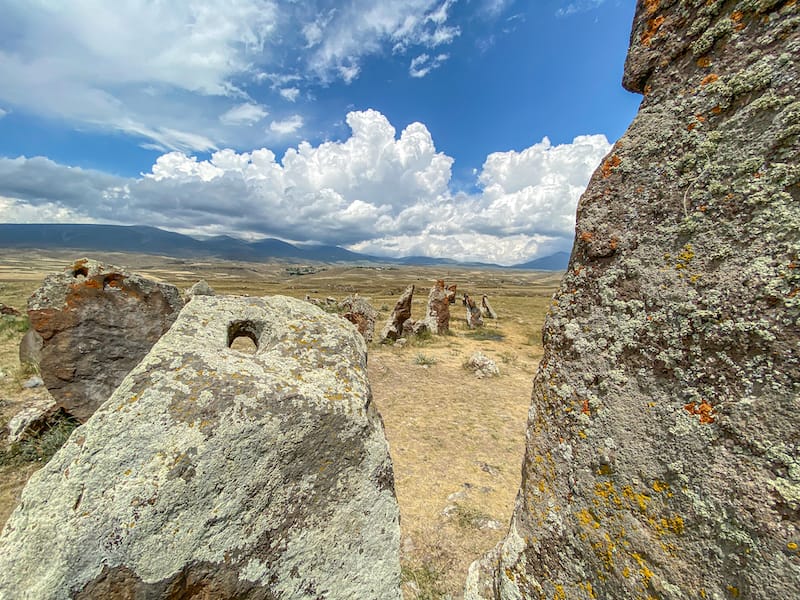 Ttenut Eco Camp
If you love camping that isn't completely roughing it, or "glamping," then take a taxi from Goris city center to the Karahunj village (not Karahunj sight) which is only an 8-minute drive.
Ttenut Eco Camp is a lovely family-run facility with big mulberry trees, where an annual mulberry fest takes place.
It's a lot of fun, especially if you are with your family, to shake mulberries from the tree and try their chocolate-covered versions, camp, play games, and just relax.
Shahnazar Adventure Camp
Shahnazar Adventure Camp is another great camping place, further up in the Hartashen village mountains with gorgeous views where you can truly reconnect with nature and enjoy it at its best.
Shahnazar provides you with different types of accommodations from tents to awesome cabins on the hills and its located 12 km away from Goris.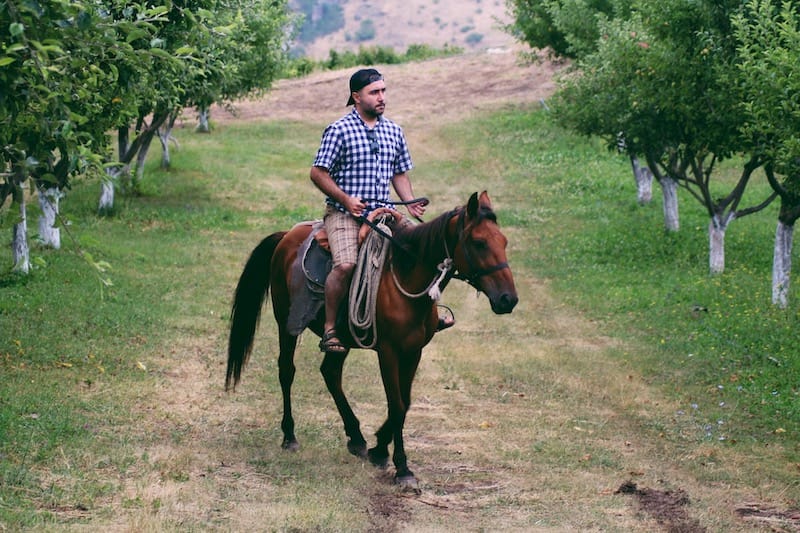 Here, they organize hikes as well as horseback riding tours to abandoned villages, such as Aygedzor, that are in the surrounding areas.
>> Check rates and availability for Shahnazar Adventure Camp
Hin Khot (Old Khot)
Among all the abandoned villages in the Syunik region, Hin Khot is probably the most hidden and fascinating one that has been forgotten over the years.
Hin Khot also is known for its burial grounds from the 1st-2nd century BC, discovered by archeologists. Also, you will find a similarity between legendary Machu Picchu when you will see the photos of Hin Khot.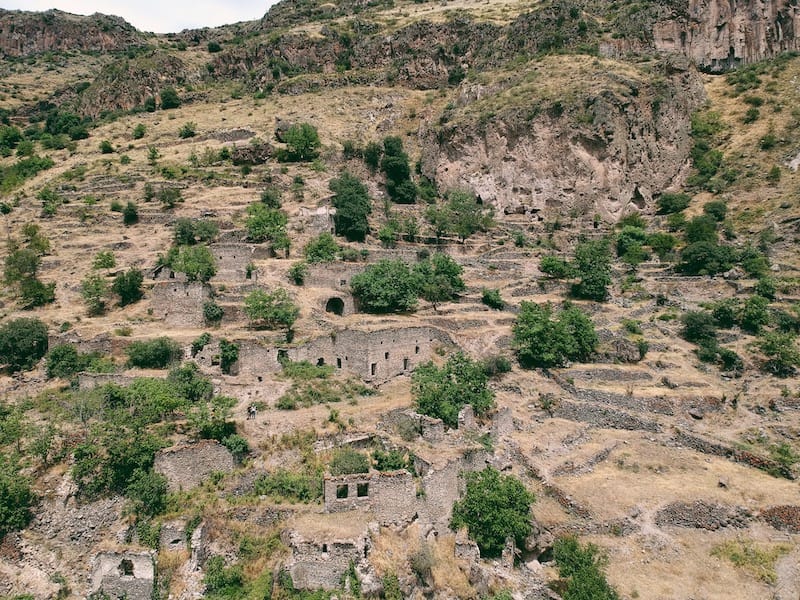 You can't go all the way to the village by car and will need to hike down to see where people were living centuries ago up until the 1970s. You can see their houses, a cemetery, and a 12th-century Red Church.
Hin Khot is located approximately 20 km away from Goris. Make sure you have good hiking shoes to walk 4-5 km down to the village and back up again.
Where to Eat in Goris
Tour Baza
One of the oldest Soviet restaurants still in existence in Goris is the Tour Baza cafe-restaurant, popular among both locals and travelers.
This charming little restaurant is located right on the edge of the city where you can see the amazing view of Old Goris surrounded by the beautiful stone pyramids.
You can sit at one of the tables with a gorgeous view and enjoy delicious local cuisine and cold Goris beer. You can find Tour Baza on Grigor Tatevatsi Street in Goris.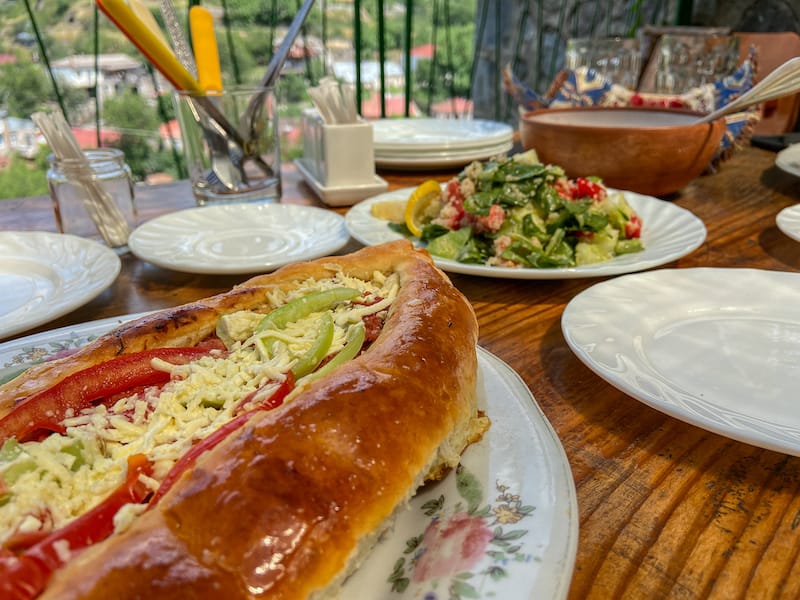 Takarik Restaurant
Located near the Old City, Takarik restaurant is a charming place for all families or big groups of people to relax and try some high-quality food.
Like a lot of the local restaurants, Takarik has mostly Armenian food. You can enjoy a meal with your friends in one of their nicely decorated private rooms. You can find Takarik at 25 Syunik Street in Goris.
Wine Garden
A little further in the central part of the city, the lovely Wine Garden opens its doors to you.
A small garden and indoor restaurant has very good reviews from travelers and is a good dinner stop after discovering Goris. You can find Wine Garden at 65 Syunik Street in Goris.
Where to Stay in Goris
Goris has many family-owned guest houses where you can stay and eat their wonderful food! Two of our favorites are Aregak B&B and MVN Guesthouse.
Hotel Mirhav
One of the coolest and most beautiful hotels in Goris is definitely Hotel Mirhav which is located on one of the charming old streets of the city.
During our stay, we had a great opportunity to experience its perfect customer service and delicious breakfast in the gorgeous garden.
The rooms are super clean, modern, and well-decorated with little Armenian twists.  Click here to read our review of Hotel Mirhav in Goris.
>> Check rates and availability for Hotel Mirhav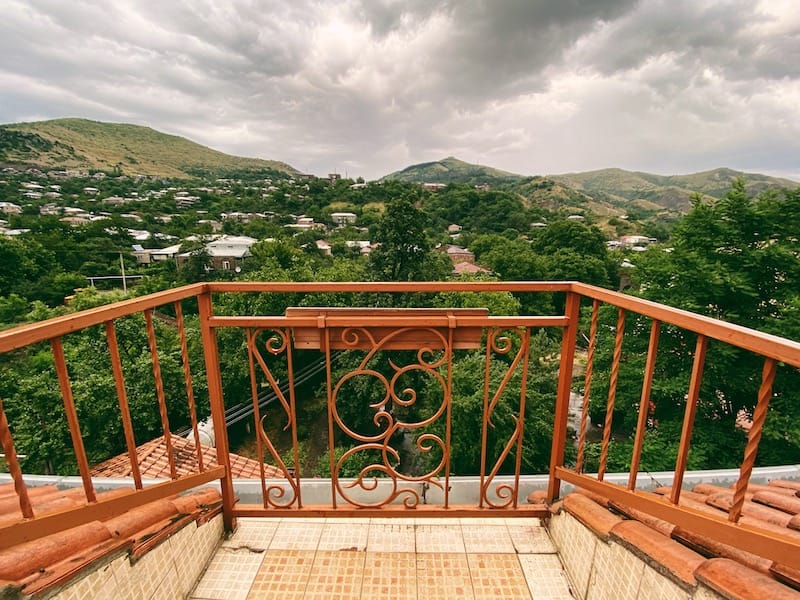 Hotel Mira
A lovely family-run business, Hotel Mira is a great place for budget travelers. The hosts are super nice and helpful.
Located in the heart of the city, this hotel hosts many travelers from around the world, and you can find rooms for both families or solo travelers.
The nice old couple who own the place will make sure that your breakfast in their little garden will make your day.
>> Check rates and availability at Hotel Mira
We hope this guide will help you to discover beautiful Goris and places surrounding the city.
If you have any suggestions or updates about the places we wrote or new places to add place write in the comment section below.
**Our stay in Goris was part of the Legends Trail development project by the EU Delegation to Armenia and People in Need Armenia. All opinions are our own.