Are you planning a trip to Syunik and looking for some of the best things to do in Kapan? This guide covers our top Kapan attractions, museums, restaurants, and more!
Are you planning your trip to Kapan last minute?
Below are some of our top places to stay in Kapan!
🇦🇲  Top Kapan Hotels and Lodging:
🚗  Looking for the best way to get around Armenia? Click here to check rental car rates for Armenia!
There is plenty to see in Kapan to warrant a trip down that way! From the dancing fountains at night to the beautiful strolls by the river, the city has something for everyone!
In this guide, we focus mainly on places to visit in Kapan city and some of our favorite nearby landmarks – we have other guides in the area you can search on the blog!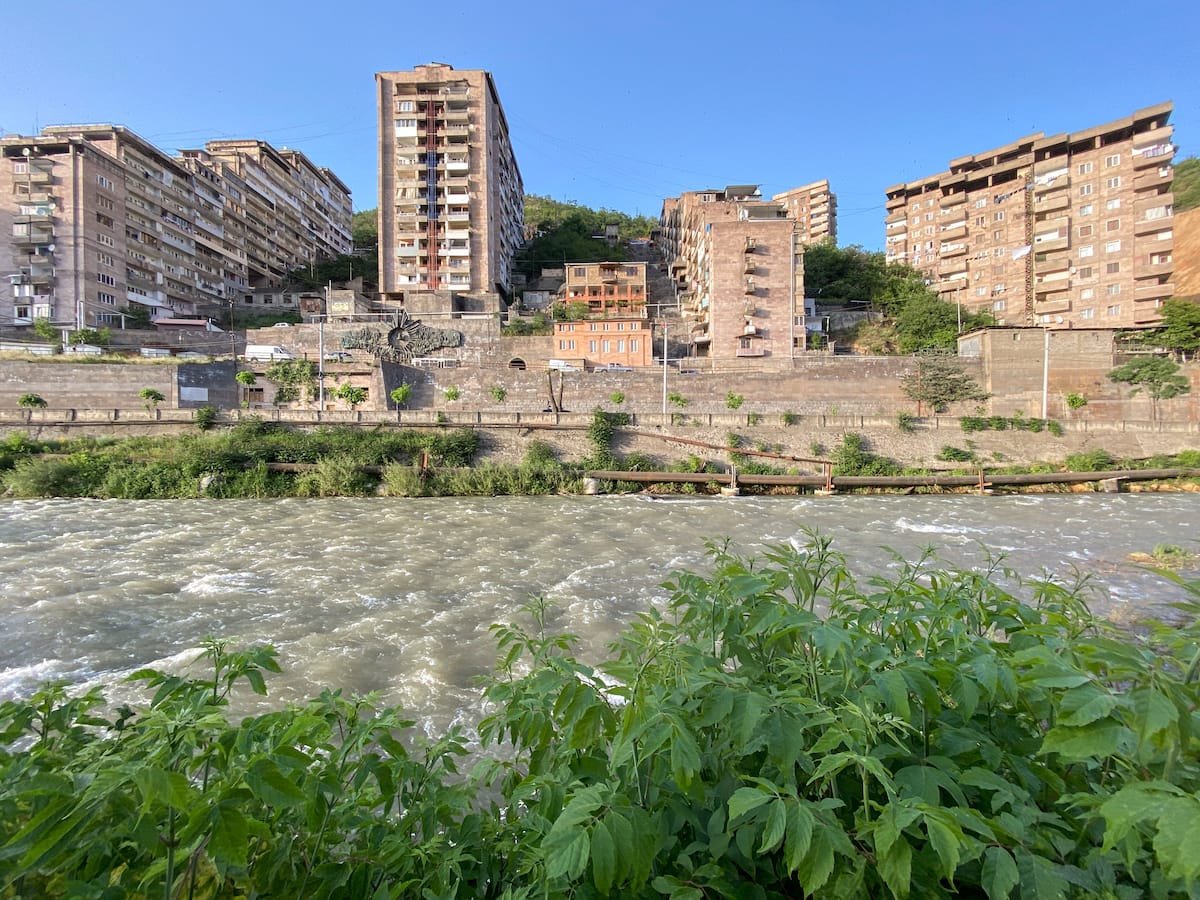 Let us know if you have any suggestions for what to do in Kapan, Armenia in the comments! Thanks!
Best Things to Do in Kapan
1. Visit the Kapan Regional Museum
If you're interested in learning about the history of Kapan, be sure to add the Kapan Regional Museum to your itinerary!
This museum has been open since 1969 and holds a large collection of artifacts and documents that give a lot of information about the history of the southern Armenian city (which is mentioned as far back as the 5th century!).
Inside the museum, you can find everything from khachkars to a sarcophagus from the first millennium BC, according to Hrach Arzumanyan for The Highlander.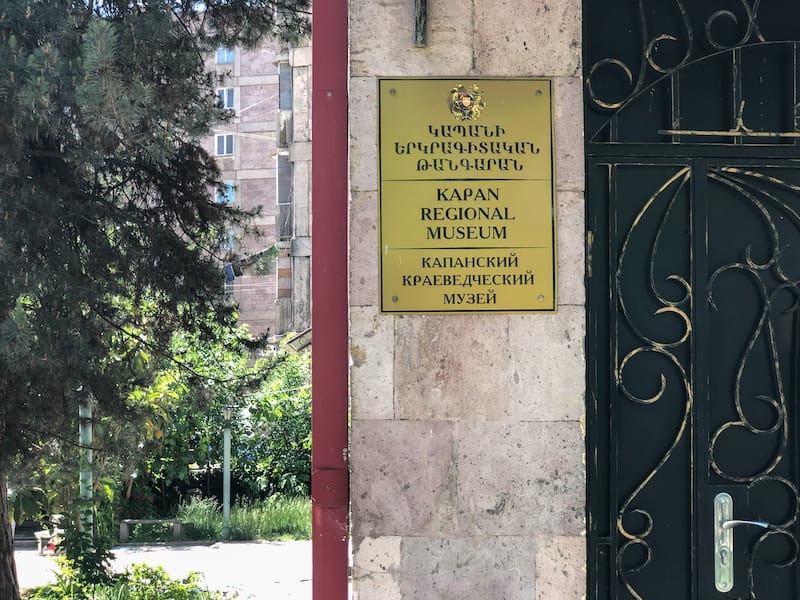 There is also a black anthropomorphic jar that dates all the way back to the 8th or 9th century, which gives insight into the Urartan period of Armenia.
The Kapan Museum of Regional Studies is open Monday-Friday from 0900-1800.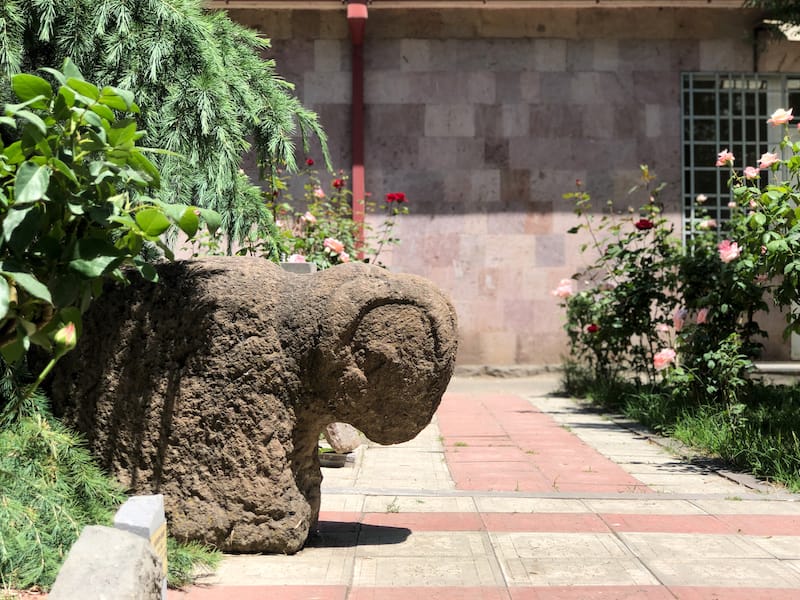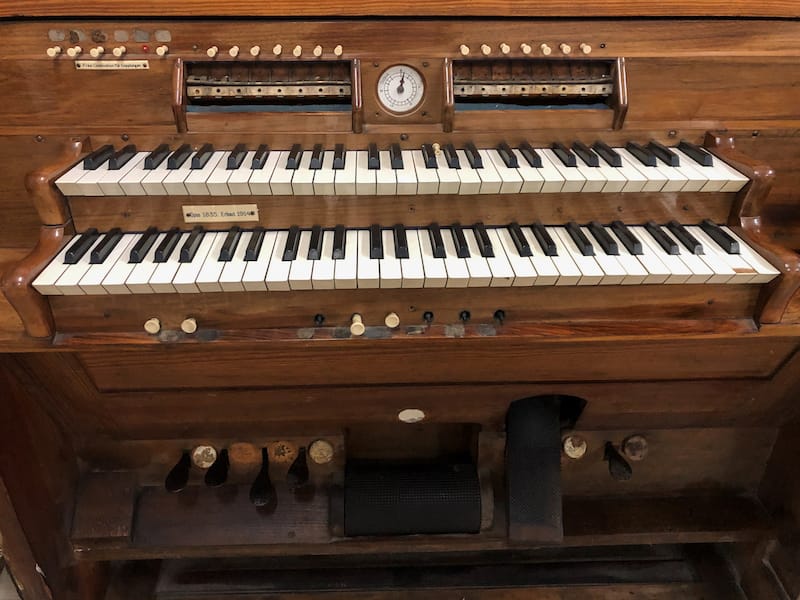 Entrance tickets to the museum are 300 AMD for Armenian citizens, 150 AMD for Armenian children 6 years and younger, and 1000 AMD for foreigners (all ages).
If you want to take a tour of the museum it is 1000 AMD for any group size and tours are conducted in Armenian and Russian (I will update if it changes and includes English).
Address: 3 Harutyunyan Street, Kapan
2. Visit Nzhdeh Park
If you drive through the green hills to the outside of Kapan's city center, you will see a memorial and park dedicated to legendary Garegin Nzhdeh (Njdeh) who saved Syunik from Turkish invaders at the beginning of the 20th century.
The area is super picturesque and behind the memorial is the famous backdrop of Khustup.
Next to the artificial, dried-up lake are some paddle boats and whatnot – showing a sign of the times in Kapan.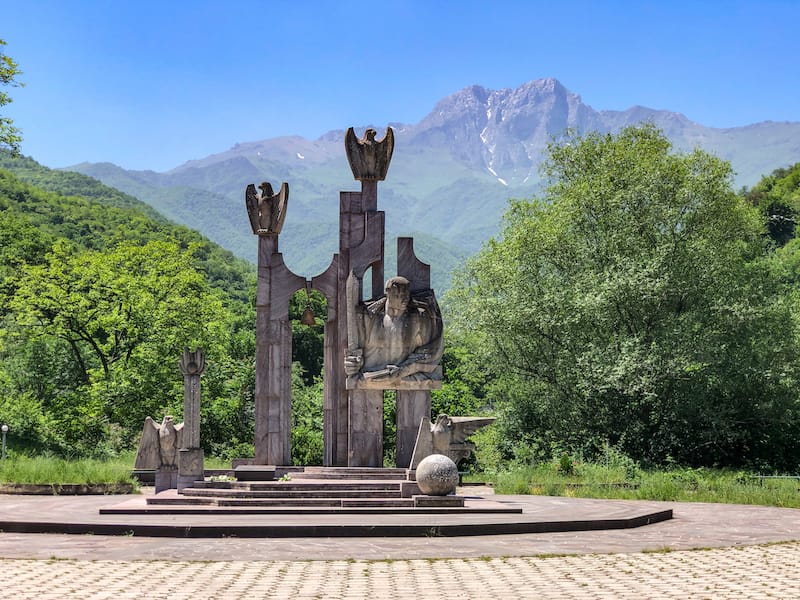 Hopefully, they can restore this area and make it a popular spot to hang out once again!
The Garegin Nzhdeh Monument in Kapan was installed in 2001 and is included in Kapan's list of immovable monuments of history and culture.
The sculptors behind the marble and granite masterpiece were Gevorg Gevorgyan and Robert Balayan.
Address: Melik Stepanyan St, Kapan (39.196644, 46.394997)
3. Spend a Morning at Halidzor Fortress
One of my favorite day trips from Kapan is a trip over to Halidzor Fortress. While it doesn't take that long to get there, it is certainly worth spending some time at!
Halidzor Fortress overlooks Kapan from a nearby hill hovering over the Voghji River.
It is a part of the Legends Trail, but you can also drive there with a 4×4 vehicle. It is not the smoothest road so definitely don't chance it with any other type of car!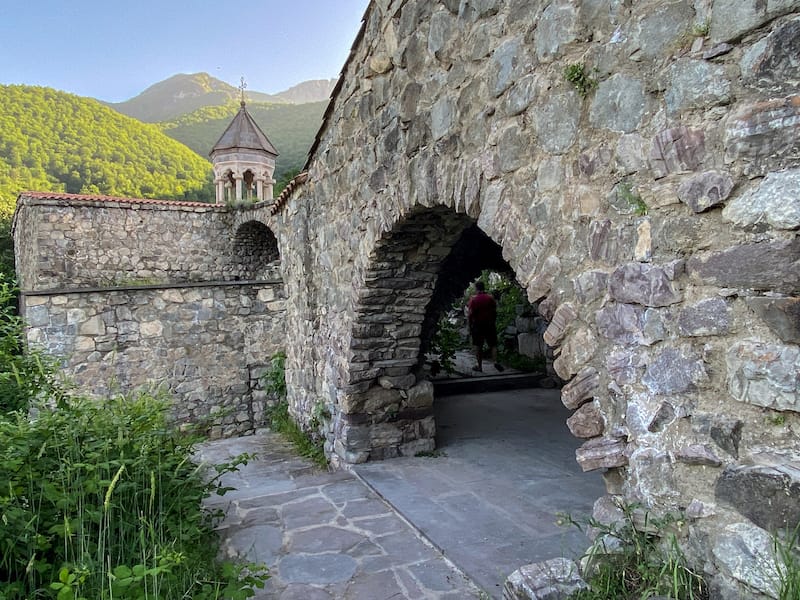 The fortress was built during the 17th century and it gained fame as the headquarters for Davit Bek, a fighter who led battles against the Ottoman Empire back in the 1720s.
The thing that makes the fortress so unique and worthwhile to visit is the different rooms, buildings, and areas around the complex.
It is kind of like a maze and it is fun to wander around and see what is hidden around each and every corner. There is also a secret tunnel that extends for over half a kilometer!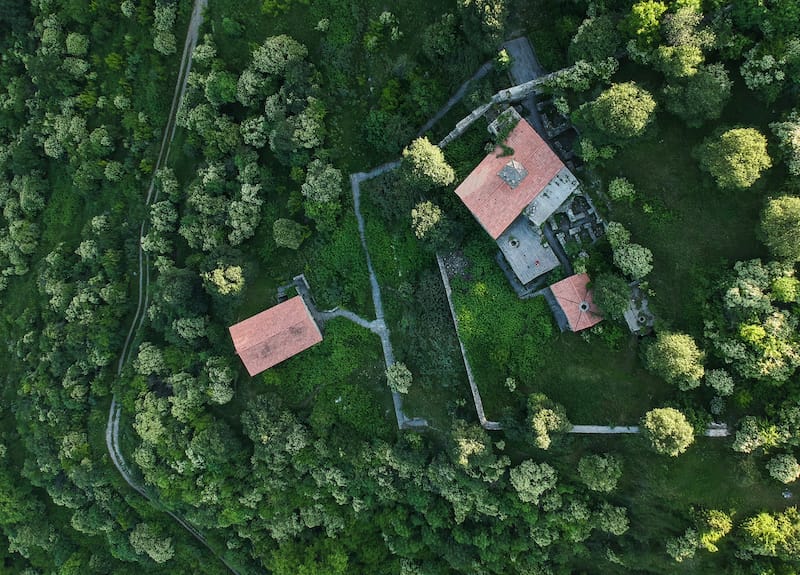 Getting to the fortress is easy with the right type of vehicle (4-wheel drive). From the main road, is about a half-kilometer in distance to reach it.
Or, you can hike on the Legends Trail (the path is marked).
On the way there, we passed a waterfall called 'Dog's Waterfall' that was worth a stop!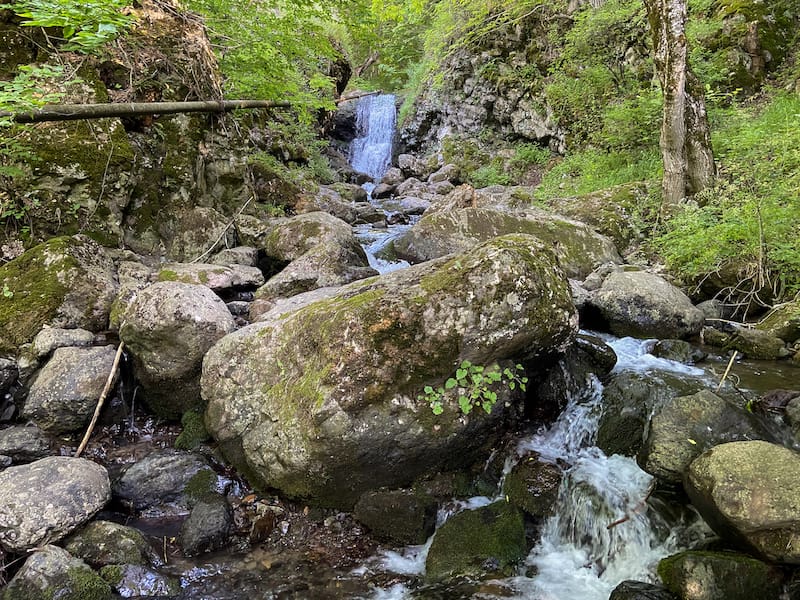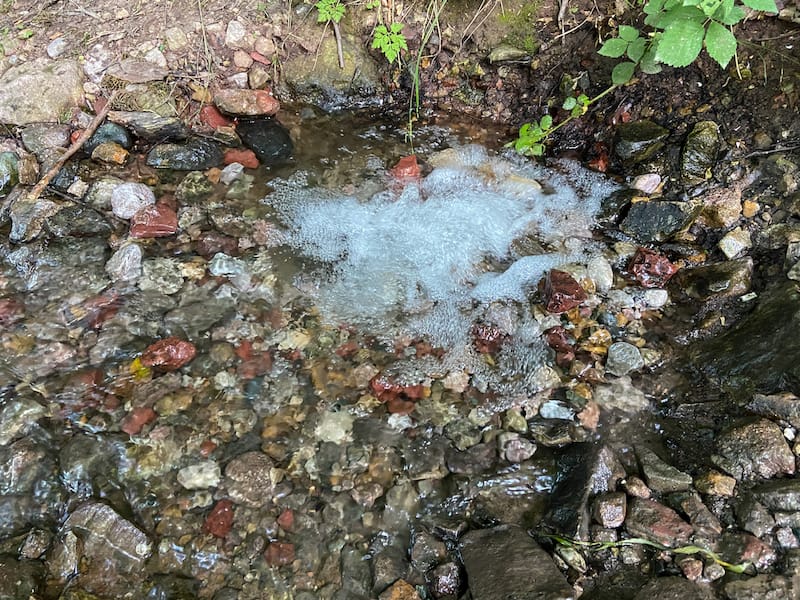 There are also some mineral springs coming up from the ground on the road.
4. Head to the Kapan Museum of Modern Art
A branch of the Yerevan Museum of Modern Art, the Kapan division was founded in 1990 as an idea initiated by Henrik Igityan.
This museum is a must-visit for art enthusiasts in Kapan as it holds some fantastic works by painters, graphic artists, and sculptors!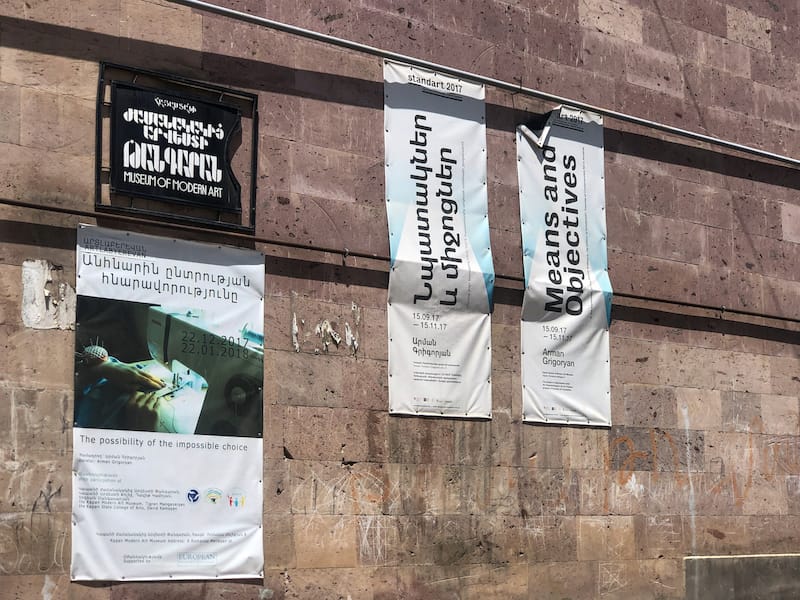 In fact, delegations that have visited Kapan from Belarus, the US, Germany, and Russia have all stopped by the Kapan Museum of Modern Art on their trips.
The Kapan museum is constantly evolving and regularly hosts cultural events and exhibitions. The director is Borik Minasyan.
Address: 8 Romanos Melikyan Street, Kapan
5. Take a Trip to Baghaberd Fortress
One of the most underrated places in southern Armenia is Baghaberd Fortress.
This impressive beauty is perched high above the ground but is located super close to the main highway that connects Kapan and Meghri.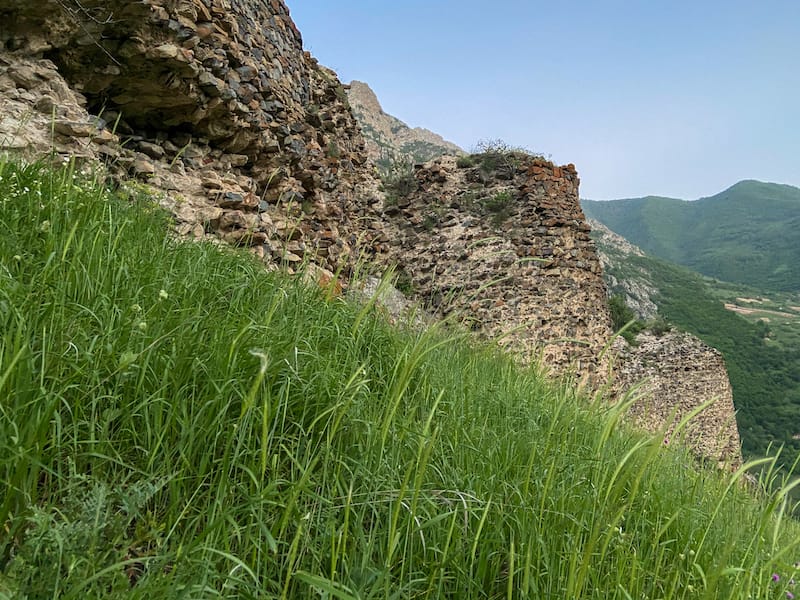 This fortress used to be one of the largest defensive structures in Armenia, and there is even a theory that it pre-dates Christianity in the country.
Nevertheless, Baghaberd became the capital of the Syunik Kingdom in 1103 and fell in 1170 during the Seljuk Turks' invasion.
The area has tunnels, double walls, and more – but today, you can only see the ruins (and the views that will make your jaw drop).
6. Traverse the Bridges of Kapan
One thing that becomes very noticeable when you arrive in Kapan is that the city is home to a lot of bridges!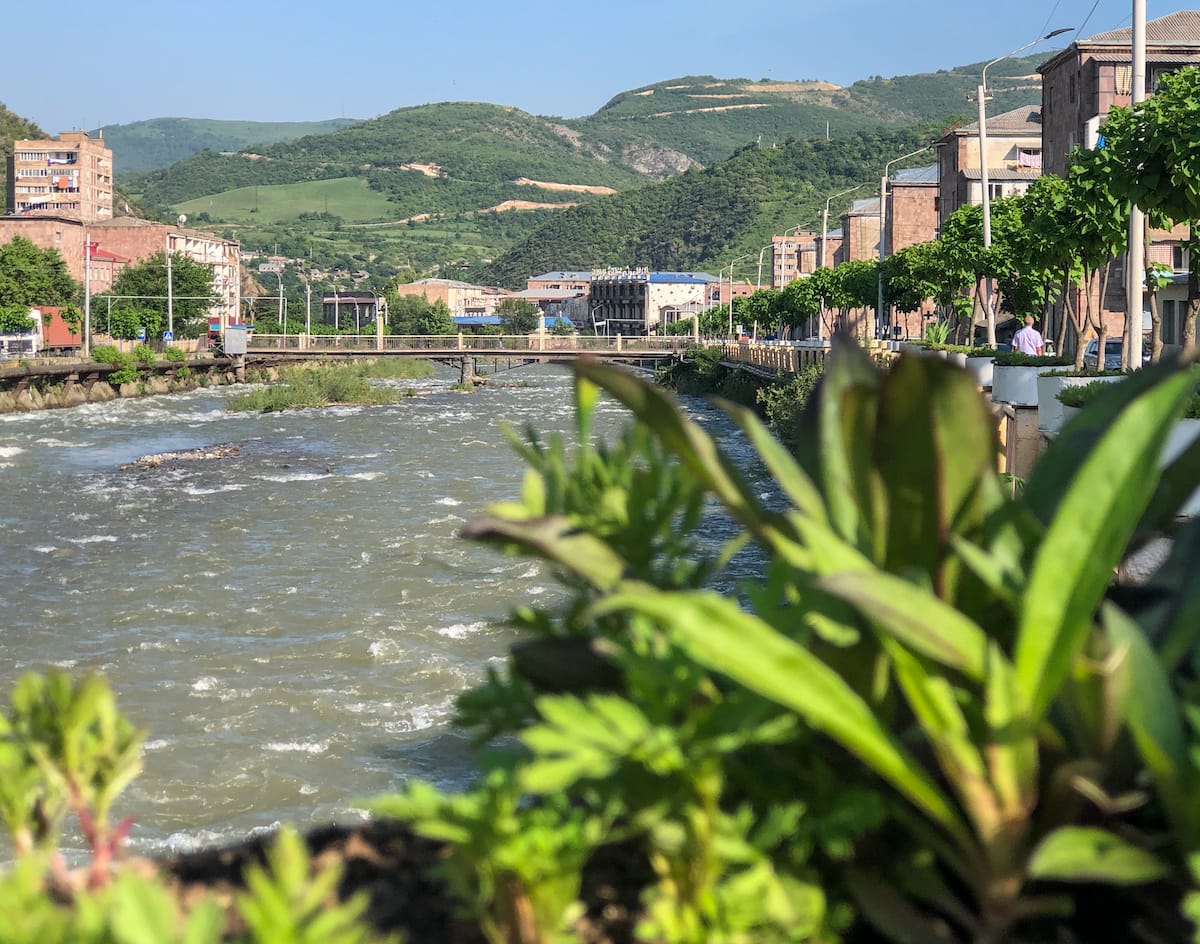 You will find them crossing over the Voghji River in the city and even in the surrounding villages nearby.
The bridges have become an icon of the city, and the pedestrian bridges even underwent some major renovations in the last 15 years.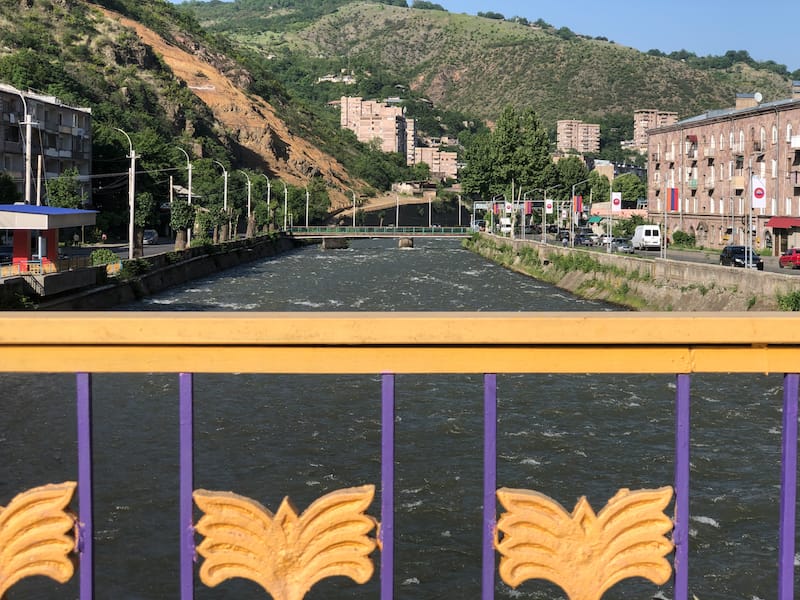 In the nearby village of Tsav, there is a Medieval arched bridge (Միջնադարյան կամուրջ Կապանում) that dates back to 871!
There are also other ancient bridges, like one that is located in Shikahogh Reserve (but it is not currently permitted to enter – fingers crossed that it will be in the near future).
7. Witness the Kapan Train Station's Transformation
The Kapan Train Station has been abandoned for several years despite being such an iconic building in the city.
The symmetrical structure dates back to 1932 (with its first service beginning on October 13th of that year!) and it stayed in operation until around 1991.
While the train station has sat there abandoned for several years, it was finally given a second chance at life in 2021 when TUMO decided to breathe new life into it!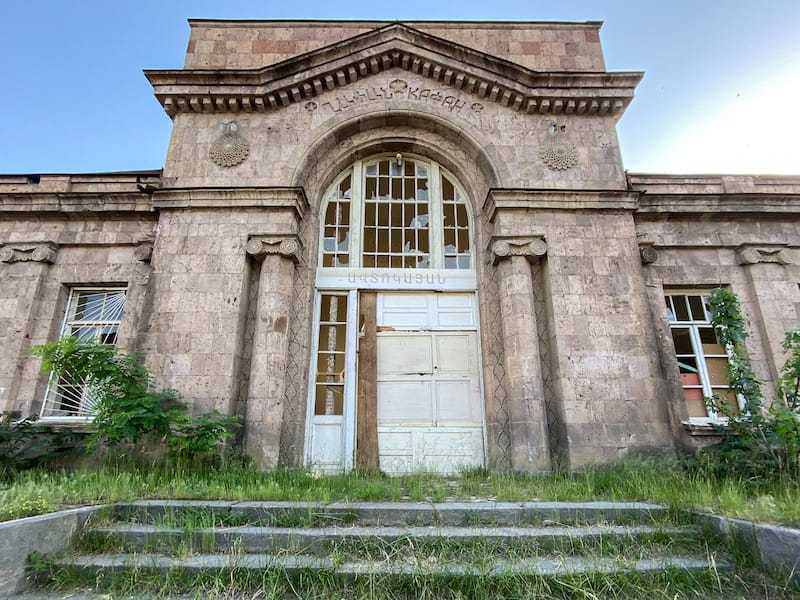 The TUMO project is being supported by the European Union's Resilient Syunik Team Europe initiative and developments are already taking place.
The lab and center are in a makeshift area next to the train station as renovations are underway.
We love seeing gorgeous Armenian architecture repurposed in a way that benefits the youth and community and we are so excited about the future of this project.
Click here to read more about the TUMO Kapan project.
8. Visit the Nearby Villages of Kapan
There are many things to do in Kapan but some of the best things are happening in the Kapan villages nearby!
Around 38 villages make up the 'Kapan villages' and we have had the opportunity to visit many of them and even stay in quite a few of them overnight.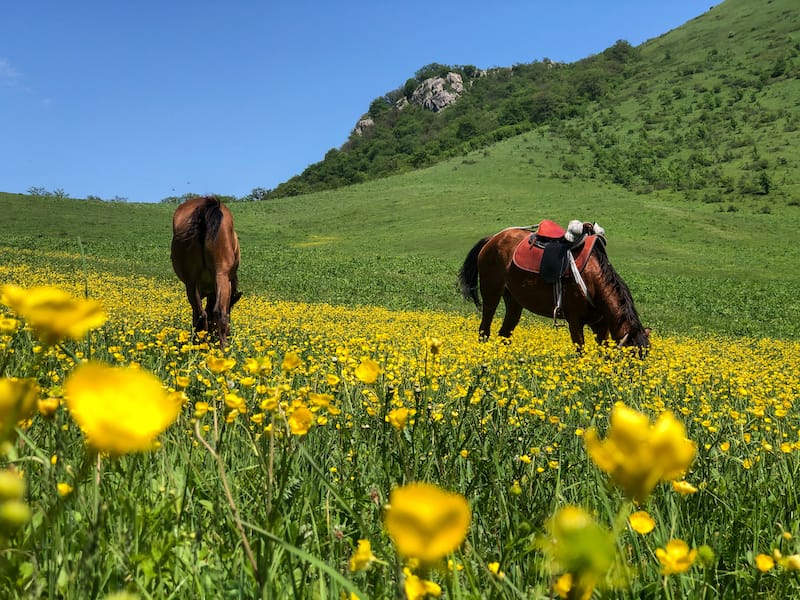 Some of the most notable Kapan villages (and our favorites) are:
Chakaten
Shikahogh
Aghvani
Nerkin Hand
Tsav
Antarashat (discussed a bit below)
Tandzaver (also discussed below)
Bekh (has an amazing place to stay – we note in the accommodation section!)
Verin Khotanan
Vachagan
9. Take a Digital Detox in Antarashat
The small village of Antarashat is the ideal spot for a digital detox when visiting Kapan and the nearby region!
The village used to have over 100 residents but it is now around half of that. It is quiet, cozy, and absolutely beautiful.
You can find a waterfall (requires a small hike), horseback riding, and some of the best views of Tapasar Mountain.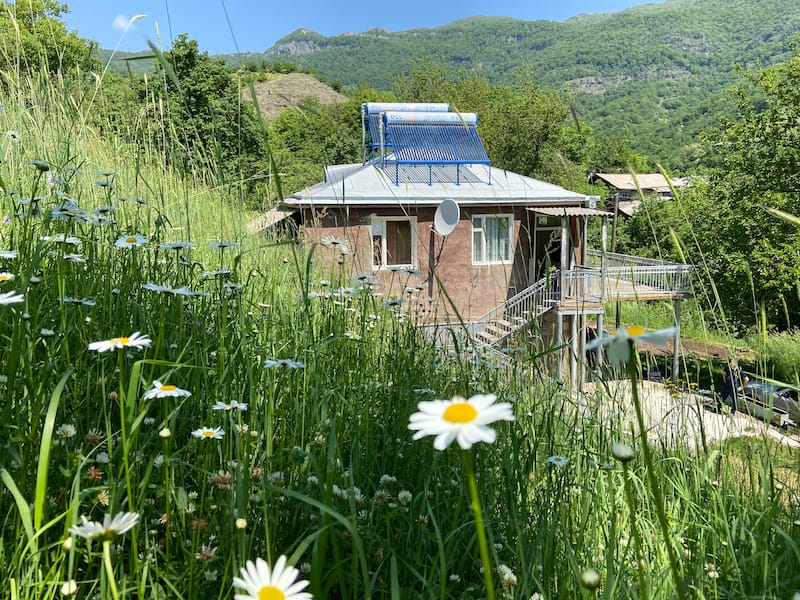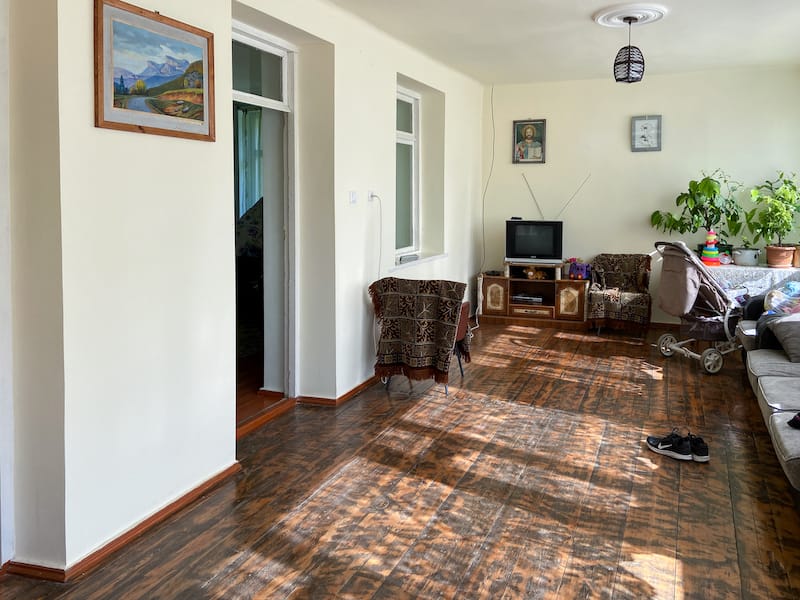 There are also two churches there, St. Hripsime and St. Gayane. St. Hripsime dates back to the 17th century and you can visit its ruins today in the forest.
Our favorite thing to do in Antarashat is to escape reality, however!
There is a cool guesthouse there called Hyuratun Antarashatum Guesthouse and it is run by Roman Harutyunyan in his grandfather's renovated home.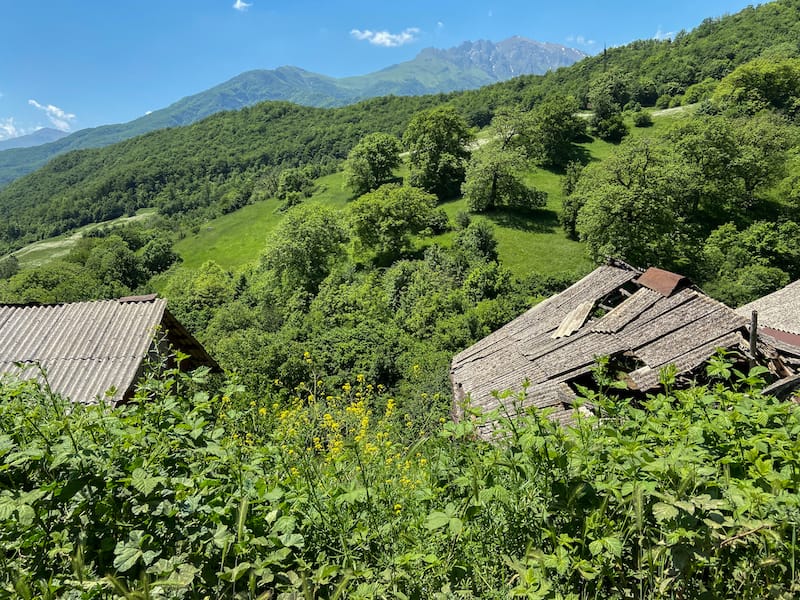 There is no wifi and you have everything you need right on site. It is one of the most remarkably peaceful spots I have ever had the pleasure of visiting. And, it fits around 15 people!
Renting the home starts at 20000 AMD and up… or you can pay 6000 AMD (or so) per person. Contact them on Facebook to secure a stay!
10. Visit Vahanavank Church
Vahanavank is an Armenian monastic complex near Kapan that was built in the 10th and 11th centuries by Prince Vahan Nakhashinogh.
Seeking solace from demonic possession, the Prince embraced monasticism. The complex comprises various structures, with the oldest being Surb Grigor Lusavorich Church, erected in 911.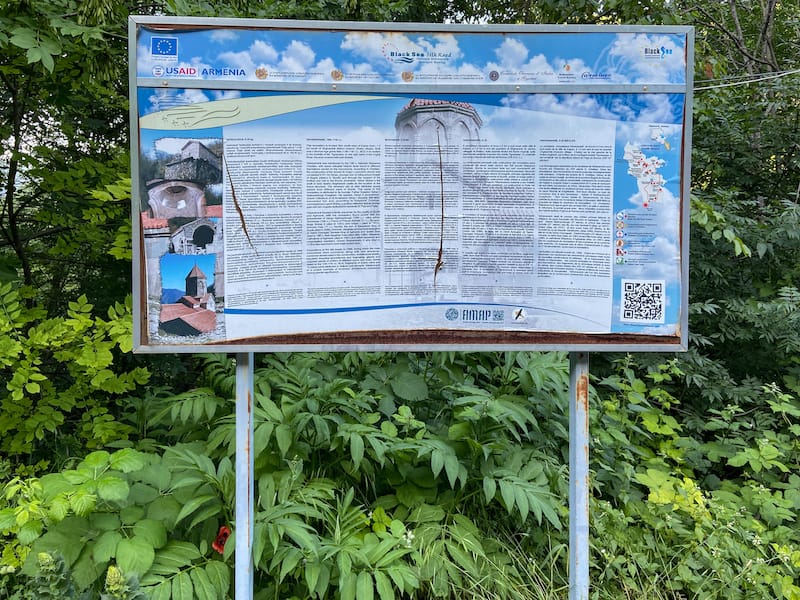 This domed hall church serves as Prince Vahan's burial site. Additionally, the monastery housed a spiritual school attended by boys from different provinces.
By the 11th century, Vahanavank had become a significant religious center for the kings of Syunik.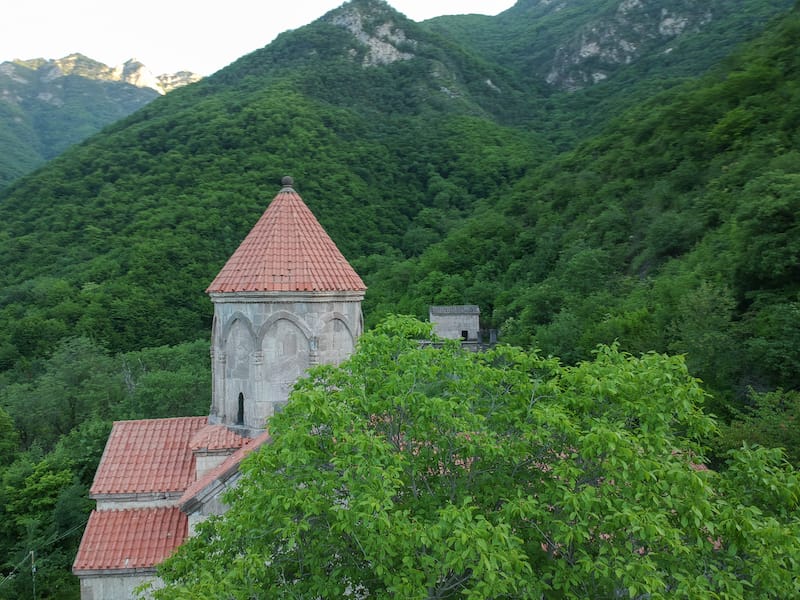 Today, you can visit the monastery from Kapan (or you can hike there – it is also a spot on the Legends Trail).
The starting point is in the village of Shxarshik – you can drive from there or hike the 4.2km trail (takes around an hour and is pretty easy).
11. Admire the Views of Khustup
The highest mountain in the Katar Mountains is the recognizable Khustup, which is the symbol of Kapan.
This Syunik mountain is 3201 meters high and can be hiked up to, or simply admired from below.
If you are looking to go hiking up Khustup, we recommend doing so with a tour group (Armenian Geographic is your best bet).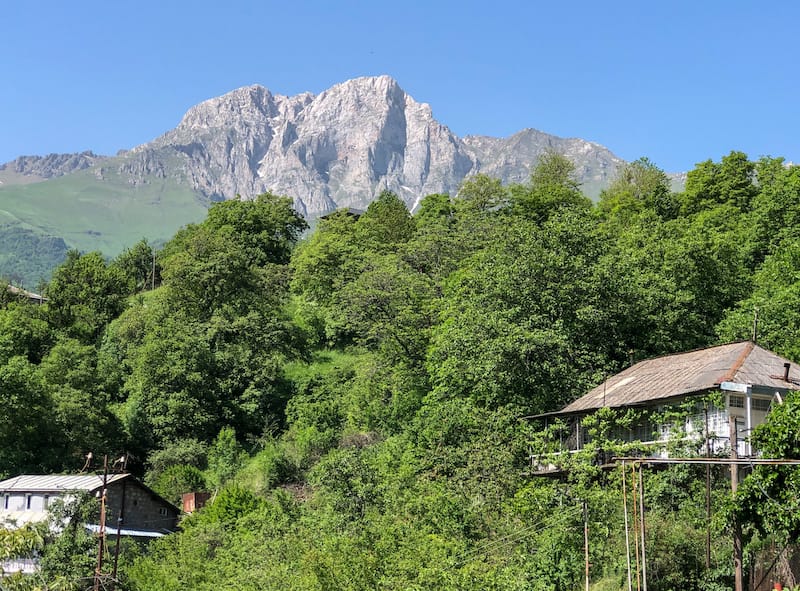 But, a great way to experience the mountain and its beauty without hiking up to it is to head to a B&B in the area and enjoy the nature from the comforts of a village!
Our favorite place to hang out and enjoy Khustup without the hike is Verin Vachagan's Khustup Guesthouse.
This modern, yet rustic guesthouse is situated in the heart of the village and is 6 kilometers from Kapan (can be reached by taxi with ease).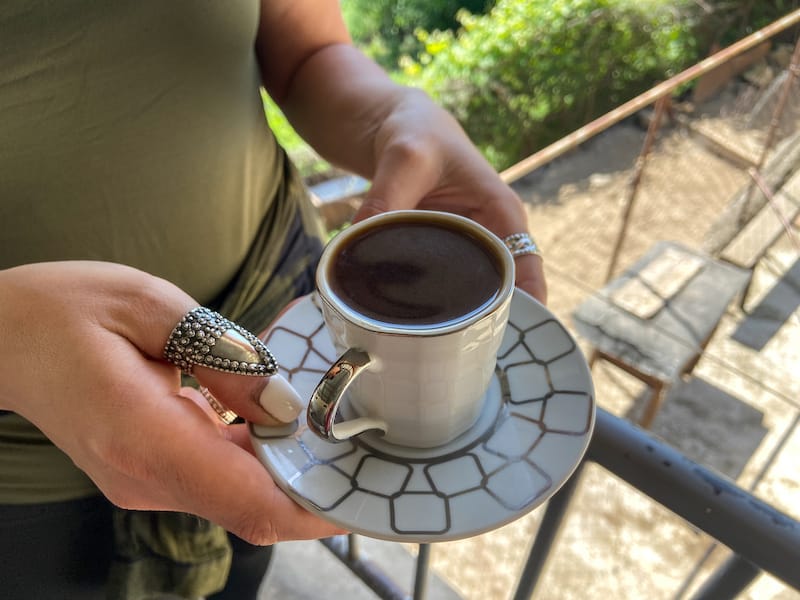 Founded by Erik and Ashot, the guesthouse offers modern living facilities with Armenian hospitality. It can hold anywhere from 15 to 20 guests, and there is even an area for travelers with their own tents.
You'll find showers and hot water, wifi, free laundry, and even a BBQ pit. Contact them on Facebook for more details and to book a stay.
How to Get to Kapan
Getting to Kapan is fairly easy from Yerevan.
You can take a taxi or a personal car, or you can hop on Marshrutka 611 from Yerevan's North Station. The buses run daily and leave at 0830 (getting in around 1630).
There is a personal transport service going from Yerevan down to Kapan (and further to Meghri) daily.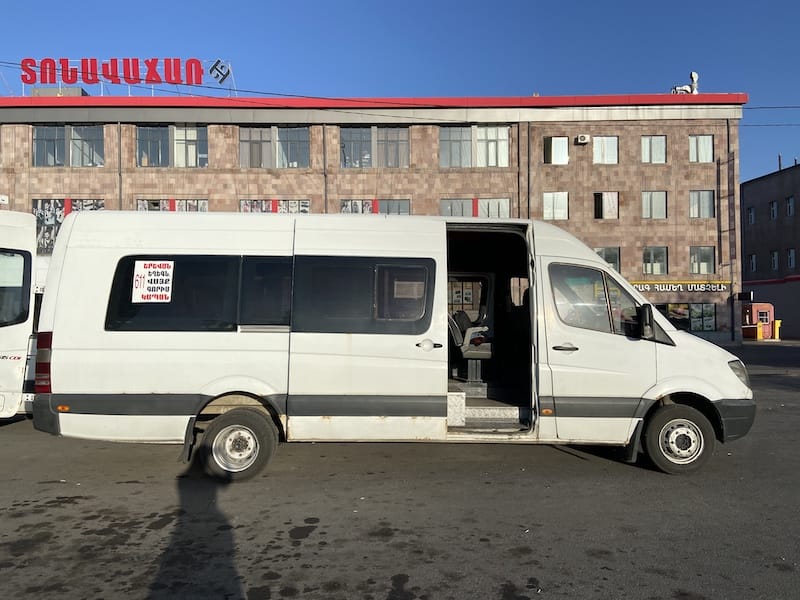 You will need to call (they don't speak English but grab someone nearby that speaks Armenian/Russian to assist!) +374 77 529252 and secure a spot on the marshrutka. A one-way ticket to Kapan from Yerevan is 3500 AMD.
There are often questions about the road to get there, and the road will pass from Yerevan to Goris to Kapan without entering any occupied territories.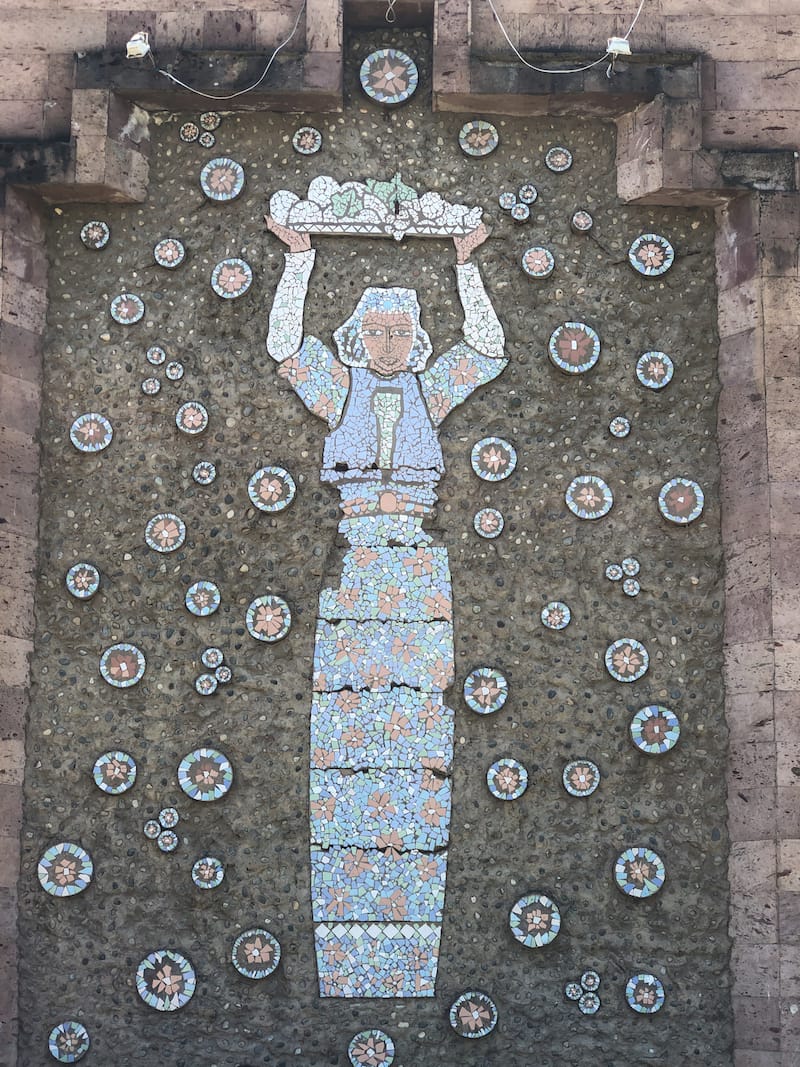 It is a pretty smooth (albeit long!) journey from Yerevan to Kapan – but it is well worth it!
If you're looking to take a taxi to Kapan from Yerevan, estimated prices are anywhere from 30000 AMD to 40000 AMD (one-way) on GG Taxi and Yandex.
Where to Eat and Drink in Kapan
One thing we would love to see in the future is some new eateries and places to socialize in Kapan!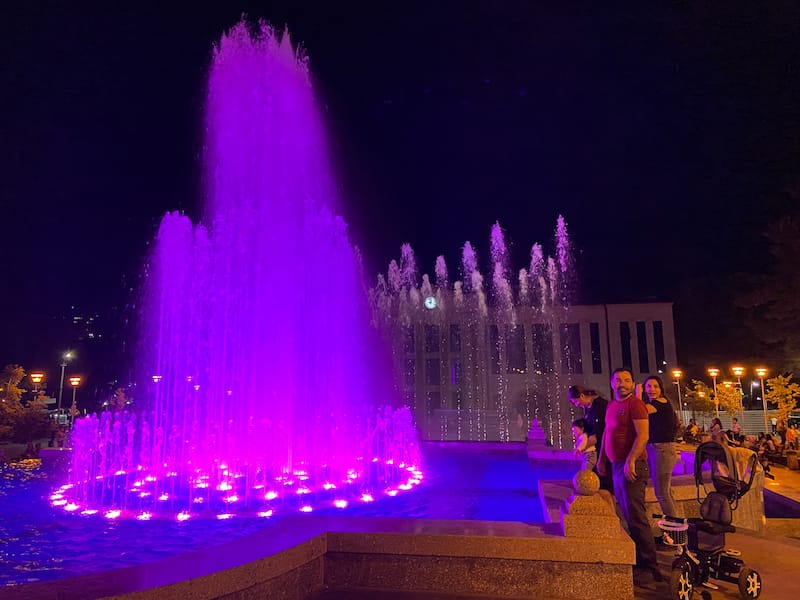 When we went, we didn't find too many, but here are the places we ate and hung out at:
Cafe 48 (offers a wonderful view of the dancing fountains in the evening)
Cafe Elegant Kapan
Mozart Kapan
Marley's PUB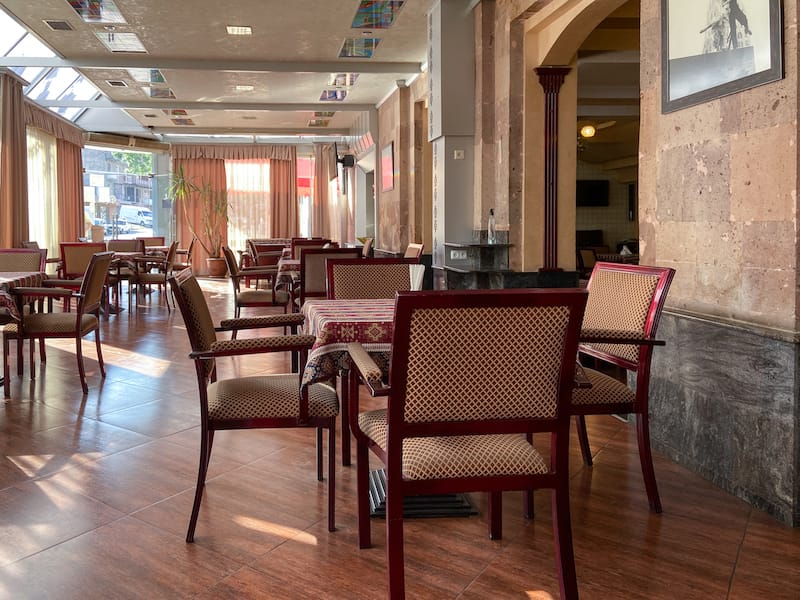 If we left a cool place off of here – let us know! We want to try it out next time and get it added to this list!
Where to Stay in Kapan
There are not too many places to stay in Kapan, but here are a few of our favorites in Kapan (and nearby):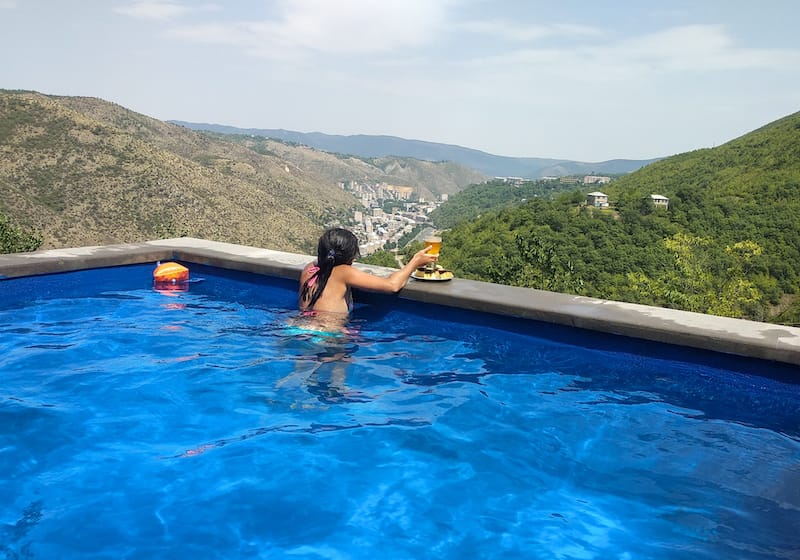 Did we miss any of the best things to do in Kapan?
We are planning a return trip soon to see what new places have opened in the city and to try out some of our old favorites, but we would love to hear your opinions! Thanks!
More Syunik Travel Guides