One of the most beautiful and inspiring cities I have ever visited is Meghri, Armenia and I hope this guide about the many things to do in Meghri will lure you into visiting and falling in love with the town the same way I did!
Writing about a place you are absolutely in love with should be relatively easy but I find myself at a loss for words when it comes to Meghri. Maybe my words won't do the Syunik town justice? Or maybe I just can't convey how I felt merely through this post.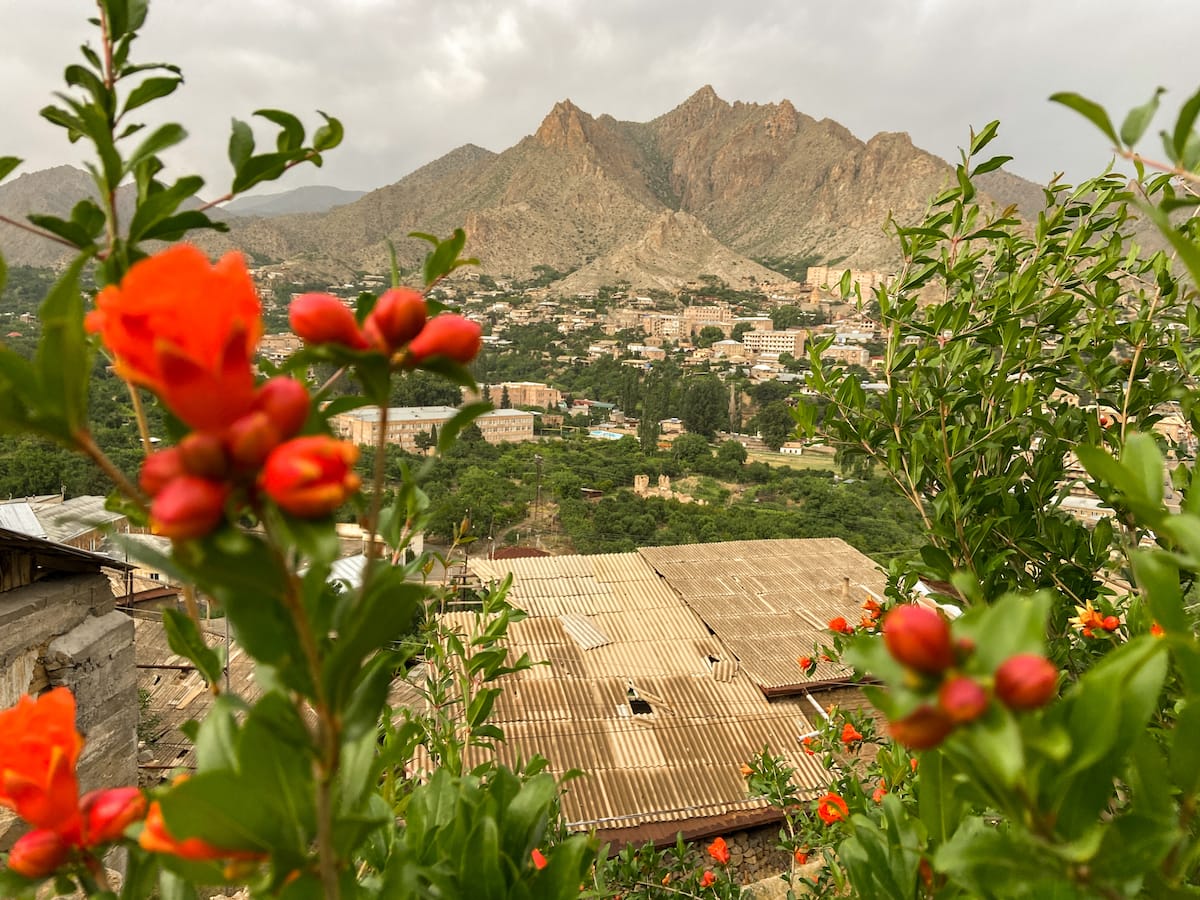 Whatever it is… it has taken me ages to write about Meghri. But, the memories from my trip there remain as vivid as the day I left.
This guide will not be my love letter to the town (I have done that in my post about Khachats Toun and my previous year's wrap-up post on another blog), but will mostly be a travel guide about what to do, how to get there, where to stay, etc.
Meghri has become one of my top five cities in the WORLD. Out of about the one hundred countries and thousands of cities that I have traveled to, it sits pretty at the top for reasons even I can't explain.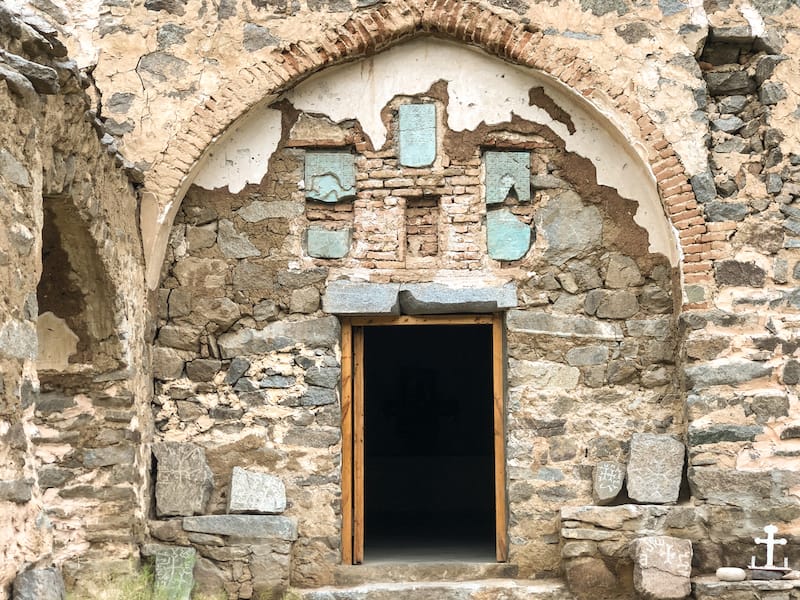 So, just trust me when I say that you need to get down there and see it for yourself!
If you have any tips for what to do in Meghri, please drop them in the comments!
Where is Meghri, Armenia?
Meghri is as far south as you can go in Armenia (pretty much). It has about 4,500 residents and it is situated just minutes from the Iranian border.
It is 376 kilometers from Yerevan and 73 from Kapan. In order to reach Meghri, you must pass Kajaran and go over the Meghri Pass in the Zangezur Mountains.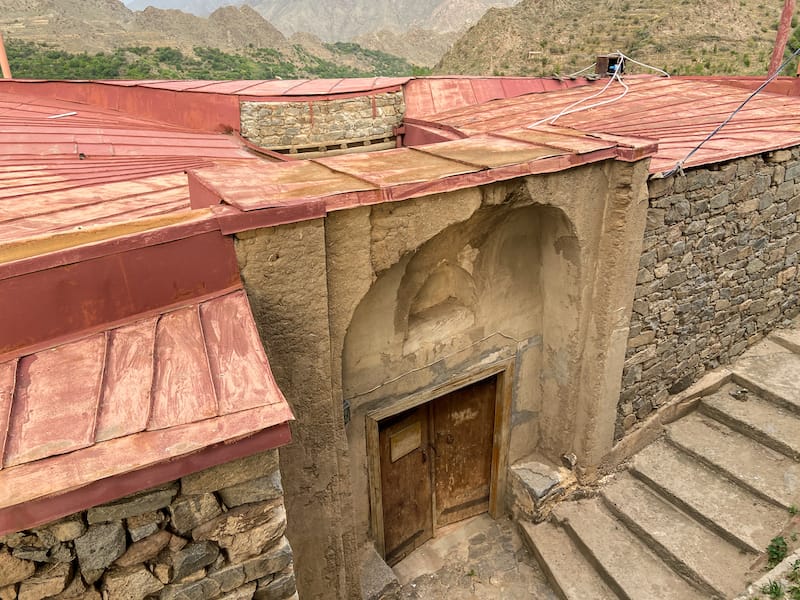 The pass will be green and high (or covered in snow if you go in winter) and once you reach the other side, you will start to see traces of arid, dry landscapes.
This is Meghri. It doesn't feel like Armenia but feels completely like Armenia at the same time, adding to its allure.
There are several smaller villages that surround Meghri and some of the more popular ones are Lichk, Karchevan, Shvanidzor, and Agarak.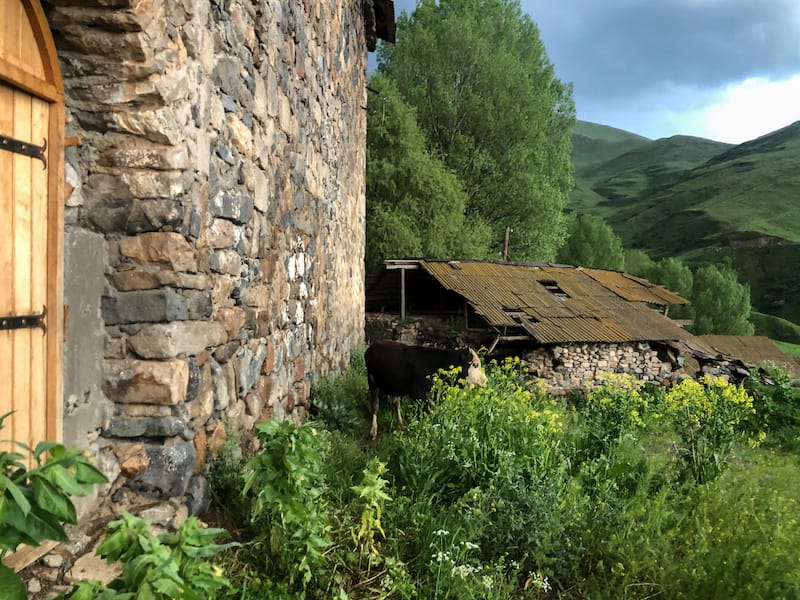 How to Get to Meghri from Yerevan
Like most places in Armenia, you really don't have too many options for getting there (road-wise). Soon, flights will open to Kapan from Yerevan and that will substantially cut off the driving time to Meghri.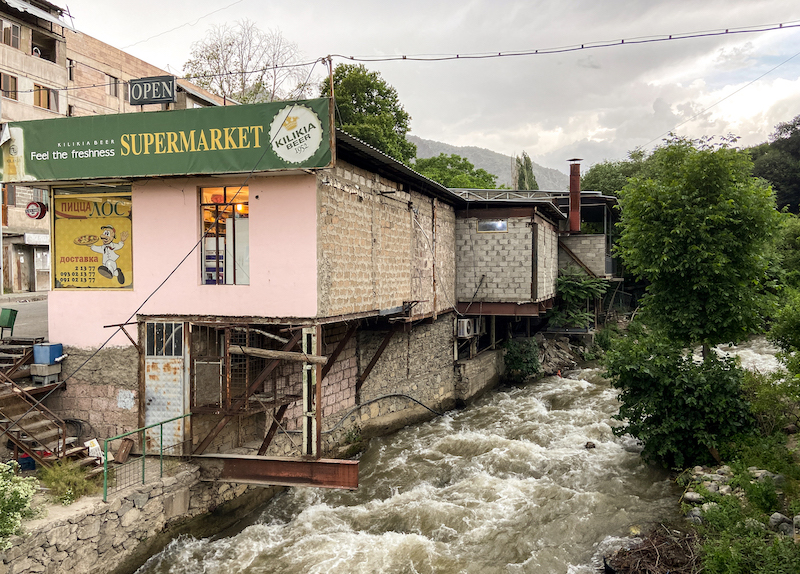 However, the best way to get there is by personal car or public transportation.
Bus to Meghri
You can find the bus to Meghri behind the Yerevan Railway Station on Sevan Street. These are marshrutkas and they leave daily at 7am. They will pass Goris, Kapan, etc.
However, please note that routes are changing as roads are closing in the Syunik region. When we went, the ticket was around 5000 AMD and it is best to call in advance to reserve a seat.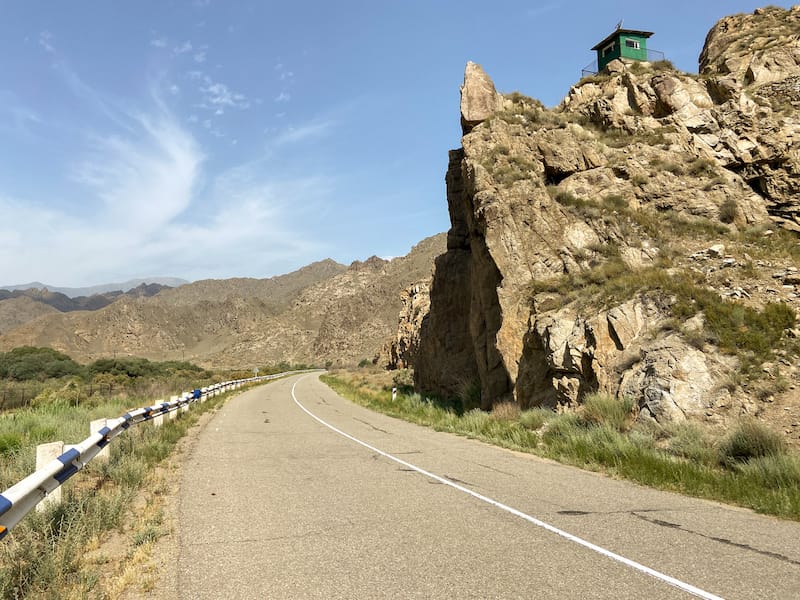 The phone number is +374 77 529252. The dispatch will likely not speak English so please grab someone with you or in Yerevan to just do the arranging quickly. Everyone will be easygoing and ready to assist!
To be honest, we took public transportation from Meghri back to Yerevan and not the other way around. However, we took the same bus from Yerevan to Goris as we had a project there before this Meghri trip.
The ride takes about 7 hours or so.
Taxi to Meghri
We do not recommend this unless you have several people riding with you and have a reliable driver. It is rather pricey… but it will allow you to stop along the way if the driver cooperates.
Just be sure to take him/her out for lunch along the way and build a nice relationship with them! A taxi will take about 6-7 hours with few stops from Yerevan and will be about 40000 AMD one-way.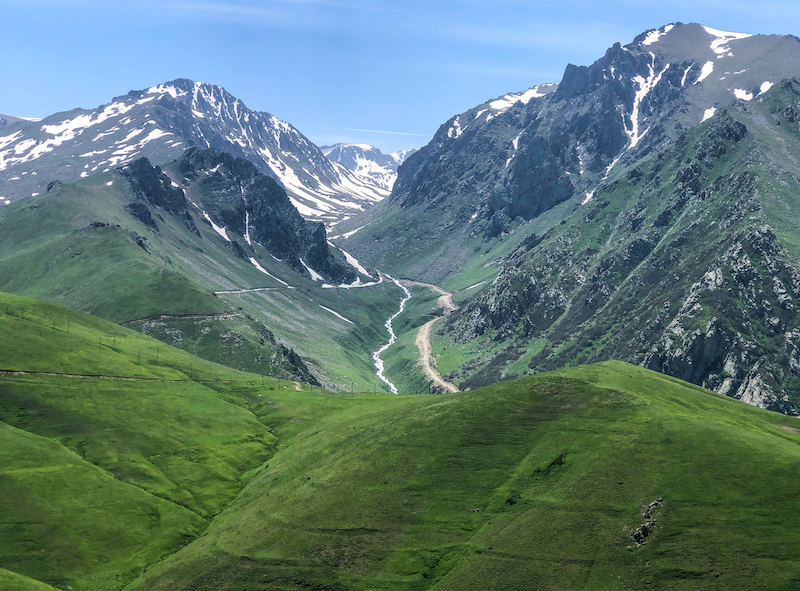 Driving to Meghri
For now, we believe the best way to get to Meghri is to rent a car. Since you're basically covering the entire country, you will have so many cool opportunities to stop along the way (and Syunik is brimming with amazing places)!
We do recommend spending about a week or longer in Syunik and working your way to Meghri slowly. You can hike parts of the Legends Trail, chill out in Goris, camp in Khndzoresk, see Tatev Monastery, and so much more!
The ride is about 6-7 hours driving directly from Yerevan to Meghri.
Best Time to Visit Meghri
Meghri is not like other places in Armenia when it comes to weather. Each season presents its pluses and minuses. The winters are beautiful and perfect for mountaineering and bird watching in Arevik National Park but getting there can be a challenge by car.
Summers are extremely hot and dry in Meghri. Spring is perfect temperature-wise, but we endured so many storms in the evenings when there (I actually loved this). In spring, it is also the ideal time to see wildflowers and for herb collecting for tea in the mountains.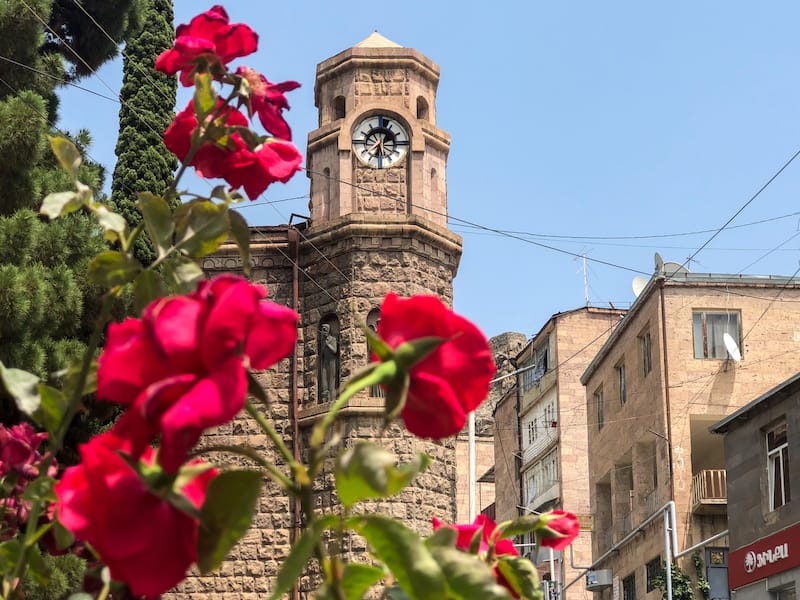 But, I think the optimal time to visit Meghri would be during autumn. This is harvest season (late September until November) and you will be overwhelmed with all of the tasty fruit then… in addition to the milder temperatures)!
I asked Shahane Khachikyan, founder of Khachats Toun, which season she found the best for tourists and she found every season to have its perks (as noted above) but really said that there is no time quite like October in Meghri.
Best Things to Do in Meghri
There are many wonderful attractions in Meghri worth visiting and this list includes some of our favorite things to do there. If we missed anything worthwhile (or new!), please drop us a comment and let us know. Thanks!
1. Visit the Meghri Fortress
One of the main Meghri landmarks worth visiting is the Meghri Fortress, an 11th-century Armenian fortress located on a hill overlooking the Old Town.
The fortress dates back to 1083 and was eventually rebuilt in the 18th-century by Davit-Bek. It actually was one of the only towers in the country that was also meant to house artillery.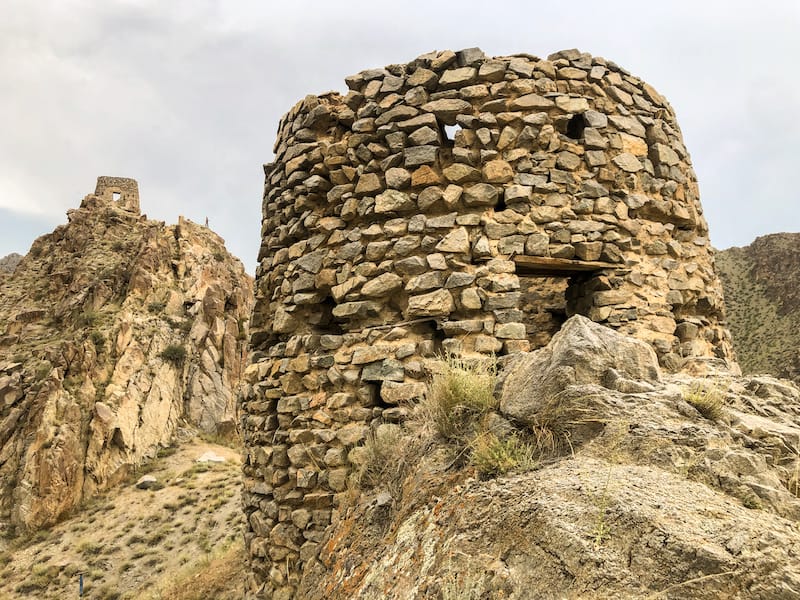 Not only is visiting the fortress worth it for its history, but it also grants you some pretty incredible views over the city!
2. Wander the Streets of Pokr Tagh and Mets Tagh
When you arrive in Meghri, it will be very obvious that the town is split into two different neighborhoods – Mets Tagh and Pokr Tagh, meaning large district and small district, respectively.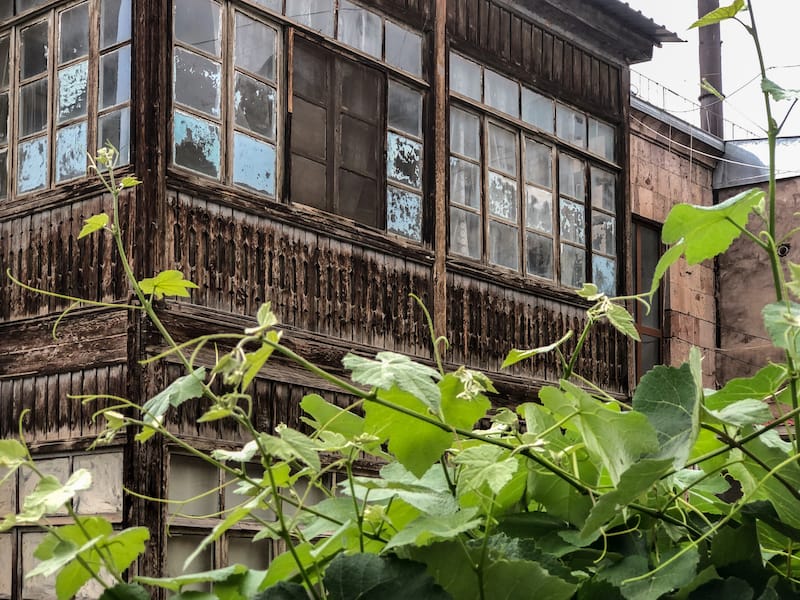 The old town, or Pokr Tagh, is one of the oldest towns in Armenia and there have even been discoveries from the Iron Age there.
However, both areas are worth exploring on foot as you will find hidden gems in each and every corner of Meghri!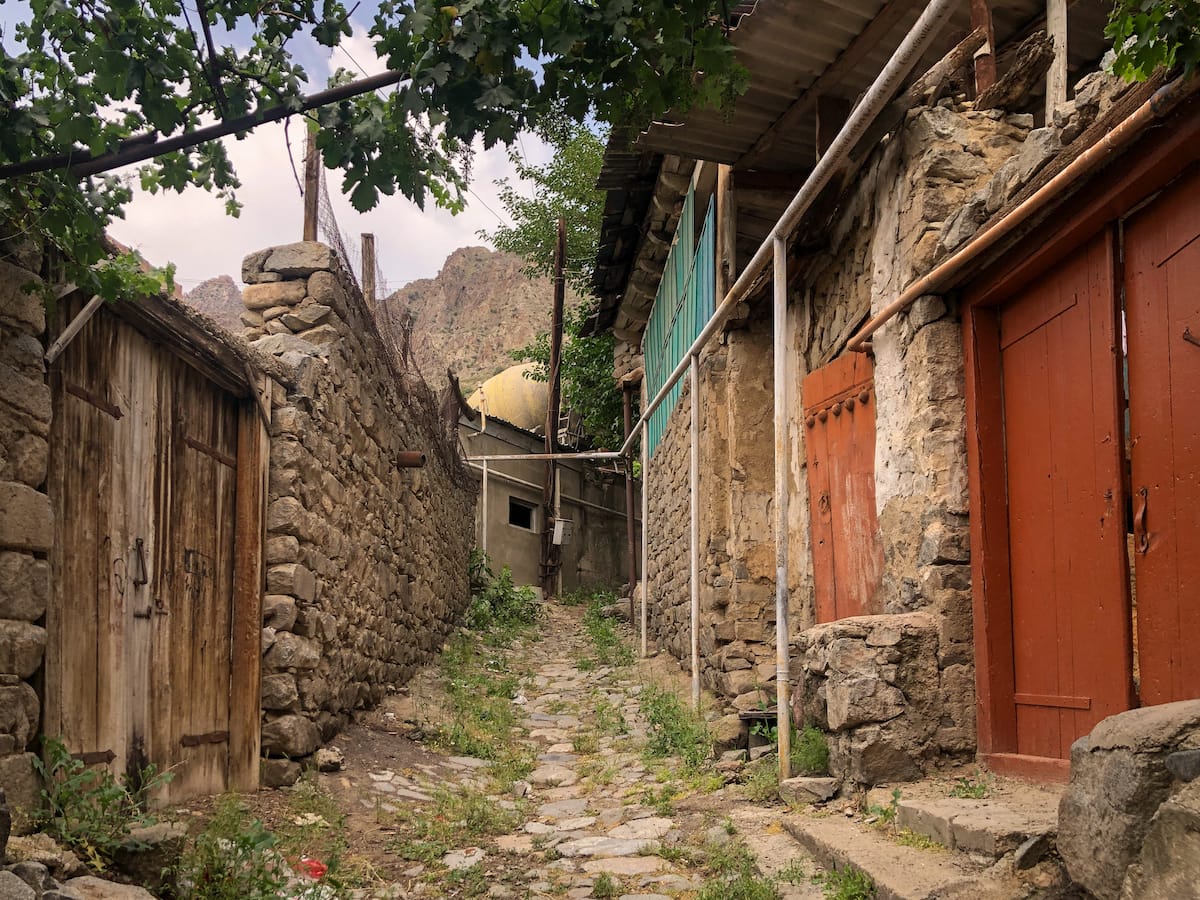 3. Have a Meal at Khachats Toun (and Stay Overnight!)
Our favorite place to visit in Meghri is easily Khachats Toun Heritage Hotel. But, it is so much more than just a place to stay (although we highly recommend staying there if you have the chance)!
Khachats Toun is run by Shahane Khachikyan, a Meghri native who was one of the first to see the potential in her hometown and how unique it is compared to the rest of the world.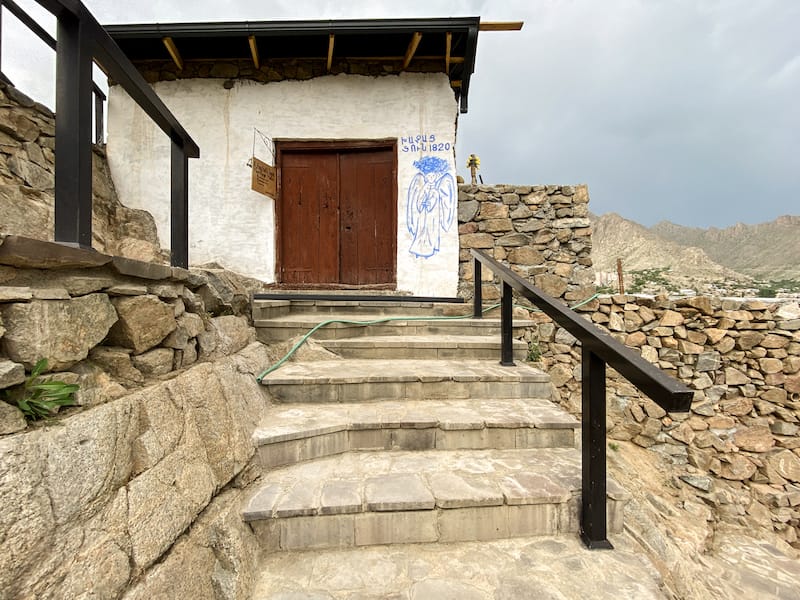 As a result, she has transformed her family's property into a cultural center, house-museum, restaurant, and pretty much the most epic place in Meghri.
They serve local dishes, wine, and more. She has a background in wine and can tell you all about the wines of Armenia as well as the local fruit wines from Meghri and the southern part of Syunik.
Since it is a hotel, there are rooms available to stay… just do your best to book ahead and reserve them! There is a spacious terrace for guests to enjoy dinner and live music and this place truly is one of my favorite spaces I've ever visited. Make sure to stop by!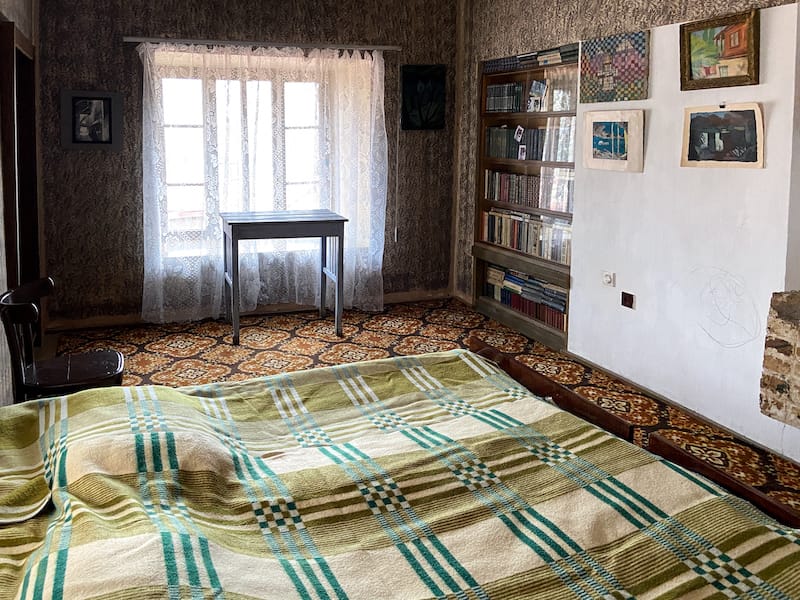 If you're visiting in the off-season, do call ahead or send them a message in advance to ensure they are open and available for guests, however.
You can find Khachats Toun at Mezhlumyan 35 in Meghri. Click here to follow them on Facebook.
4. Visit Meghri's Churches
There are plenty of churches worth visiting in the area but below are two of the most famous ones to stop by.
St. Hovhannes Church (Meghri Monastery)
St. Hovhannes Church, or Meghri Monastery, in Meghri is absolutely worth a visit when you're in town.
Located right by Khachats Toun, the famous church is undergoing renovations but it dates back to the 17th-century (with a gravestone from the 9th-century found on the premises… indicated a much earlier origin).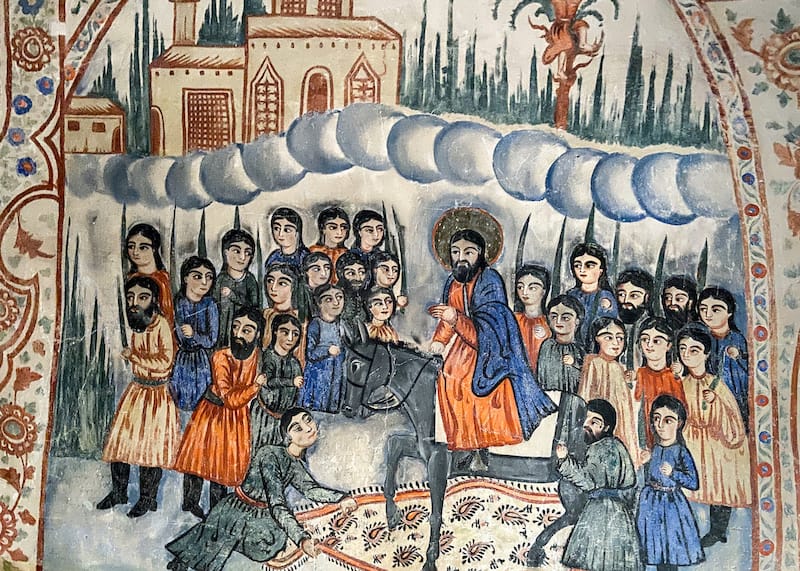 Inside, you will find colorful artwork that makes it like nothing I have seen in Armenia before! It also offers some stellar views over to Mets Tagh if you climb up behind the building.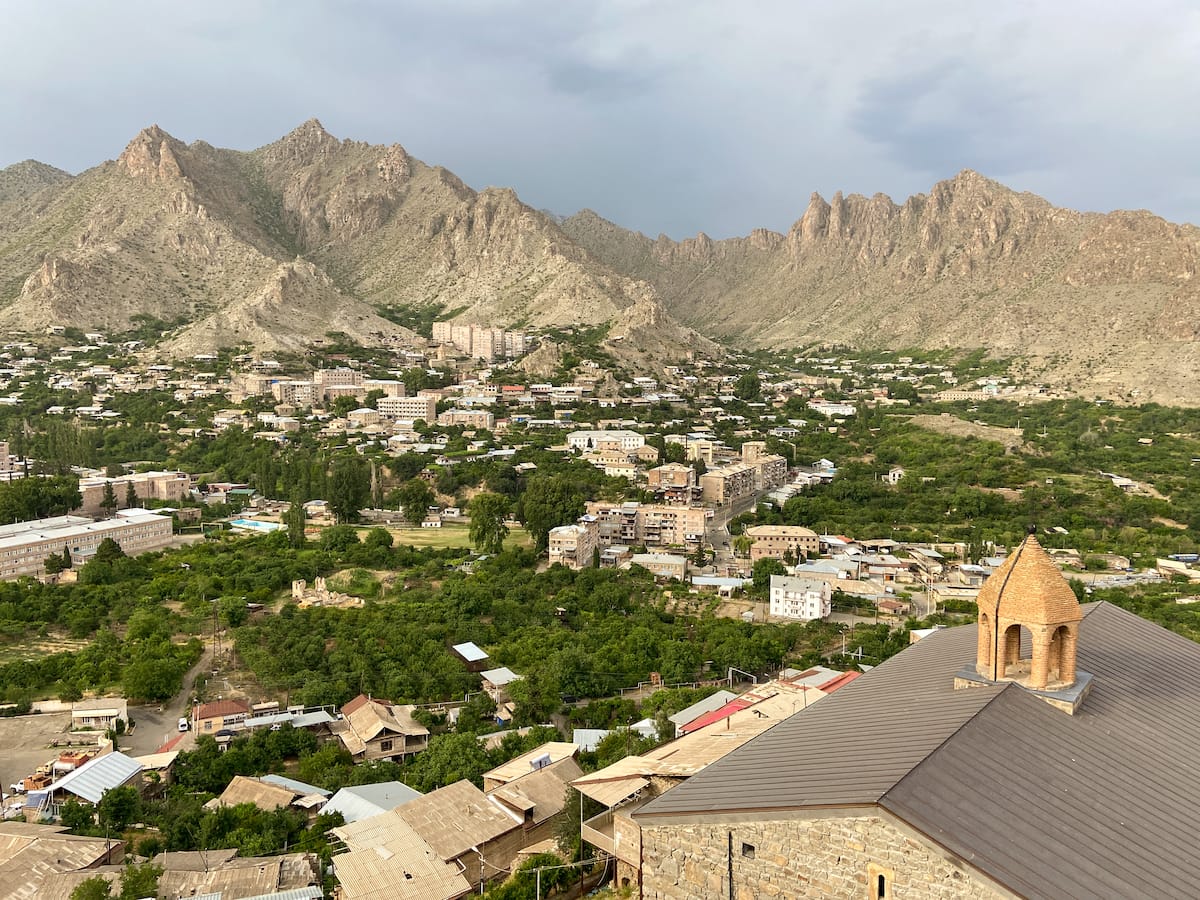 St. Astvatsatsin Church
On the other side of the city, you will find St. Astvatsatsin Church, another iconic Meghri church worth visiting.
It dates back to the 17th-century and has colorful frescos inside, much like St. Hovhannes church across the way. It is said that this is where the first piano was introduced to Armenia.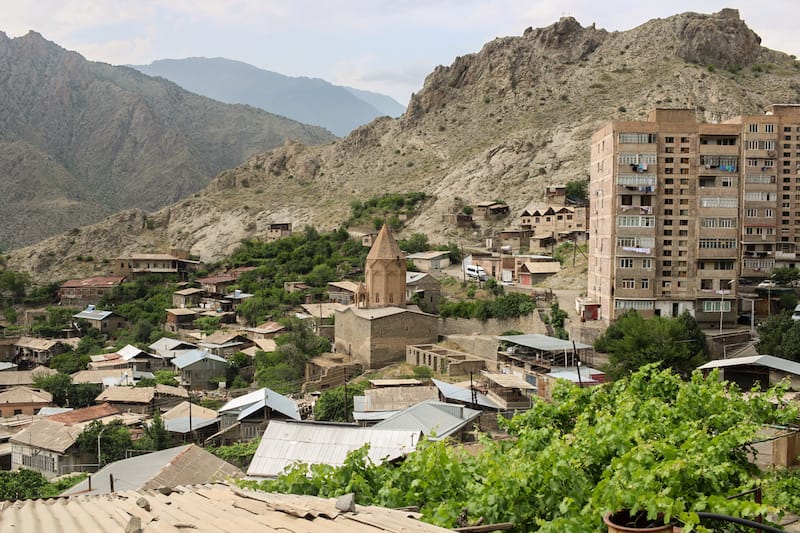 The church is situated in the Mets Tagh area of the city and unfortunately, the frescos inside are a bit endangered due to the high humidity inside of the church.
While the church sits in a rather residential neighborhood, it is certainly worth a stop when you're strolling around. There is also a khachkar dedicated to the 100th anniversary of the Genocide nearby.
St. Sargis Basilica Church
To the north of the city, you will see St. Sargis Basilica's remains perched on a hill. It also dates back to the 17th-century and is worth a stop although there is not too much to see.
5. Check Out the Abandoned Meghri Train Station
Disclaimer: As of July 2022, the Meghri train station is only able to be accessed by Armenian nationals. Foreign nationals will not be permitted through the military checkpoints on the road from Meghri west. We will update accordingly.
If you head out of the city for a few minutes toward the Iranian border, you will come upon the Meghri Railway Station. Situated along the Kapan-Shikahogh-Meghri Motorway, the place currently is abandoned.
However, it is worth a quick stop (especially if you're heading down the road to Shvanidzor village (which I mention next)!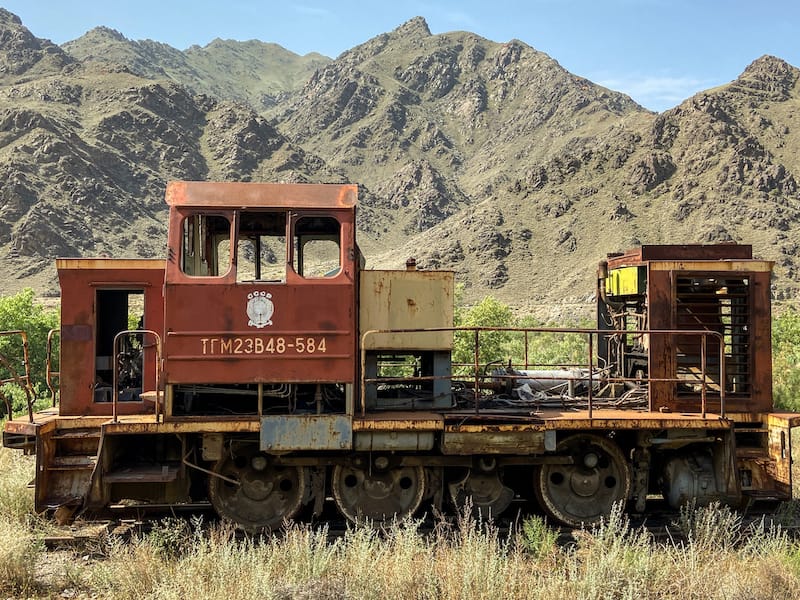 This train station previously served the rail route that linked Yerevan to Baku and Nakhchivan as well as the Yerevan-Kapan route. Since this was during the Soviet era, things have changed and the last train left the station in 1989.
It is quite sad to think of all the journeys that started at this station that are only a distant memory today.
Nevertheless, you will find some old trains out front, a statue, and some posters/art on the walls. It is in disarray and not much is left, but it is a fun place to stop if you're into Soviet history.
6. Take a Trip to Shvani Dzor Village
Updates: As of July 2022, Shvani Dzor was only able to be accessed by Armenian nationals. Foreign nationals will not be permitted through the military checkpoints on the road from Meghri west. As of May 2023, we are told that Shvani Dzor road is open again to all nationalities and that there were a lot of guards but no actual checkpoints. Go at your own risk – we do not know when or if things will change!
While Meghri is easily my favorite town in Armenia, I reckon that Shvani Dzor might just be my favorite village in the country (or one of the top three if anything).
This picturesque village is situated a short car ride away from Meghri, past the aforementioned abandoned railway station. We wrote a guide discussing the place in more detail, but all I can say is – VISIT!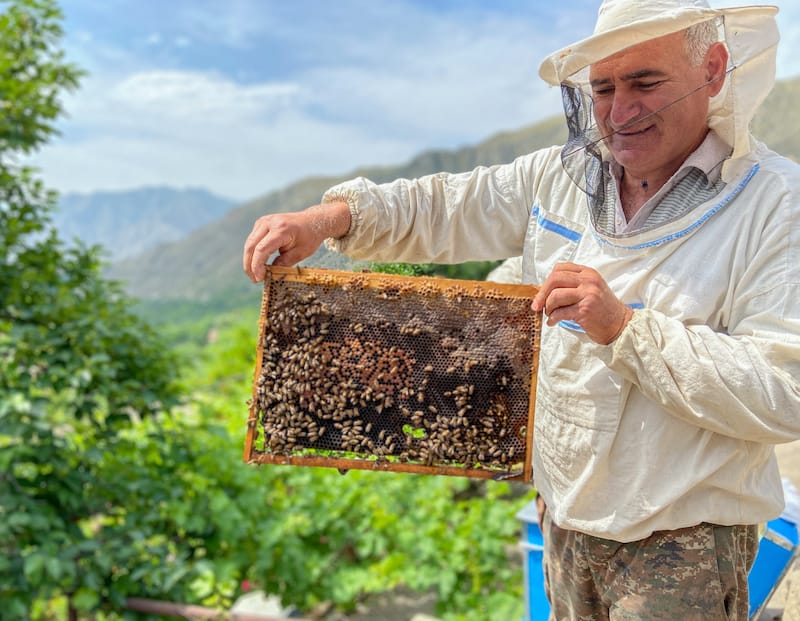 Upon entering the village, you will pass an old aqueduct that dates back to the 17th-century and is still in use today. You will also pass plenty of abandoned, yet idyllically situated buildings in the village.
But, the best part about Shvani Dzor isn't what has been left to nature there, it is the people that still call the place home. We met up with several residents and enjoyed coffee, mooshmala (medlar fruit), and more.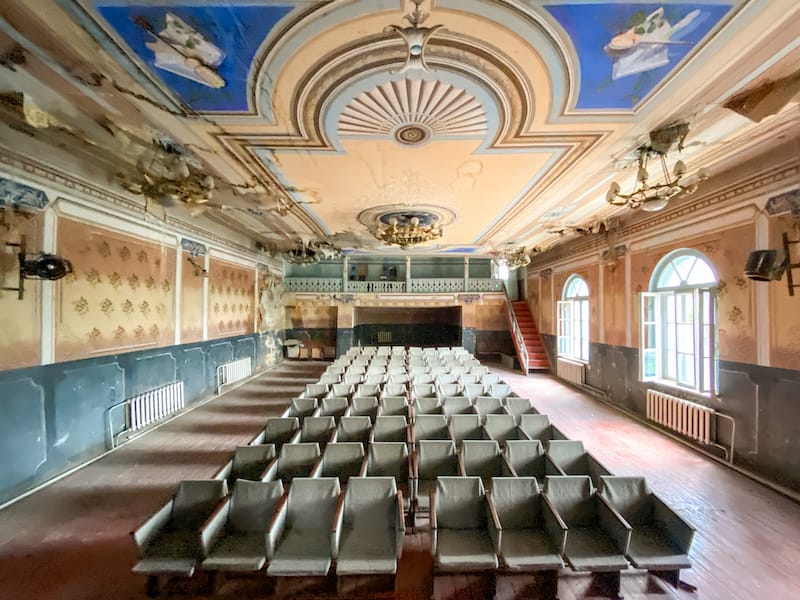 We even stumbled upon a well-preserved Soviet culture house and cinema there. This place truly is a gem and I am actually scheming ways to help develop tourism down there in the future as the residents said they would love to share their village with travelers.
7. View the Araks River (and Iranian Border)
While you're in the area (after visiting the two places mentioned above), be sure to stop by and take a photo of the Araks River viewpoint that gazes into Iran.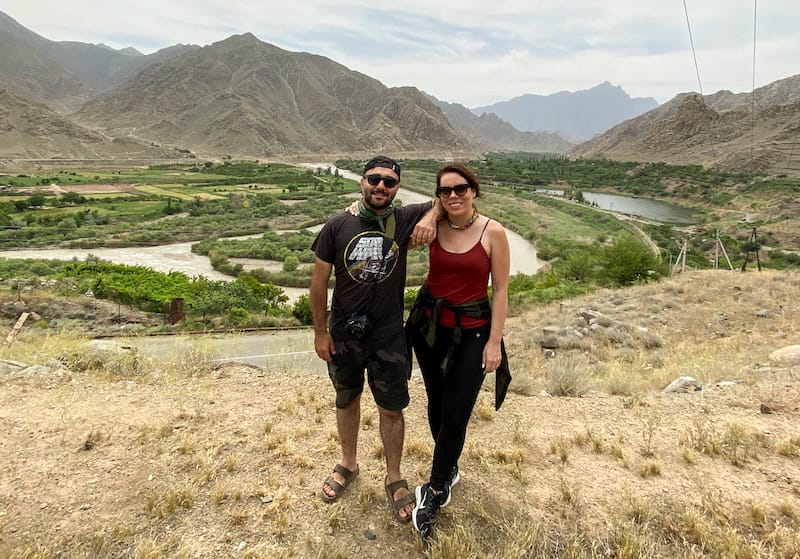 It is not encouraged to take too many photos along this border but this area is a safe spot. You can see the river dividing the two countries and the rugged landscapes surrounding it.
8. Hike to the Lichk Waterfalls
One of the most famous waterfalls in Armenia (and Syunik, of course) is the Lichk Waterfalls that are located not too far from Meghri. It is worth the day trip and hike to them.
There are quite a few waterfalls in the area and they are located along the Meghri and Zvaraget Rivers. There are four specifically located along the Zvaraget River and several more along the Meghri.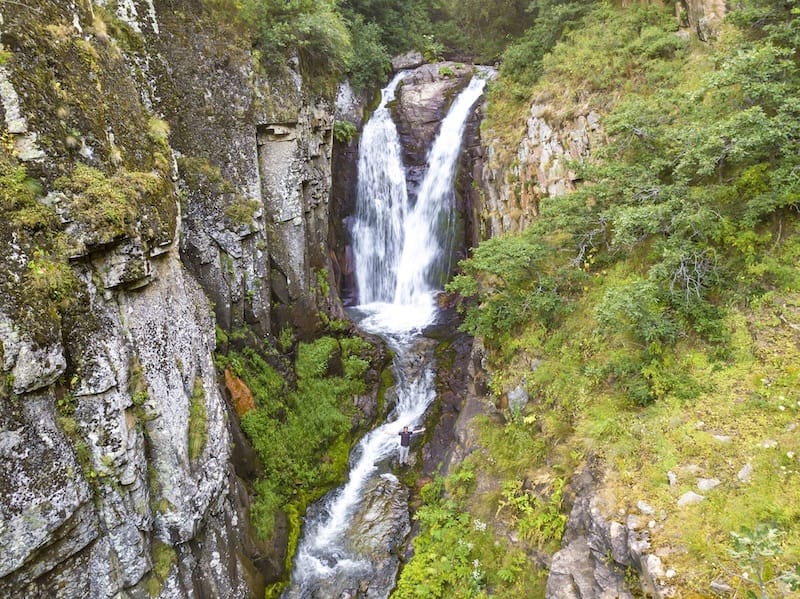 The village of Lichk is small (only around 160 people) but you can also stop by Surb Karapet, a WWII Monument, and Zvaravank Church while there.
Rather than tackling the area itself (you might miss some of the better natural sites!), we recommend heading out with ArmGeo if you have flexibility on time as they are often running tours there during the summer months.
9. Try the Local Fruits of Meghri
Meghri is home to some of Armenia's tastiest fruit and it is the only place that produces pomegranates (at least commercially).
You will not only find pomegranates in Meghri, but you will also find quince, persimmons, blood oranges, medlar, kiwi, grapes, olives, apples, pears, and so much more!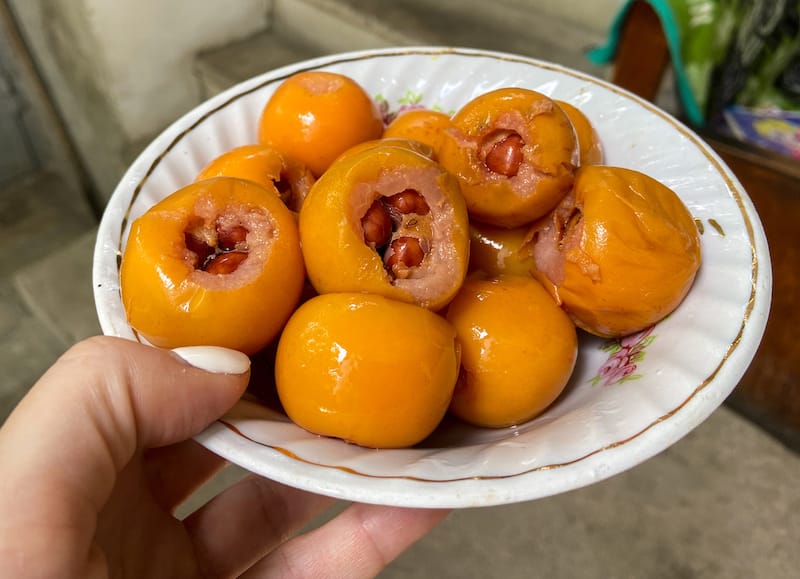 I actually think this was the first time in my life that I witnessed pomegranate orchards and I likely annoyed everyone with my many remarks and 'oohs and awws'.
The harvest season is in autumn starting in September until November. To experience it at its best, visit Meghri in October and you can take it all in.
If you happen to be visiting out of season, don't worry, you can still buy juices, wines, or eat the fruits dried or preserved! We took a bottle of fruit vodka with us as a souvenir.
10. Take a Day Trip to Arevik National Park
It has been my goal to visit Arevik National Park since my first trip to Armenia nearly a decade ago. It just looked remote and the photos I Googled of it only ignited my curiosity further.
Well, it didn't disappoint. And I really think you should plot an additional day in Meghri just to visit the park itself!
Arevik National Park is wild and planning a journey there without a personal car (preferably a 4×4) is challenging unless you can get a taxi driver who knows what he or she is doing.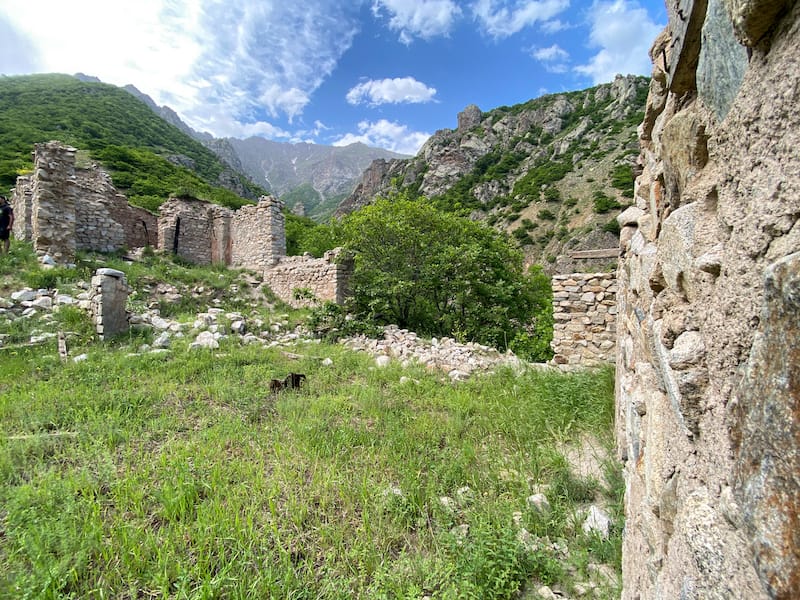 Entrance is free in the 344-square km Armenian national park and it shares a small border with Nakhchivan.
One thing that the park is known for is its many species of butterflies. In fact, there are over 150 of them and many are listed as endangered and in the Red Book of Armenia. There are many other creatures living there, even the elusive Caucasian leopard.
The park was designated as a national park in 2009 and during winter (and other times of the year), you can see many species of birds there, including golden eagles.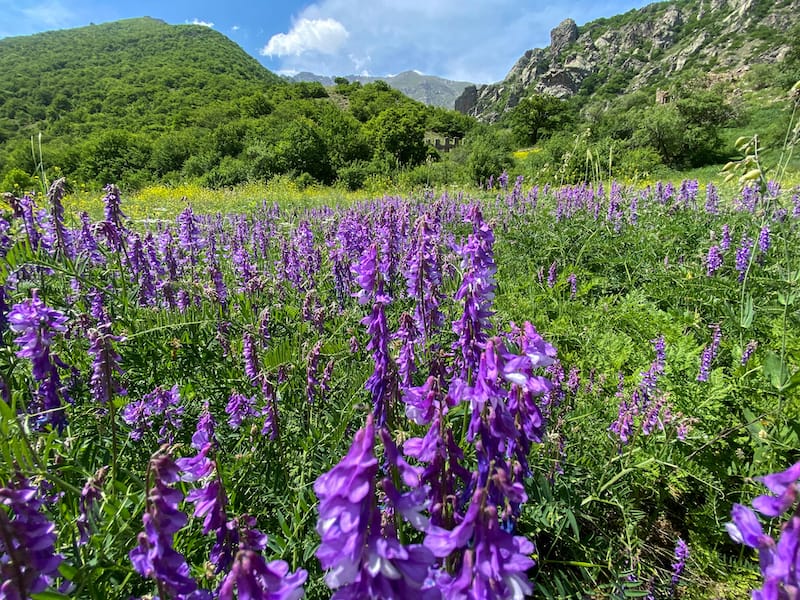 Inside the park, you will find many herbs (great for tea!), ruins of a mosque, a gorgeous waterfall with a picnic and BBQ area beside it, and much more.
Meghri Restaurants, Cafes, and Bars
As mentioned below, there are not too many places to eat in Meghri… but if you compare it to the number of people living there, it is just about right.
We found a few places that were worthwhile when traveling to Meghri and we have listed them below for you: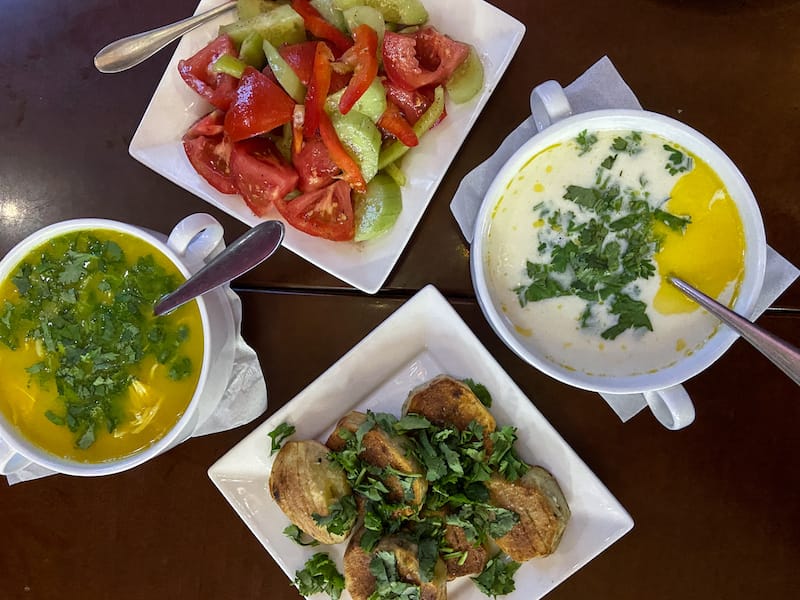 Things to Know Before Visiting Meghri
There are plenty of things to know before visiting Meghri, but here are some of our random observations and tips for your trip there: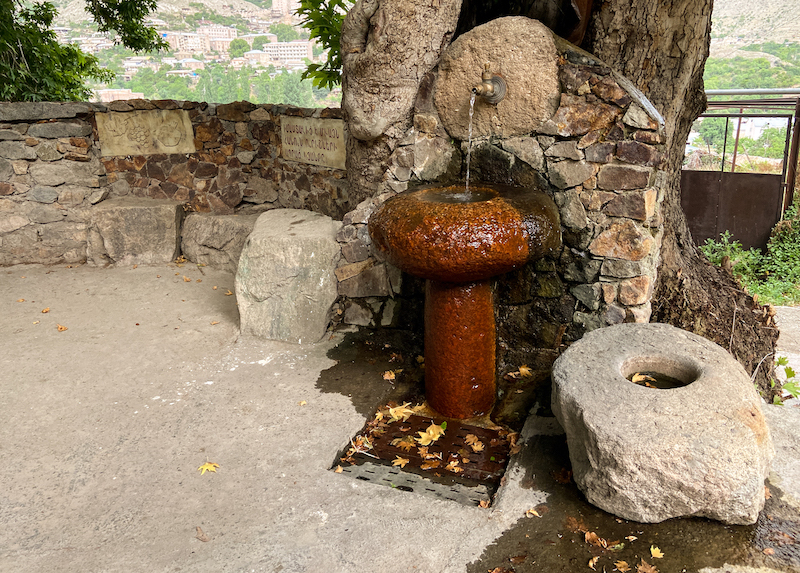 Where to Stay in Meghri
As we noted above, there are not too many places to stay in Meghri but we will list the places we stayed at or were recommended by reliable others.
Have you ever traveled to Meghri? What are your favorite things to do in Meghri, Armenia? Let us know below!
More South Syunik Travel Guides