Syunik is one of the most underrated and mysterious regions of Armenia. This guide showcases some of the best places to visit in Syunik – from the high mountains to national parks and beyond!
We take you from Meghri near the Iranian border up to Shaki waterfall and more.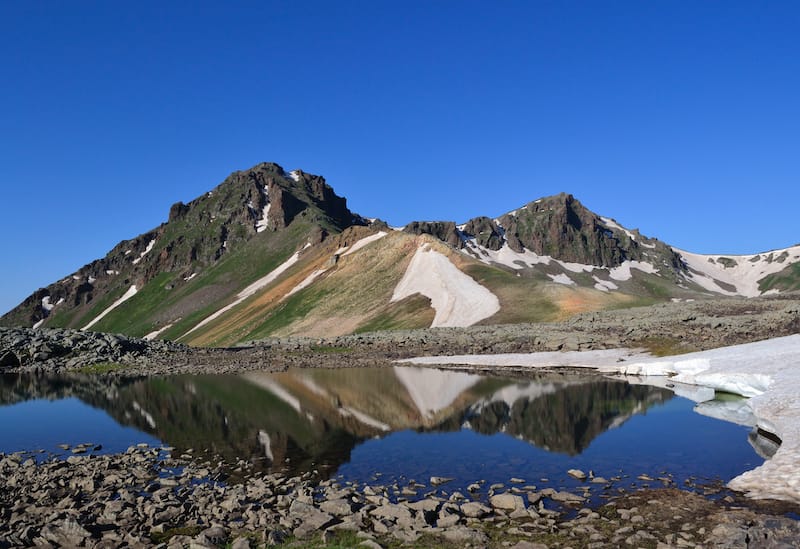 This list is by no means conclusive – so let us know your favorite places in Syunik in the comments!
Best Places to Visit in Syunik Province
Shaki Waterfall
Located 3km northwest of the town of Sisian, Shaki Waterfall is one of the hidden gems of the Syunik province, which will make your jaw drop from its mesmerizing beauty.
Formed by Vorotan River inflow and nestled in its gorge, the waterfall cascades down 60 feet over solidified basalt lava flows above the Shaki River.
The waterfall has a legend behind it that tells of a girl named Shaki, who escaped from the conquerors, and leaped off the cliff, during which her dress opened up into the wind and became the waterfall.
As a result, the waterfall and the neighboring village were named "Shaki."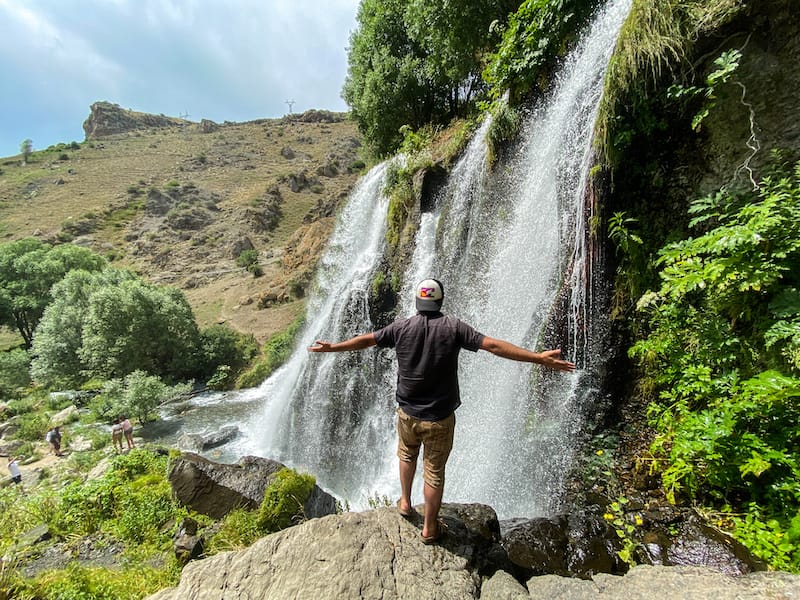 Goris
Located on the southernmost edge of Armenia and 254 km away from Yerevan, charming Goris is the second-largest city in Syunik.
Urartian period history states that people were settling in Goris since the Stone Age, which was mentioned in a cuneiform left by King Rusa I (8th century B.C.).
Spend a weekend in Goris, a city with a rich cultural heritage showcased on every corner, to enjoy various historical landmarks.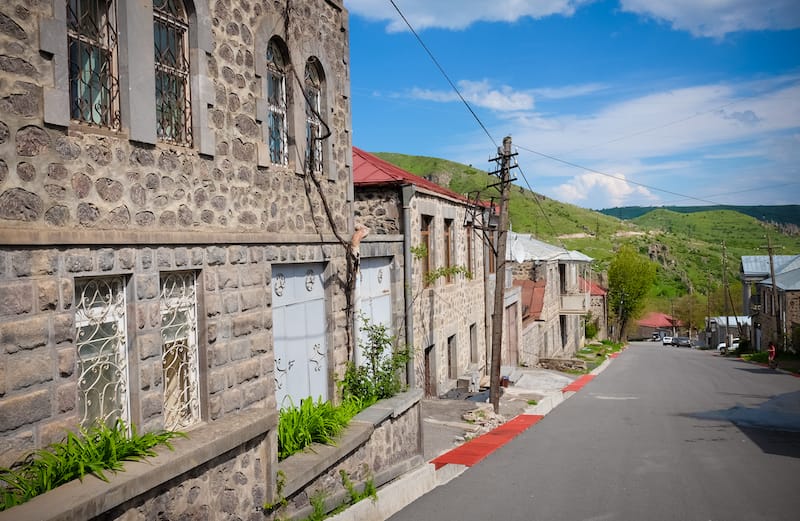 Stroll down the streets to admire the 19th-century architecture in two-story houses, head to Old Kores (Goris) to awe from the stone pyramids and medieval cave dwellings, or simply visit the 4th-century basilica of Surp Hripsimé or St. Gregory the Illuminator Church to witness unique Armenian cultural heritage.
There are some incredible places to stay in Goris and here are some of our favorites:
Goris is up-and-coming and we know that in the near future, it will be one of the top places that international travelers will visit in Armenia.
Karahunj Observatory
When in Syunik province, make sure not to miss visiting one of Armenia's historical monuments, the Armenian Stonehenge, which is located close to Sisian City.
This prehistoric complex is called Karahunj, also known as "Zorats Karer," which basically translates as "speaking stones."
In 2004, it was officially named Karahunj Observatory since the evidence state that it once served as an ancient astronomical observatory.
This megalithic complex is more than 4500 years older than the British Stonehenge and features about 222 basalt slabs varying in height from 0.5 to 3 meters, vertically arranged in the form of two rings.
These mysterious structures stand there as actual proof of the Armenian nation and culture dating back to prehistoric times.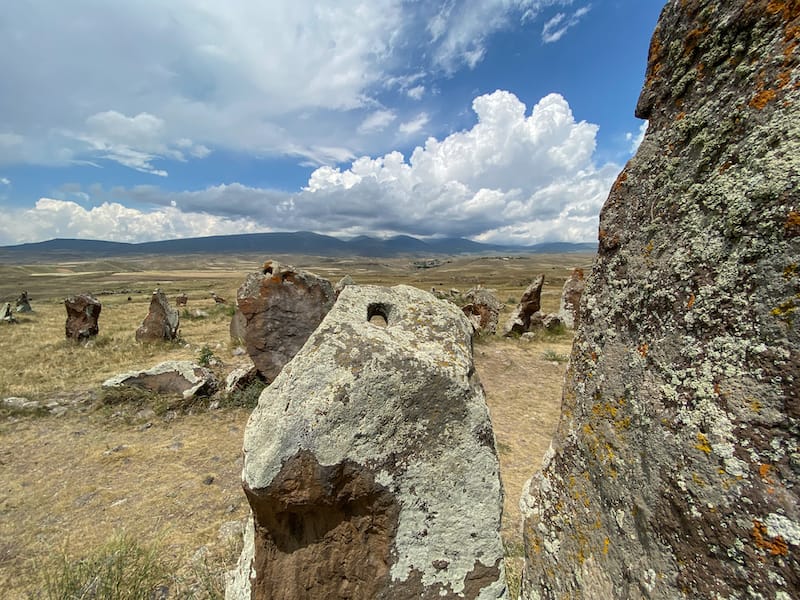 Kapan
The city of Kapan is the capital of Syunik and offers its visitors plenty of awe-inspiring sites. It is nestled on the northern slopes of Mount Khustup in the Voghji River valley.
While in the area, you will get a chance to witness Halidzor Fortress, take the world's longest cable-car ride to Tatev Monastery, admire Zangezur Mountain Range, and explore Shikahogh National Reserve, Armenia's second-largest national park.
Kapan is rich in historical and cultural heritage and offers historical monuments, such as the 4th-century Baghaberd Fortress, the castle of Davit Bek (Armenian military commander), 5th-century Yeritsavanq, etc.
The city of Kapan has some tasty restaurants, Soviet architecture, and more!
Nature enthusiasts will also find Kapan to be a stunning city full of marvelous nature, fresh air, and diverse flora and fauna.
For adventure and camping lovers, stay in the place mentioned below:
Meghri
Surrounded by Zangezur Mountains and located on the banks of the Meghri River, the city of Meghri is one of the southernmost towns in Armenia and has been inhabited since the Bronze Age.
The city established by Armenian King Smbat I (in 906), was originally known as "Karchavan," before being renamed "honey town," and in 2016, the city expanded.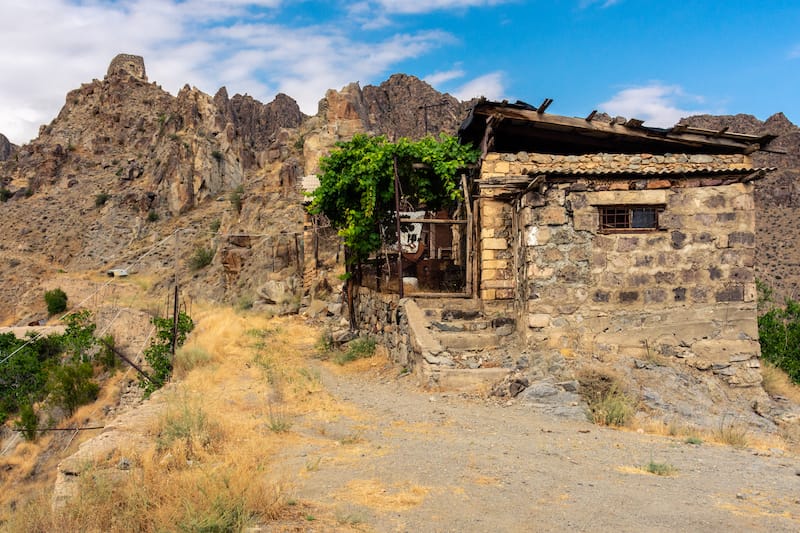 Meghri has a wealth of cultural and historical heritage, which includes the 17th-century churches of St. Astvatsatsin and St. Hovhannes (known for its frescos), a public library dating back to 1882, which also serves as a Cultural Center and Art School for Children, ethnographic museum from the 18th century, and an 11th-century fortress.
In close proximity, you can find the Prime Butterfly Area, which is known for its rare and endangered species of butterflies.
Khndzoresk
Head to Khndzoresk to witness one of the most historic villages of Armenia, which is known for its abandoned cave dwellings and 17th-century churches.
Due to its location in a deep canyon, it was once called "Khor Dzor," which means "Deep Canyon," but then was renamed "Khndzoresk."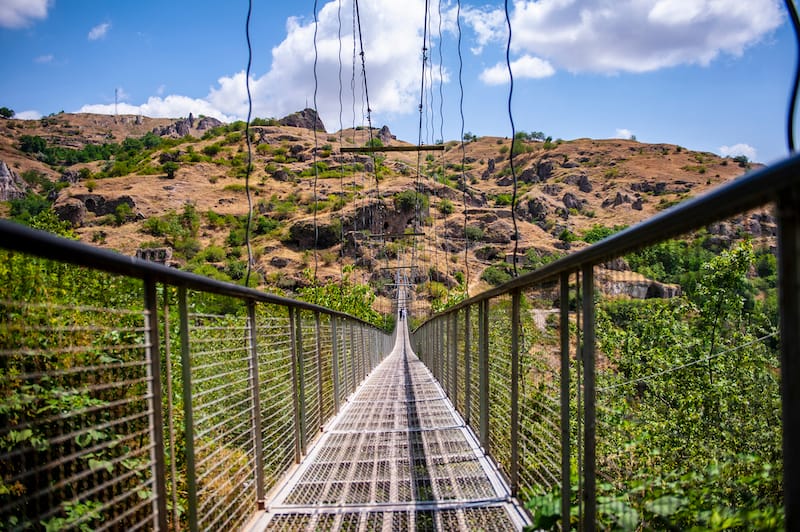 Two sides of the gorge are linked by a suspension bridge that is 63m in height and 160m in length and is one of the noteworthy places of the village.
The village played a crucial role in various defensive battles, where caves served as a shelter for residents. The town had grown to be the largest in eastern Armenia by the late nineteenth century, but it was abandoned following the earthquake of 1931.
Hin Khot
Nestled on the left bank of the Vorotan River and surrounded by rocks and blooming gardens, Hin Khot is one of the oldest villages in Armenia, which offers astounding cave dwellings dating back to as early as the 2nd century B.C.
The village also features Mrgadzori Khach Church, which was built in the 16th century, as well as neighboring ancient burial grounds and remains of the 12th-century Red Monastery.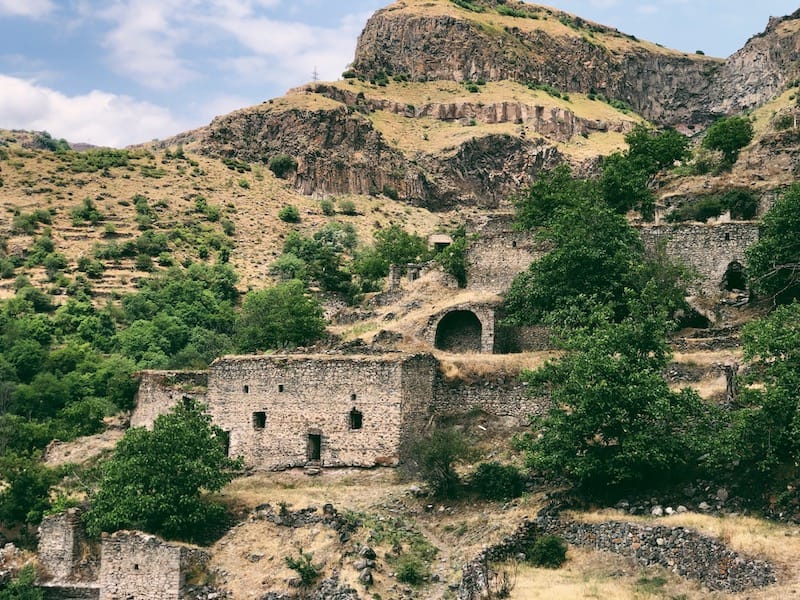 Many refer to this place as the Armenian version of Machu Picchu due to the village's unique architecture, though Hin Khot is actually more ancient.
In the 1970s, residents of the village abandoned their habitat in search of a more convenient location.
Tatev Monastery
Tatev Monastery is one of Armenia's oldest and must-see monasteries, which dates back to the 9th century. This historically significant monument is quite popular in Armenia, and the majority of Armenia tours include this gorgeous destination in their tour packages.
Tatev Monastery played a crucial role in Armenia's rich heritage, once served as a key scholastic and spiritual center, and was the largest university of medieval Armenia.
While there, you will manage to see mighty fortress walls perched atop huge cliffs, an ancient oil mill with stone grinders, a unique medieval structure Swinging Pillar, ancient frescoes by European masters, and witness the tomb of the last saint of the Armenian Church, Grigor Tatevatsi.
Don't miss out on visiting Tatev village too – there is plenty to see there!
Where you can stay in Tatev and what you can do:
Arevik National Park
Serving as critical habitat for the area's rich ecosystem, Arevik National Park is comparably the newest one of Armenia's four protected national parks.
It is nestled near Meghri and offers about 35000 hectares of land (including Boghaqar Sanctuary) as a shelter for many endangered species, such as brown bear, Caucasus leopard, striped hyena, Bezoar goat, Armenian mouflon, Caspian snowcock, 150 species of butterflies, 180 species of birds, and more.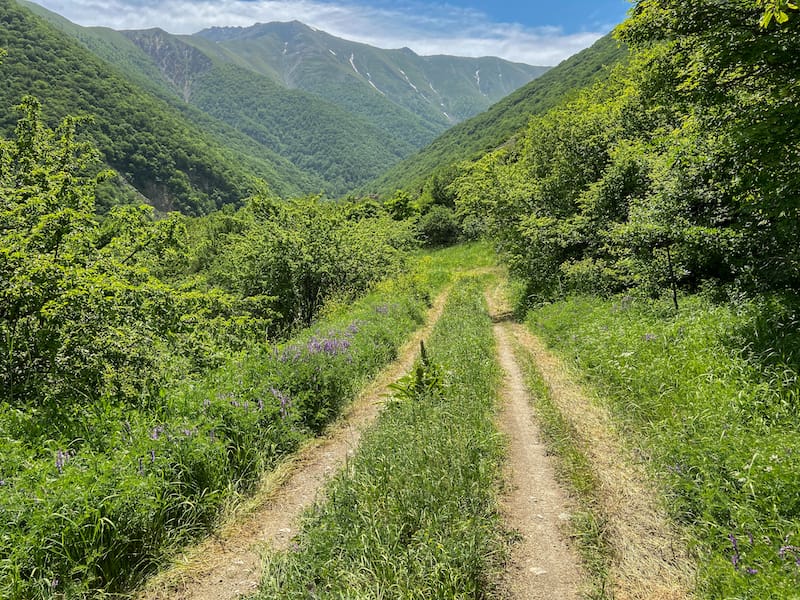 The Armenian park allows its visitors to enjoy the stunning views of the surrounding landscape and get acquainted with Arevik's rich historical-cultural heritage either on foot or on horseback.
Make sure to visit the national park from June to November to appreciate the full potential of the surrounding gorgeous scenery.
Ughtasar Petroglyphs
A large petroglyph field, Ughtasar Petroglyphs, is an important archeological find on top of Mount Ughtasar near Sisian city.
Ughtasar Petroglyphs are hard to get and can be reached only by off-road vehicles, but the final scenery is well worth the effort.
Those petroglyphs date back to the Paleolithic era, thus are estimated to be between 4 and 7 thousand years old, serving as indisputable proof of Armenia's eternal history.
Those were carved on quite dark-tinted rocks, which were left by an extinct volcano, and depict various paintings and symbols, such as animals, zodiac signs, hunting scenes, various geometric shapes and figures, and more.
Mount Khustup
Mount Khutsup is the highest peak of the Katar Mountains (3201m), located on the southern edge of Armenia.
About 28km long, a moderately trafficked out and back trail near Tsav offers a scenic hike to Mount Khustup, providing breathtaking natural views along the way.
Melting snow on the hills of the mountain result in various streams, which in turn make up the Vachagan River.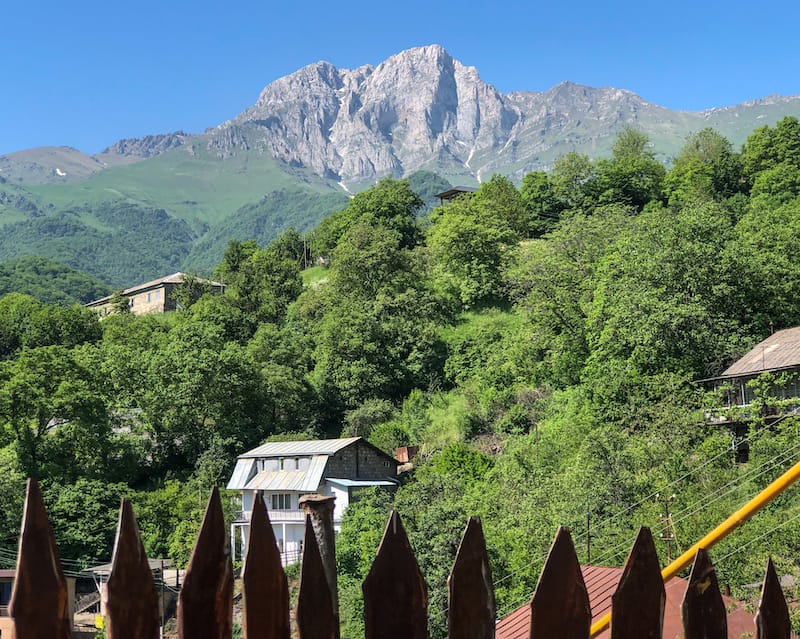 Since ancient times, the mountain served as a sacred place for prayers and pilgrimage, and its name comes from the Hurrian word "khutu," meaning "prayer."
The relics of Garegin Nzhdeh, who was a real Armenian hero and military leader, lay on the hillside of Khustup Mountain.
Sisian
Located in the northern part of Syunik is the small town of Sisian, nestled on the Vorotan River, and one of the simplest yet most gorgeous cities in Syunik.
From withstanding Seljuk Turk invasions to being under Persian and Russian rule, the city has faced numerous challenges.
Nearby Neolithic observatories and animal petroglyphs are real proof that the region was inhabited as early as the 8th century B.C. before the official town was built.
Stroll along the streets to admire the unique architecture full of pink tuff and local basalt stone buildings, and make sure not to miss visiting the Petroglyphs of Ughtasar, Shaki waterfall, Vorotnavank Monastery, and Zorats Karer to take in the stunning views.
Be sure to also check out the Sisian History Museum when you're there!
Vorotnavank
Vorotnavank is one of the oldest monastic complexes in Armenia and is considered the true gem of Syunik Province. It is located between the villages of Vaghatin and Vorotan and overlooks the gorge of Vorotan.
The complex was home to stores, workshops, a resort, cemetery and was enclosed by high stone walls to protect it from foreign invasions.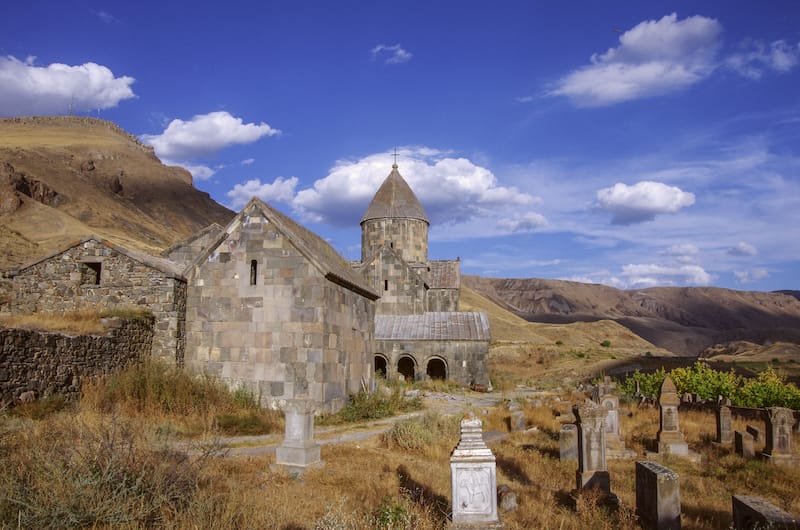 Vorotnavank Monastery Complex consists of two churches, St. Stephen (Surb Stepanos) and St. Karapet. In 1000, St. Stephen's Church was built by Queen Shahandukht, then her son Sevada built St. Karapet church.
The monastery complex overcame many challenges and was destroyed a few times by foreign invasions, and the dome of St. Karapet also collapsed entirely during the 1931 earthquake.
Devil's Bridge
Syunik Province is full of natural wonders, one of which is Devil's Bridge. It was formed over the millennia as a result of the endless impact of natural forces, such as wind and water, piercing the petrified lava.
It is located below Tatev Monastery and runs 30m in length and 60m in width in the 500m deep gorge of Vorotan River.
There are various legends behind the bridge, which make this place even more mysterious.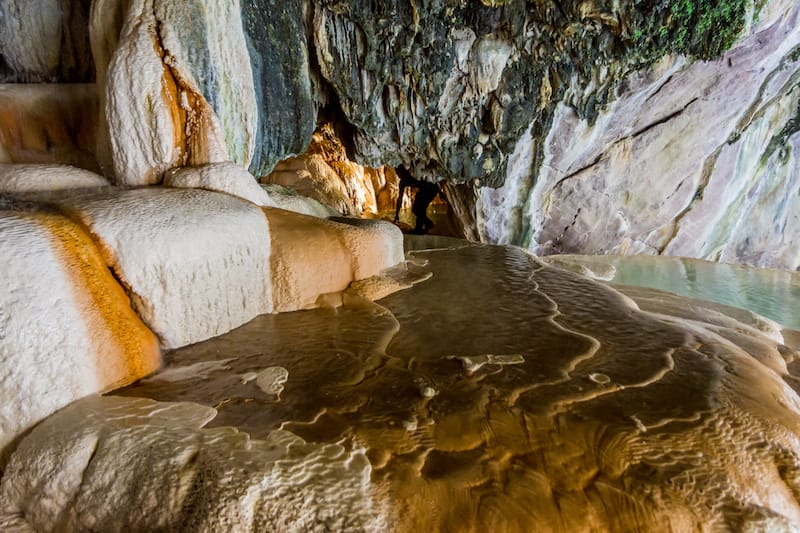 Some attribute the name to many drownings that have occurred underneath the bridge, while others can't explain the fact that much less water goes under the bridge than leaves it.
Adventure seekers can still take a swim under the bridge and admire the breathtaking scenery of hanging stalactites – but taking an experienced guide with you is strongly advised.
Shikahogh Reserve
Head to Shikahogh Reserve, the second largest forest reserve in Armenia, to awe at the untouched nature on the northern slopes of the Meghri Ridge.
The Reserve was established in 1958 with the primary purpose of providing habitat to various meso-thermophilous plant species as well as many animals that were on the verge of extinction.
Plane Grove and Zangezur State Sanctuaries are also an inseparable part of the Shikahogh Reserve. Currently, 10,000 hectares of land are home to rich flora, including 1100 different plant species, such as leaf-bearing trees, Transcaucasian and Artyushenko's snowdrops, Zangezur pear, plane tree groves, etc.
The rare fauna includes many endangered species such as Caucasian leopard, snowcock, Bezoar goat, brown bear, viper, etc.
Tandzaver
When in Syunik, make sure to spare a few days to explore this picturesque tiny village of Tandzaver, one of the oldest villages in the Kapan region, for adventure and breathtaking views.
It is located on the southwestern edge of Bargushat Mountain Range, 1200-1500 meters above sea level.
Take one of the e-biking tours to explore the abandoned and mysterious Andokaberd Fortress or admire the hidden treasure of Ghalaboy Waterfall located deep inside the forest.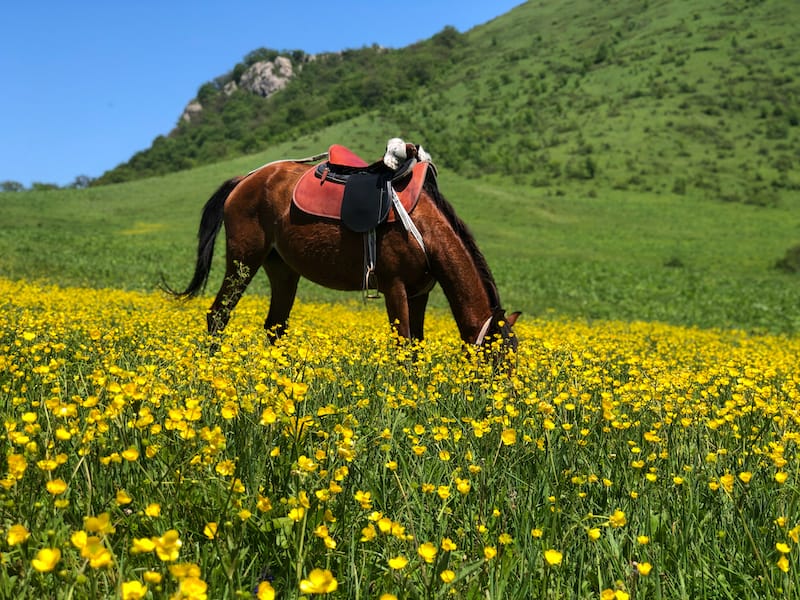 Head to witness the ruins of St. Stepanos, one of the village's few semi-preserved Christian monuments, or visit St. Hripsime, the Church of Mother of God built in 1705, which was used as a grain reserve during the Soviet period.
Also, there is a chance to go horseback riding in Tandzaver, which we highly recommend!
Lake Gogi (Lake Kaputan)
Being considered one of Armenia's natural monuments, this small lake called Lake Gogi, or Lake Kaputan as locals call it, is a hidden gem of Syunik's alpine beauty.
It is nestled 8km southwest of the city of Kajaran, which is the central hub of the Armenian mining industry.
The lake is 22m deep, has a total area of 10 hectares, and is located in the Zangezur mountain range, more than 3200 meters above sea level.
When going for a hike near Lake Gogi, make sure to take an experienced guide with you since the trail is quite a challenging one.
Tolors Reservoir
Located 3 km south of the town of Sisian at an altitude of 1650m, Tolors Reservoir is nestled in the confluence of the Sisian and Ayri rivers and is fed by them.
This 4.5 km long reservoir is one of four main regulating reservoirs of the Vorotan Cascade, which in turn is considered one of the main power-generating complexes in Armenia.
The Tolors Reservoir powers Shambi and Tatev hydroelectric power plants, and its water is used for energy and irrigation purposes. Tolors Dam is built of sandstone and measures 178m in length and 68m in height.
Interestingly, there are ruins of an old church in the middle of the reservoir!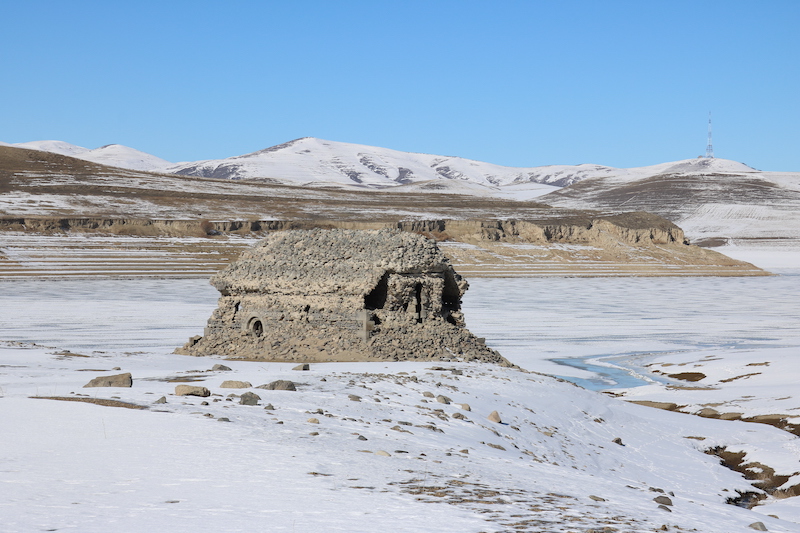 There are so many incredible places to visit in Syunik and these are some of the most popular and some of our favorites. Which Syunik destinations did we miss?
Let us know in the comments!
*This article was produced with the financial support of the European Union. Its contents are the sole responsibility of Absolute Armenia and People in Need and do not necessarily reflect the views of the European Union.
**The Legends Trail was created by People in Need representative office in Armenia in the frame of "EU4Tourism: Outdoor adventures on the historic trail in Syunik" project funded by the European Union.