The small village of Tandzaver is located near Tatev Monastery and is becoming more and more popular as new activities are founded in the area. I had the chance to try the new Tandzaver horseback riding tour there and this is my experience!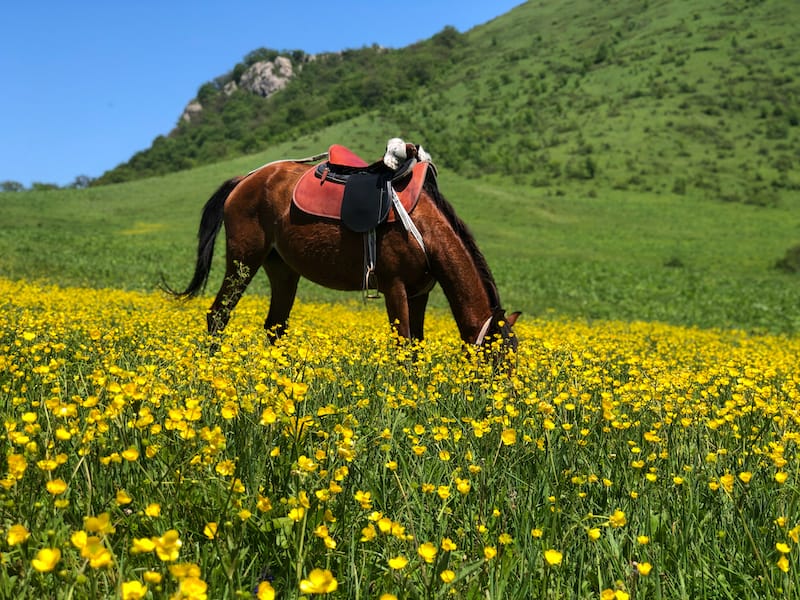 Tandzaver is a burgeoning adventure destination in Syunik! Aside from the epic hiking opportunities and trails, such as the Magic Forest Loop with HIKEArmenia and the Legends Trail, you will find electric bike tours there along with eco-camping opportunities.
Recently, another great adventure tour opened in Tandzaver by Welcome Tandzaver operated by local young entrepreneurs Bagrat Hakobyan and Edik Grigoryan who organize horseback riding tours up to the mountain.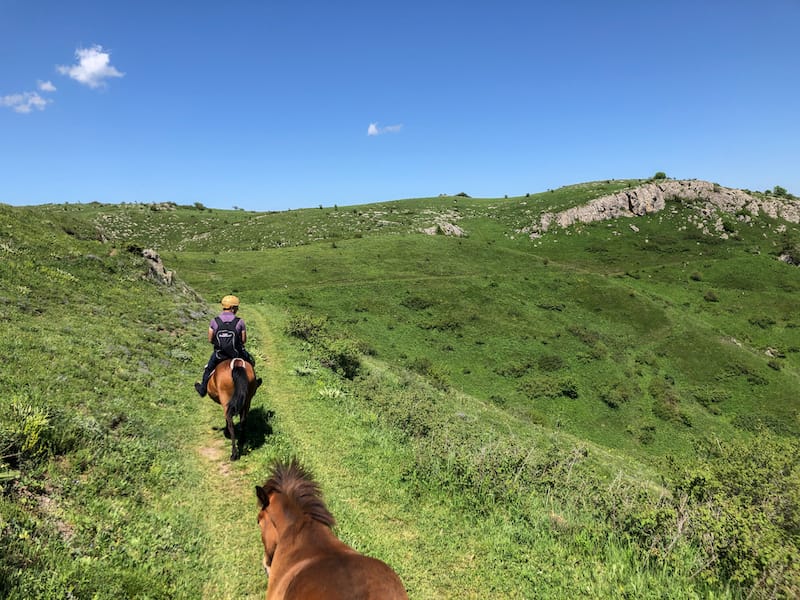 Bagrat has a wife and two sons and his goal is to make his village attractive to travelers and tourists so the local youngsters can stay in the village and try to make a living there. Also, his goal is to try to open a kindergarten in Tandzaver.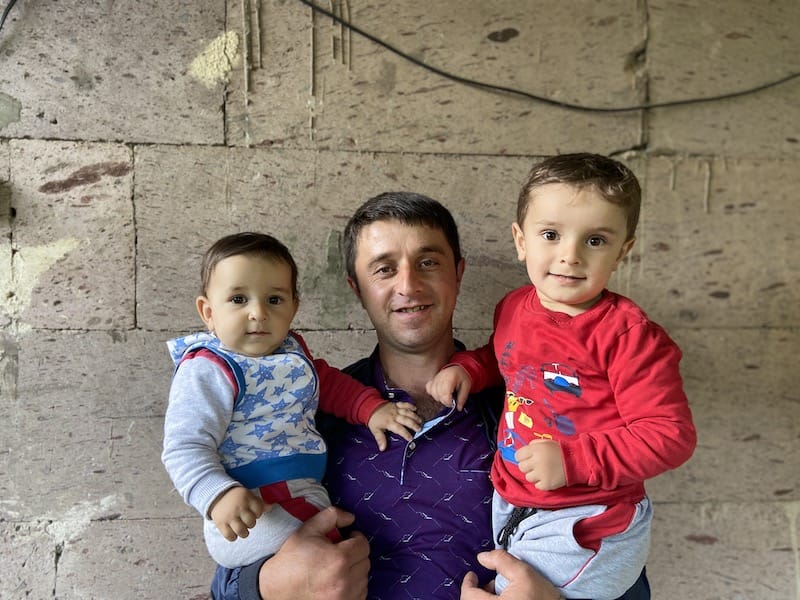 My Experience Horseback Riding in Tandzaver
We definitely recommend everyone who visits Syunik and Tatev Village to head out to Tandzaver because it only takes 20 minutes to get there and has a lot to offer for such a small place!
The Tandzaver horse riding tour starts right next to Bagrat's house. He prepares the horses, setting up all the necessary safety equipment like helmets and saddles.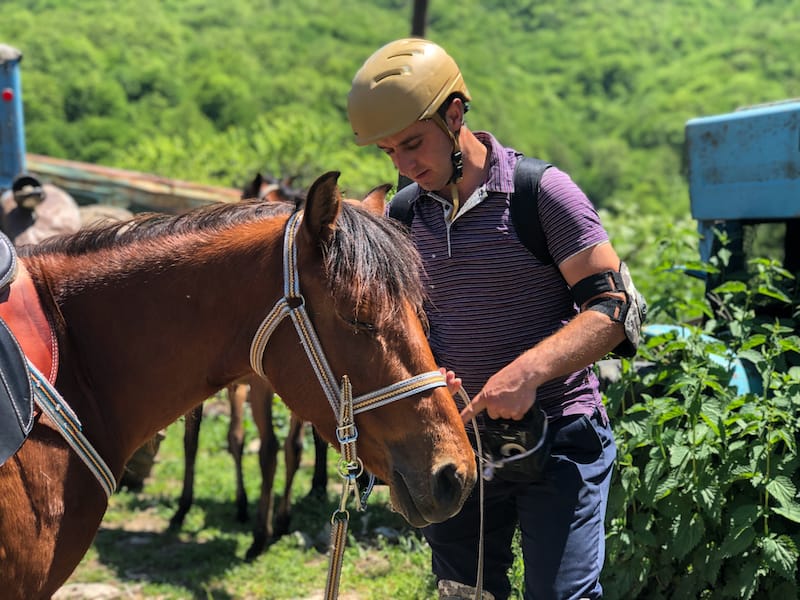 If you get lucky, his friendly dog Bingo will accompany you all the way to the top of the mountain and will be the best protector and companion ever!
After crossing the small river, your adventure starts as you ride up the hill, where after a few minutes, you will enter a place called the Magic Forest where you will see beautiful and mysterious natural wood art made by local artists located throughout different parts of the forest.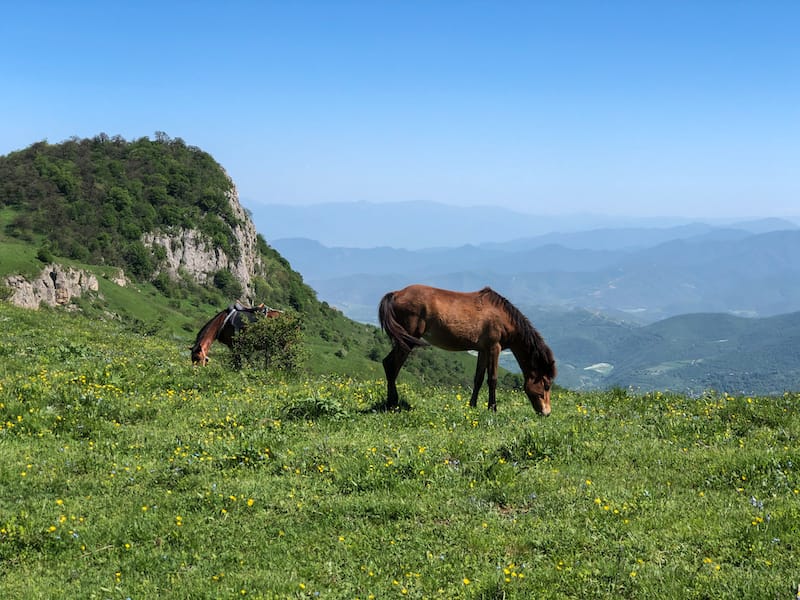 Feel free to stop to photograph the Magic Forest, smell the plants, and listen to the birds singing in perfect harmony with the lush surroundings.
After the forest, you will end up in an open field where you will see the Ashkharates mountain peak, which you will later make your way to. It is covered in flowers and beautiful greenery.
Finally, on the top of the mountain, Bagrat will make the tastiest coffee while you are observing the surrounding landscapes with binoculars and telephoto lenses.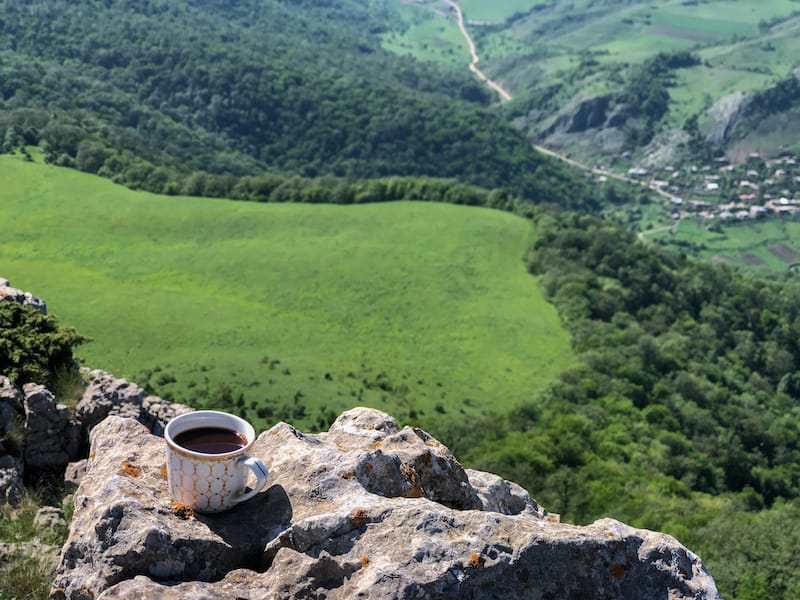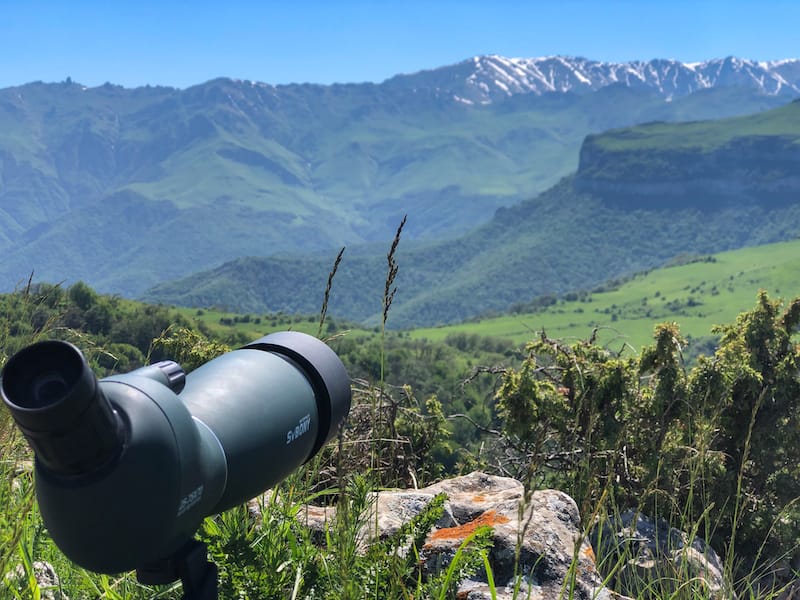 On the way back, you will hike a bit along some of the steeper places where the horses will need to go down by themselves. You'll have a chance to drink some deliciously cold mountain water that flows from the mountains along the way, however.
As you get back to the village, Bagrat's hospitable family will offer you sweets and coffee that will hit the spot after the horseback riding excursion.
Be sure to bring sunscreen, a hat, and sunglasses as the experience is quite warm and the sun can be a bit unforgiving!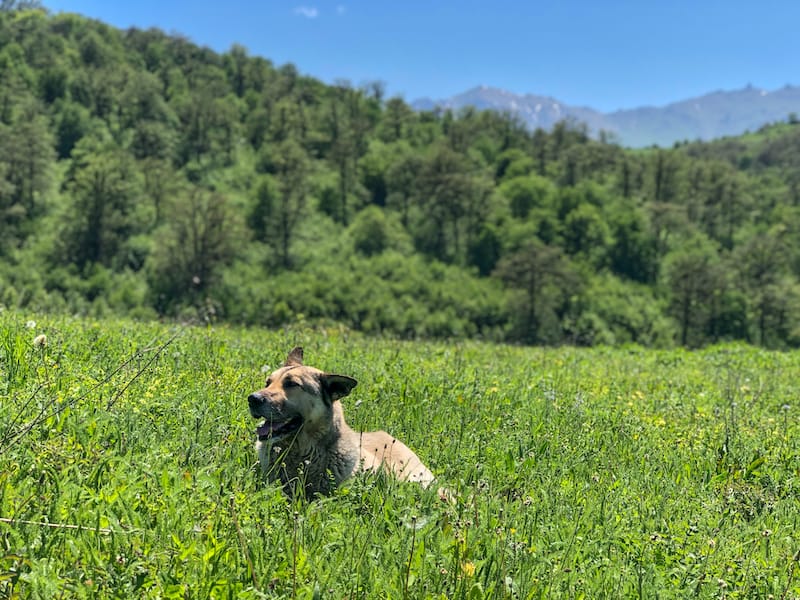 Horse Riding in Tandzaver Booking Details
If you're looking to join the Tandzaver horseback riding tour when you're there, here are some details that you will need to know before heading there!
It is seasonal and does not run during winter.
You may see wildlife along the way, especially deer and small mammals.
There are two sources of water along the way – other sources have dried up due to climate change.
Food can be included for a surcharge and vegetarians can be accommodated.
Beginners are welcome!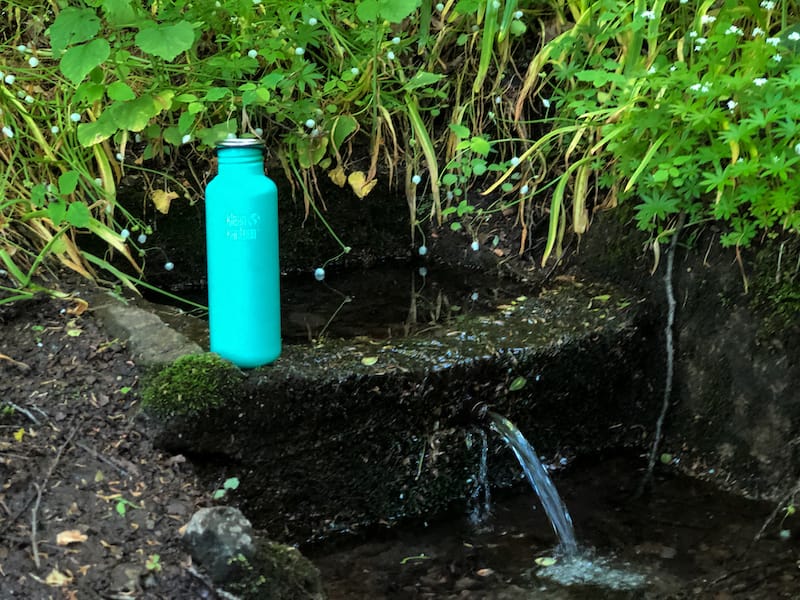 One of the best things about this tour is that Bagrat works with locals to use their horses so they can profit off of the tour as well. It really is a fantastic community activity!
All helmets and saddles are new and up to high safety standards. Welcome Tandzaver worked with People in Need Armenia to purchase tents and binoculars to enhance the riders' experiences.
To book your tour, message their Facebook page!
Routes
There are four routes you can choose from with a tour.  There is a short route (4 kilometers), a mid-length route that I went on (7 kilometers and takes about 2-3 hours), and two longer ones at 10 kilometers and 16 kilometers.
If you want to stay overnight and camp, it can be arranged. Prices for the tours start at 15,000 AMD per person.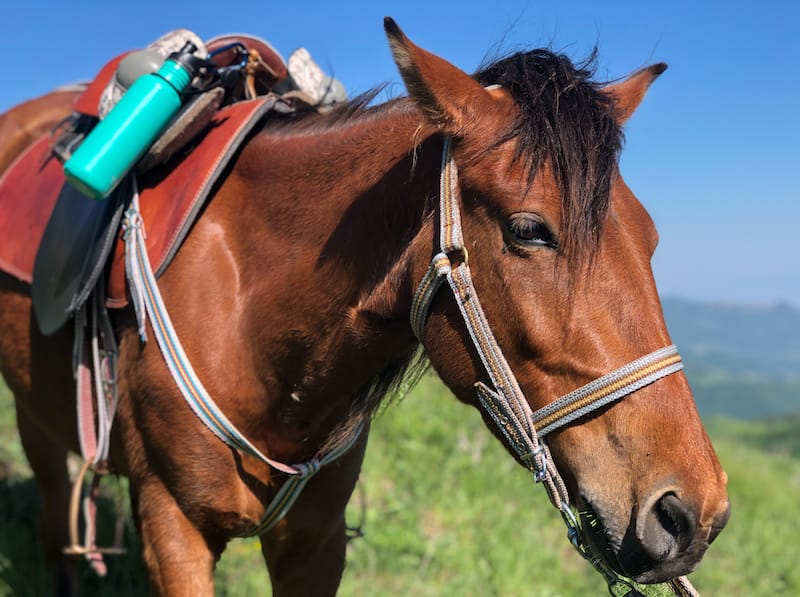 Where to Stay in Tandzaver
If you're looking to stay overnight in Tandzaver, you can stay at the eco-camping resort there or at Knarik's Guesthouse.  Please inquire with Welcome Tandzaver to arrange and they will get you sorted!
Getting to Tandazver
You can independently get to Tandzaver or you can have Bagrat arrange transportation for you from Tatev village or Kapan city. The price from Tatev one way is 5000 AMD and the one-way price from Kapan is 7000 AMD.
We hope you have a chance to take a Tandzaver Horseback Riding tour when you're in the region. It truly was an unforgettable experience!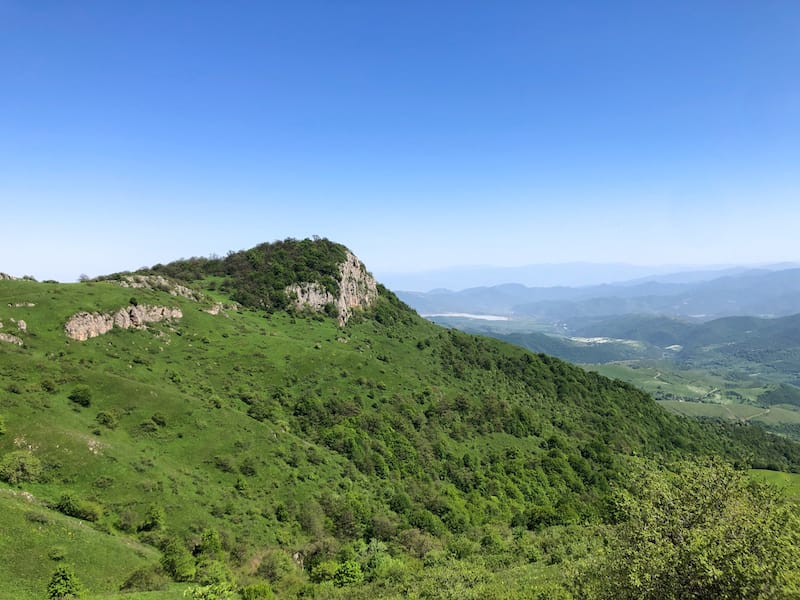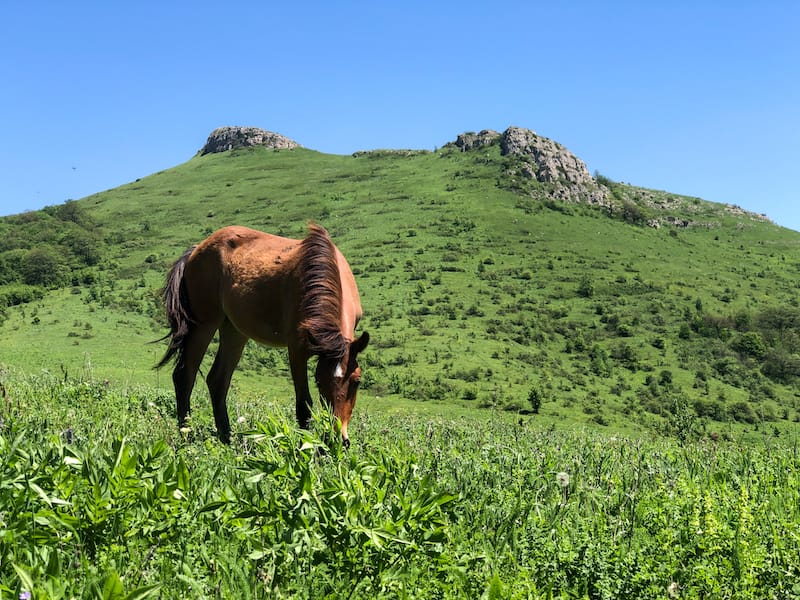 *This article was produced with the financial support of the European Union. Its contents are the sole responsibility of Absolute Armenia and People in Need and do not necessarily reflect the views of the European Union.
**The Legends Trail was created by People in Need representative office in Armenia in the frame of "EU4Tourism: Outdoor adventures on the historic trail in Syunik" project funded by the European Union.