When we were recently in Syunik, we had the chance to visit Tandzaver, a small and remote village somewhat near Tatev and not far north of Kapan.
We were not entirely sure what to expect in such a small, yet beautiful place, but after leaving, we seriously think that everyone needs to set aside a couple of days and travel to Tandzaver.
This guide details five amazing things to do in Tandzaver for those heading there.  Take mind, it is a very small place and you will need to slow down a bit and enjoy yourself while there!
About Tandzaver
The village of Tandzaver is situated in the Syunik region of Armenia and sits around 1200-1500 meters above sea level.  It sprawls through the southwestern slopes of the Bargushat Mountain Range and is one of the oldest villages in the Kapan region.
There are not many people living there at all- in fact, only 34 families residing in the village.  And there are only 7 students at the school!
Tandzaver is small but idyllically situated. According to Stepanos Orbelian, a 13th-century historian and the Archbishop of Syunik, the village of 'Tandzavayr' was a settlement that paid eight units of tax to Tatev Monastery.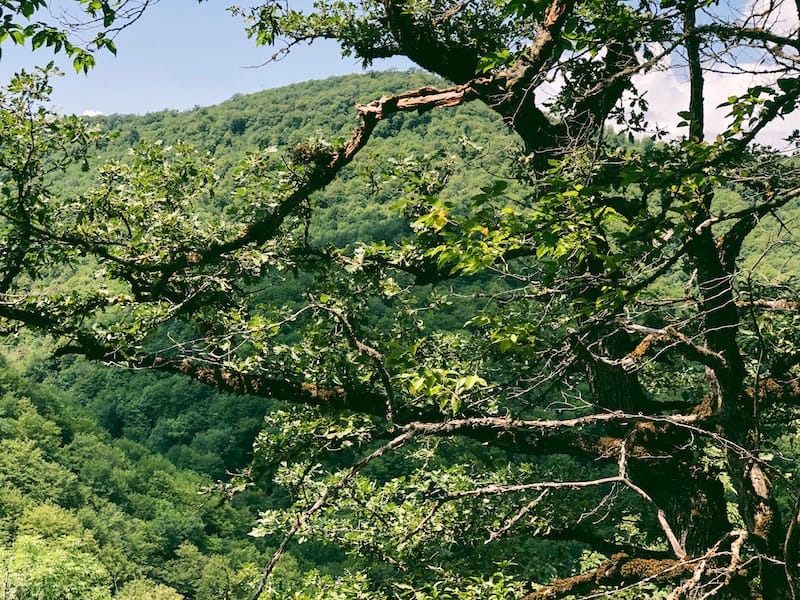 As a result, you can still find several Christian monuments in the village today, such as the 15th-century church of St. Stepanos.
The reason we were so allured by Tandzaver was that the village was perfect for a slow vacation.  The nature was breathtaking, but also really manageable. It was also perfect for adventurers!
There were hikes and opportunities for all kinds of nature lovers and nothing was too difficult that it seemed out of reach.
We also loved that Tandzaver, while small, seemed to be a great base to explore a lot of places nearby.  It is not often that you can define a tiny village as a great 'base' for other explorations, but Tandzaver was just that.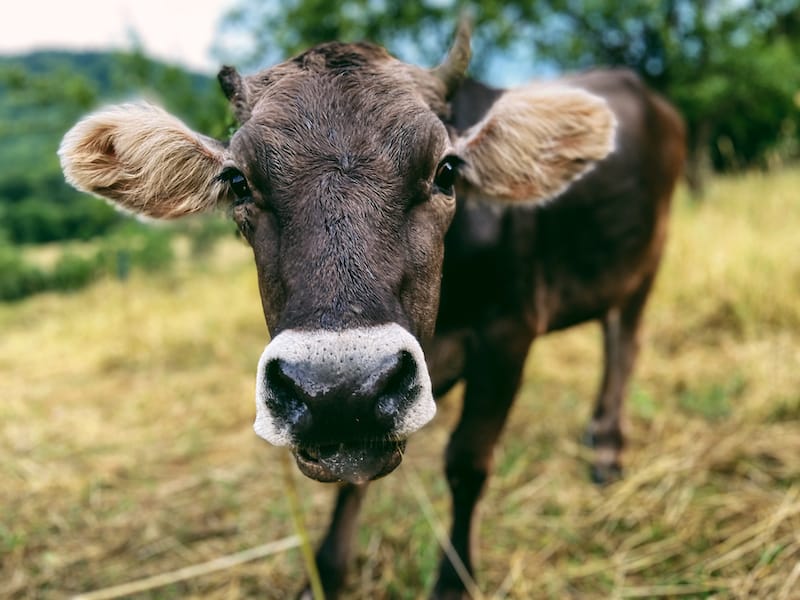 It is also an up-and-coming adventure spot.  With Pegasus Tandzaver launching e-biking in the area and the Legends Trail going through the village, we can assure you that Tandzaver will be at the forefront of your mind soon!  It was such a cool place!
Things to Do in Tandzaver
Hike the Legends Trail
The Legends Trail goes directly through Tandzaver, actually!
A little bit of background about what the Legends Trail is– and why you should embark on your own journey on it- it is a project in Syunik that was funded by the EU in order to develop communities along its route and as a way to alleviate poverty in the respective villages and towns along the way.
The project really strives to promote rural communities that have not had a chance to benefit from tourism development, investments, and infrastructural improvements thus far.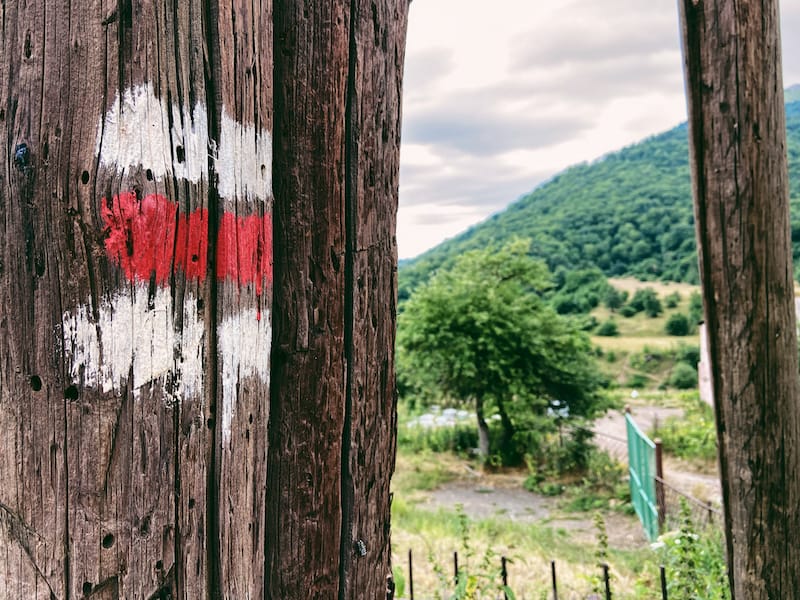 The trail spans 300 kilometers from Khndzoresk to Khustup, stopping along some super amazing sights and places throughout the way (just wait until we discuss Hin Khot soon!)
The trail gives way to the exploration of these impressive natural and cultural sights in the area, as well as many new and interesting businesses created along the way. The rural communities hope to benefit from the growing number of tourists to Armenia and this finally gives a chance to do so!
With the development of the Legends Trail and the approximately 30 communities it goes through, many eco-friendly tourism initiatives were developed in the process with a series of sub-grants. Some of these were in Tandzaver and are on this very guide.
Anyway, the Legends Trail is a fantastic place for hikers to go, unwind their minds, and support some rural and community initiatives along the way.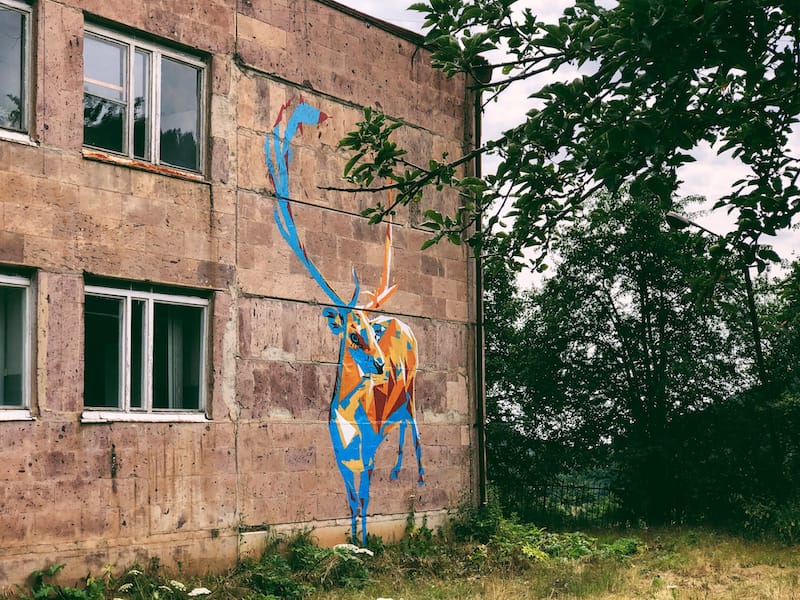 Trust me, after a harsh 'opening' season and unexpectedly being 'closed' to international tourists, if you can get to these places as a domestic tourist, or when the borders finally do open, everyone in the communities would be most appreciative!
You can find the Legends Trail in Syunik and it is well-marked with a series of red/white indicators along the way. You are free to start at any of the villages and don't have to walk the entire 300 kilometers!
You can check out their Facebook page for more and to follow along for future updates.
E-biking to Andokarberd Fortress and Ghalaboy Waterfall
One of the newer tourism opportunities in Tandzaver is e-biking!  My last experience with e-biking didn't go so hot (it was in Arctic Finland) but Aram was up for the challenge and had the chance to meet up with Mikael and Paloma to take to the forests of Tandzaver.
The e-bikes took them to some amazing sights in the area- from overlooking nearby Chai Zama Lake to visiting an abandoned and pretty unknown fortress called Andokarberd.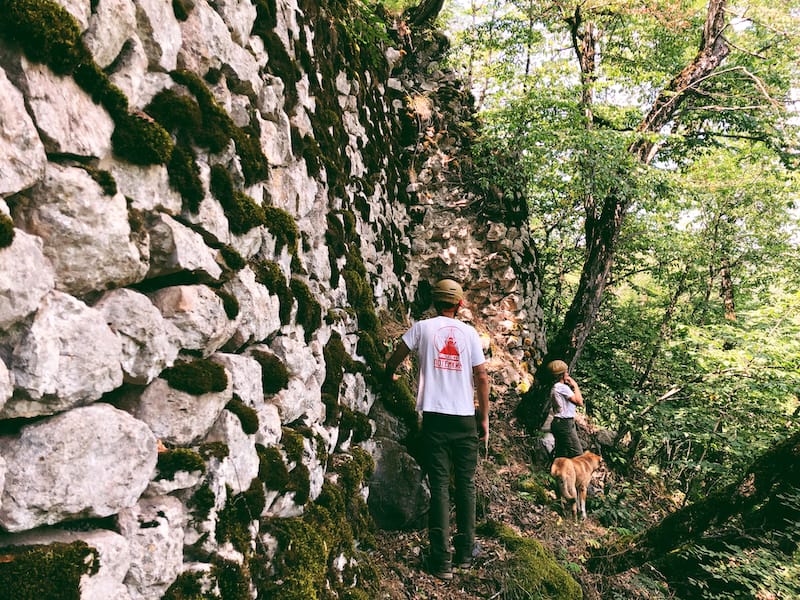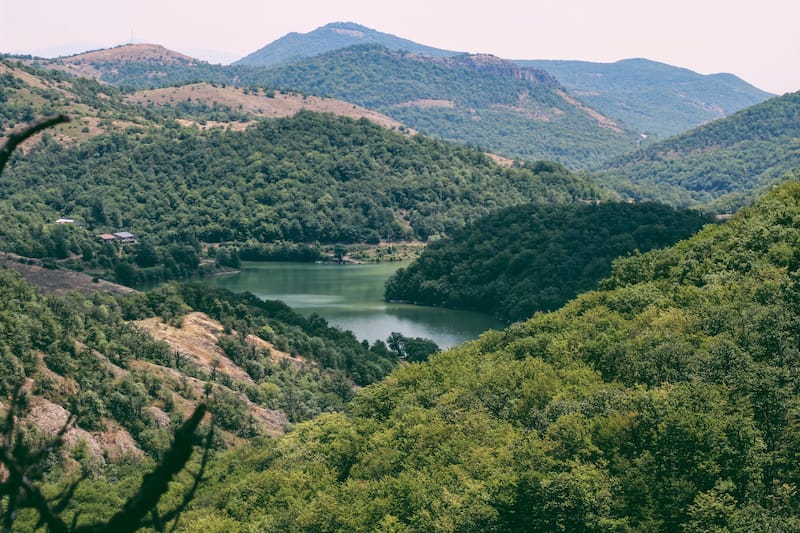 The very exciting e-biking also landed him at Ghalaboy Waterfall, a secret waterfall located deep within the forest.  We will have an entire post coming out soon detailing his experience!
Nevertheless, this is definitely something to consider doing in Tandzaver.  The experience is led by Pegasus Tandzaver and Mikael and Paloma are fantastic people that make the trip all the more worthwhile!
Check out their Facebook page to inquire further about e-biking in Tandzaver.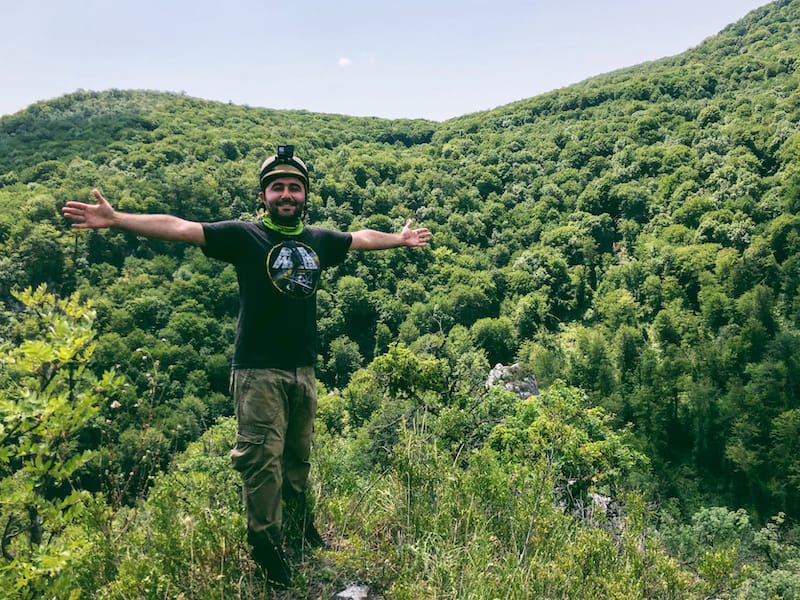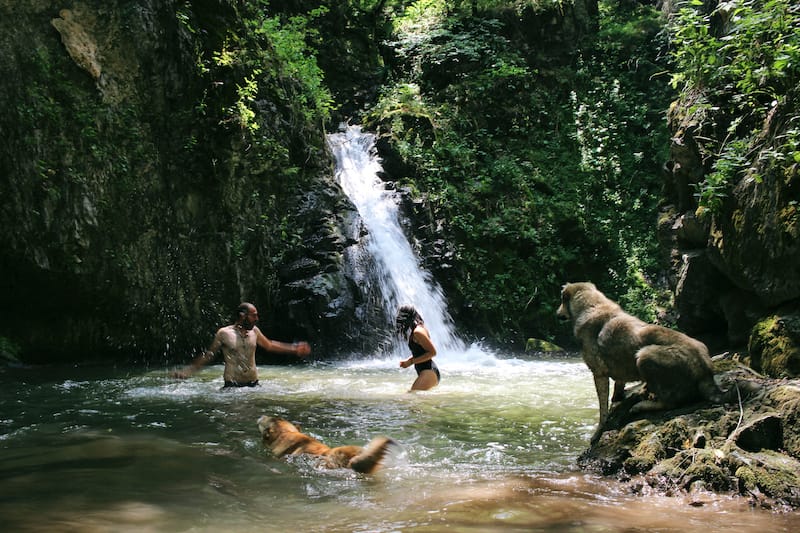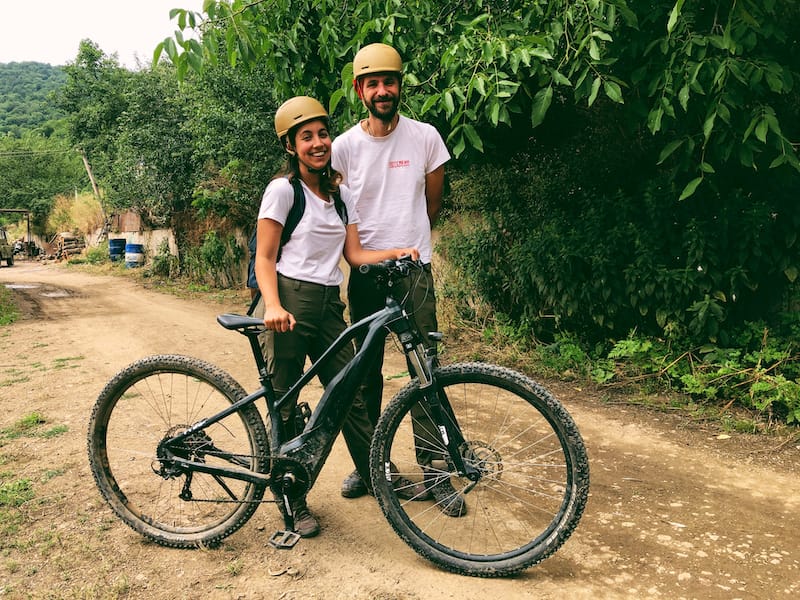 Have a Family Experience at Knarik's Guesthouse
One of our favorite things about Tandzaver is Knarik's Guesthouse, a new, family-run guesthouse right in the heart of the village.
Knarik is the matriarch of the family and pretty much the queen of hospitality if there ever was one!  We had the chance to experience the guesthouse and her family and it was such a remarkable experience.
Not only is the guesthouse cozy and the ideal place to unwind, but the dinners we had there were out of this world!  I am still dreaming about the fresh salads and veggie options they had available!
I am a firm believer in supporting local businesses and guesthouses when you travel and Knarik's is the prime example of why you should.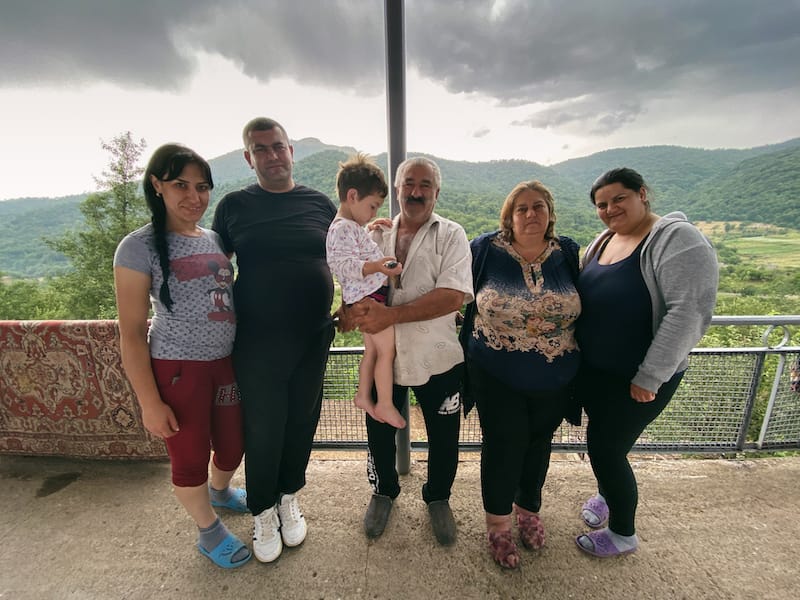 The family was so kind and took us in, making us feel like part of them.  The views from the guesthouse didn't disappoint, either!
Currently, the best way to book a stay at Knarik's is by contacting Pegasus Tandzaver.  They will arrange everything (and speak English) while the guesthouse is in its earlier stages.  We will update accordingly.
You can find the Facebook page for Pegasus Tandzaver here– just send them a message to book!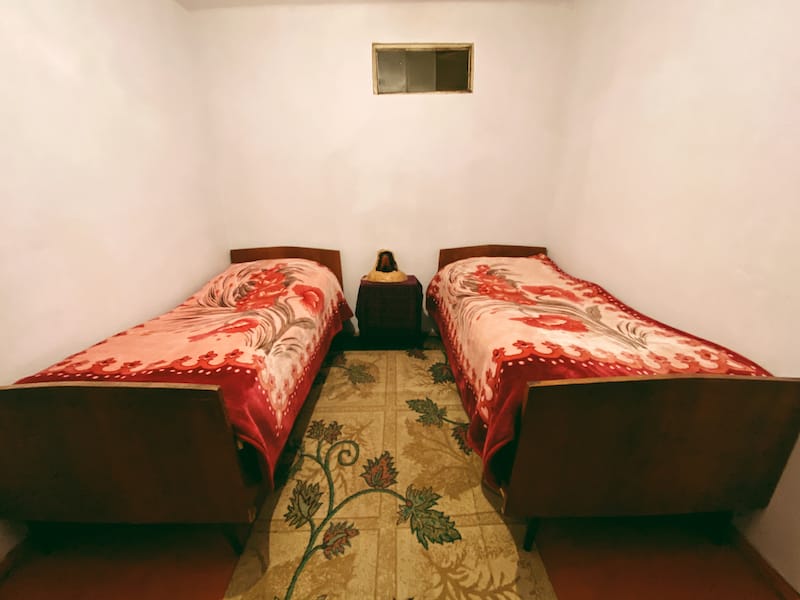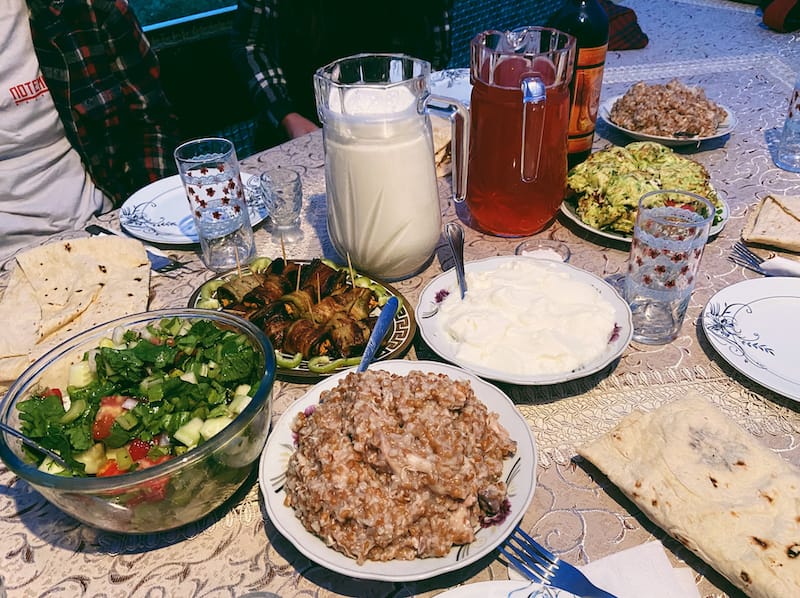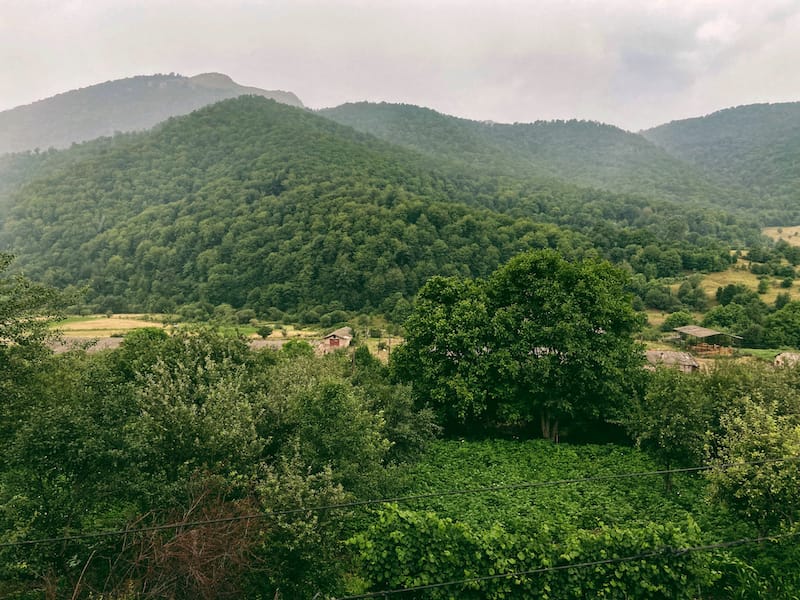 Walk Armenia's First Land Art Museum at the Magic Forest
Another really unique thing to do in Tandzaver is to visit the mysterious Magic Forest!  This is Armenia's first land art museum and is definitely worth visiting in Tandzaver for nature and art lovers alike!
This art museum was created as a result of the Magic Forest Festival which took place in Tandzaver in August 2019.
In total, ten art exhibits and pieces were created with the natural environment by both local and foreign artists and they have remained in a permanent display called the Magic Forest.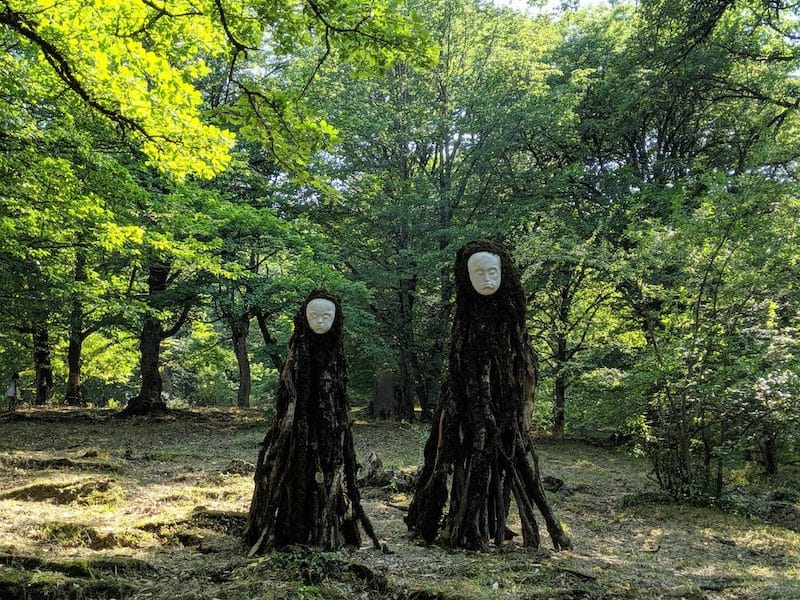 Interestingly, the Magic Forest has been created into one of Hike Armenia's newest hikes called 'The Magic Forest Loop'.  It spans 5.5 kilometers and offers killer views in addition to the open-air museum.
On a clear day, you might even get a view of Iran from Mt. Ashkharates on this trail!  The Magic Forest Loop also connects with the Legends Trail, so this is truly a hiker's paradise!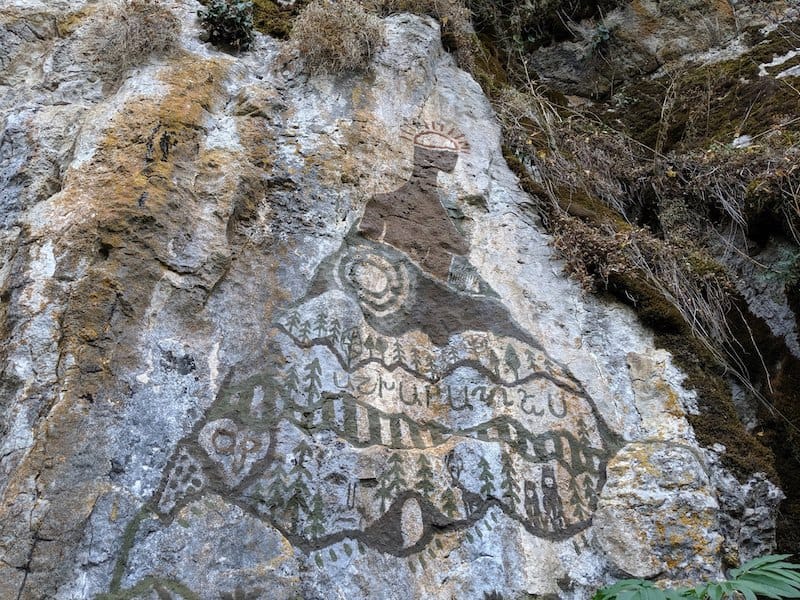 Visit St. Stepanos Church & The Church of the Mother of God
One of the aforementioned Christian monuments in Tandzaver is the ruins of the 15th-century church St. Stepanos.  According to a local legend, the Soviets started demolishing churches in the 1930s and the head of the village (the kolkhoz) obliged and demolished it.
However, with the stones from the destroyed church, he built a new house and cowshed for himself and now the locals claim that he is forever cursed by God.  Everyone in that house eventually died and it remained empty.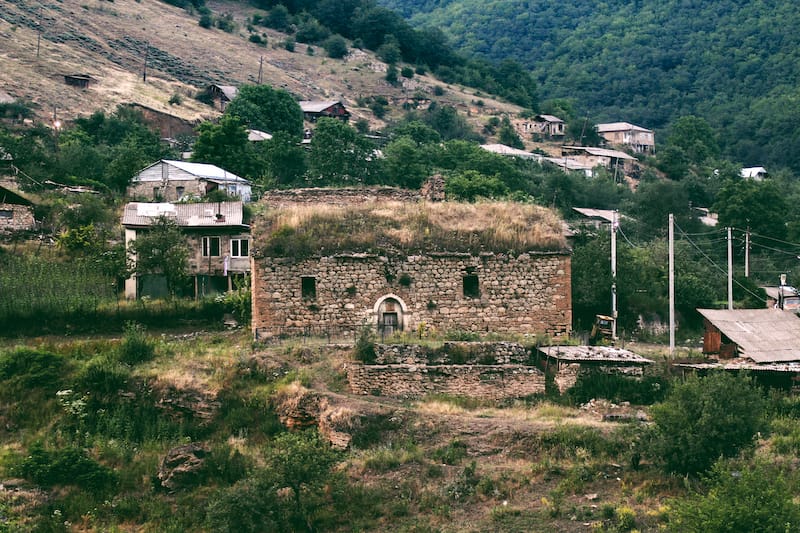 Most people avoid the abandoned building, but it still remains standing in the village!
Another place in the village worth checking out is The Church of the Mother of God from 1705.  It is a 3-nave basilica and it was used as a grain reserve during the Soviet times.
Other Places to Visit in Tandzaver
Again, Tandzaver is small!  But, there are a few cool street murals nestled in the village that have been left over from the Magic Forest Festival and we recommend checking them out.  You can find them all on or around the school in the heart of the village.
The WW2 monument is also cool to check out briefly and it is not too far from these murals. We also took a trip to Shrvenants School nearby.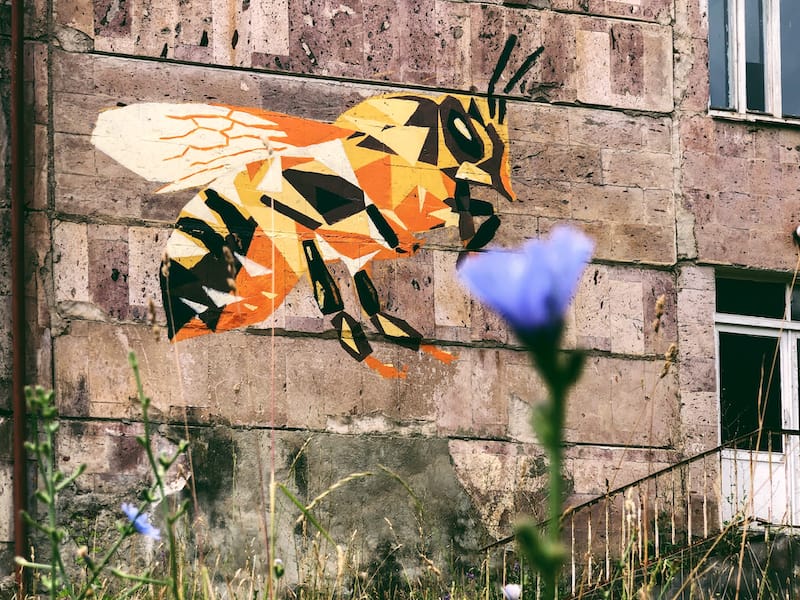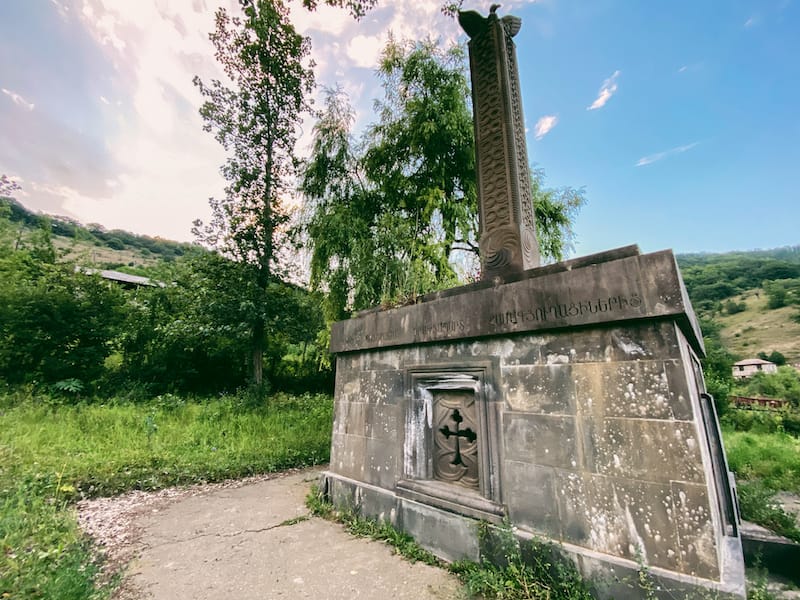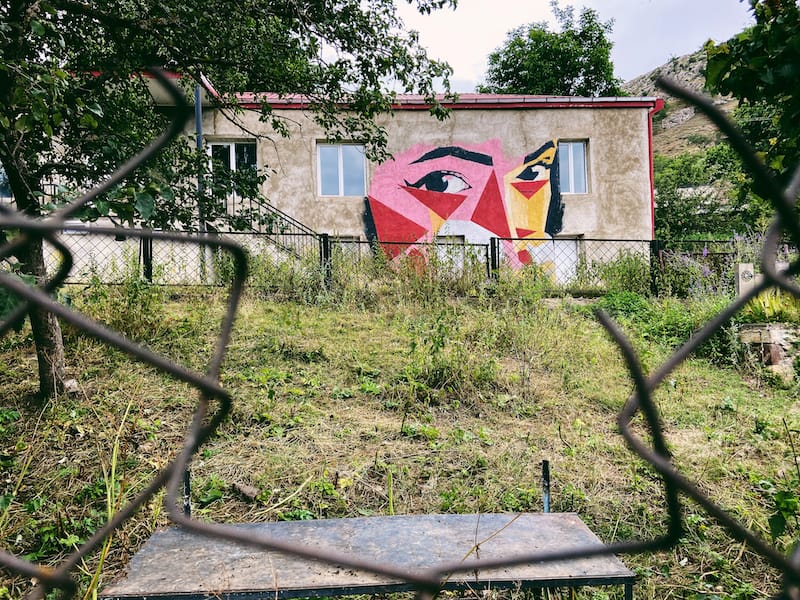 How to Get to Tandzaver
Unfortunately, the village is not the most accessible place in Armenia… but it is a work in progress!  They are currently fixing the road to Tandzaver and it will soon breathe new life into the village.
Currently, the best way to reach Tandzaver is by taxi.  We recommend taking a minibus down south to a good launch point before taking a taxi to Tandzaver.  You can head to Kapan or Tatev and grab a taxi from there.
Alternatively, if you opt to stay at Knarik's Guesthouse, you can prearrange transportation to and from local places with them, which is a very viable option for travelers!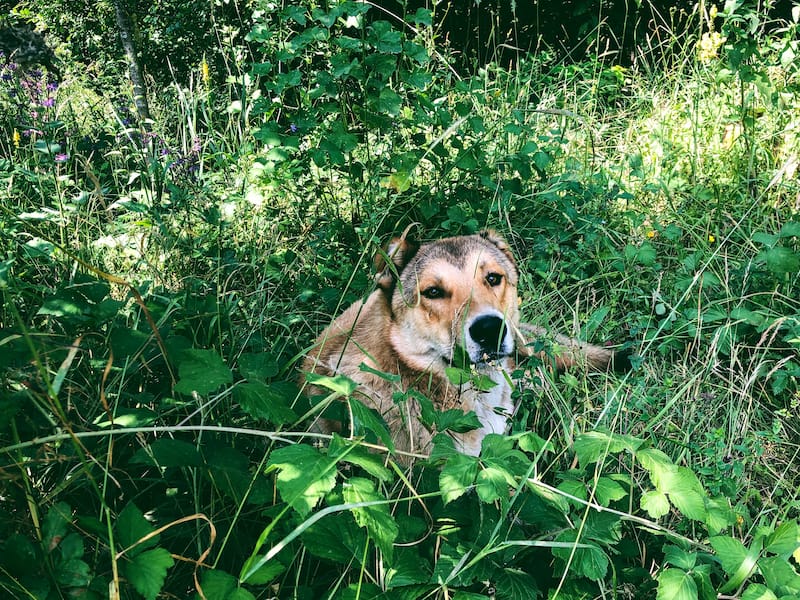 The best way to reach Tandzaver, however, is on foot!  The village is part of the Legends Trail and if you are a trekker, it makes for such a great, lengthy stop along the trail!  So, naturally, we recommend arriving in Tandzaver on foot.
Where to Stay in Tandzaver
We recommend crashing at Knarik's Guesthouse if you're in Tandzaver.  The guesthouse is cozy and will provide such a delicious meal to travelers.  It can also get a bit cold in the village, even in the middle of the summer!  You won't struggle to maintain a good body temperature at Knarik's!
Another option for those looking for a more independent experience or want to pitch their own tent is ARK Eco Camp.  These small and sustainable huts are located in the village and overlook it with epic views.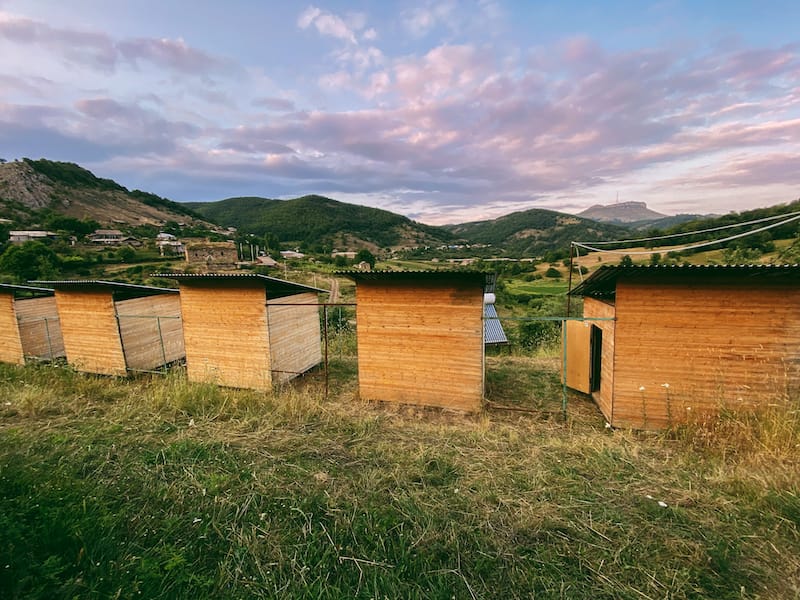 There is a hot shower and nice, western-style toilets there.  However, make sure you have your own sleeping bag and gear with you.  The huts will shelter from the wind but can still get chilly at night, even in the middle of summer (I was there in July).
>> Click here to book a stay at ARK Eco Camp
Should You Visit Tandzaver?
We definitely think that adventurers should add Tandzaver to their Armenia trip- but we also think it is an ideal place for those looking to slow down a bit.  The village is cozy and peaceful.  And one thing I vividly remember from Tandzaver is the starry nights in the community.
I have never seen such open skies anywhere in Armenia!  If it is clear, you will see such illumination in the evenings that it is the perfect place to sit outside and just gaze up!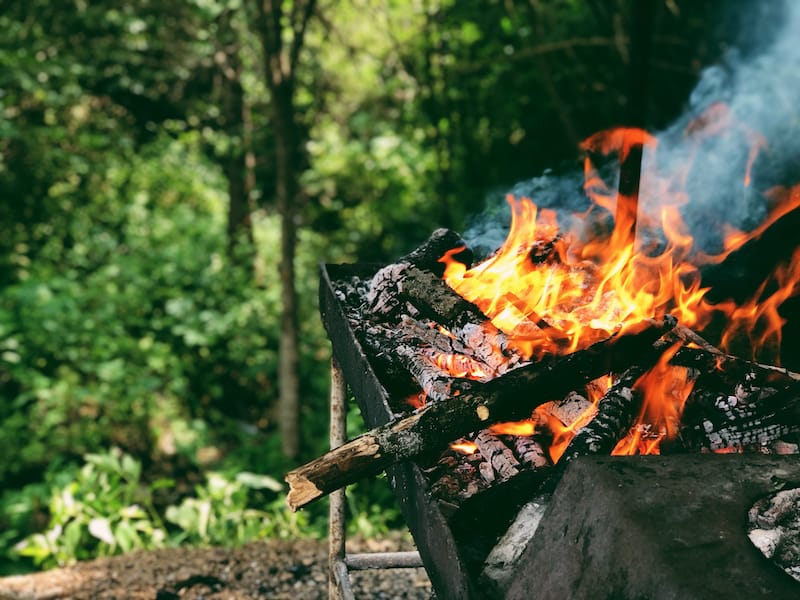 We definitely recommend visiting Tandzaver on your trip to Armenia!  If you have any questions or recommendations, please drop them in the comments for us!
*Our trip to Tandzaver was in collaboration with the EU Delegation in Armenia and People in Need Armenia. Our stay at ARK Eco Camp was in partnership with ARK Armenia in Kapan.  All opinions are our own.
PIN IT FOR LATER!