Tatev Monastery is an absolute must-visit and addition to your Armenia trip when you travel to the country.
Planning your trip to Tatev (and Syunik) last minute?
Below are some of the top tours, hotels, and more! Donʻt forget to plan ahead when visiting Armenia!
Top Tours from Yerevan (including Tatev):
Top Places to Stay in Yerevan and Goris:
Looking for the best way to get around Armenia? Click here to check rental car rates for Armenia!
This guide will give you all the details you need to travel to Tatev.  It will include how to visit Tatev Monastery, facts, practical information, and much more!
Did we miss anything notable about Tatev Monastery? Let us know your thoughts in the comments. And be sure to check out more than just the monastery in Tatev village!
Travel to Tatev Monastery – Overview
I'll never forget the first time I went to Tatev Monastery.  My friend had planned an all-day tour that went to Khor Virap, Areni, Noravank, and finally all the way down to Tatev.
I wasn't sure what was significant about any of it- I was keen to spend my day in a cafe writing about Yerevan but he convinced me to join him and see some of the countryside in Armenia.  I was certainly glad he did!
Tatev Monastery is a hike away.  I just remember driving in an old Lada for the duration of the day and it wasn't the most comfortable way to get around, but the scenery was so mindblowing that I didn't care.
Tatev was the last place on our Armenia road trip and it gave the trip a grand finish.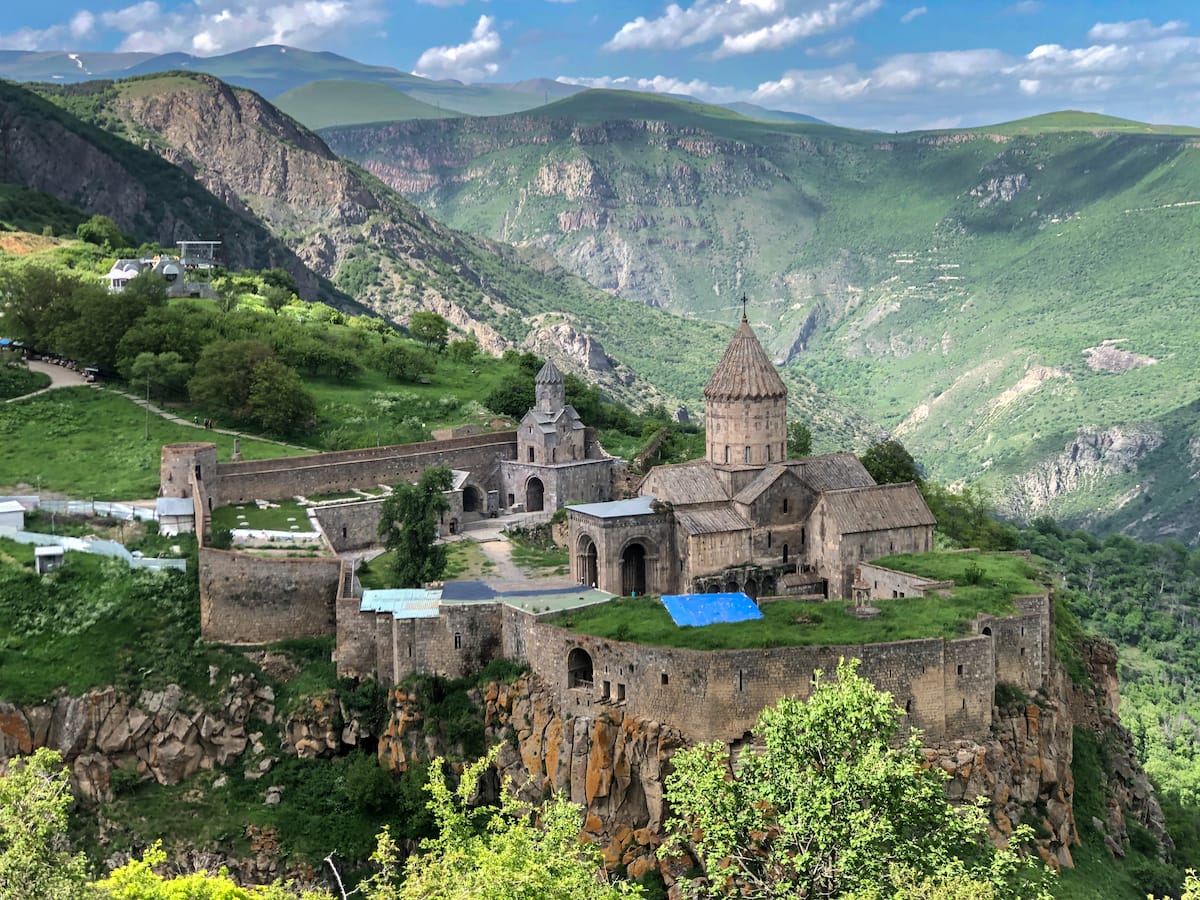 Fast forward many years later- and I definitely think everyone should visit Tatev.
While I think the trip would be better spent staying in and around Goris to break things up a bit, I also think organized tours are still a wonderful way to get down to Syunik and check out the monastery.
This guide will give a couple of options to assist you in making the journey.  We will list public transport options, as well as the best-rated tours in Armenia to Tatev Monastery.  We also give reasons to visit, what to bring, and some Tatev facts.
Please let us know if we missed anything or if you have anything you'd like to add to the guide.  Thanks!
History of Tatev Monastery
Tatev Monastery is a 9th-century historical monument and one of the most important features of Armenian architecture.
The main church was built in 895 by Bishop Hovhannes with the support of the Princes of Syunik. Later, in 930, the inside of the churches were carved with the beautiful frescos you see today.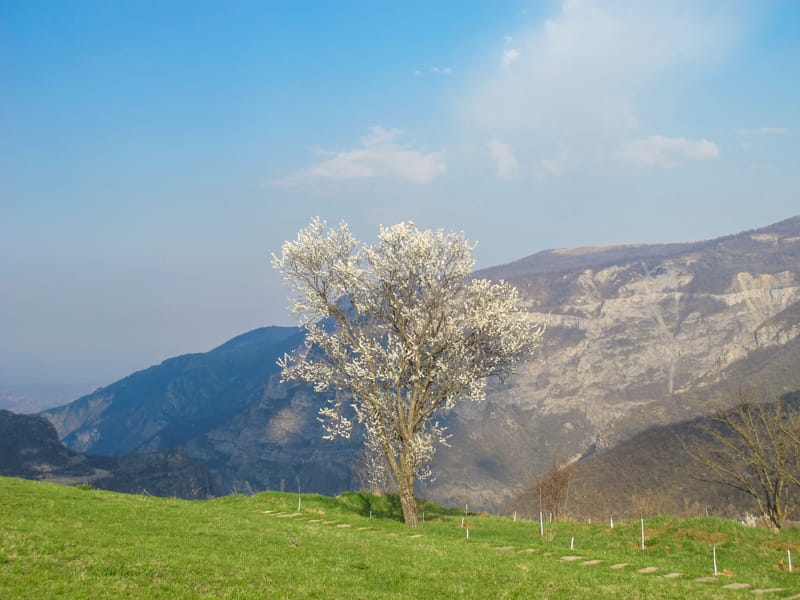 During Medieval times, the monastery was where people went to learn and for enlightenment. The university helped in the development of science, religion and philosophy, reproduction of books and even in the field of miniature painting.
Unfortunately, after the death of Grigor Tatevatsi, the standards of the university began to wane, and finally, after an invasion in 1434, it no longer functioned.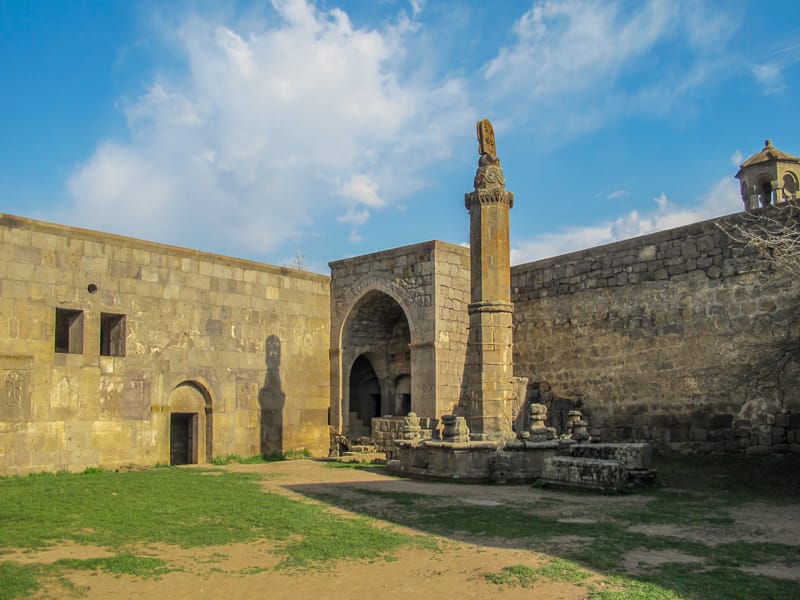 Wings of Tatev (TaTever Cable Car)
After several invasions and reconstructions throughout history, one of the most important revival efforts was started in 2008 by Ruben Vardanyan.
It officially began on the 16th of October of 2010 when they launched the world's longest reversible aerial tramway (it set the Guinness World Record 7 days later) named Wings of Tatev.
It was founded by the Doppelmayr/Garaventa Group and costs over 22 million USD. Over 950,000 tourists have already used the cable car since it went into operation.
All profits from the project go back into the restoration of Tatev Monastery and to support the local community.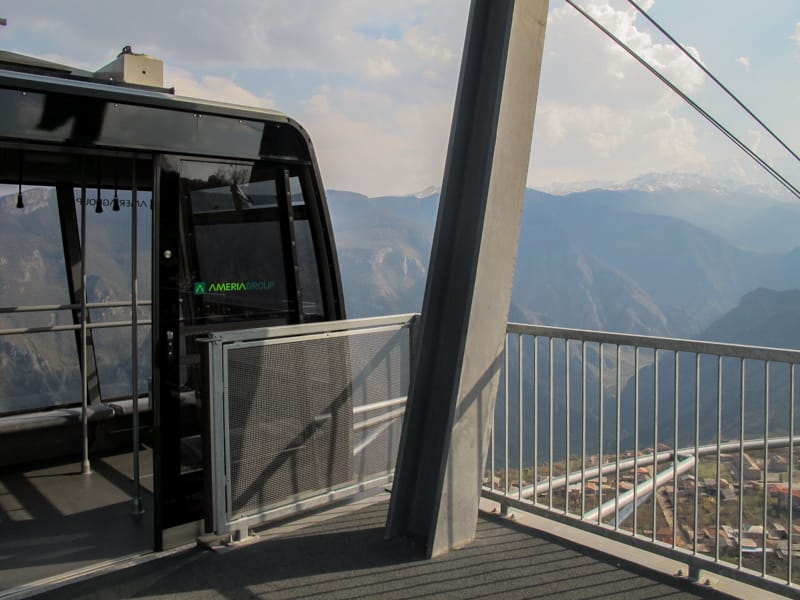 It is a truly breathtaking experience as you, what feels like, fly through the gorges and mountains to reach Tatev.  It is not for the faint of heart – I remember how clammy my hands were riding it!
There were several other reconstruction projects following this, all in the effort to revive tourism in the area and showcase the magic that is felt throughout your whole experience.
Wings of Tatev operates all year round but its opening hours change depending on the season. Here is a quick run-down of the hours:
May-August (1030-1900)
Sept-April (1100-1800)
Closed Mondays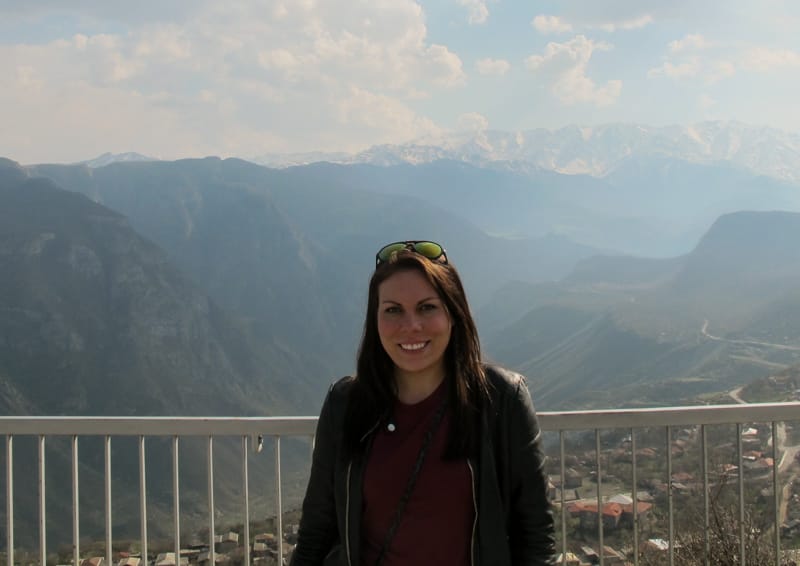 The ride takes anywhere from 11-15 minutes (5,752 meters long) and the cabin can hold up to 30 people. It reaches a height of 320m, so make sure you're not scared of heights!
A one-way ticket on Wings of Tatev is 5500 AMD, and a round-trip ticket is 7000 AMD (it is slightly cheaper in winter). Be sure to book them beforehand to ensure your ride!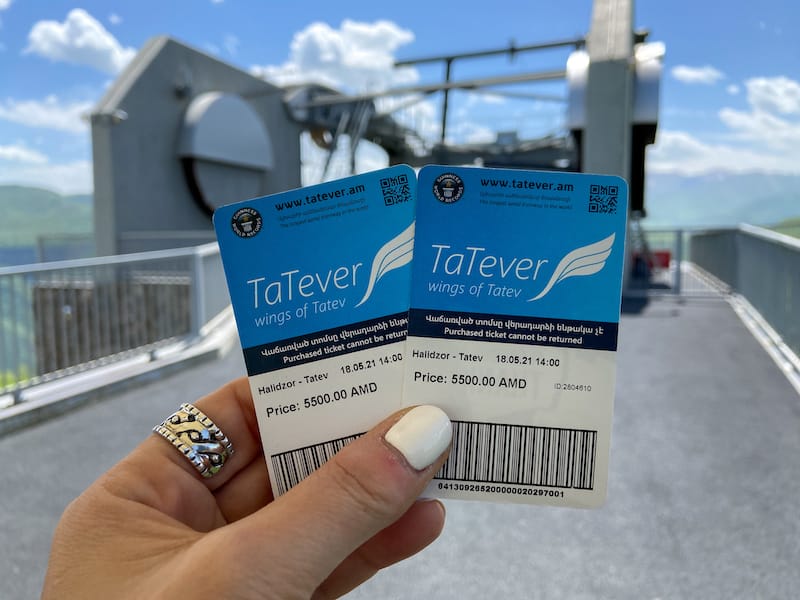 How to Get to Tatev to Yerevan
Getting to Tatev from Yerevan is relatively easy, but it is a pretty long ride. A lot of people like to spend the night in Goris and continue with their travels the next day.
One thing you probably want to decide ahead of time is whether you will get to Tatev Monastery via cable car or by driving on the windy road of the Vorotan Gorge which takes around 50 minutes from Goris.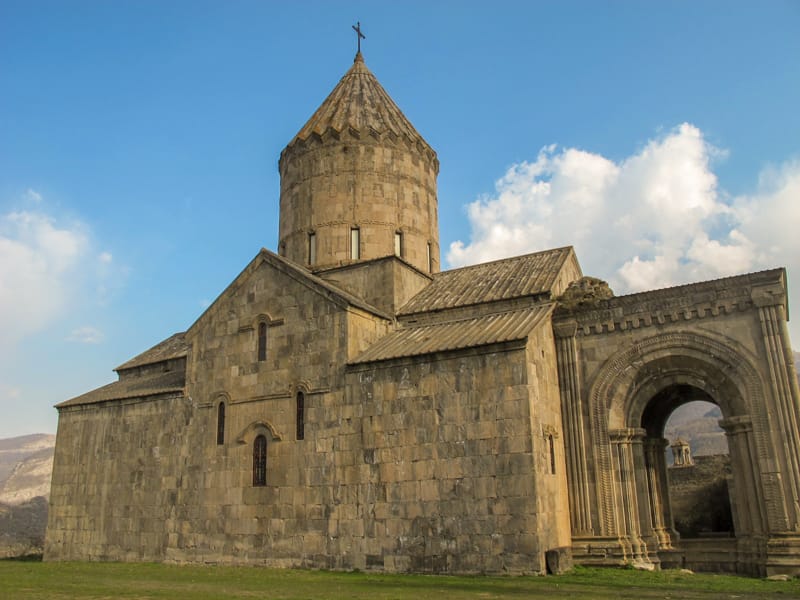 Bus
There are no direct buses to Tatev but it is possible to take a bus to Goris and from there, take a taxi to the cable cars or directly to Tatev Monastery.
The bus ride costs about $5 to Goris, and a taxi to Halidzor costs $5 where you can take the cable car or if you want to go straight to Tatev $9- $12.
Rental Car
The drive to Halidzor, where Wings of Tatev starts, is about 3.5 hours long from Yerevan. If you don't want to ride the cable car, the drive from Yerevan to Tatev Monastery is about 4.5 hours.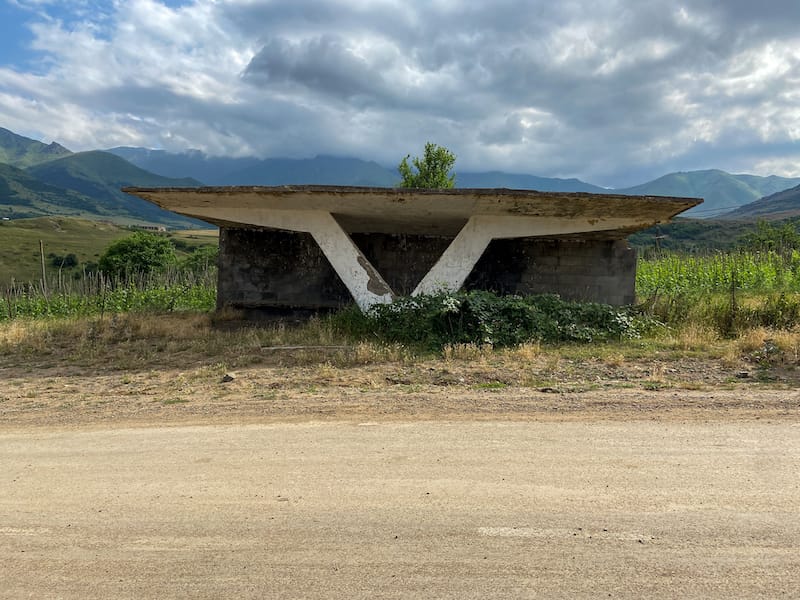 If you are comfortable driving, renting a car is a great option, you will be able to make as many stops as you want and visit other parts of that area.
>> Click here to check rental car prices in Armenia
Taxi
A taxi from Yerevan to Halidzor can cost from $50- $65 and takes about 3.5 hours. If you take the taxi straight to the Monastery, it will take about 4 hours and can cost up to $70.
If this is a viable option for you, please check out our recommended Armenian taxi apps.
Tatev Tours
To be honest, the easiest way to currently reach Tatev Monastery if you're not renting a car is to take a tour there.  While this might not fit everyone's travel style, it is definitely the most feasible for the time being until the tourism infrastructure develops further in Armenia.
The following Tatev tours are our recommendations.  All tours to Tatev are combined with another or several other locations.
Private Day Trip to Khor-Virap, Noravank & Tatev Monasteries
⇒ Duration:  12 hours
⇒ Private tour
This 12-hour tour takes you to three of Armenia's best sights: Khor Virap, Noravank Monastery, and, of course, the beautiful Tatev Monastery down in the Syunik region.
It is a private tour, meaning you'll get to take in everything you see by yourself or with your chosen group and you will get to learn a lot about each sight with your own private guide.
The drive will be comfortable and hotel pickup in Yerevan is an option.  It will be a long day, so be sure to pack accordingly!  Meals are not included.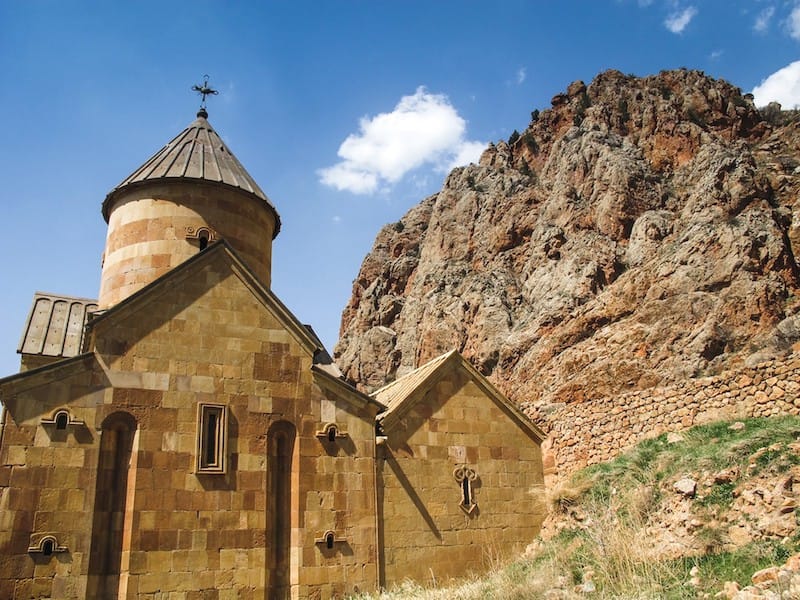 Armenia Group Tour to Tatev Cable Car, Areni Winery, Shaki Waterfall, & More
⇒ Duration:  14 hours
⇒ Group tour
If you're looking for a lot of sights packed into one day, this is definitely a tour you should join up on!  This group tour lasts 14 hours and will visit some of the best landmarks in Armenia from Areni wine region to Tatev Monastery (and you'll ride the cable car!), Shaki Waterfall, and Zorats Karer.
This group tour with Yerani Travel will travel to the south of Armenia in comfortable transport with wifi on board.  All meals are included, as are the entrance fees to the winery in Areni.
Be sure to dress comfortably and be ready for a long day in Vayots Dzor and Syunik region!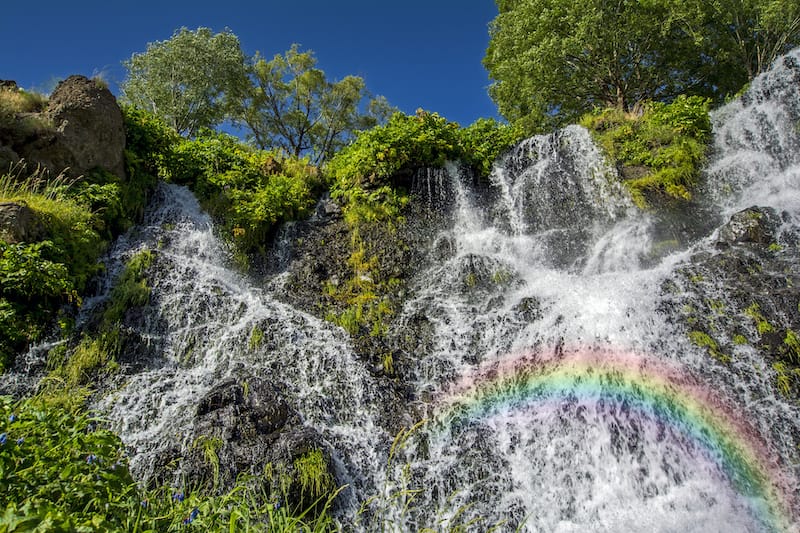 Syunik Region: Two Day Southern Armenia Tour
⇒ Duration:  2 days (accommodation included)
⇒ Group tour
This 2- day, overnight tour packs a huge punch and will showcase a great number of things to do in Armenia all wrapped into two, exciting days.
The tour starts by taking travelers to Khor Virap Monastery, probably the most iconic sight in the entire country.  From there, you will continue south to Tatev Monastery and get to ride the Wings of Tatev and check out the famous religious sight.
After a long day, guests will head to Goris where accommodation will be ready and waiting.  The following day starts in Goris with trips to Zorats Karer and Khndzoresk before departing back to Yerevan.
All meals, entrance fees, transportation, and accommodation are included.  Please dress accordingly based on whichever season you happen to be traveling in!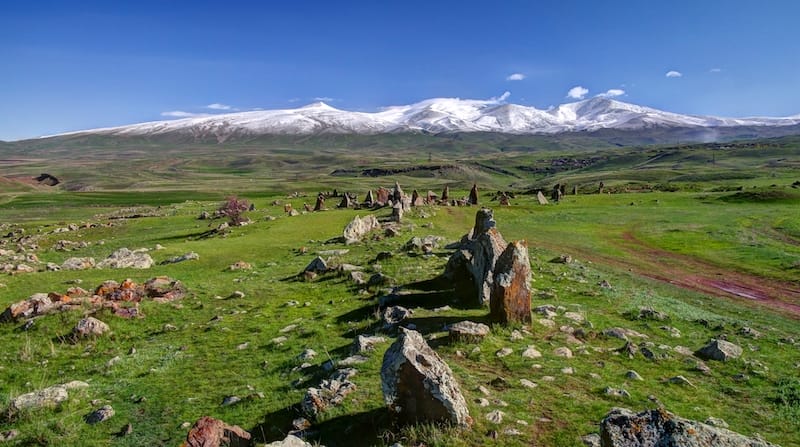 Things to Do in and around Tatev
We will eventually be writing a comprehensive guide to all the things to do in and around Tatev- but for now, here are some of our favorites.
These include visiting the monastery, a museum, food, and what to do in the local area.
These tips are fantastic for someone looking to spend some time down in Tatev and not visit the monastery merely on a one day trip from Yerevan.
Visit Tatev Monastery with Cable Car
Naturally, one of the best things to do in Tatev is to visit Tatev Monastery.  I've never driven there but I definitely recommend visiting by taking the Wings of Tatev cable car.
As noted above, it is the world's longest reversible ropeway and that is pretty cool in its own right.
Visiting Tatev Monastery will give you a bit of historical background and it will absolutely give you epic views.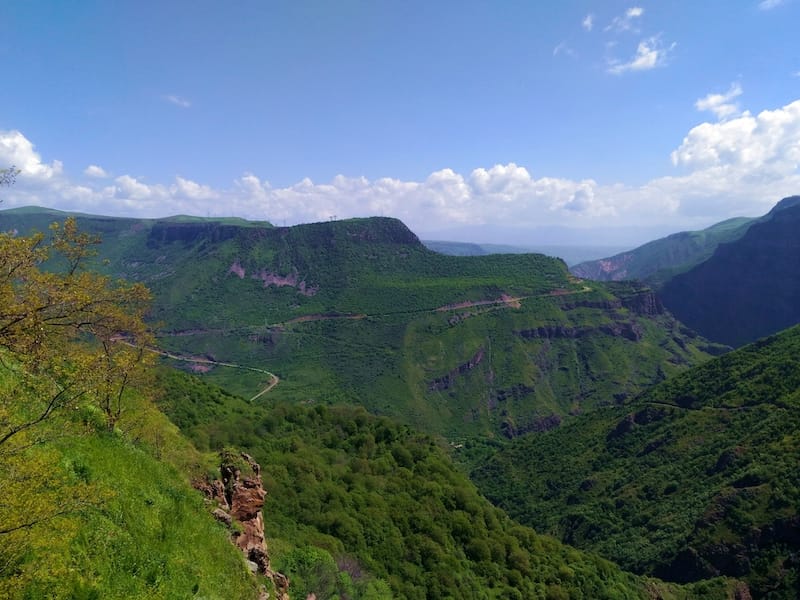 Check Out the Harsnadzor Watchtower
Directly above the gorge sits the Harsnadzor Watchtower, previously a guard tower warning those in the Zangezur Mountains of impending attacks.
Their warnings, alongside ringing the bell at Tatev Monastery, could be heard from up to 50 kilometers away.
While much of the watchtower is gone today, you can still check out the rotunda with the chains that used to hold up the bell.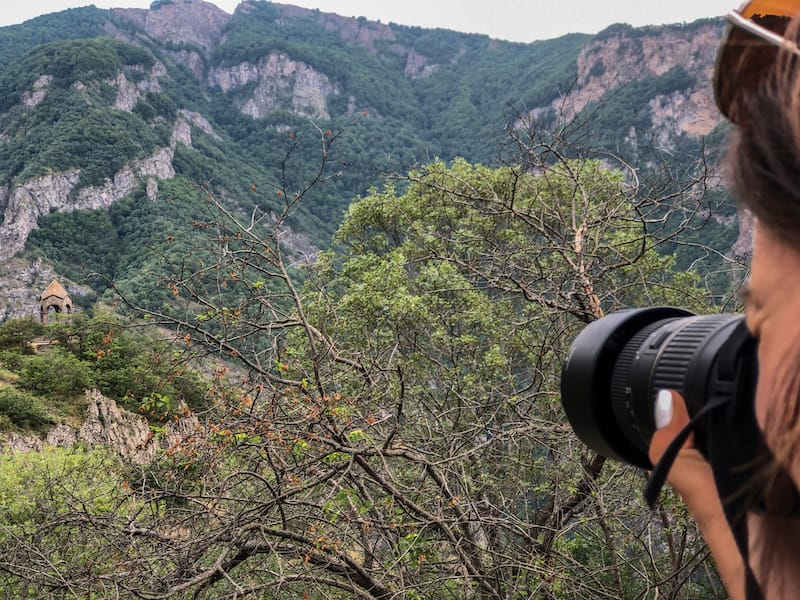 Go to the Dzit Han Museum
Another great thing to do when traveling to Tatev Monastery is to step inside of the Dzit Han Museum, an old oil press facility dating back to the 17th-century.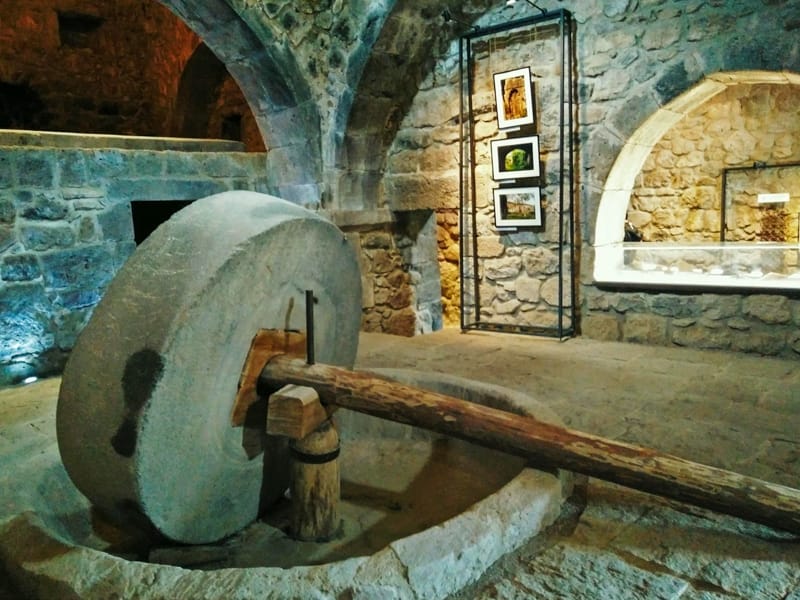 The workers went through the process to dry, grind, and press either sesame, mustard, or flax seeds to create oil.  This oil was then used in the local area as well as at the monastery.
In addition to being a museum, the complex also houses photo exhibitions.
Visit Devil's Bridge (Satani Kamurdj)
Below Tatev Monastery sits one of Armenia's most unusual geologic wonders, Devil's Bridge (or Satani Kamurdj).
This natural wonder was created over time and the width of it is 60 meters (length of 30 meters).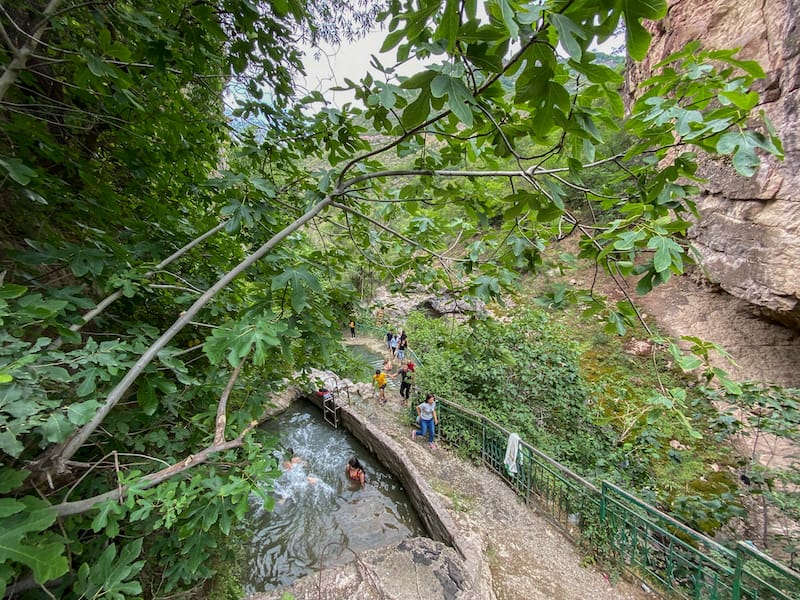 One of the main reasons to visit Devil's Bridge isn't for the bridge itself, but rather the warm springs nearby that offer an array of colors.  Adventurers can descend down to find hidden grottos below the springs.
Head to Khndzoresk
If you're staying in the area longer than just a quick day trip on a tour, you should definitely head to Khndzoresk!  Especially if you have a private car.
The cave village is located on a dramatic gorge with epic scenery and you will find both natural caves as well as man-made ones.  At one time, officials deemed there to be 15,000 residents living in the caves.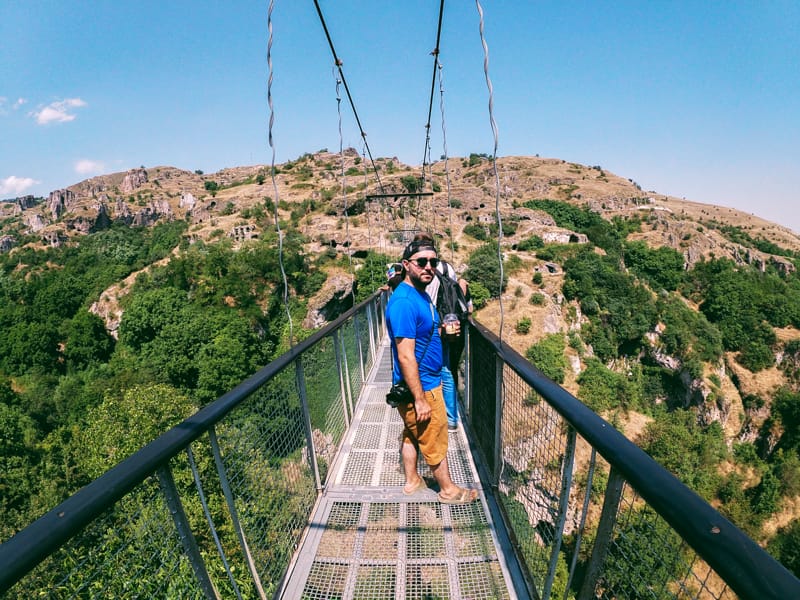 Interestingly, people resided in these caves until the 1950s when the Soviets removed them and said they were unfit to be homes.
Today, there is a 160-meter-long suspension bridge that has become one of the top sights to visit in Armenia.
The bridge connects the old village to the new one and it is certainly worth a visit.  Beware if you're afraid of heights like me!
What to Bring to Tatev Monastery
If you are visiting Tatev Monastery in summer, we highly advise bringing the following items with you in order to make your trip more comfortable:
⇒ Sunscreen and a hat:  The temperatures in summer in the south of Armenia are quite high and even if you're up in the mountains or high-elevation, you will still be grateful to have your skin covered in sunscreen!  Click here to check out our sunscreen recommendation.
⇒ Power bank:  One thing I remember being a hindrance to my trip to Tatev was that my phone kept dying.  We even stopped at a roadside eatery at one point for me to use a plug to charge it.  I highly recommend bringing a power bank with you for the day!  Click here to check out power banks on Amazon.
⇒ Good walking shoes:  Armenia is a rocky country and outside of the cities, roads, and sidewalks are less-maintained.  You also don't want to wear anything impractical if you're visiting monasteries for the day.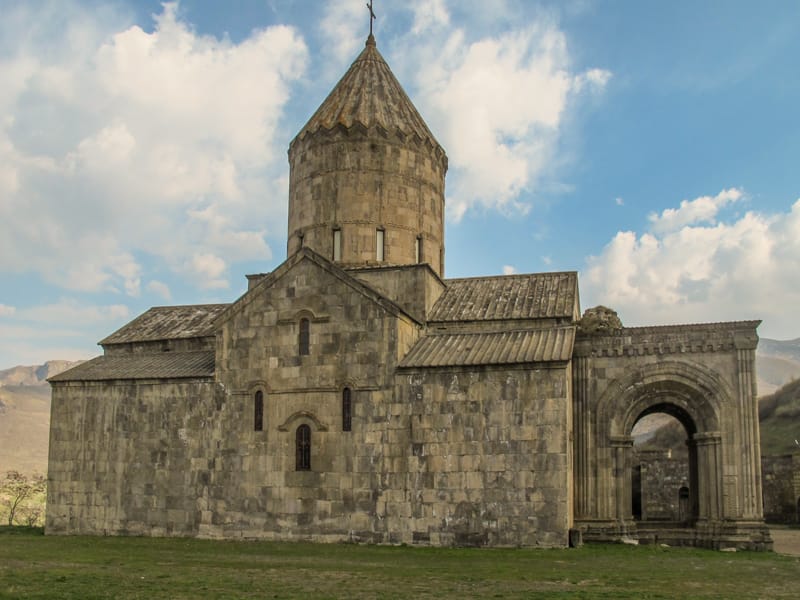 Where to Stay in Goris
If you're keen to make this an overnight trip, we highly encourage it!  There are plenty of excellent places to stay in Goris, Armenia and it will allow you to take your time on this trip to Tatev.
Here are some of our top-rated picks of guesthouses, hostels, and hotels in Goris.
We hope you find this guide very useful in planning a trip to Tatev Monastery down in Armenia's Syunik region.  If you have questions or additional suggestions for it, please drop us a comment below or send us a message!
YOU MIGHT ALSO LIKE: