Shaki Waterfall is one of the best places to visit in Southern Armenia and the Syunik region- so much that it is included on several organized tours of the aforementioned part of Armenia.
This guide details how to visit independently or with a tour, why you should go (seriously, you should!), and some tips to make your trip there fantastic.
Are you simply looking for a tour of Shaki Waterfall? These are a few top-rated tours that will take you to Shaki:
Shaki Waterfall, Tatev Monastery, Zorats Karer, and Areni (one of Armenia's top-rated tours)
Visit Shaki Waterfall, Tatev, Areni, Karahunj, and Devil's Canyon (super affordable tour!)
I have a thing for waterfalls. It was probably my time spent in Western Norway where I couldn't drive even a few minutes without seeing a waterfall.
They are therapeutic for me and when I get to one, I instantly plan my entire day to stay there regardless of whether the phenomenon is worthy of it or not.
While Armenia doesn't have the same landscape as Norway, we still have a few mind-blowing waterfalls here. Shaki is one of them.
And even though it is some distance from Yerevan, visiting is actually pretty easy if you have an entire day (but we recommend staying a while in Syunik and exploring further).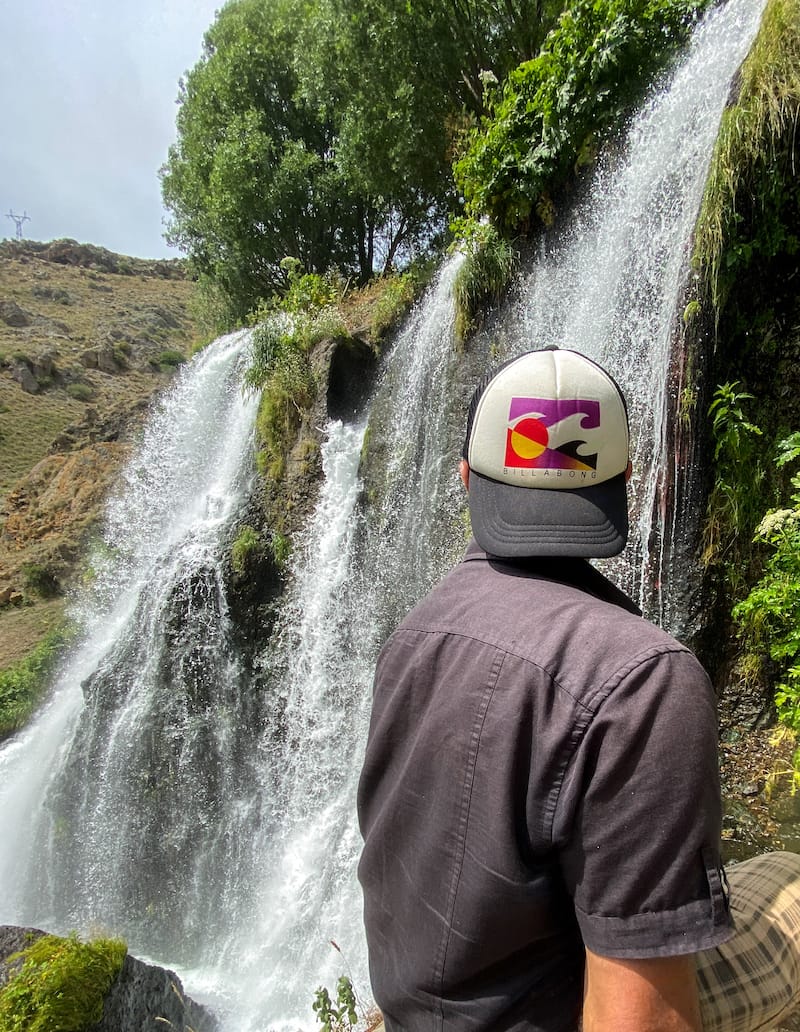 About Shaki Waterfall
Shaki Waterfall is located extremely close to the town of Sisian. It is also extremely close to Karahunj, one of my favorite sights in all of Armenia.
The waterfall has a height of 18 meters and is situated on the left side of the Vorotan Gorge, formed by basalt lava flows over the years.
Visiting Zorats Karer (Karahunj) on your Shaki Waterfall trip? Click here to read our complete travel guide to Karahunj.
The surrounding nature is also a sight worth witnessing. In addition, Shaki village is located right near the waterfall, so if you have an entire day and want to explore an Armenian village, you can head there and walk around.
The local legend states that there was a girl named Shake who was beautiful and stubbornly refused to obey conquerers.
As a result, she rushed from the cliff and her dress opened up into the wind, transforming into a waterfall. To honor her, the waterfall was named 'Shaki'.
Why You Should Visit
We had seen Shaki Waterfall as an addition to many of the tours to Tatev and the south but we had never experienced the nature spot ourselves.
The waterfall is breathtaking. It truly was a spectacle that seemed like a little oasis in the middle of nowhere.  Even walking up to the waterfall and seeing it unexpectedly from afar took our breaths away.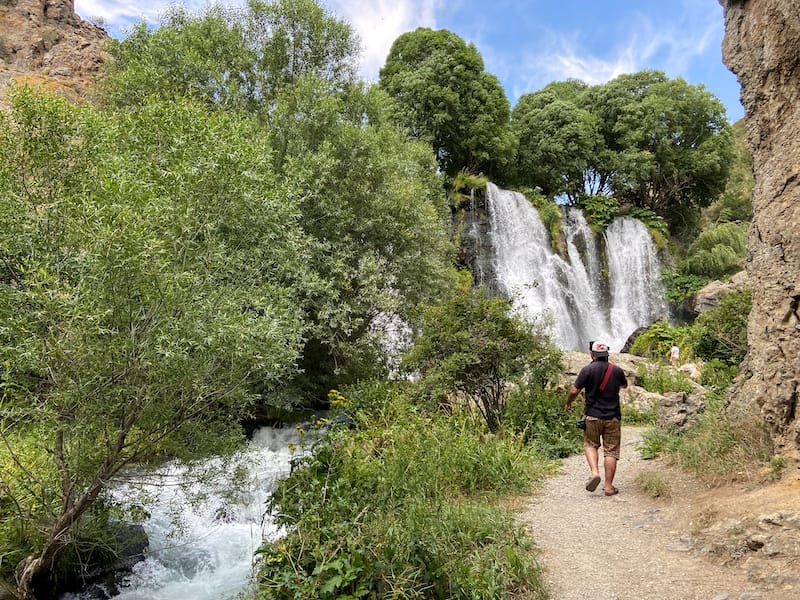 It is just a waterfall, for the most part.  But, it is arguably the most famous waterfall in Armenia (rivaling Jermuk and Trchken), and for that, it is worth a visit.
There are many other things to do in the area, such as visiting Zorats Karer (Karahunj) or having a picnic.  You can easily pack a picnic for the day and eat near Shaki. If you are wondering if visiting Shaki Waterfall is worth it– YES!
Just plan an entire day down in the region, or stay overnight, and you will really enjoy your visit there.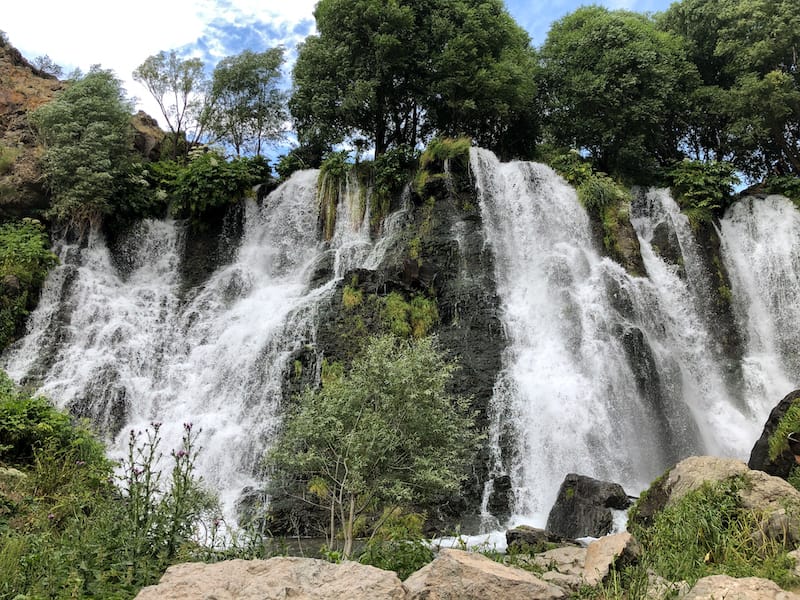 Shaki Waterfall Travel Tips & Practical Information
Just like any beautiful sight in Armenia, expect other visitors.  We visited while borders were closed so it was not nearly as crowded as it would typically be with open borders and foreigners visiting.
But, we were quite surprised by how many locals (Armenians) were visiting. There are a few rocks that everyone will want their photo taken on, so expect a short line and to be courteous while you await your photo on it.  It's an Instagram field day!
Bring decent shoes. The path was pretty dry when we went, but there is a narrow path you must walk (just a short distance) to the waterfall and it is rocky and made of dirt, so proper shoes are a must.  If it rains, it will be muddy!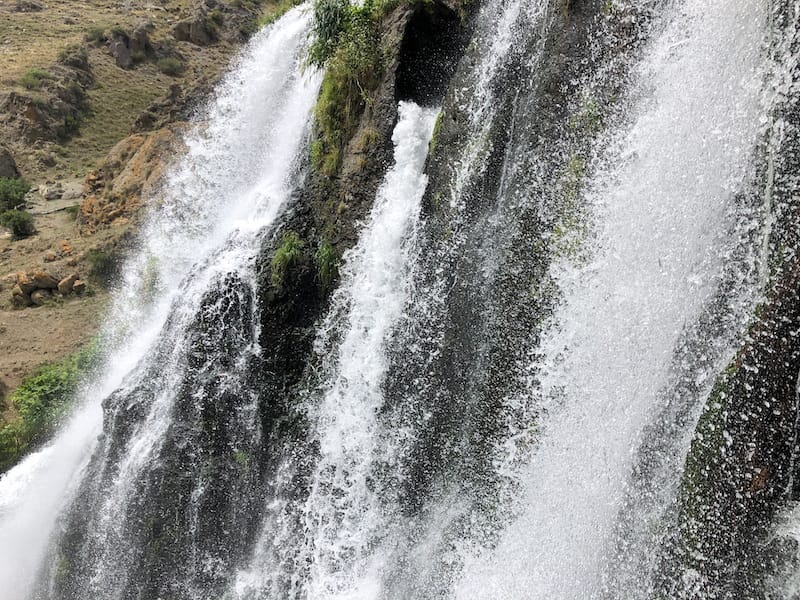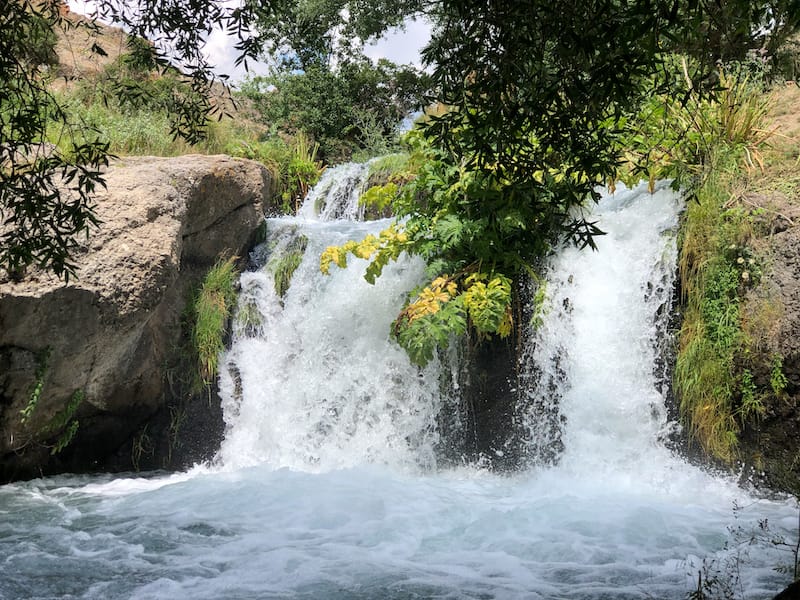 In addition, if you're planning to climb up the path above the waterfall, it is muddy.  The waterfall sprays the path, so regardless of recent rains, it will be wet!  I wore Birkenstocks and it was completely inappropriate for climbing to the top comfortably.
Your phone may get wet as they will, too, get sprayed on by the waterfall.  Therefore, if you own a GoPro or waterproof camera, definitely bring it with you!
I didn't see toilets around but I suspect they exist near the parking lot. There are a few cafes and a nice restaurant before you enter the waterfall itself, so there are toilets but nothing was open when I was there due to the pandemic.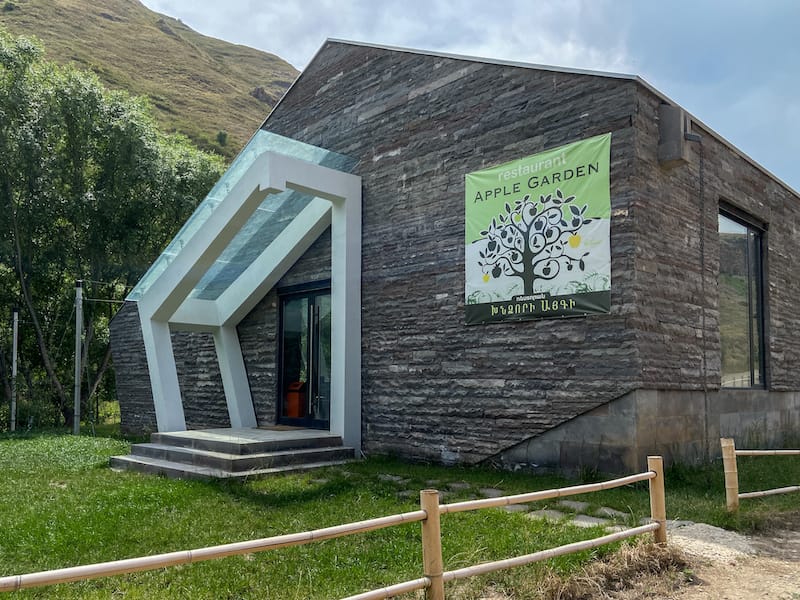 Reaching Shaki Waterfall can not easily be done if you have a mobile disability, unfortunately. The path is still dirt with many rocks and there is one area that makes the visit in a wheelchair or with impairments near impossible.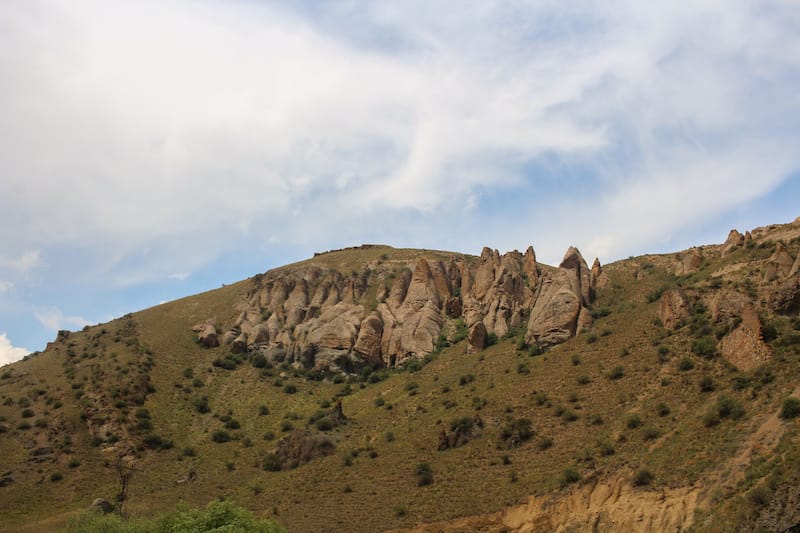 I am hoping to see the path redone in the future because I think aside from that small area, if it is repaired, it would be accessible to all.
Lastly, leave no trace!  Please don't throw trash or cigarette butts anywhere in the area.  There was trash around and it was disappointing to see.  Please be kind to nature and leave no trace.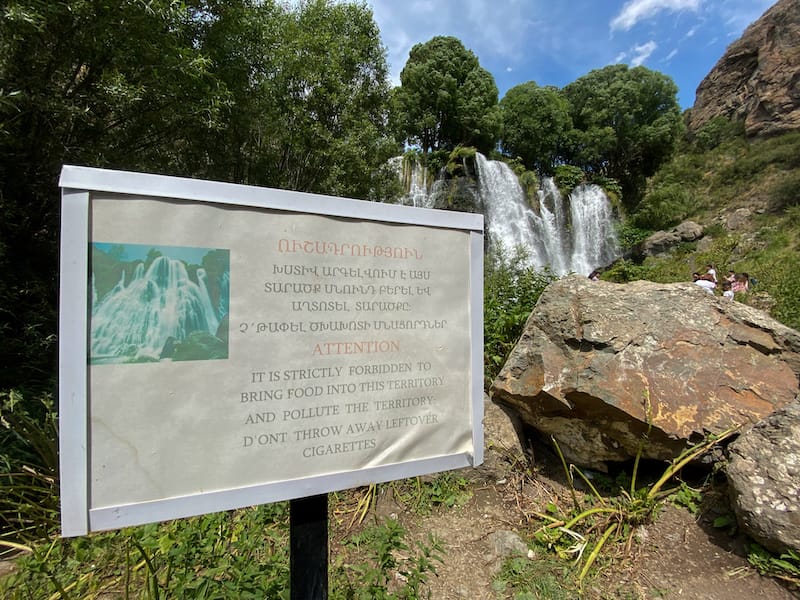 How to Visit Shaki Waterfall
So, you have a few options for how to visit Shaki Waterfall.  You can either go in a private car (recommended option, of course), take an organized tour, or take a taxi there.
Public transportation there is currently not recommended for foreigners, but we do recommend taking public transportation to Sisian and then embarking on a trip from there.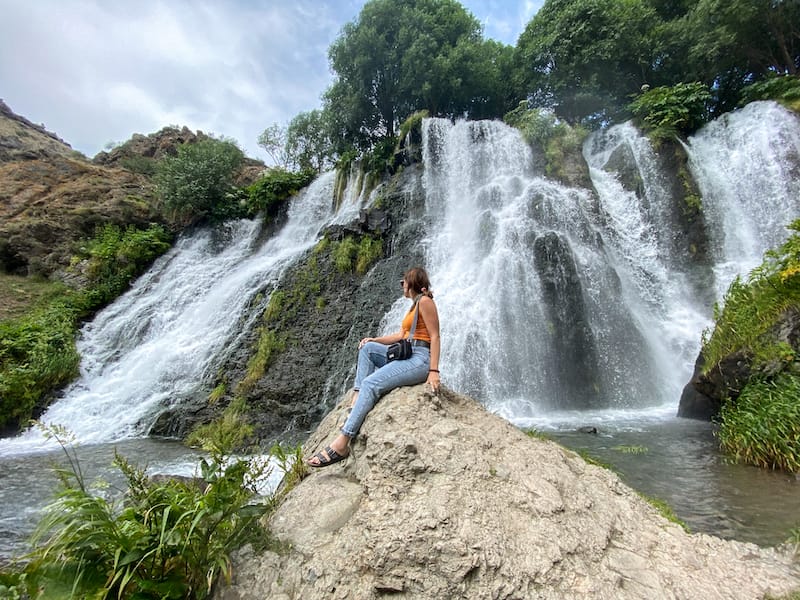 Rental or Private Car
Getting to Shaki Waterfall is done best by a private car. The main reason we recommend a private car is that there is so much on the way to Shaki (and in and around it) that is worth a stop, too.  You also won't be rushed.
If you do have your own car, go early! We arrived at Shaki in mid-afternoon and it was 'crowded' at the time.
Granted, the borders are closed so crowded is kind of an overstatement, but when borders reopen, you will want to be able to arrive without the masses.
If you have your own car, you can also head to Karahunj before or after.
>> Click here to check rental car rates in Armenia
Tour to Shaki Waterfall
The next best option for traveling to Shaki Waterfall is to join a tour.  This is most definitely the easiest way and you will get to visit other sights in the region or on the way included in the price.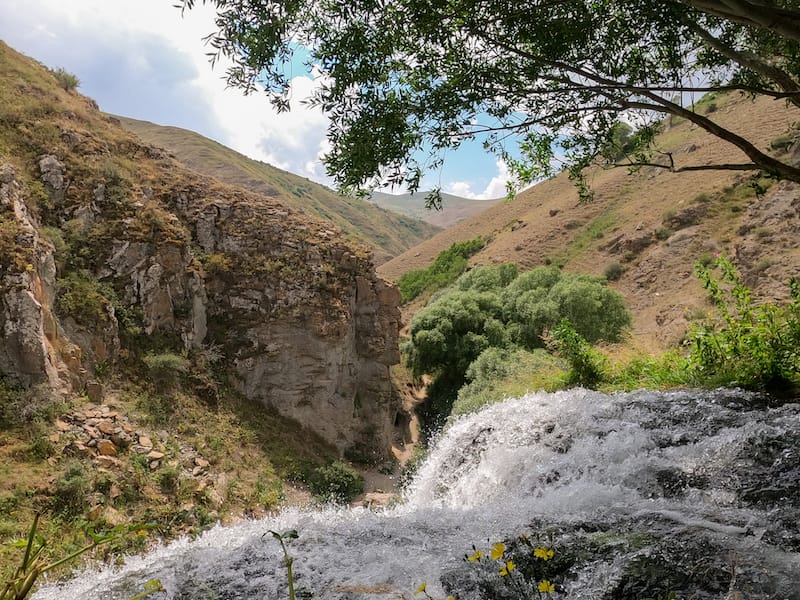 The best and most affordable tour option of Shaki Waterfall and other sights is this one that ventures down to Syunik and visits Shaki, Tatev Monastery, Areni wine region, and Karahunj (Zorats Karer).
The tour is so affordably priced at around $60 and you will have the luxury of hanging out and witnessing the beautiful Armenian scenery on the way without having to worry about driving.
Heading to Tatev Monastery next? Check out our Tatev Monastery travel guide.
This tour with Yerani Travel comes top-rated and offers a 24-hour cancellation policy which helps make things easier in this chaotic travel world we live in currently!
>> Click here to check tour rates and availability for Shaki Waterfall
Taxi
Another option for getting to Shaki Waterfall is to take a taxi there.  You can take a taxi all the way from Yerevan straight to the waterfall.
While this is not the most affordable option, it will allow you to stop at your leisure and you can even see sights along the way such as Khor Virap, Noravank, and Areni.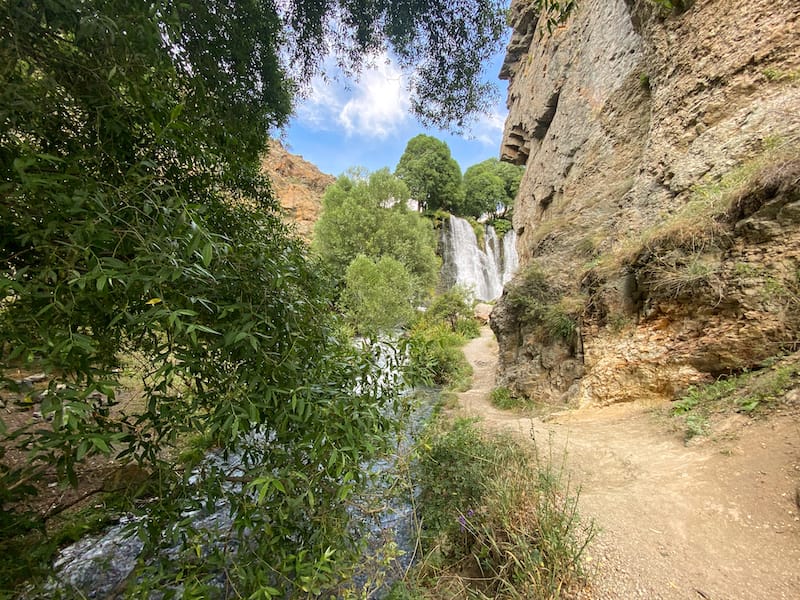 Taking a taxi to Shaki Waterfall from Yerevan is around 20,000 AMD ($40) each way.  Again, this is not the most affordable option, but if you're sharing the trip with others and friends, it will definitely be worthwhile as you can stop anywhere you please!
Yerevan to Sisian
Alternatively, to save money, you can get public transportation from Yerevan to Sisian and then get a taxi from there to the waterfall.
To get from Yerevan to Sisian (Սիսիան), you will need to head to Kilikia Bus Station and catch the 0900 bus to Sisian. The ride is 2.5-3 hours long.  Do note- this bus leaves every other day.  It is a marshrutka.
You can also take the marshrutka from Yerevan's Southern Bus Station to Goris.  This is the bus station that is near the main railway station in Yerevan. From Goris, you will have to backtrack and go to Sisian from there.
Best Time to Travel to Shaki Waterfall
Depending on your travel style, some seasons are better to visit Shaki than others.  During winter and early spring, it may be snowy and not quite as accessible as other months.
Given that Sisian is one of the coldest places in Armenia, there is a high probability that the waterfall will freeze and be an unpleasant experience.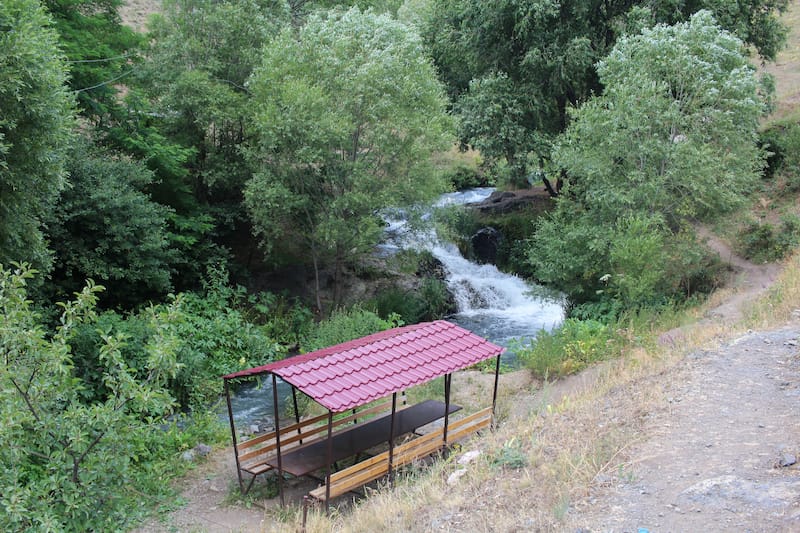 If you decide to visit in summer, Shaki is hot. And it will inevitably be crowded as it is the high-season and children are also out of school, making the place a family spot.
Autumn at Shaki is likely the best time to visit. However, do try to go when there hasn't been too much rain in the region as the waterfall flows rapidly regardless of the rain and is much more beautiful underneath a blue sky!
Planning your Armenia trip during the colder months? Check out our guide of the best things to do in Armenia in winter.
Where to Stay in Sisian
While you can easily make this trip as a day trip from Yerevan, we definitely think Syunik is special and deserves an overnight or longer trip!
You can stay in Sisian to help break up the trip and enjoy a different part of Armenia. Here are some places in and around Sisian that we recommend staying:
We hope that this guide helps you feel encouraged to visit Shaki Waterfall and to enjoy your trip there!
If you have any questions, please let us know and we will do our best to help! Be sure to also check out the Sisian History Museum when you're in the area!