One of the most mysterious places in Armenia is Karahunj Observatory, also referred to as Zorats Karer (and sometimes Carahunge!)
This is a guide detailing how to visit Karahunj, why you should take a trip there, and the history of it.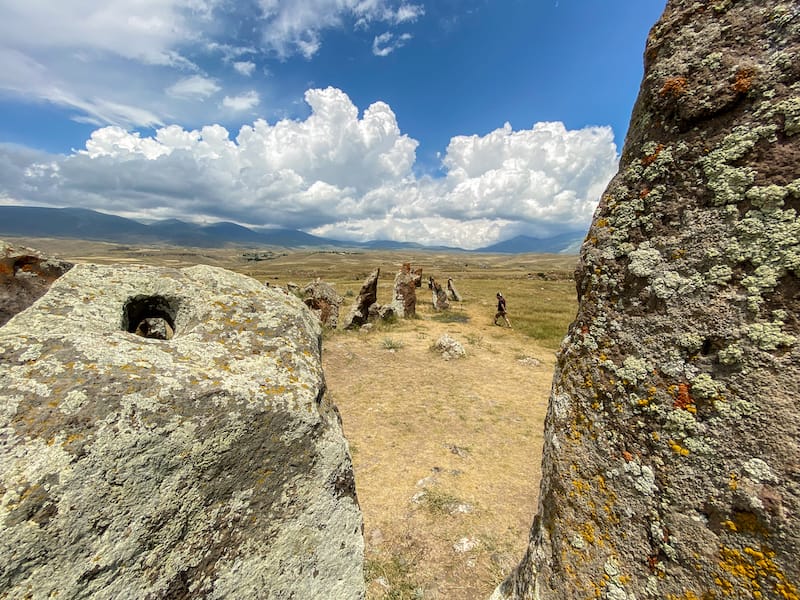 Where is Karahunj?
Karahunj is located in the south of Armenia in the diverse Syunik region in a place where the gorgeous nature looks like a clash of lush, green mountains colliding with dry, high mountains.
It is one of the gems of the region and the closest city to it is Sisian. Please don't mistake it with Karahunj village near Goris city.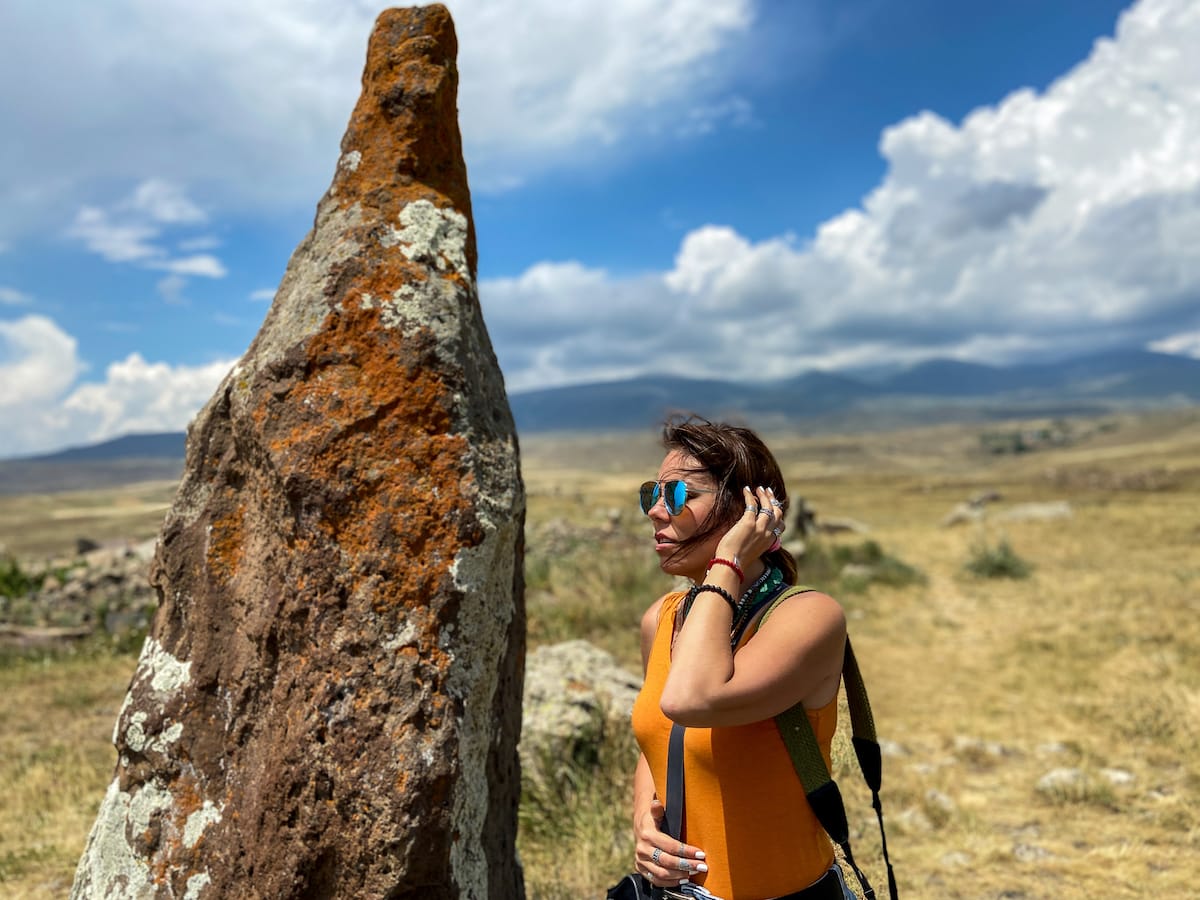 In general, we find the Syunik region to be a consecration of amazing historical sights and natural wonders, making it the ideal travel spot for those visiting Armenia. There is seriously something for everyone!
Due to its location, we recommend visiting Zorats Karer as part of a combined visit to Areni village, Noravank Monastery, and Tatev Monastery. These are all major sights in Armenia and worthy of a visit and you'll find them all en route to one another.
We give some tour options to make the trip to Karahunj affordable (and easy!) toward the end of this guide.
>> Click here to see where Karahunj is located on Google Maps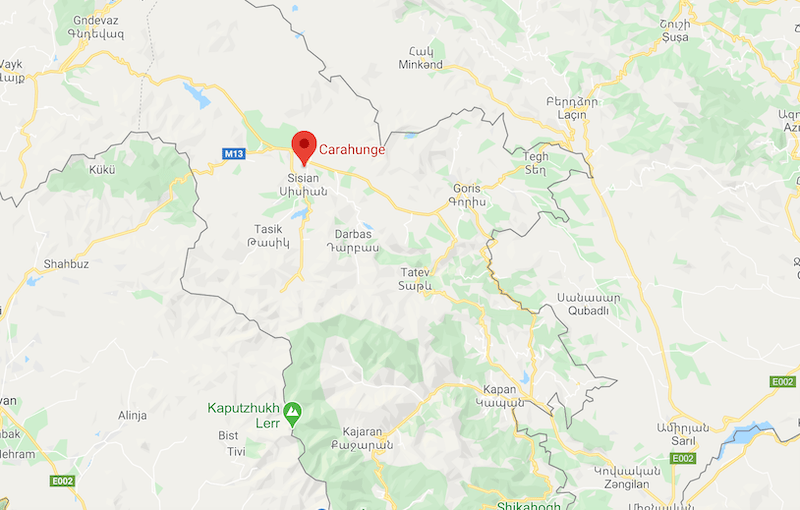 History of Zorats Karer (Karahunj)
Karahunj (also called Zorats Karer) is a prehistoric site known as the Armenian Stonehenge and it is believed to be around 3500 years older than the British Stonehenge.
The site was only officially named Karahunj Observatory in 2004 when studies found that it was likely once an observatory.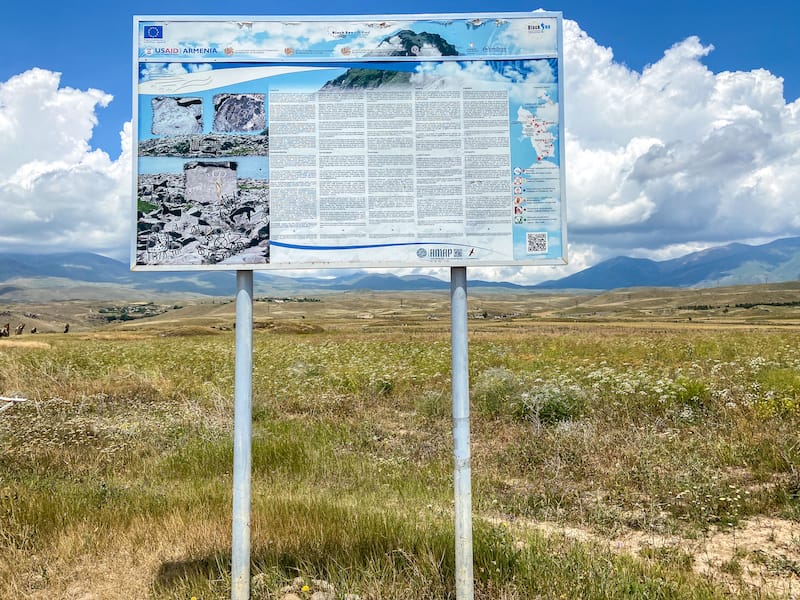 Its name contains two Armenian words: kar (which means stone) and hunge (which means sound), thus the name can be interpreted as "speaking stone".
This name is believed to be used because the stones can "speak". On a windy day, when the wind blows through the holes in the stones, it will make a whistling sound… which is one of the main reasons people visit Karahunj!
Another name used in local lore is Zorats Karer, which means "vertical stones".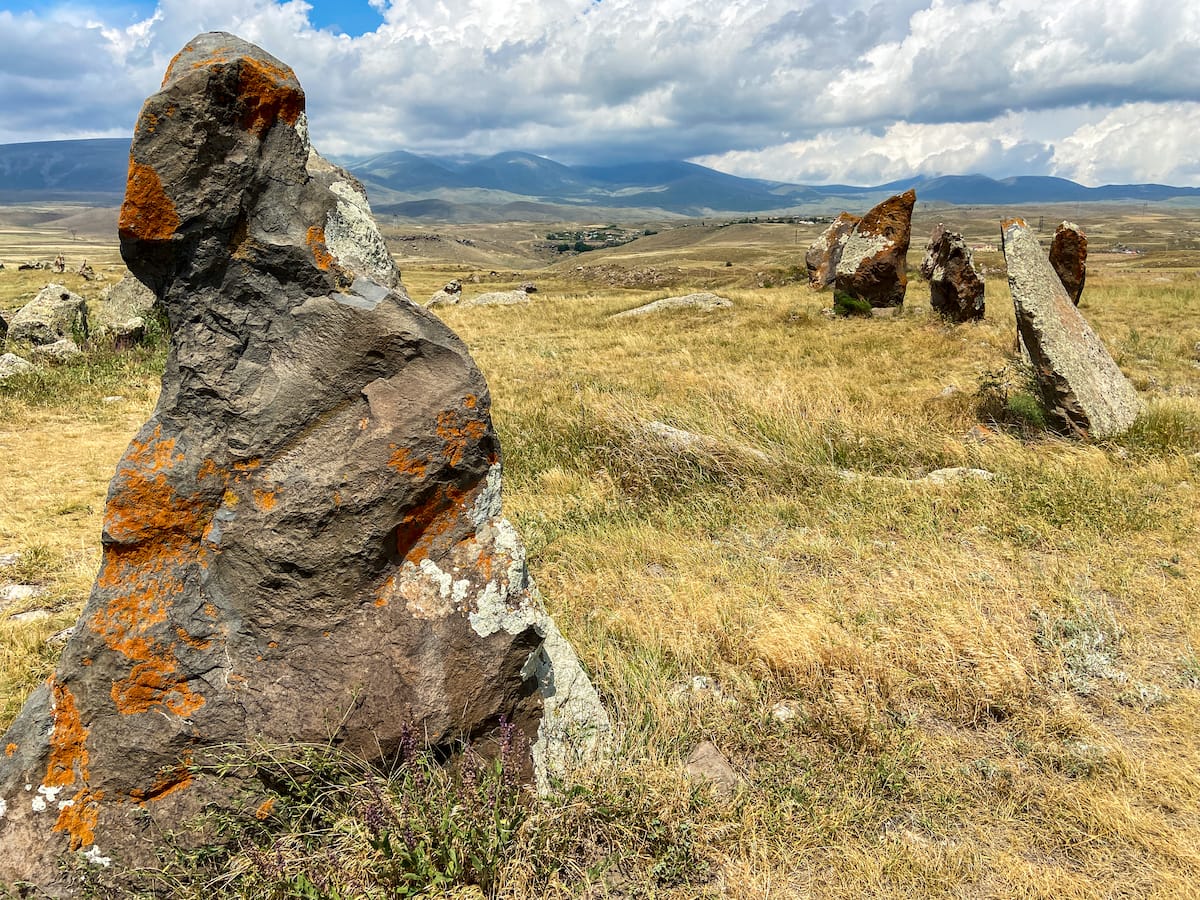 The stones are arranged to form two circles, and in the middle, there are about 40 stones that are formed into an ellipse. The size of the stones ranges from 0.5 to 3 meters and can weigh up to 10 tons.
They are made of basalt stones and have been eroded by time. The holes found in some of the stones have been well preserved, however.
There are 223 stones that have been identified, and many more that are broken and unnumbered. As for the holes found in about 80 of the stones – their origin is thought to be non-prehistoric as they are almost unweathered.
Seventeen of the stones were theorized to be used to observe the sunrise and sunset at the solstices and equinoxes and 14 of them were associated with 7500-year-old lunar observations.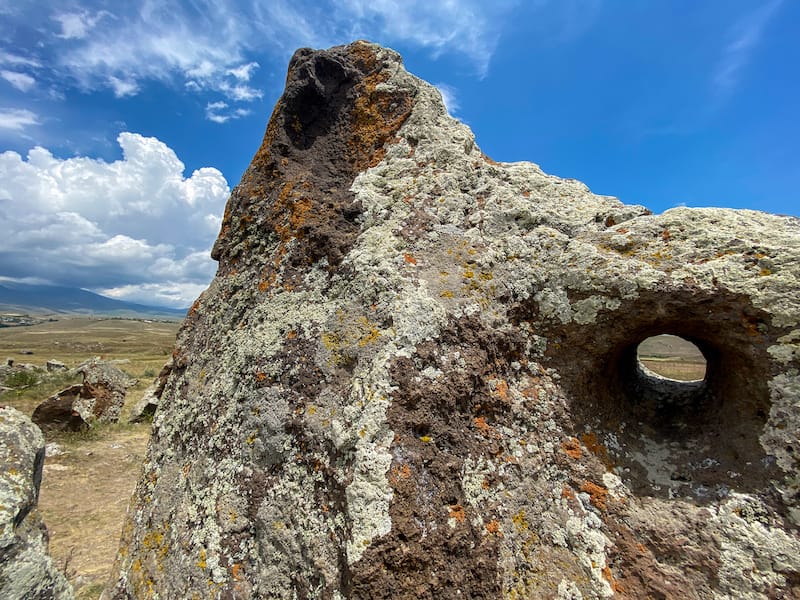 There were many researchers that observed and investigated the site, many of which disputed each other. One of the first people who explored the site was Onik Khnkikyan in 1984, an Armenian archaeologist.
But it was a year later that Armenian astrophysicist Elma Parsamyan proposed that Karahunj be used as an astronomical observatory.
Later, in 1994- 2001, investigations by Paris Herouni and his team were made at the site and they had concluded that it was the world's oldest astronomical observatory. This was theorized because of the holes found in some of the stones, which point perfectly towards specific stars.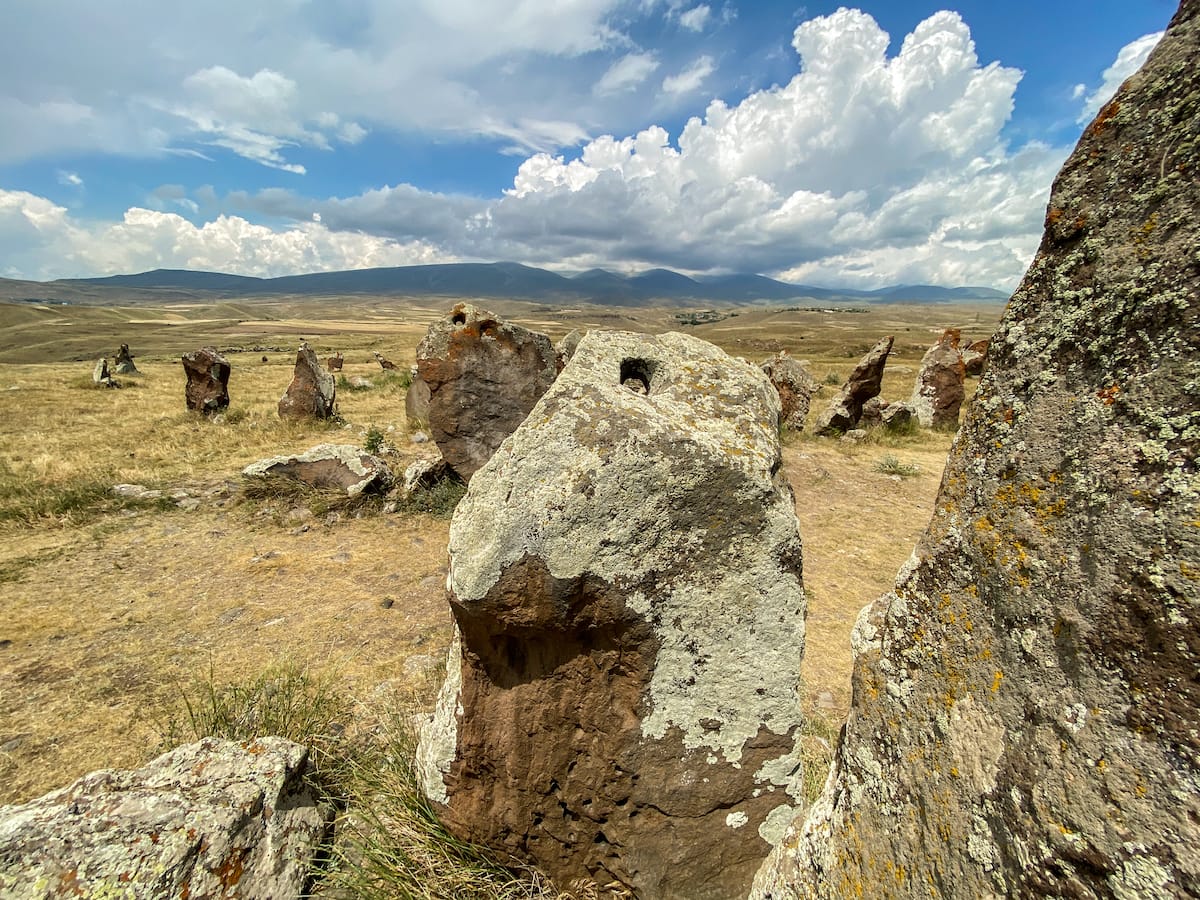 In 2000, it was once again investigated by archaeologists from the Institut für Vorderasiatische Archäologie at the University of Munich.
Their results concluded that it was a necropolis (a large cemetery with elaborate, tomb monuments) dating from the Middle Bronze Age to the Iron Age.
The leader of the investigation also concluded that the lines on the stones suggested the stones were the remains of a city wall in the Hellenistic period.
There are also studies showing that it could possibly be a temple for the Armenian god of the sun, Ara, thought to have served as a burial and sanctuary since a stone box and a burial place were found.
An article about ancient astronomy in the Caucasus region mentioned Karahunj and concluded that it could have had the dual purpose of a burial site and somewhere where astronomical rituals were held.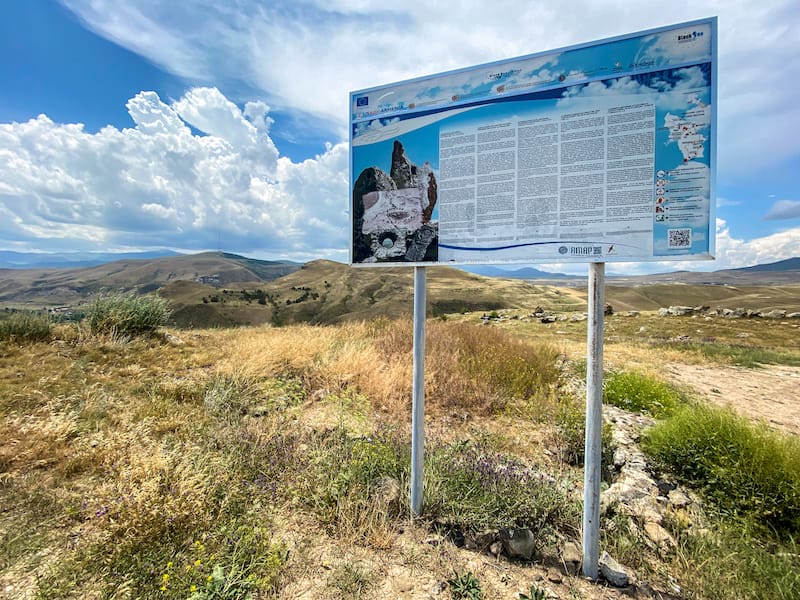 Though we can never say with 100% certainty what this site used to be used as, to the country and many others, it is considered an observatory.
Tips for Visiting Karahunj
Visitors will go there at night with their telescopes and observe the sky. Being in the middle of nowhere, with no city lights polluting the sky allows the stars to shine brighter and it has gained fame as being a fantastic place to stargaze in Armenia.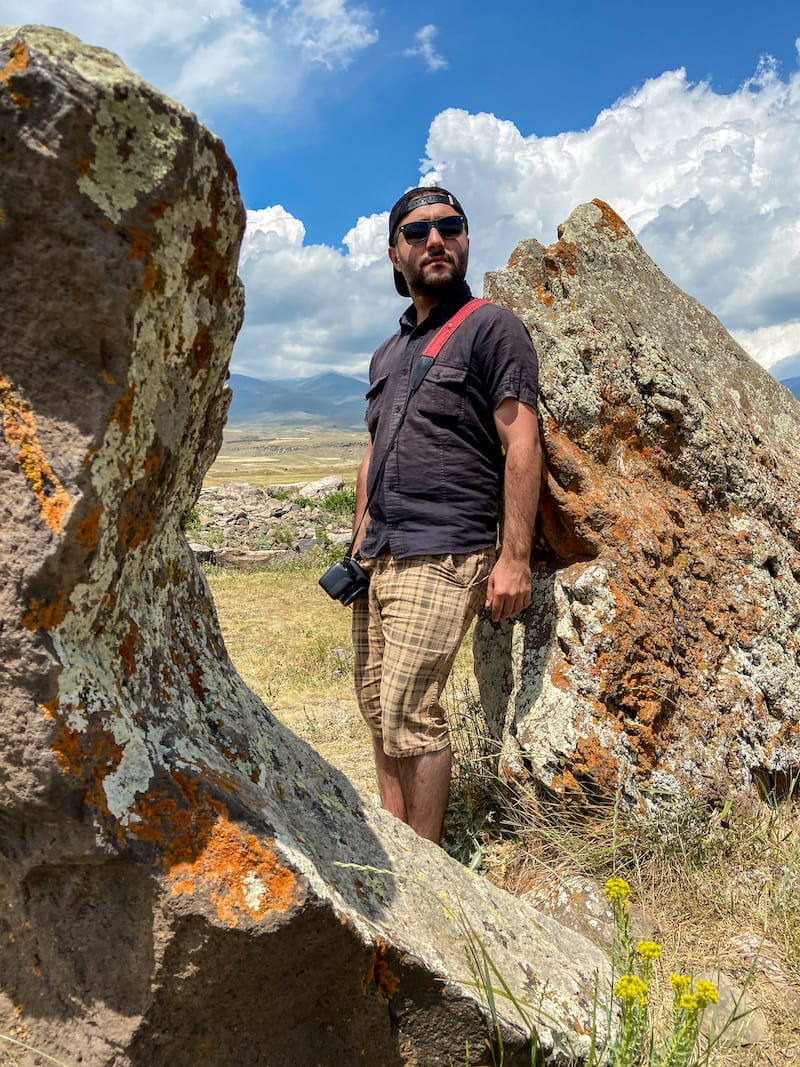 So, naturally, make sure you try to go when the sky is clear if you're heading to stargaze!  Otherwise, the site is still remarkable during the day to walk around admire its history and the surrounding scenery.
How Much Does it Cost to Visit Karahunj?
Starting on June 1, 2022, there is a fee for entering Karahunj (it is no longer free!). The entrance fee for visiting Zorats Karer is as follows:
EEU citizens – 700 AMD
Foreigners – 1400 AMD
School kids – 100 AMD
Pensioners and Refugees – 350
Students – 200 AMD
In addition, they also offer guided tours when there. The price for these tours is 2000 AMD for an Armenian guide and 4000 AMD for English or Russian.
Best Time to Go to Karahunj
The best time to visit is in the autumn, in our opinion.  Summers in Armenia are hot and it can be a bit dusty down in the Syunik region.
Spring is fantastic, but you're better off going at the end of spring as the drive down there, and the other regional sites, can be a bit cold or difficult to access depending on the weather.
Winters in Armenia are cold and can be quite uncomfortable. Since we recommend Zorats Karer along with other sights, we definitely think you'll enjoy them more during the shoulder seasons.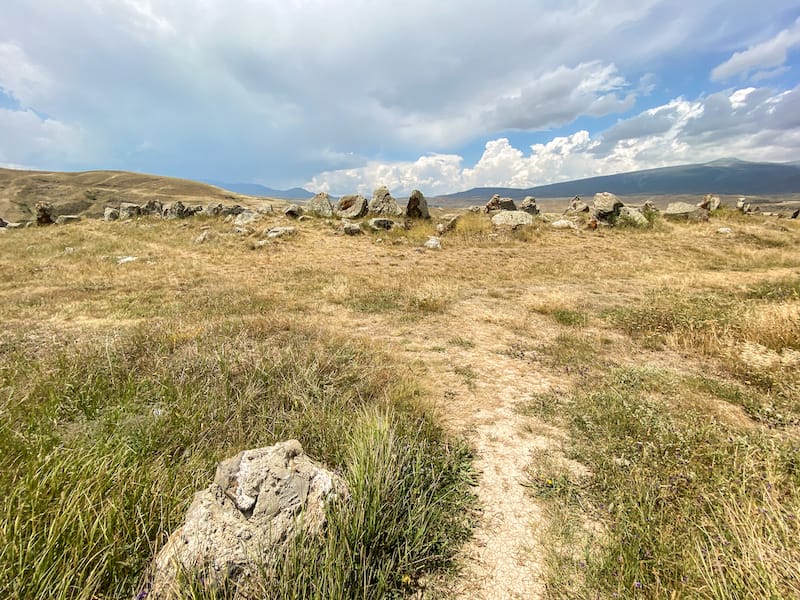 History Museum in Sisian
The History Museum in Sisian, a small town nearby, has an area dedicated to Karahunj and its history. When there, you will see different artifacts and information that were discovered in the areas surrounding Karahunj, including the mountains around it.
There are even grave artifacts from the Bronze Age on display!
How to Get to Karahunj
Getting to Karahunj is relatively easy, and you can choose from a few options for transportation.  Karahunj is located near the town of Sisian, in the Syunik province.
Your transportation options are to either take the bus, rent a car, or hire a taxi for the day (or one-way trip).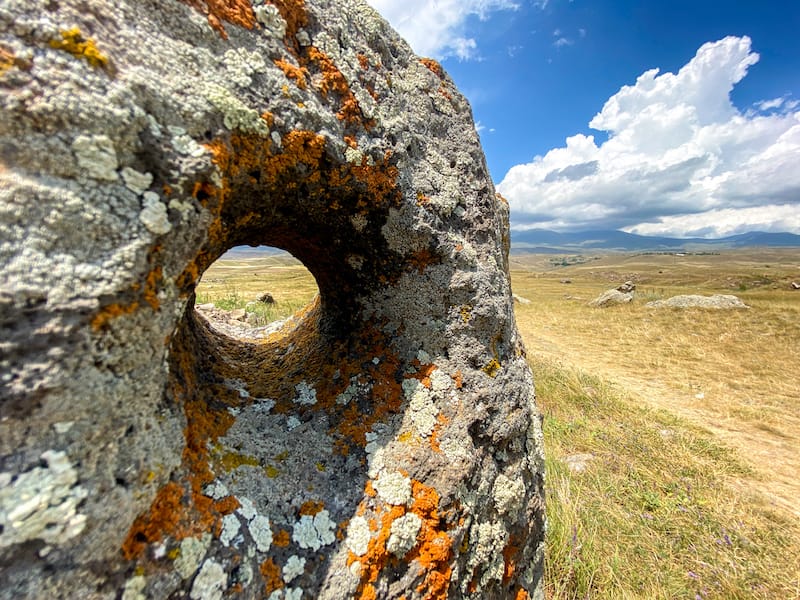 Planning Your Trip to Karahunj
Your best option is to go to that area and have a few other things planned since it is a bit far away and going around Karahunj won't take too long.
One option is to stay in Goris for a night. From Goris, there are several different things you can do and see but just make sure to plan your itinerary around that.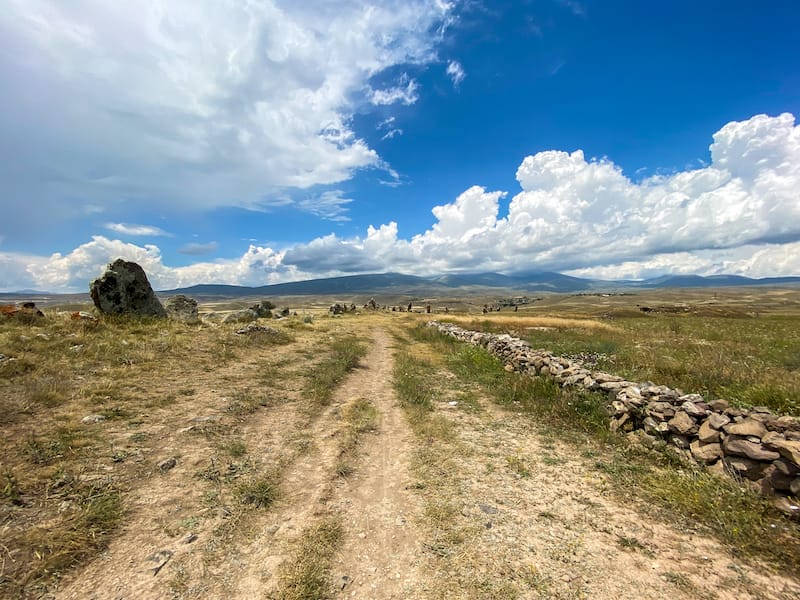 Some suggested places to visit near Karahunj (and in the same region or on the way) are Tatev Monastery, Areni village for wine, Noravank Monastery, Shaki Waterfall, and Khndzoresk.
Bus
Taking the bus to Karahunj will definitely be a longer ride, but it is debatably the safest option. You would have to take the bus to Goris, which is about 4-5 hours long, and from Goris, take a taxi to Karahunj.
The minibusses are departing from the Intertown Bus Station, also known as Southern Bus Station, which is located behind the Yerevan main train station. They run twice a day at 09:00 and 16:00.
The bus ride is 2500 AMD (around $5), as is the taxi ride to Karahunj, making it around 5000 AMD (around $9) to travel by bus to Zorats Karer.
Taxi
Another option is taking a taxi straight to Karahunj. This will take about 3-4 hours from Yerevan. It is a great option if you want the comfort of being in your own car, but don't want the responsibility of driving.
In most cases, you could ask the same driver to take you around the area if there is anything else you have planned, and just pay as you go.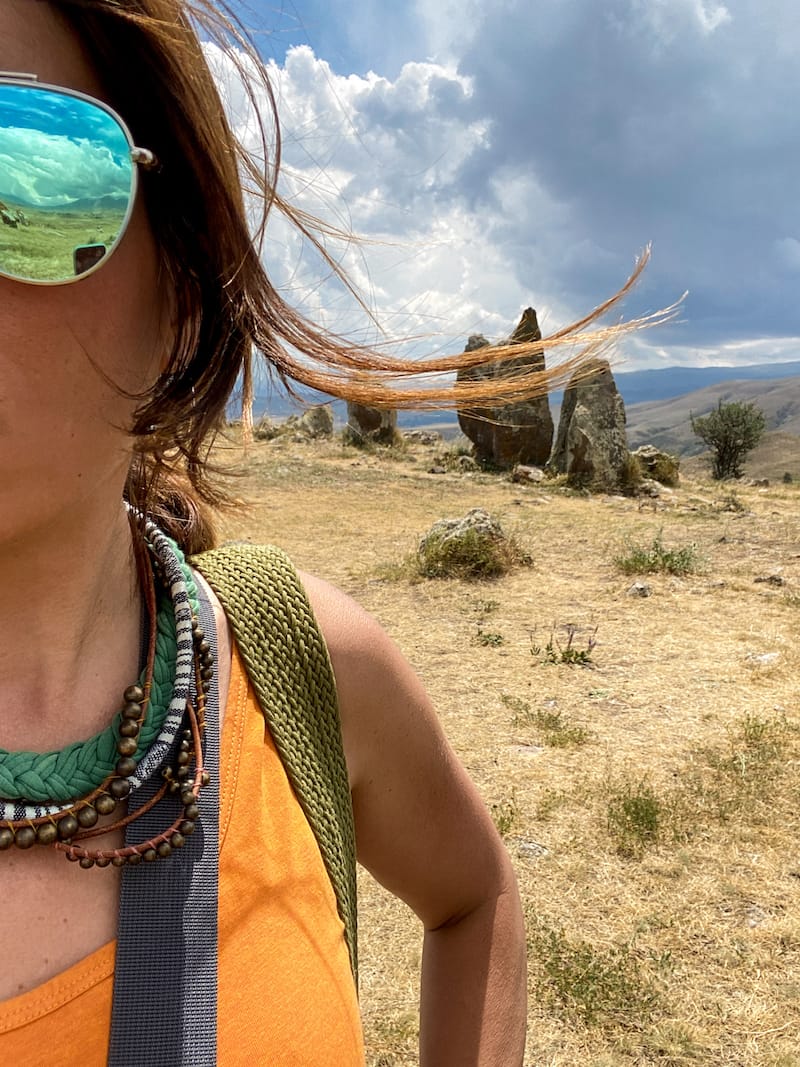 I recommend using the Yandex or GG app when using taxis in Armenia. The ride to Karahunj should be from 24000 AMD, or approximately $60-70.
Rent a Car
Your last option is to rent a car. Keep in mind that Armenia is underdeveloped when it comes to infrastructure and that everything is a 'work in progress', including the driving skills of others.
Aside from that, I think renting a car is an amazing option for getting around in Armenia. You have the freedom of going wherever you want, whenever you want, without worrying about making your taxi driver wait too long.
You can really take your time when visiting the area. Similar to renting a taxi, it would take from 3-4 hours to get to Karahunj from Yerevan.
>> Click here to check rental car rates in Armenia
Best Tours to Karahunj
Another very easy way to visit Karahunj is to take a tour there.  By doing this, it will allow you peace of mind with transportation (which is the biggest challenge for visiting if you're not Armenian!). It will also give you the ease of being able to combine the historic sight with other worthy places.
Here are two Karahunj tours that we recommend:
Armenia Group Tour to Tatev Cable Car and Areni Winery
Prices start from $56
Duration: 14 hours
Type of tour: Group
> BOOK HERE
One of the most popular and recommended tours to the Syunik region is this tour that shows you the wondrous places that Southern Armenia has to offer, including Zorats Karer.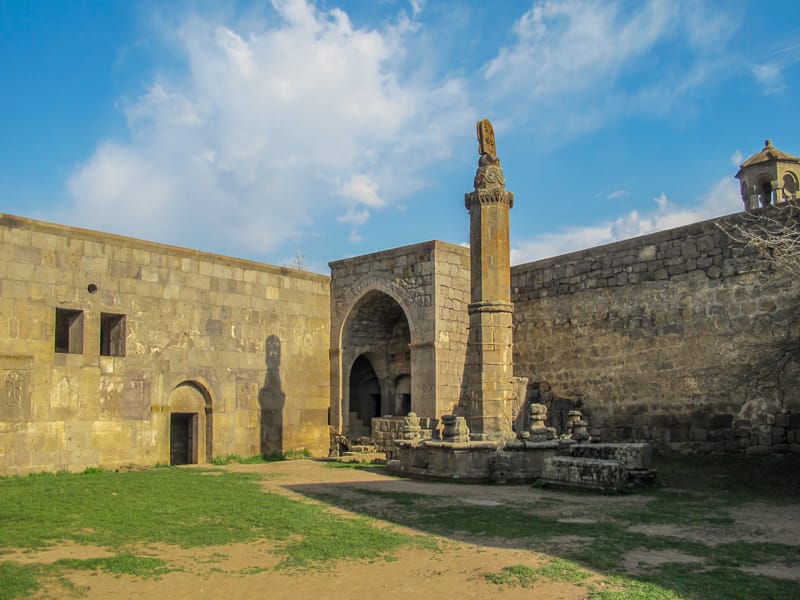 On this tour, you'll have a chance to stand next to the 18 meters high Shaki Waterfall, observe a mysterious past at Karahunj Observatory, fly on the Wings of Tatev cable car over the gorge, and of course, enjoy Armenian wine.
Book your Karahunj tour: Best of Syunik including Karahunj, Shaki Waterfall, Areni, and Tatev Monastery
Full-Day Nature, Monastery, Ropeway, and Wine Tour
Prices start from $42
Duration: 15 hours
Type of tour: Group
> BOOK HERE
This tour is a wonderful and affordable package of amazing sights to visit in the Syunik region, professionally organized with a renowned tour company with a stellar reputation.
During the tour, you will visit not only Karahunj, but also jaw-dropping Shaki Waterfall, mesmerizing Devil's Bridge (which stretches over 30 meters), the longest ropeway in the world that takes you to Tatev Monastery, and last but not least, drink Armenian wine in Areni.
The tour to Karahunj and beyond is on a comfortable, air-conditioned bus with wifi. It will take you to see all of the sights with a knowledgeable guide who will be able to translate the area's history to you in different languages.
Book your Karahunj tour: Group tour to Karahunj, Areni, Wings of Tatev, and Shaki (from Yerevan)
Where to Stay Near Karahunj
If you're looking to travel to Karahunj independently, we recommend staying in Goris, one of the most charming places to visit in Armenia.
Goris has several fantastic guesthouses, hotels, and hostels waiting to be stayed at!  Here are some of our top picks for where to stay in Goris:
We hope you found our Karahunj travel guide useful for planning your trip there! If you have more questions, please leave us a comment or send us a message.
PIN IT FOR LATER!