Trains are not as ubiquitous in Armenia as they are in other countries, but they definitely do exist.  The main railway station in Armenia is the Yerevan Train Station.  This is a guide to the Yerevan Railway Station's history as well as its function and purpose in the Armenian capital city today.
This guide will also include information on how to get there and purchase train tickets when you are there.
YEREVAN QUICK REFERENCE
Short on time?
You can see our top travel recommendations for Yerevan right here:
Where to stay in Yerevan: The Alexander (luxury), Daniel's Boutique Hotel (mid-range), 14th Floor (mid-range), and Grand Hostel (budget).
Top-rated Yerevan day tours and experiences:
Yerevan City Pass: If you're hanging around the Armenian capital, the Yerevan Card is a great bang for your buck! You can visit museums at no charge, get a free taxi from the airport, and several discounts on day trips. Click here to purchase your Yerevan Pass.
Need insurance for Armenia? Be sure to check Armenia travel insurance rates and coverage with our recommended provider, SafetyWing.
Renting a car in Armenia? You can get great options and the best rates here with Rentalcars.com.
Need a Visa for Armenia? We recommend iVisa – they will sort your Armenian visa efficiently and quickly.
3 Essential Things to Pack for Armenia: Plug adapter (if coming from the US or a country that does not use a European plug), Klean Kanteen reusable water bottle, and a Georgia, Azerbaijan & Armenia Lonely Planet guidebook.
History of the Yerevan Railway Station
Even though Yerevan has had a train line since the first couple of years of the twentieth century, it didn't have a proper train station until the 1950s.
By 1950, Yerevan was connected to several other cities by train, and the Soviet regime decided to make Yerevan a much more important hub by constructing a large train station.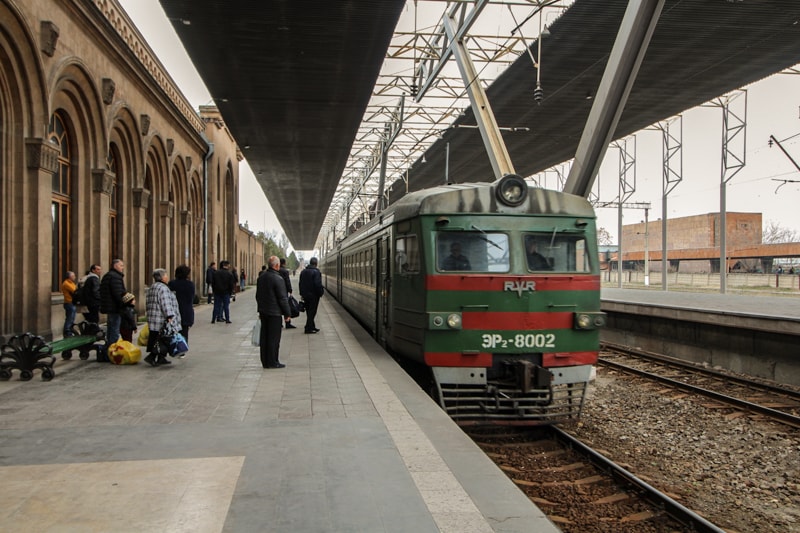 The colossal train station was built in 1956 to improve Yerevan's standing, and it was designed in such a way that the Soviet influence is more than apparent at first sight. It is large, imposing, and extremely Soviet in its appearance.
However, unlike most typical communist and Stalinist buildings, the train station also has certain traditional elements of Armenian design and culture.
For example, the train station almost has a feel like that of an ancient Middle Eastern trading post, though it's definitely still more SovMod in its outright appearance. The old Soviet Armenian coat of arms is flaunted on the top of the enormous pillar, and the color of choice immediately brings memories of Stalinism.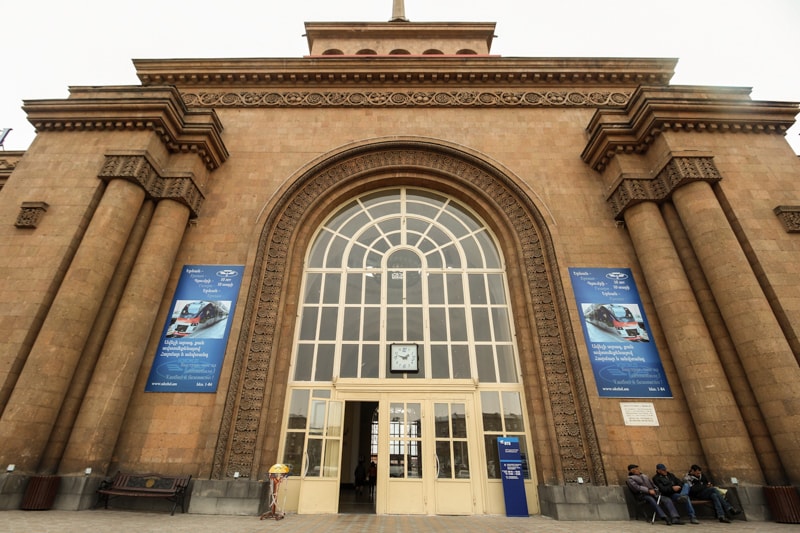 Yerevan Train Station Today
The station is not only elaborate and detailed on the outside but also on its inside as well. The ceiling is tall and the interior is almost exclusively white. There are intricate and ornate decorations on the ceiling, too, which are indicative of its Armenian past.
Since the train station is not exactly in the middle of the city as it's about 3 kilometers south of downtown Yerevan, there is plenty of space around the train station for gardens.
The gardens were made to look grandiose like the train station, and even though they're well maintained today, they weren't as well-kempt in the past. There is also a restaurant at the train station, which services plenty of passengers on a daily basis.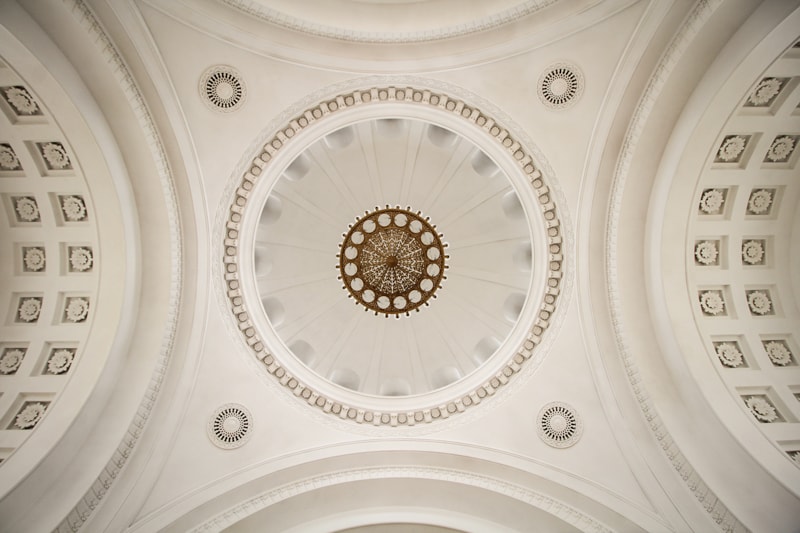 This train station is also known as Sasuntsi Davit Station, as there is a statue dedicated to Sasuntsi Davit in the gardens. He was a local folk hero from the Middle Ages. Davit is considered one of the most important characters in Armenian folklore and culture and he was the lead in the Armenian epic, Daredevils of Sassoun.
David of Sassoun, as he's also known, is responsible for driving out the Arabs around the 9th century, which is why the statue is so majestic and grand.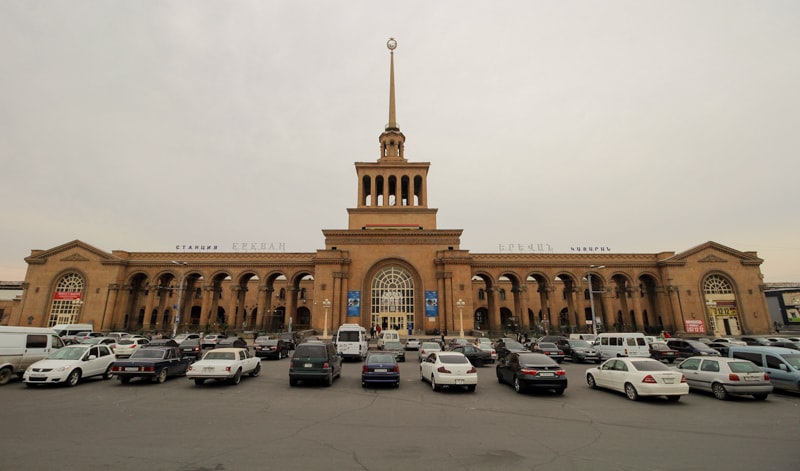 As the Soviet regime had started losing momentum, and the collapse started to become more apparent and imminent, the train started falling into disrepair. It was more and more difficult to maintain it, until it was almost entirely abandoned, except for a few key lines.
However, in 2008, it was entirely renovated, as the state-run Armenian Railways gave Russian Railways rights for full use. The concession period is meant to last for 30 years, with a chance to have an extension of ten years if both parties agree to it.
Yerevan trains aren't exactly fast and speedy and don't serve too many places. The station, however, is connected to a few of the key locations.
There are direct lines to Gyumri and Tbilisi, as well as a few other destinations.  Click here to read about the journey from Yerevan to Gyumri.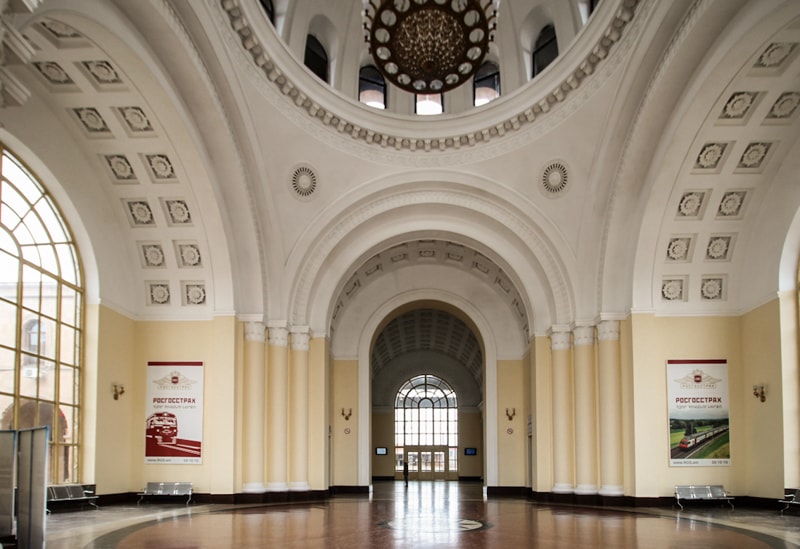 Where Is the Yerevan Train Station Located?
The Yerevan Train Station can be found at Tigran Mets Avenue around 2.7 kilometers from the center of Yerevan (Republic Square).
How to Reach the Train Station by Metro
The Yerevan Railway Station can be reached easily via the metro.  You will need to disembark at Sasuntsi Davit Metro Station and it is located right above that.
Yerevan Railway Station Hours
The Yerevan Railway Station is open 24-hours of the day, 7 days a week.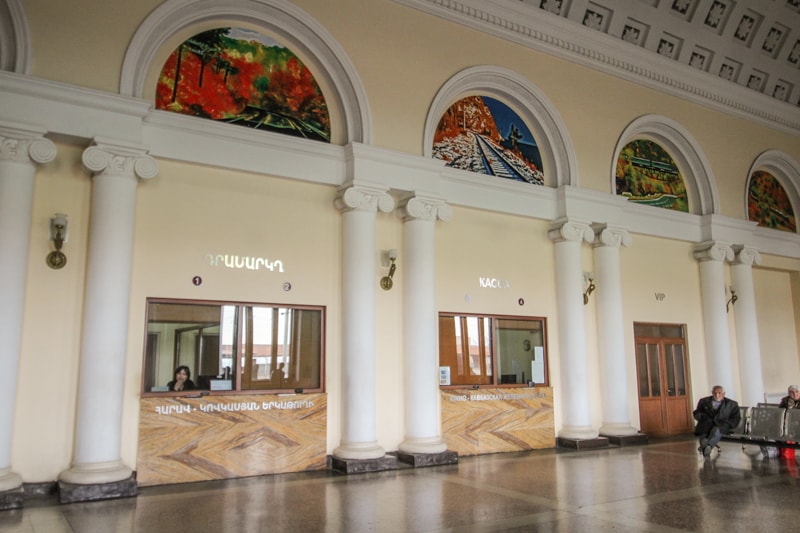 What Destinations Does the Yerevan Train Station Serve?
The following routes run to and from the Yerevan Central Railway Station:
Yerevan — Batumi (in summer; this train will pass and stop in Tbilisi)
Yerevan — Tbilisi (in winter)
Yerevan — Gyumri
Yerevan — Ararat
Yerevan — Araks
Yerevan — Yeraskh
Are you seeking to go from Yerevan to Lake Sevan by train?  You will need to reach the Almast Railway Station and not the main station in Yerevan.
IMPORTANT: Almast Railway Station ins permanently closed.
If you're looking for more information regarding the train schedules going to and from Yerevan, click here.