Geghard Monastery is definitely a place that needs to be on your Armenia bucket list for your trip here.  This is a complete travel guide to Geghard Monastery.  It will include how to visit Geghard, why you should visit, random facts, and much more!
If you're looking for a tour to Geghard Monastery, please check out our top recommendations here.  You can also check out our tips for planning a trip to Armenia here.
GEGHARD QUICK REFERENCE
Short on time?
You can see our top travel recommendations for Geghard Monastery right here:
Where to stay in Yerevan: The Alexander (luxury), 14th Floor (mid-range), and Grand Hostel (budget).
Top-rated Garni Geghard day tours and experiences:
Yerevan City Pass: If you're hanging around the Armenian capital, the Yerevan Card is a great bang for your buck! You can visit museums at no charge, get a free taxi from the airport, and several discounts on day trips. Click here to purchase your Yerevan Pass.
Need insurance for Armenia? Be sure to check Armenia travel insurance rates and coverage with our recommended provider, SafetyWing.
Renting a car in Armenia? You can get great options and the best rates here with Rentalcars.com.
Need a Visa for Armenia? We recommend iVisa – they will sort your Armenian visa efficiently and quickly.
3 Essential Things to Pack for Armenia: Plug adapter (if coming from the US or a country that does not use a European plug), Klean Kanteen reusable water bottle, and a Georgia, Azerbaijan & Armenia Lonely Planet guidebook.
Travel Guide to Geghard Monastery
Armenia has many ancient monasteries and churches and many of them are unique and remarkable because of the historical meaning and heritage, including the outstanding design and where there are located.
It's really common to see churches built in difficult-to-access and remote locations all over Armenia because of enemy attacks several centuries ago.  These remote locations have sense become identifiers for these places and have given them a unique presence in the country and region.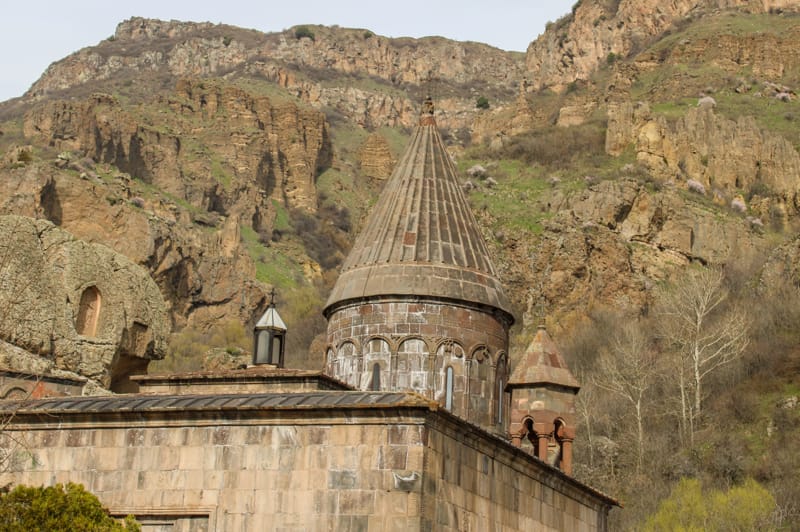 One of those interesting places to visit in Armenia is Geghard Monastery. It gained popularity with travelers over the centuries and was not just a place for curious architects to visit.
This guide will showcase why Geghard Monastery is one of the most fascinating monasteries in Armenia… so fascinating that it was included in the UNESCO World Heritage Site list.  It will also detail how to get to Geghard, things to do when there, practical information, and much more.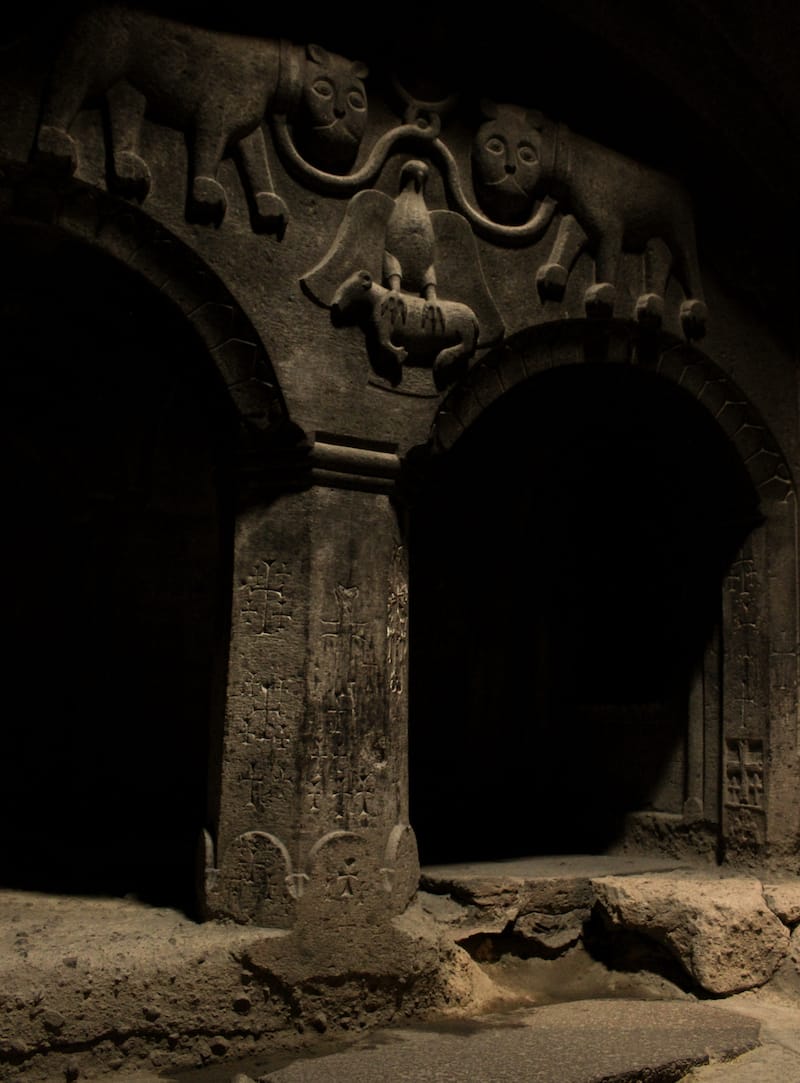 History of Geghard
Geghard Monastery was founded in the 4th-century by Gregory the Illuminator inside of a cave and was one of the secret churches in early Armenian history that was destroyed and burned down by Arabs in the 9th-century.
From the beginning, it was known as Ayrivank (the Monastery of the Cave). Geghard was not only destroyed but also was minorly damaged by the earthquake.
The main church in Geghard Monastery, after the destructions, was erected in 1215 with the support of brothers Zakare and Ivane who were generals of Queen Tamar of Georgia. They were helping Armenia fight the Turks at the time.
Later on, in the 13th century, Armenian Prince Prosh Khaghbakian took over the church and started to build Geghard Monastery as we now know it.
The name Geghard was first mentioned in 1250 when ancient documents were kept inside of the monastery.  In addition to documents, other relics were housed at Geghard throughout the years.
One special artifact was the spear (Holy Lance) brought by Apostle Thaddeus, a Roman legionary who nailed Jesus Christ on a cross. The word Geghard means spear and the Geghard Monastery means "Monastery of the Spear".
Nowadays, the spear is kept in the Holy Etchmiadzin Church museum and it's available for everyone who wants to see it.
Why You Should Visit Geghard Monstery
Geghard Monastery is located in the beautiful and green Kotayk region of Armenia, down the Azat River in between rocky and lush mountainous landscapes.
From first glance, you might think that this is another ancient Armenian church located in a remote and beautiful location, but the astonishing location and the architectural perfection are not the main reasons why Geghard Monastery is special.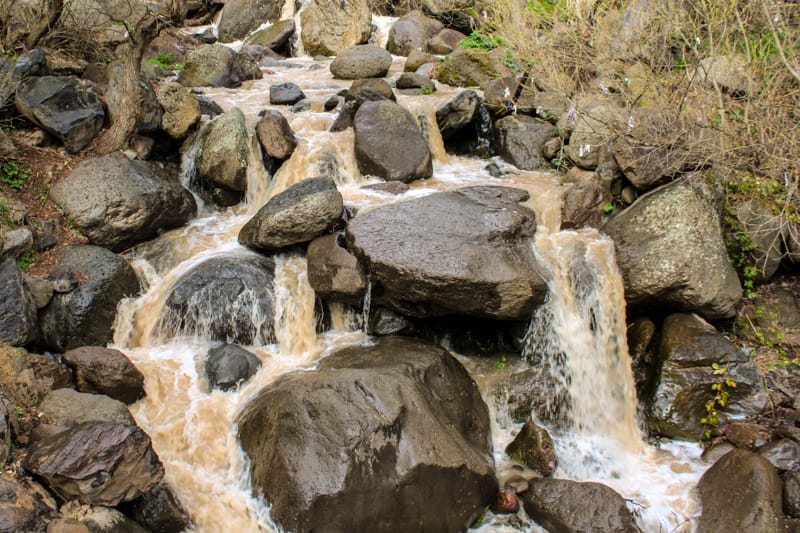 What puts Geghard Monastery on a map and makes it unique is that the monastery is not exactly the same capacity as its visible from inside.
Half of the monastery is not visible from outside as it is built into the huge rocks that are surrounding it.  Architects marvel at this because the church was built without advanced tools.
The construction exudes full harmony with the human mind and nature combined, and the result is Geghard Monastery which is the UNESCO World Heritage Site list and has been protected for its cultural heritage since 2000.
How to Get to Geghard from Yerevan
Getting to Geghard is pretty straightforward if you don't mind taking a taxi, going by private car, or enjoy organized Armenian tours.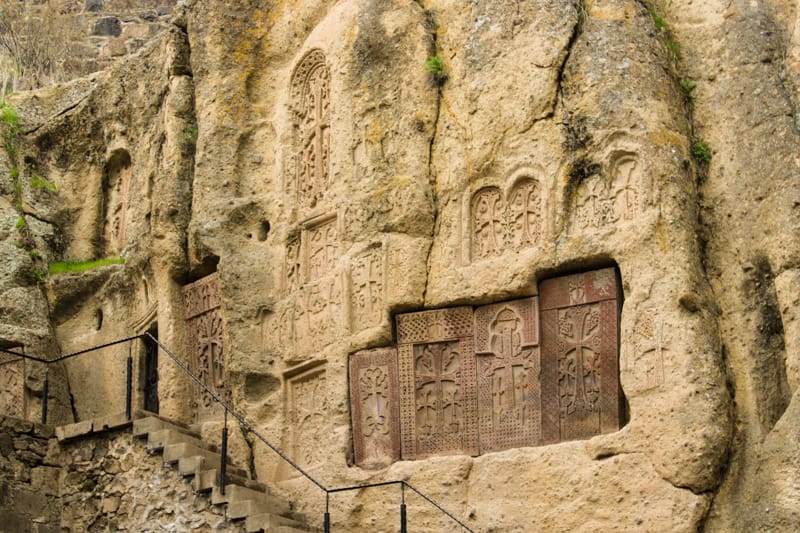 We have listed the options for getting to Geghard from Yerevan, including reputable Geghard tours, public bus, and taxi information.
Bus
To get from Yerevan to Geghard Monastery, you will need to take bus numbers 22, 26, 36 in the city center to Gai Bus Station on Samvel Safaryan Street next to the Mercedes Benz store.
From Gai Bus Station, the minibus (marshrutka) leaves to Geghard Monastery when it's getting full, or approximately every 40 minutes. The cost of one ticket is 250 AMD (around $0.50 USD).
Rental Car
Geghard is not far from Yerevan but to discover its beauty entirely, we definitely advise renting a car and exploring all that Garni Geghard has to offer.  There are so many cool stops along the way worthy of stopping and admiring or photographing.
In addition, renting a car in Armenia allows you to have air-conditioning and a clean space when driving, which is particularly important during the hot summer months.
>> Click here to check rental car rates for Armenia
Parking at Geghard
There is a large parking lot in front of the area where locals are selling delicious sweets like gata, sujukh, and other sweet goodies.
During the busier hours at the monastery, you could struggle to find parking, however.  Try to arrive early if you're coming by rental car.  The cost of parking at Geghard Monastery is 200 AMD.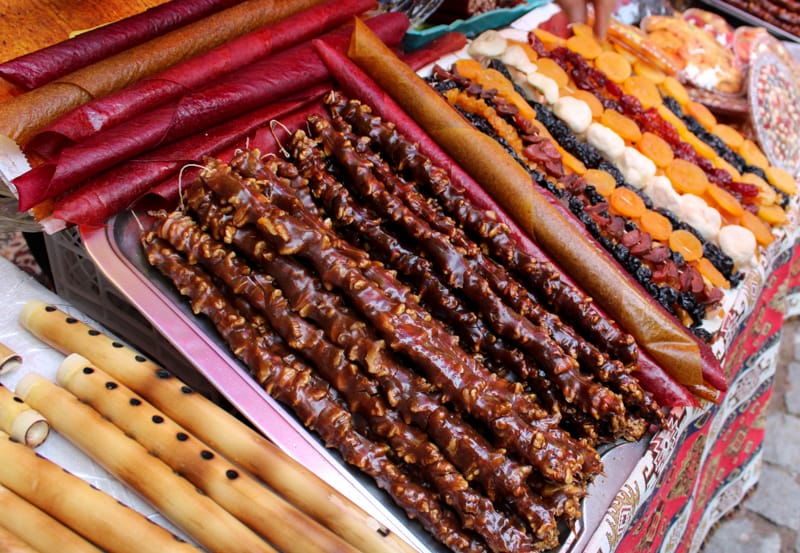 Taxi
One of the best options for traveling to Geghard is to take a taxi there.
Downloading local Yerevan taxi apps will help you to take a budget trip to Geghard and you will pay around 4000 AMD ($8-$10) to get to Geghard Monastery from Yerevan.  This is definitely a viable option for those traveling with other people.  It may also allow you to make stops on the way if you're comfortable asking the driver to stop!
If you're wanting to learn more about taking a taxi in Yerevan, Armenia, click the link for our guide to successfully doing it.
Geghard Tours
We definitely suggest combining your visit to Geghard with one to Garni Temple because it is essentially on the way and it is kind of the combo trip that everyone makes as it is logical.  You will get to see two amazing Armenia sights in one day.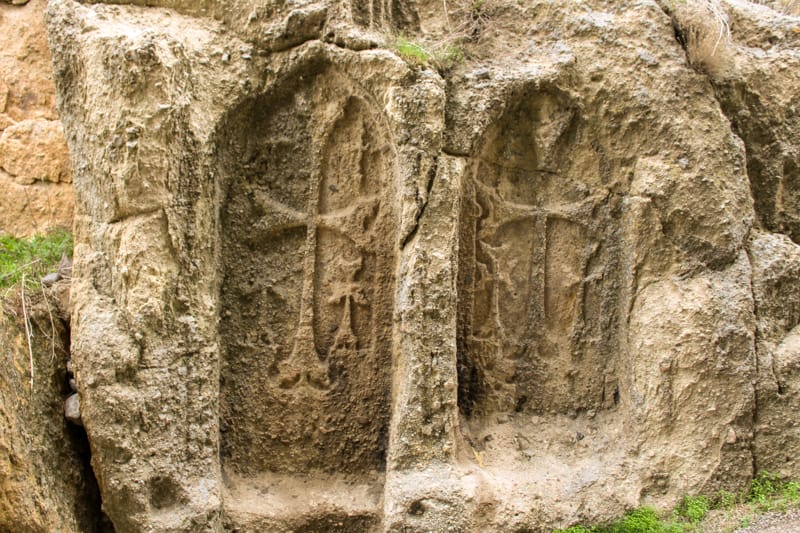 One of the best ways to combine these trips to Garni and Geghard is to take a tour.  There are many affordable tours that we recommend and they will offer you comfort, quality, and the chance to have everything arrange for you… all you have to do is show up!
Below are our favorite Geghard tours.  If you have a recommendation for a great tour you too, please leave it in the comments section!  Thanks!
Half-Day Garni and Geghard Tour from Yerevan
⇒ Prices start from $39
⇒ Duration:  5 hours
On this tour, you will have the chance to see one of the oldest Hellenistic, Pagan temples called Garni.  In addition, you will make a stop at Geghard Monastery, a UNESCO World Heritage Site that is carved into mountain rock.
After being picked up directly from your hotel, you will hit the scenic road that takes you to the sites.  You will also make a stop at Charents Arch, a structure that offers a really great composition of the wild landscapes and Ararat.
Garni, Geghard, and Lake Sevan Day Trip from Yerevan
⇒ Prices start from $69
⇒ Duration:  6 hours
Yet another great tour that is a good purchase if you're limited on time in Armenia is this tour that takes people to Garni, Geghard, and Lake Sevan.
Located around fifty minutes away from Yerevan, Lake Sevan is considered to be the blue pearl of Armenia and throughout this tour, you will have the chance to visit the monastery, temple, as well as the Sevan Peninsula where the gorgeous monastery Sevanavank is located.
Getting to Lake Sevan can be a bit of a pain so taking this tour removes the effort out of it and allows you to see three worthy Armenian sights all in one day.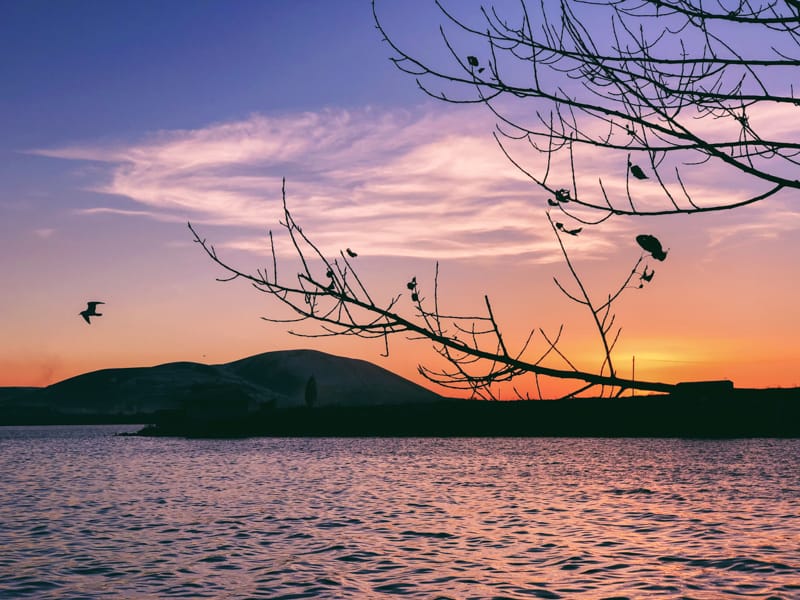 Garni, Geghard, Lake Sevan, and Dilijan Private Tour from Yerevan
⇒ Prices start from $108
⇒ Duration:  11 hours
If you prefer a private and more intimate experience for your tour to Geghard, you will have the luxury of just that by booking this tour.  This private tour takes you on an 11-hour adventure to Garni Temple, Geghard Monastery, Lake Sevan, and the green lungs of Armenia- Dilijan.  Dilijan is often referred to as the 'Switzerland of Armenia'.
Those taking this private excursion will be greeted with a private guide, in-car wifi, insurance, and comfortable transportation for the day.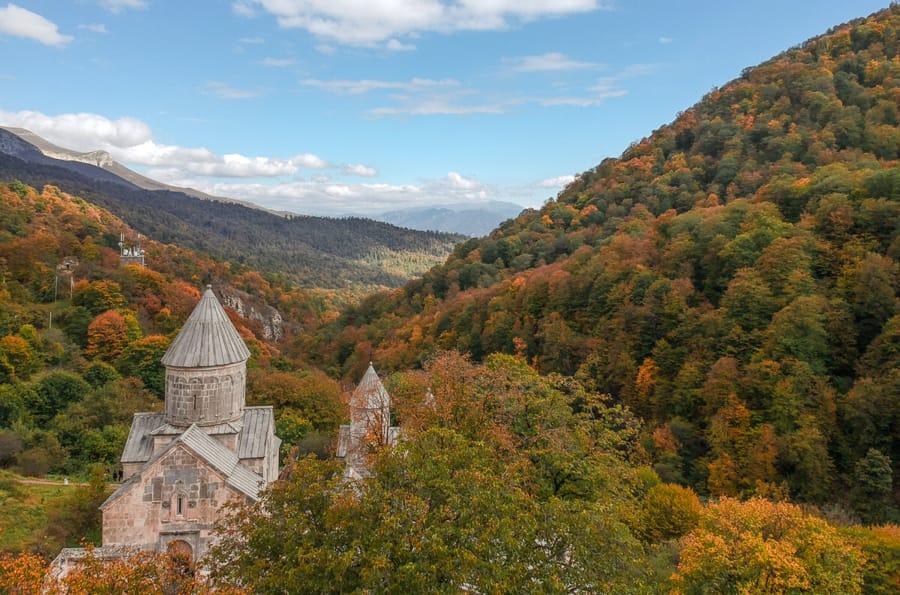 Geghard Monastery Opening Hours
Geghard Monastery is open from 9am – 8pm every day and as a recommendation, try to get there earlier in the day because you will still have Garni to visit on your way.  Arriving in the morning beats the crowds and makes for better photographs, too!
Things to Do at Geghard (and Nearby!)
Once you are walking to Geghard Monastery, you will notice how beautiful it is from up close as its surrounded by massive mountainous rocks, green trees, and caves.
It's a bit of an incline to reach the Geghard Monastery complex but while on your way, you will see locals selling sweets and handmade art.  Below are some suggestions for a few things to do at Geghard Monastery.
Indulge in Homemade Gata
Gata from the Kotayk region, especially from Garni and Geghard, is some of the best in Armenia, so if you want to try typical traditional sweets from a local, be sure to purchase some gata and go to town when there!
In addition to indulging in gata, you should definitely purchase some sweets and homemade art when there.  There are also a lot of musicians in the area that will charge a small fee to listen to them sing to you and escort you to the monastery with some Armenian tunes.  Not everyone's cup of tea, but certainly something that adds to the vibes and supports a local!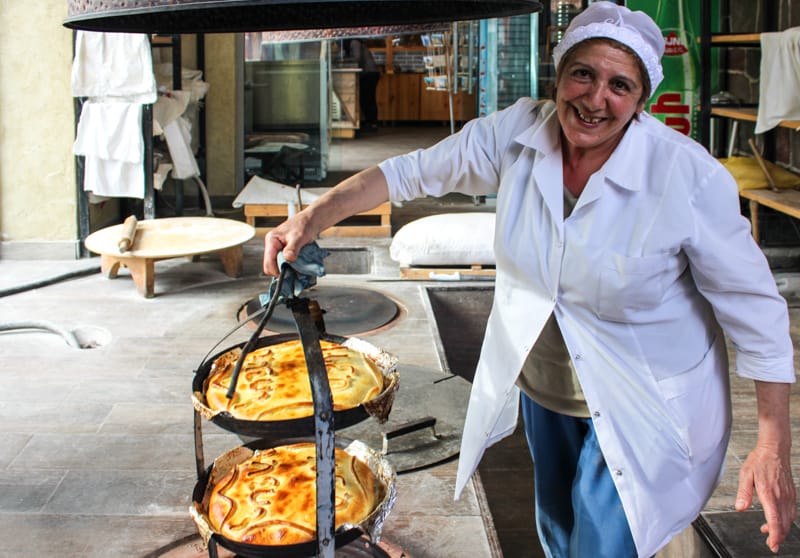 Discover Geghard In and Out
There are many little corners in Geghard Monastery where you can walk around the complex.  You can stroll through the monastery or nearby where there is a gorge with a river flowing through it.
After discovering Geghard Monastery and its beauty inside, you can go up the stairs alongside the wall to check out the historic khachkars.
On the backside of Geghard, you will also find a beautiful stone bridge that goes over the river.  It is surrounded by a lot of greenery and you will likely see a lot of visitors back there grabbing photos or participating in local traditions.
Try Geghard Water
Armenia has a lot of great water sources and some of the country's best water is found at Geghard Monastery.  You can test it out for free and it is delicious and refreshing, especially on a warm day.
To find the pulpulak, or water fountain, you will need to head to the middle of the complex where you'll find it flowing freely with cold water.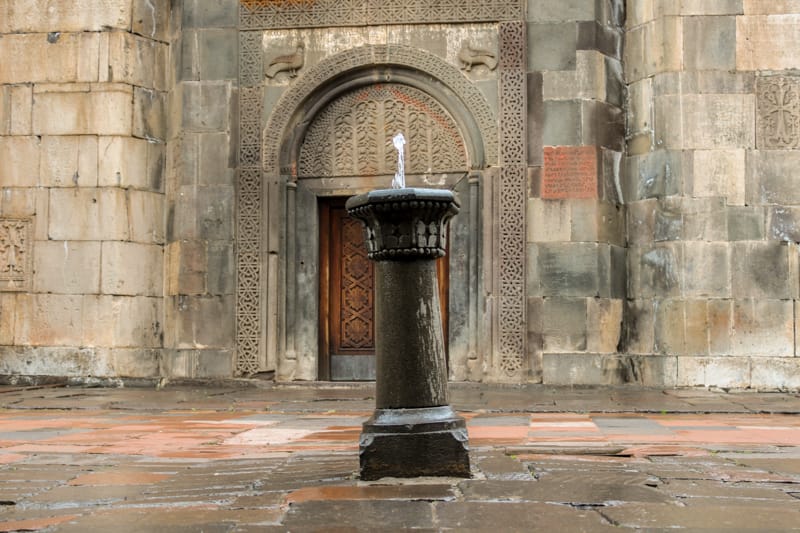 What to Bring to Geghard
If you're visiting Geghard during the summer, expect hot temperatures and be sure to dress accordingly and stay hydrated.  Visiting Armenia during winter or during the shoulder season?  You will need to dress warm- the temperatures out there can be frigid and snow is commonplace!
⇒ Sunscreen and a hat:  In summer, the temperatures at Geghard can reach 32-37C and it is imperative to wear sunscreen and bring a hat.  Armenian sun can be brutal as it is always sunny and there are few places to shelter when you're in the countryside.  Click here to check out our sunscreen recommendation.
⇒ Power bank:  Even though Geghard is close to Yerevan, you should still bring a power bank for your day, especially if you're venturing to Garni, Lake Sevan, or Dilijan after.  Trust me, you don't want to have to scramble around looking for a charge when it dies!  Click here to check out power banks on Amazon.
⇒ Good walking shoes:  Armenia is a rocky country and outside of the cities, roads and sidewalks are less-maintained.  You also don't want to wear anything impractical if you're visiting monasteries for the day.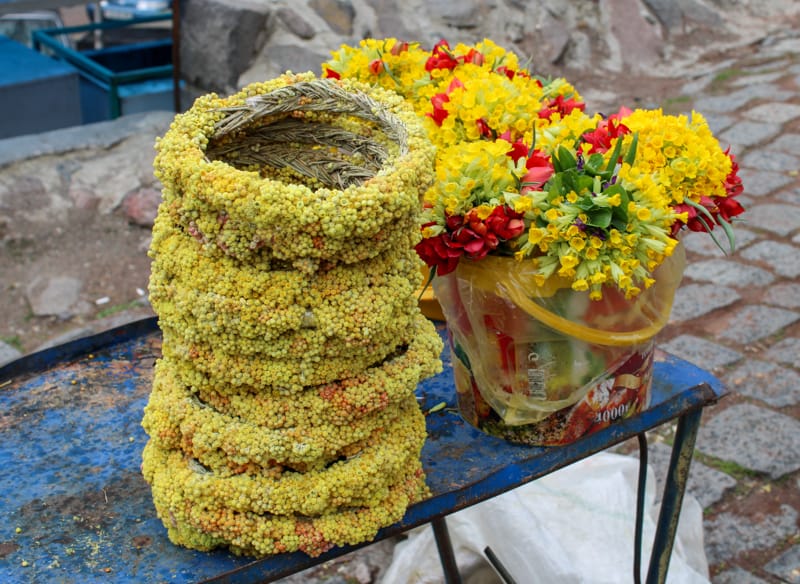 Geghard Monastery is one of the most iconic places to visit in Armenia.  We hope that this guide to visiting Geghard (and Garni) will help you plan your trip out there.  We do advise taking a tour or renting a car as it will help you maximize your time in this gorgeous country.
If you have questions or suggestions, please reach out to us via email or in a comment below.  Thanks!
YOU MIGHT ALSO LIKE:
PIN IT FOR LATER!